Junior Welter Clash: Las Vegas's Jessie Vargas Vs. Riverside's Josesito Lopez
One is a virtually unknown contender and the other is a rather untested prospect but questions will be answered on who moves forward when Riverside's Josesito Lopez battles Las Vegas's Jessie Vargas on Saturday.
It's the opening act for the Floyd Mayweather and Victor Ortiz match but don't be surprised on Sept. 17, if Lopez (29-3, 17 KOs) and Vargas (16-0, 9 KOs) steal the big boy's thunder. The MGM Grand hosts the fight that will also be televised on HBO pay-per-view.
Both junior welterweights are tall and look like they could be brothers. But don't look for brotherly love inside the ring. On paper, they're very similar in physical attributes, but Lopez thinks he has Vargas beat on two accounts.
"I'm better looking," joked Lopez. "He hasn't seen what I've seen in the ring."
Maybe Lopez has a point, but not in Vargas' eyes.
"Jose is a good fighter and is experienced but I'm going to beat him," said Vargas, who strongly resembles Lopez in physique and facially when standing side-by-side.
Vargas trains out of Mayweather's gym and was formerly trained by Roger Mayweather until recently passed to Roberto Alcazar. He's a younger version of Lopez not just physically but fighting-wise. Their styles are similar but Vargas seems to have better footwork. Lopez has fought better fighters.
It's a toss up fight that could delay the progress of Vargas at least a couple of fights should he lose, or label Lopez a gate-keeper if he suffers a defeat. Neither feels they're going to be defeated.
Vargas's team has the same attitude that prevails in Mayweather's gym and with an undefeated record who can blame him?
"Jose Lopez is a good experienced fighter, but Jessie Vargas is an excellent fighter," said Alcazar who trained Oscar De La Hoya and also trained the late Edwin Valero. Before the Venezuelan southpaw died a year ago, he sparred numerous rounds with Riverside's Lopez and Alcazar remembers well.
So does Lopez.
"Valero taught me I could hang in there and beat a lot of these top 140 pound fighters," said Lopez, recounting those sparring sessions with the fearsome Valero who never lost a fight and all achieved  all of his wins by knockout. "With Valero you had to be smarter. I had to be the veteran fighter making the decisions at the right time."
Another advantage Lopez believes he has is the constant supply of quality sparring in the Riverside area that's wealthy with junior welterweight prospects, contenders and former world champions.
Timothy Bradley, Julio Diaz, Antonio Diaz, Mauricio Herrera and Jose Reynoso are among those who roam the Riverside area landscape and exchange sparring.
Lopez knows he has experience on his side but doe not underestimate the youthful and dangerous Vargas.
"He likes to come forward and I like to come forward," says Lopez whose last win was by knockout in handing Mike Dallas Jr. his first professional loss. "I'm expecting a very, very hard fight. We'll both have to go through some tough moments."
That's where Lopez feels he has a big advantage. Vargas does not.
"He's a good fighter," said Vargas. "But I'm a better fighter."
On Saturday night, somebody will move forward in the crowded junior welterweight landscape.
Sugar Ray Leonard and Marvin Hagler Stood Tall in an Era of Epic Battles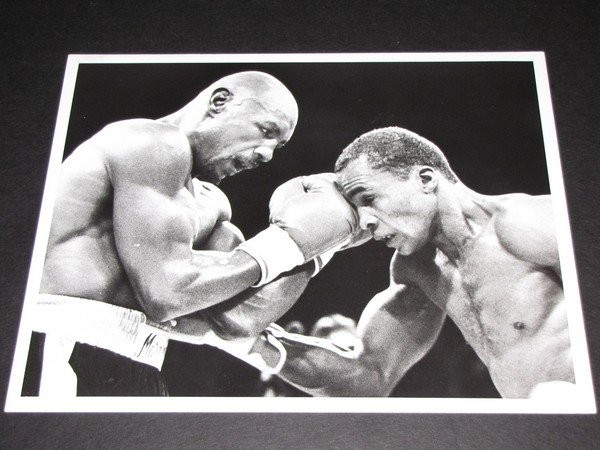 It's been said — and it applies to all sports, but especially boxing — that in order to be great, one has to face great competition.
During the 1980s, in what many consider boxing's "Golden Age," several epic battles were waged between Roberto Duran, Thomas Hearns, Marvin Hagler and Ray Leonard, which helped drive the sport's appeal after Muhammad Ali's retirement in 1981.
All four are enshrined in the International Boxing Hall of Fame, but Leonard and Hagler stood the tallest.
With each celebrating birthdays this month – Leonard turned 63 on Friday, May 17,   and Hagler turns 65 on Thursday, May 23 –  this seems like the perfect opportunity to reflect on their legendary careers.
Leonard, who would become a world champion in five weight classes, was a nonpareil ring craftsman who could box with absolute ease and also unload the heavy artillery.
Some said slick marketing after claiming the Gold Medal at the 1976 Montreal Olympics as a junior welterweight helped Leonard vault to fame. Sugar Ray had the look, personality and charm to attract a large fan base, but did he have what it takes to hold his own against the top welterweights?
The answer was yes, but it wasn't until Leonard stopped Wilfred Benitez in the 15th round for the World Boxing Council and lineal welterweight title in November 1979 at Caesars Palace, that he would be given his due.
Entering the fight, Benitez had a 38-0-1 record and was a two-division world champion.
In the opening frame, Leonard drilled Benitez with a left hook after tossing a jab and a right cross.
Two rounds later, Leonard knocked Benitez on his backside with a rattling jab. "I wasn't aware I was in a championship fight early because I hit him so easy," said Leonard, who was named Fighter of the Year by The Ring magazine in 1979 and 1981, but then he adjusted to my style. It was like looking in a mirror."
Leonard knocked Benitez down with a thunderous left in the 15th, but couldn't put him away until the referee called it off with six seconds left.
"No one, I mean no one, can make me miss punches like that," said Leonard of Benitez, who is also in the IBHOF.
In June 1980, Leonard, who went 36-3-1 with 25 knockouts, returned to the Canadian city where he first gained fame and faced the indestructible Duran, the former lightweight king, who came into the bout with a 71-1 record and was regarded as the best pound-for-pound boxer in the world.
The fight drew international attention and although Leonard lost, his showing removed any and all doubts about his greatness.
With 46,317 inside Olympic Stadium, Duran dictated the early pace by cutting off the ring and not allowing Leonard to extend his arms.
For four rounds, Duran didn't give Leonard enough room to move and unload any significant blows.
Leonard finally came alive in the fifth and unleashed numerous combinations. The remainder of the fight saw Leonard score, but it was Duran who looked stronger and sharper.
William Nack, writing in Sports Illustrated described it thusly: "It was, from almost the opening salvo, a fight that belonged to Duran. The Panamanian seized the evening and gave it what shape and momentum it had. He took control, attacking and driving Leonard against the ropes, bulling him back, hitting him with lefts and rights to the body as he maneuvered the champion against the ropes from corner to corner. Always moving forward, he mauled and wrestled Leonard, scoring inside with hooks and rights."
After 15 rounds, Duran won a very narrow but unanimous decision, handing Leonard his first setback after opening his pro career with 27 wins.
Angelo Dundee, Leonard's trainer, had advised him to stick and move against Duran who wanted to brawl. But Duran was able to get inside Leonard's head and Leonard, wanting to prove his toughness, did not follow Dundee's advice.
Leonard realized his error and vowed not to make the same mistake if he met Duran again. And they did meet again, five months later, before a national television audience with 25,038 looking on at the New Orleans Superdome.
This time Leonard would fight his fight and not Duran's. "The whole fight, I was moving, I was moving," he said, "and voom! I snapped his head back with a jab. Voom! I snapped it back again. He tried to get me against the ropes, I'd pivot, spin off and pow! Come under with a punch."
Late in a memorable seventh round, Leonard wound up his right hand as if to throw a bolo punch but instead tagged Duran's face with a sharp jab.
Leonard then taunted him, sticking out his chin and daring Duran to hit it. The taunting continued as Leonard moved around the ring.
It was clear Leonard was ahead on all three scorecards, but it was still close, and Duran, though not hurt, seemed to lack real punching power and probably felt humiliated.
Toward the end of the eighth round, Duran turned his back to Leonard and uttered the now famous line "no mas" (no more).
It was over with 16 seconds left as Leonard regained the WBC and lineal welterweight belts.
Duran said he quit because of stomach cramps after overeating following the weigh-in. To which Leonard replied, "I made him quit…to make Roberto Duran quit was better than knocking him out."
Leonard then agreed to meet Hearns in order to unify the welterweight title. They met on September 16, 1981, a sweltering night in Las Vegas, at an outdoor arena at Caesars Palace before 23,618. Hearns walked into the ring with a 32-0 mark and 30 knockouts, while Leonard had a 31-1 record with 22 knockouts.
In the early stages, Leonard stayed away and boxed while Hearns tried to find a hole in Leonard's defense.
After five rounds, Leonard was trailing on the cards and had a swelling under his left eye. In the sixth, Leonard found his range and landed a left hook to the face and he was again the aggressor in the seventh.
Hearns decided to box and piled up points while Leonard wanted to unload the heavy guns.
Hearns dominated rounds nine through 12. But just before round 13, Dundee said to Leonard, "you're blowing it, son! You're blowing it!"
For the 13th, Leonard, who now had a badly swollen left eye, caught Hearns with a stunning right and then landed a clean combination as Hearns was on wobbly legs.
Hearns went through the ropes, but it wasn't ruled a knockdown by referee Davey Pearl because it wasn't a punch that sent him there.
Late in the same round, Hearns was decked after Leonard connected with multiple blows.
In round 14, with Hearns leading on all three cards but clearly out of gas, Leonard seized control with a sizzling overhand right and a combination that saw Pearl call a stop to the action.
A third round TKO over Bruce Finch in February 1982 with the WBA, WBC, and lineal welterweight titles on the table, was followed by a scheduled fight with Roger Stafford.
While in training, Leonard had problems with his vision. He was diagnosed with a detached retina which was repaired in May of that year.
In November 1982, at a charity event in Maryland, Leonard announced he was retiring from boxing.
Twenty-seven months passed before Leonard returned to the ring in May 1984, when he faced Kevin Howard in a non-title match.
In the fourth round, Leonard was knocked down for the first time in his career. He went on to win, TKOing Howard in the ninth, but then shocked everyone at the post-fight press conference by announcing he was calling it a career once again.
Leonard sat ringside for the Hagler-John Mugabi fight in Las Vegas in March 1986 and was surprised to see Mugabi actually outbox Hagler for much of the contest before succumbing in the 11th round.
Leonard had seen enough and announced two months later he was coming back and that his next opponent would be none other than the great Hagler who would be making the 13th defense of his middleweight title.
The fight was set for April 6, 1987 at Caesars Palace. Hagler opened a 4-to-1 favorite.
Leonard won the first two rounds on all three judges' scorecards as Hagler, a natural left-hander, fought in an orthodox stance.
In the third round, Hagler switched to southpaw and fared much better, but Leonard remained in control with the help of superior hand and foot speed.
Leonard started to tire by the fifth as Hagler buckled his knees with an uppercut toward the close of the frame.
Hagler scored well in the sixth round, but Leonard also had effective moments.
Hagler did well in the seventh and eighth as he landed his jab while Leonard wasn't able to counter.
The ninth round was the most exciting with Hagler stunning Leonard with a left cross and had him pinned in the corner.
Leonard was able to escape and though each looked sharp, Hagler's punches were crisper and more resounding.
The 10th round wasn't as dramatic, but Hagler took that stanza, while Leonard boxed sharply in the 11th.
In the fight's final round, the 12th, Hagler landed a tremendous left hand that backed Leonard into the corner.
Leonard threw a flurry of punches and the round concluded with each fighter exchanging blows along the ropes.
The final CompuBox stats had Leonard landing 306 of 629 punches for 48.6 percent and Hagler connecting on 291 of 792 for 36.7 percent.
The fight was very close. Lou Filippo had it 115-113 for Hagler but was out-voted by Dave Moretti and Jose Guerra who had it for Leonard by scores of 115-113 and 118-110 respectively.
Hagler, who closed his career with a 62-3-2 mark and 52 knockouts, insisted he won the fight.
This was Hagler's final time inside the ring and he would eventually move to Italy.
Prior to his famous battle with Sugar Ray, Hagler scored two of the biggest wins of his career, scoring a unanimous decision over Roberto Duran in November 1983 and stopping Thomas Hearns in the third round in April 1985. Both bouts were at Caesars Palace.
Here is Pat Putnam's lead graph of the classic Hagler-Hearns fight as it appeared in Sports Illustrated: "There was a strong wind blowing through Las Vegas Monday night, but it could not sweep away the smell of raw violence as Marvelous Marvin Hagler and Thomas Hearns hammered at each other with a fury that spent itself only after Hearns had been saved by the protecting arms of referee Richard Steele. The fight in a ring set upon the tennis courts at Caesars Palace lasted only one second longer than eight minutes, but for those who saw it, the memory of its nonstop savagery will remain forever."
After upsetting Hagler, Leonard waited 19 months before getting back in the ring. In November 1988, he defeated WBC light heavyweight title-holder Donny Lalonde via a ninth round TKO. The WBC also sanctioned this fight for their inaugural super middleweight title.
Leonard then faced Hearns in a rematch in June 1989 at Caesars Palace and though it was ruled a draw, many at ringside thought that Hearns, who knocked Leonard down twice, deserved the decision.
Six months later, at the Mirage in Las Vegas, Leonard met Roberto Duran in a rubber match. Leonard prevailed over Duran by unanimous decision.
There would be two more fights for Leonard before he retired from boxing for good. In February 1991 at Madison Square Garden he lost a unanimous decision to Terry Norris in a clash for the WBC junior middleweight crown.
Another retirement followed, but his career wouldn't officially be over until March 1997 at Convention Hall in Atlantic City, New Jersey, when Leonard, now 40 years old, was stopped in the fifth round by Hector Camacho with a fringe middleweight title at stake.
These last two fights were aberrations compared to Leonard's glory days when he was the undisputed ruler of the welterweight division.
Few who watched Sugar Ray Leonard and Marvelous Marvin Hagler at their peaks will ever forget what they brought into the ring. No, they didn't do it alone, but it's unlikely anyone better than these two titans will appear any time soon.
Check out more boxing news on video at The Boxing Channel
To comment on this story in The Fight Forum CLICK HERE
Deontay Wilder's New Nuances Almost as Startling as His Trademark Right Hand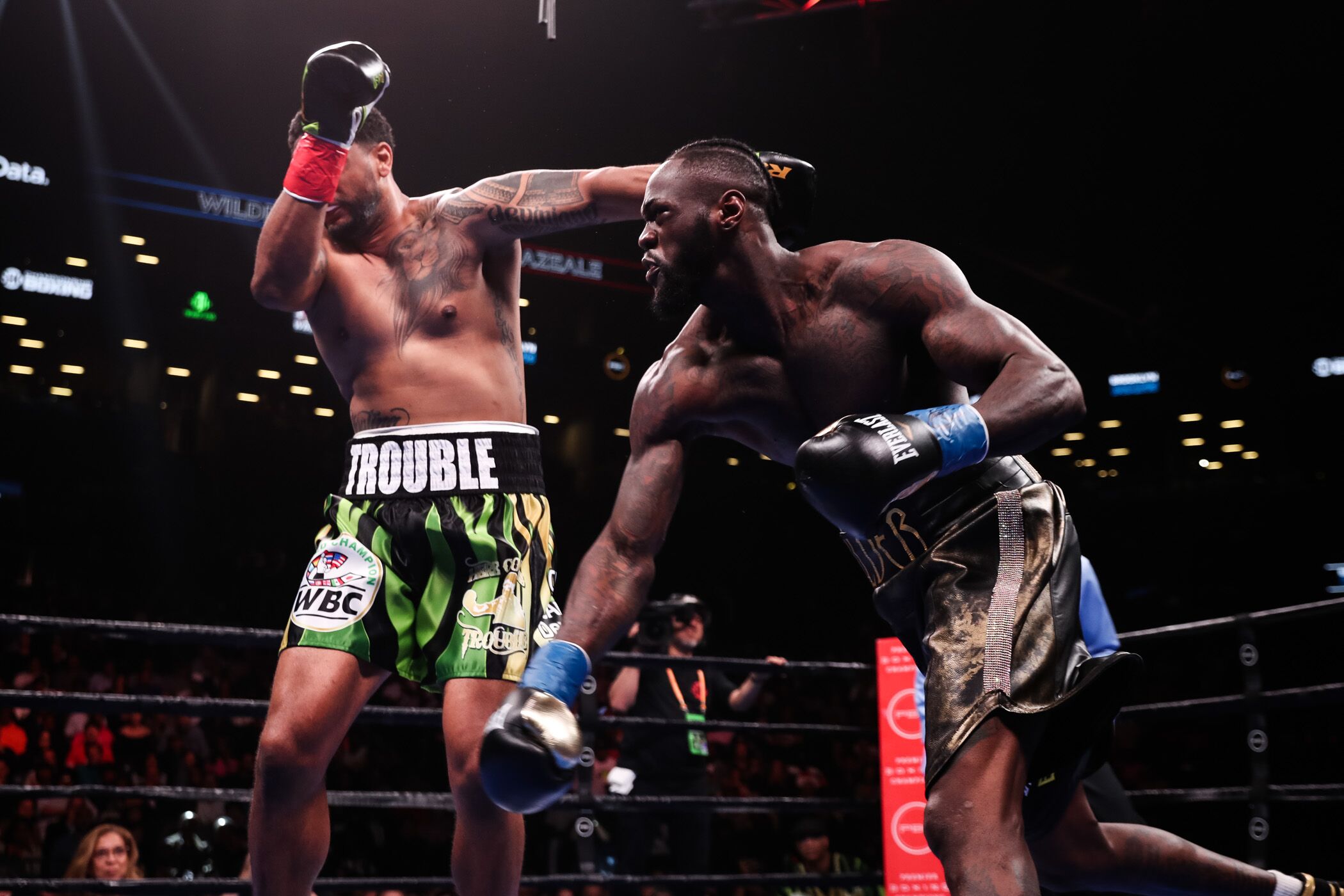 How much improvement can a fighter, any fighter, demonstrate in only 137 seconds? How many sandpaper-rough stylistic edges can be smoothed in that comparatively brief snippet of time?
Before WBC heavyweight champion Deontay Wilder entered the ring at the Barclays Center in Brooklyn Saturday night, the one thing everyone knew he had was a booming right hand that had accounted for virtually all of his previous 39 knockout victories, 19 of which were one-round quickies. At first glance it appeared another case of the same devastating stuff when Wilder (41-0-1, 40 KOs) landed his signature shot with less than a minute remaining in the opening round. Semi-conscious challenger Dominic Breazeale (20-2, 18 KOs) crashed onto his back, his arms and legs outstretched as if he were being spread-eagled, with referee Harvey Dock going through the formality of counting him out after an elapsed time of 2 minutes, 17 seconds.
But it was in those two-plus minutes prior to an ending that everyone in the live turnout of 13,181 and a Showtime audience should have expected that Wilder, at the relatively advanced age of 33, revealed that he might be more than a one-trick pony. This Wilder didn't just use his boarding-house-reach of a jab as a range finder; he snapped it out with some authority. He threw and landed an early left hook to the body, notable because the Wilder with whom fight fans were familiar was almost exclusively a headhunter. And, most telling of all, the two big right hands that did find the mark – he got Breazeale's attention prior to the putaway blow with one that didn't quite land flush – weren't his typical roundhouses.
"The quickest point from A to B is always that straight line, that right hand straight down the middle," color analyst Paulie Malignaggi said of what would appear to be a new and improved version of Wilder's weapon of choice.
"I'm an intelligent fighter. I'm very smart in the ring with the way I set these guys up," Wilder said at the post-fight press conference. But if that were so, these additional wrinkles or nuances would have been unveiled earlier in a career that hasn't always been as appreciated as it might have been. He is still trained by Jay Deas and Mark Breland, so the logical conclusion is that what they likely have been telling him all along in the gym must finally have sunk in. If that is indeed the case, then Wilder, whose startling power when unleashed in any form made him an omnipresent threat, had in those 137 seconds transformed himself into an even more dangerous dude.
They say history has a way of repeating itself. Another large heavyweight of considerable renown, Lennox Lewis, fought much like the unpolished Wilder in the formative stages of his Hall of Fame career. But after Lewis relinquished his WBC title to seemingly no-hope challenger Oliver McCall, who dropped and then stopped him in the second round on May 13, 1995, in London, he fired trainer Pepe Correa and replaced him with Emanuel Steward, who had worked McCall's corner the night "The Lion" became an ex-champ. Steward, a brilliant tactician, radically retooled Lewis, especially his jab, which was upgraded from pawing range-finder to the instrument that made the big Briton's overhand right even more effective. Following perfunctory TKOs of Lionel Butler and Justin Fortune in his next two bouts, the best of Lewis was revealed on Oct. 7, 1995, in Atlantic City, N.J., when he floored a bloodied Tommy Morrison four times en route to winning via a sixth-round stoppage.
"I really feel like I have one of the superior jabs in the heavyweight division right now," a beaming Lewis said after that fight, in which he showcased not only his spiffy new jab but a left hook that the pre-Steward version seldom dared to employ. "I wanted to see how Tommy Morrison would contend with it. The first couple of rounds, he contended with it. But as the rounds went by, I found my jab started to get to him."
Is Wilder going to continue to utilize more of the tools in what would appear to be an expanded tool box? Difficult to predict. As sample sizes go, 137 seconds isn't much. Even his destruction of the limited Breazeale may not be conclusive proof that he has matched or supplanted Anthony Joshua (22-0, 21 KOs) atop the heavyweight heap. The Englishman has three bejeweled championship belts (IBF, WBA, WBO) to Wilder's one, and he is a wide favorite to retain them when he takes on late substitute challenger Andy Ruiz Jr. (32-1, 21 KOs) in Joshua's U.S. debut June 1 in Madison Square Garden. There also are those who are convinced lineal champ Tyson Fury (27-0-1, 19 KOs) is superior to Wilder, despite the fact Wilder dropped him twice in their Dec. 1 bout last year that ended in a split draw.  Unless or until Wilder again faces Fury, or Joshua, he will be obliged to continue convincing however many doubters remain unswayed by his string of exclamation-point knockouts.
"I display greatness when I step in the ring," Wilder said. "I put fear in any man. I know I have tremendous power. That's no secret. At this point I think I've proved myself, with the record that I have and many a body that done hit the canvas."
Truth be told, it is becoming more and more difficult to dismiss Wilder as a crude, wild-swinging brawler who was absent the day fundamental boxing skills were being taught. You want to say that some of the nine title defenses he's made were against fringe contenders that didn't exactly constitute a Murderer's Row? Fine, but he went toe-to-toe with Luis Ortiz and weathered a few sticky moments before winning on a 10th-round stoppage, and he came ever so close to knocking out Fury in the 12th round, a rare late bolt of lightning that likely preserved his undefeated record. Oh, and don't forget that he was willing to go to Moscow to defend his title against Russia's Alexander Povetkin, a bout which was scrapped when Povetkin tested positive for performance-enhancing drugs.
"Deontay will fight anyone," said his co-manager, Shelly Finkel, who previously worked with, among others, Evander Holyfield and Mike Tyson. "He was willing to fight Joshua for very little comparative to what he was worth. When someone wants to make a fight, they make it. When we wanted to get Fury, we overpaid him. We gave him anything he wanted in order to make the fight."
There almost certainly will be more concessions made by Team Wilder to procure a date with Joshua, not the least of which will be the requirement to travel to the United Kingdom, where Joshua sells out soccer stadiums. Joshua, who had handed Breazeale his only previous defeat, by seventh-round TKO on June 26, 2016, had publicly stated that he hoped Breazeale would last at least until the eighth round against Wilder, if only to keep up appearances.
Maybe he isn't the least flawed of heavyweights, but with his ninth consecutive heavyweight title defense – matching the number for sixth place all time shared by Muhammad Ali, Joe Frazier, Vitali Klitschko, Lewis and Tyson – he has entered the conversation for being one of the hardest-punching of big men. It is not yet where he wants to be, but as a launching pad for bigger and better things, it ain't half-bad.
The Real Godzilla is 5-foot-5 and 118 pounds
As impressive as the bomb Wilder detonated on Breazeale's jaw, the top performance of the day came half a world away, in Glasgow, Scotland, where Japan's Naoya Inoue (18-0, 16 KOs), whose nickname is "The Monster," looked like the best pound-for-pound fighter in the world with his second-round knockout of Puerto Rico's Emmanuel Rodriguez (19-1, 12 KOs), the IBF bantamweight champion, in the semifinals of the World Boxing Super Series. Until Inoue floored him three times with left hooks Joe Frazier would have been proud of, Rodriguez, his face contorted in agony on each trip to the canvas, had never been knocked down as a professional.
Inoue's victory moves him into the WBSS 118-pound final against veteran Nonito Donaire (40-5, 26 KOs), the WBA and WBC Diamond titlist who also has a pretty good left hook.
So dominant has the 26-year-old Inoue been that there were immediate suggestions he move up – way up – in the pound-for-pound ratings, maybe far enough up to supplant Vasiliy Lomachenko or Terence Crawford at No. 1, depending on which list you choose to believe. It's a reason for legitimate discussion, because Inoue really is that good. Maybe he already has done enough to rise above the great Hall of Famer Fighting Harada as the best ever from the Land of the Rising Sun.
Photo credit: Amanda Westcott / SHOWTIME
Check out more boxing news on video at The Boxing Channel
To comment on this story in The Fight Forum CLICK HERE
Jonathan Esquivel Remains Unbeaten and Raquel Miller Wins NABF Title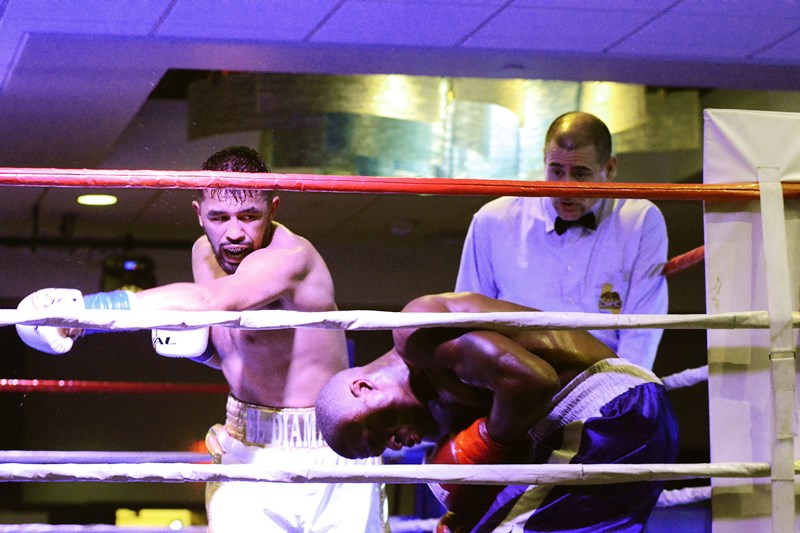 HAWAIIAN GARDENS, Calif.-Undefeated Jonathan Esquivel attracted a large and lively crowd and they weren't disappointed in his knockout win over Tavoris Teague on Saturday.
Esquivel (10-0, 9 KOs) showed the large contingent of fans that sold out the Hawaiian Gardens Casino that the tricky Teague (6-27-4) could not compete for four full rounds in their super middleweight clash.
The fight ended at 2:11 of the fourth when Teague was overwhelmed by Esquivel but remained standing up as referee Zachary Young ended the fight.
Esquivel, who lives in nearby Santa Ana, California, brought more than 200 fans and they saw him struggle a bit with Teague, but after two flat rounds, the southpaw began finding the range and unleashed a barrage of punches that Teague could not avoid. The end came suddenly but the Orange County fighter remains with an unblemished record.
NABF Female Title
Female middleweight contenders headed the main event and former Olympic alternate Raquel "Pretty Beast" Miller (9-0, 4 KOs) showed her professional game is intact with a knockout win over veteran Erin Toughill (7-5-1) to win the vacant NABF middleweight title.
Miller didn't waste time and knocked Toughill down in the first exchange with a short right cross that dropped the veteran fighter who had nearly toppled middleweight contender Maricela Cornejo in her last ring appearance.
Speed was her greatest asset and Miller used it to full advantage as she jabbed her way through Toughill's guard and landed quick three-punch combinations. For the first three rounds Miller was in full control.
Around the fourth round Miller seemed in cruise mode when Toughill rammed several rights against her foe and followed up with more right crosses. All seemed to land flush and Miller was moved backwards with the blows. Though Toughill did not land more punches than Miller, the solid blows were enough to win her first round.
In the fifth round Toughill seemed confident that she had discovered the remedy for Miller's speedy punches and kept ramming rights through the guard. Again Toughill seemed to be able to land the more effective blows, but though they landed they didn't seem to hurt Miller, but rather perplexed her.
Miller seemed more intent to reverse the momentum and launched a quick solid three-punch combination on Toughill who seemed surprised by the blows. After absorbing a Miller right Toughill retaliated with a left hook and another left hook. The change of pace seemed to keep Miller off balance but toward the end of the sixth round a screaming left jab connected followed by a solid one-two combination. Miller had quickly regained the momentum.
The seventh round saw both fighters race toward each other with Miller connecting with a lead right that snapped Toughill's head back. Miller followed up quickly with a snapping jab, jab and left hook that caught Toughill perfectly and dropped her immediately to the floor. She beat the count but when referee Zachary Young asked her to put her hands up:
"She gave me a strange look and I had to end it," said Young of Toughill's response.
When asked what punch caused the knockout Miller was unsure.
"I don't remember what punch I used, I'm just excited to win the title," said Miller who won by knockout at 1:01 of the seventh round.
Miller wins the NABF middleweight title and becomes an automatic contender for the WBC version of the middleweight world title. Claressa Shields is the undisputed middleweight world champion and holds the WBC, WBA, IBF and WBO world titles.
"I'm all about smooth boxing but I can bang if I have to," said Miller.
Yes she can.
Other Bout
Super middleweights Kenny Quach (0-1-1) and Johnny Cisneros (0-0-1) ended in a draw after four closely fought rounds. Cisneros fights out of Riverside and was making his pro debut. Quach fights out of Santa Ana, Calif.
Photo credit: Al Applerose
Check out more boxing news on video at The Boxing Channel
To comment on this story in The Fight Forum CLICK HERE