NO LOSER Figueroa and Arakawa in Fight of the Year Candidate
Weslaco, Texas' Omar Figueroa battled Nihito Arakawa in a 135 pound scrap at the AT &T Center in San Antonio, and on Showtime, and this one exceeded expectations immensely. The pace was hectic from the start to the final, fabulous round, and I don't think it fair to announce the winner, as both men deserves ample praise for their effort, which was Herculean.
This one should get Fight of the Year honors, and after twelve rounds, the judges, by scores of 118-108, 118-108, 119-107, gave Figueroa the nod.
No, those wide scores don't begin to tell the tale of the scrap, which was a classic. Yes, Arakawa took a count in the second and sixth, but he almost deserved a draw for his wall to wall balls and heart.
Arakawa spoke to Jim Gray after. He said that Figueroa was "very strong."
"Thank you very much, Texas, San Antonio," he yelled to close. If he didn't become one of your favorites after his effort, and humble decency displayed by that shoutout, then he should've.
Figueroa ( landing on the Japanese fighter in above Tom Casino-Showtime photo) said after he knew it would be twelve hard rounds. He said it was "incredible" the amount of punishment the "loser" took. The victor said he hurt his hands in the second or third round. He didn't say anything til later, because his corner noticed he wasn't as busy. "I've looked forward to a fight like this," he said. He said he didn't think it would go much past the second round, when he put Arakawa down. He gave the belt he won to his dad.
Fig, age 23, was 150 on fight night, while the Japanese boxer, age 31, was 151 on Saturday in Texas. Fig entered with a 21-0 mark and the underdog was 24-2-1. The WBC interim world title was up for grabs.
The first round was busy as all hell. The lefty Arakawa got hurt and took a knee in round two. Figgie, switching his stance, worked to the body. Arakawa didn't get on his bike, or grapple. He stood in the pocket, and banged, God bless him. A right to the top of the head buckled him, on replay.
In the third, Arakawa had Fig on the ropes, and was scoring well to the body. Fig scored well up top, with both hands, and he took the last part of the round. Blood, from a head clash, showed on Fig's nose to start the fourth. The round was a stellar showing from both men. Ara out-threw 110 to 66 for the Texan.
In the fifth, a sharp right landed and buzzed Arakawa a tiny bit. But he didn't back up, not even a half step. It was another round of wall to wall action, hard to score.
In the sixth, Arakawa took a count, with 30 seconds to go. The ropes kept him from going down, the ref ruled, correctly. A right hand on the button started the damage combo.
In the seventh, blood flowed from the bridge of Fig's nose. He went lefty, then righty again. Arakawa held twice and one wondered if he was losing steam. But he kept on hurling as did Figueroa.
In the eighth, time was called for a lowblow by Arakawa, and he was warned for the second time. Fig's right landed a few times to the midway point. Arakawa's left eye was puffed and he was tired.
In the ninth, Arakawa rebounded some. But in the last minute, he ate clean shots and looked weakened again. The only thing moving was hands, as both men stayed in the pocket, and launched. Fig looked fresh in the corner, for having been so busy to that point.
In round ten, it was the same, toe to toe. Fig said he was having hand problems after the round. In the 11th, he still threw with both mitts. Arakawa did some damage, with the Texan on the topes, at 1:30. They traded and the crowd roared down the stretch.
In the 12th, Arakawa had Fig on the ropes, a few rounds after folks on Twitter were calling for his corner to pull the plug.
This was a classic, people.
Fig went 480-942 to 280-1170 for the loser.
`Big Baby' Proves Again That Heavyweights Need Not Have Ripped Physiques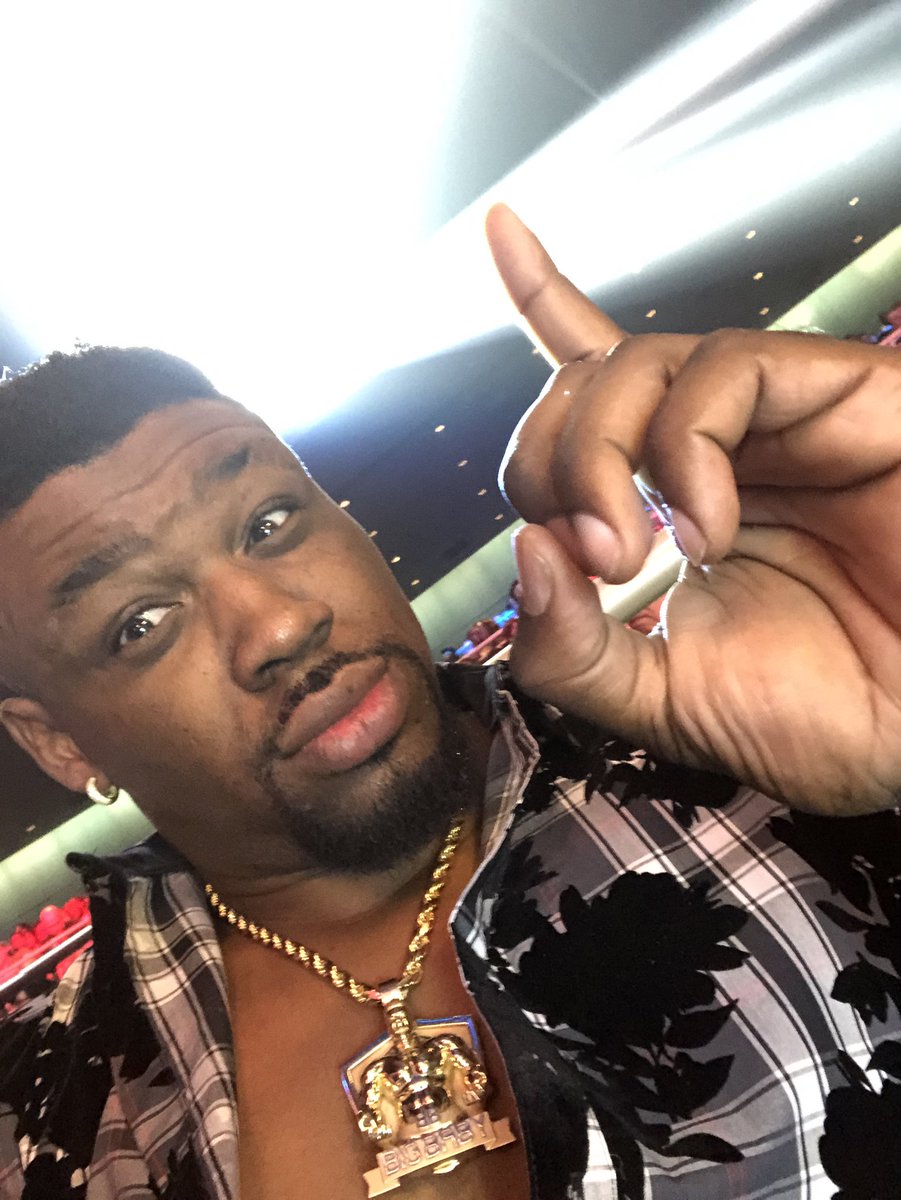 If we were to rate heavyweight champions on the basis of six-pack abs and overall confirmation, it's a pretty safe bet that the magnificently ripped physiques of Evander Holyfield and Ken Norton would place them at or pretty close to the top of the list of pugilism's most impressive big-man bodies. Also drawing consideration for a high slot would be Mike "Hercules" Weaver, who briefly held an alphabet title, but, his massive muscles notwithstanding, Weaver is hardly anyone's idea of a truly great heavyweight.
The old saying – "looks like Tarzan, fights like Jane" – doesn't come close to applying to Anthony Joshua (22-0, 21 KOs), the IBF/WBA/WBO heavyweight champ who defends those titles against Jarrell "Big Baby" Miller (23-0-1, 20 KOs) on June 1 in Madison Square Garden. Although the 6-foot-6 Joshua has fought as low as 229 pounds and as high as 254, at those weights and everything in-between he looks the part of a scary-good Tarzan who can and almost always pulverizes the guy selected to serve as his designated victim.
Which brings us to the 6-foot-4 "Big Baby" Miller, the well-fed Brooklyn, N.Y., native who has shown he can scrap a lot more like Tarzan than Jane, but at first glance is a closer physical approximation to Norm Peterson, the chubby guy on the end bar stool in Cheers so memorably played by George Wendt, winner of six Emmy Awards for Best Supporting Actor. Although Miller has averaged a semi-reasonable 265.7 pounds per ring appearance over the course of his professional boxing career, with a low of 242, he has come in at 300-plus for each of his last three bouts and it seems a safe bet he'll officially come in anywhere from 40 to 70 pounds heavier than Joshua when they square off three-plus months hence.
All of which raises a question of how much is too much when it comes to a corpulent heavyweight's scale reading? Talent comes in all shapes and sizes, and there are reasons why seemingly fat fighters are, well, seemingly fat fighters. It could be genetics (it's so convenient to blame mom or dad when you have to shop for pants with a larger waist size), a slow metabolism or simply a fondness for unhealthy fast food, second and third helpings at the dinner table and an insatiable sweet tooth.
George Foreman's body looked a lot like Joshua's does now in the earlier phase of his Hall of Fame career. No, the glowering Foreman that laid waste to Joe Frazier and Ken Norton didn't sport the six-pack abs of a male underwear model, but he had a thick – not overly thick – frame and could deliver battering-ram punches with either fist. It wasn't until he came off his 10-year retirement from boxing that Big George, now a smiling, playful jokester at press conferences, poked fun at his enlarged self, the one that came in at a career-high 267 pounds after paring down from 300-plus for his first comeback fight, against Steve Zouski. Foreman cracked wise about being on a "seafood" diet, telling media types that what he meant was he ate all the food he saw.
Other than Foreman, the best of the fight game's (too-)big men is Riddick Bowe, another Hall of Famer whose appetite for high-calorie fare was matched only by his top-tier skill set. The aptly nicknamed "Big Daddy" was terrific for a time and might have remained so for even longer had he been more diligent in heeding the dietary and training dictums of his strength-and-conditioning coach, Mackie Shilstone, and legendary trainer Eddie Futch, both of whom became understandably frustrated when Bowe would allow himself to blow up 40 to 50 pounds above his optimal fighting weight between bouts.
Other accomplished big guys who were able to overcome the burden of too many excess pounds are future first-ballot Hall of Famer James Toney, who fought as low as 157 pounds and won widely recognized world championships at middleweight and super middleweight before gorging himself up to the heavyweight ranks where he defeated, among others, Holyfield, Fres Oquendo and Dominick Guinn; "Two-Ton" Tony Galento, a veritable fireplug  of a man who shockingly knocked down seemingly invincible heavyweight champ Joe Louis before falling himself, and Buster Mathis Sr., the dancing bear whose jiggly love handles didn't prevent him from going the distance with Muhammad Ali and Jerry Quarry.
When it comes to almost unfathomable heft, however, special mention must be made to Eric "Butterbean" Esch, the erstwhile "King of the Four-Rounders," who despite being only 5-11½ logged 90 of his 91 pro bouts (77-10-4, 58 KOs) at 300 or more pounds, including three at 400-plus pounds. All right, so The Bean's list of opponents for the most part was hardly a Murderer's Row. It should be noted, however, that he defeated Louis Monaco, who defeated Kevin McBride, who defeated Mike Tyson, who defeated Larry Holmes, who defeated Muhammad Ali.
Honorable mention, if you want to call it that, is reserved for Gabe "Big G" Brown, who managed to compile a winning record (18-17-4, 12 KOs) despite weighing 300 or more pounds for 33 bouts, with a high of 367; Dustin "Worm" Nichols (5-12, 5 KOs), who came in at 400 or more four times and the rest at 300-plus, with all 12 of his losses by knockout; Alonzo "Big Zo" Butler (31-3-2, 24 KOs), who is still active and might yet evolve, considering his three most recent bouts were at 300-plus pounds, into an updated version of "Big Baby" Miller.
If you want to tick off "Bronco" Billy Wright (43-4, 34 KOs), he of the seven bouts at 300 or more pounds, try comparing him to Butterbean. "If you think I'm a bum or a joke, try saying that to my face. I guarantee you won't be laughing for long," the now-retired Bronco Billy, 54, said in 2015, when he was the WBC's 20th-ranked heavyweight. "I can knock out anybody on the planet, with either hand. I can knock them cold."
In retrospect, a matchup of Butterbean and Bronco Billy now rates among my all-time matchups that never happened, but should have. Whoever went down would cause a vibration that I'd like to think could have been registered on the Richter Scale.
Boxing, of course, is not the only sport where gifted but gluttonous athletes overcame, if briefly, their inclination to succumb to the more vexing temptations of food. Remember the time that third baseman Pablo "Kung Fu Panda" Sandoval's belt buckle snapped and his pants nearly slid down when he took a particularly vicious swing that missed? Basketball had the man with two nicknames, former University of Kentucky center Melvin Turpin, who alternately went by "Turp the Burp" and "Lard of the Rims", and no one will ever forget the sight of blimpish quarterback Jared Lorenzen, dubbed the "Pillsbury Throwboy," who could fire lefthanded lasers but ate himself out of the NFL, where he once received a Super Bowl ring as the backup to starter Eli Manning for the New York Giants' SB XLII victory over the New England Patriots.
It's a longshot that Big Baby Miller could pull off the upset of Anthony Joshua, but if he did it would serve as an inspiration to couch potatoes everywhere that athletic glory just might be theirs if they put aside the potato chips and beer, at least for a little while. After all, it isn't the size of the dog in the fight, it's the size of the fight in the dog that matters, right? Even if the dog in question is as large as a Clydesdale.
Bernard Fernandez is the retired boxing writer for the Philadelphia Daily News. He is a five-term former president of the Boxing Writers Association of America, an inductee into the Pennsylvania, New Jersey and Atlantic City Boxing Halls of Fame and the recipient of the Nat Fleischer Award for Excellence in Boxing Journalism and the Barney Nagler Award for Long and Meritorious Service to Boxing.
Check out more boxing news on video at The Boxing Channel
To comment on this article in The Fight Forum CLICK HERE
Fast Results from Minnesota: Rob Brant Retains His Title via TKO 11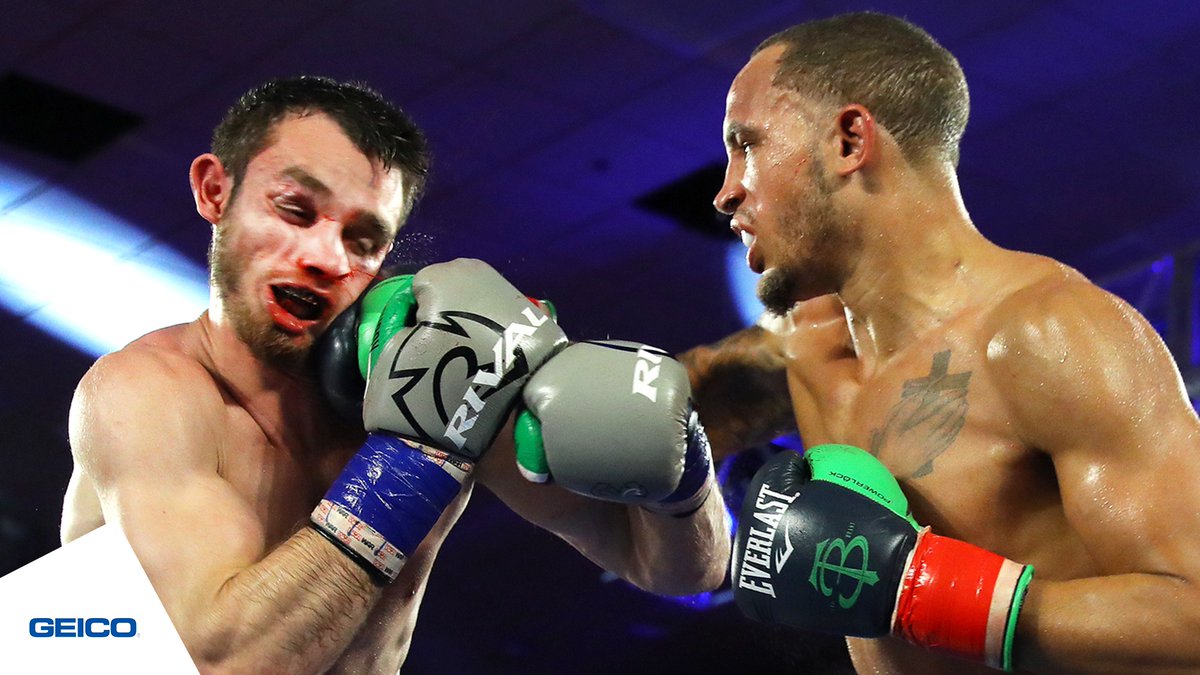 Rob Brant returned to his home state of Minnesota for the first defense of the WBA middleweight belt he won in Las Vegas with an upset of Ryota Murata. In the opposite corner was a 21-year-old Ukrainian making his U.S. debut, Khasan Baysangurov.
Baysangurov, who came in undefeated (17-0), had good boxing skills but fell behind early and lacked the power to reverse the momentum. Brant, who was the far busier fighter, knocked him down in the third round with a clubbing right hand that landed behind his left ear and finished him off in the 11th.
A flurry of punches, the last of which caught only air, knocked Baysangurov to his knees. He beat the count but was clearly hurt and when Brant snapped his head back with a straight right hand, referee Mark Nelson properly intervened. Brant improved to 25-1 with his 16th knockout. He is one of two middleweight champions recognized by the contemptible WBA, the other being Canelo Alvarez.
In a spirited 8-round affair in the junior lightweight division, 2016 U.S. Olympian Mikaela Mayer improved to 10-0 with a unanimous decision over spunky 20-year-old Yareli Larios (13-2-1). The scores were 80-72, 79-73, and 78-74. Mayer, who had a 5-inch height advantage, was too physical for Larios, the daughter of former WBC junior featherweight champion Oscar Larios, who worked her corner.
In the first TV bout, Chicago's Joshua Greer, a rising bantamweight contender, improved to 20-1-1 (12) with an eighth round stoppage of Giovanni Escaner (19-4) of the Philippines. The knockout punch was a short right hand to the pit of the stomach. Greer was down himself earlier in the fight, felled after walking into a short right hand in round three.
Other Bouts
 In an 8-round middleweight contest Tyler Howard improved to 17-0 with a split decision over spunky Christian Olivas who declined to 16-4. Howard, who hails from Crossville, Tennessee, has been attracting some buzz but tonight he didn't perform as advertised in what was nonetheless an entertaining bout.
In a crossroads fight between two 30-something super middleweights, both southpaws, Lennox Allen (22-0-1) won a unanimous decision over Derrick Webster (28-2). The scores were 97-92 and 98-91 twice. Allen, originally from Guyana, scored the bout's lone knockdown, decking Webster with a sweeping right hand a millisecond before the bell ending the third round. Webster, from Glassboro, NJ, had won nine straight going in.
 Former U.S. Army veteran Steven Nelson, who defeated Rob Brant as an amateur, won a unanimous decision over Felipe Romero in an 8-round light heavyweight contest. Nelson, based in Omaha, was cheered on by stablemate Terence Crawford. Romero (20-17-1) was once recognized as the cruiserweight champion of Mexico, but has degenerated into an "opponent." This was his ninth loss in his last 10 starts. Nelson advanced to 13-0 (10).
 In an 8-round lightweight contest, Ismail Muwendo, from Minneapolis via Uganda, scored a unanimous decision over Columbia's Hevinson Herrera (24-16-1). The scores were 60-54 across the board.
Check out more boxing news on video at The Boxing Channel
To comment on this story in The Fight Forum CLICK HERE
LA Area Fighters Leo Santa Cruz and John Molina Still Swinging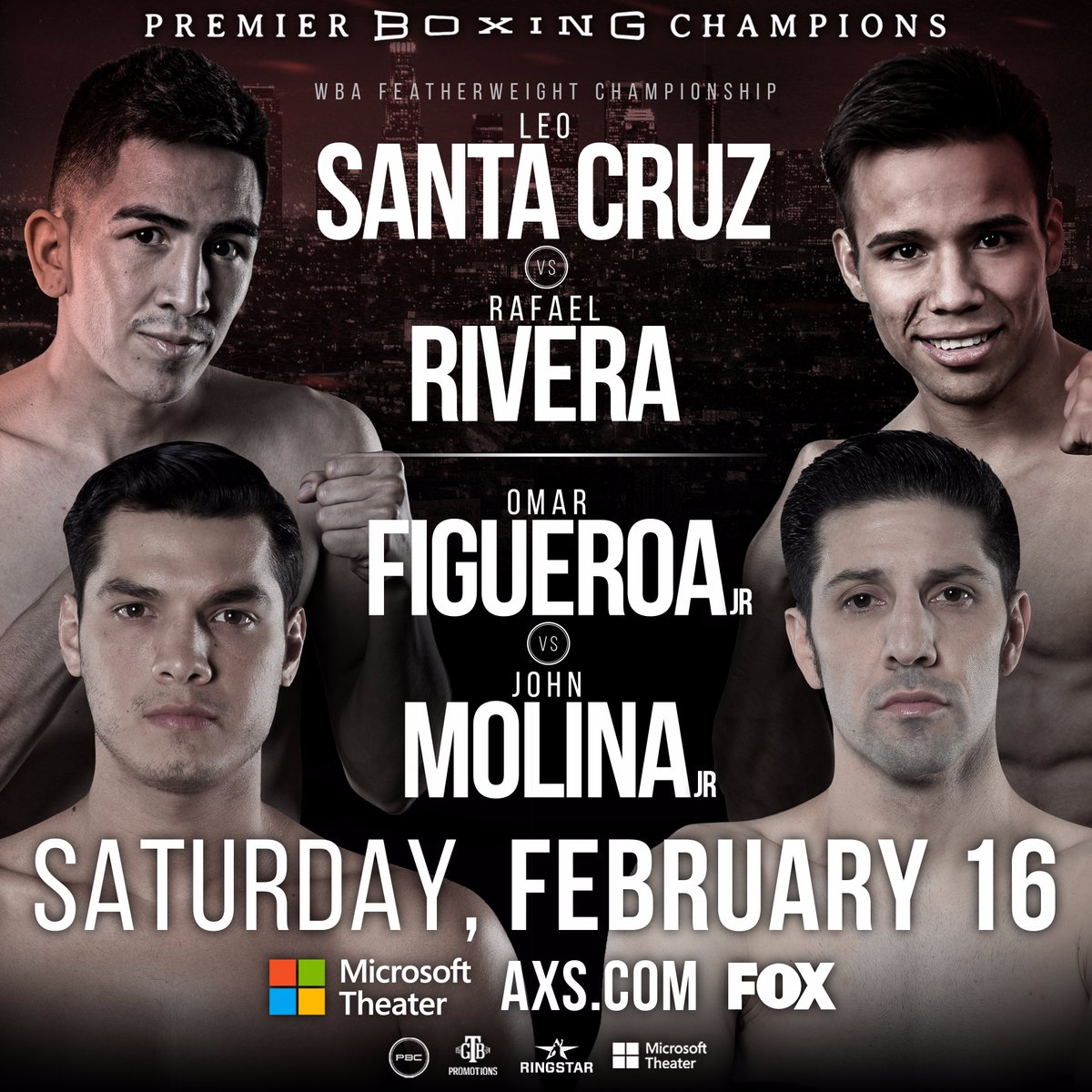 Two Southern California based prizefighters known for their longtime preference for slugging over slickness, will take center stage.
Both have withstood years of punishment with their battering styles and surprisingly remain staunchly relevant in the fight game despite the years of punishment endured in some of the most brutal fights in the past decade.
WBA featherweight titlist Leo Santa Cruz (35-1-1, 19 KOs) defends against Rafael Rivera (26-2-2, 17 KOs) and welterweight John Molina (30-7, 24 KOs) meets undefeated Omar Figueroa (27-0-1, 19 KOs) at the Microsoft Theater in downtown L.A. Fox will televise the PBC fight card.
The two Los Angeles area prizefighters are not the only pugilists who use aggressiveness over slickness, but they are among the few who still manage to go to war with a fighting style that requires toughness, grit and resilience after so many years.
Santa Cruz, 30, comes from a fighting family whose brothers Jose Armando, Antonio and Roberto all put on the gloves.
The East Los Angeles native has been fighting since 2006 with his nonstop punching mode that has enabled him to win world titles as a bantamweight, super bantamweight and twice as a featherweight.
Even before his professional debut Santa Cruz was engaging in wars inside gyms with older, bigger boxers on a daily basis. They're the kind of sparring battles that can sap the strength out of the strongest men both physically and mentally. Punishment like this can debilitate even the best over time like a hammer chiseling away the hardest granite.
But despite all the hammering Santa Cruz has endured in sparring sessions and prize fights, the rail thin featherweight with the jet black hair remains at the top of the pile in his weight division.
Now Santa Cruz faces Rivera, a dangerous Tijuana fighter who replaces Miguel Flores the original opponent felled by injury. Entering his 13th year as a pro the featherweight champion has bludgeoned his way to the top and remains king of the mountain.
"Leo is just gifted. He wears you down. Certain fighters are given this type of ability. Guys like Sugar Shane Mosley, Floyd Mayweather, Manny Pacquiao they are just born with these gifts," said Rudy Hernandez who worked with two Santa Cruz brothers as a trainer and cut man.
On Saturday, Leo Santa Cruz makes the third defense of the WBA title since reclaiming it from England's Carl Frampton in January 2017. Before that, he held it for one defense after beating Abner Mares for the first of two times.
"We were getting ready for Miguel Flores, but in the gym you have to always be ready for any kind of style. We had been already been working with sparring partners who brawl, and that's what we expect from Rafael Rivera," said Santa Cruz in Los Angeles on Thursday. "He can take punches, so we're ready for 12 rounds. We're going to be smart in this fight because we know what Rivera can do."
Rivera has already built a reputation as not just a brawler but someone with enough talent and power to upend the future aspirations of Santa Cruz. In his last fight in downtown L.A. he nearly toppled undefeated Joet Gonzalez. He's not an easy mark.
"I knew immediately that Rivera was a good opponent," professed Santa Cruz.
Molina
In the welterweight clash local slugger John Molina Jr. meets yet another foe in Omar Figueroa who's expected to defeat him. He relishes being the underdog.
"I've been down this road before. I was never given lofty expectations. There's no pressure here. I think Omar's style will accommodate mine and make it a fun fight for the fans," said Molina.
Molina, 36, has never been a model for how to look and fight with finesse and grace. Instead he's like a human battering ram you point in a direction and see how long it takes to blast the door down.
He started late in the boxing business at 23 years old. He was about 22 when he had a few amateur fights and was immediately sent into the pros. Balance was never a problem for Molina who had been a wrestler in high school. Power was never a problem either.
Molina was given the rudiments of boxing quickly by boxing guru Ben Lira then sent into the ring wars. Quickly he learned he could be losing a fight on points and eliminate his mistakes with one punch.
Several fighters realized this but far too late.
Back in July 2013, Mickey Bey was winning their fight and was in the last round when he decided to taunt Molina. One punch later he was counted out with 59 seconds left before the final bell.
A year ago Ivan Redkach had knocked down Molina and was eagerly looking to end the fight when he ran into a blow he didn't see. Down he went and got up groggily. The next round he was finished off by Molina.
That's how quickly a Molina fight can turn.
And if you think he can't box, well Molina has that trick up his sleeve as well. When he fought the dangerous Ruslan Provodnikov and used a box and move style to outpoint the heavy-handed Russian fighter, people were amazed.
"You can't count out John," said his father John Molina Sr. "Look what he did with Ruslan. Nobody gave my son a chance."
Figueroa has never been defeated in a boxing ring, but he's always had problems with the scale. The former lightweight world titlist only had one title defense when he was unable to make 135 pounds and moved up in weight. Against Antonio DeMarco three years ago Figueroa couldn't make 147 pounds and the fight was held at super welterweight. Though he won the fight, barely, he's battled the scale for the last four years.
"Training camp went great. I've made a lot of changes in my lifestyle and I'm dedicated 100 percent to boxing. Things have never been better," said Figueroa, 29 who hails from Weslaco, Texas. "Given our styles, there's no way this is going to go the distance. I think this is going to be an early night and I'm planning on having my hand raised."
Molina's ears perk up when he hears words like that.
"Talk is cheap. On Saturday night, we'll get down," said Molina at the press conference in L.A. "I've been down this road before. I was never given lofty expectations. There's no pressure here. I think Omar's style will accommodate mine and make it a fun fight for the fans."
Fans can expect the expected when it comes to both Santa Cruz and Molina in their respective fights: a lot of punching and a lot of bruises. It's prizefighting.
Check out more boxing news on video at The Boxing Channel
To comment on this story on The Fight Forum CLICK HERE