MEMORIES OF ALI-FRAZIER IV
"OK, class, the subject of today's pop quiz is women's boxing. Stay seated and raise your hand if you think you have the correct answer, or whatever your perception of the correct answer might be. First question: Who is the best female fighter in the world today?
"What, no responses? Not even a guess? You in the back with the perplexed look on your face, go ahead and pipe up. Start the discussion even if you're not really certain about whom to back. You say it might be Cecilia Braekhus, the undefeated welterweight (23-0, 7 KOs) from Norway? Is that because you've actually seen any of her bouts on tape or YouTube? Or is it because her name is at the top of Thomas Gerbasi's top 10 pound-for-pound list in the latest issue of The Ring?
"Let's move on. How about identifying the person you believe to be the best female fighter of all time. That's better. I'm seeing a few more hands go up. A couple of you are shouting out support for Lucia Rijker. She's certainly a safe choice. Ah, I knew there'd be someone going with Christy Martin, the only woman boxer to appear on the cover of SI. Somebody else thinks it could be big-punching Ann Wolfe. That's some scary lady. What about you with the gray hair, seated off to the side? You say you're going very retro with the late JackieTonawanda, who was known as `Lady Ali' during her career as one of the real pioneers? Definitely an interesting selection.
"Final question: What was the most-hyped women's boxing match ever? Whoa! That's a lot of raised hands. Here's a vote for Laila Ali vs. Jacqui Frazier-Lyde. And another. Still another. One more … wait, all of you think that? Any dissenting opinions? None? Are you telling me there's something all of you can agree upon?"
Women's boxing has always had an image of man-bites-dog, of a fish out of water. It's still something of an oddity, the sporting world's ultimate example of gender role reversal. Perhaps that's because it's very difficult for the average guy to accept the notion of a woman, any woman, who might be able to beat him up in the ring. Even if the woman in question has regal bloodlines and a determination to uphold and the legacy of her world-renowned male forebear.
On Sunday afternoon in Philadelphia, history of sorts again will be made when the Honorable Jacqui Frazier-Lyde, 52, who sits on the Municipal Court bench in her hometown, is officially inducted into the Pennsylvania Boxing Hall of Fame. Already part of the first father-daughter combination to win professional boxing championships, Frazier-Lyde is the first woman to be so honored by the PBHOF, joining her late father, former heavyweight champ "Smokin'" Joe Frazier, and her brother, onetime heavyweight contender Marvis Frazier. Ten days earlier, "Sister Smoke" was recognized during a similar ceremony in Philly's City Hall.
"I always expect the impossible (to happen)," the perpetually effervescent Frazier-Lyde said of the improbable fistic adventure she never expected to undertake until fate and family pride stepped in. "I'm a total optimist. To walk the path of life that I've been on, I'm just a very blessed person. I try to share that with everyone, everywhere."
Frazier-Lyde retired from boxing in the fall of 2004, with a 13-1 record that included nine victories inside the distance. Along the way she captured titles from one sanctioning organization or another as a super middleweight, light heavyweight and heavyweight. But she always will be known more for the one bout she lost than for all those she won, because of who she and her younger antagonist are. Their surnames were their express tickets to fame and fortune.
It almost had to be that way, didn't it, when one fighter's father is Muhammad Ali and the other's is Joe Frazier? On the date Laila and Jacqui finally squared off, June 8, 2001, at the Turning Stone Casino Resort in Verona, N.Y. – the first female bout to headline a pay-per-view card – a curious crowd of 6,500 showed up for what was billed as "Ali-Frazier IV," the distaff extension of the epic trilogy involving their celebrated dads. Also in the house was a media throng of 300-plus from around the world.
What everyone saw is still a matter of some debate. Laila Ali, at 23, was cover-girl pretty, relatively fluid of movement and disposed to make the fight at a distance of her choosing. Frazier-Lyde, a former star basketball player at American University, was a 37-year-old mother of three who lacked Smokin' Joe's pulverizing left hook but relentlessly bore in on Ali as her father had in his three wars with "The Greatest," trying and often succeeding in her attempts to turn the fight into a brawl at close quarters.
Through all eight scheduled rounds they hurled themselves at one another, and at the final bell Ali was bleeding from the nose while Frazier-Lyde had a puffy eye. Judge Tommy Hicks saw it as a 76-76 standoff, but Ali came away with a majority decision when Hicks' cohorts, Frankie Adams and Don Ackerman, submitted scorecards favoring the younger fighter by respective margins of 79-73 and 77-75.
Veteran boxing analyst Al Bernstein, who did the postfight interviews, said Ali vs. Frazier-Lyde had not been the sideshow many had predicted it would be.
"It was fun," Bernstein assessed afterward. "Both women showed grit and determination. They are in the embryonic stages of their boxing careers, sure, but they gave it everything they had and you can't ask for much more than that. Are there better women boxers? Yes. Would I just as soon see Christy Martin and Lucia Rijker fight? Yes. But this was fun, and it was hardly a travesty.
"They're obviously their fathers' daughters."
Others were less complimentary of what had taken place, just as the prevailing sentiment going in was that it was much ado about nothing. Jay Larkin, Showtime's senior vice president of sports and event programming, derided the matchup as "a spectacle that has appealed to the paparazzi mentality. Women's boxing has a hard enough time gaining credibility. This isn't going to help." Added longtime HBO Sports analyst Larry Merchant: "I wouldn't spend 15 cents to see it. (The PPV subscription fee was $24.95.). To me, it's like a stupid pet trick."
Fightnews.com straddled the fence, on the one hand noting that that two of Ali's defeated opponents were a steakhouse waitress and a 48-year-old former prostitute, while the seven women Frazier-Lyde had blown through on her way to Laila had all of two wins, total. But in its report on what had taken place inside the ropes, the respected web site conceded that the action was "so wild and thrilling that even the staunchest opponent of women's boxing couldn't possibly deny the excitement."
Me? Writing in the Philadelphia Daily News, I allowed that although it wasn't a reprise of the "Thrilla in Manila," neither had it been the "Groaner in Verona."
All that remained was for Laila and Jacqui to do it again, and maybe even a third time as their fathers had. But, alas, their rivalry proved to be a one-and-done. Laila's then-husband and manager, Johnny "Yah-Yah" McClain, said his wife was going to "go after fresh meat" and there was no need for Laila to mix it up with Jacqui again.
Thirteen years later, Frazier-Lyde said that explanation still doesn't wash, at least to her way of thinking.
"I broke her left clavicle. She was out of boxing for a whole year," Frazier-Lyde said of Ali. "I went on to win a world championship and she went to the hospital, OK? While they were trying to put her back together again, I went on to win a championship. I don't have to try to explain anything. It speaks for itself.
"If somebody had broken my left clavicle, I don't think I'd be trying to dance with her again. That's why she went on `Dancing With The Stars' instead."
For better or worse, I feel as I have some sort of proprietary attachment to Ali-Frazier IV. I was there with 25 or so other inquiring media minds at the Turning Stone when Laila, who was only eight years old when her father and the third of his four wives, Veronica, divorced, turned pro on Oct. 8, 1989. In possibly the biggest mismatch in the checkered history of women's boxing, Ali needed just 31 seconds to take out a nervous and clearly terrified waitress named April Fowler, who never even threw a punch. As Fowler was counted out, Ali postured over her, striking the memorable pose her father had for his controversial one-round KO of Sonny Liston in their May 25, 1965, rematch in Lewistown, Maine.
Fowler, who soon after "retired" from boxing with an 0-2 record, headed home to Michigan City, Ind., to work the dinner shift at Ye Olde Benny's Steak House. Ali dismissed any criticism leveled at her for picking such a ridiculously soft touch for her debut by haughtily saying, "It doesn't matter who you put in the ring. I'm knocking them out."
Ali's mother, Veronica Ali Anderson, was at ringside for the brief, one-sided skirmish and voiced her approval to what she had just seen, which, she claimed, she had seen before from her then-husband: "It was like history repeating itself."
A few days later, I phoned Frazier-Lyde, a practicing attorney with a law degree from Villanova University who spoke three languages (English, Spanish and French), to ask her thoughts on a daughter of Muhammad Ali getting into same profession that had made Ali's and Jacqui's pops such legendary figures. I figured it'd be worth a line or two in a notes column.
"I read where (Laila) said nobody could take her power, that she'd knock everybody out," Frazier-Lyde responded. "But I don't know about that. I can't imagine her knocking me out.
"I love the power aspect of boxing, of sports in general. (In addition to basketball, Jacqui had at various times also competed in lacrosse, hockey and softball.) "Maybe I got that from watching my father. You know, everyone in my family said that if I had been a boy, I would have been a champion boxer. Actually, we're all pretty athletic. I just have the biggest mouth."
And then Frazier-Lyde uttered the words that set everything into motion, once those words appeared in print.
"If Laila Ali wants a piece of me, I'll kick her ass."
That very afternoon, or maybe it was the next day, the 5'9" Frazier-Lyde, then 210 pounds, began training to take off the 45 pounds or so she had gained from having her babies and living the less physically demanding lifestyle of a courtroom litigator. Her goal: an eventual showdown with Laila, which she said would be the equivalent of the 15th round that Smokin' Joe never got to fight in his unforgettable rubber match against Muhammad Ali in Quezon City, the Philippines, on Oct. 1, 1975.
On Feb. 6, 2000, in Scranton, Pa., the slimmed-down, toned-up Frazier-Ali turned pro against Teela Reese, who had had the temerity to say this, when asked about Jaqui's father: "The name doesn't mean anything to me. He's just another guy." Frazier-Lyde then proceeded to do unto Reese, 20, what Laila had done to Fowler, winning on a first-round knockout.
It was inevitable, of course, that Ali and Frazier-Lyde would clash at some point, and that there would be verbal fireworks in the lead-up to that battle of the celebrity daughters. The surprise, at least to those who did not know Jacqui, was that it was Smokin' Joe's kid who would supply the juiciest comments.
At a joint press conference in Philadelphia, the surprisingly taciturn Ali said, "Anyone who's seen me before knows that when it's fight time, I don't have much to say. I'm Muhammad Ali's daughter, but my father and I are very different in that area. I don't necessarily try to put on a show. That's what my father's thing was, and he was great at it. Everything I say is because I feel it. It's not scripted." She also admitted that Frazier-Lyde is "the first opponent that I really could not stand."
Frazier-Lyde, standing nearby, was quick with the sort of snappy retort that her father was less adept at delivering than his wrecking-ball left hook.
"You won't be standing," she said. "You're right about that, baby. You'll be on your butt."
Ali and Frazier-Lyde generated enough buzz that they appeared on that week's cover of TV Guide. Ali entered the ring with a 9-0 record and eight KOs; Frazier-Lyde at 7-0 with seven stoppages. It was reported that each woman was guaranteed a minimum of $100,000, a queen's ransom for women's boxing then and now, with their purses escalating to as high as $250,000 if PPV projections were met, and they very well might have been.
Women's boxing remains an afterthought in the minds of many fight fans. A proposed matchup of Rijker and Martin – promoter Bob Arum was going to pay each $250,000, with an additional $750,000 going to the winner – was scheduled to take place three weeks after the DVD release of the Academy Award-winning Million Baby Baby. But that fight never took place because Rijker tore her Achilles' tendon and never fought again.
Ali-Frazier IV remains the most publicized, most-talked-about, biggest-money women's fight ever. And whether they care to admit it or not, the Cecilia Braekhuses and Anne Sophie Mathises, the best of today's female fighters, owe them a debt of gratitude for demonstrating that, as is often the case in men's boxing, the sizzle often is as important as the steak.
U.K. Boxing Update: Gorman, Bowen, Edwards, Quigley, and More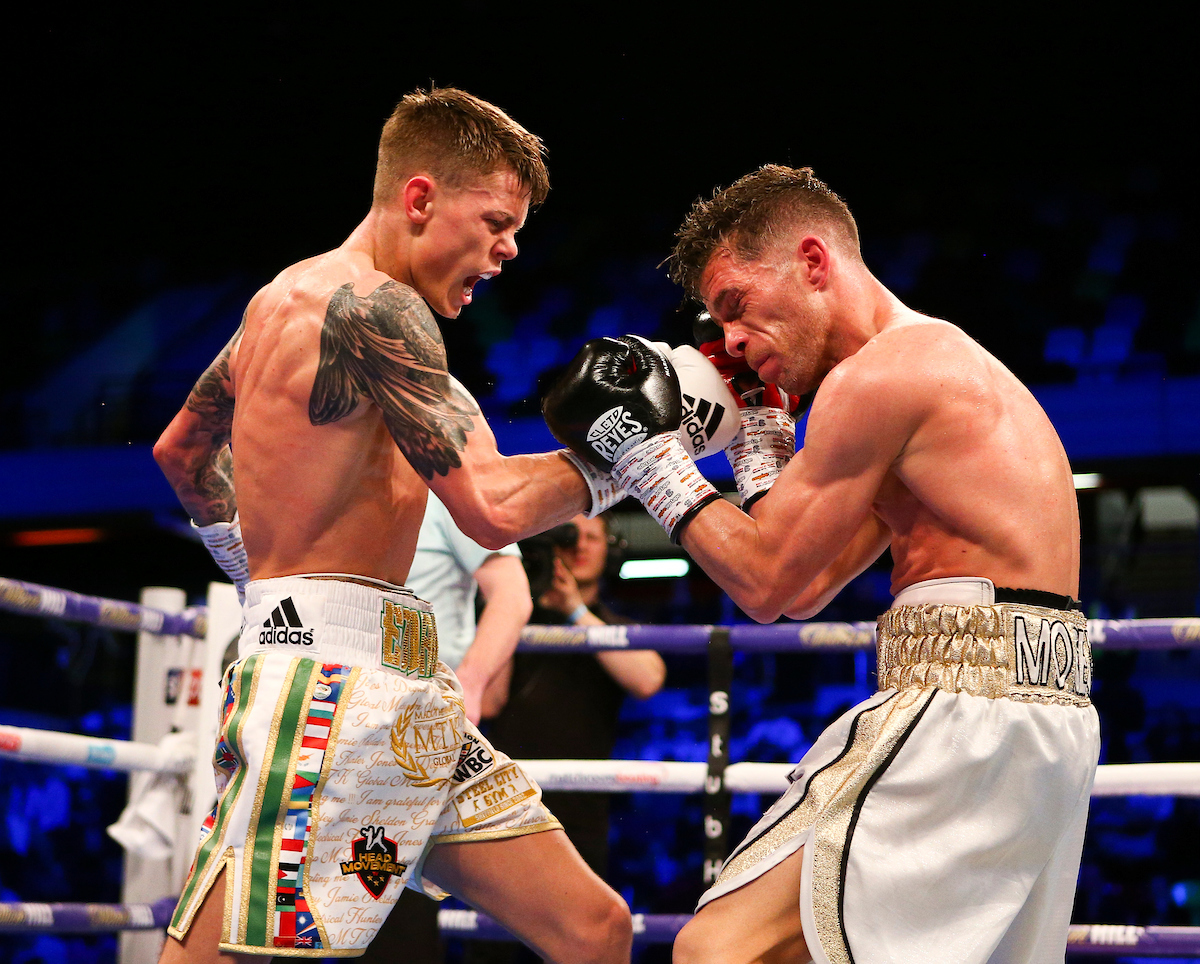 For the second time in the last three months, Great Britain's top promoters Eddie Hearn and Frank Warren went head-to-head with dueling fight cards in England. When this last happened, back on Dec. 22, Warren had the stronger card from top to bottom, but Hearn's show had the more compelling main event, namely the rematch between Dillian Whyte and Dereck Chisora. Today the roles were somewhat reversed. Hearn's show had the stronger undercard, but the fighter attracting the most eyeballs, undefeated heavyweight Nathan Gorman, is promoted by Warren.
Leicester / Queensberry (Frank Warren) Promotion
In a predictably desultory affair, Nathan Gorman (16-0, 11 KOs) outpointed Kevin Johnson (34-13-1). This being a 10-rounder, the referee was the sole arbiter and he gave every round to Gorman, a distant cousin of Tyson Fury.
Kevin Johnson, a pro since 2003, took Vitali Klitschko the distance in 2009 and Tyson Fury the distance in 2012 and more recently went the full route with Daniel Dubois and Filip Hrogivic, but he won scarcely a round in those fights and in recent years has degenerated from a journeyman into a trial horse. He came into the fight 20 pounds heavier than in his last start 13 weeks ago and fought to survive, allowing Gorman to initiate what action there was.
Frank Warren can't be blamed for promoting this snoozer. Johnson was a late replacement for Fabio Maldonado, a Brazilian who, although something of a mystery, was expected to provide Gorman with a sterner test. But Maldonado reneged after getting a better offer and will now fight Oleksandr Teslenko in Toronto next week.
The 22-year-old Gorman, who carried 253 pounds on his six-foot-three frame, is very light on his feet and some expect him to out-box his harder punching countryman Daniel Dubois when they eventually meet.
In the featured bout, Sam Bowen, a Leicestershire man, retained his British 130-pound title with a ninth round stoppage of Scotland's Jordan McCorry. Bowen improved to 15-0 with his 10th stoppage.
London / Copper Box / Matchroom (Eddie Hearn) Promotion
In the main event of Hearn's card, baby-faced Charlie Edwards (pictured on the left) put on a clinic in the first defense of the WBC world flyweight title he won with an upset of Cristofer Rosales. Edwards (15-1, 6 KOs) won every round over determined but outclassed Angel Moreno (19-3-2), a 35-year-old Spaniard and former sparring partner. Edwards scored a flash knockdown with a counter right hand in round six. All three judges had it 120-107.
Irish middleweight Jason Quigley, who signed with Golden Boy coming out of the amateur ranks and had fought exclusively in the United States, improved to 16-0 (12) with a second round stoppage of Mathias Eklund (10-2-2). Eklund was on his feet, but the ref thought it wise to keep the overmatched Finn from taking more punishment after Quigley blistered him with a series of unanswered punches. Quigley's dream fight would be a match in Ireland with stablemate Canelo Alvarez.
Joshua Buatsi, an emerging star in the light heavyweight division, chopped down Liam Conroy to win the vacant BBBofC 175-pound title. Buatsi had taken out his last three opponents in the opening round but Conroy, who came into the match riding a nine-fight winning streak, lasted into the third. Buatsi, a Londoner born in Ghana and a bronze medalist at the Rio Olympics, improved to 10-0 (8). Conroy, who was on the deck twice, fell to 16-4-1.
Conroy's promoter Eddie Hearn confirms that Buatsi's next fight is likely to take place at Madison Square Garden on June 1 underneath Joshua-Miller.
In a cruiserweight fight with British and Commonwealth titles at stake, Lawrence Okolie improved to 12-0 (9) with a fourth round stoppage of Wadi Camacho (21-8). Okolie knocked Camacho to his knees with a hard combination and finished him off with a big right hand.
The most inexperienced British boxer to ever compete in the Olympics, the rangy six-foot-five Okolie has sparred with Anthony Joshua and Tyson Fury and will almost assuredly compete as a heavyweight when he grows into his body.
Check out more boxing news on video at The Boxing Channel
To comment on this story in The Fight Forum CLICK HERE
Meet Tom Schwarz, Tyson Fury's Next Opponent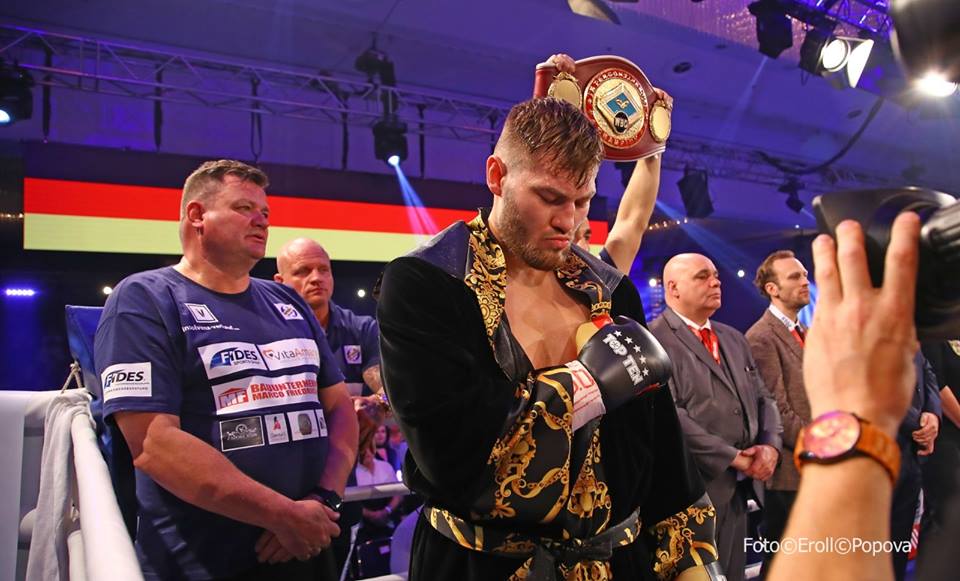 Someone can't keep a secret.
Top Rank honcho Bob Arum said he would not reveal Tyson Fury's next opponent until tomorrow (Saturday, March 23) when he would "unseal the envelope" during the ESPN telecast of his show from the Orange County Fairgrounds in Costa Mesa, CA. But, as the saying goes, the cat is out of the bag. Multiple sources, including ESPN's Dan Rafael, are reporting that Fury will fight Tom Schwarz in Las Vegas on June 15, likely at the MGM Grand although other Las Vegas venues are in the running.
The reaction has been overwhelmingly negative. By choosing Schwarz over a rematch with Deontay Wilder, Tyson Fury's reputation in the court of public opinion has taken a big tumble. "Tyson Fury fight with bum Tom Schwarz makes mockery of Gypsy King's big claims and is bad news for fans," reads the headline in the online edition of the infamous (but widely read) London Sun. "It's yet another blow for boxing fans; the paying public is being shortchanged due to a current TV bidding war," reads the article by the un-bylined author.
Bob Arum and his comrades at ESPN are facing a lot of damage control. We'll give them a booster shot by saying that Tom Schwarz, a 24-year-old German who customarily carries 240 pounds on a six-foot-five-and-a-half frame, isn't too shabby.
Here's the negatives; let's get them out of the way.
Although undefeated in 24 fights with 16 knockouts, Schwarz has defeated no one of note. The folks at BoxRec are so unimpressed with his strength of schedule that they rate him 41st among heavyweights which, for reference purposes, is 35 slots below Anthony Joshua's next opponent Jarrell Miller and 31 places below Deontay Wilder's next opponent, Dominic Breazeale.
Schwarz has had the home field advantage in most of his fights. He's fought only twice outside Germany and he didn't venture very far. Six of his fights, including his match with Kristijan Krstacic earlier this month, were in Magdeburg, his hometown.
But there are some plusses that a PR man can seize upon. Although records in professional boxing are notoriously deceiving, it seems relevant that Schwarz's last six opponents are a combined 84-5-1. He hasn't fought a real tomato can since October of 2014 when he met Tomas Mrazek, a fellow whose current record shows only 10 wins in 86 fights.
Schwarz's fight with Krstacic can be found on YouTube. One can't learn much from it as Krystacic, a 38-year-old Croatian, was outweighed by 31 pounds, but one could see that Schwarz has good fundamentals. He landed some good body shots in the opening round and then clubbed his man into submission in the next stanza, scoring three knockdowns.
German heavyweights, in the main, have performed poorly on American soil although it's worth noting that many ringsiders thought Axel Schulz deserved the nod when he fought George Foreman at the MGM Grand in April of 1995. Foreman won a majority decision and then relinquished his IBF belt rather than give Schulz a rematch.
If Tom Schwarz is looking for inspiration, he should summon the 1936 ghost of Max Schmeling who was a big underdog when he knocked out the seemingly indestructible Joe Louis. That was a non-title fight, by the way, as will be true of Schwarz's fight with Tyson Fury unless one of the four major sanctioning bodies creates a hole for it by declaring their title vacant. And as for that possibility, don't bet against it.
Check out more boxing news on video at The Boxing Channel
To comment on this story in The Fight Forum CLICK HERE
A Night of Upsets on the Golden Boy Card in Hollywood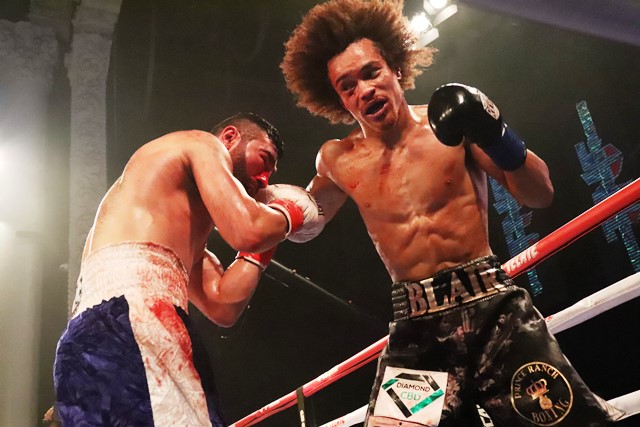 HOLLYWOOD-A night of upsets awaited those driving to Hollywood in the angry storm on Thursday night. No one survived unscathed in the film and music capital of the world.
Mercito Gesta (32-3-2) tasted defeat against Juan Antonio Rodriguez (30-7, 26 KOs) by technical knockout in their lightweight clash that was the main event at the Avalon Theater. The likeable Filipino southpaw was world ranked in the top position by one organization.
Few expected Rodriguez to battle Gesta on even terms, especially with his multiple losses, but those who had seen him perform before knew he could punch and knew he could take a punch.
It was a battle of chins and a battle between southpaws.
Rodriguez absorbed heavy blows from Gesta and at times seemed ready to surrender. But somehow he would return fire and the heavy blows continued to rain from both lefthanders.
Gesta had the speed advantage but was unable to use it effectively. For eight rounds the two blasted each other with impunity but never reckless.
Finally, in the ninth round, as Gesta decided to hit and move, Rodriguez timed one of the blows coming in and delivered an overhand left cross that staggered the former world title challenger. Rodriguez immediately sensed the moment was ripe and unloaded strategic blows on Gesta who was out-punched 20 to 2 in the last 15 seconds. Referee Zachary Young stopped the fight at 2:55 of the ninth round.
A shaky Gesta walked back to his corner.
"He was there all the time so I went to the body," said Rodriguez. "He just stopped punching."
The classy Gesta was generous even in defeat.
"It was a good fight," said Gesta who is trained by Freddie Roach. "The guy was tough. He fought hard. No excuses from me…I'm a fighter, and I love challenges."
Undefeated Welterweights
Las Vegas fighter Blair Cobb (10-0-1, 6 KOs) won the battle of undefeated welterweights by unanimous decision after eight bloody rounds with local hero Ferdinand Kerobyan (11-1, 6 KOs). The win gave Cobb (pictured) the Junior NABA title.
Kerobyan, a North Hollywood native, brought hundreds of fans to the historic Avalon Theater and cheers went up when he first arrived to the boxing ring.
Cobb, who fights out of Las Vegas but is originally from Philadelphia, arrived with his small contingent including former world champion Clarence "Bones" Adams in his corner and used his reach and speed to deliver some heavy blows early in the fight. During one of the exchanges in the first round a gash emerged above the right eye of Kerobyan. From that point on it was an uphill battle for the Armenian-American fighter. But he never quit.
After eight back and forth rounds the judges scored the fight 77-75 twice and 79-73 for Cobb.
"I give him a lot of credit for hanging in there. He was very tough, but I showed I was the superior fighter," said Cobb. "He was a phenomenal fighter. I expected the fight to be easy."
Featherweights
A featherweight clash between Manuel "Tito" Avila (23-1-1) and Mexico's Jose Gonzalez (23-7-1) ended in a split draw after eight rounds of clinching. It was Northern California's Avila's second fight since losing to Jojo Diaz last year in Las Vegas. The bullish rushes by Gonzalez especially with his head seemed to bother Avila. After eight rounds all three judges saw it differently 77-75 for Avila, 77-75 for Gonzalez and 76-76 a split draw.
Other Bouts
You can never tell by someone's physique who's going to win. Muscular heavyweight James "The Beast" Wilson (7-0-1, 6 KOs) met blown up doughboy Miguel Cubos (13-20-1, 10 KOs) in what looked to be a mismatch. Even to Wilson it must have seem like easy pickings, but when he unloaded his barrage of heavy blows and could not land a damaging blow in the first round it became apparent the flabby Mexican foe from San Luis Potosi could apparently box. And he did it very well.
Wilson was determined to get the knockout especially after Cubos began taunting him with raised arms after landing his own blows. But it became apparent it was not going to happen and Wilson's corner must have warned him not to blow his gas tank. From the third round on it was a strategic battle of wits and big blows that missed. And each time Cubos would raise his both arms a la Manny Pacquiao. The crowd cheered every time.
After six back and forth rounds of action from the two physically different heavyweights the judges scored it a majority draw with tallies of 58-56 for Wilson and two others 57-57 even.
Super lightweight David Mijares (7-0, 3 KOs) won by unanimous decision over Puerto Rico's Antonio Sanchez (6-6-2, 3 KOs) after six rounds. Mijares was the more technically adept fighter and used his southpaw stance effectively against Sanchez. The Puerto Rican fighter had his moments especially with the right cross down the pipe. Neither fighter was ever hurt and Mijares won by scores 60-54 three times.
Oscar Acevedo (5-0) defeated tough Daniel Bastien (6-6-2) by decision after four rounds in a lightweight contest. Acevedo used his jabs and sharp combinations to keep the always aggressive Bastien from over running him. Both traded evenly especially in the last two rounds with Acevedo losing ground to Bastien. But not enough to convince the judges. The scores were 40-38, and 39-37 twice for Acevedo.
In a fight featuring a huge height disparity Chicago's Chris Ousley (10-0, 9 KOs) took care of business against the much smaller Jorge Munguia(13-15, 5 KOs) in the first round by knockout in a super middleweight match. The first stiff jab by Ousley rocked Munguia who tried to hide behind a peek-a-boo defense to no avail. Ousley tore that defense apart with ease. A three-punch combination capped by a right uppercut sent the Honduran fighter to one knee. He beat the count but was battered by Ousley until referee Zachary Young ended it at 1:54 of the first round.
Photo credit: Alonzo Coston
Check out more boxing news on video at The Boxing Channel
To comment on this story in The Fight Forum CLICK HERE