Each year during the holiday season, I publish a "top forty" list of what I consider to be the best books on boxing. That list, updated to accommodate recently published titles, follows. Taken together, they offer a compelling look at the sweet science from bare-knuckle days to the present. Some of these books are now out of print. But with the proliferation of online services like Abebooks.com and Amazon.com, all of them can be found.
Beyond Glory by David Margolick (Alfred A. Knopf) — This book focuses on the two fights between Joe Louis and Max Schmeling. In the process, it recreates the racial climate of the 1930s, puts the fighters in historical perspective, and conveys the incredible importance of their ring encounters. Margolick shows in dramatic fashion how Louis stirred passions and revived interest in boxing long before he beat James Braddock to become heavyweight champion. He captures the demeaning racial stereotyping of The Brown Bomber by the establishment press (including those who were seeking to be kind). And he documents in painstaking fashion, contrary to future revisionism, the degree to which Schmeling took part in various Nazi propaganda activities and supported Hitler after defeating Louis in 1936.
John L. Sullivan and His America by Michael Isenberg (University of Illinois Press) Isenberg mined the mother lode of Sullivan material and crafted a work that's superb in explaining the fighter as a social phenomenon and placing him in the context of his times. More recently, Christopher Klein has put together a meticulously researched and engaging read in Strong Boy: The Life and Times of John L. Sullivan (Lyons Press).
Sound and Fury by Dave Kindred (Free Press): The lives of Muhammad Ali and Howard Cosell intertwined. Kindred explores the ugly underside of Ali's early adherence to Nation of Islam doctrine and provides an intimate look at The Greatest in his declining years. He also paints a revealing portrait of Howard Cosell, turning the broadcast commentator from caricature and bluster into flesh and blood.
America on the Ropes by Wayne Rozen (Casey Press) — This might be the best coffee-table photo book ever devoted to a single fight. Jack Johnson is still a vibrant figure in American history, but James Jeffries has been largely forgotten except as an appendage to Papa Jack. This book gives both men their due and, in so doing, restores Jeffries' life and lustre. The photographs are extraordinary and arranged perfectly with the text.
Heroes Without A Country by Donald McRae (Ecco Press) — This is a beautifully written book about Joe Louis and Jesse Owens; two icons who changed America. McRae makes old stories seem fresh and new, and his exhaustive research brings new material to light. He is also the author of Dark Trade, a look at the modern boxing scene.
The Sweet Science by A. J. Liebling (Penguin) — Eighteen articles from the 1950s and early '60s by the legendary dean of boxing writers. Liebling set the standard to which others aspire. A collection of his later articles has been published under the title A Neutral Corner.
The Hardest Game by Hugh McIlvanney (Contemporary Books) — McIlvanney is the British equivalent of Liebling. He's not just a boxing writer. He's a writer who writes very well, among other things, about boxing.
Rocky Marciano by Russell Sullivan (University of Illinois Press) — An honest penetrating look at Marciano in the context of his times, as a person and as a fighter. What's particularly interesting is how often the unbeaten Marciano verged on defeat and his questionable ring tactics.
Cinderella Man by Jeremy Schaap (Houghton Mifflin Company) — Schaap does a fine job chronicling the rise of James Braddock to the heavyweight championship at the height of The Great Depression. He also succeeds particularly well in painting a wonderful portrait of Max Baer and explaining just how important the heavyweight title was seventy years ago.
Sweet William by Andrew O'Toole (University of Illinois Press) — A solid biography of light-heavyweight great Billy Conn. The two Louis-Conn fights are the highlight of O'Toole's work, but he also does a nice job of recounting the endless dysfunctional family struggles that plagued Conn throughout his life and the boxer's sad decline into pugilistic dementia.
In the Ring with Bob Fitzsimmons by Adam Pollack (Win by KO Publications) – Pollack has also authored biographies of John L. Sullivan, James Corbett, James Jeffries, Marvin Hart, Tommy Burns, and Jack Johnson. The books are heavily researched and rely almost exclusively on primary sources. Serious students of boxing will enjoy them.
The Last Great Fight by Joe Layden (St. Martin's Press) – This book is primarily about James "Buster" Douglas's historic upset of Mike Tyson. The saga of Iron Mike has gotten old, but Layden brings new material and fresh insights into the relationships among Douglas, his father (Billy Douglas), manager John Johnson, and co-trainers J. D. McCauley and John Russell. He also gives a particularly good account of the fight itself and how Douglas overcame the fear that paralyzed many of Tyson's opponents.
The Killings of Stanley Ketchel by James Carlos Blake (William Morrow & Company) — The life of Stanley Ketchel written as pulp fiction. Blake plays fast and loose with the truth and mixes fact with fantasy in this historical novel. But he writes well and weaves a good tale about boxing and the underside of America at the dawn of the twentieth century.
Ringside: A Treasury of Boxing Reportage and Sparring With Hemingway by Budd Schulberg (Ivan R. Dee, Inc.) — If Schulberg had never written another sentence, he'd have a place in boxing history for the words, "I could of been a contender." These collections of his articles cover seventy years of boxing lore. You might also take a look at Schulberg's novel The Harder They Fall.
The Fireside Book of Boxing, edited by W. C. Heinz (Simon & Schuster) — One of the best collections of boxing writing between the covers of a single book. This has been reissued in an updated form by Sport Classic Books. But the original 1961 hardcover has a special feel with unique artwork. Heinz also wrote a very good novel entitled The Professional.
One Punch from the Promised Land by John Florio and Ouisie Shapiro (Lyons Press) – The authors do a good job of recounting the saga of Leon and Michael Spinks. The world of abject poverty that they came from is recreated in detail and with feeling. The writing flows nicely, Leon's erratic personality is explored, and the big fights are well-told.
Unforgivable Blackness: The Rise and Fall of Jack Johnson by Geoffrey C. Ward (Alfred A. Knopf) — This is the companion volume to the PBS documentary by Ken Burns. It's well-written, meticulously researched, and the standard against which future Johnson biographies will be judged. Jack Johnson: Rebel Sojourner by Theresa Runstedtler (University of California Press), which focuses on the international reaction to Johnson, is a nice supplement.
Jack Dempsey by Randy Roberts (Grove Press) – Three decades after it was first published, this work remains the most reliable source of information about the Manassa Mauler. Roberts is also the author of Papa Jack: Jack Johnson and the Era of White Hopes (Free Press), another fine biography of the most controversial champion in boxing history, and Joe Louis: Hard Times Man (Yale University Press), a valuable addition to the literature on Louis.
Champion: Joe Louis, Black Hero In White America by Chris Mead (Charles Scribner's Sons) — At the time it was written, this was the most thorough of the Joe Louis biographies. Mead's work serves as a reminder of why the Brown Bomber was so important.
Black Is Best: The Riddle of Cassius Clay by Jack Olsen (G. P. Putnam's Sons) — This is an old one; vintage 1967. But it's a great look at the young Muhammad Ali.
Muhammad Ali: The Making of An Icon by Michael Ezra (Temple University Press) – Ezra explores the changing perception of Ali as a moral force with primary emphasis on the commercial interests that have swirled around him over the past fifty years. The end result is a work of scholarship that breaks new ground. In a similar vein, Redemption Song: Muhammad Ali and the Spirit of the Sixties by Mike Marqusee (Verso Books) looks at Ali through a decidedly left-wing political lens.
At The Fights: American Writers on Boxing compiled by George Kimball and John Schulian (Library of America) – This collection has fifty pieces representing what its overseers call "the very best writing about the fights." More selections from the first half of the twentieth century would have been welcome. Be that as it may; At The Fights belongs in the honors class of boxing anthologies. Schulian is also the author of Writers' Fighters, an anthology of his own best work.
In This Corner by Peter Heller (Da Capo Press) — One of boxing's first oral histories, chronicling the lives of forty-two world champions.
The Big Fight by Sugar Ray Leonard with Michael Arkush (Viking) — There's a growing belief among those who seriously study boxing that Sugar Ray Leonard is the best fighter of the past fifty years. Two themes run throughout The Big Fight. The first centers on Leonard's illustrious ring exploits. The second details a life spiraling out of control in a haze of fame, alcohol, and drugs. The book is an interesting passageway into the mind of a great fighter.
Only In America: The Life and Crimes of Don King by Jack Newfield (William Morrow & Company) — Give the devil his due. Don King is one of the smartest, most charismatic, hardest-working men on the planet. Jack Newfield recorded the good and the bad, mostly the bad, in exhaustive detail.
Fear & Fire: The Inside Story of Mike Tyson by Jose Torres (Warner Books) — In 1989, when Tyson was at his peak and beginning to publicly unravel, there was a spate of books about the young champion. This was the best of them. More recently, Tyson has had his say in Undisputed Truth (Blue Rider Press), a compelling memoir written with Larry Sloman.
Rope Burns by F. X. Toole (Ecco Press) — Six short stories, the first five of which are very good. The author is at his best when he describes the behind-the-scenes maneuvering that infests boxing. The book was re-released under the title Million Dollar Baby to take advantage of tie-in movie publicity.
Ghosts of Manila by Mark Kram (Harper Collins) — Whether or not you agree with Kram's thesis, which seeks to elevate Joe Frazier and diminish Muhammad Ali, this work is an interesting read. Bouts of Mania by Richard Hoffer (Da Capo Press) adds George Foreman to the mix and places the remarkable fights between these three men in historical context, recreating scenes that define the fights and the fighters themselves.
The Prizefighter and the Playwright by Jay Tunney (Firefly Books) is a son's tribute to his father. Jay Tunney writes nicely and understands boxing. This book details the former heavyweight champion's ring career, marriage, and relationship with Nobel-prize-winning playwright George Bernard Shaw.
The Greatest Boxing Stories Ever Told edited by Jeff Silverman (Lyons Press) — This is a pretty good mix of fact and fiction from Jack London and Sir Arthur Conan Doyle to Jimmy Cannon and Frank Deford. Classic Boxing Stories edited by Paul D. Staudohar (Skyhorse Publishing) is an expanded version of a similar book published previously by Chicago Review Press and is also a good read.
Ray Arcel by Donald Dewey (McFarland and Company) – The image of Ray Arcel that exists today is that of a sage old trainer who knew the science of boxing and was a gentleman. Dewey explores Arcel's life in detail and has an appreciation of boxing and boxing history. The writing is a bit ponderous at times, but the book is intelligent and insightful.
Four Kings by George Kimball (McBooks Press) – Kimball recounts the epic nine battles contested among Sugar Ray Leonard, Marvin Hagler, Thomas Hearns, and Roberto Duran between 1980 and 1989. It was a special time for boxing fans and more special for those who, like Kimball, experienced the drama firsthand from the inside.
The Lion and the Eagle by Iain Manson (SportsBooks Ltd) — A dramatic recreation of the historic 1860 fight between the English champion, Tom Sayers, and his American challenger, John C. Heenan. Manson sets the scene on both sides of the Atlantic. In reconstructing the life of each fighter, he gives readers a full sense of time and place. For more on the same encounter, The Great Prize Fight by Alan Lloyd (Coward, McCann & Geoghegan) is an excellent read.
Sweet Thunder: The Life and Times of Sugar Ray Robinson by Wil Haygood (Alfred A. Knopf) – This is the first biography to fully explain Robinson's legacy in the ring and his importance out of it. Haygood researches thoroughly and writes well, placing Sugar Ray in the context of Harlem and America in the 1940s and '50s. The six wars between Robinson and Jake LaMotta are particularly well told.
Shelby's Folly by Jason Kelly (University of Nebraska Press) – Jack Dempsey vs. Tommy Gibbons is the only championship bout that's remembered more for the site than the fight itself. Shelby, Montana, was one of the most improbable and ill-considered venues ever to host a major championship fight. Kelly explains who, what, how, when, and why.
At The Fights: Inside the World of Professional Boxing by Howard Schatz (Sports Illustrated Books) – Monet captured the essence of water lilies better than a photograph. The same can be said of Schatz's computer-styled images of boxers. Light and shadow are distorted to show movement. The images convey strength and power, motion and emotion. It's a monumental book in more ways than one, printed on heavy glossy 14-by-11-inch stock with faithful photographic reproductions and splendid production values.
Liston and Ali by Bob Mee (Mainstream Publishing) – There are hundreds of books about Muhammad Ali, but very little good writing about Sonny Liston. This is very good writing about Liston, who is portrayed as a full flesh-and-blood figure rather than a cardboard cutout from the past.
James J. Corbett by Armond Fields (McFarland and Company) – Corbett was onstage for thirty-nine of his sixty-six years and worked hard to develop his craft as a performer. This book is as much about Corbett the actor as it is about Corbett the fighter. Fields also offers readers an engaging look at the San Francisco that Corbett grew up in as well as Corbett's personal life.
The Longest Fight by William Gildae (Farrar Straus and Giroux) – Joe Gans receded long ago into a seldom-visited corner of boxing history. This book is keyed to the historic first fight between Gans and Battling Nelson, which took place in Goldfield, Nevada, in 1906. Gildae brings Gans to life, crafting a sense of time and place that will enhance any reader's appreciation his subject.
The Good Son: The Life of Ray "Boom Boom" Mancini by Mark Kriegel (Free Press) – Kriegel is a good researcher and a good writer. The Good Son treats Ray Mancini with respect but acknowledges his flaws. It also conveys an admirable understanding of the sport and business of boxing. This isn't just a book about Mancini. It's a look into a fighter's soul.
Editor's Note: Thomas Hauser has authored twenty-five books about boxing that are excellent reading during the holiday season and every other time of year: Muhammad Ali: His Life and Times, Waiting for Carver Boyd, Mark Twain Remembers, The Black Lights, Boxing Is, An Unforgiving Sport, The Boxing Scene, The Greatest Sport of All, The Lost Legacy of Muhammad Ali, Knockout, I Don't Believe It But I Know It's True, Chaos, Corruption, Courage, Glory, Muhammad Ali: Memories, Muhammad Ali: In Perspective, A Beautiful Sickness, A Year At The Fights, The View From Ringside, Brutal Artistry, Muhammad Ali & Company, The Legend of Muhammad Ali, BOX: The Face of Boxing, Winks and Daggers,And the New, Straight Writes and Jabs, and Thomas Hauser on Boxing.
Thomas Hauser can be reached by email at thauser@rcn.com. His most recent book (The Final Recollections of Charles Dickens) was published Counterpoint.
Erick Ituarte Wins Featherweight Battle in Ontario, Calif.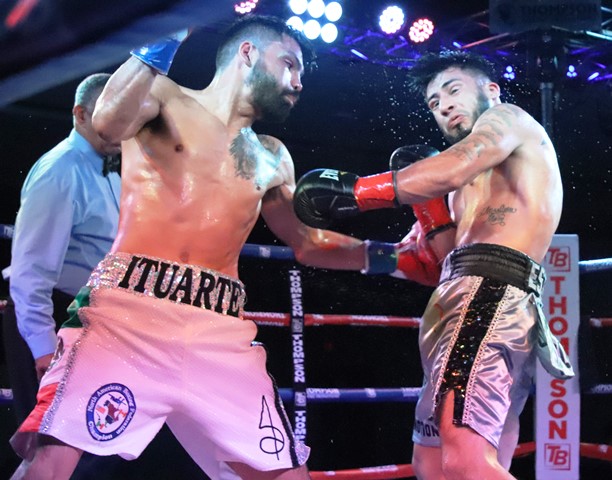 ONTARIO, CALIF.-Looking to make waves as a featherweight, Santa Ana's Erick Ituarte battled Tijuana's Jose Estrella evenly before pulling away in the last third of the fight to win by decision on Friday.
Ituarte (21-1-1, 3 KOs) lacks the big punch but has the long arms that enabled him to keep distance and out-point the shorter Estrella (20-16-1, 14 KOs) in their 10-round bout at the Doubletree Hotel. Thompson Boxing Promotions staged the fight card that saw about 500 fans at the event.
Estrella used his guts and guile to keep the fight close in the first four rounds of the fight. Back and forth they went trading momentum, Ituarte was effective attacking the body and Estrella was good at connecting with big blows to the head.
It wasn't until the seventh round that Ituarte began utilizing his reach and mobility to make Estrella chase and run into pot shots. From that moment on Ituarte was in control of the fight. No knockdowns were scored with one judge scoring it 98-92 and two others 100-89 for Ituarte. Each round was very competitive.
Other bouts
Corona's Luis Lopez (5-0, 3 KOs) powered his way to victory by unanimous decision over Mexico's Daniel Perales (10-17-2, 5 KOs) after four rounds in a welterweight match. Though Lopez won every round with sharper punches he was never able to hurt the super tough Mexican fighter from Monterrey. He recognized that early and used crisp combinations to win each round though Perales had his moments too. All three judges scored it 40-36 for Lopez.
A heavyweight fight saw local fighter Oscar Torres (5-0, 2 KOs) run his record to five wins with a fourth round stoppage over Houston's Thomas Hawkins (4-4) after a barrage of punches. The fight was stopped twice in the fourth round and a final barrage of blows prompted referee Tony Crebs to halt the fight at 1:20 of the round. Torres fights out of Rialto, California and is trained by Henry Ramirez.
Lightweights Davonte McCowen (0-0-1) and Chris Crowley (0-0-1) fought to a majority draw after four torrid rounds. Both were making their pro debuts. McCowen started faster and slowed in the last two rounds that allowed Britain's Crowley to mount a rally in the last two rounds. It was a spirited fight between the two newcomers.
Photo credit: Alonzo Coston
Check out more boxing news on video at The Boxing Channel
To comment on this story in The Fight Forum CLICK HERE
Introducing Australia's Bilal Akkawy who steps in for David Lemieux on May 4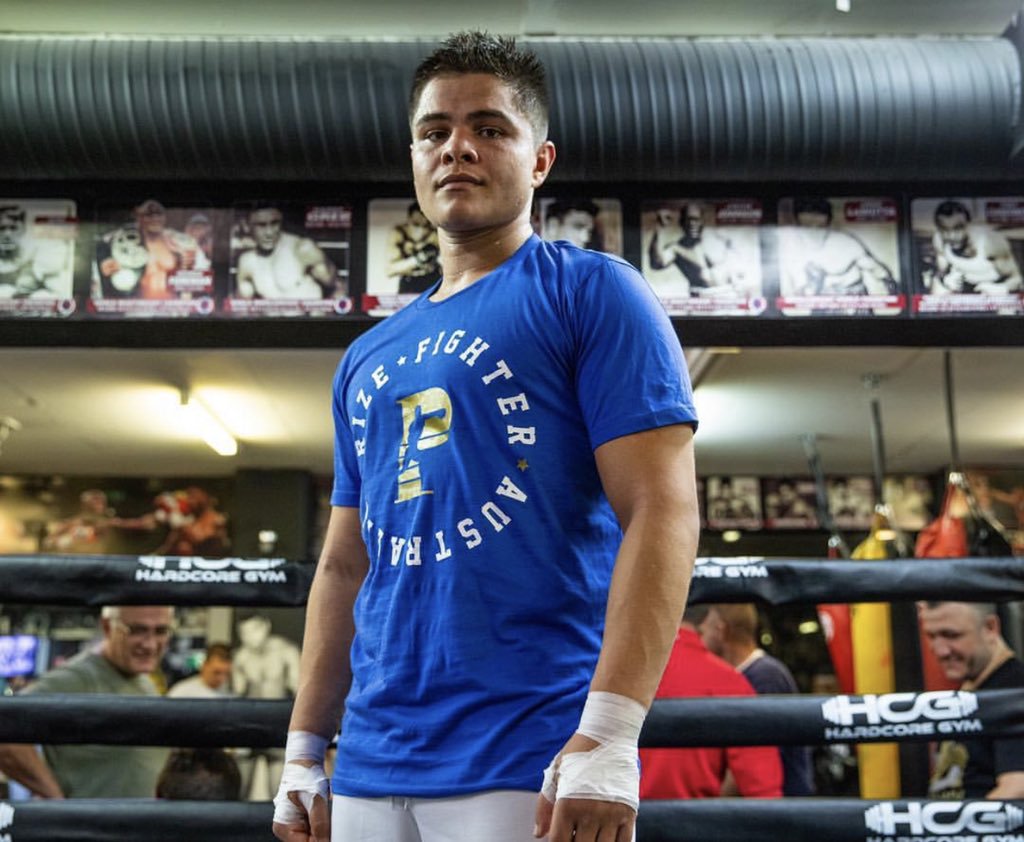 "Big Announcement Coming – Stay Tuned" wrote Bilal Akkawy late yesterday (April 18) on his twitter page. And then the Nevada Athletic Commission went and stole his thunder.
Later that day, the commission released its agenda for its forthcoming meeting on April 24. Among the items on the docket will be the selection of officials for Akkawy's fight with England's John Ryder. The 12-round contest for a "Vacant WBA Interim Super Middleweight Title" is penciled in as the chief undercard bout on the big May 4 show at the T-Mobile Arena topped by the match between Canelo Alvarez and Daniel Jacobs.
John Ryder's original opponent, David Lemieux, was forced to pull out when he suffered a hand injury in training.
Born and raised in Sydney, Australia, the undefeated Akkawy (20-0-1, 16 KOs) has been Canelo Alvarez's chief sparring partner. Canelo's trainer, Eddy Reynoso, hired Akkawy based on a video that Akkary sent him as he was preparing to set up Canelo's camp for the 2018 Cinco de Mayo rematch with Gennady Golovkin.
Two days before Canelo-Golovkin II, which was pushed back until September, Akkawy made his U.S. debut at the Hard Rock Hotel in Las Vegas, scoring an 8-round decision over Christian Olivas. He appeared on the Canelo-Fielding card this past December in New York, scoring a 7th round stoppage over Victor Fonseca, and has had one fight since then, a stay-busy fight buried on a small show in Tamazula, Mexico, in which he didn't stay very busy, dismissing his hopelessly overmatched opponent in the opening round.
Akkawy comes from a fighting family. His father Mahmoud "Mick" Akkawy and two of Mick's brothers were good amateurs. Mick Akkawy was 2-0 as a pro when his career was cut short by a serious car accident. Mick and his brother Ahmad "Al" Akkawy now run a boxing club.
The elder Akkawy, whose roots are in Tripoli, was tutored by Johnny Lewis. To this day, Lewis, now 75 years old, insists that Mick Akkawy was the hardest puncher that he ever coached. Bilal Akkawy, says Lewis, inherited his old man's genes. Lewis rates Bilal the hardest puncher, pound-for-pound, in Australia today.
That's high praise. Inducted into the International Boxing Hall of Fame in 2017, Johnny Lewis has worked with six world title-holders, most notably Jeff Fenech and Kostya Tsyzu.
Bilal Akkawy's power was on display on Oct. 30, 2016 when he stopped fellow Aussie Kerry Hope in the seventh round. Akkawy shattered Hope's jaw – two operations were necessary – and dislodged four of his teeth. His best win since then was a wide 10-round decision over Italian veteran Giovanni De Carolis who had briefly held the WBA world super middleweight title.
Not all of Akkawy's performances were glowing, however. The draw on his ledger is an ugly smudge, notwithstanding the fact that it came in a 4-round bout. His opponent was Joe Rea, a British slug who is currently 11-37-5 after losing 24 of his last 25 fights. Moreover, although he won every round in his U.S. debut vs. Christian Olivas, we were unimpressed. Akkawy had Olivas down in the second frame but was unable to apply the finisher.
Although Akkawy is a second-generation prizefighter, his father discouraged him from pursuing a career in the ring and he entered the pro ranks without the benefit of a single amateur bout. By contrast, John Ryder had 35 amateur fights before turning pro in September of 2010.
Ryder (27-5-1, 15 KOs) is no slouch. A southpaw, the Londoner has won three straight inside the distance since losing a split decision to Rocky Fielding. At age 30, he's five years older than Akkawy and has far more experience, answering the bell as a pro for 187 rounds compared to only 84 for the Aussie.
Akkawy vs. Ryder won't get the juices flowing in the United States where both are obscure. However, it's an intriguing match. It will be interesting to see how the bookmakers price it.
Check out more boxing news on video at The Boxing Channel
To comment on this article in The Fight Forum CLICK HERE
The Avila Perspective, Chap. 43: Welterweight Wars Coast to Coast and More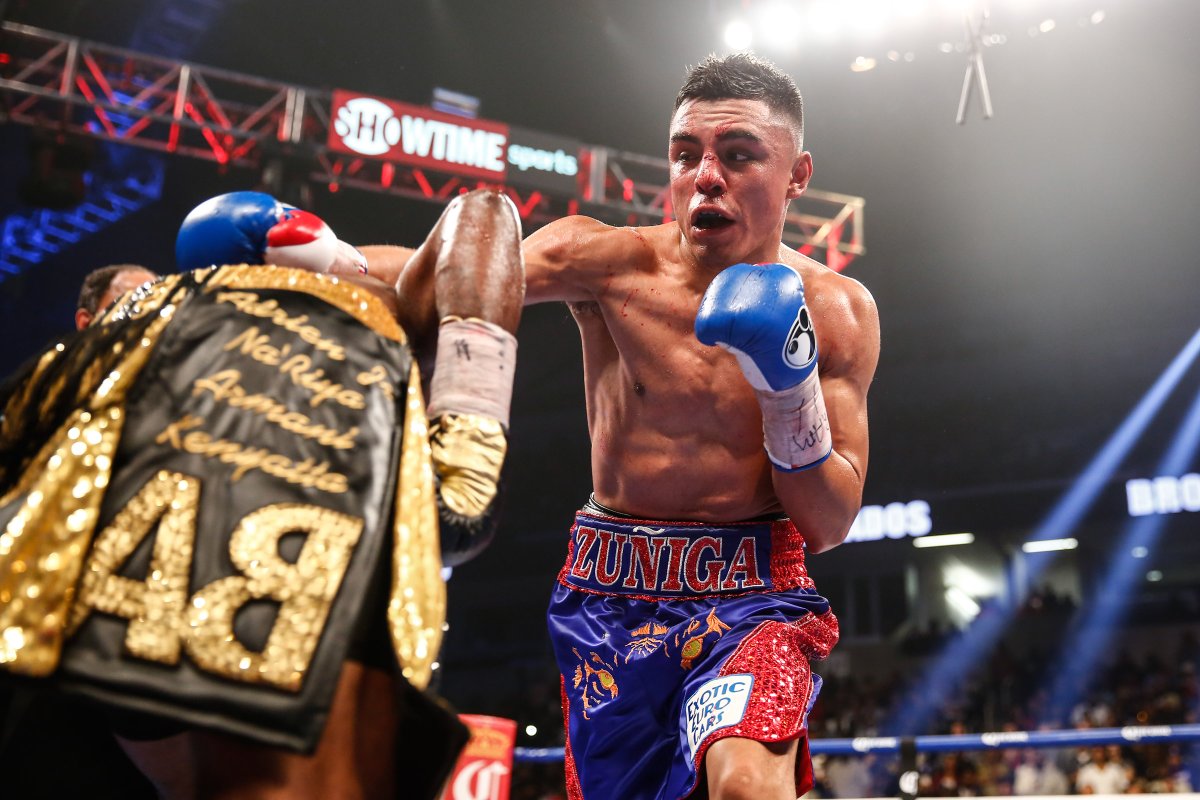 In a twisted development a couple of East Coast guys are headed to Los Angeles to battle while another pair of West Coast guys are headed to New York City.
Makes sense I guess.
Former two-division world champion Danny "Swift" Garcia of Philadelphia faces Adrian Granados of Chicago at the Dignity Health Sports Park in Carson, California on Saturday April 20. The PBC card will be televised by FOX.
Dignity Health is the new name attached to the complex formerly known as the StubHub Center and before that it was the Home Depot Center. Ironically, Dignity Health owns most of the cemeteries in Southern California.
Is that an omen?
Garcia (34-2, 20 KOs) is a counter-punching Puerto Rican who needs someone to fight that's always on attack mode in order for him to shine. When he's matched with another counter-puncher the crowd goes to sleep.
That's where Chicago Mexican Granados (20-6-2, 14 KOs) fits in.
Granados (pictured) has never fought in a snoozer in his life. He probably kicked his way out when he was born. In fights against slow developers like Adrien Broner and Felix Diaz he made them fight for their lives. If this were ancient Roman times he would be fighting in the main event armed with a tooth pick against a lion. Blindfolded.
But he's weary of being labeled as merely an entertaining fighter.
"I'm tired of it," Granados, 29, said. "I want the title or I'm out of here."
World titles are something Garcia knows about. He's held the WBC and WBA super lightweight titles and the WBC welterweight title. In unification clash with Shawn Porter last September he lost by a razor close decision. He feels naked without a strap around his waist.
"I'm going to make a statement," said Garcia about his pending battle with Granados. "I definitely want a rematch with Shawn Porter or Keith Thurman."
Granados eyes Garcia with slight envy whenever they're in the same room.
"I'm trying to cash in baby," said Granados. "I just got to go in there and do my thing."
Another interesting bout on the PBC card includes undefeated Brandon Figueroa (18-0, 13 KOs) a southpaw super bantamweight fighting Venezuela's Yonfrez Parejo (22-3-1) for the interim WBA title. The actual titleholder is Los Angeles fighter Danny Roman who fights next week at the Inglewood Forum.
Other fighters of interest are Andy Ruiz, Alfredo Angulo, Omar Juarez and Carlos Balderas. It's an extremely long card and begins at 3 p.m.
Friday is Thompson Boxing
Headlining a boxing card at the Doubletree Hotel in Ontario, California is featherweight Erick Ituarte (20-1-1) versus Jose Estrella (20-15-1) in a 10-round main event. Ituarte is the stablemate of WBA champion Danny Roman. Estrella hails from Tijuana and has fought some tough customers like Miguel Marriaga and Christopher Diaz.
The Thompson Boxing Promotions event also features a solid looking welterweight Richard Brewart (4-0) against Vincent Morales (2-2-2) in a four round bout. Another interesting fight showcases Uzbekistan's Murodjon Akhmadaliev (5-0) a southpaw slugger trained by Joel and Antonio Diaz in Indio. The lefty faces former world title contender Carlos Carlson (23-5) in a super bantamweight clash.
Thompson Boxing always delivers solid boxing cards and you never know which new boxing jewel will be discovered by them. They have a 20 year history of finding outstanding talent. You can also watch it streamed on Thompson Boxing's page on Facebook.com.
Doors open at 6:30 p.m. For more information call (714) 935-0900.
New York Card
If you plan on staying home on Saturday night a solid fight card at Madison Square Garden features a welterweight world title fight between WBO titlist Terence Crawford and former two-division champion Amir Khan. It will be shown on ESPN pay-per-view at $59.95.
It's a loaded card with Top Rank unfurling its best. Of course the best is Crawford who in my opinion is the top fighter pound for pound. And I was a late convert.
Nebraska's Crawford (34-0, 25 KOs) is based in the Midwest and heads east to fight England's Khan (33-4, 20 KOs) who trains in California. They're fighting for the WBO title and it should be a very good fight.
Khan has always been a favorite of mine. He's blessed with speed and agility and also has a lot of guts. Not just because he fought Saul "Canelo" Alvarez at middleweight, but because he's a true prizefighter looking for the biggest fights in the world. He's been criticized by his own countrymen for not fighting some of his fellow Brits, but Khan looks at everything globally, not nationally. He especially wants fights that Americans want to see. They want to see this fight.
"I wanted this fight because I wanted to fight the best. Terence Crawford presented the greatest challenge to me at this point in my career. Listen, the Kell Brook fight was there, but fighting Terence gives me the opportunity to show I am a pound-for-pound fighter," said Khan.
Of course thousands of Brits will be flying across the Atlantic Ocean for a glimpse of this showdown. First because it's New York, second because it's boxing and Brits love boxing. Gotta love them Brits.
Crawford, like Khan, is blessed with speed and agility too. And he also has several ways to attack. He's not a one-dimensional fighter. He's like a jazz musician; he can take it wherever it needs to go. Whether its hip hop or improvisational he can easily slip into another tempo. That's his magic.
"Amir Khan is undefeated as a welterweight and can't be underestimated. He has great hand speed, movement, and some power as well," said Crawford. "I want to showcase all of my talents in this fight."
Keep your eyes open in this fight.
Other bouts on this high quality fight card:
Top Rank has a couple of their prospects jumping up to face contenders. First you have Shakur Stevenson (10-0) meeting former world title challenger Christopher Diaz (24-1) of Puerto Rico in a 10-round featherweight clash. If it were any other prospect I might say the kid is moving too fast. But Shakur has eye-popping talent.
Another prospect going against a contender is Brooklyn's Teofimo Lopez (12-0) meeting Finland's Edis Tatli (31-2, 10 KOs) in a lightweight match. Lopez, 21, already has fought in three 10-round fights and has the NABF and USBA lightweight belts. Tatli has the EBU lightweight belt. Whose belt means more in this fight?
Puerto Rico's highly touted Felix Verdejo (24-1,16 KOs) lost a year ago to Mexico's Ines Lozada Torres by knockout. Then he returned to win by knockout last November. Now he's back against a tough customer in Bryan Vasquez. It's not an easy fight for either fighter.
Verdejo was Top Rank's golden child a couple of years ago and ran into some personal problems before running into Lozada's fists. Now he has Vasquez, a slick fighting Costa Rican who arguably could have won a world title had he been given the decision after fighting Raymundo Beltran two years ago. Beltran won by majority decision that night in August 2017, then proceeded to win the WBO lightweight title against Paulus Moses. That could have been Vasquez's title.
It's a strong boxing card.
Lights Out
Next Thursday on April 25, former middleweight, super middleweight, light heavyweight, cruiserweight and heavyweight world champion James "Lights Out" Toney will be the honored guest at the Golden Boy Promotions boxing card at Fantasy Springs Casino in Indio, Calif.
Toney spent the last 25 years in Southern California where he first trained at the Wild Card Boxing gym in Hollywood. Over the years he became one of the most popular prizefighters by fans who loved his aggressive style and off-the-charts boxing skills. The Michigan native had more than 90 fights as a professional against some of the best to ever put on gloves.
Many boxing writers, including myself, consider Toney one of the best, if not the best prizefighter in the last 60 years. He's beaten some of the best in the business and performed at a high level for decades in classic fights. Among the gems were his knockout wins against Michael Nunn, Tim Littles, Vassiliy Jirov, and Evander Holyfield.
Toney, 50, will be available to sign autographs and take photos with fans. Be sure to be there and meet the great multi-division champion.
One of the featured fights is Oscar Negrete (18-1-1) in a rematch against Joshua Franco (14-1-1) who fought to a draw last October. It was one of the best fights of the year. The NABF bantamweight title is the prize.
For tickets or information call (800) 827-2946.
Check out more boxing news on video at The Boxing Channel
To comment on this story in The Fight Forum CLICK HERE