Golden Boy and Hopkins File Suit Vs. Haymon, His Backers
WEDNESDAY EARLY PM UPDATE: NY based boxing promoter Lou DiBella didn't hold fire when I asked for comment regarding the lawsuit lodged by Oscar De La Hoya, along with Bernard Hopkins, against Al Haymon and cohorts.
"Eff that," he said, using more dismissive and pointed language in indicating his distaste for the Golden Boy suit, and he then pointed out that he was instrumental in helping draft the Muhammad Ali act, which the suit alleges is being trampled upon. That document seeks to help keep managers from acting on behalf of promoters–as it was alleged, say, Carl King might have been inclined to do when repping a fighter, but also doing a deal with his father, the promoter Don King–in order to insure fighters are being represented in good faith, and receiving fair market value compensation for their services
DiBella took issue with the characterization that Haymon is in fact the promoter for Premier Boxing Champions cards, and said, "Why don't you ask Brett Yormark (CEO of Barclays Center) who promoted the April 11 card which drew about 12,000 people to the arena?"  DiBella also noted that he has some familiarity with miuch of the material within the suit, having graduated from Harvard Law School. Not to mention, as for the contention that Golden Boy is being harmed by Haymon's supposed attempt at monopolization, DiBella pointed out that Golden Boy seems to be competed on an even playing field, being that they are putting on a high-profile card Saturday, in Texas, which will screen on HBO.
Laywers inside the pugilistic arena are getting workouts of late.
A suit was filed on Tuesday, in federal court, in California, by Golden Boy Promotions. Lawyer Bert Fields heads up a suit on behalf of Golden Boy Promotions and also Bernard Hopkins, alleging that mogul Al Haymon wishes to monopolize pro boxing "and drive out all competition."
Haymon, the suit states, has violated the Ali Boxing Reform Act and the Sherman Act, which deals with antitrust issues.
The suit calls Haymon "predatory" and "the Rasputin of boxing."
I reached out to a Haymon Boxing rep to get their take on the suit, and was told that Haymon, notable for his reclusiveness in dealing with media, is choosing at this time not to comment on the matter.
His money backers, funding his Premier Boxing Champions series, which rolled out amid massive fanfare earlier this year, are also named in the suit.
The suit further states that Haymon functions as both a promoter and manager, basically, and that he has engaged in "illegal conduct" which is "designed to eliminate all competition." It is stated that Haymon has a "total domination of the market for managing of Championship-Caliber Boxers," and thus he holds too much power, to an extent the courts must weigh in and decide the matter.
A promoter shouldn't and can't act as a manager of a boxer, and Haymon might, I believe, counter that he does not act as a promoter, and thus, there is no conflict. Further, he may put forth that the Ali act was put in place to benefit boxers, keep them from being exploited, and he might counter that boxers he advises are in fact being paid handsomely, and are not being exploited.
Further, the suit states that Haymon's money backers, namely a NY-firm named "Waddell," at one point offered to purchase Golden Boy, but asked that head of Golden Boy De La Hoya sign a non-compete agreement. That deal going unconsummated, the suit says, meant Haymon next tried to "drive Golden Boy from the boxing business."
Haymon possesses an unlawful edge, Fields contends, because he acts as both manager and promoter to a parcel of fighters.
More allegations…Haymon fighters must sign "coercive contracts," part of a play in "turning the model upside down." Also, Fields accuses Haymon of "scalping" tickets to unnamed shows Haymon Boxing has helped put together, or he has a hand in arranging, and posits that proper taxes are not paid on that revenue. More material; the suit states that Haymon also functions as a sanctioning body and intend to have their own champions.
Expect said lawyers to engage most aggressively in what is sizing up to be a 15 round clash.
Here is the release sent out by Golden Boy on Wednesday morning:
LOS ANGELES (May 6): Golden Boy Promotions today filed a $300 million lawsuit against Al Haymon and his related companies and Waddell & Reed Financial, Inc. and its related hedge funds, alleging their repeated violation of the antitrust laws and the Muhammad Ali Boxing Reform Act. The case was filed in Federal Court in Los Angeles.
Since the moment Al Haymon launched Premier Boxing Champions, he has repeatedly and brazenly broken the letter and spirit of the Muhammad Ali Boxing Reform Act that is meant to protect fighters from exploitation. As part of an anti-competitive conspiracy that includes financial backers from Waddell & Reed, Haymon has "entered into agreements to restrain trade in a substantial portion of the market for promotion of Championship-Caliber Boxers," the bombshell new lawsuit claims.
"During my 25 years in boxing, I have watched far too many fighters be chewed up, spit out and left with nothing to sit idly by while Mr. Haymon flaunts a federal law meant to protect those who put everything on the line to entertain fans of our sport," said Oscar De La Hoya, Founder and President of Golden Boy Promotions. "The Muhammad Ali Act was passed to help fighters avoid the fate that bedeviled so many of our predecessors; and I will do everything in my power to ensure this crucial piece of legislation is upheld and followed."
The lawsuit alleges numerous violations of the Ali Act and antitrust statutes by Haymon, among the most glaring of which is that he routinely serves as both manager of his fighters and promoter of their fights, even though such a dual role is explicitly prohibited by the Ali Act in order to "protect boxers, the boxing industry, and the public from abusive, exploitive, and anticompetitive behavior."
According to the lawsuit: "By ignoring the 'firewall' established by the Ali Act, the Haymon Defendants are essentially sitting on both sides of the bargaining table. While purporting to act in their clients' best interests, the Haymon Defendants have obtained direct and indirect financial interests in promoting their boxers – thereby creating the very conflict of interest the Ali Act sought to remedy."
Haymon calls himself a "manager" or an "advisor," yet Haymon and his myriad of companies are well known to arrange and contract for the bouts, the arenas, the sponsors and the television time – all duties of a boxing promoter. Even Haymon-managed fighters themselves repeatedly refer to Haymon as their "promoter," though he is well-known to manage more than 100 fighters.
Haymon is, not only pushing out other legitimate promoters in favor of ineffective puppets that he controls, but locking out top fighters who dare to not join his stable of boxers.
"At the age of 50 and after spending most of my adult life in boxing, I thought I'd seen every trick in the book aimed at undermining those who actually step into the ring," said former middleweight and light heavyweight world champion Bernard Hopkins. "Having personally been refused a lucrative fight with a Haymon-managed fighter, I have felt first-hand the impact of Haymon's attempt to form a monopoly. These practices are detrimental to boxers, fans and the sport as a whole," added Hopkins, a co-owner of Golden Boy Promotions.
The complaint alleges that Waddell & Reed and related companies aided and abetted Haymon in his commission of the claimed violations of law.
The Golden Boy Suit comes days after the Association of Boxing Commissions called on newly confirmed U.S. Attorney General Loretta Lynch to investigate Haymon for many of the same infractions spelled out in today's lawsuit.
As part of the lawsuit, Golden Boy is seeking damages of $300 million.
A copy of the lawsuit is available upon request.
Details of the Muhammad Ali Boxing Reform Act can be found at: https://www.govtrack.us/congress/bills/106/hr1832
Pulev Wins Heavyweight Clash and Magdaleno Bests Rico Ramos in Costa Mesa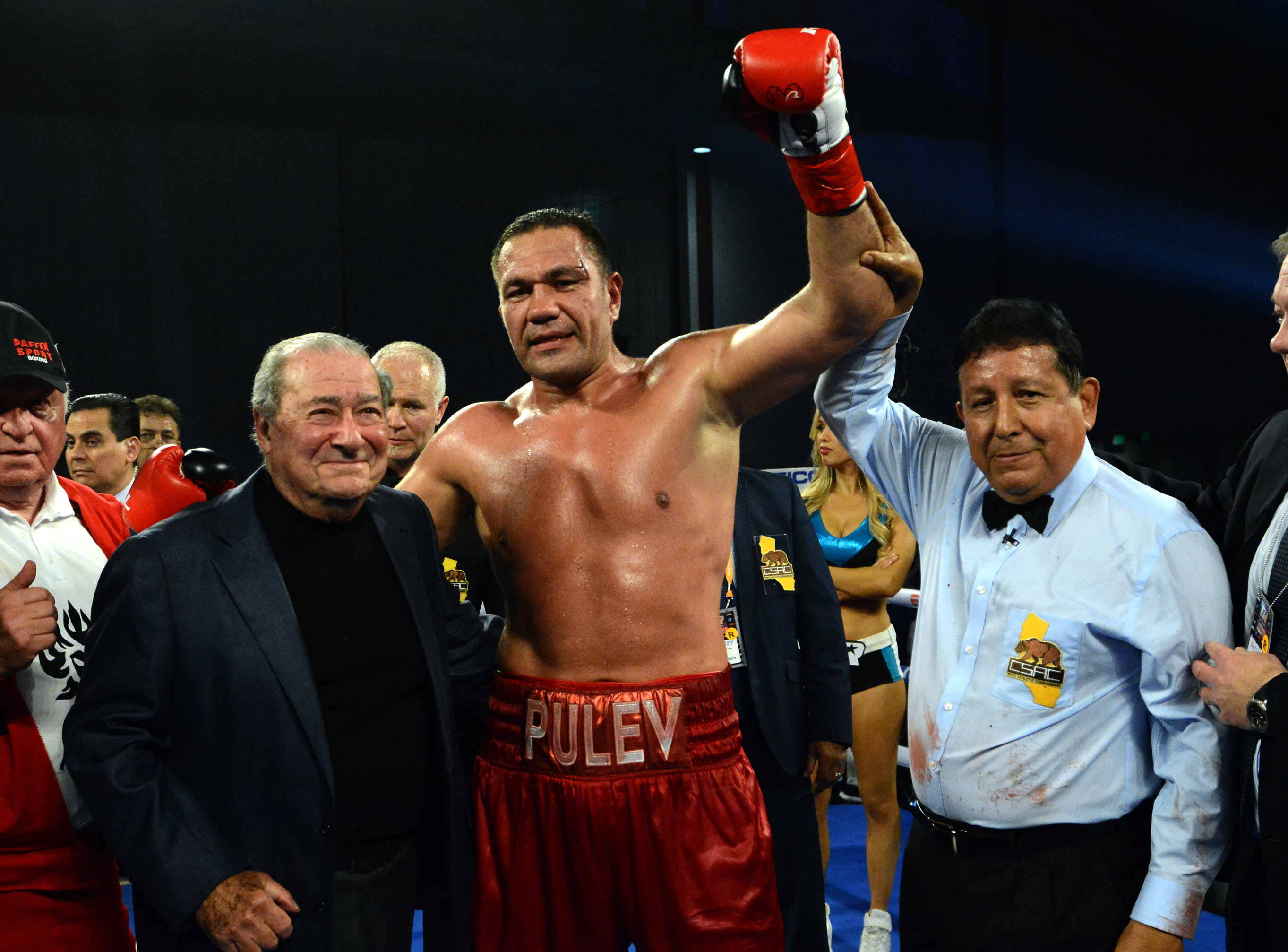 COSTA MESA, Calif.-Eastern European heavyweights slugged it out in Orange County with Kubrat Pulev scoring a knockout win over Bogdan Dinu on Saturday evening. The win keeps him in line for a possible showdown with Top Rank's newly signed Tyson Fury.
After a slow start the Bulgarian heavyweight Pulev (27-1, 14 KOs) scored the knockout win over Romania's Dinu (18-2, 14 KOs) before a large supportive audience who arrived with Bulgarian flags and hats at the OC Hangar in Costa Mesa.
Until the fifth round the action lacked with both heavyweights not eager to fire. But an angry exchange of blows by Dinu saw Pulev emerge with a cut over his left eye. It also opened up the action between the European heavyweights.
Pulev increased the pressure and caught Dinu in the neutral corner where he unloaded right after right on the ducking Romanian fighter who dropped to a knee and was hit behind the head with a blow. The knockdown was ruled down by an illegal punch and a point was deducted from Pulev.
It didn't matter. The Bulgarian heavyweight proceeded to unleash some more heavy rights and down went Dinu again. The Romanian fighter beat the count and was met with more right hand bombs and down he went for good this time at 2:40 of the eighth round. Referee Raul Caiz ruled it a knockout win for Pulev.
"Sometimes its good and sometimes it's bad," said Pulev about his actions in a heavyweight fight. "Sometimes blood makes me very angry."
Dinu felt that illegal blows led to his downfall. But the winner Pulev was satisfied.
"It doesn't matter, I was prepared and really good in this moment. I think I was very good boxing today and showed good punching today," Pulev said.
Former champions
An expected battle between flashy ex-super bantamweight world champions didn't deliver the goods as Jessie Magdaleno (26-1, 18 KOs) defeated Rico Ramos (30-6, 14 KOs) by unanimous decision after 10 rounds in a featherweight contest for a vacant WBC regional title.
A tentative Magdaleno was cautious and deliberate against Ramos who seemed to be stuck in slow motion for the first half of the fight. Behind some lefts to the body and snappy combinations Magdaleno mounted up points for six rounds.
Ramos stepped up the action in the seventh round and began stepping into the danger zone while delivering some threatening combos inside. Magdaleno resorted to holding and moving as the action shifted in Ramos's direction.
But it was never enough as Ramos seemed to lack pep. The last two rounds saw Ramos engage with Magdaleno but neither landed the killing blows. After 10 rounds all three judges saw the fight in favor of Magdaleno 97-93, 98-92, 99-91 who now holds the WBC USNBC featherweight title.
"It was a long layoff and I took a fight against a tough, tough veteran and former world champion," said Magdaleno, whose last fight was the loss of the WBO super bantamweight title to Isaac Dogboe last May. "Got to go back to the drawing board. I boxed as good as I could, he's just a tough fighter."
Other Bouts
Max Dadashev (13-0, 11 KOs) was dropped in the second round by muscular Filipino southpaw Ricky Sismundo (35-13-3, 17 KOs) and had a look of surprise. He turned it up in the third round and caught Sismundo rushing in with a slick counter left-right combination on the button. Sismundo was counted out by referee Tom Taylor at 2:30 of the third round of the super lightweight clash.
Former Olympian Javier Molina (19-2, 8 KOs) had a rough customer in Mexico's Abdiel Ramirez (24-4-1, 22 KOs) who never allowed him space to maneuver in their super lightweight match. After eight close turbulent rounds Molina was given the decision by scores 78-74 twice and 79-73.
South Africa's Chris Van Heerden (27-2-1, 12 KOs) thoroughly out-boxed Mexico's Mahonry Montes (35-9-1, 24 KOs) until a clash of heads erupted a cut over his right eye. The fight was stopped in the sixth round and Van Heerden was given a technical decision by scores 60-54 on all three cards.
Welterweights Bobirzhan Mominov (10-0, 8 KOs) and Jonathan Steele (9-3-1, 6 KOs) slugged it out for six back and forth rounds at high intensity. There were no knockdowns but plenty of high level stuff going on. The bigger Mominov had the advantage and tried to take out Mitchell, but the smaller welter from Texas was just too tough and skilled to be overrun. Judges scored it 59-54 three times. Good stuff.
Detroit's Erick De Leon (19-0-1, 11 KOs) survived a knockdown in the fifth and rallied to win by technical knockout over Mexico's Jose Luis Gallegos (16-6, 12 KOs) in the seventh round of a lightweight clash. A barrage of unanswered blows by De Leon forced referee Ray Corona to halt the fight at 1:55 of the seventh round.
L.A.'s David Kaminsky (4-0, 2 KOs) out-pointed rugged Arizona's Estevan Payan (1-7-1) to win by unanimous decision after four round in a middleweight contest.
Tyler McCreary (15-0-1, 7 KOs) fought to a draw with Mexico's Roberto Castaneda (23-11-2) after six rounds. He got all he could handle from the Mexicali featherweight as both traded blow for blow throughout the contest. It was good experience for the young McCreary who looked good but tried too hard to take out the hard headed Castaneda.
Eric Puente (2-0) beat Alejandro Lopez (1-4) by decision after four rounds in a lightweight match by 39-37 scores all three cards. It was a very close match with little separation between the two.
Photo credit: Al Applerose
Check out more boxing news on video at The Boxing Channel
To comment on this story in The Fight Forum CLICK HERE
U.K. Boxing Update: Gorman, Bowen, Edwards, Quigley, and More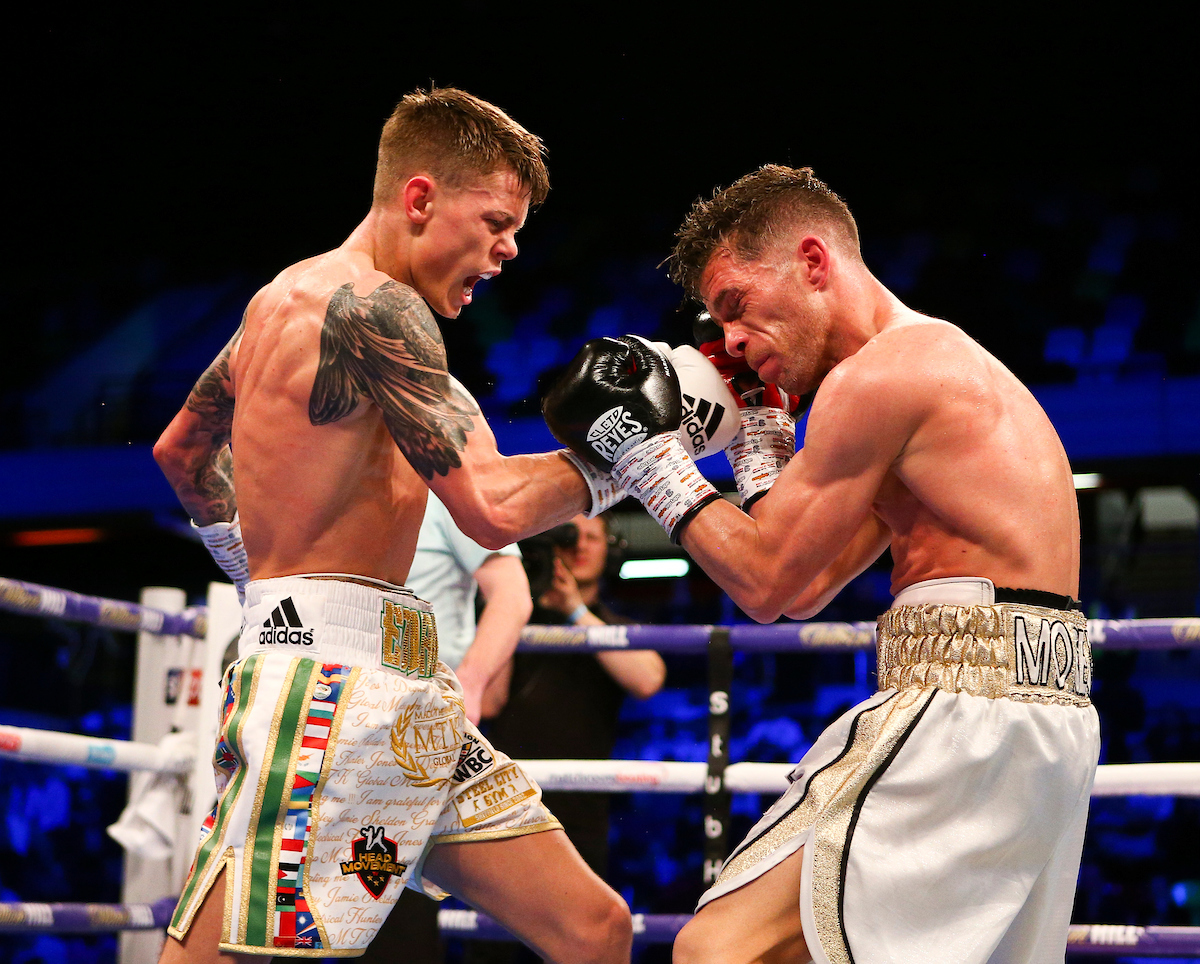 For the second time in the last three months, Great Britain's top promoters Eddie Hearn and Frank Warren went head-to-head with dueling fight cards in England. When this last happened, back on Dec. 22, Warren had the stronger card from top to bottom, but Hearn's show had the more compelling main event, namely the rematch between Dillian Whyte and Dereck Chisora. Today the roles were somewhat reversed. Hearn's show had the stronger undercard, but the fighter attracting the most eyeballs, undefeated heavyweight Nathan Gorman, is promoted by Warren.
Leicester / Queensberry (Frank Warren) Promotion
In a predictably desultory affair, Nathan Gorman (16-0, 11 KOs) outpointed Kevin Johnson (34-13-1). This being a 10-rounder, the referee was the sole arbiter and he gave every round to Gorman, a distant cousin of Tyson Fury.
Kevin Johnson, a pro since 2003, took Vitali Klitschko the distance in 2009 and Tyson Fury the distance in 2012 and more recently went the full route with Daniel Dubois and Filip Hrogivic, but he won scarcely a round in those fights and in recent years has degenerated from a journeyman into a trial horse. He came into the fight 20 pounds heavier than in his last start 13 weeks ago and fought to survive, allowing Gorman to initiate what action there was.
Frank Warren can't be blamed for promoting this snoozer. Johnson was a late replacement for Fabio Maldonado, a Brazilian who, although something of a mystery, was expected to provide Gorman with a sterner test. But Maldonado reneged after getting a better offer and will now fight Oleksandr Teslenko in Toronto next week.
The 22-year-old Gorman, who carried 253 pounds on his six-foot-three frame, is very light on his feet and some expect him to out-box his harder punching countryman Daniel Dubois when they eventually meet.
In the featured bout, Sam Bowen, a Leicestershire man, retained his British 130-pound title with a ninth round stoppage of Scotland's Jordan McCorry. Bowen improved to 15-0 with his 10th stoppage.
London / Copper Box / Matchroom (Eddie Hearn) Promotion
In the main event of Hearn's card, baby-faced Charlie Edwards (pictured on the left) put on a clinic in the first defense of the WBC world flyweight title he won with an upset of Cristofer Rosales. Edwards (15-1, 6 KOs) won every round over determined but outclassed Angel Moreno (19-3-2), a 35-year-old Spaniard and former sparring partner. Edwards scored a flash knockdown with a counter right hand in round six. All three judges had it 120-107.
Irish middleweight Jason Quigley, who signed with Golden Boy coming out of the amateur ranks and had fought exclusively in the United States, improved to 16-0 (12) with a second round stoppage of Mathias Eklund (10-2-2). Eklund was on his feet, but the ref thought it wise to keep the overmatched Finn from taking more punishment after Quigley blistered him with a series of unanswered punches. Quigley's dream fight would be a match in Ireland with stablemate Canelo Alvarez.
Joshua Buatsi, an emerging star in the light heavyweight division, chopped down Liam Conroy to win the vacant BBBofC 175-pound title. Buatsi had taken out his last three opponents in the opening round but Conroy, who came into the match riding a nine-fight winning streak, lasted into the third. Buatsi, a Londoner born in Ghana and a bronze medalist at the Rio Olympics, improved to 10-0 (8). Conroy, who was on the deck twice, fell to 16-4-1.
Conroy's promoter Eddie Hearn confirms that Buatsi's next fight is likely to take place at Madison Square Garden on June 1 underneath Joshua-Miller.
In a cruiserweight fight with British and Commonwealth titles at stake, Lawrence Okolie improved to 12-0 (9) with a fourth round stoppage of Wadi Camacho (21-8). Okolie knocked Camacho to his knees with a hard combination and finished him off with a big right hand.
The most inexperienced British boxer to ever compete in the Olympics, the rangy six-foot-five Okolie has sparred with Anthony Joshua and Tyson Fury and will almost assuredly compete as a heavyweight when he grows into his body.
Check out more boxing news on video at The Boxing Channel
To comment on this story in The Fight Forum CLICK HERE
Meet Tom Schwarz, Tyson Fury's Next Opponent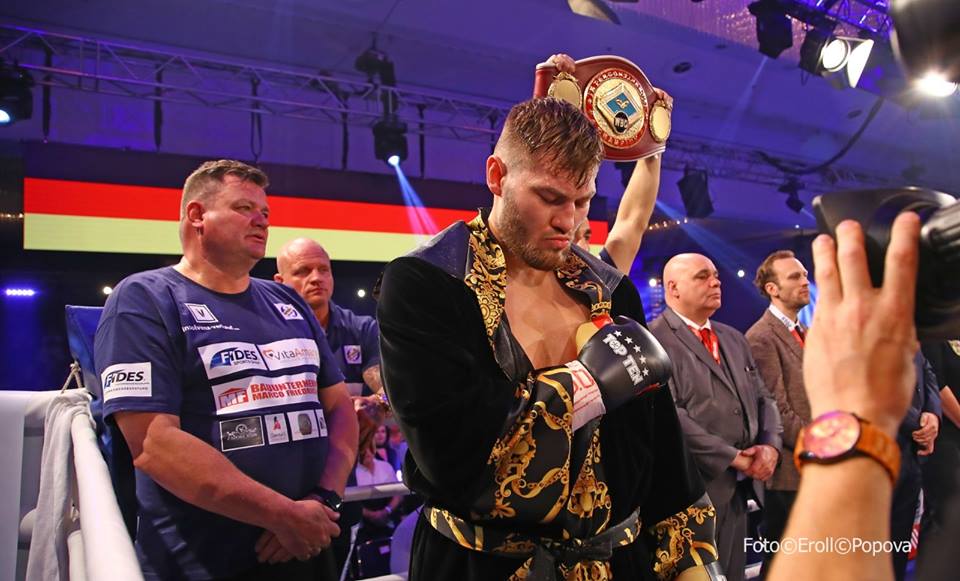 Someone can't keep a secret.
Top Rank honcho Bob Arum said he would not reveal Tyson Fury's next opponent until tomorrow (Saturday, March 23) when he would "unseal the envelope" during the ESPN telecast of his show from the Orange County Fairgrounds in Costa Mesa, CA. But, as the saying goes, the cat is out of the bag. Multiple sources, including ESPN's Dan Rafael, are reporting that Fury will fight Tom Schwarz in Las Vegas on June 15, likely at the MGM Grand although other Las Vegas venues are in the running.
The reaction has been overwhelmingly negative. By choosing Schwarz over a rematch with Deontay Wilder, Tyson Fury's reputation in the court of public opinion has taken a big tumble. "Tyson Fury fight with bum Tom Schwarz makes mockery of Gypsy King's big claims and is bad news for fans," reads the headline in the online edition of the infamous (but widely read) London Sun. "It's yet another blow for boxing fans; the paying public is being shortchanged due to a current TV bidding war," reads the article by the un-bylined author.
Bob Arum and his comrades at ESPN are facing a lot of damage control. We'll give them a booster shot by saying that Tom Schwarz, a 24-year-old German who customarily carries 240 pounds on a six-foot-five-and-a-half frame, isn't too shabby.
Here's the negatives; let's get them out of the way.
Although undefeated in 24 fights with 16 knockouts, Schwarz has defeated no one of note. The folks at BoxRec are so unimpressed with his strength of schedule that they rate him 41st among heavyweights which, for reference purposes, is 35 slots below Anthony Joshua's next opponent Jarrell Miller and 31 places below Deontay Wilder's next opponent, Dominic Breazeale.
Schwarz has had the home field advantage in most of his fights. He's fought only twice outside Germany and he didn't venture very far. Six of his fights, including his match with Kristijan Krstacic earlier this month, were in Magdeburg, his hometown.
But there are some plusses that a PR man can seize upon. Although records in professional boxing are notoriously deceiving, it seems relevant that Schwarz's last six opponents are a combined 84-5-1. He hasn't fought a real tomato can since October of 2014 when he met Tomas Mrazek, a fellow whose current record shows only 10 wins in 86 fights.
Schwarz's fight with Krstacic can be found on YouTube. One can't learn much from it as Krystacic, a 38-year-old Croatian, was outweighed by 31 pounds, but one could see that Schwarz has good fundamentals. He landed some good body shots in the opening round and then clubbed his man into submission in the next stanza, scoring three knockdowns.
German heavyweights, in the main, have performed poorly on American soil although it's worth noting that many ringsiders thought Axel Schulz deserved the nod when he fought George Foreman at the MGM Grand in April of 1995. Foreman won a majority decision and then relinquished his IBF belt rather than give Schulz a rematch.
If Tom Schwarz is looking for inspiration, he should summon the 1936 ghost of Max Schmeling who was a big underdog when he knocked out the seemingly indestructible Joe Louis. That was a non-title fight, by the way, as will be true of Schwarz's fight with Tyson Fury unless one of the four major sanctioning bodies creates a hole for it by declaring their title vacant. And as for that possibility, don't bet against it.
Check out more boxing news on video at The Boxing Channel
To comment on this story in The Fight Forum CLICK HERE