It's More Dangerous For Roy Jones To Fail Compared To Manning And Bryant
In 1998 Peyton Manning was a rookie quarterback for the Indianapolis Colts. Manning, who will turn 40 this coming March, is now the backup quarterback, due to injury and sub-par play, for the Denver Broncos. In 1996 Kobe Bryant, who turned 37 four months ago, was a second string rookie shooting guard for the Los Angeles Lakers. Bryant announced earlier this month that he'll be retiring at the end of this season and Manning's future is still undecided as to whether he'll play during the 2016 NFL season. This coming January Roy Jones 62-9 (45), who made his professional boxing debut on May 6th of 1989, will turn 47. On the 12th of this month Roy was brutally knocked out in the fourth round by former fringe title holder Enzo Maccarinelli in Roy's 71st bout.
If you follow sports you must know that Manning hasn't been able to complete a pass to anyone but the defensive players of the Broncos opponents – and Bryant can't hit the back of the rim let alone make a jump shot. At one time Manning played the quarterback position in the NFL perhaps better than any quarterback who has ever lived. Today you cringe every time he drops back to throw the ball knowing that the defensive player on the other team has as much of a chance to catch it as his favorite receiver and target Demaryius Thomas. These days when Bryant takes a shot the other players on the court step back and look to grab the rebound off of what most on the floor believe is a certain miss. And to think the player who most believe is greatest NBA player since Michael Jordan entered the league can no longer hit an uncontested jump shot is mind boggling. But father time catches up to everybody, that's the surest bet in the world.
On November 8th 2003, Roy Jones won a controversial majority decision over WBC light heavyweight title holder Antonio Tarver in their first meeting to bring his record to 49-1. For the record, I had Jones edging out Tarver in the last two rounds to secure the decision legitimately. In fact Roy's gallant stand during the final two rounds of the bout impressed me as much as anything Jones had ever done in a light heavyweight bout. Simply because he was weakened by the dramatic weight loss he'd been force to endure after beating John Ruiz for the WBA heavyweight title eight months earlier — and the outcome rode on the final two rounds and Roy was forced to suck it up like never before in his career and he did to eek past Tarver.
Had Jones decided to retire after beating Tarver, today he'd be considered one of the top-5 pound-for-pound greatest fighters in boxing history. In between the years 1989 and 2003, with the exception of Sugar Ray Leonard, Jones was the most gifted fighter/boxer I've seen since Muhammad Ali. Roy could do it all, box, punch with both hands, put punches together in blinding succession to the head and body and he was impossible to touch with a clean shot.
When fans even attempt to compare Floyd Mayweather to Roy Jones from a skill and talent vantage point, it's a joke. Roy did everything better than Floyd but pick and choose his opposition. He beat Bernard Hopkins and James Toney, two first ballot hall of famers and all-time greats when they were in their prime, and in 24 rounds against them, maybe he lost five. Mayweather doesn't own a single win on his record that equals Jones beating Hopkins let alone both he and Toney. And to think Roy dominated a quality heavyweight like Ruiz, who went 1-1-1 in three consecutive bouts with Evander Holyfield, and who was 50 pounds heavier than any other opponent Jones ever fought to capture a piece of the heavyweight title….was a career defining accomplishment
Now that I've made the case attesting to Jones greatness, it's come to the point to where he could get seriously hurt and perhaps die if he continues to fight, something neither Peyton Manning or Kobe Bryant risk by continuing to embarrass themselves throwing interceptions and missing shots during games. Roy has been stopped five times during his boxing career and all five times he either was devastated or took a bad beating. Ever since Jones dropped the weight (nearly 20 pounds of muscle) he put on to fight Ruiz and went back down to light heavyweight, his punch resistance has been basically non-existent. At the conclusion of his last bout versus Enzo Maccarinelli, 35, he looked to be left for dead on the ring canvas. Roy was down for more than five minutes and his legs tapped the canvas. The knockout was so devastating that Maccarinelli dropped to one knee in the ring as if he were saying a prayer that Jones would be okay.
Getting beat up and knocked out looks much worse than a washed up quarterback or shooting guard missing the target. ESPN, in fun for a joke, splices tapes together of Manning getting intercepted and Kobe missing shots, but they never do that regarding washed up fighters taking punches and getting knocked out – and that's because their lives aren't in jeopardy of ending when they walk onto the football field or basketball court.
Roy failing in the ring looks much worse than a former great football or basketball player not getting it done. Worse than that, Roy Jones' life is at stake and he could get killed! Hopefully someone will find a way to save Roy from himself before it's too late, because he cannot be counted on to save himself and the result of that could be tragic. We're talking brain damage at the least or a crippling injury or death at the other end of the scale.
What drove Roy Jones to be a great pound-for-pound fighter during his prime is now detrimental to his health. Unlike Peyton Manning and Kobe Bryant, Roy Jones doesn't have to make the team in order to box. All he has to do is pass a state physical and his license is good. Unless someone in power figures out a way to deny Jones a boxing license, even on some sort of a technicality, I'm afraid Roy's career may end under the saddest of circumstances.
Never have I wanted to be more wrong about a fighter!
Frank Lotierzo can be contacted at GlovedFist@Gmail.com
The Avila Perspective, Chap. 35: Bam Bam Rios, Heavyweights and More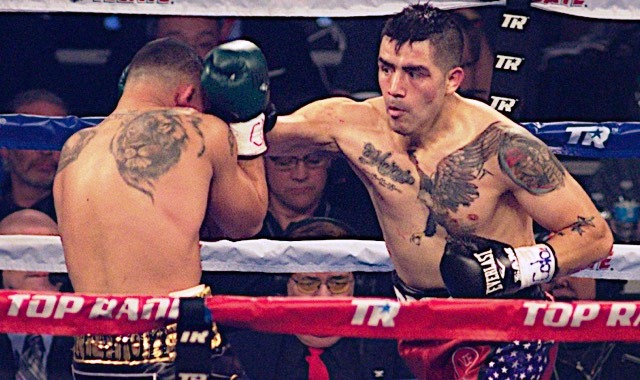 They don't make fighters like "Bam Bam" Brandon Rios every day you know. But there was a time when it was as common as a Helms Bakery truck arriving in the morning.
He talks like a snarling character out of a Mickey Spillane novel and looks like a guy who eats nuts and bolts for breakfast, not Wheaties.
And when you put on a pair of mitts on his fists look out.
Rios (35-4-1, 26 KOs) won his last bout and now takes on another Mexican veteran Humberto Soto (68-9-2) in a welterweight battle of tough guys at Tijuana, Mexico. Its home turf for Soto and the match will be streamed on DAZN.
Time can be a sonofagun and even the toughest get taken down a notch or two. Since losing the WBO welterweight world title to Timothy Bradley in 2015, the road has been covered with spiked strips for the Garden City, Kansas native who now lives in Oxnard, Calif.
Before a win two months ago, he was stopped by former welterweight and super lightweight world champion Danny Garcia in the ninth round a year ago in February. It always seems to be the ninth round when things happen or not for Rios. When he lost to Bradley the end also took place in the ninth.
But that's OK for Rios. When your family grows up working in the slaughter houses in temperatures not fit for human beings, that kind of labor hardens a person's grit to not quit. No matter what other normal people might do, it's not an option for Rios. And that's the way he's always fought.
"Anything can happen though, at the end of the day it's not about who has what, it's about me and him in the ring," said Rios, 32.
Just last November the Oxnard-based fighter, who trains in Riverside with Robert Garcia, engaged in a Mexican war with Ramon Alvarez. He's the older brother of Saul "Canelo" Alvarez and he traded cannon blows with Rios until the pivotal ninth round when the back and forth battle was finally stopped by referee Tom Taylor. It was the kind of fight you might have seen in the 1940s; a kind of Tony Zale vs Rocky Graziano war of attrition that Rios was groomed for since a child in the Kansas gyms.
Like we mentioned before, they don't make fighters like Rios any more.
When he crosses the Mexican border on Saturday in Tijuana, don't expect him to feel out of place. He's been there many times and his family comes from Mexico.
"Even though Soto will be in his own country, I have a lot of Mexican fans, my dad was born in Chihuahua, Mexico and LA is just a couple hours away so I hope to see my fans there supporting me," said Rios.
This time he has Soto in front of him, a former world champion who lives in Tijuana and can recite word for word the book on dirty fighting. He's not shy about elbowing and hitting below the belt or butting you with his head. He knows every dark trick known to prizefighters. When he fought John Molina Jr. a while back he feigned getting hit below the belt after that fighter dropped him with a legal body shot. Soto's act was so convincing the referee deducted a point though he never actually saw the blow, unless he has X-ray vision. Soto is as wily as they come. And don't expect the referee to keep the fight legal. I've seen battles in Tijuana where a veteran fighter was actually hitting another guy's kneecaps and thighs. True story.
Rios will have his hands full. He's run into these types of fighters before. Remember Argentina's Diego Chaves? That fighter was ultimately disqualified for elbows and intentional head butts.
"Soto is a veteran, he's 30 years old. he knows some tricks, he's a former three-time world champion, so we've got to be ready for whatever he brings," said Rios. "That's why I'm working so hard to correct the mistakes."
It's Rios style of fighting that seems to attract those kind of fights. It's not for the squeamish. But if you prefer Rios "two for two" style of bang it out in the boxing ring, then, this is for you. His three wars with Mike Alvarado were brutal and beautiful at the same time.
DAZN signed up Rios for this reason.
Also, East L.A.'s Seniesa Estrada defends the WBC Silver light flyweight title she recently won against Venezuela's Yenifer Leon on the co-main event at Auditorio Municipal. DAZN will stream the fight.
Estrada (15-0, 5 KOs) meets hard-hitting Leon (9-1, 6 KOs) in a female bout set for 10 rounds. Estrada has stretched three consecutive opponents. She will be fighting in the hometown of interim WBC light flyweight titlist Kenia Enriquez. It should make for an interesting development.
Heavyweights
In a move that caught the boxing world by surprise, giant heavyweight Tyson Fury signed a multi-year contract with Top Rank and ESPN. Frank Warren remains his co-promoter with Queensberry Promotions.
The contract requires a minimum of two Fury fights in the US a year. His fights will still be shown in the United Kingdom by BT Sport. Fury has the lineal heavyweight championship title because he beat Wladimir Klitschko the previous lineal champion.
Most of the boxing world anticipated a Fury rematch with WBC champion Deontay Wilder especially after their torrid – for a heavyweight match – fight that took place this past December at the Staples Center and ended in a split draw. Fans of both were eager to see a rematch and rumors were flying like one of those shotgun machine saucers.
Now, Fury has ESPN, Wilder has Showtime and Anthony Joshua is with DAZN. Basically each has a bargaining position now.
Joshua was in New York City recently to pump up his IBO, WBA, WBO and IBF title defense against Jarrell "Big Baby" Miller at Madison Square Garden on June 1, 2019. DAZN will stream that heavyweight world title event.
What's next for Wilder the WBC titlist?
If anything it puts the heavyweight scenario to the forefront for hard core boxing fans. For casual fans it dilutes it.
More UK- Super Middleweights
London, England will be ground zero on Saturday afternoon as British super middleweights James DeGale (25-2-1, 15 KOs) and Chris Eubank Jr. (27-2, 21 KOs) battle for the vacant IBO world title. Showtime will televise.
These Brits have no love for each other.
Eubank, 29, is the former IBO super middleweight titlist and wants it back. He was beaten by George Groves a year ago who gives everyone trouble. The son of hard-hitting Chris Eubank Sr. depends heavily on those heavy hands and it gets him into trouble.
DeGale, 33, is a gritty southpaw and former IBF super middleweight titlist who doesn't punch like Eubank but has that something, something that keeps him in every fight. He surprisingly knocked out Mexico's Marco Periban who was known for having a rock solid chin. You just never know who can knock out who? But in this fight, we do know they don't like each other.
"If I'm honest, if his surname was Smith, you wouldn't know who he was. He's riding off his dad's name," said DeGale. "There are levels in boxing and I'm on a level above him. Come fight night, it's going to be a schooling. Eubank Jr is gonna get schooled. I've dubbed this a 'retirement' fight. When he loses, he's finished, he's done. This will be his last fight."
Eubank has heard it all before.
"He knows I'm a livewire and that I'm dangerous; he knows being ill-prepared is dangerous for his health. I don't think he's going to put himself in that position," said Eubank.
On the same fight card shown by Showtime, heavyweight Joe Joyce meets Bermane Stiverne.
Joyce (7-0, 7 KOs) looks like the real deal. Known as the "Juggernaut," the London heavyweight blew out Joe Hanks at Staples Center on the undercard of the Wilder-Fury match. I expected Hanks and his heavy hands to give Joyce pause, especially if he connected. Well, Hanks connected but then Joyce connected and blew out Hank's candle. It was impressive.
Stiverne (25-3-1), the former WBC heavyweight world titlist, hasn't been too impressive lately. In his last fight with Wilder he was blown out in less than one round. He didn't look like he wanted to be there. Joyce is a serious heavyweight contender and at age 33 knows he doesn't have much time to prove his worth. Expect an execution.
Check out more boxing news on video at The Boxing Channel
To comment on this story in The Fight Forum CLICK HERE
James DeGale vs. Chris Eubank Jr is the Quintessential Crossroads Fight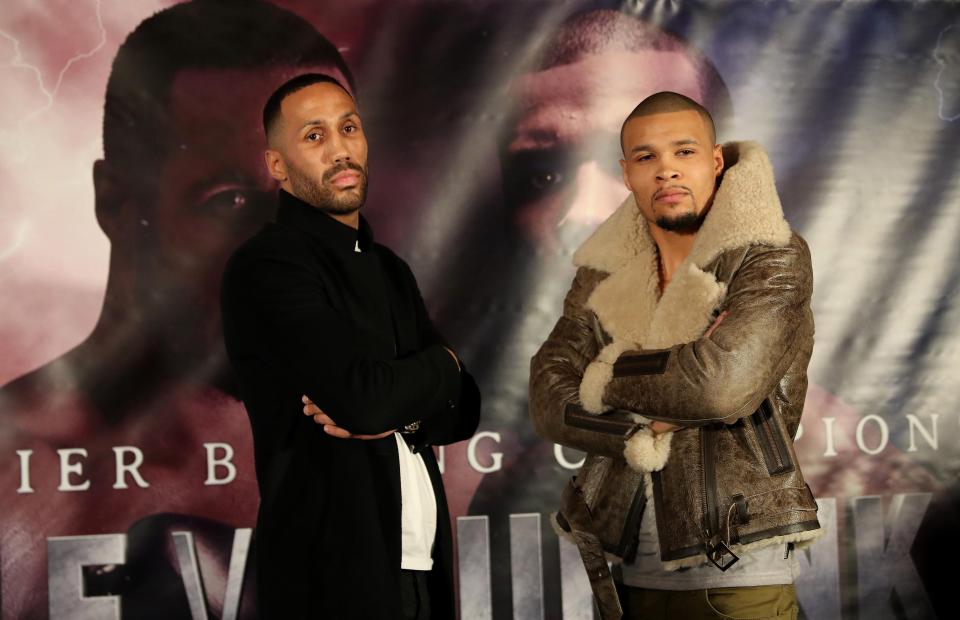 After winning back his IBF 168-pound world title in his rematch with Caleb Truax, James "Chunky" DeGale surrendered the belt rather than honor his mandatory against Jose Uzcategui. This was a smart business decision. More lucrative opportunities awaited him on the domestic front.
There's no meaningful title at stake when DeGale (25-2-1, 15 KOs) meets Chris Eubank Jr. (25-2, 21 KOs) in a 12-round contest at London's 02 Arena on Saturday, but this is an important match in the careers of both men as the loser, notes Eubank in a nice metaphor, "will be left in no-man's land." A fight between DeGale and Uzcategui (or Uzcategui's conqueror Caleb Plant) wouldn't have attracted nearly as much buzz.
The winner may go on to fight Liverpool's undefeated Callum Smith, the WBA 168-pound champion, or Hatfield's undefeated Billy Joe Saunders who is expected to breeze past Germany's little known Shefat Isufi in his first go at 168 on April 13 at Wembley with the vacant WBO title at stake. And don't rule out George Groves, 30, notwithstanding the fact that Groves announced his retirement late last month. Retirements in boxing are notoriously frangible.
DeGale was rooting for Groves to upend Callum Smith when they met on Sept. 28 at Jeddah, Saudi Arabia. There's no love lost between DeGale and Eubank, whose social media squabbles date back several years, but DeGale felt a greater enmity toward Groves, a former amateur teammate and rival. Groves nipped DeGale in a terrific fight back in 2011 – Chunky disputed the decision – and it has always grated on him that Groves would go on to rake in substantially more loot as their careers moved forward.
Chris Eubank Jr. would also welcome a rematch with "Saint George" who outpointed him before a packed house at the Manchester Arena in February of last year. And while there was no disputing this decision, Eubank is certain the result would have been different if not for an accidental clash of heads in the third round that left him with blurred vision in his right eye.
Eubank appeared on the Groves-Smith card in Saudi Arabia. He was fed a soft touch in Ireland's J.J. McDonaugh who could not continue after the third round. Two days later, DeGale, who is advised by Al Haymon, had his potboiler. He stopped no-hoper Fidel Munoz in the third round of a fight buried on a show in Ontario, CA. It was important for him to take out Munoz early as each of his six previous fights had gone to the scorecards.
If the odds hold up, Eubank (whose career has been less impacted by injuries) will go to post a small favorite, this despite the fact that Chunky is a former Olympic gold medalist and two-time world title holder and Eubank has come up short in his two biggest fights, losing to Groves and the aforementioned Billy Joe Saunders who was awarded a split decision when they met in November of 2014. Eubank started slow in that fight and it cost him. Saunders is a southpaw, as is DeGale.
James DeGale doesn't have a fan-friendly style, but based on the odds this should be a competitive and entertaining fight. And it is pinned to an interesting undercard.
Selby-Douglas
The chief supporting bout is a 12-round affair pitting Lee Selby (26-2, 9 KOs) against Omar Douglas (19-2, 13 KOs). Selby is a former IBF featherweight champion who came a cropper in his fifth defense, losing a split decision to Josh Warrington. This will be his first fight at 130 pounds. Douglas, from Wilmington, Delaware, was a five time Pennsylvania Golden Gloves champion. He has won two straight after suffering back-to-back defeats to Javier Fortuna and Edner Cherry.
Selby, whose younger brother Andrew is rated #1 at flyweight by the WBC, aspires to become the first fighter from Wales to win world titles in two weight divisions. If he gets past Douglas, he may secure a date with WBA title-holder Andrew Cancio, boxing's newest Cinderella Man.
Joyce-Stiverne
More compelling than the Selby-Douglas match is the contest between heavyweights Joe Joyce (7-0) and Bermane Stiverne (25-3-1).
As a pro, Joyce has answered the bell for only 19 rounds, but the 33-year-old Englishman, who is of Scotch-Irish and Nigerian descent, is far more experienced than his record suggests. He was 12-1 in the World Series of Boxing where all bouts are scheduled for five rounds. His lone defeat came at the hands of Oleksandr Usyk. In his final amateur fight he lost a controversial split decision to Tony Yoka in the gold medal round of the 2016 Olympics.
Joyce has been training in Big Bear, California, under the tutelage of Abel Sanchez. Customarily carrying about 260 pounds on his six-foot-six frame, he should have little difficulty turning away Stiverne who is now 40 years old and has had only one fight in the last 39 months. But Stiverne briefly held the WBC version of the world heavyweight title and that makes him far and away Joe Joyce's most notable opponent to this date and theoretically a good measuring rod as to whether Joyce can stay on the fast track or perhaps needs to slow down his mad rush to a world title fight.
Joyce vs. Stiverne and Selby vs. Douglas will appear on the TV portion of the DeGale-Eubank card. The fights will air live on Showtime in the U.S. (the telecast begins at 3:45 p.m. ET) and on ITV Box Office in the UK.
Check out more boxing news on video at The Boxing Channel
To comment on this story in The Fight Forum CLICK HERE
Don't Be Blue! The Met Philly is a Great Fight Town's New (Yet Old) Boxing Venue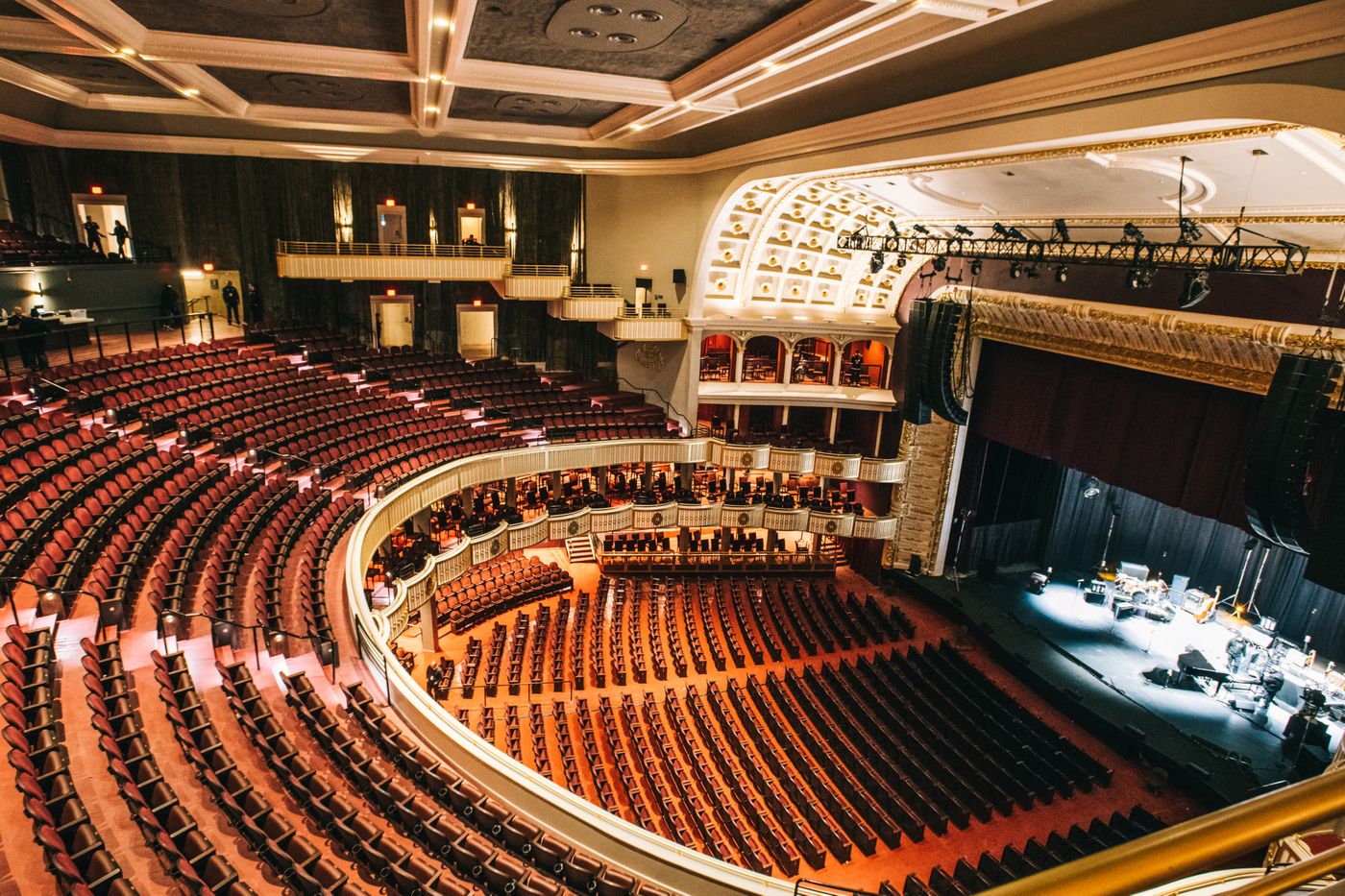 Bernard Hopkins, the renowned former middleweight and light heavyweight champion from Philadelphia, once explained his compulsion for adding layers to his boxing legacy by noting that "history is forever."
Well, sometimes it is. But history, while seldom if ever completely vanishing, can fade with the passage of time. Which is not to say adjustments to what once was can't be made; in a remarkable trade-off, one chapter in the regal boxing history of B-Hop's hometown is permanently slamming shut while another just a few blocks away on North Broad Street is about to be rewritten for a new generation and possibly succeeding ones. It is as if Sir Isaac Newton's third law of physics – "for every action there is an equal and opposite reaction" – is being played out in real life.
Goodbye forever, iconic fight club Blue Horizon. Hello, Metropolitan Opera House, or as it is now known, The Met Philadelphia, again pristine and gorgeous after a $56 million transformation over the past 18 months. The first of what is being promised as regularly scheduled boxing events at The Met takes place this Saturday night with an 11-bout card, the headliner an eight-rounder pitting undefeated local prospects Jeremy Cuevas (11-0, 8 KOs) against Steven Ortiz (9-0, 3 KOs), for the vacant Pennsylvania lightweight championship. It is a nostalgic nod toward the neighborhood turf wars that once fed the city's reputation as an incubator of hard-as-nails fighters who made their bones by slugging it out with one another.
Other matchups of interest have Samuel Teah (15-2-1, 7 KOs), of Northeast Philly by way of his native Liberia, going against Tre'Sean Wiggins (10-4-1, 6 KOs), of Johnstown, Pa., in an eight-rounder for the vacant Pennsylvania junior welterweight belt; welterweight Malik Hawkins (13-0, 9 KOs), of Baltimore, swapping punches with Gledwin Ortiz (6-2, 5 KOs), of the Bronx, N.Y., in an eight-rounder, and junior welter Branden Pizarro (13-1, 6 KOs), of the Juniata Park section of Philly, taking on Zack Ramsey (8-5, 4 KOs), of Springfield, Mass., in a six-rounder.
"The place is definitely beautiful. Breathtaking," Cuevas, 23, a North Philadelphia native now residing in South Philly, said after a tour of The Met on Tuesday. "Who wouldn't want to fight in such a beautiful venue in his hometown? I've always wanted to be involved in something like this, and now I'm here. It really hasn't sunk in yet. But I have to win. Do that and what's already a special occasion becomes a little more so.
"The hype is astounding, as it should be. I have a chance to help bring it all back to Philly, and to do it in style."
Manny Rivera, president of Philadelphia-based Hard Hitting Promotions, is excited about the prospect of a long and mutually beneficial partnership with Live Nation Philadelphia, a company whose primary business is concert promotion and whose list of recording artists is topped by popular Philly rapper Meek Mill. Although Saturday's fight card is the launch of The Met Philly's reincarnation as a boxing venue, the facility, which first opened in 1908 and hosted boxing events from 1934 to 1954, has been operational since Dec. 3, when 77-year-old folk-rock legend Bob Dylan prophetically ushered in a new yet somehow familiar era by performing many of his hits that dated back to the 1960s, as did the majority of his audience.
Maybe what goes around really does come back around again, if someone with the will and the finances is determined to make it so.
Rivera said Hard Hitting Promotions expects to stage six fight cards at The Met in 2019, the next on a yet-unspecified date in April, "and go on from there," adding layers onto the next-phase legacy of an again-grand facility that had fallen into disrepair and might have been marked for demolition were it not been for the intervention of Geoff Gordon, regional president of Live Nation Philadelphia, who saw the potential of the crumbling old palace and was willing to back his vision of a glorious future with a massive financial infusion.
"It's an exciting opportunity for boxing and we have a wonderful spot to watch competitive boxing on North Broad Street," Gordon said of the restored, multi-purpose Met, whose 858 North Broad Street address is just five blocks below the site once occupied by the Blue Horizon at the 1314-16 North Broad. But the Blue Horizon (as it had been known since 1961, so dubbed by fight promoter and then-owner Jimmy Toppi), which was constructed in 1865, hadn't staged a fight card since June 4,  2010,  when featherweight Coy Evans scored a six-round unanimous decision over Barbaro Zepeda in the main event. Almost immediately thereafter, Philadelphia's Department of Licenses and Inspection again cited the Blue for electrical code violations, among other things, and co-owners Vernoca Michael and Carol Ray, unable to pay for necessary repairs and mounting tax bills, were obliged to shutter the building until the debt rose to a point where they had no alternative but to sell.
Historical preservationists – hey, it's Philadelphia, where tens of thousands of tourists come annually to check out Independence Hall, the Liberty Bell and other 18th-century monuments to a significant period in America's past – argued that it was imperative to prevent the Blue Horizon from decaying to the point where it might be unsalvageable. Boxing aficionados were also at the forefront of the ultimately failed crusade, noting that The Ring magazine had declared the 1,346-seat Blue as the very best place in the world to watch boxing, while an article in Sports Illustrated contended it was the "last great boxing venue in the country." But those tributes were ultimately negated by pragmatic politicians who argued that while the Blue was indeed historic, it wasn't "historic enough" for another governmental bailout after the facility had received a $1 million grant from the Commonwealth of Pennsylvania as well as a $1 million low-cost loan from the Delaware River Port Authority.
Although Michael and Ray, African-American women who had quit their jobs and gone $500,000 into debt to purchase the building, used the funds to make several cosmetic touch-ups, Michael complained that the Blue was "in continual need of repair" and they would require another $5 million in grants or private contributions to make enough renovations to bring it up to code. The people controlling the purse strings in Philly and Harrisburg said thanks but no thanks, which is why the Marriott hotel chain is sinking more than $25 million into the former Blue Horizon site, which is being transformed into a 140-room micro-hotel as part of the chain's new Moxy brand, which a press release promises will "bring a lifestyle experience to a new level."
Maybe that indeed will be the case, but you have to wonder if the ghosts of Bennie Briscoe, Matthew Saad Muhammad and other beloved and departed Philly fighters who learned to ply their brutal trade at the Blue will wander the corridors of the Moxy like restless spirits on an endless flight.
The Met Philadelphia – at least in its original incarnation – is in its own way just as rich in boxing history as the Blue Horizon. Built in 1908 by Oscar Hammerstein, it started out as the home of the Philadelphia Opera Company. Toppi, who later owned the Blue Horizon, began staging regular fight cards there in the 1930s, during which time the Cuban great, Kid Gavilan (a record eight appearances), Lew Jenkins, Percy Bassett and George Costner were among the headliners. And, unlike the "not historic enough" (at least in some people's estimation) Blue, The Met has been certified by the Philadelphia Historic Commission by its listing on both the Pennsylvania State and National Registers of Historic Places.
Perhaps of most significance to fight fans, The Met's configuration for boxing should make for a rewarding viewing experience. With a seating capacity of 4,000 or so for concerts, 800 floor seats will be removed on boxing nights for placement of the ring, which will be surrounded on three sides by curved rows of seats, all of which will offer splendid sight lines, with additional seating on the elevated stage. Rivera said he anticipates a turnout of 2,500 to 3,000 spectators.
"This building is like the Blue Horizon 5.0," gushed Rivera, who points out that, unlike the Blue, The Met offers patrons multiple and modern concession stands and rest rooms.
All that remains is for The Met to live up to its obvious potential as a fight site that fans will want to keep returning to, which has not been the case with several one-and-done venues that were tried out as replacement or augmentary alternatives to the Blue.  Other Philly boxing sites that were more than suitable for the purpose and for a time found their niche were allowed to slip away for whatever reason, victims by turn of progress or abandonment.
So say goodbye not only to the Blue, but to Sesquicentennial/Municipal Stadium, site of the first Jack Dempsey-Gene Tunney heavyweight title bout on Sept. 23, 1926, which drew a crowd of 120,757, and Rocky Marciano's dethronement of heavyweight champion Jersey Joe Walcott on Sept. 23, 1952 (attendance: 40,379), and to the Spectrum, home to so many well-attended fights in the 1970s, which was demolished from Nov. 2010 to May 2011. Say goodbye also to Convention Hall, the Pennsylvania Hall at the Civic Center (demolished in 2005), the Cambria (affectionately known as the "Bucket of Blood," closed in 1963); the Arena in West Philly, the Hotel Philadelphia in Center City, the Alhambra, Olympia, Broadway Athletic Club and National Athletic Club (all in South Philly) and Eli's Pier 34 along the Delaware River waterfront. Less-entrenched in Philly's boxing culture, in some cases still standing but seldom if ever still utilized as boxing venues, are Poor Henry's Brewery in Northern Liberties, the National Guard Armory in Northeast Philly, Woodhaven Centre, Felton Supper Club, Wagner's Ballroom and the University of the Arts.
It should be pointed out that The Met is not and will not be the sole destination for boxing in Philadelphia moving forward. There is the Liacouras Center on the Temple University campus, which on March 15  will be  the site for an IBF junior lightweight defense by champion Tevin Farmer (28-4-1, 6 KOs), of North Philly, against Ireland's Jono Carroll (16-0-1, 3 KOs), as well as a women's lightweight unification matchup of IBF/WBA ruler Katie Taylor (12-0, 5 KOs) of Ireland and WBO titlist Rose Volante (14-0, 8 KOs)) of Brazil. Fifteen days later at the 2300 Arena in South Philly, the converted warehouse (capacity: 2,000) which has undergone a number of name changes (among them Viking Hall and the New Alhambra), it'll be WBC light heavyweight champion Oleksandr Gvozdyk (16-0, 13 KOs), of Ukraine, defending his belt against Doudou Ngumbu (38-8, 14 KOs), of Congo. There also are periodic cards at the SugarHouse Casino, with a nice but small room that can accommodate maybe 1,100 fans.
Hall of Fame promoter J Russell Peltz, who has been staging fight cards in Philadelphia since 1969, is still going strong at 72 and he welcomes the addition of The Met as a local outlet for boxing and hustling promoters, such as Rivera, to provide the sort of competition that can only make for an improved overall product. He got a peek inside The Met during its restoration and said it represents a long step toward a Philly pugilistic rebirth, but it will take more than spiffy new digs to bring the glory days all the way back.
"It's all good if the fights are good," said Peltz, who is co-promoting the two world championship cards in March. "If the fights aren't good, the site won't matter quite as much. It all depends on the quality of the fights."
Check out more boxing news on video at The Boxing Channel
To comment on this story in The Fight Forum CLICK HERE