Literary Notes "Intimate Warfare" – The Gatti-Ward Trilogy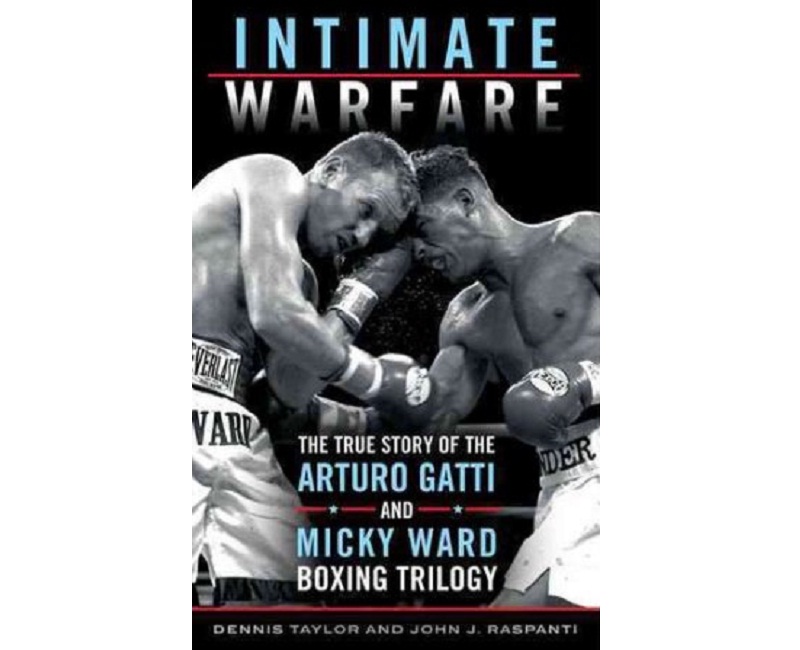 Intimate Warfare – One of the problems with boxing today is that too many of the fights that fans see are mismatches. The best fighters are often the most protected and reluctant to go in tough.
Arturo Gatti and Micky Ward never appeared on any pound-for-pound lists. Neither man was a great fighter in terms of the skills he possessed. All the heart in the world couldn't make them competitive with elite boxers. But they were good action fighters who never shyed away from going in tough. They fought each other three times within the span of thirteen months. Each fight was scheduled for ten rounds. No alphabet-soup belts were at stake. Gatti-Ward II and III were very good fights. Gatti-Ward I was a great fight and the reason why boxing fans talk reverentially about the Gatti-Ward encounters to this day.
Intimate Warfare by Dennis Taylor and John Raspanti (Rowman & Littlefield) is the story of the Gatti-Ward trilogy.
Ward lived a relatively quiet life outside the ring and had a devoted fan base. Gatti burned the candle at both ends and had a cult following.
Gatti's curriculum vitae included alcohol and drug abuse and numerous arrests for drunk driving. "I've known a number of fighters who could party really hard," Jim Lampley observed. "Fighters who were pushing themselves to the limit in that regard the same way they would push themselves to the limit in the ring. And there was nobody like Arturo."
Pat Lynch (Gatti's manager) concurred, saying, "My wife and I would worry if the phone rang at three in the morning, hoping it was just him asking for a few dollars, hoping he wasn't in trouble."
But there was a sweet side to Arturo. In November 2002, I was in Atlantic City for the second Gatti-Ward fight. Paulie Malignaggi (who was relatively unknown at the time) was scheduled to fight Paul Delgado on the undercard. Arturo had just finished a sitdown in a conference room with a small group of media. Paulie had come in to listen and was standing off to the side.
"Arturo is my hero," Paulie told me.
"Have you met him?"
"No."
"C'mon. I'll introduce you."
Gatti had a fight coming up in two days. He was struggling to make weight, which can turn the nicest fighter in the world into an ogre. But he was warm and welcoming to Paulie and talked with him for several minutes.
"That made me feel good," Paulie said afterward. "He treated me like I'm somebody."
As for Gatti and Ward as fighters . . .
"Ward," Taylor and Raspanti note, "was a reliable action fighter of limited ability, who could be counted on by one of the second-tier boxing networks to provide formidable competition for opponents perceived to have a brighter future."
His will was the key to his marketabilty.
"Everybody's heart is the same size," Ward posited. "It's your will to be able to go through pain and not give up [that counts]. You can't train for it. Either you have it or you don't. Either you're born with it or you're not."
Meanwhile, Gatti fought in a manner that earned him the sobriquet of "The Human Highlight Reel."
"Smash him with a right hand that splits an eyebrow, causing blood to pour down his face,' Steve Springer of the Los Angeles Times wrote. "Crush him with a body shot that caves in a rib. Pound him until his legs become too shaky to support his body. Arturo Gatti will accept all that stoically. He always has, knowing it's part of boxing, the cruel and often painful sport in which he makes a living. Just don't ignore him, dismiss him, or show him a lack of respect. That, he can't accept."
When Arturo fought, Tim Starks noted, "You knew you were going to get a show. Every time."
"You can't give a fighter higher accolades than to say he always gave fans more than their money's worth," promoter Russell Peltz added.
Boxing is the ultimate one-on-one sport. Two evenly-matched fighters are necessary for a great fight. When Gatti and Ward met in the ring for the first time, they had sixteen losses between them. Gatti had two competitve advantages over his opponent. He was faster and 6-1/2 years younger. Given the fact that Ward was pushing 37, that was a significant age differential. But they were well-matched.
Their first encounter, contested at Mohegan Sun on May 18, 2002, was a brutal breathtaking drama.
"Two fighters on a collision course have total faith in their own abilities and their own will to win," Taylor and Raspanti write. "Each believes he possesses a bottomless well of determination that, when it is needed, will be there and be enough when he needs it. Neither man believes he will lose the fight. Yet one of them will."
Ward prevailed on a narrow 95-93, 94-93, 94-94 majority decision.
"I always wondered what it would be like to fight my twin," Gatti said afterward. "Now I know."
Fights II and III took place at Boardwalk Hall in Atlantic City. Each outing was an uphill climb for Ward, who lost unanimous decisions on November 23, 2002 (98-91, 98-91, 98-90) and June 7, 2003 (97-92, 96-93, 96-93).
Ward retired after Gatti-Ward III. Gatti fought on for another four years until other men's fists inflicted damage and pain that was too much for even him to bear.
Intimate Warfare consists of alternating chapters on Gatti and Ward until they meet in the ring and their lives are joined. Like its subjects, the book is a solid workmanlike effort. It summarizes what's already known about both men but doesn't break new ground. The best re-telling of Arturo Gatti vs. Micky Ward remains watching a video of their first fight.
The last chapter of Intimate Warfare is devoted to Gatti's untimely death in Brazil seven years ago. Depending on which version of events one believes, either he committed suicide by hanging himself from a staircase after a night of hard drinking and quarreling with his wife, or was murdered by his wife with the assistance of one or more accomplices. Initially, Arturo's wife – a former exotic dancer named Amanda Rodrigues – was arrested and charged with murder. Three weeks later, the charges were dismissed.
Most of Arturo's friends and business associates (including Micky Ward) think he was murdered. They believe that he loved life and his two children too much to commit suicide. I agree with them. For those reasons and one more.
On the day it was announced that Arturo had died, I thought back to a Boxing Writers Association of America dinner that I attended at a hotel in midtown Manhattan. If memory serves me correctly, it was in 2003, when Arturo and Micky were co-honored for having participated in the 2002 "Fight of the Year."
I'm not positive of the date, but I remember one moment from the dinner very clearly. Midway through the awards presentations, I left my seat to go to the men's room. When I got there, an intimidating young man was blocking the entrance.
"You can't go in there," he said.
"Why can't I go in there?"
"It's in use. You'll have to go to another floor."
"What do you mean, it's in use? There are a dozen urinals and toilets in there."
At which point, Arturo staggered out of the men's room, dead drunk, accompanied by a woman who looked very much like a dancer at a not-very-exclusive adult club.
"Blow job," Arturo announced when he saw me.
And he pointed to his fly. Which was still unzipped.
In that condition, Arturo couldn't have walked a straight line, let alone figured out the mechanics of detaching his wife's purse strap, hooking it over a bannister railing, and hanging himself.
But let's end on a more ennobling note.
"Ward and Gatti," Taylor and Raspanti write, "will be remembered as mortal men who, mostly through courage and sheer will, accomplished things before our very eyes that should not have been humanly possible. They pushed themselves beyond those physical limits that the rest of us have come to accept, past the fatigue, the agony, the fear, the nagging desire to give up, rest, and save at least part of themselves for another day. And they did it three times."
They were sportsmen of the highest order, who fought within the rules and treated each other with respect before, during, and after their bloody trilogy.
Thomas Hauser can be reached by email at thauser@rcn.com. His most recent book – A Hard World: An Inside Look at Another Year in Boxing – was published recently by the University of Arkansas Press. In 2004, the Boxing Writers Association of America honored Hauser with the Nat Fleischer Award for career excellence in boxing journalism.
Intimate Warfare / Check out more boxing news on video at The Boxing Channel.
Literary Notes: Rocky Marciano and More
John Jarrett has been writing about boxing since 1951 when his first article, a piece about Rocky Marciano, was published in Boxing News. Since then, he has been involved with the sweet science in myriad ways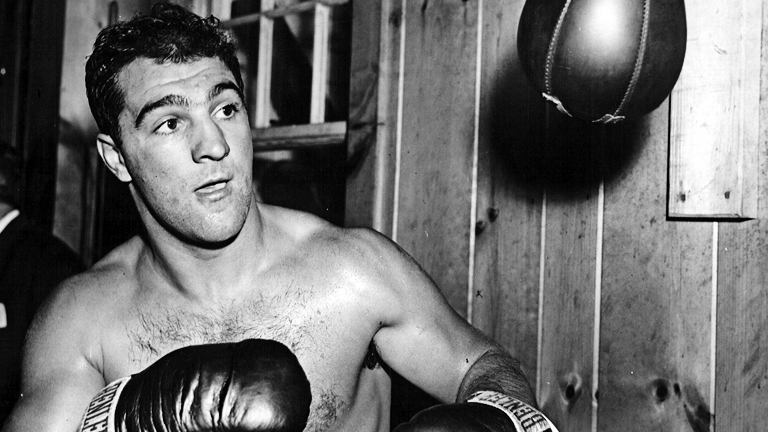 John Jarrett has been writing about boxing since 1951 when his first article, a piece about Rocky Marciano, was published in Boxing News. Since then, he has been involved with the sweet science in myriad ways including ongoing service as Northern Area Secretary for the British Boxing Board of Control for forty years. During that time, he has written nine books, he most recent of which (Rocky Marciano published by Pitch Publishing) brings Jarrett back to his creative roots.
All biographies of Marciano are written in the shadow of Russell Sullivan's definitive work, Rocky Marciano: The Rock of His Times (University of Illinois Press, 2002). But Marciano is a subject who continues to inspire writers to write.
Rocco Francis Marchegiano was born into a struggling working-class family in Brockton, Massachusetts. The first time that he auditioned in the gym for trainer Charlie Goldman (who would ultimately sculpt the rough-hewn block of marble into greatness) Goldman told him, "If you done anything right, I didn't see it."
Shirley Povich of the Washington Post later quoted an unnamed observer of the boxing scene as saying, "Rocky Marciano can't box a lick. His footwork is what you'd expect from two left feet. He throws his right hand in a clumsy circle and knows nothing of orderly retreat. All he can do is blast the breath from your lungs or knock your head off."
No fighter trained harder than Marciano. That was one of the keys to his success. Asked to elaborate on his training regimen, he noted, "After a while, you get to hate all the guys around you. You get to hate the sight of their faces and the sound of their voices."
Marciano lost four of the twelve amateur fights that he engaged in. Three decades later, Bob Girard (one of the men who beat him) reminisced, "I beat him because it was three rounds. There were a hundred guys who might have stayed three rounds with Rocco. But no man in the world was gonna beat Rocco in fifteen rounds."
Jarrett offers an extensive recounting of Marciano's ring career. There's a particularly good retelling of the September 23, 1952, fight between Marciano and Jersey Joe Walcott when Marciano, trailing on all three scorecards at the start of round thirteen, seized the heavyweight throne with a highlight-reel knockout.
But as is often the case in this book, the most compelling writing with regard to Marciano-Walcott I comes from Jarrett's judicious choice of quotes rather than his own prose. Here, the choice verbiage originated with Peter Wilson of the Daily Express, who wrote, "Then, like the car you never see on the dark road, the shell which you never hear, shocking, irrevocable, came that tremendous horrifying right. It left Walcott looking down his own spine with eyes that could not see. He crumpled forward, clutching for a rope, knees grayed by the resin dust. A brown paper bag burst by a thoughtless child. A headless, thoughtless, sightless, senseless, paralyzed man. Style, skill, pacing of the fight and good punching, all had availed nothing. Youth and strength are invincible."
In his dressing room after the fight, Walcott was asked about the knockout punch and acknowledged, "I don't remember anything. He caught me open and that was it. I don't know if it was a right or left. I just don't remember anything."
Jarrett has done a great deal of research regarding Marciano's fights. But there's no new scholarship in his book, nor does he do much to place Marciano in the political and social context of his times. Also, when it comes to Marciano's personal life, Jarrett tends to view him through rose-colored glasses, painting the portrait of a man who felt ambiguous about boxing because "he hated the time it took away from his family in Brockton."
In truth, the historical record developed by Sullivan and others suggests that Marciano was more interested in whoring around than in being a good husband and father.
That said; Jarrett's writing flows nicely and he's passionate about his subject. Fans of Rocky Marciano will enjoy the book.
*     *     *
Never Stop by Simba Sana (Bolden Books) isn't a boxing book. It's a coming-of-age memoir written by a man who grew up in inner-city poverty, escaped, and then had to navigate the world outside it. But boxing keeps popping up in his life.
There's a warning flag of sorts in an "author's note" at the beginning of Never Stop that states, "This is a work of creative nonfiction. The events are portrayed to the best of Simba Sana's memory. While all the stories in this book are true, some names and identifying details have been changed to protect the privacy of the people involved."
Changing names to protect privacy is understandable. And memory is what it is. The phrase "creative fiction" might leave readers a bit wary.
But Sana writes well and his work demands attention from the start. The opening paragraph reads, "My mother never told me anything about her past – not one thing. This may be hard to believe, but she talked to herself more than she ever actually spoke to me. I grew accustomed to this at home. But as I got older, I became keenly aware that her habit of engaging in intense conversations with herself was not ordinary behavior."
As Sana (then named Bernard Sutton) moved through adolescence, he trained at several boxing gyms and developed an affinity for the sweet science. Later, he earned master's degrees from Howard University and St. John's College and moved into the corporate world.
The most intriguing portion of Never Stop insofar as boxing is concerned deals with the period of time that Sana managed Beethaeven Scottland.
During his sojourn through various gyms, Sana had established a rapport with Scottland. By 1997, "Bee" had fallen out with his manager and walked away from boxing with an 11-4-2 record. In 1998, Simba began managing him on a handshake agreement. Scottland won his first fight back and, by late-2000, had a 20-6-2 record. Meanwhile, Sana was roughly $5,000 in the hole, not having cut Bee's purses for most fights and having advanced the money for various expenses.
In November 2000, Scottland dumped him. It hurt.
"All the work I'd put in with Bee," Sana recalls, "and then bam! Just like that. I was no longer Bee's manager. It was like all my work meant nothing. Bee avoided me, and I didn't go out of my way to find him either."
On June 26, 2001, Scottland fought his first fight under new management against unbeaten George Khalid Jones and was knocked out in the tenth round. Sana watched it unfold on ESPN2 and acknowledges, "As Bee lay on the canvas, I felt vindicated. I had been wronged and part of me wanted him to pay for what he did to me."
That's impressive honesty given what soon turned Sana's "sense of satisfaction" to concern. Scottland was carried from the ring on a stretcher and died six days later.
Never Stop is a good book.
Thomas Hauser can be reached by email at thauser@rcn.com. His most recent book – There Will Always Be Boxing – was published by the University of Arkansas Press. In 2004, the Boxing Writers Association of America honored Hauser with the Nat Fleischer Award for career excellence in boxing journalism.
Check out more boxing news on video at The Boxing Channel
David vs. Goliath: Notes and Nuggets from Thomas Hauser
The Biblical battle of David vs. Goliath has endured for thousands of years as an inspiration for underdogs in one-on-one combat. But few people have written of that storied confrontation in a more intriguing fashion than Malcolm Gladwell.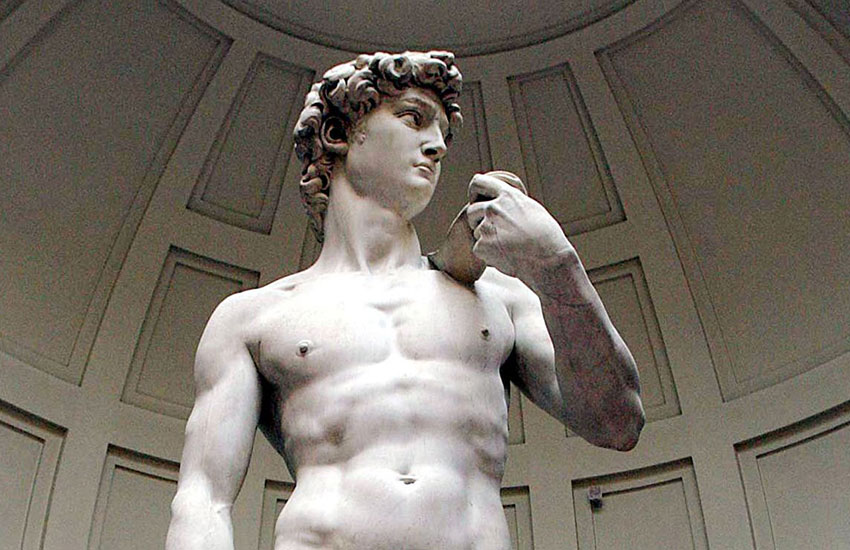 The Biblical battle of David vs. Goliath has endured for thousands of years as an inspiration for underdogs in one-on-one combat. But few people have written of that storied confrontation in a more intriguing fashion than Malcolm Gladwell.
Gladwell authored a collection of essays published under the title David and Goliath (Little Brown and Company). The book examines nine individuals from various disciplines who battled powerful forces in contemporary times. The introduction to the book explores the original David vs. Goliath.
Three thousand years ago, the Bible tells us, an army of Philistines was seeking to militarily divide the Kingdom of Israel into two parts which would then be vulnerable to conquest. The warring armies faced each other from opposite sides of a ravine. Neither army dared attack since doing so would require descending into the ravine and being assaulted from above.
Finally, Gladwell writes, "The Philistines sent their greatest warrior down into the valley to resolve the dead­lock one on one. He was a giant, six-foot nine at least [six cubits and a span] wearing a bronze helmet and full body armor. He carried a javelin, a spear, and a sword. An attendant preceded him, carrying a large shield. The giant faced the Israelites and shouted out, 'Choose you a man and let him come down to me. If he prevail in battle against me and strike me down, we shall be slaves to you. But if I prevail and strike him down, you will be slaves to us and serve us."
David, a shepherd boy who had come to the field of battle to bring food to his brothers, accepted the challenge. King Saul sought to dissuade him, warning, "Thou art not able to go against this Philistine to fight with him for thou art but a youth and he is a man of war."
But David was insistent. You know the rest.
At least, you think you do.
"We consistently get these kinds of conflicts wrong," Gladwell writes. "We misinterpret them. Giants are not what we think they are."
Or phrased differently, in Gladwell's eyes, David vs. Golaith wasn't an evenly-matched fight. David had several crucial advantages.
"Goliath was expecting a warrior like himself to come forward for hand-to-hand combat," Gladwell explains. "It never oc­curred to him that the battle would be fought on anything other than those terms. To protect himself against blows to the body, he wore an elab­orate tunic made up of hundreds of overlapping bronze fishlike scales. He had bronze shin guards protecting his legs with attached bronze plates covering his feet. He wore a heavy metal helmet. He had three separate weapons, all optimized for close combat."
All David had was a shepherd's staff, a sling, and five smooth stones.
"Am I a dog that thou comest to me with sticks?" Goliath demanded of his young adversary. "Come to me and I will give thy flesh unto the fowls of the air and to the beasts of the field."
Not so fast, big guy.
As recounted in 1 Samuel, chapter 17, verses 49 and 50, "David put his hand in his bag and took thence a stone and slang it and smote the Philistine in his forehead that the stone sunk into his forehead and he fell upon his face to the earth. Therefore, David ran and stood upon the Philistine and took his sword and drew it out of the sheath and cut off his head."
Now for Gladwell's keys to victory.
"Ancient armies," he explains, "had three kinds of warriors. The first was cavalry: armed men on horseback or in chariots. The sec­ond was infantry: foot soldiers wearing armor and carry­ing swords and shields. The third were projectile warriors, or what today would be called artillery: archers and slingers. Slingers had a leather pouch attached on two sides by a long strand of rope. They would put a rock or a lead ball into the pouch, swing it around in in­creasingly wider and faster circles, and then release one end of the rope, hurling the rock forward. Slinging took an extraordinary amount of skill and practice. But in experienced hands, the sling was a dev­astating weapon. An experienced slinger could kill or seriously injure a target at a distance of up to two hundred yards. The Romans even had a special set of tongs made just to remove stones that had been embedded in some poor soldier's body by a sling. And projectile warriors were deadly against infantry because a big lum­bering soldier weighed down with armor was a sitting duck for a slinger who was launching projectiles from a hundred yards away."
"Goliath is heavy infantry," Gladwell continues. "He thinks that he is going to be engaged in a duel with another heavy-infantryman. When he says 'Come to me,' he means come right up to me so that we can fight at close quarters. David without armor has speed and maneuverability. He puts a rock into his sling and whips it around and around, faster and faster, aiming his projectile at Goliath's forehead – the giant's only point of vulnerability. What could Goliath do? He was carrying over a hun­dred pounds of armor. He was prepared for a battle at close range where he could stand, immobile, warding off blows with his armor and delivering a mighty thrust of his spear."
"Goliath," Gladwell quotes his­torian Robert Dohrenwend as saying, "had as much chance against David as any Bronze Age warrior with a sword would have had against an oppo­nent armed with a .45 automatic pistol."
Moreover, in many respects, Goliath seems to have been like an aging boxer past his prime.
"Goliath is supposed to be a mighty warrior," Gladwell notes. "But he's not acting like one. He comes down to the valley floor accompanied by an attendant – a servant walking before him, carrying a shield. Why does Goliath, a man calling for sword-on-sword single combat, need to be assisted by a third party carrying a shield? What's more, why does he say to David, 'Come to me'? Why can't Goliath go to David? The biblical account emphasizes how slowly Goliath moves, which is an odd thing to say about someone who is alleged to be a battle hero of infinite strength. Why doesn't Goliath respond much sooner to the sight of David coming down the hillside without any sword or shield or armor? When he first sees David, his first reaction is to be insulted. He seems oblivious of what's hap­pening around him. There is even that strange comment after he finally spots David with his shepherd's staff: 'Am I a dog that you should come to me with sticks?' Sticks plural? David is holding only one stick."
"What many medical experts now believe," Gladwell continues, "is that Goliath had a serious medical condition. He looks and sounds like someone suffering from what is called acromegaly. One of the common side effects of acromegaly is vision problems. Why was Goliath led onto the valley floor by an attendant? Because the attendant was his visual guide. Why does he move so slowly? Because the world around him is a blur. Why does it take him so long to understand that David has changed the rules? Because he doesn't see David until David is up close."
"What the Israelites saw, from high on the ridge," Gladwell concludes, "was an intimidating giant. There is an important lesson in that for battles with all kinds of giants. The powerful and the strong are not al­ways what they seem.
****
If you think David went in tough . . .
One man fought both Jack Dempsey and Joe Louis. And the loser was . . . Jack Sharkey.
On July 21, 1927, in the next-to-last fight of Dempsey's storied ring career, the Manassa Mauler knocked out Sharkey at Yankee Stadium in the seventh round. Five years later, Sharkey won a split decision over Max Schmeling to claim the heavyweight throne. But a year after that, he lost the crown by knockout to Primo Carnera.
Fast-forward to August 18, 1936, when Sharkey had the misfortune to enter the ring against Louis. It was the Brown Bomber's first fight after suffering a devastating knockout defeat at the hands of Schmeling. The feeling was that Louis still might not be right.
The feeling was wrong. He KO'd Sharkey in the third round.
Thomas Hauser can be reached by email at thauser@rcn.com. His most recent book – There Will Always Be Boxing – was published by the University of Arkansas Press. In 2004, the Boxing Writers Association of America honored Hauser with the Nat Fleischer Award for career excellence in boxing journalism.
Check out more boxing news on video at The Boxing Channel
Book Review: "Latino Boxing in Southern California"
Modern boxing has existed for more or less 160 years after the Marquis of Queensbury rules were adopted. Since that time hundreds and perhaps tens of thousands of pages have been quilled or typed depicting the sport's torrid and colorful history.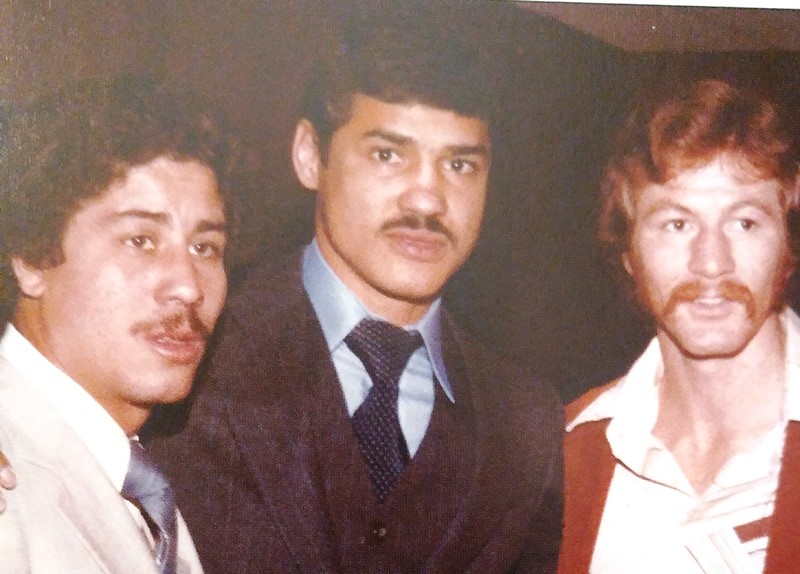 Modern boxing has existed for more or less 160 years after the Marquis of Queensbury rules were adopted. Since that time hundreds and perhaps tens of thousands of pages have been quilled or typed depicting the sport's torrid and colorful history.
Prizefighters such as John L. Sullivan, Harry Greb and Georges Carpentier have had numerous novels written about their worthy exploits. Yet, though Southern California can match historic boxing footsteps with any region in the country, the heroes from Bakersfield to San Diego scarcely have been touched.
That's where author Gene Aguilera steps forward.
Raised in East L.A. during the 1950s and 60s, the author saw firsthand many classic fights that took place in venues such as the Olympic Auditorium, Inglewood Forum and L.A. Sports Arena. And with his own eyes he saw the rise of Salvador Sanchez, Julio Cesar Chavez and Oscar De La Hoya.
Now he's writing about the other heroes that fall into the cracks of forgotten exploits. Those pugilists who were not only of Mexican roots, but Latino fighters from areas like Nicaragua, Cuba and Panama.
Aguilera wrote a previous book Mexican-American Boxing in Los Angeles published in 2014. In Latino Boxing in Southern California, the subject matter parallels his previous work with many of the same heroes mentioned again and with the new heroes described and their contributions to fistic lore.
Los Angeles has always been a vibrant center for prizefighting. Even in the days when it was illegal and boxers were forced to fight outside the city limits in places like Burbank, Vernon and San Bernardino, the boxing scene was red hot.
The author chooses to write about the era that he actually lived from the 1950s to the present. In the first book and in this book he fills the mind and eyes with stories of the past when black and white newspaper photos were the norm and television fights had most of the population entranced with heroes like Sugar Ray Robinson and Kid Gavilan. In the Los Angeles area weekly shows had been going on for decades and continued even when Major League Baseball, the National Football League, and the National Basketball Association arrived. The sport of boxing thrived and held its fans captive with its own heroes such as Manuel Ortiz, Art Aragon and Keeny Teran. Then came a wave of Mexican fighters like Raul "Raton" Macias, Jose Becerra and Gaspar Ortega.
Wave after wave of Latin American fighters followed and still continue to venture north to the magnetic lure of fame, fortune and glory in the U.S.A.
Aguilera has seen these waves many times over. First as a child attending the fights with his parents, then as a youth taking one bus after another from his East L.A. neighborhood to the now closed Olympic Auditorium where prizefighting had been a staple since the late 1920s. He also was a regular patron at the Inglewood Forum that saw boxing first arrive in the late 1960s and at the L.A. Sports Arena that just recently was demolished in favor of a soccer stadium.
Today, a sort of renaissance is taking place with new venues replacing old but it's important to realize that boxing has remained part of the fabric of Los Angeles and the rest of Southern California through its population explosion.
Each page written by Aguilera describes that former era with the names of fighters who have mostly passed away, but some remain.
One of the author's former heroes is Ruben "El Puas" Olivares who has become his close friend. The pair make annual treks to Canastota, New York for the International Boxing Hall of Fame ceremonies. Olivares was involved in one of the biggest fights that ever took place in Los Angeles when he met Nicaragua's legendary Alexis Arguello at the Inglewood Forum in 1974 for the featherweight world title. It remains one of the classic battles of all time in the City of Angels.
It's just one of the memorable fights that Aguilera talks about. It's not a thick book, but with its numerous photos, posters and quotes gathered throughout the decades it provides a marvelous companion for anyone who loves boxing history.
Truthfully, it's one of the most important books ever written because it describes an era that is seldom touched regarding the Southern California region.
Why is it important?
Today, Southern California has become the heart and soul of boxing for the entire world, not just the U.S. Fighters arrive from almost every country in the world to practice the art of boxing in one of the more than 100 boxing gyms existing in the Golden State.
Latino Boxing in Southern California in essence, describes those early waves of prizefighters that continue today. This book helps explain why Southern California has become a hub for many elite boxers seeking fame and world titles. Perhaps soon Aguilera will write a book about this International flood of prizefighters that is taking place.
Latino Boxing in Southern California is rich in information and one of the most important works to ever touch the subject of pro boxing in the greater Los Angeles area.
The book is available at www.arcadiapublishing.com or via Amazon or at book stores.
Pictured left to right: Wilfredo Gomez, Alexis Arguello, and Danny "Little Red" Lopez
Check out more boxing news on video at The Boxing Channel