We're More Likely to see Cotto fight Canelo Again than fight Kell Brook
WHAT'S NEXT FOR MIGUEL COTTO? — As most know, former four division champ Miguel Cotto 40-5 (33) was supposed to fight former junior middleweight title challenger James Kirkland 32-2 (28) on February 25th. The bout was scheduled to be shown on HBO PPV. This has become the protocol for Cotto whenever he fights due to his loyal Hispanic following. Well, due to Kirkland, who hasn't fought since May of 2015, suffering a broken nose, the fight along with the entire card was cancelled. And that may not be such a bad thing because I question how much of a market there was hungry to see Cotto vs. Kirkland, who both lost overwhelmingly to Canelo Alvarez in their last bout.
Speaking of Cotto's last time out versus Alvarez, it must be noted that Miguel has changed as a fighter. Starting with his pro-debut in 2001 up through his fight with Manny Pacquiao in 2009, Cotto fought mostly as the attacker. He was a fighter who looked to kill the body and then work his opponent over seeking the stoppage win. But that changed after absorbing a pretty good going over by Pacquiao. In his subsequent bouts, including his decision loss to Floyd Mayweather, Cotto changed his style and looked to box and counter-punch more. He grasped that his career would soon be over if he didn't change course and not get hit as much and his style change from warrior to fighting businessman has served him well.
Miguel not only altered his style – but due to his name recognition and drawing power, he fought in three lineal middleweight title bouts and not one of his opponents weighed more than 158 3/4 pounds, (more than a pound under the middleweight limit of 160) as per the terms set by Cotto in order to make the fight. Yes, the transformation in Cotto has been something to watch.
No two fighters understood the Floyd Mayweather A-side / B-side negotiation tactic better than Cotto and Canelo Alvarez, with the difference being that Cotto is at the tail end of his career and is looking to fight for the biggest purses he can; winning is no longer paramount. By contrast, Canelo, who is in his prime, knows that his biggest bouts and paydays are still in front of him if he smartly navigates the fights he takes.
Had Cotto gone through with fighting Kirkland, he would have boxed James and won a late round stoppage or clear-cut decision. Thus he would have injected himself into the mix for another big fight. However, with the Kirkland fight falling through, I sense a change in strategy with Miguel's trainer Freddie Roach playing a major role as the voice and bad guy– with the thinking being perhaps Roach can sway fans into forgetting what they actually saw the last time Miguel was in the ring.
Ever since Alvarez defeated Cotto by a unanimous decision back in November of 2015, Roach has excoriated the judges who saw the fight 119-109, 118-110 and 117-111 in favor of Canelo. Shortly after it became official that the Kirkland fight was gone, Roach said "the victory was so clear in Cotto's favor that there was no way possible that Canelo could have won and especially by those wide margins."
"Miguel was the perfect fighter, he was simply the best fighter, his defense was impeccable, he was able to block 90% of the punches and he overcame Alvarez with the amount of clean punches that he connected. I feel we were robbed of the win and they owe us one," Roach told reporter Carlos Gonzalez.
"I would love [to have the rematch]. I feel it's a great fight for us and it was a robbery. In my eyes we won that fight and we want the opportunity."
Of course if you saw the Alvarez-Cotto bout you know Freddie is wrong on every level with the exception being that perhaps Cotto won a round or two more than the best score of 117-111 affords him. Actually, it was Cotto's new style of circling the ring, picking a spot to cut loose and then get out, that hurt him in the scoring. For a majority of the bout Miguel only landed left jabs and right hands that he never fully committed to because he was looking to get out before giving Alvarez a chance to bait him into exchanging.
The thing that Roach leaves out, along with Cotto fighting good defensively, is that Miguel was so occupied with not getting nailed by anything big that his offense was static, virtually non-existent. Roach fails to convey that Miguel was only capable of making Canelo miss, not making him pay for it. Luckily for Cotto, Alvarez didn't set the world on fire and didn't force the fight a little more assertively. Canelo clearly defeated Cotto, but it wasn't like he took him apart or embarrassed him.
Roach is smart to try and bait Canelo and at the same time look to persuade boxing fans that Miguel would have a better shot in a rematch. I believe Canelo would love for fans to begin questioning the scoring of their bout. Fighting a rematch with Cotto would be on PPV and buy Canelo a little more time before he meets middleweight champ Gennady Golovkin. That way, Father Time can erode Golovkin's skills a little more (some observers perceived signs of skill erosion in Golovkin's last fight with Kell Brook). Cotto-Canelo II would be a match-up where boxing's two best active businessmen take nearly every pure boxing decision off the table in favor of coming up with a narrative that brings in the most dollars, while virtually ensuring that neither of them takes any unnecessary punishment.
A better fight for the fans would be Cotto taking on Kell Brook in the UK. Miguel would make a fortune fighting there. The only problem is it would most likely be his last fight as a headliner, since he'd be really embarrassed in the fight. So I look for Cotto through Freddie Roach to try and get a rematch with Canelo, instead of taking on Brook.
Cotto vs. Brook is the better fight, but it's not about good fights; it's about business.
Check out more boxing news on video at The Boxing Channel.
Frank Lotierzo can be contacted at GlovedFist@Gmail.com
Allen (KO 3) and Chisora (UD 10) Victorious in Heavyweight Action in London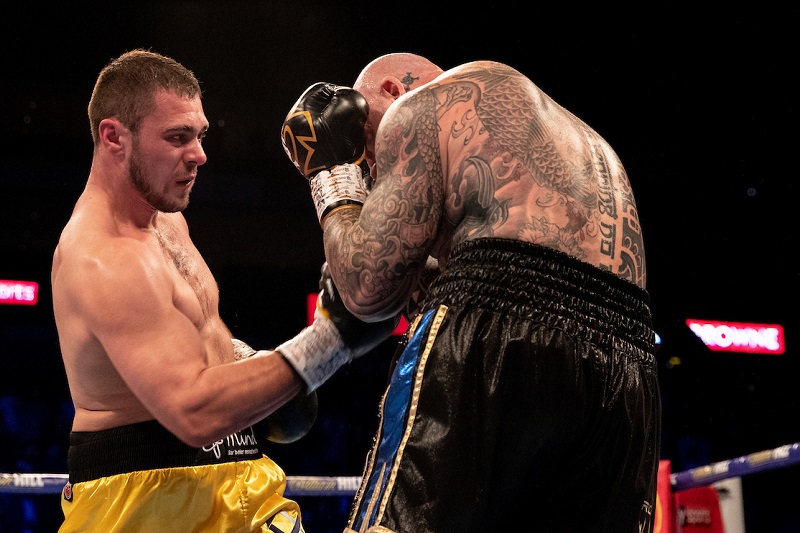 A pair of heavyweight battles topped the card at London's 02 Arena. Both favorites won, but neither bout played out as expected.
Fan favorite David Allen, a 27-year-old Yorkshireman, continued his ascent from the lower depths of the boxing firmament with a one-punch knockout of Australia's  heavily-tattooed Lucas Browne. Allen caved in Browne with a body punch in the third round that brought a sudden end to a bout that the Aussie appeared to be winning.
Browne, who turned 40 this month, made history when he became the first Australian to win a world heavyweight title (WBA version) when he scored a 10th round stoppage of Ruslan Chagaev in Russia. But, in hindsight, that win was a fluke. A gassed-out Chagaev was widely ahead on the cards when his roof fell in. Browne's tenure was brief. He was stripped of the belt after testing positive for clenbuterol.
Allen, nicknamed the White Rhino, has now won four straight beginning with an upset of previously undefeated Nick Webb. His reputation is that of a common brawler, a fighter willing to take two punches to land one, but, regardless, he positioned himself for a nice payday or two going forward. Browne lost his second straight after opening his career 28-0.
The maddeningly inconsistent Dereck Chisora, who engaged in two barnburners with Dillian Whyte, snoozed his way to a 10-round unanimous decision over milquetoast Senad Gashi. The 35-year-old Chisora, a Zinbabwe-born Londoner, improved to 30-9 but did nothing to improve his stock. The well-traveled Gashi, born in Kosovo and now residing in Spain, declined to 17-3 while acquiring the patina of a trial horse.
Other Bouts
Welterweight Josh Kelly, a 2016 Olympian, won a lopsided 10-round decision over stubborn Przemysla Runowski. Kelly (9-0, 6 KOs) had Runowski on the canvas in rounds two, nine, and 10, but the previously undefeated Pole (now 17-1, 3 KOs) stayed the course. Kelly appeared to hurt his hand early in the fight. That may knock him off the Joshua-TBA card on June 1 at Madison Square Garden.
Joe Cordina, a Welshman, now holds the British and Commonwealth lightweight titles after scoring a 6th round stoppage of Yorkshireman Andy Townend (22-5). Cordina started slowly but gradually picked up the pace and scored three knockdowns before the referee waived it off. A 2016 Olympian, Cordina (9-0, 7 KOs) was a heavy favorite despite a dearth of pro experience.
Conor Benn the 22-year-old son of Nigel Benn, was extended the distance for the third time in his last four fights but had little difficulty advancing his record to 14-0 (9) at the expense of Josef Zahradnik (10-3) of the Czech Republic. The referee awarded Benn every round in this 8-round welterweight affair.
Middleweight Nikita Ababiy, a hot prospect with a big upside, was extended into the second round for the first time in his young pro career but eliminated Dmitri Faltin after only 26 seconds of round two. A 20-year-old Brooklynite of Russian extraction, nicknamed White Chocolate, Ababiy (4-0) excelled in all manner of combat sports as teenager. In the ring he doesn't pussyfoot around. He won his pro debut in 28 seconds. Faltin, a 37-year-old Finn, fell to 2-4-1.
John Harding Jr., a 34-year-old middleweight, improved to 7-0-1 with a one-sided 6-round decision over Miroslav Juna (1-2). A protégé of Dillian Whyte, Harding started his pro career late after serving several stints in prison.
Cruiserweight Sam Hyde (14-1-1, 7 KOs) rebounded from his first defeat in fine fashion, blowing out Slovakia's Josef Jurko (5-2) in the opening round.
Super bantamweight Sam Cox (4-0) won a 4-round decision over Bulgaria's Georgi Georgiev.
In a woman's fight, British bantamweight Shannon Courtenay (2-0) outpointed Bulgaria's Roz Mari Silyanova (1-5-1). The ref gave Courtenay all four rounds.
Check out more boxing news on video at The Boxing Channel
To comment on this article in The Fight Forum CLICK HERE
BWAA Writing Awards Announced: The Sweet Science Earns Multiple Citations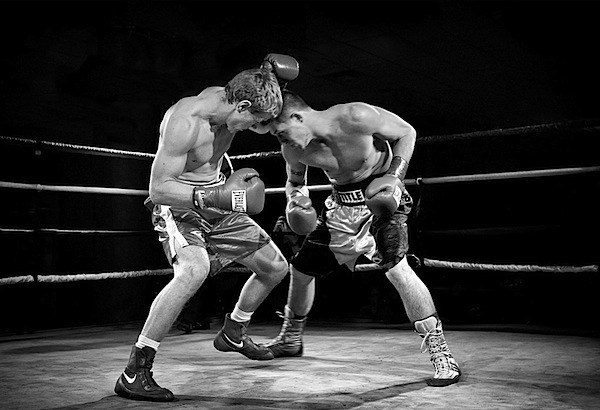 The Boxing Writers Association of America has announced their annual Bernie Awards which recognize excellence in boxing journalism. Five stories that ran on this web site earned commendations.
TSS editor-in-chief Arne K. Lang copped first place in the category "Boxing Feature Under 1,500 Words." Springs Toledo and Thomas Hauser earned third place ribbons, Toledo in the category "Best Column" and Hauser in "Boxing Investigative Reporting," a category in which he has excelled. In addition, TSS New England correspondent Jeffrey Freeman and Sean Nam earned Honorable Mentions, Freeman in "Boxing Feature Under 1,500 Words" and Nam for an investigative reporting piece.
Four TSS correspondents – Toledo, Hauser, Kelsey McCarson, and Nam – were honored for stories that appeared on other web sites.
Springs Toledo, who has had the most abundant haul of BWAA writing awards since 2010 was omnipresent once again, earning five citations overall including a first place finish for "Boxing Feature Over 1,500 Words." The multi-decorated Thomas Hauser also achieved a first place finish, this in the category "Boxing News Story." Kelsey McCarson tied for first in "Boxing Column" and Sean Nam came in third in "Boxing Feature Under 1500 Words."
What follows is the full press release authored by Awards Chairman BERNARD FERNANDEZ. A TSS mainstay, Fernandez is a former five-term president of the Boxing Writers Association of America.
PRESS RELEASE: Toledo, Kriegel, Boxing News Top BWAA Writing Contest
Springs Toledo and Mark Kriegel scored highest among individual entrants, while Boxing News/BoxingNewsOnline.com topped the overall sweepstakes in the 18th annual Boxing Writers Association of America writing contest. Those who placed in the contest, which drew a record 147 submissions from a record 49 media representatives who cover the sport, will be recognized at the 94th annual BWAA Awards Ceremony, to be held May 31 at the Copacabana in New York City.
 Toledo, a Boston native and frequent honoree in the BWAA writing contest, led all entrants with 14 points on a scoring system of five points for a first place, three for second, two for third and one for an honorable mention. In the blind judging, in which all bylines and other identifying marks were removed beforehand before being forwarded to a distinguished panel of sports journalists and academics, Toledo took a first in Feature (Over 1,500 words), seconds in Investigative Reporting and a tie for Feature (Under 1,500 Words), a tie for third in Event Coverage and an honorable mention in Column. He spread the wealth around, too, with submissions for Boxing News, thesweetscience.com and City Journal.
 Kriegel, who took first places in both Feature categories in the 2017 contest, was again a major factor in multiple categories, totaling 12 points. He took first place in Investigative Reporting, seconds in Feature (Under 1,500 Words) and Feature (Over 1,500 Words) and an HM in Column, all for ESPN.com.
Other first places went to Arne K. Lang, editor of thesweetscience.com in Feature (Under 1,500 Words); Paul Wheeler of Boxing News in Event Coverage and Kelsey McCarson of NYFights.com (tie) in Column.
Boxing News and BoxingNewsOnline.com, based in the United Kingdom, stormed the BWAA contest like the Beatles coming to America in 1964, totaling 27 points on two firsts, three seconds, a third and five HMs. ESPN.com was next with 16 points, followed by thesweetscience.com and BoxingScene.com with 11 apiece.
 The entire list of placing entrants:
2018 BERNIE WINNERS
BOXING EVENT COVERAGE
First Place
PAUL WHEELER, "Win-Win for Usyk and Bellew," Boxing News, November 11, 2018
Second Place
MATTHEW AGUILAR, "Vargas, Dulorme Draw is WBC Silver Welterweight," The Associated Press, October 7, 2018
Third Place (Tie)
LANCE PUGMIRE, "Wilder – Fury Embodied the Greatness of Heavyweight Boxing of Yesteryear," Los Angeles Times, December 2, 2018,
SPRINGS TOLEDO, "Art and Heroism in a Corrupted Sport," thesweetscience.com, December 3, 2018
Honorable Mention: Tris Dixon, BoxingScene.com; Lee Groves,CompuBoxTV.com; Gordon Marino, TheDailyBeast.com; Kieran Mulvaney, InsideHBOBoxing.com; Cliff Rold, BoxingScene.com; Don Stradley, Ringside Seat; Chris Walker, BoxingNewsOnline.net.
BOXING COLUMN
First Place (Tie)
THOMAS GERBASI, "Beyond the Ring, The Next Fight," BoxingScene.com, December 26, 2018
KELSEY McCARSON, "Tyson Fury, Mental Health and Vunerability," NYFights.com, June 8, 2018
Second Place (Tie)
DON STRADLEY, "Goodbye to All That," donstradley.blogspot.com, December 29, 2018
ELLIOT WORSELL, "Joe Fournier is the 11th Best Light-Heavyweight in the World – Apparently," Boxing News, March 29, 2018
Third  Place
GREG BISHOP, "In Search of a Happy Ending to Boxing Career, Manny Pacquiao is Following a Familiar, Sad Trajectory Instead," Sports Illustrated, January 12, 2018
Honorable Mention: Tris Dixon, Boxingscene.com; Mark Kriegel, ESPN.com; Kieran Mulvaney, Boxing News; Springs Toledo, Boxing News
BOXING NEWS STORY
First Place
THOMAS HAUSER, "Curtis Harper Goes Viral," The Sporting News, August 29, 2018
Second Place
NORM FRAUENHEIM, "Bob Arum on the Passing of 'The Boxing Senator' John McCain: 'He Was a Great American,'" RingTV.net, August 25, 2018
Third Place (Tie)
DON STRADLEY, "DeMarco is In!," donstradley.blogspot.com; December 31, 2018
LEE GROVES, "Farewell to a Boxing Lifer, Don Chargin, the Last Gentleman Promoter," CompuBoxTV.com, September 29, 2018
Honorable Mention: Lance Pugmire, Los Angeles Times; Dan Rafael, ESPN.com.
BOXING FEATURE (Under 1,500 words)
First Place
ARNE K. LANG, "Christmas Day in Germany with Sugar Ray Robinson," thesweetscience.com, December 24, 2018
Second Place (Tie)
JOHN DENNEN, "Thank God I'm Not a World Champion," Boxing News, September 16, 20128
MARK KRIEGEL, "The Old Man and the Kid: Alex Saucedo Fighting for a Title and His Mentor's Legacy," ESPN.com, November 13, 2018
CLIFF ROLD, "Golovkin, Hopkins, Monzon: The Record at Middleweight," BoxingScene.com, May 2, 2018
SPRINGS TOLEDO, "The Quiet Man," Boxing News, October 25, 2018
Third Place
SEAN NAM, "Eleider Alvarez Stuns Sergey Kovalev," UCNLive.com, August 10, 2018
Honorable Mention: Ron Borges, Boxing Monthly; Thomas Gerbasi, The Ring; David Weinberg, Press of Atlantic City; Jeffrey Freeman, thesweetscience.com; Lance Pugmire, Los Angeles Times
BOXING FEATURE (Over 1,500 words)
First Place
SPRINGS TOLEDO, "The Historian: Mike Tyson and the Ghost of Boxing's Past," Boxing News, March 22, 2018
Second Place
MARK KRIEGEL, "The Education of Terence Crawford," ESPN.com, June 9, 2018
Third Place
TRIS DIXON, "A Warrior's Brain," Boxing News, August 2, 2018
Honorable Mention: Matthew Aguilar, El Paso Times; Thomas Gerbasi, Boxing News; Lance Pugmire, Los Angeles Times; Dan Rafael, ESPN.com; Don Stradley, The Ring
BOXING INVESTIGATIVE REPORTING
First Place
MARK KRIEGEL, "A Unique Family Dynamic and the Shooting Nobody Wants to Talk About: The Jose Benavidez Jr. Story," ESPN.com, October 13, 2018
Second Place
SPRINGS TOLEDO, "191 Edgecombe," City Journal, Summer 2018
Third Place
THOMAS HAUSER, "1,501 Tests, One Reported Positive? What's Going on with the USADA and Boxing?," thesweetscience.com, September 7, 2018 and December 7, 2018
Honorable Mention: Ron Borges, Boxing Monthly; Matt Christie, Boxing News; Jack Hirsch, Boxing News; Sean Nam, thesweetscience.com; Adam Pollack,Boxinginsider.com; Lance Pugmire, Los Angeles Times; Joseph Santoliquito, PremierBoxingChampions.com
 News Outlets
Boxing News/BoxingNewsOnline.net (27 points) 
ESPN.com (16)
THESWEETSCIENCE.COM(11); BoxingScene.com (11)
NYFights.com (7)
Los Angeles Times (6)
The Ring/RingTV.com (5)
The Sporting News (5)
The Associated Press (3); CompuBox.com (3); City Journal (3); DonStradley.blogspot.com (3)
Sports Illustrated (2); Boxing Monthly (2); UCNLLive.com (2)
El Paso Times (1); PremierBoxingChampions.com (1); Ringside Seat (1); The Press of Atlantic City (1); Boxinginsider.com (1); The Daily Beast (1); InsideHBOBoxing.com (1); BoxingNews (1)
2018 BERNIES JUDGES:
MICHAEL HIRSLEY, Chicago Tribune (Retired)
FRANZ LIDZ, Sports Illustrated (Retired)
THOMAS MACDONALD, Novelist and Boston College Writing Instructor
JOHN SCHULIAN, Chicago Sun-Times (Retired)
JOHN WHISLER, San Antonio Express News (Retired)
Check out more boxing news on video at The Boxing Channel
To comment on this story on The Fight Forum CLICK HERE
Erick Ituarte Wins Featherweight Battle in Ontario, CA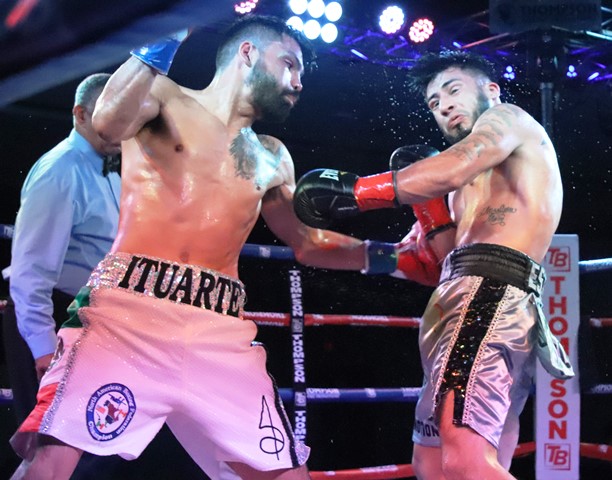 ONTARIO, CA.-Looking to make waves as a featherweight, Santa Ana's Erick Ituarte battled Tijuana's Jose Estrella evenly before pulling away in the last third of the fight to win by decision on Friday.
Ituarte (21-1-1, 3 KOs) lacks the big punch but has the long arms that enabled him to keep distance and out-point the shorter Estrella (20-16-1, 14 KOs) in their 10-round bout at the Doubletree Hotel. Thompson Boxing Promotions staged the fight card that saw about 500 fans at the event.
Estrella used his guts and guile to keep the fight close in the first four rounds of the fight. Back and forth they went trading momentum, Ituarte was effective attacking the body and Estrella was good at connecting with big blows to the head.
It wasn't until the seventh round that Ituarte began utilizing his reach and mobility to make Estrella chase and run into pot shots. From that moment on Ituarte was in control of the fight. No knockdowns were scored with one judge scoring it 98-92 and two others 100-89 for Ituarte. Each round was very competitive.
Other bouts
Corona's Luis Lopez (5-0, 3 KOs) powered his way to victory by unanimous decision over Mexico's Daniel Perales (10-17-2, 5 KOs) after four rounds in a welterweight match. Though Lopez won every round with sharper punches he was never able to hurt the super tough Mexican fighter from Monterrey. He recognized that early and used crisp combinations to win each round though Perales had his moments too. All three judges scored it 40-36 for Lopez.
A heavyweight fight saw local fighter Oscar Torres (5-0, 2 KOs) run his record to five wins with a fourth round stoppage over Houston's Thomas Hawkins (4-4) after a barrage of punches. The fight was stopped twice in the fourth round and a final barrage of blows prompted referee Tony Crebs to halt the fight at 1:20 of the round. Torres fights out of Rialto, California and is trained by Henry Ramirez.
Lightweights Davonte McCowen (0-0-1) and Chris Crowley (0-0-1) fought to a majority draw after four torrid rounds. Both were making their pro debuts. McCowen started faster and slowed in the last two rounds that allowed Britain's Crowley to mount a rally in the last two rounds. It was a spirited fight between the two newcomers.
Photo credit: Alonzo Coston
Check out more boxing news on video at The Boxing Channel
To comment on this story in The Fight Forum CLICK HERE