The Betting on the Mayweather-McGregor Fight: Here's the Skinny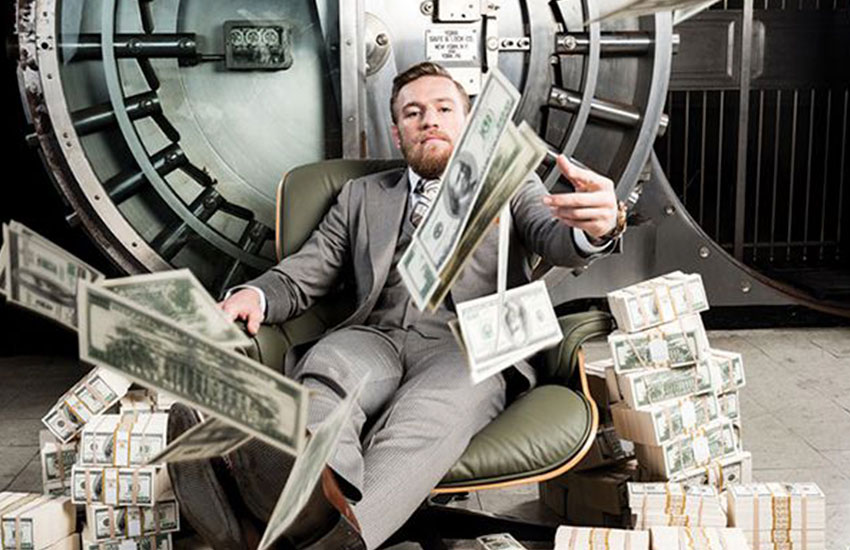 Like it or not, the Mayweather-McGregor fight is one of the biggest sports stories in years and the betting component is a big part of it. In a recent conversation with Yahoo combat sports writer Kevin Iole, the manager of a prominent online book said it was "almost certain" that the betting handle will top the handle on a Super Bowl. At his property, headquartered in Antigua, the line favoring Mayweather had been forced down to 5 to 1 (minus-500).
At the South Point Hotel and Casino in Las Vegas, where Mayweather is a 7/1 favorite, sports book spokesman Jimmy Vaccaro reports that the betting has been wildly skewed in favor of Conor McGregor. "We have written 18 tickets on McGregor for every one ticket on Mayweather," says Vaccaro, who notes that he has witnessed several tourists leaving the counter with a handful of tickets on the charismatic Irishman, perhaps intended as party favors but more likely filling orders for folks back home.
Globally, the NFL Super Bowl is the biggest betting event of the year in years in which there is no World Cup. In Nevada, the only state in the nation that allows wagering on individual games, the Super Bowl handle keeps going up and up. It topped $100 million for the first time in 2013 and hit $138.5 million this year.
But let's not get carried away. At least in Nevada, the big fight has scant chance of attracting as much action as a Super Bowl.
The big casinos in Nevada sure know how to put on a Super Bowl party. Some places now have two, an extravagant soiree for high rollers with food fit for a king and another for ordinary folk with stadium grub (e.g., hot dogs). In Nevada, they have been doing this for so long and doing it so well that the Silver State has become known as the place to be on Super Bowl Sunday if one can't be at the game.
The Mayweather-McGregor fight is a big deal in Las Vegas, the host city, but pales in comparison to a Super Bowl as a magnet for drawing visitors to town. There is no precedent for contouring the closed-circuit viewing of a boxing match into a gala affair.
The lopsided betting should not be construed to mean that the bookies are destined to take a bath if McGregor should happen to win. The big bets on Mayweather will come in late when the so-called smarts are confident that the line has bottomed out. On a high-profile event, whether or not a bookmaker shows a profit, and to what degree, is typically determined by how well he manages his jeopardy during the final 48 hours of betting.
It's been this reporter's observation that boxing attracts proportionately more squares to the betting counter than any other sport. Perhaps that's because it's easier to vicariously identify with an athlete who isn't a member of a team. Moreover, in competitions where the contestants are out to hurt one another, it figures that more bettors will be blinded by tribal loyalties, whether ethnic or racial.
The term "square" once denoted a stand-up guy, a person whose word was his bond (the girls are the fairest, the boys are the squarest is a line in the fight song of my alma mater, the University of Nebraska). In the world of professional gamblers, however, the term means something entirely different.
Here it denotes an unsophisticated player, someone lacking the guile to come out ahead over a significant number of trials. Squares tend to be guided by personal sentiment in making their bets, are prone to bet impulsively, and are quite willing to lay or take odds that aren't as juicy as what they could have found had they taken the trouble to shop around.
Lopsided betting on a mega-fight is nothing new. When Larry Holmes met Muhammad Ali in 1980, Las Vegas bookmakers reportedly wrote 30 tickets on Ali for every ticket written on Holmes. When Holmes met Gerry Cooney in 1982, reportedly eight of every 10 bets placed in Nevada were on Cooney. In the mid-Atlantic states, the disparity was thought to be much wider.
More recently, the betting activity was heavily skewed in favor of Oscar De La Hoya when De La Hoya challenged unified middleweight champion Bernard Hopkins at Las Vegas in 2004. The disparity wouldn't have been as severe if the fight had been held in or near Hopkins' hometown of Philadelphia, but the gap said more about De La Hoya's star quality than it did about geography.
Going back deeper into the recesses of time, bookies in all corners of the United States were reportedly swamped with bets on James J. Jeffries when Big Jim came out of retirement to challenge heavyweight champion Jack Johnson in 1910. Some of those bookies were able to correct the imbalance at the fight where runners for the bookmaking concession leased to the brothers of Gentleman Jim Corbett circulated throughout the crowd.
There's a common thread in the four fights I referenced. The popular selections – as measured by the ticket count, not necessarily the total amount bet on each side – all went down the tubes. The linemakers were a lot smarter than the wagering public. The early-birds and the lemmings that jumped on the bandwagon flushed their money down the toilet.
This is not meant to suggest that when it comes to big fights, the so-called sharps always win. As for betting the fight, there's something intrinsically unappealing about risking a large sum for a small return and there's always a chance that something fluky will happen.
But mark my words. When this circus is finally over, the squares that put their coin on Conor McGregor will have egg on their faces and many reporters banging out their post-fight stories will weave the name of P.T. Barnum into their copy.
To comment on this article at The Fight Forum, CLICK HERE.
Check out more boxing news on video at The Boxing Channel.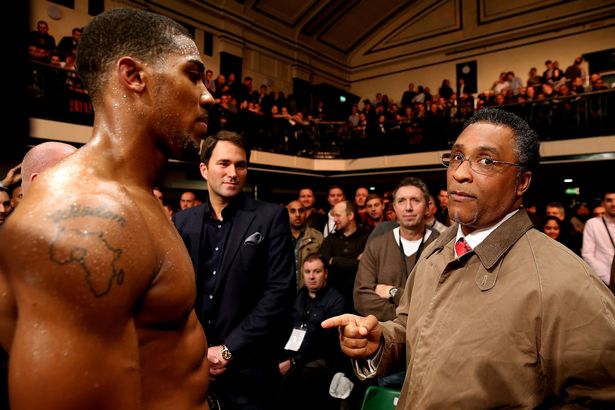 Heroes put others first. Heroes sacrifice—sometimes with their lives.
NFL player Pat Tillman was not a boxer but he was a legitimate hero having been killed in Afghanistan under especially tragic circumstances. Notre Dame's Rocky Bleier, having been drafted, survived the Vietnam War but was badly wounded twice on a mission to extract wounded and dead. He went on to a successful football career with the Pittsburgh Steelers. The highly decorated Don Steinbrenner and Bob Kasul, the only professional football players to have been killed in action in Vietnam, were not so fortunate.
Stephen Williford, a 55-year-old plumber, chased down and caused the demise of a mass shooter in 2017 who had just slaughtered 26 people in a Sutherland Springs, Texas church. Stephen Williford was a hero.
When Egypt's Anwar Sadat and Israel's Menachem Begin reached for each other to negotiate a peace treaty, they both became instant heroes not to mention Nobel Peace Prize winners. Both put others first. Sadat would pay with his life.
Martin Luther King Jr. lived his life in an heroic manner and so did Nelson Mandela and Steve Biko as they fought Jim Crow and apartheid, respectively. Dr. King and Steve Biko paid dearly. JFK also paid, suggesting that heroes seldom live a full life.
Some names are automatically associated with heroism such as Jesse Owens who won four gold medals in the 1936 Olympics. However, when a boxer is referred to as a hero, far more often than not this label is being misused.
Boxing
When Joe Louis destroyed Max Schmeling in their rematch in Yankee Stadium on June 22, 1938, the fight carried with it major international implications. It was more than just a fight and Joe became America's hero. Poor Max really wasn't the enemy at that time but he was perceived as such and perception is often a big part of reality.
Prominent boxing writer Nigel Collins summed it up nicely:
"The fight also fanned the flame of hope that was lit for millions of black Americans when Louis first became champion. There was no instant paradigm shift in race relations, but the second Schmeling fight and Louis' lengthy and highly successful reign nudged more and more people into reconsidering their view of their black brothers and sisters. If nothing else, Louis gave people a reason and an opportunity to change."
                                                         ***************
"After World War II, everything in life is a cakewalk."- Danny Nardico
There are many perceived heroes in boxing, but relatively few real ones. The spectacle of muscular Danny Nardico and Charlie Norkus engaging in one of the greatest Pier Six brawls in history belied the fact that each was a veteran and one, Nardico, was highly decorated. Here were two ex-Marines, both possessing paralyzing power, meeting in Miami Beach in 1954 and there was palpable anticipation of a great fight. What the fans got went well beyond that.
                                                          ***************
Muhammad Ali's refusal to be drafted under arguments that were later affirmed by the Supreme Court gave him hero stature to many—but not all. Later, however, and as he moved to a centrist position in his beliefs, the heroism of what he did began to cast itself in history.
                ***************
"To be honest, a few months before I started training for the marathon, I could hardly walk across my bedroom without falling over."-Michael Watson
Michael Watson boxed in a fast and furious lane, along with Nigel Benn, Carl Thompson, and Chris Eubank, but Watson, known as the "Force," stood out, not just for his boxing achievements, which were considerable, but for something else. In an incredible back-and-forth classic with Eubank in 1991 (it was Britain's version of Hagler-Hearns) Watson, ahead on points, was nailed with a paralyzing uppercut and hit the back of his head against the second strand of ropes.
Fast forward.
The "Force" spent over a month in a coma, had six brain operations, and then spent over a year in intensive care and rehabilitation and six more grueling years in a wheelchair while he ever-so-gradually recovered some movements and regained the ability to speak and write.
No one really expected him to live, much less talk or write, yet against all odds he finished the London Marathon on April 19, 2003, capturing the hearts and emotions of an entire nation. As people wept in joy and urged him on, he walked six days. He reached his goal after twelve long years, too many operations and hospitals, and years in a wheelchair. But he trained for months and completed his goal of 26 miles and 385 yards.
If heroism is measured by an incredible fighting heart and the inspiration it spawned, then Michael Watson (pictured in 2013 with Anthony Joshua) is indeed a hero.
"Getting angry won't correct the past." – Watson
                  ***************
Cornelius Johannes "Corrie" Sanders, best known for beating Wladimir Klitschko in 2003 for the WBO heavyweight title, died in September 2012, the victim of a a shooting during an armed robbery at a restaurant in South Africa where he was celebrating his nephew's 21st birthday. The former champion heroically used his body to protect his daughter from the flying bullets. He was 46. Ironically, the S.A. headlines read "Ring hero Sanders killed." They might well have read "South African Ring great Sanders died a hero."
     ***************
Curiously, three-time world champion Bobby Czyz, now 56, carried the nickname "Matinee Idol," but Bobby has now hit some rough times. If someone in boxing would step up and help him, that someone just might be a real life hero. This holds true for many other ex-fighters who have stumbled along the way. Heroes are in short supply when it comes to helping ex-boxers, but there are some organizations that provide support. Iceman John Scully quickly comes to mind as someone out there helping ex-boxers find their way.
     ***************
The late Vernon Forrest embraced the value of giving back. A great boxer, he was also known for his humanitarian work for the non-profit and still thriving organization Destiny's Child. Vernon possessed great core values.
Former U.S. Olympic boxing team head coach Al Mitchell once said, "I really believe he's not going to be known for his boxing skills…I think he'll be known for the way he gave outside his sport. He was just an unbelievable person."
"He almost went broke," continued Mitchell. "He borrowed money to make it work. He never looked for a profit out of it. It was just something he did. Vernon's willingness to give back went beyond his former schools. He gave money to different gyms and boxing-related programs."
Vernon Forrest was special in many ways, He inspired people. There are few heroes out there but Vernon was one.
"The people I work with have been abused and neglected…These are people that society turned their back on. Everybody needs help and everybody needs love." Vernon Forrest
     ***************
Manny Pacquiao's rise from abject poverty and street urchin to Senator and idolized boxer in the Philippines is not heroic in itself but his giving back to his people makes him one of the few boxers who earned that stature. Yes, he went through a period of "wicked ways," but he has redeemed himself in those respects and has become the quintessential shooting star.
"One hundred million people now drop everything to watch him fight."
Can you think of other boxers– past or present– who meet your definition of a hero?
Ted Sares is one of the world's oldest active power lifters and Strongman competitors and may compete in the Ukraine in 2019. He is a lifetime member of Ring 10, and a member of Ring 4 and its Boxing Hall of Fame. He also is an Auxiliary Member of the Boxing Writers Association of America (BWAA).
Check out more boxing news on video at The Boxing Channel
To comment on this story in The Fight Forum, CLICK HERE
Manny Pacquiao Beats Adrien Broner in Las Vegas Return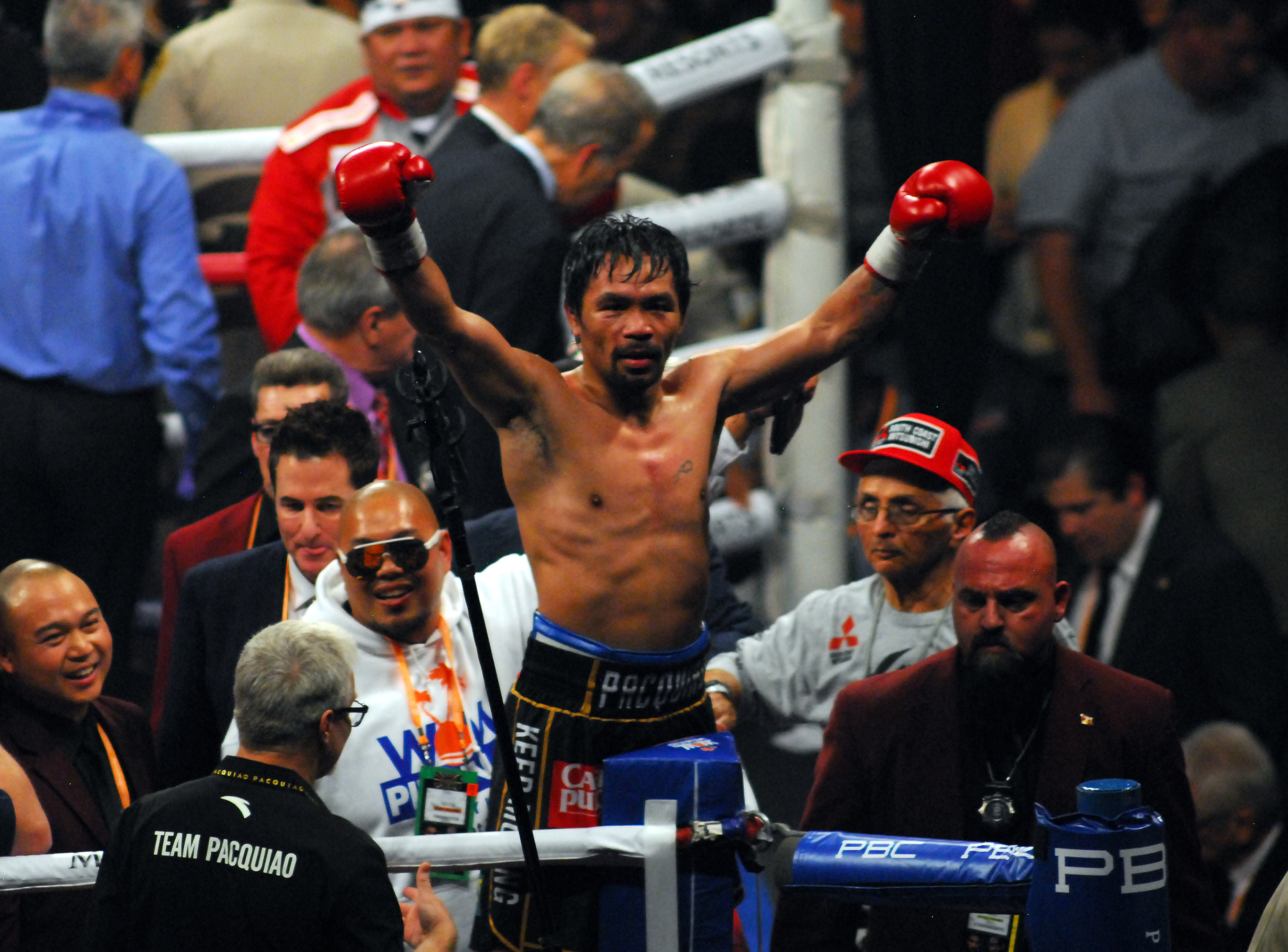 LAS VEGAS-After a slow start the Manny Pacquiao train picked up steam and might have jump started the flooded welterweight division while retaining the WBA world title on Saturday.
Pacquiao (61-7-2, 39 KOs) made his debut for Premier Boxing Champions with a decisive win over Adrien Broner (33-4-1, 24 KOs) before a crowd of 13,025 mostly partisan fans at the MGM Grand.
It was the Filipino superstar's first fight in Las Vegas since November 2016 when he defeated Jessie Vargas. Once again he showed what separates him from other top welterweights.
Pacquiao had problems fighting Broner's style at first. It's the same counter-punching method used by Broner's mentor Floyd Mayweather and it proved effective during the first half of the fight. But the Filipino southpaw slowly found the antidote.
Broner's lead right cross proved effective and when he mixed in jabs it seemed to give Pacquiao pause until the fifth round. Then a one-two combination followed by a lightning three-punch combination seemed to put Pacquiao in the driver's seat temporarily.
Pacquiao finally took charge in round seven when Broner connected with a solid left hook. Immediately Pacquiao retaliated with an overhand left cross that seemed to stagger Broner and that's when the blows came raining down. Pacquiao unloaded a six-punch combination then followed with a 13-punch blitzkrieg that had Broner covering up. Every punch in the Filipino's arsenal came into play. Broner survived.
Although Broner seemed hurt, he was able to transition into a survival mode and allowed Pacquiao to take full control of the fight. From the seventh round until the 11th round Pacquiao steamed ahead.
The Cincinnati fighter Broner mounted a short rally in the 11th round with a one-two combination followed by a left hook. Broner used that combination twice more in the round and capped it with a right cross. It was Broner's best round since the sixth. But it wasn't enough.
All three judges clearly saw Pacquiao the winner 117-111 and 116-112 twice. He retains the WBA world title and he now opens up the welterweight division for some potential blockbuster fights.
"I feel so happy because I did my best in the fight and in training," said Pacquiao. "Thank God for this victory."
Broner was astonished at the scores. Everybody out there knows I beat him," said Broner. "I controlled the fight, he was missing. I hit him clean more times. I beat him."
Now that Pacquiao has signed a promotional contract with PBC, a bevy of potential bouts await such as Errol Spence Jr., Mikey Garcia, Danny Garcia, Shawn Porter and Keith Thurman. And of course Floyd Mayweather is a desired foe and was sitting ringside during the fight.
Other Bouts
Marcus Browne wins
Blood poured in the second half of the fight and Marcus Browne (23-0, 16 KOs) took advantage with a consistent attack against Badou Jack (22-2-3, 13 KOs) that allowed him to take the interim light heavyweight titles by unanimous decision.
A violent clash of heads in the seventh round saw Jack emerge with a three-inch gash and from that point on, blood impeded any hopes of Jack mounting a serious rally. No knockdowns were scored and after 12 rounds all three judges favored Browne 119-108, 117-110, 116-111.
Nordine Oubaali
Frenchman Nordine Oubaali (15-0, 11 KOs) took the WBC bantamweight world title from Cincinnati's Rau'Shee Warren by unanimous decision in a battle of southpaws.
Oubaali found continuous success with the right hook and often doubled it up to score repeatedly throughout the 12 round fight. Warren seemed unable to solve the puzzle and found success with the right jab at first, until Oubaali connected with a sizzling left counter early in the fight.
Warren tried repeatedly to walk down the French bantamweight but was often out-hit during the exchanges. In the seventh round the American southpaw stood his ground and fired furious volleys against Oubaali but was still out-hit by the Frenchman.
It was clear during the last three rounds of the fight that Warren needed a knockout or some knockdowns to turn the momentum, but was stymied through every attempt. Oubaali seemed to always get that last punch in.
All three judges saw it Oubaali's way 115-113, 116-112, and 117-111 for Oubaali the new WBC bantamweight world titlist.
"It's a big night, I'm very, very happy," said Oubaali. "I made my dream come true."
Warren was very cordial despite the loss.
"He wanted it more," said Warren. "Congratulations to Oubaali."
Hector Ruiz
Hector "Cuatito" Ruiz (38-4, 31 KOs) went to work immediately against last minute replacement Alberto Guevara (27-4, 12 KOs, flooring Guevara in the first round of their battle of Mexican featherweights. From there on it was the "flight of the bumblebee" for Guevara who used every trick he knew to survive. After 10 listless rounds Ruiz was deemed the winner by unanimous decision 100-89, and 99-90 twice.
The original opponent for Ruiz was supposed to be Jhack Tepora but he weighed five pounds heavier than the required 126-pound limit. Guevara took the fight on one-day notice.
Off-TV Undercard Results
The off-TV undercard was reduced to five fights when the match between Genisis Libranza and Carlos Buitrago was cancelled. The culprit was Buitrago who came in overweight.
George Kambosos, Manny Pacquiao's chief sparring partner for PacMan's last three fights, improved to 16-0 (9) with an 8-round decision over Rey Perez (24-11). The heavily tattooed Kambosos, from New South Wales, Australia, pays homage to his Greek heritage with images of Spartan warriors inked on his back. He pressed the action throughout en route to winning all eight rounds in what was a monotonous fight.
In an action-packed 8-round welterweight affair, Jonathan Steele (9-2-1) scored a split decision over Jayar Inson (17-2). The scores were 78-73, 77-74, 74-77. Inson, one of several Filipinos on the card, went down hard near the end of the first round but fought his way back into the fight. Steele is part of the burgeoning Dallas boxing scene.
Desmond Jarmon won a majority decision over Canton Miller in a 6-round match in the super featherweight class. The scores were 59-55, 58-56, and 57-57.
In a 4-round welterweight match, Destyne Butler cruised to a unanimous decision over David Payne. Butler won all four rounds on all three cards.
In a 4-round cruiserweight fight, Viddal Riley (2-0, 2 KOs), blew away Sacramento debutant Mitchell Spangler in 35 seconds. Riley, who hails from London, is trained by Jeff Mayweather.
Photo credit: Al Applerose
Arne K. Lang contributed to this report.
Check out more boxing news on video at The Boxing Channel
To comment on this article in The Fight Forum CLICK HERE
The Hauser Report: Friday Night Fights at Madison Square Garden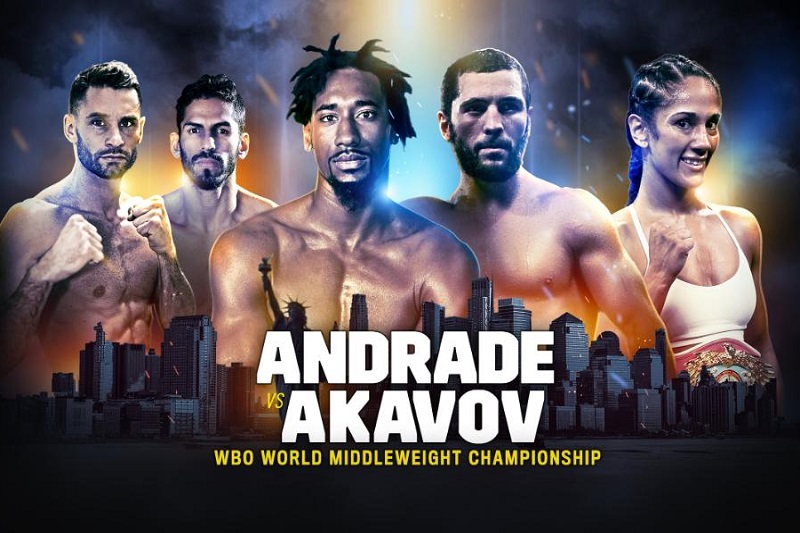 Friday night fights at Madison Square Garden were once boxing's most-anticipated weekly event. On Friday, January 18, Matchroom USA and DAZN teamed up for the latest installment.
There were five fights of note.
Amanda Serrano (35-1, 28 KOs) is one of today's better women fighters and has made a career out of winning belts of questionable provenance against an assortment of opponents who've ranged from competent-but-barely-world-class to inept. By last count, she'd won "world championships" at 130,135, 126, 118, 122, and 140 pounds. Now she was dropping from 138-1/2 pounds in her last outing to 115 pounds in an effort to claim the WBO super-flyweight bauble (which would give her a "world championship" in a seventh weight division).
Eva Voraberger (24-5, 11 KOs), a 25-to-1 underdog, was the designated loser.
One day before the fight, Serrano weighed in at 115 pounds. On fight night, she weighed 133.
Serrano-Voraberger lasted all of 35 seconds. Voraberger had the look of a deer in the headlights from the moment the bell rang and was dropped for the count by the first body shot that Serrano landed.
For more than a century, the term "champion" was synonymous with glory and greatness in boxing. Now it's a devalued marketing ploy, particularly for women boxers.
John Sheppard, who oversees BoxRec.com, reported last year that boxing's world sanctioning bodies have created 110 different women's titles. This means that, assuming each title is available in 17 weight divisions, the sanctioning bodies have belts for 1,870 women's champions. Meanwhile, according to Sheppard, there were only 1,430 active women boxers in the world. Thus, there were approximately 1.3 titles available for each woman boxer.
In the fight immediately preceding Serrano-Voraberger, Reshat Mati knocked out Benjamin Borteye in 66 seconds. That meant, because of TV scheduling, there was a stretch lasting for an hour and five minutes during which fans saw 101 seconds of boxing.
When DAZN and Matchroom announced their alliance last spring, Eddie Hearn pledged to improve the on-site experience for boxing fans in the United States. One presumes this wasn't what he had in mind.
Serrano-Voraberger was followed by Chris Algieri (22-3, 8 KOs) vs. Daniel Gonzalez (17-1-1, 7 KOs).
Algieri, age 34, is willing to go in tough. He showed skill, heart, and determination five years ago in rallying from two first-round knockdowns to decision Ruslan Provodnikov for the WBO 140-pound title. But since then, Algieri had lost three of five fights (to Manny Pacquiao, Amir Khan, and Errol Spence). Gonzalez was expected to pose a lesser challenge. The fight was made for Chris to win.
Algieri-Gonzalez was a much better fight than it should have been, largely because it appears as though Chris can't perform at a world-class level anymore. He started well, but his reflexes aren't what they once were. And for a fighter who has relied on quickness and speed throughout his career, that spells doom.
In round three, Algieri started getting hit with shots that Gonzalez wouldn't have hit him with several years ago. Then Chris tired, and the second half of the bout was an exercise in survival. In an effort to shorten the fight, Algieri circled away whenever possible and held when Gonzalez got inside. Meanwhile, Daniel started throwing more and was cutting off the ring well.
Algieri once said, "Empathy is bad for a fighter. When you win, you can't think about what you've just done to the other guy's life."
That said; everyone in the arena other than Gonzalez and his partisans must have felt empathy for Chris. It appears as though the judges did.
The consensus at ringside was that a draw would have been credible. The judges thought otherwise, giving Algieri a 98-92, 97-93, 96-94 triumph that was booed by the pro-Algieri crowd. The 98-92 scorecard was beyond the pale and was turned in by James Pierce, who has a history of turning in horrid scorecards. One that comes to mind was Pierce's 78-74 verdict last year in favor of Heather Hardy over Iranda Paola Torres.
Next up; Irish-born T.J. Doheny (20-0, 14 KOs), now living in Australia, defended his IBF super-bantamweight belt against Rychei Takahashi (16-3-1, 6 KOs) of Japan. Takahashi evinced the skill level of a club fighter. Doheny wore him down en route to a stoppage at 2:18 of round eleven.
In the semi-final bout of the evening, Jorge Linares (45-4, 28 KOs) moved up to 140-pounds to pit his skills against Pablo Cesar Cano (31-7, 21 KOs).
Linares, age 33, has held belts at 126, 130, and 135 pounds. All of his defeats had come by way of knockout (against Juan Carlos Salgado, Antonio DeMarco, Sergio Thompson, and Vasyl Lomachenko). Cano had compiled a 5-and-6 record with one no contest during the preceding six-and-a-half years.
Linares-Cano was bombs away from the start. Thirteen seconds into round one, Cano dropped Linares to the canvas with an overhand right. Jorge rose and seemed to be okay. But he wasn't. Cano dropped him again with a left hook up top just past the midway point of round one and again forty seconds later. A fourth knockdown seemed imminent when referee Ricky Gonzalez stepped between the fighters and appropriately stopped the bout at the 2:48 mark.
The ease with which Cano dispatched of Linares might lead to a reevaluation of Vasyl Lomachenko's struggle against Linares at 135 pounds in May of last year.
Then it was time for the main event: Demetrius Andrade (26-0, 16 KOs) vs. Artur Akavov (19-2, 8 KOs).
Andrade, who will turn 31 next month, represented the United States as a welterweight at the 2008 Beijing Olympics and lost in the third round to eventual bronze-medalist Kim Jung-Joo of South Korea. He won the WBO 154-pound title by split decision over Vanes Martirosyan in a dreadfully dull fight in 2013; a WBA 154-pound belt via split decision over Jack Culcay in a dreadfully dull fight in 2017, and the vacant WBO 160-pound title by decision over Walter Kautondokwa last year. He has never fought a top-tier opponent.
Evaluating Andrade as a fighter, trainer-commentator Teddy Atlas has opined. "He's like a cake that comes out of the oven looking perfect. But when you eat it, it tastes like something the cake needed was left out."
Akavov, born in Russia and now living in California, was a typical Andrade opponent. A 20-to-1 underdog, he has limited ring skills, limited power, and was out-boxed in his one step-up fight (against Billy Joe Saunders in 2016).
Andrade-Akovov was a boring tactical fight. Andrade used his jab – it's a good one – as an offensive and defensive weapon to control the action. Akavov was outclassed. And if he didn't know it before the fight began, he knew it from round one on. After a few stanzas, he seemed interested primarily in going the distance.
It's hard to knock out a fighter who's trying simply to survive; particularly if you're not trying to knock him out (which Andrade didn't seem intent on doing). Demetrius fights with the urgency of a man who's in the gym, sparring. On this occasion, he seemed content to simply put rounds in the bank.
The crowd thinned noticeably as Andrade-Akavov dragged on. With 24 seconds left in round twelve, referee Arthur Mercante stepped between the fighters and, over Akavov's bitter protest, stopped the contest. It wasn't the worst stoppage in recent memory. But it wasn't the best either. Mercante has been justly criticized in the past for letting fights go on too long. Better too early than too late.
Gennady Golovkin, Canelo Alvarez, or Danny Jacobs might push Andrade to greater heights. That said; Golovkin would have knocked out Akavov in three rounds.
But the buzz at ringside on Friday night wasn't about the then and now. It was about the announcement that Danny Jacobs has just signed a three-fight deal with Matchroom USA and that his first fight under the agreement will be against Canelo Alvarez on May 4 on DAZN.
DAZN subscribers will get their money's worth and then some on that one.
Thomas Hauser's new email address is thomashauserwriter@gmail.com. His most recent book – Protect Yourself at All Times – was published by the University of Arkansas Press. In 2004, the Boxing Writers Association of America honored Hauser with the Nat Fleischer Award for career excellence in boxing journalism.
Check out more boxing news on video at The Boxing Channel
 To comment on this article in The Fight Forum CLICK HERE