Twenty-Five Noted Boxing Buffs Name Their Favorite Boxing Book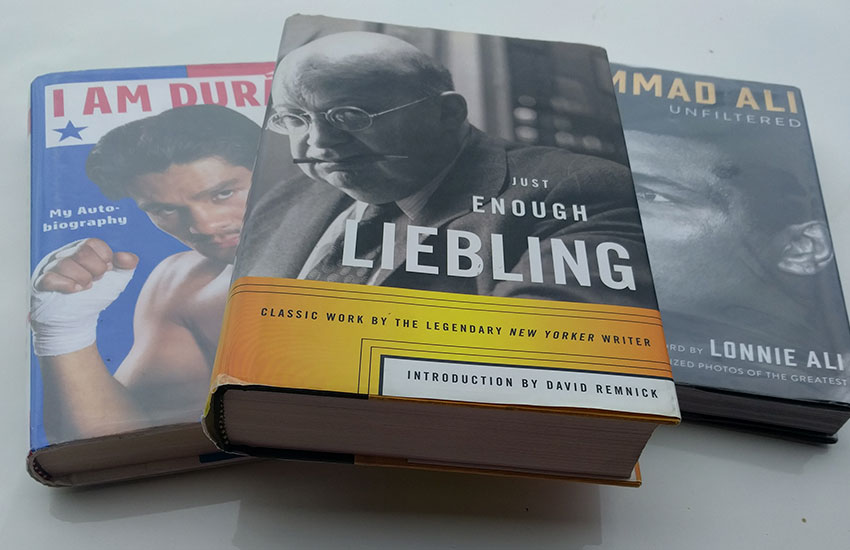 I recently asked a number of sage boxing people the following: "If you had to select ONE boxing book as your favorite, what would it be?" Some chose more than one.
Though not particularly sage myself, I'll start it off with Ralph Wiley's "Serenity: A Boxing Memoir." I also enjoyed Mike Silver's "The Arc of Boxing: The Rise and Decline of the Sweet Science" for the primary reason that it stirred up a lot of much needed debate between Old School and New School.
Here are the responses of twenty-five boxing buffs. The respondents are listed in alphabetical order:
JIM AMATO (writer, historian): A.J. Liebling's "The Sweet Science."
RUSS ANBER (elite trainer, corner man, and TV personality): "Joe Louis -Black Hero in White America" by Chris Mead. I remember reading this from cover to cover, unable to put it down. Others: "The Greatest Fight of Our Generation" by Lewis A. Erenberg, "The Sixteenth Round" by Rubin "Hurricane" Carter, "Beyond Glory" by David Margolick.
JOE BRUNO (former New York Tribune sportswriter; author of more than 45 crime-related books, including true crime, novels and screenplays): AJ Liebling's "The Sweet Science."
TRACY CALLIS (eminent boxing historian, writer, and journalist): Seven come quickly to mind. I love to read about boxing so I like almost any book about the game.
"A Man among Men" by Kelly Richard Nicholson
"Chicago's Greatest Sportsman" by Mark T. Dunn
"Hitters, Dancers and Ring Magicians" by Kelly Richard Nicholson
"In the Ring with Bob Fitzsimmons" by Adam Pollack
"In the Ring with James J. Jeffries" by Adam Pollack
"The Choynski Chronicles" by Chris LaForce
"Ultimate Tough Guy" by Jim Carney Jr.
STEVE CANTON (A member of the International Boxing Research Organization, Steve has been involved in every aspect of boxing for more than 52 years): There are so many excellent boxing books. "Only The Ring Was Square" by Teddy Brenner with Barney Nagler was outstanding. "Bummy Davis vs. Murder Inc." by Ron Ross, "Boxing Babylon" by Nigel Collins, just to name a few.
WILLIAM DETLOFF (former amateur boxer, author, editor of Ringside Seat magazine): I'll go with Liebling's "The Sweet Science." Wiley's anthology is certainly up there. It's underrated.
JILL DIAMOND (boxing writer, official, and matchmaker): BOX: "The Face of Boxing" by Holgar Keifel because I love a good photography book. "Four Kings" by George Kimball. In fiction, "The Harder They Fall" by Budd Schulberg. There are so many others.
BERNARD FERNANDEZ (boxing writer and lifetime member of the BWAA): It's a tough call. There are a lot of good ones floating around, but I'll go with John Schulian's "Writers' Fighters and Other Sweet Scientists." But then I'm kind of biased as John, a colleague of mine for a time at the Philadelphia Daily News, is a friend.
IVAN GOLDMAN (ex-Washington Post and LA Times newspaperman, boxing writer, novelist): I humbly submit my novel "The Barfighter" for consideration.
Dr. MARGARET GOODMAN (President of VADA, former Nevada boxing official, neurologist, author): Actually my novel "Death in Vegas" is my favorite book as it tells the truth about the sport via thinly-veiled fiction.  Writing it was very cathartic.
LEE GROVES (boxing writer, author): If I had to pick one, it would be "McIlvanney on Boxing" by Hugh McIlvanney. Anytime I want to get a booster shot of excellent, muscular prose, that's what I read. The two A.J. Liebling books "The Sweet Science" and "The Neutral Corner" also provide inspiration.
KEVIN IOLE (Yahoo boxing and MMA writer): I loved "The Fight" by Norman Mailer, which I found to be a well-reported, gripping tale of one of the seminal events of my youth. I also loved "Muhammad Ali: His Life and Times" by Thomas Hauser and "Fight of the Century" by Michael Arkush.
MIGUEL ITURRATE (TSS writer and Senior Archivist at The Boxing Channel): I really enjoy the history books, especially biographies. Battling Nelson's autobiography is a good one. I also really enjoyed "Muldoon: The Solid Man of Sport" by Edward Van Every.
Dr. STUART KIRSCHENBAUM (former amateur boxer; co-founder National Association of Boxing Commissioners): "Empire of Deceit" by Dean Allison. It's a fascinating true story of the Wells Fargo Bank embezzlement by boxing promoter Harold Smith. I had dealings with him while I was the head of the boxing commission in Michigan. He promoted several Kronk championship fights. Cast of characters include Muhammad Ali, Thomas Hearns, and a who's who of that era. Only in America and only in boxing… crime does pay.
HAROLD LEDERMAN (famous boxing judge, member of HBO team, and 2016 IBHOF inductee): "All Time Greats Of Boxing" by Peter Arnold is my favorite boxing book because it's a great book.
FRANK LOTIERZO: (TSS writer and lead analyst for The Boxing Channel): I can't pick a favorite….so I'll give you a few of my favorites that I've read this summer. "In This Corner" by Peter Heller which I read for the third time; "Sugar Ray Robinson" with Dave Anderson, "Joe Louis: The Great Black Hope" by Richard Bak, "Hard Luck: The Triumph and Tragedy of Jerry Quarry" by Steve Springer and Blake Chavez
ARNE LANG (historian, author, editor-in-chief of The Sweet Science): Many years ago I stumbled on a book called "Bella of Blackfriars" in a used book store in Carlsbad, California. Bella was Bella Burge, the widow of Dick Burge, an English middleweight champion who went to prison for eight years in a massive bank fraud. From her husband's death in 1918 until 1940, Bella ran "The Ring," a boxing house in a circular building on Blackfriars Road in London that was originally an Anglican chapel. I would liken "The Ring" to the Olympic Auditorium in LA. It didn't get the biggest fights but housed many important fights and attracted a loyal clientele that included some salty characters. I found the book a great window into the world of boxing in London. By the way, The Ring had fallen on hard times when it was reduced to rubble by the German Luftwaffe in 1940. I never tire of reading A.J. Liebling, whether he's writing about boxing or Louisiana politics or whatever. I read Liebling for pleasure and also in hopes that some of his skill as a wordsmith will rub off on me but it never has.
RON LIPTON (world class referee): I enjoyed "Jersey Boy: The Life and Mob Slaying of Frankie DePaula" and "Dick Tiger: The Life and Times of a Boxing Immortal," both by Adeyinka Makinde, and the Rocky Graziano biography "Somebody Up There Likes Me." Also, anything  by Ted Sares, Springs Toledo, Mike Silver, and William Detloff.
GORDON MARINO (philosophy professor, Wall Street Journal boxing writer, trainer): I guess I would go with Carlo Rotella's "Cut Time" and Roger Kahn's "A Flame of Pure Fire: Jack Dempsey and the Roaring 20's."
ROBERT MLADINICH (former NYPD police detective, author, boxing writer): "Writers, Fighters and Other Sweet Scientists" by John Schulian. It is a collection of his columns from the Chicago Sun-Times and there is not a weak story in the batch. He is a master storyteller and my favorite boxing writer. I also immensely enjoyed "Beyond Glory: Joe Louis vs. Max Scheming and a World on the Brink" by David Margolick for its historical and social significance and the underrated but exceptional "Weigh-In: The Selling of a Middleweight" by title challenger Fraser Scott.
JOHN SCULLY (elite trainer, former world title challenger): My favorite boxing book is one that I believe to be one of the greatest books ever written on the inside of boxing called "The Black Lights" by Thomas Hauser. It was actually sent to me by Mike Jones back in 1988 when he was trying to sign me to a professional contract. He sent me the book I assumed as a way to show me how he deals in the boxing game as it is centered around his fighter, Billy Costello. It is a truly great book.
MIKE SILVER (boxing historian; author): I could easily name at least a dozen truly outstanding boxing books that are my favorites, but if asked to name just one I would place David Margolick's "Beyond Glory Joe Louis vs. Max Schmeling and a World on the Brink" in the top spot. Another all-time favorite is the great Nat Fleischer's "50 Years at Ringside."
CARYN A. TATE (boxing writer) While it encompasses more than boxing, Bruce Lee's "Tao of Jeet Kune Do" is probably my favorite book on combat. The book is filled with priceless instruction that is relevant and insightful. Lee was a great admirer of many Western boxers and incorporated some of their techniques into the martial art he founded. More than just an instruction manual, the book fuses technique with philosophy and real world psychology. The book shows that Lee was on the same page with great minds in boxing like Emanuel Steward and Cus D'Amato.
BRUCE TRAMPLER (Top Rank matchmaker; a member of the International Boxing Hall of Fame): Off the top of my head, "The Professional" by W.C. Heinz, "Fat City" by Leonard Gardner, "A Boxing Companion" by Richard O'Brien, "Only The Ring Was Square," and "James Norris and the Decline of Boxing" by Barney Nagler.
GARY "DIGITAL" WILLIAMS: (boxing writer, blogger and "Master of the Beltway"): I have two. Jack Newfield's "Only in America: The Life and Crimes of Don King" is one of the great investigative books of all time. It was riveting. Also, Brad Berkwitt's "Boxing Interviews of a Lifetime." I love the range of people — in and out of the sport — that he interviews in the book.
PETER WOOD: (former boxer, author): My favorite iconic boxing books are "The Sweet Science" by A.J. Liebling and "The Harder They Fall" by Budd Schulberg.
My favorite non-fiction boxing books are "Weigh-In" by Fraser Scott; "In This Corner" by Peter Heller, "Atlas" by Teddy Atlas , and "The Raging Bull" by Joseph Carter and Peter Savage.
My favorite fictional boxing books are "My Father's Fighter" by Ronald K. Fried and "The Professional" by W.C. Heinz.
Special Mention goes to "Flash Gordon's 1970 East Coast Boxing Yearbook" with Johnny Bos and Bruce Trampler. My all-time favorite boxing autobiography is "Confessions of a Fighter" by Peter W. Wood.
Observations: "The Sweet Science" by A.J. Liebling seemed to get a lot of attention. No surprise there. That said, I think we now have a pretty comprehensive list from which we can select some compelling stuff for our reading enjoyment.
Thanks to all.
Ted Sares, a member of Ring 4's Hall of Fame, is one of the world's oldest active power lifters and holds several records in the Grand Master class. He has won the EPF Nationals four years in a row.
Check out more boxing news on video at The Boxing Channel.
Did Jennings' Loss Mark Arum's Last Hope to Again Taste Heavyweight Glory?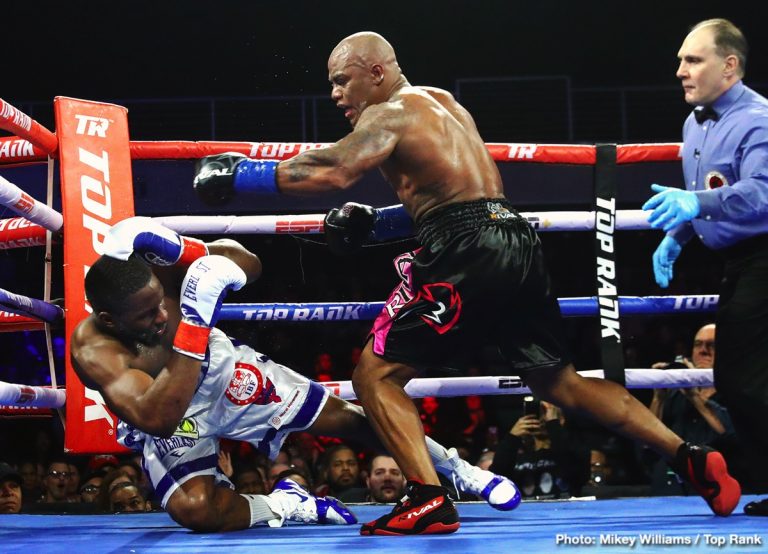 For someone who promotes two fighters who are widely considered to be the world's pound-for-pound best, what took place Friday night at the Turning Stone Resort & Casino in Verona, N.Y., had to be a somewhat bitter pill for Top Rank founder and CEO Bob Arum to swallow.
The good news for the 87-year-old Arum is that his fast-rising featherweight prospect Shakur Stevenson (10-0, 6 KOs), a silver medalist at the 2016 Rio de Janeiro Olympics, took another long stride toward possible superstardom with an impressive fourth-round stoppage of Filipino veteran Jessie Cris Rosales (22-2-1, 10 KOs) in the co-featured bout televised via ESPN+.
But while Stevenson could become a world champion in the 126-pound weight class as early as 2020, the reality is that the highly skilled little lefthander is not and never will be a heavyweight. Neither will lightweight champion Vasiliy Lomachenko or welterweight champion Terence Crawford, the current headliners of the Top Rank stable who already have outgrown a couple of lower-weight divisions but can never be heavyweights except in terms of their prodigious talent. Many knowledgable observers consider Lomachenko and Crawford, in whichever order, to be first and second among all fighters regardless of poundage, and certainly no worse than somewhere in the top three or four.
All of which means that the 12th-round technical knockout of Bryant "By-By" Jennings (24-3, 14 KOs) by underdog Oscar Rivas (26-0, 18 KOs) in the main event could eliminate any chance, however slim it might have been, of Arum having another heavyweight champion before he retires. Jennings, a relatively recent addition (in the summer of 2017) to the Top Rank stable who went in ranked No. 2 by the WBO, No. 7 by the WBA and No. 8 by the IBF, likely will fall out of the top 10 of all three sanctioning bodies. That might have been the case even had Jennings not fallen victim to Rivas' final-round surge. Although it appeared to the ESPN+ broadcast crew that the Philadelphian should have been comfortably ahead on points, he was on the wrong end of two of the three judges' scorecards and would have lost anyway if he somehow made it to the final bell.
Although Jennings  gave a credible account of himself in his only shot at a world title, losing a unanimous decision to IBF/WBA/WBO champion Wladimir Klitschko on April 25, 2015, his age is only one factor working against him now. There are simply too many hungry contenders standing between him and another shot at boxing's biggest prize.
Prior to Jennings' most recent bout before his meeting with Rivas, a ninth-round TKO of Russia's Alexander Dimitrenko last Aug. 18 in Atlantic City, N.J., his trainer, John David Jackson, offered his opinion as to why the Top Rank honcho would ride the "By-By" train as far as it would go before it derailed.
"I think Bob wants one more heavyweight champion," Jackson offered. "Yeah, he has a lot of great fighters, but if you have the heavyweight king, you rule boxing. It's still the most prestigious and marketable division in the sport. That's just how it works. And Bryant represents the last, best opportunity for Bob to get there before he retires."
Arum, a former member of U.S. Attorney General Bobby Kennedy's Justice Department in the early 1960s, has been promoting boxing matches – more than 2,000, and counting — for 52 years, and while some of his greatest successes have come with fighters from featherweight to middleweight, his promotional debut involved a heavyweight who was the biggest of them all. Introduced to Muhammad Ali by football great Jim Brown, Arum started at the very top, staging Ali's winning title defense against rugged Canadian George Chuvalo on March 29, 1966, at Toronto's Maple Leafs Garden. He would go on to promote 26 Ali fights, his most with any heavyweight.
"I didn't know boxing," Arum once said of his almost-accidental introduction to what would become his life's work. "I didn't even really know about divisions other than heavyweight. I only knew there were heavyweights. Then people started contacting me about promoting fighters in other divisions and believe me, it was a good four or five years after I started with Ali."
After Arum's long and fruitful association with Ali ended, he continued to build his company by showcasing such celebrated non-heavyweights as Carlos Monzon, Roberto Duran, Sugar Ray Leonard, Thomas Hearns, Marvelous Marvin Hagler, Julio Cesar Chavez, James Toney, Oscar De La Hoya, Floyd Mayweather Jr., Miguel Cotto and, of course, Lomachenko and Crawford. But Arum pined for another thrill ride with a heavyweight attraction as compelling as had been his heyday with Ali, or as close an approximation to that as possible.
He found it in the unlikely person of George Foreman, who had been retired for 10 years. Arum took a flier on the old and plump Foreman as his improbable comeback gathered momentum, although initially doubting that he and the presumably cheerier version of Big George would click.
"I was not enthusiastic, realizing what a horrid person he had been," Arum said of his expectation that Foreman's personality makeover was false and contrived. "After spending an hour with him I said, `This is the greatest con man in history,' because he was so different from what he had been before. But it wasn't a con. He had really changed."
It was one of Arum's, and Top Rank's, grandest moments when the 45-year-old Foreman, far behind on points, regained the heavyweight title he had relinquished to Ali so many years earlier with a one-punch, bolt-from-the-blue 10th-round knockout of Michael Moorer on Nov. 11, 1994. But Foreman took a pounding in getting a gift nod over Axel Schulz in his next outing, and he retired again after losing a controversial majority decision to Shannon Briggs on Nov. 22, 1997. Arum's dips into the heavyweight pool since then have been infrequent and generally less than satisfying. He has tried his hand to generate some of that old big-man magic with former champs Hasim Rahman and Ray Mercer, to no avail.
Top Rank's relatively low-risk co-promotional signings of Jennings and then-WBO heavyweight champion Joseph Parker, who promptly lost his unification matchup with Anthony Joshua, again have failed to produce the desired results. Last month Arum worked out a co-promotional deal with the management of Bulgarian veteran Kubrat Pulev. More recently he inked a new heavyweight hope in Sonny Conto, a 22-year-old from South Philadelphia who was the silver medalist at the 2018 National Golden Gloves. The 6-foot-4 Conto, who turns pro against the ever-popular opponent to be named on Feb. 8, is being called "a superstar in the making" by his manager, David McWater, and maybe he might turn out to be just that. But it takes time for a newly minted pro to work his way up to champion or even contender status, and by the time Conto gets there – if he gets there at all – it is hardly a given that an already octogenarian Arum will be around to savor the moment.
Until then, we'll all have to imagine what it might be like if there was a machine that could enlarge Lomachenko and Crawford by six or seven inches in height and a hundred pounds of heft.
Photo credit: Mikey Williams / Top Rank
Bernard Fernandez is the retired boxing writer for the Philadelphia Daily News. He is a five-term former president of the Boxing Writers Association of America, an inductee into the Pennsylvania, New Jersey and Atlantic City Boxing Halls of Fame and the recipient of the Nat Fleischer Award for Excellence in Boxing Journalism and the Barney Nagler Award for Long and Meritorious Service to Boxing.
Check out more boxing news on video at The Boxing Channel
To comment on this article in The Fight Forum CLICK HERE
Ringside at Turning Stone: Rivas TKOs Jennings; Stevenson Wins Impressively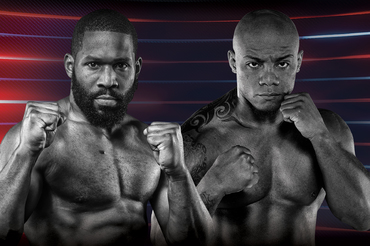 VERONA, NY — In the main event at Turning Stone Resort & Casino, Oscar Rivas (26-0, 18 KO's) scored a mild upset in stopping Bryant Jennings (24-3, 14 KO's) in the twelfth and final round of their heavyweight bout.
The fight was largely a tactical contest. Rivas was the aggressor pressing forward with Jennings circling and fighting off his back foot. Neither was throwing a high volume of punches.
In the first five rounds, Rivas' aggression seemed to be getting to Jennings. Rivas landed some solid eye catching combinations retreating Jennings, while Jennings was largely holding back on his own offense.
But in round six, Jennings started moving his hands more and began to seize control of the contest. He seemed to control the next few rounds by simply moving his hands, landing the left jab at will and following that up with combinations.
Rivas stemmed Jennings momentum in the eleventh by upping his aggression and letting go with more combinations. He seemed to realize the fight could be close and something dramatic could be needed on his end.
And that something dramatic came in round twelve. Rivas came out throwing and landed a thudding left hook on Jennings' chin that sent Jennings reeling backwards. Rivas quickly followed up on his advantage and after landing several power shots put Jennings down on the canvas. Jennings made it to his feet but was met quickly with a fusillade of punches from Rivas. With Jennings unable to protect himself, referee Gary Rosato waived the fight off.
Interestingly, Rivas was ahead on two cards by scores of 105-104 and 106-103 entering the twelfth round. The other card was in favor of Jennings by a margin of 106-103.
In the co-feature, featherweight prospect Shakur Stevenson (10-0, 6 KO's) displayed all the skills that make him one of boxing's best prospects in dispatching of Jessie Cris Rosales (22-2-1, 10 KO's) in round four of their scheduled ten round fight.
Rosales was considered to be a significant step up in class for Stevenson, but from the opening bell it was apparent that Rosales had no answer for Stevenson's speed. Stevenson, a 2016 Olympic silver medalist, came out pumping an effective sharp right jab from his southpaw stance. He then worked some blistering combinations behind that jab.
As the fight progressed into round three, Stevenson mixed in some flashy short quick uppercuts on the inside along with some thudding body shots that seemed to be wearing down the tough Rosales.
Early in round four, Rosales connected with a looping right that made Stevenson flash a quick grin. Shortly after, Stevenson let his hands go, landing some eye-popping combination that put Rosales in trouble along the ropes. A quick short left hand then planted Rosales on the canvas and though he beat the count referee Charlie Fitch wisely waived a halt to the contest.
Afterwards, Stevenson called out IBF featherweight champion Josh Warrington.
2016 Olympic gold medalist Robson Conceicao (11-0, 5 KO's) coasted to an easy unanimous eight round decision win against Hector Ambriz (12-9-2, 6 KO's) in a 130-pound contest. This marked the third straight eight round decision win for Conceicao.
Veteran 130-pound contender Jason Sosa (22-3-4, 15 KO's) survived a second round knockdown and scored a ten round unanimous decision win against Moises Delgadillo (17-19-2, 9 KO's). After some early struggles, Sosa rallied to control the second half of the fight including scoring a knockdown of his own in round seven to secure the hard fought victory.
Two-time Olympian Vikas Krishan (1-0, 1 KO) made a successful debut stopping Steven Andrade in the second round (3-4, 2 KO's) of their 154-pound contest. Krishan, from India, scored a knockdown with a left to the body in round two and then battered Andrade forcing referee Benjy Esteves to stop the bout.
Fazliddin Gaibnazarov (7-0, 4 KO's), a 2016 Olympic gold medalist, scored a TKO win against Ricardo Garcia (14-5-1, 9 KO's) when Garcia failed to answer the bell to start round five. Gaibnazarov, who competes in the 140-pound division, dominated the bout from the opening bell including scoring a knockdown in round three before the contest was called to an end.
In the opening bout of the night, Carlos Adames (16-0, 13 KO's) stopped Juan Ruiz (21-4, 13 KO'S) with a right hook to the body in the third round of their junior middleweight contest.
Check out more boxing news on video at The Boxing Channel
To comment on this story in The Fight Forum, CLICK HERE
Fast Results From New York City: Andrade TKOs Akavov; Cano Shocks Linares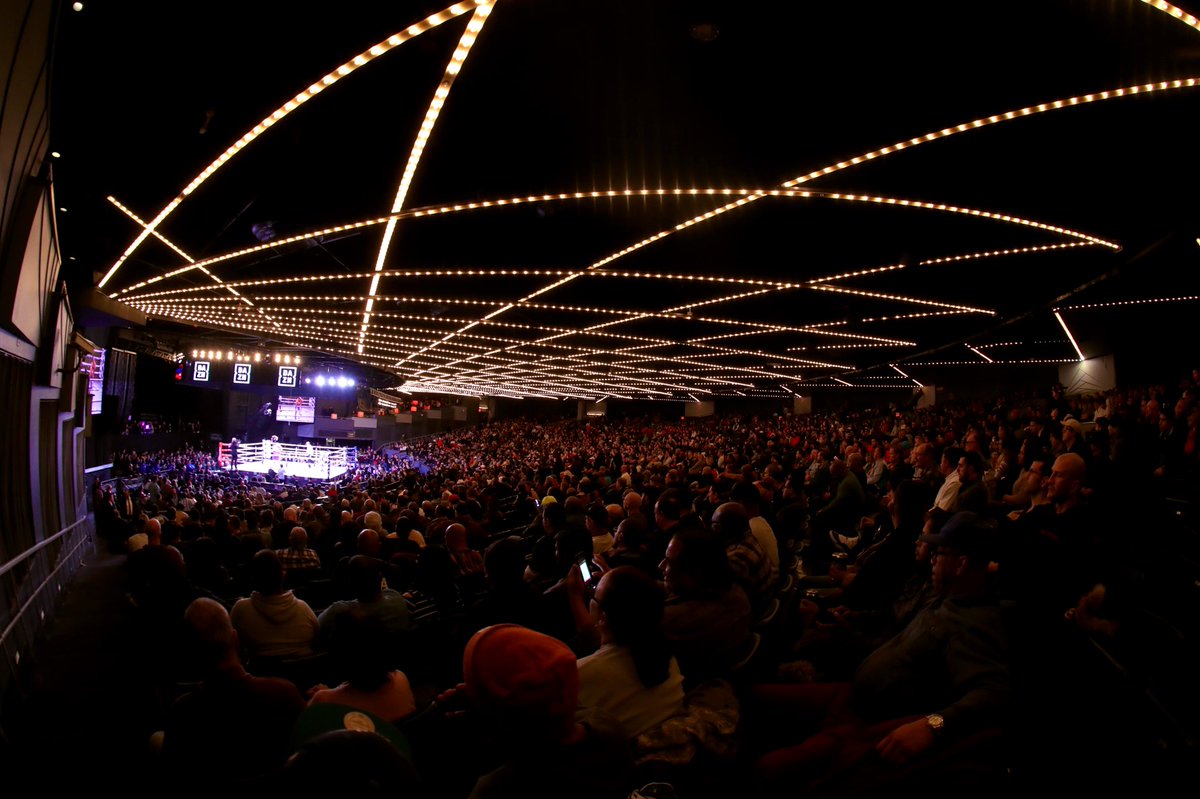 Eddie Hearn, the head of the boxing division of the U.K. sports conglomerate founded by his father, continued his invasion of the United States tonight with a nine-bout show in the Hulu Theater of Madison Square Garden. The featured bouts were live-streamed across the globe on DAZN and shown on SKY Sports Arena in the United Kingdom. Topping the bill was the WBO world middleweight title match between Demetrius Andrade and challenger Artur Akavov.
Andrade-Akavov
Andrade, a 2008 Olympian from Providence, R.I., successfully defended his title and advanced his record to 27-0 (17) with a 12th round stoppage of his game but outclassed Russian opponent. Akavov  (19-3) was on his feet when the referee ordered a halt with 24 seconds remaining in the bout. Akavov, who ate a steady helping of jabs, wasn't badly hurt but was hopelessly behind on the cards.
Cano-Linares
The co-feature, a junior welterweight attraction, produced a shocking upset when Mexico's Pablo Cesar Cano (38-7-1) walked right through former three-division title-holder Jorge Linares (45-5), taking the globetrotting Venezuelan out in the very first round. Linares, who was considered a borderline Hall of Famer going in, was knocked to the canvas 20 seconds into the fight and was on the deck three times before the referee called a halt at the 2:45 mark.
Doheny
In the first defense of his IBF world 122-pound title, TJ Doheny was fed a softie in Yokohama schoolteacher Ryohei Takahashi. A massive favorite, Doheny (20-0, 15 KOs) was comfortably ahead on points when the referee intervened in round 11 to keep the Japanese import (16-4-1) from taking a worse beating. Doheny's next match, according to Eddie Hearn, will be a unification fight against WBA counterpart Danny Roman.
Other Bouts
In a 10-round match contested at 140 pounds, Chris Algieri, briefly a title-holder in this weight division, scored his second win on the comeback trail with a unanimous decision over former sparring partner Daniel Gonzalez. The scores were 98-92, 97-93, and 96-94. Algieri (24-3) faded late and left the ring to a chorus of boos. Gonzalez slipped to 17-2-1.
Amanda Serrano made short work of her Austrian opponent, Eva Voraberger, taking her out in the opening round to gather in the vacant WBO world female super flyweight title. Serrano improved her ledger to 36-1-1 with her 27th knockout. She came in at 114 ½ pounds, having previously weighed as high as 130, and was seeking to become a title-holder in a seventh weight class.
Serrano knocked Voraberger (24-6) to her knees with a right-left combo and Voraberger, who was in severe pain, made no attempt rise. Forget those seven title belts; this young Brooklyn-based Puerto Rican can really fight.
In a welterweight match slated for six rounds, Julian Sosa, who has a large fan base in Brooklyn's Mexican-American community, stopped Congolese import Deiumerci Nzau who retired on his stool after three frames. Sosa improves to 13-0-1 (5), Nzau falls to 11-7.
Heavyweight Nkosi Solomon evened his record at 1-1 and rebounded from a dismal performance in his pro debut with a 4-round unanimous decision over Rodriguez Cade (2-4). Solomon dropped his puffy opponent in the third round and won by scores of 40-35 on all three cards.
Staten Island's Reshat Mati (3-0) needed only 66 seconds to turn back Ghana's Benjamin Borteye (4-4). Mati came out smoking and scored a fast knockdown. Borteye beat the count but was on unsteady legs when the referee intervened. You will be hearing a lot more of the 20-year-old Mati, nicknamed the Albanian Bear, who was a teenage prodigy in multiple combat sports.
In the opening bout of the evening, a welterweight affair, Cornell Hines improved to 4-0 with a 4-round unanimous decision over Salt Lake City's Farhad Fatulla (1-3).
Check out more boxing news on video at The Boxing Channel
To comment on this story in The Fight Forum, CLICK HERE