3 Punch Combo: Truax's Improbable Upset, a Winky Wright Flashback and More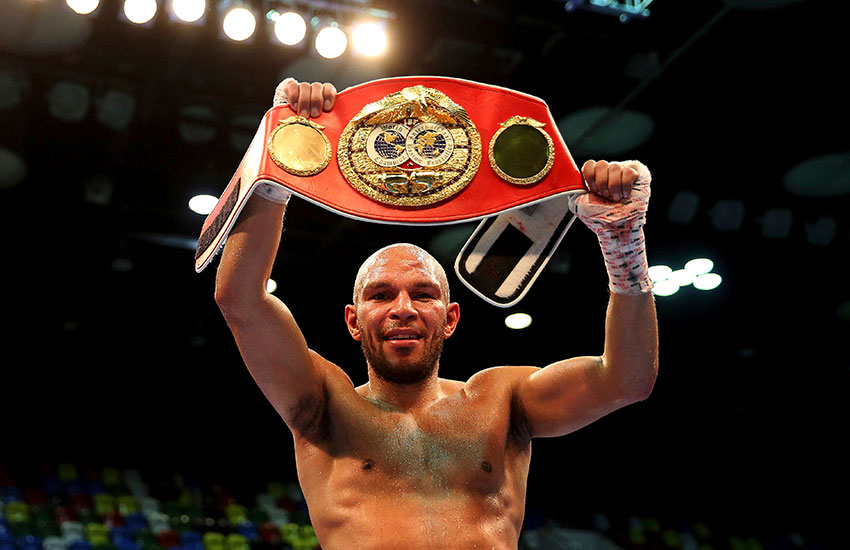 THREE PUNCH COMBO — Caleb Truax (29-3-2, 18 KO's) stunned the boxing world this past Saturday scoring a majority decision win against the heavily favored James DeGale (23-2-1, 14 KO's) to win a 168-pound belt. Truax is a great story of perseverance and seizing the moment in this sport. Ironically, nearly 20 years ago to the day another major upset also took place with a fighter in a very similar spot to that of Truax.
In 1997, Top Rank was seeking opponents for their cash cow Oscar De La Hoya. That year, they signed Terry Norris with the idea of matching Norris with De La Hoya sometime in 1998 in a big pay-per-view event. With the fight essentially signed, Top Rank wanted to build that event by placing Norris and De La Hoya together on a big card. De La Hoya would headline on December 6th, 1997 in Atlantic City, NJ against Wilfredo Rivera while Norris would have his showcase bout as the chief support against journeyman Keith Mullings.
Mullings entered the ring that night with a pedestrian record of 14-4-1 and was coming off a hard fought loss to Raul Marquez three months earlier. Known as a durable guy with limited skills and not much of a punch, Mullings seemed to be the perfect safe opponent to showcase the abilities of Norris and help build toward a super fight with De La Hoya.
In the early going, the fight went to script. Norris controlled the early rounds and seemed to be on his way to an easy victory. But midway through the scheduled 12-round fight, Mullings began bouncy castle with pool to slowly turn the tide. After scoring a knockdown of Norris in round eight, the realization began to seep in that we could be in store for a mega upset. In the ninth, Mullings hurt Norris and pounced on him, throwing a barrage of punches which eventually forced the referee to stop the contest.
Similar to Norris, DeGale seemingly had a big fight lined up himself with a unification bout with David Benavidez on the horizon. Much like Mullings, Truax was hand-picked to showcase the skills of DeGale prior to him going on to bigger things. And similar to Mullings, Truax refused to read that script. Instead, Truax had a plan of his own and executed that plan to perfection to pull the stunning upset. Now it is Truax who is on the brink of much bigger things as we head into 2018.
Remembering Winky Wright's First Attempt at a World Title
The International Boxing Hall of Fame announced its class of 2018 this past week and one of the inductees in the Modern category was Ronald "Winky" Wright. Wright had an amazing career and is well deserving of being enshrined in Canastota. It was a career of patience and perseverance as he is remembered most for the bouts that took place toward the tail end of his career. What has been forgotten about Wright are some of his earlier fights and the long journey he took to reach the pinnacle of the sport.
One of Wright's most memorable fights from the early part of his career was his first attempt at a world title against Julio Cesar Vasquez on August 21, 1994 in France. Wright (25-0, 18 KO's) was still relatively green at this point in his career and was facing a very seasoned champion in Vasquez (50-1, 35 KO's) who had held the title for nearly two years, having already made eight successful defenses.
Wright set a blistering pace in the first round, beating Vasquez to the punch working fast combinations behind a stiff right jab. The second round saw a little controversy as a counter right hand from Wright put Vasquez on the canvas but was not counted as an official knockdown. Later in that round, Vasquez would land his first significant punch of the fight with a counter left uppercut that put Wright on the canvas. This was counted as a knockdown and Wright arose willing to go toe to toe with Vasquez as the round came to a close.
The next three rounds saw Wright work combinations behind the jab and out-box Vasquez. Wright's speed and boxing ability were giving the aggressive Vasquez all sorts of issues.
In round six, Wright appeared to be getting a little tired. Vasquez's pressure seemed to be getting to him and Vasquez enjoyed his best round since the second, landing with consistency a hard left to Wright's head.
Wright was dropped for the second time in the fight in the seventh. But he would get up again and after surviving the initial onslaught go to war with Vasquez for the remainder of the round. The eighth saw Wright turn the tables and hurt Vasquez with a sweeping right hook. It would be the best round for Wright since the fifth.
But again in round nine, Wright would get deposited on the canvas, this time from an overhand left.  Wright was visibly hurt but resilient, not only in getting to his feet but surviving the remainder of the round.
Looking fatigued, Wright's punch output slowed the next two rounds as Vasquez stepped up the pressure, raking Wright with hard shots to the head and body. In the twelfth and final round, Vasquez would put a totally gassed Wright down two more times. Wright did well just to hear the bell.
The decision would be unanimous for Vasquez. But this was one tremendous fight and a learning experience for Wright who showed incredible courage and fortitude. He fought his heart out and though he came up short this night set the foundation for what would later become a Hall of Fame career.
Under The Radar Fights
Well the last big boxing weekend of 2017 is upon us. There is plenty of action in store before a bit of a reprieve. With so many bouts, there are bound to be some that are flying severely under the radar.
On Friday as part of the PBC on FS1 broadcast, Jamal James (21-1, 9 KO's) battles Diego Chaves (26-2-1, 22 KO's) in an evenly matched 147-pound crossroads fight. James was once a highly-thought-of prospect but a 2016 loss to Yordenis Ugas knocked James back a rung on the ladder. He rebounded earlier this year with a solid win against former world title challenger Ionut Dan Ion and looks to build on that performance against Chaves.
James has solid skills and is a well-rounded fighter. A boxer-puncher by trade, he will look to work behind the jab using his legs to set up angles to fire off combinations. James has a bit of slickness to him and will need that against Chaves. Chaves knows only one way to fight and that is to bring pressure from the opening bell. He will look to make this a rough and tumble fight on the inside. And Chaves will not be afraid to bend the rules some to lure James out of his game plan into a firefight. It is an interesting clash of styles and should be a solid entertaining scrap.
On Saturday as part of HBO's tripleheader, once-beaten 160 pound prospect Antoine Douglas (22-1-1, 16 KO's) takes on rugged veteran Gary O'Sullivan (26-2, 18 KO's) in a scheduled 10-round contest. Douglas is a skilled prospect who seemed to be on the verge of a title shot before getting derailed by Avtandil Khurtsidze in March of 2016. Since that loss, Douglas has scored three straight knockout wins, albeit against less than formidable opposition. Douglas is athletically gifted and possesses very fast hands. He is a natural boxer puncher and will work combinations with his quick hands behind a sharp left jab.
In O'Sullivan, Douglas is facing an opponent in a similar mode to Khurtsidze. O'Sullivan will apply constant pressure. He may not be a one punch knockout guy but has relatively heavy hands and will try to overwhelm opponents with volume. O'Sullivan is not known for his defense and opponents usually find him to be a very easy target. He can be out-boxed by more skilled fighters as evidenced in his two losses to Billy Joe Saunders and Chris Eubank Jr. The question here is whether or not Douglas can get the respect of O'Sullivan early to discourage him from unloading a high volume of punches. If Douglas can, it could be easy work for him. If he can't, we may see a replay of the Khurtsidze fight.
It has been quite a year in boxing in 2017. And we are going out with a bang with one last big week of action. Though the above fights may not be getting the press of some of the other bouts taking place this coming week, these should be entertaining fights and should not be missed.
To comment on this article at The Fight Forum, CLICK HERE.
Check out more boxing news on video at The Boxing Channel.
Will Fury's Deal With ESPN Torpedo The Fights That Fight Fans Want to See?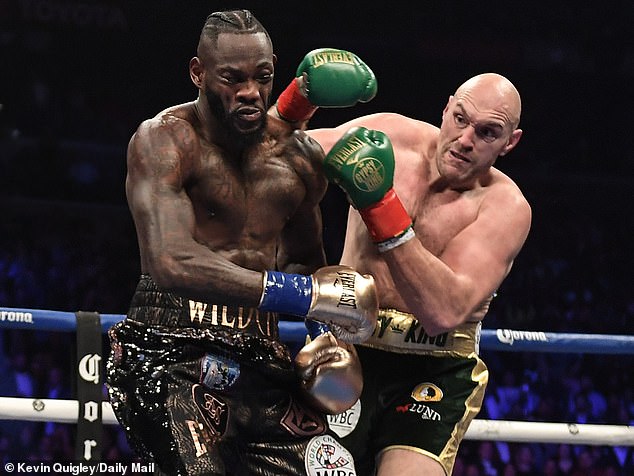 For the past few weeks, boxing fans have been led to believe that the rematch between Tyson Fury and Deontay Wilder was ever so-close to being a done deal. But in the world of professional boxing where Machiavellian characters seemingly hold all the positions of power, nothing is ever a done deal until it's finally finalized. Today's announcement that Tyson Fury has signed with ESPN is the latest case in point. It's a three-fight deal that will reportedly earn the Gypsy King $80 million if he can successfully hurdle the first two legs.
As Thomas Hauser has noted, what we have in boxing today is something similar to leagues in other sports. There's the Top Rank/ESPN League, the Matchroom/DAZN League, and the PBC/Showtime/FOX League. We would add that these are intramural leagues. Occasionally there's cross-pollination, similar to when the Yankees play the Mets in a game that counts in the regular season standings, but basically the boxers in each league compete against each other.
We have no doubt that WBC/WBA/IBF heavyweight ruler Anthony Joshua will eventually fight Wilder and/or Fury, but it now appears that these matches, when they transpire, will have marinated beyond the sell date. The action inside the ring may mirror the Mayweather-Pacquiao dud.
A match between Joshua and Wilder is already somewhat less enticing than it would have been if it had come to fruition last autumn. The odds lengthened in favor of Joshua after Wilder's raggedy performance against Tyson Fury on Dec. 1 in Los Angeles.
True, the Bronze Bomber almost pulled the fight out of the fire with a thunderous punch but he was out-slicked in most of the rounds and it wasn't as if he was fighting a bigger version of Pernell Whitaker. Before that fight, casual fans were less tuned-in to Deontay Wilder's limitations.
It was reported that the Wilder-Fury rematch was headed to Las Vegas or New York, but that Las Vegas fell out of the running when the State Athletic Commission insisted on using Nevada officials. Fury was the one that balked.
In hindsight we should have seen that this was fake news. No Nevada officials were involved in Fury-Wilder I. The judges were from California, Canada, and Great Britain. The California judge voted against Fury, scoring the fight 115-111, a tally for which he was excoriated. The judge from Great Britain, like many ringside reporters, had it draw. The TV crews, especially the crew from Great Britain, left no doubt that Fury should have had his hand raised and the controversy made the hoped-for rematch more alluring.
So who will be Tyson Fury's next opponent? Speculation immediately centered on Bulgaria's Kubrat Pulev.
Pulev, who turns 38 of May 4, sports a 26-1 record. He was slated to fight Anthony Joshua in October of 2017 but suffered a torn biceps in training and was forced to withdraw. In his most recent bout he outpointed Hughie Fury, Tyson's cousin. He's currently ranked #1 by the IBF.
On Dec. 8 of last year, Bob Arum announced that he had hammered out a deal to co-promote Pulev. It was subsequently reported that Pulev's first fight under the Top Rank/ESPN umbrella would be against Finland's Robert Helenius on March 23 in Los Angeles. Six days ago, the distinguished European fight writer Per Ake Persson told his readers that the fight had fallen out, ostensibly because the parties could not come to terms.
Tyson Fury is the most charismatic white heavyweight to come down the pike since Gerry Cooney and the big galoot is bigger than Cooney ever was as he has avid followers on both sides of the Atlantic and Cooney didn't have social media to enhance his profile. I have little doubt that ESPN will recoup their investment in him. However, deals in boxing are never consummated with an eye on uplifting the sport – on patching things up with the disaffected – and here's yet another example.
Check out more boxing news on video at The Boxing Channel
To comment on this story in The Fight Forum CLICK HERE
Three Punch Combo: Two Recent Upsets Trigger Memories of Forgotten Fights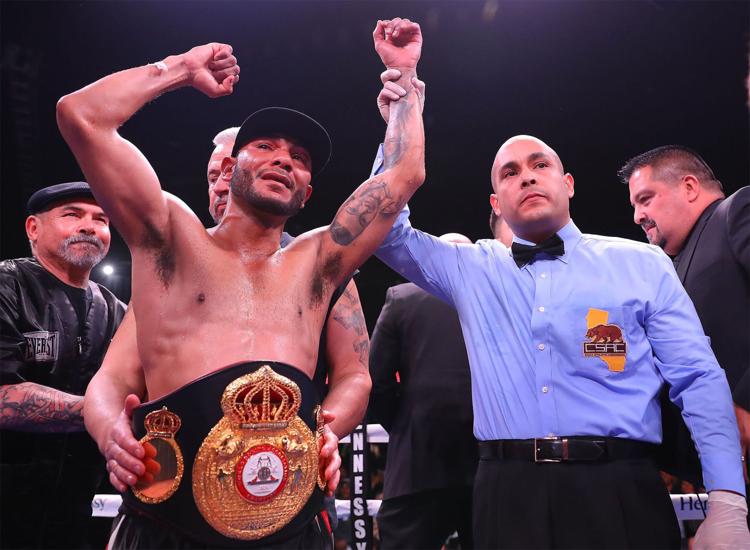 THREE PUNCH COMBO — There is just something magical about a longshot overcoming seemingly unsurmountable odds to accomplish a major feat in boxing such as winning a world title.
Earlier this month, undefeated 130-pound champion Alberto Machado defended his title against Andrew Cancio in Indio, CA. Cancio (pictured) was considered a solid pro, but he had been outclassed on the occasions when he stepped up his level of opposition and few expected him to remotely compete with Machado. But Cancio elevated his game and sprung an unthinkable upset, stopping Machado in the fourth round to become a world champion. Cancio's incredible backstory has since been well documented by several media outlets.
In terms of shock value, Cancio's upset was mindful of another recent upset, Caleb Traux's monster upset of James DeGale in December of 2017. Truax traveled to the UK to challenge 168-pound title-holder DeGale.  He was given no shot to win; most doubted that he would be competitive. But Truax overcame the odds and shocked the boxing world winning a majority decision to become a world title-holder. Truax's story of overcoming incredible odds to dethrone DeGale became the feel good boxing story of 2017.
The underdog stories of Truax and Cancio are still fresh in our minds. But often times, such stories become somewhat forgotten as time passes. In this week's three punch combo, I will look at three other incredible underdog stories that all occurred in 1997. They were all equally as heartwarming as those of Truax and Cancio.
Keith Mullings vs. Terry Norris, 12/06/1997
In 1997, 154-pound champion Terry Norris left his promoter Don King to sign with Top Rank with the express purpose of securing a big money fight against Oscar De La Hoya. After winning two non-title fights under the Top Rank banner against low level opponents, Norris was placed on the same pay-per-view card as De La Hoya who would be defending his WBC world welterweight title against Wilfredo Rivera. Top Rank was planting the seeds for a De La Hoya-Norris showdown the following year. Not wanting to take any chances, they selected a seemingly safe opponent for Norris in Keith Mullings.
Mullings entered with a record of 14-4-1. He had one win in his last six fights. However, Mullings was coming off a controversial split decision loss to another 154-pound champion in Raul Marquez three months earlier in a fight many believed Mullings deserved to win. The performance against Marquez gave Mullings credibility but his limited skills did not leave many to believe that he could compete with an elite fighter like Norris.
For the first seven rounds, the script seemed to be going according to plan. Norris boxed effectively using his left jab to control range and landing combinations behind that punch. He was seemingly in total control of the fight.
In round eight, Norris's movement slowed and Mullings began to land on a more stationary target. Although not known as a puncher, he dropped Norris with a hard right hand. Norris survived the round but Mullings came out aggressive to start round nine. After reigning punch after punch on Norris in the first minute of the round, referee Tony Perez stepped in to save Norris from more punishment.
Mullings would make one successful defense of his title three months later, stopping Davide Ciarlante in round five, but that would be the last win of his career. He would lose his title in his next outing to Javier Castillejo and then lose three more times before hanging up the gloves for good in 2001.
Mauricio Pastrana vs. Michael Carbajal, 01/18/1997
Entering 1997, 108-pound champion Michael Carbajal had only two losses on his resume in 46 professional fights. Both losses had come in 1994 to the great Humberto Gonzalez. One was by majority decision and one by split decision. Carbajal had won 12 fights in a row following the second defeat to Gonzalez and was still considered to be in the prime of his Hall of Fame career as he entered a title defense against unknown Mauricio Pastrana on January 18th, 1997.
Pastrana had an undefeated record of 15-0 with 13 of those wins coming by knockout. But he had fought nobody of note, feasting on inferior competition in his native Columbia. He was given literally no shot by most in boxing to even be competitive with the much more experienced and seemingly more skilled Carbajal. As a matter of fact, so little was thought of Pastrana that during the beginning of the fight a promo was run hyping Carbajal's next scheduled title defense in March.
The first two rounds were largely feeling-out type rounds. In round three, Pastrana announced his presence, shaking Carbajal with a hard right hand. From there, Pastrana upped his output using an effective well-timed stinging left jab to set up his combinations. He outworked Carbajal and landed the cleaner punches as the fight progressed. Carbajal certainly had his moments in what became a surprisingly exciting fight but in the end the judges preferred the activity and cleaner punching of Pastrana who would win a split decision.
Pastrana made two successful defenses against overmatched foes before losing his belt on the scales before a scheduled title defense in August of 1998. In his next fight, he would capture an interim title belt in the flyweight division but that would be his last success in any major title fight. He never was able to replicate the performance he had against Carbajal. Along the way, Pastrana suffered defeats to some big names including Rafael Marquez, Celestino Caballero, Jhonny Gonzalez and Gary Russell Jr. Following a knockout loss to Mikey Garcia in 2012, Pastrana retired with a final professional record of 35-17-2.
Uriah Grant vs. Adolpho Washington, 06/21/1997
In his second pro fight, Uriah Grant was fed to debuting 1984 Olympic Heavyweight Gold Medalist Henry Tillman and was knocked out in the second round. Three fights later, Grant was selected as an opponent for prospect Ricky Womack and dropped a six round decision. It appeared that Grant's career was ticketed to being that of a journeyman.
Grant's career would bounce up and down following the Womack loss. With a lack of depth in the cruiserweight division, Grant did get opportunities at bigger fights and even world title bouts but continued to fall short when he stepped up in class. The journeyman tag seemed appropriate as he entered his 13th year as a pro in 1997 with a pedestrian record of 25-12.
In August of 1996, Adolpho Washington traveled to Spain and scored a unanimous decision victory over the previously undefeated Torsten May to win a cruiserweight title. The win moved Washington's record to 26-3-2. After a bit of a layoff, Washington settled on a title defense against Grant to help shake off the rust.
Stuffed deep on a Don King promoted card in Florida, the fight was thought to be a mismatch with no US television interested and barely anyone in attendance. But in an absolute shocker, Grant defeated Washington by split decision. The unheralded cruiserweight went from journeyman to world champion overnight.
Unfortunately for Grant, his championship reign would be short. Five months later in his first title defense, he was out-boxed by Imamu Mayfield losing a unanimous decision.
Grant would not fight for a major title again, but in 2000 he would gain a little more notoriety when he defeated a faded Thomas Hearns. Four years after defeating Hearns and following a string of losses, Uriah Grant retired with a final record of 30-21.
Photo credit: Tom Hogan / Hogan Photos / Golden Boy Promotions
Check out more boxing news on video at The Boxing Channel
To comment on this article in The Fight Forum CLICK HERE
Ringside in LA: Leo Santa Cruz Educates Rafael Rivera in an Entertaining Fight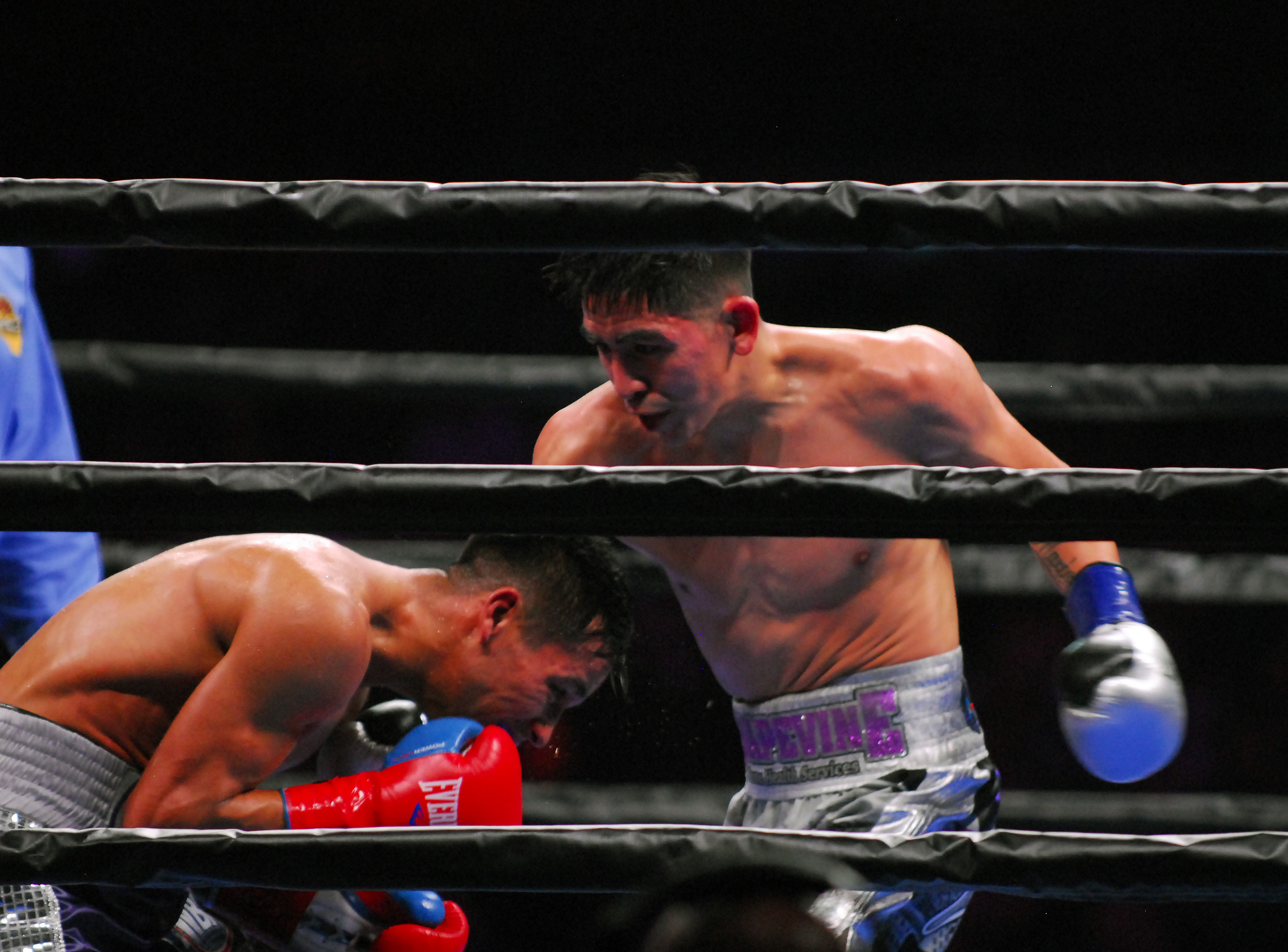 LOS ANGELES-Last minute substitute or not, Leo Santa Cruz met the future in Mexico's Rafael Rivera and banged it out with the youngster for 12 entertaining rounds to retain the WBA featherweight world title by decision on Saturday.
It was all about that learning curve.
Santa Cruz (36-1-1, 19 KOs) gave Tijuana's Rivera (26-3-2, 17 KOs) a lesson on elite prizefighting before more than 5,000 at the Microsoft Theater. Despite the disparity in experience the featherweight clash was still packed with action.
If fans expected Rivera to be run out of town by the much more experienced Santa Cruz, they were badly mistaken. The Tijuana fighter had fought in Southern California twice before and exhibited a toughness and grit you don't see from run-of-the-mill opponents. Though he was called in just weeks ago, Rivera was ready and willing.
Immediately Santa Cruz showed the skill and intelligence needed to be a world champion and targeted Rivera's body from the first round. Despite the painful looking digs to the body, the youngster Rivera held firm.
It was all Santa Cruz for the first four rounds as he showed off his ability to blast body shots at will. The painful looking shots seemed to bother Rivera, not because of the pain inflicted, but from embarrassment from not being able to defend against the onslaught.
"I hit him hard to the body and head very well, but he didn't go down," said Santa Cruz.
Rivera found his break in the fifth round when he managed to give the champion a different look. Multiple left hooks connected on the champion and he then capped the end of the round with a vicious left hook body shot and right uppercut. Santa Cruz smiled at the effort.
Santa Cruz never allowed Rivera much more from there on. He mixed up his attack and confused Rivera with different looks, except in the ninth round when both flurried with a barrage of blows like angry alley cats.
The winner of the fight was never in doubt during the last half of the fight. But fans enjoyed the high caliber exhibition of the art of banging Mexican style. After 11 rounds both fighters looked at each other with respect and were ready for an eventful finale.
Santa Cruz probably knew he was far ahead and though he relishes bang, bang type of fights, he was still careful enough to not make obvious openings for Rivera. It was a careful and scientific round until the final 10 second warning clap, then both looked at each other and nodded simultaneously and proceeded to unleash a barrage of punches in tornado-like fashion. The fans yelled in unison for the flourish of blows and cheered at the final bell.
But after 12 rounds the judges were in agreement and all tabbed the fight 119-109 for Santa Cruz.
"I'm very happy with my performance and I thought I gave everyone a great fight. I was in there with one of the best fighters in the world and throwing punches and exchanging with him. More than anything, I'm very proud to have fought 12 rounds with a great world champion like Leo Santa Cruz," said Rivera.
Santa Cruz was not as pleased with the performance, but happy that it was an entertaining fight.
"I tried to do my best and do what I could to give them a great fight," said Santa Cruz. "I would have loved to have been even better, but he's really tough and solid opponent."
Santa Cruz fans were pleased by the effort and the champion himself seeks even more challenges this year.
"I want to fight the best. I want to fight any of the champions at featherweight or a third fight with Carl Frampton," said Santa Cruz. "I want to be back this summer and fight three times this year against the best in the division."
Figueroa Wins
A battle between welterweight sluggers saw Omar Figueroa (28-0-1, 19 KOs) out-punch John Molina (30-8, 24 KOs) and win by unanimous decision after 10 rounds in a fight that surprisingly saw no knockdowns despite their lofty records for stoppages.
Figueroa was the busier fighter throughout but Molina had his moments especially with the overhand rights. Each fighter scored with heavy shots throughout the 10 round match but the judges liked Figueroa's busier output. The scores were 97-93, 98-92, 99-91 for Figueroa.
It was expected to be a fight resulting in a knockout but each fighter showed a good chin despite the big blows scored. Figueroa, who hails from Weslaco, Texas, is a former lightweight world titlist but has been forced to move up due to weight problems. Southern California's Molina showed a good chin and keeps his name in the game.
Ryosuke Iwasa Wins Elimination Bout
Japan's Ryosuke Iwasa (26-3) won by technical decision after 10 rounds against Mexico's Cesar Juarez (23-7) in an IBF super bantamweight elimination title fight. The fight was stopped because of a cut on Juarez from an accidental clash of heads in the second round, A ringside physician stopped the fight at the end of the ninth round and according to California rules it went to the scorecards where Iwasa was ruled the winner by majority decision 95-95, 97-93, 98-92.
Other Bouts
Giant super welterweight Sebastian Fundora (12-0, 8 KOs) knocked out Buffalo's Donnie Marshall (10-1, 6 KOs) at 1:08 of the third round to win the battle of undefeated 154-pounders.
Despite the nine-inch reach advantage and the six-inch height advantage Fundor fought most of the clash on the inside and scored heavily with long right uppercuts. It was a long right uppercut that caught Marshall moving away and floored him in the third round. Fundora then chased the dazed fighter around the ring and battered him with a dozen unanswered blows that forced referee Jerry Cantu to halt the fight and declare a knockout win for Fundora.
Fundora fights out of Coachella, Calif.
Argentina's Neri Romero (12-0) was blasted to the floor with a sneak punch by Thomas Smith (5-7-1) right during a break but managed to claw his way back to a win by unanimous decision after six rounds in a super featherweight match. Smith, who fights out of Dallas, showed he could really take a shot but tired at the end of the last three rounds and allowed Romero to win on endurance. All three judges saw it the same 58-55.
Shon Mondragon (1-0) stopped Julio Martinez (1-1) at 47 seconds of round two with a two-fisted attack that forced referee Ray Corona to halt the super bantamweight fight. Mondragon, a southpaw, fights out of Commerce, Colorado.
Photo credit: Al Applerose
Check out more boxing news on video at The Boxing Channel
To comment on this story in The Fight Forum CLICK HERE