Jim Lampley Wistfully Recalls The Roy Jones That Was
Kryptonite could bring the Man of Steel to his knees. Greek mythology's Achilles was unconquerable in battle, but he could be brought down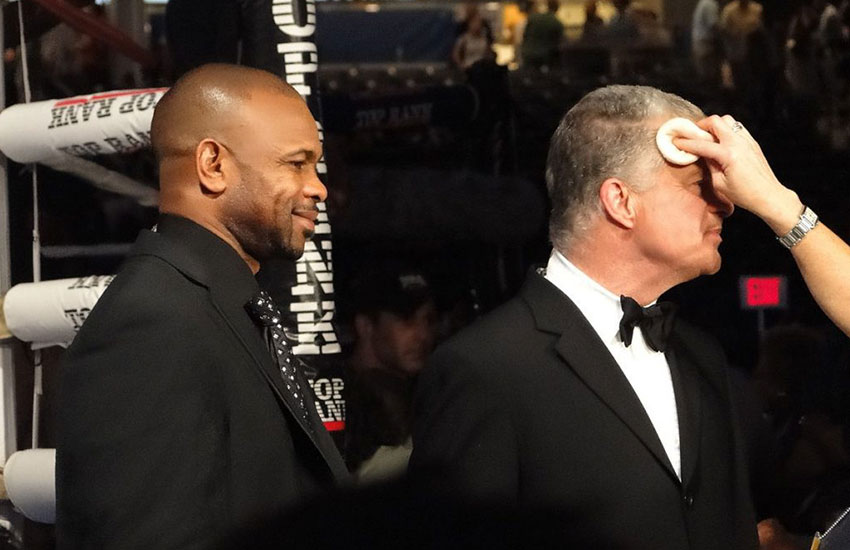 Even Superman was not wholly impervious to danger and the specter of defeat. Kryptonite could bring the Man of Steel to his knees. Greek mythology's Achilles was unconquerable in battle, but he could be brought down if struck with a strategically placed blow to an unprotected heel.
The only two boxers that longtime HBO blow-by-blow announcer Jim Lampley has observed who were so preternaturally gifted that they superseded the normal bounds of human excellence were the younger, nearly-perfect versions of Muhammad Ali and Lampley's current HBO broadcast partner, Roy Jones Jr. But each of those superheroes of the ring eventually encountered a relentless opponent that incrementally stripped away the insulating layers that had made them such very special fighters. It was not so much another living, breathing human being who served as the kryptonite that revealed their fallibility as the unseen thief that comes silently in the night, stealing tiny bits and pieces of their exquisite talent until only a shell of what had been remained.
On Feb. 8, in his hometown of Pensacola, Fla., the 49-year-old Jones (65-9, 49 KOs) presumably brings down the curtain on his 29-year professional boxing career when he takes on a carefully selected designated victim, Scott Sigmon (30-11-1, 16 KOs), in a scheduled 10-round cruiserweight bout. The plan is for Jones, a world champion in four weight classes and a surefire first-ballot International Boxing Hall of Fame inductee whenever he becomes eligible, to go out in a blaze of out-of-the-spotlight glory. But if boxing history tells us anything, it is that not everything goes according to plan even for those who have enjoyed the panoramic view from the summit of Mount Pugilism. Mike Tyson, 19 days from his 39th birthday, never fought again after he was stopped in six rounds by plodding Irishman Kevin McBride on June 11, 2005, and Bernard Hopkins, 29 days from his 52nd birthday, was finally obliged to acknowledge the natural laws of diminishing returns when he was knocked out in eight rounds by Joe Smith Jr. on Dec. 17, 2016.
"I have read reports that he is saying this will be his last fight and that's very encouraging and gratifying to me," Lampley said of his friend's farewell appearance, which by any reasonable criteria is coming a good dozen years after what should have been his career's optimal expiration date. "I don't know of a single soul in our little universe of boxing who wants him to keep doing this. We all know realistically that it's certainly of no value to his legacy as a fighter.
"I'd be lying if I said that I never once made a comment to him or tried to engage him in a conversation as to why he was still doing this. The last time I did so he made clear to me that, in his view, it wasn't something he had to defend to me. He was going to do what he was going to do and that within our friendship it was important for me to accept that. I accepted it. Probably five or six years have gone by since the last time I had a discussion with him about it."
The most revered gods of war are held to a higher standard than fighters of a lesser pedigree. It thus should come as no surprise that those members of boxing's most exclusive club are sometimes resistant to step away from something that always has defined them more than anything they could ever do outside of a roped-off swatch of canvas.
"You always think of yourself as the best you ever were," Sugar Ray Leonard, he of the four announced retirements that didn't stick, once said. "Even if money is not an issue, and you have other options, you never lose that belief in yourself as a fighter, particularly if you've been to the very top of the mountain. (Being retired) eats at you. It's hard to finds anything else that gives you that high."
Ali lost three years of his prime to his banishment for refusing to be inducted into the Army during the Vietnam War, but, unlike the stop-and-start Leonard, Jones' response to every warning sign that he was on the downward slope of that figurative mountain was to keep fighting on, all the while holding fast to the distinctive style he shared with Ali. It was those non-traditional mannerisms, which worked so spectacularly well when Ali and Jones were at their best, that sometimes produced disastrous results when their fundamental deficiencies were exposed.
"The direct comparison is Ali," Lampley said of the closest thing to Jones he has known, both in good times and not so good. "I've said a thousand times that there were only two fighters in the history of the sport, certainly since I've been watching boxing, whose physical talents were so overwhelming that they could take apart the tool kit and put it back together in any way they wanted – lead with a hook, lead with a straight right hand, dispense with the jab, back away from punches rather than duck and slip. Ali could do that for a while. Roy could do that for a while. But nobody can do that forever.
"That is why the tool kit is what it is, for normally talented human beings. It's your protection in the ring. For a long time Ali and Roy didn't need that protection. Then, when their bodies lost something and they weren't so overwhelmingly physically superior anymore, they didn't have that tool kit to protect them.
"The perfect and most graphic example is if you watch the first Roy Jones-Bernard Hopkins fight (on May 22, 1993). It's all Roy Jones. If you watch the second Jones-Hopkins fight (on April 3, 2010), that's all Bernard Hopkins. The difference is that, during the passage of time, Roy felt he never needed to employ the tool kit. Bernard, of course, was passionate about learning and amplifying and exercising everything in the tool kit. The amazing thing to me is that Roy knows the tool kit. He knows it as well as anybody. He demonstrates that as an expert commentator. He sits there and talks about what normal fighters should do, using the normal craft of boxing. But he never felt compelled to use any of that throughout his own career."
For some, the best of Roy Jones Jr. was on display the night he picked apart fellow future Hall of Famer James Toney to win a wide unanimous decision on Nov. 18, 1994. For others, it was his utter domination of Vinny Pazienza en route to scoring a sixth-round stoppage on June 24, 1995. The highlight of Jones' deconstruction of Paz was a sequence in which, holding onto the top ring rope with his right glove, he fired eight consecutive left hooks in a machine-gun burst, all eight connecting with the target's increasingly busted-up face. It was an expression of creativity akin to a musical genius who spontaneously reproduces the rhythm in his head only he can hear. Think Miles Davis at the Newport Jazz Festival, Ray Charles at the Apollo, Count Basie at Carnegie Hall.
Said Seth Abraham, then-president of HBO Sports: "George Foreman (who did color commentary for Jones-Pazienza) told me after that fight only Roy fights like a great jazzman plays. He improvises. He does riffs. I thought that was such an insightful way to describe Roy Jones."
For a majority of fight fans, however, the most lasting memory of Roy Jones Jr. came on March 1, 2003, when the man who began his pro career as a middleweight and won a world championship in that division, later adding super middleweight and light heavyweight titles, boldly moved up to heavyweight to challenge the much-larger but less-skilled WBA champion, John Ruiz. There was a school of thought that Ruiz was too big and strong for Jones and another that Jones' speed and mobility would surely carry the day because talent is usually a more precious commodity than size.
It was, of course, no contest as Jones – who went off as a 2-1 favorite — darted in and out, pounding on the bewildered Ruiz as if he were just another heavy bag in the challenger's Pensacola gym. The margins of victory on the official scorecards – eight, six and four points – scarcely reflected the level of Jones' dominance.
But, as is sometimes the case, the showcase conquest of Ruiz actually marked the beginning of the end of Jones as a larger-than-life source of wonderment. Curiously, at age 34 he elected to return to light heavyweight instead of a more sensible reduction to cruiserweight. While it had been a bit of a chore to bulk up the right way to 193 pounds for the weigh-in for Ruiz (he was 199 the morning of the fight), paring 20-plus pounds of muscle was infinitely more taxing. In retrospect, it now seems apparent that Jones was never the same after the happy glow of his rout of Ruiz had subsided.
"He took 31 pounds of muscle off (that figure might be a tad excessive) and that can't be done without a residue of damage," Lampley said. "It just can't be done, and he suffered from that, maybe permanently. I don't know what his thought process was, why he thought it was important to come all the way back down to light heavyweight. I certainly get it that he was never a natural heavyweight. For him to remain in the heavyweight division would have been an aberration. I guess he figured that, as a big-name fighter, for him to fight as a cruiserweight, which was not a prestigious weight class at the time, would be like saying, `I'm going to go over here in the back closet and fight where you won't see me.' Maybe that was an option that was not acceptable to him."
In his first post-Ruiz bout, Jones retained his light heavyweight titles on a disputed majority decision over Antonio Tarver. He followed that with a two-round TKO loss to Tarver in the second of their three fights, but that could be dismissed as a bolt of lightning that occasionally can fell even elite fighters. But it was in his next outing, on Sept. 25, 2004, against Glen Johnson, that it became apparent to all that Roy Jones Jr. had descended from on high into the ranks of the merely mortal. Johnson, a fringe contender whose willingness to mix it up superseded his good but hardly remarkable talent, gave Jones a taste of his own butt-kicking medicine until he literally knocked him cold to win on a ninth-round knockout.
For Lampley, it was like a repeat of another fight from another time, when Jones' magnificent stylistic predecessor suffered a similar head-on crash with boxing's crueler realities.
"The night that Ali fought Larry Holmes (Oct. 2, 1980, at Caesars Palace in Las Vegas) I heard – and I'll never forget it – the greatest single line of boxing commentary ever, and it came from someone who wasn't involved in boxing," Lampley recalled. "I was in the executive suite at ABC in New York, watching the fight, which was one of the sport's rites of passage. We all know the culture of boxing, the old giving way to the new. Ali vs. Holmes was just such a rite of passage. It had to happen the way it happened.
"In the late rounds, when Holmes was beating Ali to a pulp, I got a little jab to my rib cage. I looked to my right and it was Mick Jagger. Mick said to me, `Lamps, you know what we're watching?' And I said, `No, Mick, what are we watching?' He said, `It's the end of our youth.' And it wasn't just that for us, but for the whole audience."
The night that Jones, who once had towered over boxing as if he were the Colossus of Rhodes, was pummeled by Johnson, reminded Lampley as no fight ever had of Ali-Holmes. Nothing would ever be quite the same again.
"How else could a relatively ordinary fighter, albeit one with a big heart and a big motor like Glen Johnson, knock the great Roy Jones into next week the way he did? That was not the Roy Jones we had seen before. It was a different person."
But, as Sugar Ray Leonard noted, it is human nature to think of ourselves as the best we ever were. The Roy Jones Jr. who will answer the opening bell against Sigmon will have his hands low, leaning back from punches instead of stepping to the side, because that is who he was at his best. To do otherwise would be a concession to mortality, an acknowledgment that all glory is fleeting, and perhaps his last waltz around the ring will turn out better than it did for Tyson and for Hopkins. But whether it does or doesn't, his enshrinement into the IBHOF in Canastota, N.Y., is assured.
"What I don't understand is why, once the handwriting was on the wall – Glen Johnson, Danny Green, Denis Lebedev – why keep going after that?" Lampley said of Jones' refusal to leave the arena when so many were urging him to do so. "That's what I don't understand, and never will. He's never tried to explain it to me and I'm too respectful of him to have pressed the issue. I did at one point say to him, `I think you're hurting your legacy and you're not accomplishing anything here.' He basically said to me, `That's my business, not yours.' So I said, `OK.'
"When it comes right down to it, I think there's a part of Roy Jones who still thinks, and always will, that he's still that Roy Jones, despite all evidence to the contrary. And he's earned the right to think that way."
Check out more boxing news on video at The Boxing Channel.
Did Jennings' Loss Mark Arum's Last Hope to Again Taste Heavyweight Glory?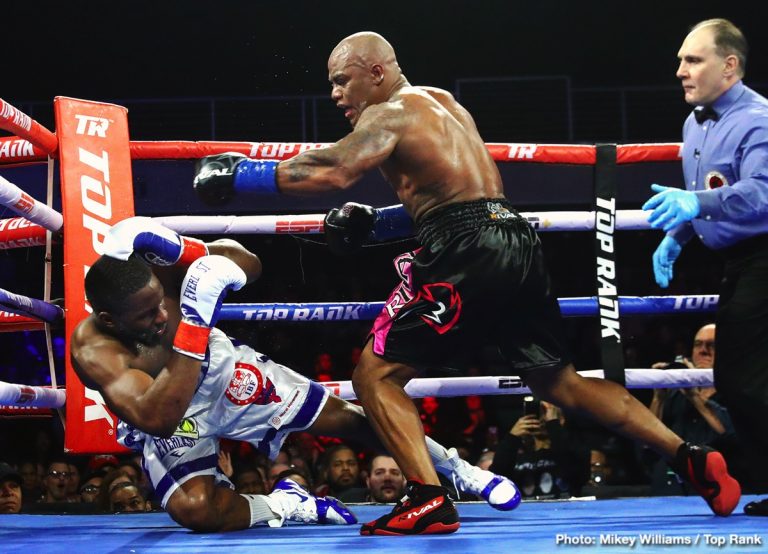 For someone who promotes two fighters who are widely considered to be the world's pound-for-pound best, what took place Friday night at the Turning Stone Resort & Casino in Verona, N.Y., had to be a somewhat bitter pill for Top Rank founder and CEO Bob Arum to swallow.
The good news for the 87-year-old Arum is that his fast-rising featherweight prospect Shakur Stevenson (10-0, 6 KOs), a silver medalist at the 2016 Rio de Janeiro Olympics, took another long stride toward possible superstardom with an impressive fourth-round stoppage of Filipino veteran Jessie Cris Rosales (22-2-1, 10 KOs) in the co-featured bout televised via ESPN+.
But while Stevenson could become a world champion in the 126-pound weight class as early as 2020, the reality is that the highly skilled little lefthander is not and never will be a heavyweight. Neither will lightweight champion Vasiliy Lomachenko or welterweight champion Terence Crawford, the current headliners of the Top Rank stable who already have outgrown a couple of lower-weight divisions but can never be heavyweights except in terms of their prodigious talent. Many knowledgable observers consider Lomachenko and Crawford, in whichever order, to be first and second among all fighters regardless of poundage, and certainly no worse than somewhere in the top three or four.
All of which means that the 12th-round technical knockout of Bryant "By-By" Jennings (24-3, 14 KOs) by underdog Oscar Rivas (26-0, 18 KOs) in the main event could eliminate any chance, however slim it might have been, of Arum having another heavyweight champion before he retires. Jennings, a relatively recent addition (in the summer of 2017) to the Top Rank stable who went in ranked No. 2 by the WBO, No. 7 by the WBA and No. 8 by the IBF, likely will fall out of the top 10 of all three sanctioning bodies. That might have been the case even had Jennings not fallen victim to Rivas' final-round surge. Although it appeared to the ESPN+ broadcast crew that the Philadelphian should have been comfortably ahead on points, he was on the wrong end of two of the three judges' scorecards and would have lost anyway if he somehow made it to the final bell.
Although Jennings  gave a credible account of himself in his only shot at a world title, losing a unanimous decision to IBF/WBA/WBO champion Wladimir Klitschko on April 25, 2015, his age is only one factor working against him now. There are simply too many hungry contenders standing between him and another shot at boxing's biggest prize.
Prior to Jennings' most recent bout before his meeting with Rivas, a ninth-round TKO of Russia's Alexander Dimitrenko last Aug. 18 in Atlantic City, N.J., his trainer, John David Jackson, offered his opinion as to why the Top Rank honcho would ride the "By-By" train as far as it would go before it derailed.
"I think Bob wants one more heavyweight champion," Jackson offered. "Yeah, he has a lot of great fighters, but if you have the heavyweight king, you rule boxing. It's still the most prestigious and marketable division in the sport. That's just how it works. And Bryant represents the last, best opportunity for Bob to get there before he retires."
Arum, a former member of U.S. Attorney General Bobby Kennedy's Justice Department in the early 1960s, has been promoting boxing matches – more than 2,000, and counting — for 52 years, and while some of his greatest successes have come with fighters from featherweight to middleweight, his promotional debut involved a heavyweight who was the biggest of them all. Introduced to Muhammad Ali by football great Jim Brown, Arum started at the very top, staging Ali's winning title defense against rugged Canadian George Chuvalo on March 29, 1966, at Toronto's Maple Leafs Garden. He would go on to promote 26 Ali fights, his most with any heavyweight.
"I didn't know boxing," Arum once said of his almost-accidental introduction to what would become his life's work. "I didn't even really know about divisions other than heavyweight. I only knew there were heavyweights. Then people started contacting me about promoting fighters in other divisions and believe me, it was a good four or five years after I started with Ali."
After Arum's long and fruitful association with Ali ended, he continued to build his company by showcasing such celebrated non-heavyweights as Carlos Monzon, Roberto Duran, Sugar Ray Leonard, Thomas Hearns, Marvelous Marvin Hagler, Julio Cesar Chavez, James Toney, Oscar De La Hoya, Floyd Mayweather Jr., Miguel Cotto and, of course, Lomachenko and Crawford. But Arum pined for another thrill ride with a heavyweight attraction as compelling as had been his heyday with Ali, or as close an approximation to that as possible.
He found it in the unlikely person of George Foreman, who had been retired for 10 years. Arum took a flier on the old and plump Foreman as his improbable comeback gathered momentum, although initially doubting that he and the presumably cheerier version of Big George would click.
"I was not enthusiastic, realizing what a horrid person he had been," Arum said of his expectation that Foreman's personality makeover was false and contrived. "After spending an hour with him I said, `This is the greatest con man in history,' because he was so different from what he had been before. But it wasn't a con. He had really changed."
It was one of Arum's, and Top Rank's, grandest moments when the 45-year-old Foreman, far behind on points, regained the heavyweight title he had relinquished to Ali so many years earlier with a one-punch, bolt-from-the-blue 10th-round knockout of Michael Moorer on Nov. 11, 1994. But Foreman took a pounding in getting a gift nod over Axel Schulz in his next outing, and he retired again after losing a controversial majority decision to Shannon Briggs on Nov. 22, 1997. Arum's dips into the heavyweight pool since then have been infrequent and generally less than satisfying. He has tried his hand to generate some of that old big-man magic with former champs Hasim Rahman and Ray Mercer, to no avail.
Top Rank's relatively low-risk co-promotional signings of Jennings and then-WBO heavyweight champion Joseph Parker, who promptly lost his unification matchup with Anthony Joshua, again have failed to produce the desired results. Last month Arum worked out a co-promotional deal with the management of Bulgarian veteran Kubrat Pulev. More recently he inked a new heavyweight hope in Sonny Conto, a 22-year-old from South Philadelphia who was the silver medalist at the 2018 National Golden Gloves. The 6-foot-4 Conto, who turns pro against the ever-popular opponent to be named on Feb. 8, is being called "a superstar in the making" by his manager, David McWater, and maybe he might turn out to be just that. But it takes time for a newly minted pro to work his way up to champion or even contender status, and by the time Conto gets there – if he gets there at all – it is hardly a given that an already octogenarian Arum will be around to savor the moment.
Until then, we'll all have to imagine what it might be like if there was a machine that could enlarge Lomachenko and Crawford by six or seven inches in height and a hundred pounds of heft.
Photo credit: Mikey Williams / Top Rank
Bernard Fernandez is the retired boxing writer for the Philadelphia Daily News. He is a five-term former president of the Boxing Writers Association of America, an inductee into the Pennsylvania, New Jersey and Atlantic City Boxing Halls of Fame and the recipient of the Nat Fleischer Award for Excellence in Boxing Journalism and the Barney Nagler Award for Long and Meritorious Service to Boxing.
Check out more boxing news on video at The Boxing Channel
To comment on this article in The Fight Forum CLICK HERE
Ringside at Turning Stone: Rivas TKOs Jennings; Stevenson Wins Impressively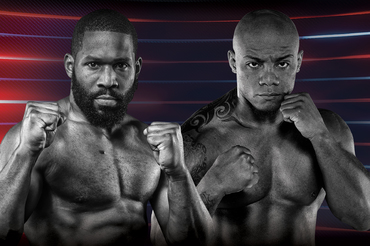 VERONA, NY — In the main event at Turning Stone Resort & Casino, Oscar Rivas (26-0, 18 KO's) scored a mild upset in stopping Bryant Jennings (24-3, 14 KO's) in the twelfth and final round of their heavyweight bout.
The fight was largely a tactical contest. Rivas was the aggressor pressing forward with Jennings circling and fighting off his back foot. Neither was throwing a high volume of punches.
In the first five rounds, Rivas' aggression seemed to be getting to Jennings. Rivas landed some solid eye catching combinations retreating Jennings, while Jennings was largely holding back on his own offense.
But in round six, Jennings started moving his hands more and began to seize control of the contest. He seemed to control the next few rounds by simply moving his hands, landing the left jab at will and following that up with combinations.
Rivas stemmed Jennings momentum in the eleventh by upping his aggression and letting go with more combinations. He seemed to realize the fight could be close and something dramatic could be needed on his end.
And that something dramatic came in round twelve. Rivas came out throwing and landed a thudding left hook on Jennings' chin that sent Jennings reeling backwards. Rivas quickly followed up on his advantage and after landing several power shots put Jennings down on the canvas. Jennings made it to his feet but was met quickly with a fusillade of punches from Rivas. With Jennings unable to protect himself, referee Gary Rosato waived the fight off.
Interestingly, Rivas was ahead on two cards by scores of 105-104 and 106-103 entering the twelfth round. The other card was in favor of Jennings by a margin of 106-103.
In the co-feature, featherweight prospect Shakur Stevenson (10-0, 6 KO's) displayed all the skills that make him one of boxing's best prospects in dispatching of Jessie Cris Rosales (22-2-1, 10 KO's) in round four of their scheduled ten round fight.
Rosales was considered to be a significant step up in class for Stevenson, but from the opening bell it was apparent that Rosales had no answer for Stevenson's speed. Stevenson, a 2016 Olympic silver medalist, came out pumping an effective sharp right jab from his southpaw stance. He then worked some blistering combinations behind that jab.
As the fight progressed into round three, Stevenson mixed in some flashy short quick uppercuts on the inside along with some thudding body shots that seemed to be wearing down the tough Rosales.
Early in round four, Rosales connected with a looping right that made Stevenson flash a quick grin. Shortly after, Stevenson let his hands go, landing some eye-popping combination that put Rosales in trouble along the ropes. A quick short left hand then planted Rosales on the canvas and though he beat the count referee Charlie Fitch wisely waived a halt to the contest.
Afterwards, Stevenson called out IBF featherweight champion Josh Warrington.
2016 Olympic gold medalist Robson Conceicao (11-0, 5 KO's) coasted to an easy unanimous eight round decision win against Hector Ambriz (12-9-2, 6 KO's) in a 130-pound contest. This marked the third straight eight round decision win for Conceicao.
Veteran 130-pound contender Jason Sosa (22-3-4, 15 KO's) survived a second round knockdown and scored a ten round unanimous decision win against Moises Delgadillo (17-19-2, 9 KO's). After some early struggles, Sosa rallied to control the second half of the fight including scoring a knockdown of his own in round seven to secure the hard fought victory.
Two-time Olympian Vikas Krishan (1-0, 1 KO) made a successful debut stopping Steven Andrade in the second round (3-4, 2 KO's) of their 154-pound contest. Krishan, from India, scored a knockdown with a left to the body in round two and then battered Andrade forcing referee Benjy Esteves to stop the bout.
Fazliddin Gaibnazarov (7-0, 4 KO's), a 2016 Olympic gold medalist, scored a TKO win against Ricardo Garcia (14-5-1, 9 KO's) when Garcia failed to answer the bell to start round five. Gaibnazarov, who competes in the 140-pound division, dominated the bout from the opening bell including scoring a knockdown in round three before the contest was called to an end.
In the opening bout of the night, Carlos Adames (16-0, 13 KO's) stopped Juan Ruiz (21-4, 13 KO'S) with a right hook to the body in the third round of their junior middleweight contest.
Check out more boxing news on video at The Boxing Channel
To comment on this story in The Fight Forum, CLICK HERE
Fast Results From New York City: Andrade TKOs Akavov; Cano Shocks Linares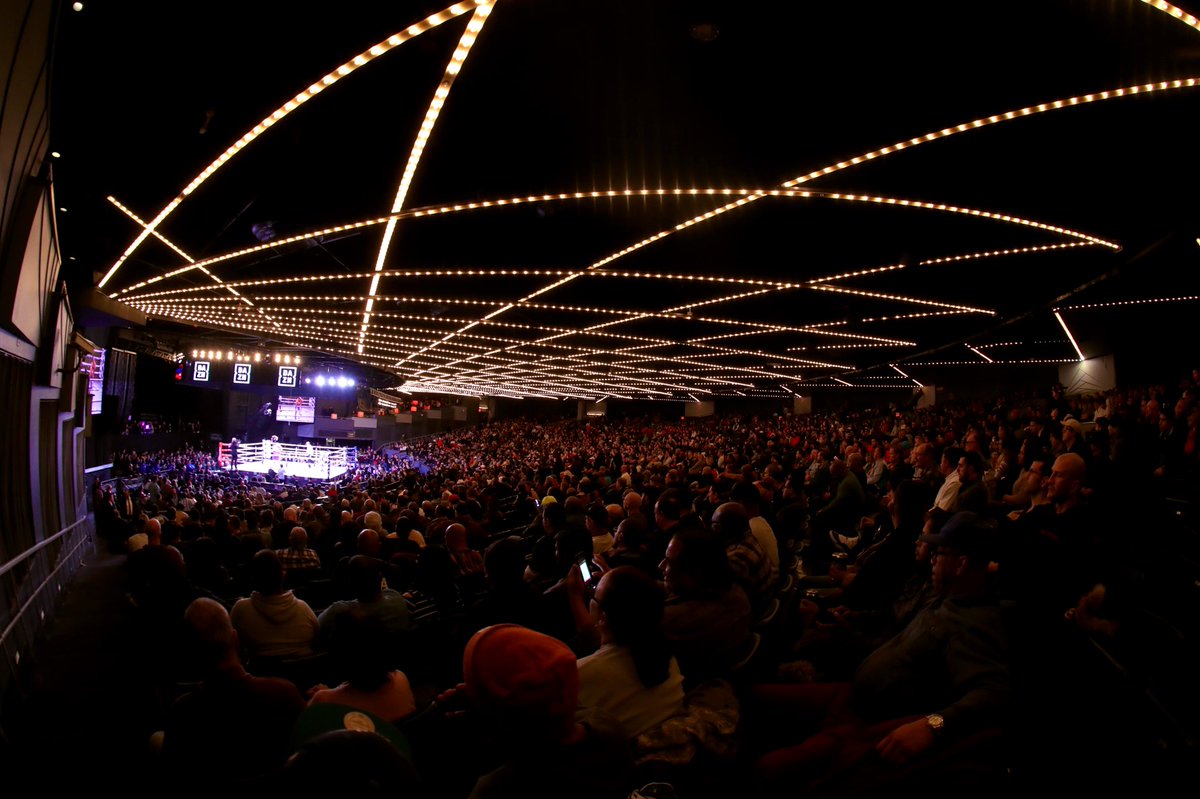 Eddie Hearn, the head of the boxing division of the U.K. sports conglomerate founded by his father, continued his invasion of the United States tonight with a nine-bout show in the Hulu Theater of Madison Square Garden. The featured bouts were live-streamed across the globe on DAZN and shown on SKY Sports Arena in the United Kingdom. Topping the bill was the WBO world middleweight title match between Demetrius Andrade and challenger Artur Akavov.
Andrade-Akavov
Andrade, a 2008 Olympian from Providence, R.I., successfully defended his title and advanced his record to 27-0 (17) with a 12th round stoppage of his game but outclassed Russian opponent. Akavov  (19-3) was on his feet when the referee ordered a halt with 24 seconds remaining in the bout. Akavov, who ate a steady helping of jabs, wasn't badly hurt but was hopelessly behind on the cards.
Cano-Linares
The co-feature, a junior welterweight attraction, produced a shocking upset when Mexico's Pablo Cesar Cano (38-7-1) walked right through former three-division title-holder Jorge Linares (45-5), taking the globetrotting Venezuelan out in the very first round. Linares, who was considered a borderline Hall of Famer going in, was knocked to the canvas 20 seconds into the fight and was on the deck three times before the referee called a halt at the 2:45 mark.
Doheny
In the first defense of his IBF world 122-pound title, TJ Doheny was fed a softie in Yokohama schoolteacher Ryohei Takahashi. A massive favorite, Doheny (20-0, 15 KOs) was comfortably ahead on points when the referee intervened in round 11 to keep the Japanese import (16-4-1) from taking a worse beating. Doheny's next match, according to Eddie Hearn, will be a unification fight against WBA counterpart Danny Roman.
Other Bouts
In a 10-round match contested at 140 pounds, Chris Algieri, briefly a title-holder in this weight division, scored his second win on the comeback trail with a unanimous decision over former sparring partner Daniel Gonzalez. The scores were 98-92, 97-93, and 96-94. Algieri (24-3) faded late and left the ring to a chorus of boos. Gonzalez slipped to 17-2-1.
Amanda Serrano made short work of her Austrian opponent, Eva Voraberger, taking her out in the opening round to gather in the vacant WBO world female super flyweight title. Serrano improved her ledger to 36-1-1 with her 27th knockout. She came in at 114 ½ pounds, having previously weighed as high as 130, and was seeking to become a title-holder in a seventh weight class.
Serrano knocked Voraberger (24-6) to her knees with a right-left combo and Voraberger, who was in severe pain, made no attempt rise. Forget those seven title belts; this young Brooklyn-based Puerto Rican can really fight.
In a welterweight match slated for six rounds, Julian Sosa, who has a large fan base in Brooklyn's Mexican-American community, stopped Congolese import Deiumerci Nzau who retired on his stool after three frames. Sosa improves to 13-0-1 (5), Nzau falls to 11-7.
Heavyweight Nkosi Solomon evened his record at 1-1 and rebounded from a dismal performance in his pro debut with a 4-round unanimous decision over Rodriguez Cade (2-4). Solomon dropped his puffy opponent in the third round and won by scores of 40-35 on all three cards.
Staten Island's Reshat Mati (3-0) needed only 66 seconds to turn back Ghana's Benjamin Borteye (4-4). Mati came out smoking and scored a fast knockdown. Borteye beat the count but was on unsteady legs when the referee intervened. You will be hearing a lot more of the 20-year-old Mati, nicknamed the Albanian Bear, who was a teenage prodigy in multiple combat sports.
In the opening bout of the evening, a welterweight affair, Cornell Hines improved to 4-0 with a 4-round unanimous decision over Salt Lake City's Farhad Fatulla (1-3).
Check out more boxing news on video at The Boxing Channel
To comment on this story in The Fight Forum, CLICK HERE