Philly Guys Jennings and Hart Take Different Paths to TKOs in Atlantic City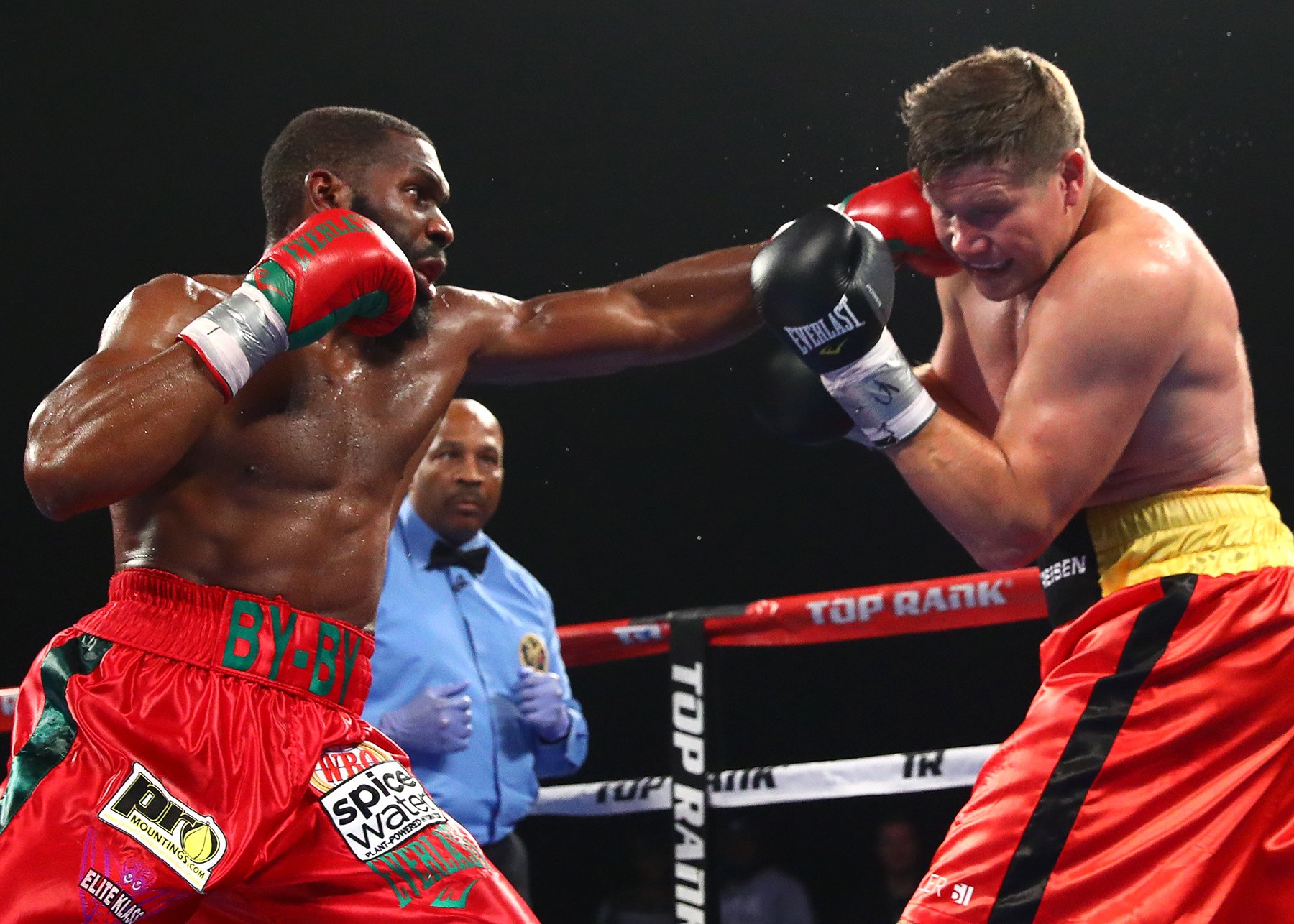 ATLANTIC CITY, N.J.—Heavyweight Bryant Jennings and super middleweight Jesse Hart are from the same hardscrabble North Philadelphia neighborhood, but their methods of attaining the desired result can hardly be described as similar. The more cerebral Jennings, a vegan who years ago swore off red meat, prefers the strategic approach, patiently taking his time to execute a fight plan and waiting to capitalize on openings in an opponent's defense that don't always come early or often. Hart, son of 1970s Philly knockout artist Eugene "Cyclone" Hart, has much of his dad's trademark eagerness to take care of business as quickly and emphatically as possible. He fights with the impatience of a man whose hair is on fire, or with the realization he is double-parked outside the arena and the meter maid is just down the street.
But circumstances have a way of rewriting a prepared script on the fly, which is why Jennings, on the wrong end of a flash fourth-round flooring by the very large Alexander Dimitrenko, fought with a heightened sense of urgency in registering a ninth-round technical knockout in the main event of Saturday night's Top Rank on ESPN card in Ovation Hall at the Ocean Resort Casino, formerly known as the Revel. He dropped the 6-foot-7, 257-pound Dimitrenko twice in the eighth round, and finished off the 20-1 underdog with a ripping right uppercut that sent him crashing to the canvas again in the climactic ninth. Although Dimitrenko beat the count, referee Al Huggins stepped in and waved the bout to a conclusion after an elapsed time of one minute, 56 seconds, to the displeasure of many of the 2,543 spectators in attendance as well as Dimitrenko, who vainly argued that he was fighting back and the stoppage was premature.
"I was in the fight," complained Dimitrenko, 36, who held advantages of four inches in height and 32 pounds over the 33-year-old, more-sculpted Jennings. "I wanted to continue. I don't know why the referee stopped it."
All signs, however, pointed to the ending being the same had Huggins delayed a bit before stepping in. After Dimitrenko sent a surprised Jennings onto one knee with an overhand right in the fourth round, it was if a message had been sent and received by the Philadelphian and his trainer, John David Jackson, that it might be time to ratchet up the pressure to thwart any possibility of an upset being sprung.
"I was prepared for a tough 12 rounds," Jennings (24-2, 14 KOs) allowed. "I did what I had to do. I was in great shape. He's a big dude, and he's not as slow as I thought. I made adjustments and got the job done."
The long odds against Dimitrenko (41-4, 26 KOs) might have owed in part to the fact that the card was loaded with Philly-area fighters, all of whom seemed to bring their own cheering sections of fans who no doubt laid down some wagers in the casino's newly opened sports book. In addition to Jennings and Hart (25-1, 21 KOs), who dismissed Mike Gavronski (24-3-1, 15 KOs) in three one-sided rounds, other winners included Philly bantamweight Christian Carto (16-0, 11 KOs), Camden, N.J., lightweight Jason Sosa (21-3-4, 15 KOs), Allentown, Pa., lightweight Joseph Adorno (9-0, 9 KOs) and Atlantic City super welterweight homeboy Thomas "Cornflake" LaManna (26-2-1, 9 KOs). In the top non-televised undercard bout, but one that was available via the ESPN+ app, 2016 Olympic silver medalist Shakur Stevenson (8-0, 4 KOs), from Newark, N.J., played it safe in pitching a dull eight-round shutout at Mexico's Carlos Ruiz (16-5-2, 6 KOs).
Top Rank has down-the-road hopes for Jennings, who came away not only with Dimitrenko's IBF International championship but also the vacant NABO title. But those fringe belts are worth little except maybe to hold Jennings' pants up. What Jennings seeks is another shot at a widely recognized world title, his only previous bid for such coming on a unanimous-decision loss to IBF/WBA/WBO champ Wladimir Klitschko on April 25, 2015. Some would say he had a second crack at the big prize, losing to Luis Ortiz on a seventh-round TKO eight months after his points loss to Klitschko, but that was for an "interim" world title from the shameless WBA, which dispenses bejeweled belts as if they were gumballs from a convenience-store machine.
To hear Jackson tell it, Jennings might need another  three or four "learning-experience" bouts against an increasingly higher caliber of opposition before he is fully primed to test himself against the division's best of the best, the current kings of the heavyweight ring IBF/WBA/WBO champ Anthony Joshua and WBC ruler Deontay Wilder. Jackson had said that he hoped Jennings would display a more effective inside game against Dimitrenko, and that exclamation-point uppercut – a weapon best utilized at close quarters – suggests another passing mark.
Punch statistics compiled by CompuBox, never the most accurate gauge of what transpires inside the ropes, were conclusive enough as Jennings found the target on 122 of 284, an impressive 43 percent, with Dimitrenko landing just 47 of 256, or 18.4 percent.
"In the fifth and sixth I had to grab the momentum back," Jennings said. "I sensed him tiring. I didn't get a chance to counter the way I wanted to, but I think tonight I (would have) beat Ortiz."
Hart would not appear to require any more learning experiences to get what he most seeks, which is a rematch with the only man to defeat him, WBO 168-pound champ Gilberto "Zurdo" Ramirez (38-0, 25 KOs), who won a close unanimous decision on Sept. 22, 2017. Since both Hart and Ramirez are promoted by Top Rank, and Hart is already ranked No. 1 by the WBO, a do-over would seem to be in order, but Hart claims the champion is intentionally dragging his feet.
"That's who I want," Hart said when asked if he is targeting Ramirez. "Give me a chance to redeem myself. He's talking about moving up to 175. Why? I'm right here! Come on, man. Stop with the excuses. I'm right here in front of you."
Also in front of Hart, but not for long, was Gavronski, a 32-year-old from Tacoma, Wash., whose impressive record looks better on paper than it did in the ring. After Hart wobbled Gavronski with an overhand right in the opening round of the scheduled 10-rounder, the outcome was not so much a matter of "if" as "when."
"When I looked at his eyes after the first knockdowns (of two, both coming in the third round), he got real scared," Hart assessed. "He started holding, grabbing. He was fighting for survival.
"After that first round, when I hurt him, he wasn't committing to any of his punches. That's why I was walking straight to him. I was, like, `C'mon, fight!' When I hit a guy, his whole reaction changes."
Arguably the most entertaining bouts, in terms of two-way action, were Carto's eight-round unanimous decision over 35-year-old Mexican Javier Gallo (25-16-1, 13 KOs), who took everything the more talented winner threw at him and tossed some right back at him. In the walkout bout, Sosa got nearly as good as he got from uppercut-tossing Puerto Rican Reynaldo Blanco (14-5, 8 KOs), but the two knockdowns Sosa registered in the eighth and final round eliminated whatever suspense might have been on the scorecards through seven.
In other bouts, Toronto, Canada-based Ukrainian heavyweight Oleksandr Teslenko (14-0, 11 KOs) floored Avery Gibson (9-9-4, 3 KOs) in the first round en route to a clinch-filled six-round unanimous decision; Adorno needed only 99 seconds to blast out Agustine Mauras (6-5-3, 3 KOs) in the first round, and LaManna notched an eight-round UD over the willing Matthew Strode (25-7, 9 KOs), of Marion, S.C.
Check out more boxing news on video at The Boxing Channel
Bohachuk KOs Unlucky Number 13 in Hollywood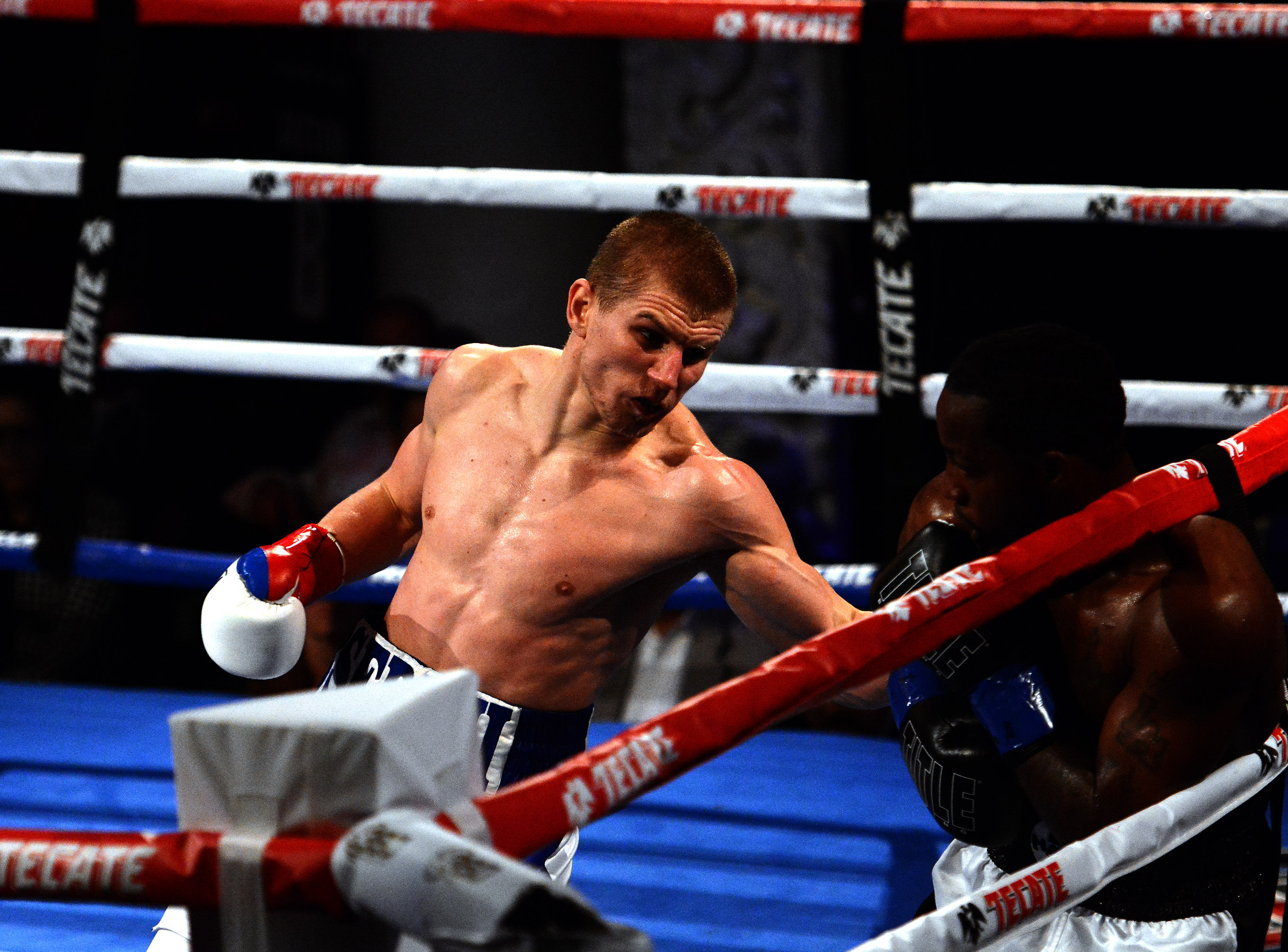 HOLLYWOOD, Calif.-Super welterweight prospect Serhii "El Flaco" Bohachuk (13-0, 13 KOs) disposed of local urban legend Cleotis "Mookie" Pendarvis with nary a sweat in less than four rounds on Sunday evening at the Avalon Theater before a sold out crowd.
Bohachuk remained undefeated and continued his knockout streak with Pendarvis (21-5-2, 9 KOs) the victim. Aside from the main event, the 360 Promotions card was stacked with competitive action.
Bohachuk, 23, trained expecting an easy fight especially knowing that Pendarvis lacked firepower. But sometimes firepower is not all that important.
"He only had nine knockouts," said Bohachuk, who trains with Abel Sanchez and Max Golovkin (Gennady's twin) in Big Bear, Calif. "It was easy fight."
The young Ukrainian felt it was easy but Pendarvis still unleashed several Cracker Jack combinations that caught Bohachuk flush. If only Pendarvis had power there might have been a different result.
Bohachuk floored Pendarvis in the first round with a left hook dug into the liver of Pendarvis and down he went. He resumed the fight but was visibly worried.
In the second round Mookie unleashed some of his magic with a sizzling left uppercut left cross combination that stung Bohachuk for a split second. Then he followed that with a sneaky overhand left and a right hook combination that seemed to come out of the dark. But without power behind those blows, Bohachuk remained in control.
Bohachuk regained total control in the third round and floored Pendarvis with a left hook bomb that immediately dropped him to the ground. The round ended seconds later and seemingly allowed Pendarvis to escape, but at seven seconds into the fourth round Pendarvis told the referee he could not continue and the fight was stopped.
"I wanted the fight to go longer," Bohachuk said.
A super middleweight match saw Ali Akhmedov (13-0, 10 KOs) defeat Sacramento's Mike Guy (9-4-1) by decision after eight rounds. All three judges scored it for Akhmedov who struggled with Guy's stop and go style.
Kazakhstan's Meiirim Nursultanov (11-0, 8 KOs) out-worked Luis Hernandez after eight rounds in a middleweight clash to win by unanimous decision.
Other Bouts
A lightweight clash between Mario Ramos (8-0) and Arnulfo Becerra (7-2) started slowly for two rounds then erupted into a bloody war for the remaining four rounds. Becerra caught Ramos repeatedly with three and four-punch combinations but Ramos always retaliated back. The crowd roared at the action that saw both suffer cuts and bruises to each other's face that did not discourage more blows. Ramos was deemed the winner by decision.
"He pushed me into a war," said Ramos of Becerra. "That's what fans want."
Other winners on the fight card were Devon Lee (7-0), Adrian Corona (4-0), Christian Robles (3-0), George Navarro (5-0-1) and Timothy Ortiz by knockout in his pro debut.
In attendance were actor Mario Lopez, WBC minimum weight titlist Louisa Hawton, European champion Scott Quigg and others.
"They'll be appearing on our future shows this year," said Tom Loeffler of 360 Promotions.
Photo credit: Al Applerose
Check out more boxing news on video at The Boxing Channel
To comment on this story in The Fight Forum CLICK HERE
Fast Results from Oxon Hill: The Peterson Brothers Fail to Deliver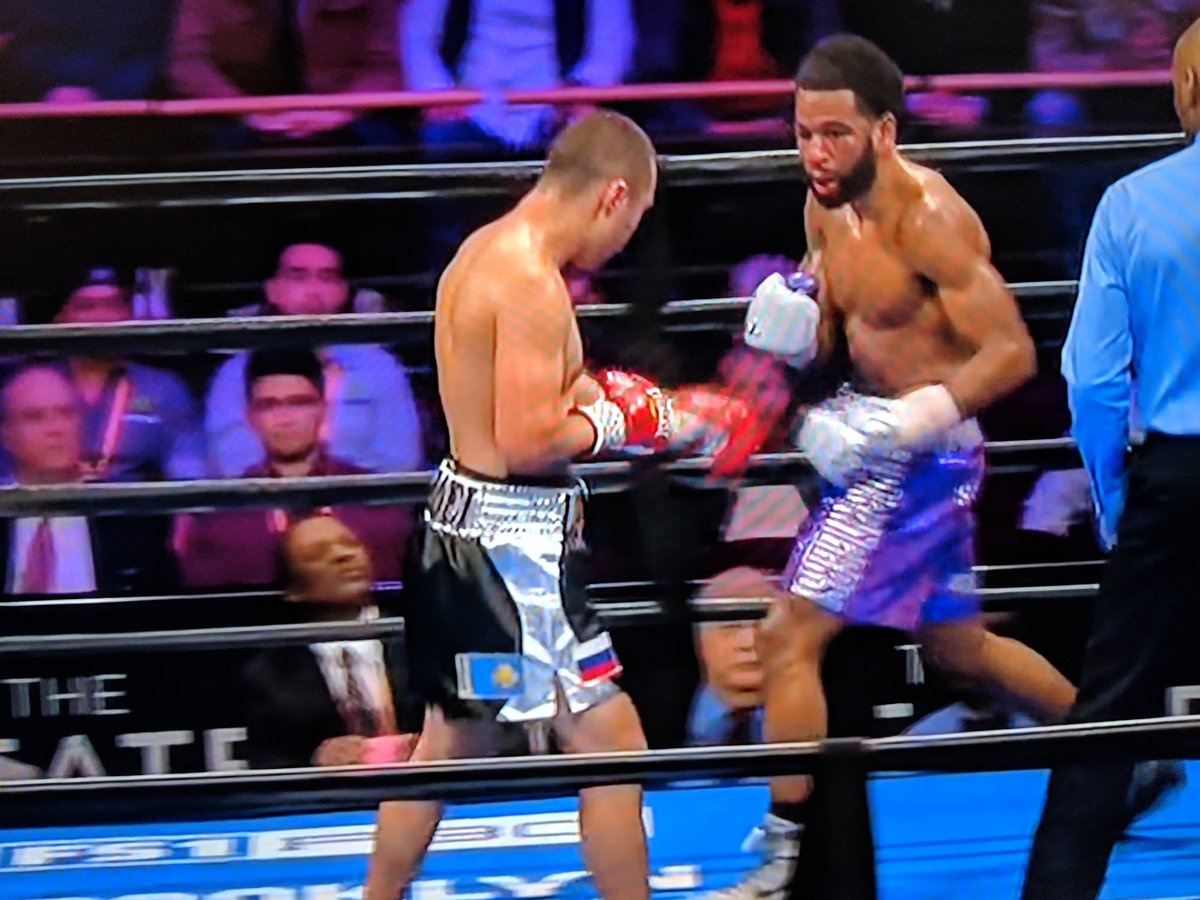 The story of boxing's Peterson brothers, Lamont and Anthony, has been well documented. Growing up in Washington, DC, they were often homeless. Then Barry Hunter came into their life. A carpenter by trade, Hunter coached amateur boxing at a local rec center. He took the brothers in when Lamont, the older by 13 months, was only 10 years old and he's been with them ever since, a rarity in a sport where some boxers seemingly change trainers more frequently than they change their underwear.
Today the brothers, who turned pro on the same card in 2004, appeared in the featured bouts of a Premier Boxing Champions show at the MGM National Harbor casino resort in Oxon Hill, Maryland, a stone's throw across the Potomac from their old stomping grounds. And they were well-matched. Both of their fights were near "pick-'em" affairs with the invaders the slightest of favorites.
Welterweight Lamont Peterson, a former two-division champion coming off a bad loss to Errol Spence Jr, was pitted against Sergey Lipinets, briefly a 140-pound title-holder coming off a loss on points to Mikey Garcia. Peterson was seemingly ahead on the cards through several frames, but one big punch, a straight right hand by Lipinets in round eight, turned the momentum in his favor.
The end came two rounds later when Lipinets hurt Peterson with on overhand right and followed up with an assault that sent the DC man down hard. Peterson arose on spaghetti legs but it was a moot point as his corner tossed in the white flag almost as soon as he hit the canvas. The official time was 2:59 of round 10.
After the fight, in an emotional moment in the ring, Peterson announced his retirement. If he holds tight to this decision, he will leave the sport with a 35-5-1 record. Sergey Lipinets, a kickboxing champion before he took up conventional boxing, improved to 15-1 with his 11th win by stoppage. Overall it was a good action fight with a high volume of punches thrown.
The co-feature, a 10-round junior welterweight contest between Anthony Peterson (37-1-1, 1 ND) and former IBF 130-pound champion Argenis Mendez (25-5-2) ended in a draw. The decision was unpopular with the pro-Peterson crowd but met the approval of the TV commentators and likely most everyone tuning in at home.
Both fought a technical fight. Peterson did most of the leading and seemingly had the fight in hand going into the late rounds where Mendez did his best work. There were no knockdowns or cuts, but Peterson suffered severe swelling over his left eye. The last round was the best with Mendez fighting with more urgency, perhaps out of fear that he would be victimized by a hometown decision.
Anthony Peterson was making his first start since January of last year when he coasted to an easy decision over Eduardo Florez, a decision later changed to a no-contest when Peterson tested positive for a banned substance.
In the swing bout, an entertaining 10-round contest in the 154-pound weight class, Cincinnati's Jamontay Clark (14-1) overcame a rough patch in the third round to score a unanimous decision over Chicago's Vernon Brown (10-1-1). The scores were 95-94 and 96-93 twice. At six-foot-two, the rangy Clark had a 7-inch height advantage.
Check out more boxing news on video at The Boxing Channel
To comment on this article in The Fight Forum CLICK HERE
Pulev Wins Heavyweight Clash and Magdaleno Bests Rico Ramos in Costa Mesa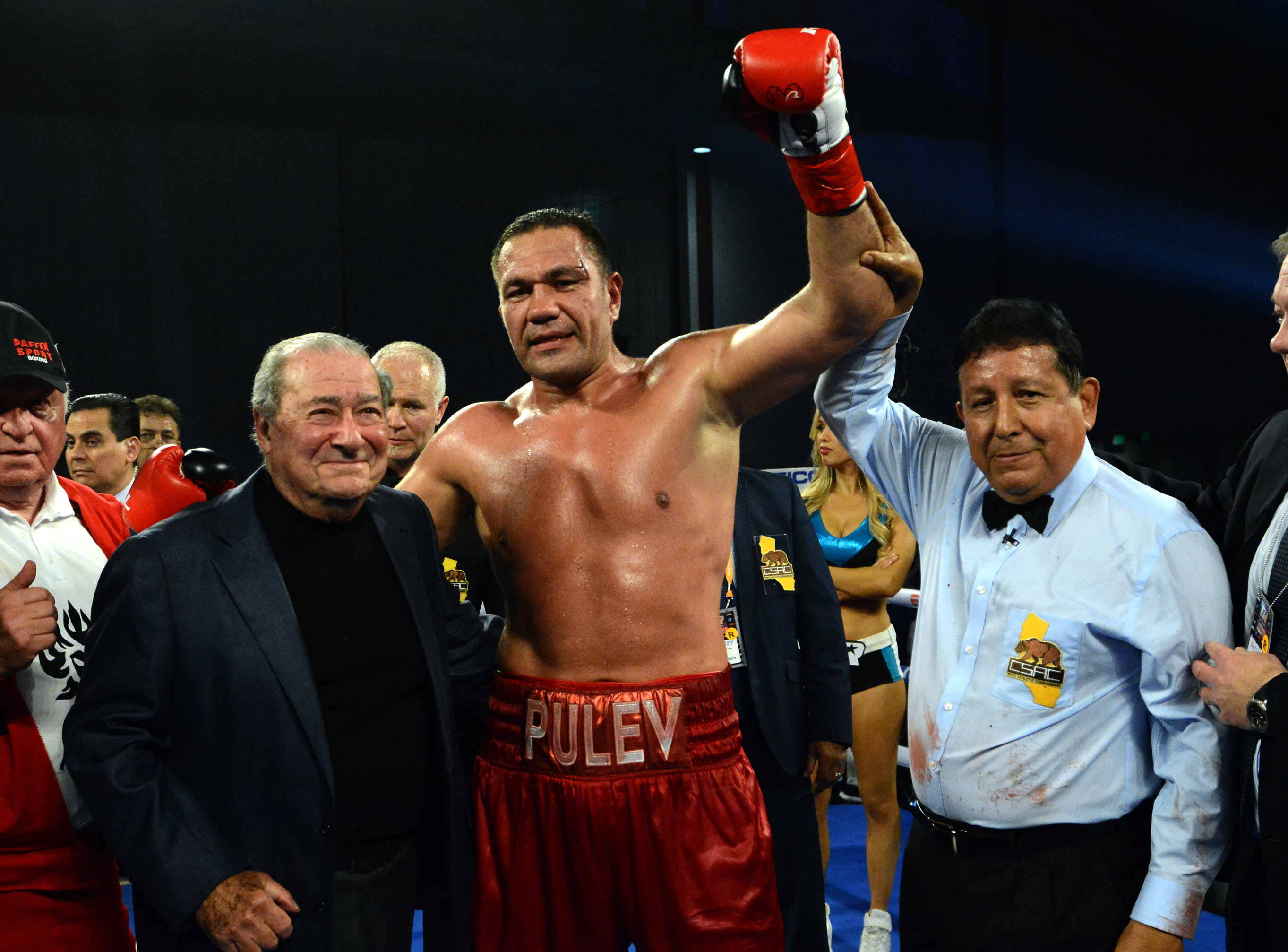 COSTA MESA, Calif.-Eastern European heavyweights slugged it out in Orange County with Kubrat Pulev scoring a knockout win over Bogdan Dinu on Saturday evening. The win keeps him in line for a possible showdown with Top Rank's newly signed Tyson Fury.
After a slow start the Bulgarian heavyweight Pulev (27-1, 14 KOs) scored the knockout win over Romania's Dinu (18-2, 14 KOs) before a large supportive audience who arrived with Bulgarian flags and hats at the OC Hangar in Costa Mesa.
Until the fifth round the action lacked with both heavyweights not eager to fire. But an angry exchange of blows by Dinu saw Pulev emerge with a cut over his left eye. It also opened up the action between the European heavyweights.
Pulev increased the pressure and caught Dinu in the neutral corner where he unloaded right after right on the ducking Romanian fighter who dropped to a knee and was hit behind the head with a blow. The knockdown was ruled down by an illegal punch and a point was deducted from Pulev.
It didn't matter. The Bulgarian heavyweight proceeded to unleash some more heavy rights and down went Dinu again. The Romanian fighter beat the count and was met with more right hand bombs and down he went for good this time at 2:40 of the eighth round. Referee Raul Caiz ruled it a knockout win for Pulev.
"Sometimes its good and sometimes it's bad," said Pulev about his actions in a heavyweight fight. "Sometimes blood makes me very angry."
Dinu felt that illegal blows led to his downfall. But the winner Pulev was satisfied.
"It doesn't matter, I was prepared and really good in this moment. I think I was very good boxing today and showed good punching today," Pulev said.
Former champions
An expected battle between flashy ex-super bantamweight world champions didn't deliver the goods as Jessie Magdaleno (26-1, 18 KOs) defeated Rico Ramos (30-6, 14 KOs) by unanimous decision after 10 rounds in a featherweight contest for a vacant WBC regional title.
A tentative Magdaleno was cautious and deliberate against Ramos who seemed to be stuck in slow motion for the first half of the fight. Behind some lefts to the body and snappy combinations Magdaleno mounted up points for six rounds.
Ramos stepped up the action in the seventh round and began stepping into the danger zone while delivering some threatening combos inside. Magdaleno resorted to holding and moving as the action shifted in Ramos's direction.
But it was never enough as Ramos seemed to lack pep. The last two rounds saw Ramos engage with Magdaleno but neither landed the killing blows. After 10 rounds all three judges saw the fight in favor of Magdaleno 97-93, 98-92, 99-91 who now holds the WBC USNBC featherweight title.
"It was a long layoff and I took a fight against a tough, tough veteran and former world champion," said Magdaleno, whose last fight was the loss of the WBO super bantamweight title to Isaac Dogboe last May. "Got to go back to the drawing board. I boxed as good as I could, he's just a tough fighter."
Other Bouts
Max Dadashev (13-0, 11 KOs) was dropped in the second round by muscular Filipino southpaw Ricky Sismundo (35-13-3, 17 KOs) and had a look of surprise. He turned it up in the third round and caught Sismundo rushing in with a slick counter left-right combination on the button. Sismundo was counted out by referee Tom Taylor at 2:30 of the third round of the super lightweight clash.
Former Olympian Javier Molina (19-2, 8 KOs) had a rough customer in Mexico's Abdiel Ramirez (24-4-1, 22 KOs) who never allowed him space to maneuver in their super lightweight match. After eight close turbulent rounds Molina was given the decision by scores 78-74 twice and 79-73.
South Africa's Chris Van Heerden (27-2-1, 12 KOs) thoroughly out-boxed Mexico's Mahonry Montes (35-9-1, 24 KOs) until a clash of heads erupted a cut over his right eye. The fight was stopped in the sixth round and Van Heerden was given a technical decision by scores 60-54 on all three cards.
Welterweights Bobirzhan Mominov (10-0, 8 KOs) and Jonathan Steele (9-3-1, 6 KOs) slugged it out for six back and forth rounds at high intensity. There were no knockdowns but plenty of high level stuff going on. The bigger Mominov had the advantage and tried to take out Mitchell, but the smaller welter from Texas was just too tough and skilled to be overrun. Judges scored it 59-54 three times. Good stuff.
Detroit's Erick De Leon (19-0-1, 11 KOs) survived a knockdown in the fifth and rallied to win by technical knockout over Mexico's Jose Luis Gallegos (16-6, 12 KOs) in the seventh round of a lightweight clash. A barrage of unanswered blows by De Leon forced referee Ray Corona to halt the fight at 1:55 of the seventh round.
L.A.'s David Kaminsky (4-0, 2 KOs) out-pointed rugged Arizona's Estevan Payan (1-7-1) to win by unanimous decision after four round in a middleweight contest.
Tyler McCreary (15-0-1, 7 KOs) fought to a draw with Mexico's Roberto Castaneda (23-11-2) after six rounds. He got all he could handle from the Mexicali featherweight as both traded blow for blow throughout the contest. It was good experience for the young McCreary who looked good but tried too hard to take out the hard headed Castaneda.
Eric Puente (2-0) beat Alejandro Lopez (1-4) by decision after four rounds in a lightweight match by 39-37 scores all three cards. It was a very close match with little separation between the two.
Photo credit: Al Applerose
Check out more boxing news on video at The Boxing Channel
To comment on this story in The Fight Forum CLICK HERE