Sports World Loses Another 'Ambassador of Niceness' in Dave Anderson
In 1965 singer Jackie DeShannon had one of her biggest hits with a song entitled "What the World Needs Now is Love." Well, the world still needs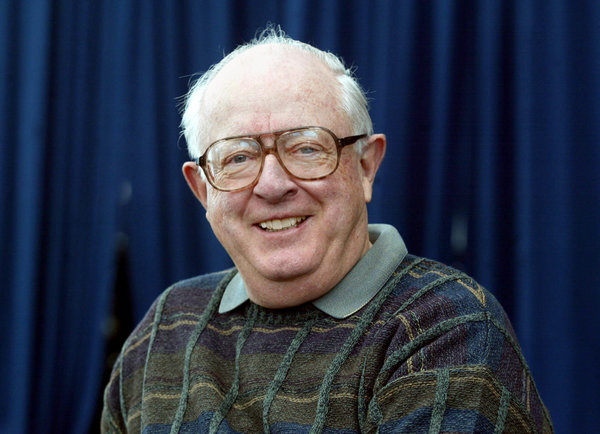 In 1965 singer Jackie DeShannon had one of her biggest hits with a song entitled "What the World Needs Now is Love." Well, the world still needs that, maybe more than ever. But while love remains in short supply, the cavernous void can be filled to some extent with another seemingly diminishing quality: niceness.
Just six days after boxing's nicest and most widely beloved gentleman, Northern California promoter Don Chargin, took the eternal 10-count at 90, having grudgingly been outpointed by lung and brain cancer, the sports world was rocked by the news that another ambassador of niceness, Pulitzer Prize-winning former New York Times columnist Dave Anderson, had died on Thursday, Oct. 4, at an assisted-living facility in Cresskill, N.J. He was 89 and had been in failing health for several years.
But while those who knew them both, or at the very least admired them from afar, might acknowledge that they departed after long and well-spent lives, there remains a shroud of sadness that has descended on an American civilization that is becoming distressingly uncivil. Simply put, Chargin and Anderson cannot be replaced because they were throwbacks to another, almost-forgotten time when respect, courtesy and, yes, niceness humanized their ability to do their jobs with towering competence yet scarcely a trace of rancor.
Chargin, fight people know about, having been a licensed promoter in his home state for a record 69 years, during which he came to be nicknamed "War a Week" for the quality and quantity of bouts he staged on the Left Coast. But Anderson is probably more widely recognized, even in boxing circles, because of the huge platform afforded him by his Times column, elegant prose and the fact he was probably at ringside for nearly every truly major fight that took place anywhere on the planet for over five decades, until his retirement in 2007.
"I never heard anybody ever say anything bad about Dave, or him say anything bad about anybody, and we went just about everywhere," Jerry Izenberg, 88, the columnist emeritus for the Newark Star-Ledger, said of his frequent traveling partner. "We went to the Philippines together (for Muhammad Ali-Joe Frazier III). We went to Zaire together (for Ali-George Foreman)."
But another former Times sports columnist, Harvey Araton, recalled at least one occasion when Anderson's doggedly determined reportorial skills caused some of his readers to grumble about something he'd written.
"My favorite Dave story will always be how he sidled up to me at halftime of Game 2, Knicks-Bulls, '93 conference finals, and I said, `Guy behind me is screaming at Michael Jordan for being out late in Atlantic City the night before,'" recalled Araton, who was covering the game in Madison Square Garden along with Anderson. "I told Dave, who said he'd look into it.
"By the next afternoon Dave had the time Jordan checked in, checked out and how much he'd lost playing blackjack. His column was largely blamed by Knicks fans for infuriating and inspiring Jordan and the Knicks losing four straight after winning the first two."
But while Anderson was comfortable and knowledgeable in virtually every sports setting, he had an undeniable affinity for boxing. Among the 21 books he authored were In the Corner: Great Boxing Trainers Talk About Their Art and perhaps the definitive biography of the incomparable Sugar Ray Robinson, Sugar Ray. In 1981, when he became the second sports writer to win the Pulitzer Prize for Commentary, his citation noted six columns he'd written in 1980, one of which was entitled Muhammad Ali: The Death of a Salesman, which dealt with "The Greatest's" beatdown at the hands of Larry Holmes in Las Vegas. Writing on a tight deadline, Anderson's story began thusly:
As early as the first round, his age began to show. Muhammad Ali moved away from a left jab, but when he tried to throw a right hand at Larry Holmes, he missed awkwardly. And he never used to miss. By the fourth round, he was bleeding slightly from the left nostril. And he never used to bleed. In the fifth round, a shrill female voice interrupted the saddened silence that hung in the black desert night at the temporary arena in the Caesars Palace parking lot.
"Come on, Ali, fight," that lonely voice beseeched him. But last night Muhammad Ali could not fight. He could not dance. He could not even punch. For several months he had promised a miracle in what had been billed as "The Last Hurrah." It should have been titled "Death of a Salesman." When the fight finally ended after the 10th round with Muhammad Ali plopped on the blue stool in his corner, a hush fell over the sellout crowd of 24,000 in the bleacherlike arena. All around the arena, people stood still the way they do at the funeral of someone who had died unexpectedly.
Anderson ended his take on what had to be considered the end of Ali's remarkable era this way:
Usually a fight crowd files out quickly. But not this time. Most of the people just stood there, as if in shock. Some wept. Some blubbered. But at least Muhammad Ali had not had to endure the shame of being helped up off the canvas, as Joe Louis had the night Marciano demolished him. At least Muhammad Ali was sitting on his stool. And at least he would walk out of the ring under his own power.
"They should have stopped it five rounds earlier," a man said. "They shouldn't," a woman answered, "have let it start."
Dave Anderson's destiny was almost preordained from birth. Born on May 6, 1929, in Troy, N.Y., his father was the advertising director of the The Troy Times, which his grandfather published. At 16, he landed his first newspaper job as a messenger for The New York Sun, where his father then worked in advertising sales. Shortly after Anderson's graduation from the College of the Holy Cross in Massachusetts, he caught on with the Brooklyn Eagle, where he covered the Brooklyn Dodgers from 1953 to '55, when the paper folded. He then moved to the New York Journal-American and was a sports staffer there when he won the E.P. Dutton Award for the best magazine sports story of 1965 for "The Longest Day of Sugar Ray," which appeared in True magazine.
In 1966, Anderson went to the Times as a general assignment sports reporter until being promoted to columnist in 1971, a prestigious position he held until his retirement. In addition to his Pulitzer, he continued to add layers to his legacy of brilliant and prescient sports commentary, which included his induction into the National Sportscasters and Sportswriters Hall of Fame in 1990, the Associated Press Sports Editors (APSE) Red Smith Award for distinguished sports column writing in 1994, the Dick Schaap Award for Outstanding Journalism in 2005 and induction into the International Boxing Hall of Fame in 2006.
"The thing about Dave is that he was perfect for the Times," Izenberg said of his friend and contemporary. "He wrote about controversial issues when he had to, but he was a guy who could really reach the Times readers. My voice is the voice of New Jersey, his was the voice of the Times. He understood for whom he wrote. And if you can't do that, you shouldn't be a columnist."
Dave Anderson's guy-next-door commonality– "People talked to him because he was self-assured and polite," Araton said – was accentuated by his professional grace under pressure, qualities which are not mutually inclusive. He was particularly fond of the occasion he covered a New York Rangers game in Montreal for the Journal-American in 1956. Headed back to New York City on a train, he tossed game stories by the New York sports writers to a Western Union telegrapher standing by the tracks as the train slowed at the border at Rouse's Point, N.Y.
"It's in the middle of the night, it's snowing and I'm standing between cars in the dark and toss the package of stories to him and hope somehow he teletypes the copy and it all gets in the newspapers," Dave recalled in 2014.
In the morning, he picked up a copy of the Journal-American at Grand Central Terminal and "there was the story," he said.  "It was exciting. Even now, when I'm writing (he continued to contribute occasional stories to the Times after his retirement), I wake up on a Sunday and still get excited if I'm in the paper."
It was my privilege to call Dave Anderson my friend and a role model, much as was the case with other now-deceased giants of a profession that has become microwaveable, a journalistic drive through the fast-food lane in which Twitterized abbreviations have replaced attention to detail and an appreciation of the power and majesty of the written word. His passing has struck me as hard as did the deaths of fellow sports writing legends Peter Finney, Edwin Pope, and Stan Hochman, as well as that of one of my favorite interview subjects, the perpetually personable Don Chargin. The circle continues to be drawn tighter and tighter, with Jerry Izenberg maybe the last sentinel of an era that is beyond replication. I hope he lives forever.
"Young people going into sports writing now, virtually all of them want to wind up on television," Jerry said. "You've got people on TV offering `expert' commentary on events that took place before they were born, but they've got the right kind of hairspray."
Dave Anderson, a longtime resident of Tenafly, N.J., whose wife of 60 years, Maureen, died in 2014, is survived by sons Stephen and Mark, daughters Jo and Jean-Marie Anderson; three grandchildren; and one great-grandson.
Bernard Fernandez is the retired boxing writer for the Philadelphia Daily News. He is a five-term former president of the Boxing Writers Association of America, an inductee into the Pennsylvania, New Jersey and Atlantic City Boxing Halls of Fame and the recipient of the Nat Fleischer Award for Excellence in Boxing Journalism and the Barney Nagler Award for Long and Meritorious Service to Boxing.
Check out more boxing news on video at The Boxing Channel
Jonathan Esquivel Remains Unbeaten and Raquel Miller Wins NABF Title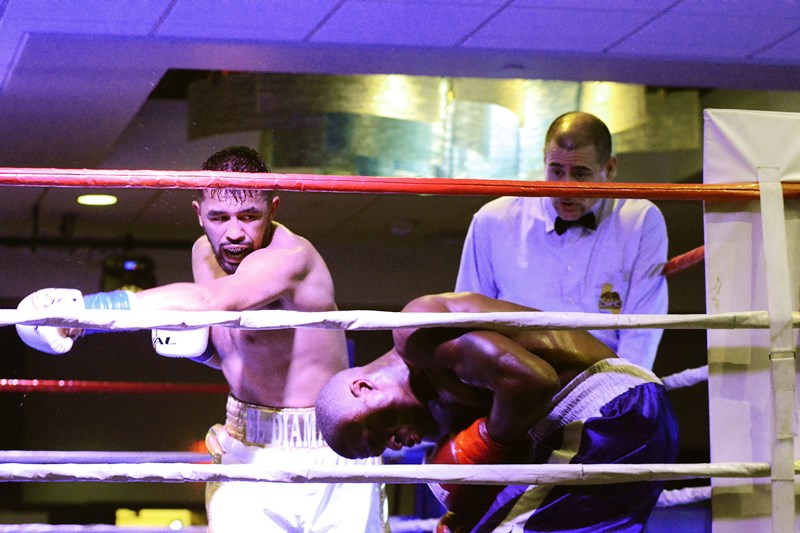 HAWAIIAN GARDENS, Calif.-Undefeated Jonathan Esquivel attracted a large and lively crowd and they weren't disappointed in his knockout win over Tavoris Teague on Saturday.
Esquivel (10-0, 9 KOs) showed the large contingent of fans that sold out the Hawaiian Gardens Casino that the tricky Teague (6-27-4) could not compete for four full rounds in their super middleweight clash.
The fight ended at 2:11 of the fourth when Teague was overwhelmed by Esquivel but remained standing up as referee Zachary Young ended the fight.
Esquivel, who lives in nearby Santa Ana, California, brought more than 200 fans and they saw him struggle a bit with Teague, but after two flat rounds, the southpaw began finding the range and unleashed a barrage of punches that Teague could not avoid. The end came suddenly but the Orange County fighter remains with an unblemished record.
NABF Female Title
Female middleweight contenders headed the main event and former Olympic alternate Raquel "Pretty Beast" Miller (9-0, 4 KOs) showed her professional game is intact with a knockout win over veteran Erin Toughill (7-5-1) to win the vacant NABF middleweight title.
Miller didn't waste time and knocked Toughill down in the first exchange with a short right cross that dropped the veteran fighter who had nearly toppled middleweight contender Maricela Cornejo in her last ring appearance.
Speed was her greatest asset and Miller used it to full advantage as she jabbed her way through Toughill's guard and landed quick three-punch combinations. For the first three rounds Miller was in full control.
Around the fourth round Miller seemed in cruise mode when Toughill rammed several rights against her foe and followed up with more right crosses. All seemed to land flush and Miller was moved backwards with the blows. Though Toughill did not land more punches than Miller, the solid blows were enough to win her first round.
In the fifth round Toughill seemed confident that she had discovered the remedy for Miller's speedy punches and kept ramming rights through the guard. Again Toughill seemed to be able to land the more effective blows, but though they landed they didn't seem to hurt Miller, but rather perplexed her.
Miller seemed more intent to reverse the momentum and launched a quick solid three-punch combination on Toughill who seemed surprised by the blows. After absorbing a Miller right Toughill retaliated with a left hook and another left hook. The change of pace seemed to keep Miller off balance but toward the end of the sixth round a screaming left jab connected followed by a solid one-two combination. Miller had quickly regained the momentum.
The seventh round saw both fighters race toward each other with Miller connecting with a lead right that snapped Toughill's head back. Miller followed up quickly with a snapping jab, jab and left hook that caught Toughill perfectly and dropped her immediately to the floor. She beat the count but when referee Zachary Young asked her to put her hands up:
"She gave me a strange look and I had to end it," said Young of Toughill's response.
When asked what punch caused the knockout Miller was unsure.
"I don't remember what punch I used, I'm just excited to win the title," said Miller who won by knockout at 1:01 of the seventh round.
Miller wins the NABF middleweight title and becomes an automatic contender for the WBC version of the middleweight world title. Claressa Shields is the undisputed middleweight world champion and holds the WBC, WBA, IBF and WBO world titles.
"I'm all about smooth boxing but I can bang if I have to," said Miller.
Yes she can.
Other Bout
Super middleweights Kenny Quach (0-1-1) and Johnny Cisneros (0-0-1) ended in a draw after four closely fought rounds. Cisneros fights out of Riverside and was making his pro debut. Quach fights out of Santa Ana, Calif.
Photo credit: Al Applerose
Check out more boxing news on video at The Boxing Channel
Fast Results from Brooklyn: Wilder Knocks Out Breazeale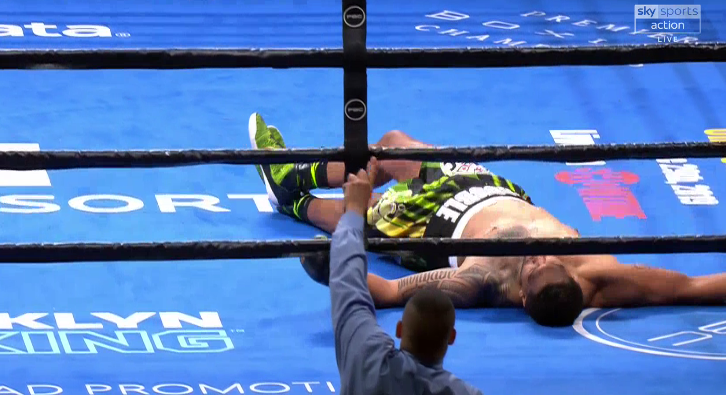 Deontay Wilder vs. Dominic Breazeale figures to be entertaining for as long as it lasts said one pundit and he could not have been more prescient. Entertaining it was although if you were distracted you likely missed it. It was all over in 137 seconds
Wilder, making the ninth defense of his WBC world heavyweight title, stunned Breazeale with a big right hand early in the contest but then walked into a wild right hand by Breazeale and was himself momentarily stunned. He had enough presence of mind, however, to keep his cannon of a right hand unholstered and a few moments later he unleashed it again, leaving poor Breazeale flat on his back. Breazeale made it to his feet, seemingly as referee Harvey Dock reached the count of "10," but he was in dire straits and the bout was waived it off.
This was the same Dominic Breazeale who lasted into the seventh round with Anthony Joshua not quite two years ago. As for Wilder, he remains undefeated with his 40th knockout in 42 pro starts and a match between him and Joshua or a rematch with Tyson Fury looms bigger than ever.
Co-Feature
WBC world featherweight champion Gary Russell Jr. successfully defended his title and completed the hat trick for the Russell Brothers with a fifth round stoppage of Spain's Kiko Martinez. Russell (30-1, 18 KOs) was just too fast for the Spaniard and was on his way to a comfortable win on points when the fight was waived off at the suggestion of the ring physician because of a bad cut over Martinez's left eye. A former IBF 122-pound champion, Martinez (37-9-2) is now 1-4 in world title fights.
Undercard
In the first of the TV fights, North Las Vegas junior welterweight Juan Heraldez remained unbeaten but barely as he was held to a draw by former IBF 130-pound world title-holder Argenis Mendez. One judge had it 97-73 for Mendez but the others had it even. Heraldez (16-0-1) was one of four Mayweather Promotions fighters on the card. Mendez, from Yonkers, New York, via the Dominican Republic, was held to a draw in a second straight fight, bringing his record to 25-5-3.
A previous draw ensued in an 8-round contest between 30-something heavyweights, Robert Alfonso (18-0-1) and Iago Kiladze (26-4-1). Alfonso, a Cuban defector and ex-Olympian who trains with Wilder in Tuscaloosa, weighed in at 254, giving him a 35-pound weight advantage. He had Kiladze fighting off his back foot for much of the contest, but the LA-based fighter from the Republic of Georgia snuck in enough punches to stem a 3-fight losing streak.
Bantamweight Gary Antonio Russell moved to 14-0 with a six-round technical decision over Tijuana's Saul Hernandez (13-13-1). A clash of heads in the sixth round left the Mexican disoriented and the bout went to the cards where Antonio won by scores of 59-55 and 60-54 twice. Hernandez didn't figure to go the distance. In his last three fights, he fattened up his record against opponents who were a combined 0-30.
In a fight slated for eight rounds, junior welterweight Gary Antuanne Russell improved to 9-0 (9) with a fourth round stoppage of Nicaragua's Marcos Mojica (16-4-2) who had the misfortune of being thrust against a former Olympian in a second straight bout. Mojica was on the canvas twice before the referee intervened. He lasted longer than any of Russell's previous opponents, none of whom lasted beyond three frames.
Brooklyn-born Richardson Hitchins, who represented Haiti in the 2016 Olympics, improved to 9-0 (5) when Columbia's Alejandro Munero (4-2-3) was unable to answer the bell for round four. The 21-year-old Hitchins was making his eighth appearance at Barclays.
Dylan Price, a 20-year-old bantamweight from Sicklerville, NJ, improved to 8-0 when the corner of Mexico's Manuel Manzo (4-7-2) stopped the one-sided beatdown midway through the sixth round.
Check out more boxing news on video at The Boxing Channel
To comment on this story in The Fight Forum CLICK HERE
The Tartan Tornado and the Monster Advance in the World Boxing Super Series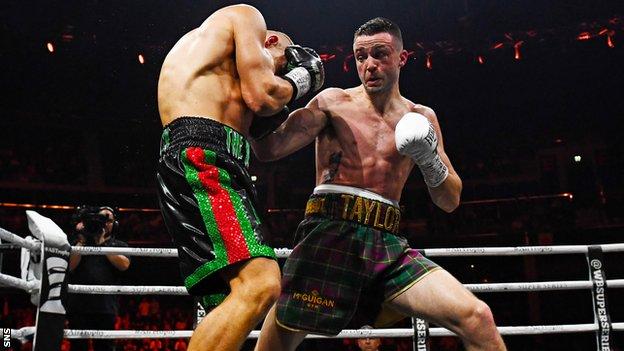 Semifinal matchups in the 118- and 140-pound tournaments of the World Boxing Super Series played out today, May 18, at the SSE Hydro Arena in Glasgow, Scotland. All four participants entered the day undefeated.
In the main go, junior welterweight Josh Taylor, the Tartan Tornado, delighted the home folks by winning a unanimous decision over Ivan "The Beast" Baranchyk. Fighting in the same arena where he won Commonwealth Gold in 2014, Taylor outpointed Baranchyk on scores of 117-109 and 115-111 twice.
Taylor had an anxious moment in the fifth round when Baranchyk landed three unanswered punches that momentarily left Taylor on shaky legs. But in the very next frame, Taylor came up big, knocking Baranchyk to the canvas twice, first with a right hook and then a left to the head followed by a left to the body.
Baranchyk, who pepped for this fight at Freddie Roach's gym in Hollywood, recuperated nicely. Taylor could have played it safe by going on his bicycle in the final round, but he elected to trade with Baranchyk who finished strong, although clearly behind on the cards.
With the victory, Josh Taylor improved to 15-0 and moves on to a contest with Regis Prograis, a bout that will likely land in Glasgow and, if so, will be the biggest fight ever in Scotland. Baranchyk, who was born in Russia but has been residing in Oklahoma, declined to 19-1
The Monster
In the co-feature, Yokohama's baby-faced Naoya "The Monster" Inoue (18-0, 16 KOs) showed that he belongs on everyone's pound-for-pound list with a second round blast-out of Puerto Rico's previously undefeated Emmanuel Rodriguez (19-1). After a fairly even first round, Inoue lowered the boom in the second, decking Rodriguez three times to force an intervention. At stake were the IBF and WBA bantamweight titles. With the win, Inoue earned a date with Filipino veteran Nonito Donaire who was in the building.
Inoue scored his first knockdown with a left hook and that spelled the beginning of the end for Rodriguez. In his previous two bouts, Inoue demolished title-holders Jamie McDonnell and Juan Carlos Payano in the opening round. If he gets past Donaire – and he will be heavily favored – he will be the odds-on choice to be named the 2019 Fighter of the Year.
Check out more boxing news on video at The Boxing Channel
To comment on this story in The Fight Forum CLICK HERE