The Avila Perspective Chap. 17: Danny Roman, Terence Crawford and More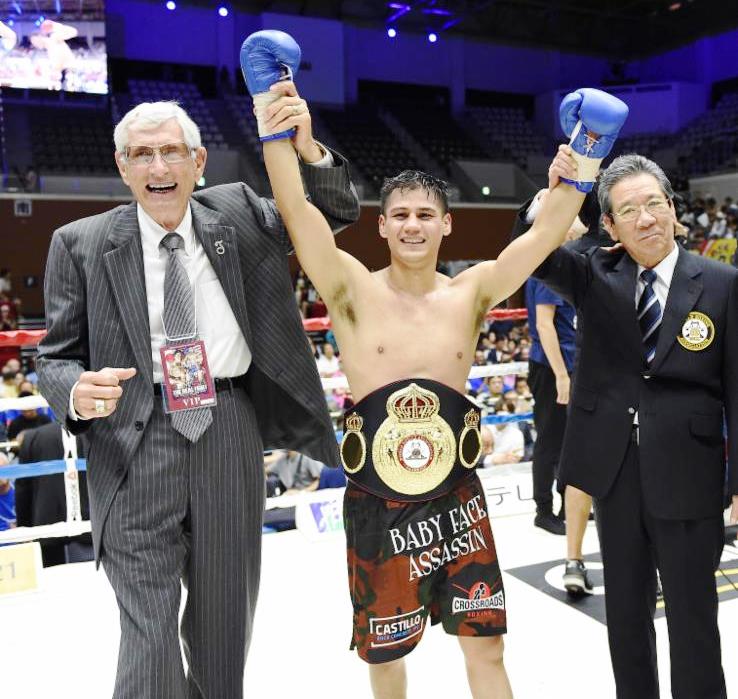 One of boxing's biggest secrets, Danny "Baby-Faced Assassin" Roman, hit Chicago last weekend to defend the WBA super bantamweight world title for a third time. And, once again, Roman picked apart a much taller opponent, plank by plank. 
The victim this time was England's Gavin McDonnell, who had never been stopped before and had entered the boxing ring with only one loss as a professional. That lone defeat was by split decision to WBC titlist Rey Vargas.  
Roman knocked out McDonnell in the 10th round at the Wintrust Arena with pinpoint punching and a right cross that he never saw. It was mesmerizing. 
When you look at Roman's record of 29 professional bouts it only shows 10 knockouts. Nowadays the first thing fans or anyone looks at are the knockouts. But there's much more to prizefighting at the elite level. The Los Angeles-based boxer could write a thesis on the subject. 
Simply, Roman is a true craftsman of the sport. 
In all the years of covering prizefighting I can't remember another world champion with less fanfare but an abundance of talent than the soft-spoken Roman. You won't see him slapping guys in a bowling alley or throwing dice at a local casino. And you won't see him taunting opponents before a fight or flipping off fans.  
He just may be the most humble world champion today. 
"He trains extremely hard. He's one of those dedicated fighters. A very religious young man," said Alex Camponovo, matchmaker for Thompson Boxing Promotions. "He's put everything aside from boxing. He's not a womanizer, drinker or a partier." 
Watching Roman fight should be a requirement for all young boxers looking to fight professionally. He's the blueprint for successful prizefighting. 
Most times Roman enters the prize ring, he's cranking his neck up and looking at his opponent's chin. The last four foes towered over the 5'5" Los Angeles fighter and had height advantages of more than four inches. No matter, he's the true giant slayer. 
With three successful title defenses on his resume, he's not satisfied. He's eager to see what the other three champions have to offer. Whether it's Rey Vargas, TJ Doheny, or Isaac Dogboe, he wants a crack at one or all of them.  
He is a prizefighter and curious where he truly rates in the boxing world. 
"It has been my intention to unify ever since I became world champion last year in September," said Roman after his win against fellow 122-pounder McDonnell. "I don't care who steps up to the challenge. I'll fight any of them."  
Thompson Boxing Promotions said that efforts to negotiate with the other fighters are already underway.  
"We're looking for something possibly in February or March," said Camponovo. 
Unification might be right around the corner. 
Terence Crawford 
Another who seems to be slipping under the radar of the boxing world seems to be WBO welterweight world titlist Terence Crawford. 
The Nebraska prizefighter crackles like a live electric wire with all the talent he possesses. 
Crawford (33-0, 24 KOs) defends the WBO welterweight title against Jose Benavidez (27-0, 18 KOs) on Saturday Oct. 13 in Omaha, Nebraska. ESPN will televise the championship fight. 
It's hard to believe that Benavidez is only 26. He's been around the pro boxing game for a very long time but started eight years ago. He seems to be even taller now than when he stepped into Freddie Roach's gym back in 2010. He's training in another gym nowadays and has fought twice this year after almost two years away. 
It's a solid matchup. 
Crawford last defended the title back in June when he used his blinding speed to batter then WBO champ Jeff Horn for nine rounds to rip the welterweight title away from the Aussie. The fight was stopped but could have gone longer. Would Horn have won if allowed to continue? 
No. 
The matchup with Benavidez will allow Crawford to determine where he fares among the welterweights. Both fighters have never lost, but many cite Benavidez's fight against Mauricio Herrera as a loss, though the judges scored otherwise back in 2014. 
If you ask Crawford who he wants next, well, that's the wrong question to ask. 
"My main focus is on Benavidez. As you can see, he's been doing a lot of talking, but while he's talking, I'm working. So, I'm not worried about nothing that he's saying or that he's trying to hype up. I'm focused and I'm ready to go next week," said Crawford. 
Also on the card is Shakur Stevenson (8-0, 4 KOs) fighting Romania's Viorel Simion (21-2, 9 KOs) for the WBC Continental Americas featherweight belt. The former Olympian has shredded his amateur ticks and fully grasped the ways of the professional fighter. If Stevenson has a chin, watch out. The jump he's made from last year to this year has been remarkable.  
West Coast Action 
Thursday 
OC Hangar features super middleweight Ali Akhmedov (12-0, 9 KOs) in his second appearance in Southern California when he faces Jovany Gomez (17-14) in the main event on the Roy Englebrecht Events card on Thursday, Oct. 11. 
Akhmedov, 23, is trained by Abel Sanchez in Big Bear and he looked strong when he fought at the Hollywood Avalon this past August. Although he  was troubled a bit by the non-aggression of his foe that night, he got the stoppage win. He's a native of Kazakhstan. Doors open at 7 p.m. 
For more information call (949) 760-3131. 
Friday 
Welterweight Ferdinand Kerobyan (10-0, 5 KOs) looks to keep his record spotless when he meets Rolando Mendivil (10-5) in the main event on Friday, Oct. 12, at Belasco Theater in downtown L.A. The Golden Boy Promotions card begins at 6. 
Kerobyan, 20, fights out of North Hollywood and has shown to be a very entertaining fighter. Fans like his aggressiveness and willingness to mix it up, even when he can easily win by using his speed and superior athleticism. He's a showman. 
Mendivil, 22, showed a world class chin against Ireland's talented Aaron McKenna when they clashed last August. The Mexican fighter from Sinaloa absorbed heavy punishment from the Irish welterweight but lasted the entire fight while showing some grit. It will be interesting to see how he does against Kerobyan. 
Saturday 
In Las Vegas, WBO light flyweight world titlist Angel Acosta (18-1, 18 KOs) looks to keep his knockout streak going and keep the world title when he fights Mexico's Abraham Rodriguez (23-1, 11 KOs) on Saturday, Oct. 13, at the Hard Rock Hotel and Casino. The Golden Boy Promotions fight card is co-promoted with Miguel Cotto Promotions and will be shown on Facebook's Golden Boy Fight Night page. 
Heavyweights 
Last week WBC heavyweight titleholder Deontay Wilder and lineal world champ Tyson Fury finished their three-city international tour at Los Angeles. 
In the history of heavyweight championship fights, these two have got to be the tallest to ever contend for a world title. Both are past 6'7 and their reach alone makes them formidable for any other heavyweights. And both are characters. They're both jokesters, talkers, boasters and a few other things. Fury, in particular, brings a certain British vibe that boxing fans in Southern California are not accustomed to.  
Wilder is a funny guy too. Even when he feigns seriousness, he's basically holding back a smile. They will face each other for both the WBC world title and lineal title on Dec. 1, at the Staples Center in Los Angeles. Promoter Lou DiBella said that tickets immediately reached $1 million in sales the first day. 
I'm extremely curious about this fight. It's been a while since we had a good heavyweight title fight. They don't happen every year in Los Angeles and both are big guys with big personalities.
Hard Times: The Resurrection of Angel Camacho Jr.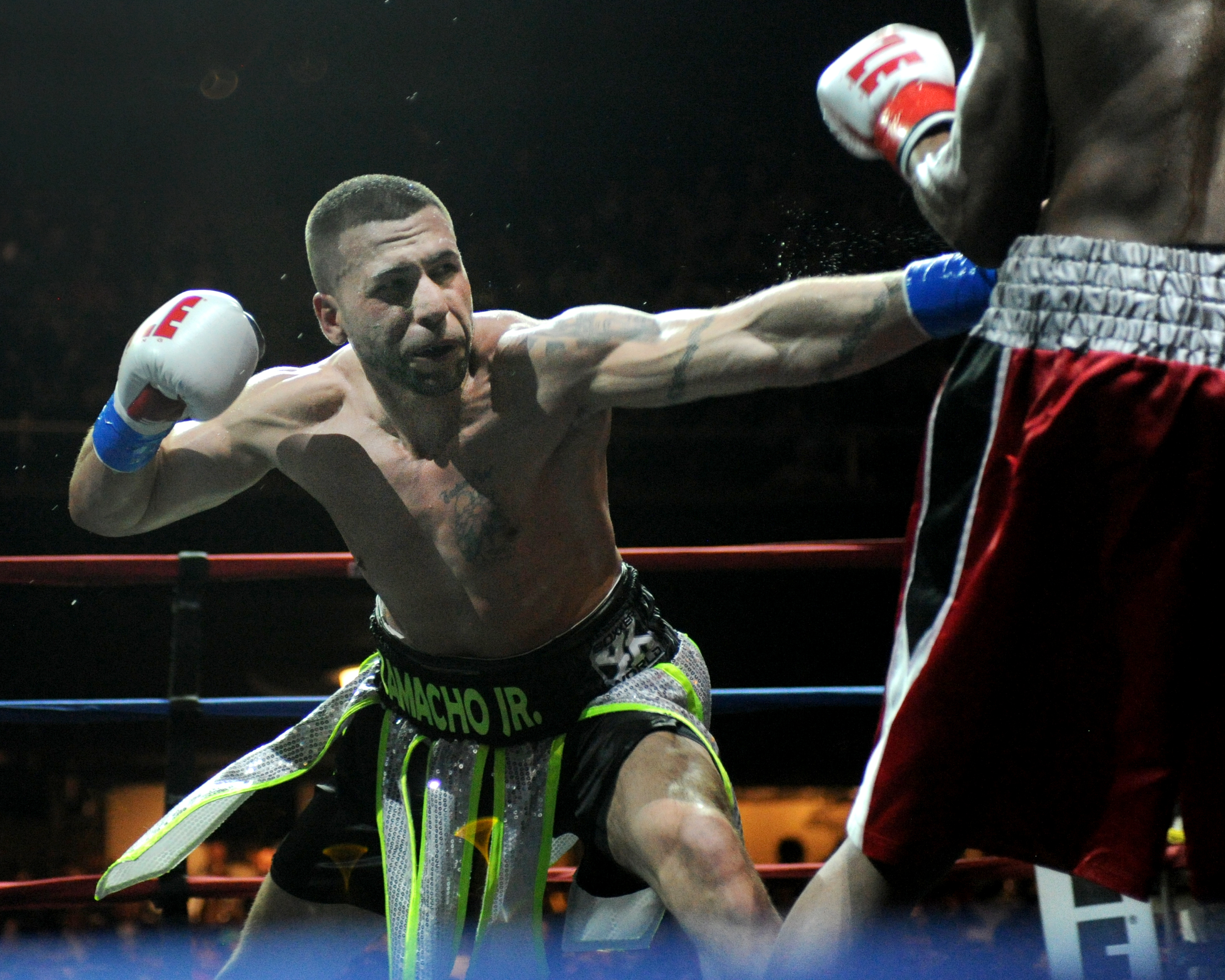 A junior is following in his father's fighting footsteps and he's taking strides beyond those made by Angel Camacho Sr., a tenacious power punching former Golden Glover from Puerto Rico. And although he's not related in any form or fashion to the late Hall of Famer Hector "Macho" Camacho, you probably should have heard about the 35-year-old Angel Camacho Jr. by now.
The Providence, Rhode Island born light heavyweight (16-0, with 5 KOs) is currently on the third of three comeback trails from three lengthy periods of career inactivity totaling over nine years.
He knows it's now or never.
"I still have to grind," he says.
If things had gone according to plan, Camacho Jr. may have by now added a victory over Peter Manfredo Jr. to his resume. Instead, the talented boxer lost his biggest opportunity to a foot injury suffered while running on an outdoor trail just two weeks before the biggest fight of his life.
"I don't run on trails anymore."
Making his pro debut in 2006 at age 23 after a brief 1996 stint in the amateurs where he competed in only fifteen bouts, Camacho racked up eleven wins in two years on the New England circuit before a domestic assault situation landed him in jail; derailing his true passion.
He ultimately served nine months.
When Camacho came back in 2011, he was matched against local gatekeeper Keith Kozlin on a Big Six Entertainment card in West Warwick. It was obvious to everyone who saw him that the quick-fisted Camacho could still move his hands. Using his height and reach advantages, the six foot tall Puerto Rican American busted up Kozlin's right eye and scored a unanimous four round decision while wearing an RI-DOC issued ankle bracelet as a condition of his parole.
FALL BACK
Rather than building on the momentum of victory, what followed was three more years of inactivity. "It was just life's hurdles. Life's complications," explains Camacho. "I had a divorce. I was dealing with my significant other wanting me to spend more time at home. I've gone through a lot—drug issues, self-medicating because of depression, to now being clean and focused."
Currently estranged from his second wife, Camacho freely admits that women are his downfall. "I'm addicted to them," he tells me with a grin. "But in jail I turned a negative into a positive. I got my GED while I was in there. I stayed in great shape. I worked with a big guy named 'Moose' who'd wrap his mattress around his body and let me punch with towels wrapped on my hands."
When he came back again in 2014, Camacho, signed and promoted by Jimmy Burchfield's Classic Entertainment & Sports, faced another stiff test in Paul Gonsalves. Camacho notched a unanimous six round decision win at CES's homebase of Twin River Casino in Lincoln, R.I.
Things were looking up in 2015 for the local standout and he was starting to show up on my radar as a New England fight writer. Five months after the Gonsalves win, Camacho was back in a CES ring, stepping up against tough super-middleweight southpaw trial horse Chris Chatman. Camacho scored another unanimous six round win but it was quite a struggle.
Originally scheduled to fight Kevin Cobbs at 178, Camacho had two weeks to get down 168. "I was dead in that fight, drained. My legs were like noodles. I had nothing in me but pure heart."
Five months later in September at Twin River, Camacho faced his sternest test yet, a ten round scheduled matchup against Rich Gingras for a vacant UBF 175 pound title belt. In a high contact local throwdown, Camacho stopped Gingras in the eighth round to grab the biggest victory of his on-again, off-again career. The fight was an absolute war of attrition won big by Camacho after uncorking a highlight reel worthy nine-punch combination to end it. The brutal loss effectively ended the boxing career of Gingras who came back unsuccessfully three years later in 2018.
Using social media, Camacho reached out to me after the Gingras TKO wondering why I hadn't yet written a story about him. He encouraged me to do so and I set out to pay extra close attention to his development. I could see he was clearly a cut above the locals he was being matched with and that good things were in his future. Instead, Camacho dropped off a cliff.
He didn't stop training but Camacho did stop fighting. It's a shame too because even though the title belt he won in the Gingras fight is a minor one, Camacho was enthusiastic and excited about defending it. In May of 2016, he was scheduled to put it up for grabs in an all-Providence vs. Providence battle with former Contender star Peter Manfredo Jr. in a huge CES main event.
This high profile encounter with Manfredo was supposed to be the fight that propelled Camacho beyond New England, to the next level, to the bigger and better things that boxing offers winners.
It wasn't meant to be.
Camacho pulled out with a foot injury. Manfredo fought replacement opponent Vladine Biosse instead. The 'Pride of Providence' was held to an eight round split draw and has not fought again since. From ringside, Camacho could see the decline of the ring rusted Manfredo as clearly as anyone else around him. Had they fought as scheduled, it's likely that the slick and aggressive Camacho would have upset Manfredo, kept his title and maybe even earned another one as the new Pride of Providence.
"I should've fought him with the bad foot," says Camacho, only half-joking. "I know I would have beaten him. I was doing everything right in training," he laments. Pridefully, Camacho still holds out hope that Manfredo might attempt another money making comeback and that a Manfredo-Camacho bout could still become a reality. "I would love for that to happen. I'm pretty sure if they offer him what they offered him before, he'd come back for it. I can still beat him."
Slated to return just a few months later on July 15, 2016 in defense of his beloved UBF title against "Vermont Bully" Kevin Cobbs, Camacho saw another CES main event opportunity slip through his fingers when a devastating shoulder injury occurred in training. Camacho was in the gym throwing his right hand at the heavy bag when he felt a terrible shoulder pain. He'd injured his rotator cuff and he now needed surgery to repair it. The recovery was long and grueling.
It looked like Camacho was no mas.
"I was in a sling for forever. I was done," he recalls. "But I finished most of my physical therapy knowing that I needed to get back into boxing. Today my shoulder feels better than it ever has."
Frustrated with boxing's ups and downs, Camacho started working manual labor jobs to support his family. Days turned into weeks and into months and then into years. I never got to write that story about the up-and-coming Angel Camacho Jr. because there was no longer one to tell.
SPRING FORWARD
It's three years later.
Camacho (who insists he's really a hungry super middleweight) got himself back into the ring and had his hand raised for the sixteenth time as a professional on March 15, 2019. He describes himself as still being in his "peak" physical prime. "I'm probably in the best shape of my life," he says after officially weighing-in at 171 lbs. He doesn't want to live with the regret of never knowing what he could have accomplished in the sport he loves and thinks of like chess.
Last Friday night in Massachusetts, the comebacking Camacho appeared on the undercard of rookie promoter Chuck Shearn's debut Worcester Palladium fight card entitled Every Man For Himself—a local club show full of pawns making their opening moves in the boxing game.
Camacho had to work to defeat his 40 year-old opponent Larry Smith, a 10-40-1 Texas fall guy who always shows up and tries to win even if he rarely does. Camacho showed no sign of his two previous injuries (he led with his left foot and threw strong right hands at Smith) but he complained of a new issue after the fight in the dressing room, revealing an unknown chest injury suffered in sparring with previous opponent and now good friend Keith Kozlin.
"It hurts when I take a deep breath."
Camacho did show some signs of ring rust after his long layoff but he stayed busy to the body and was rewarded with a clear unanimous decision. There was also an angry little nick under his right eye from being thumbed by Smith. The judge's scores were 60-54 and 59-55 twice.
"This is the first step in my comeback," says Camacho. Speaking of which, he almost tripped on the metal ring steps on his way into the ring and in the third, with Smith leaning on him, he nearly fell out of the ring and onto the photographers on the ring apron. Trying to hurt him but not get him hurt, Smith held onto Camacho and prevented him from falling clear out the ring.
"I love him," the respectful Smith said of the winner. "It could have been a win for me to let him go but to see him fall out the ring, come on, he got kids. Just look at Prichard Colon right now, perfect example. He can't box. Can he talk? He can't talk. He can't walk. He in a wheelchair."
"I love you Larry," Angel said before the men parted ways.
REVELATIONS
Humble so as not to be humbled, Camacho puts his resurrection as a man and as a fighter in His hands. "God gave me the talent to do this," he says. "I've been boxing since I was 12 years-old after being terrorized and bullied as a little kid by a much bigger kid who really tortured me."
Nick Tucci, a guardian angel the same age as Angel's tormentor, stopped the bullying from "Bubba" and in 1995 introduced Camacho to trainer Artie Artwell at the Phantom Boxing Club on Branch Avenue in Providence. "I learned how to fight and I won the silver gloves in 1996."
"That was the beginning of my boxing career," Camacho recalls. "I owe it to Nick and to my grandfather who'd bring me to the gym. It's time to get back in there and see what happens."
According to his management team, Camacho is now looking at a return to Twin River casino on April 26 and then a possible June appearance against local upstart Richie "Popeye The Sailor Man" Rivera, an undefeated 10-0 (9) light heavyweight puncher from Hartford, Connecticut.
"I wasn't meant to just stop fighting," insists Camacho. "There's more to do. I want to spread the word of God and help young people. I want to use boxing as a platform to reach out to kids in need. That's why we set up the Angel Wings Foundation to raise money for those kids in the inner city. If I can help one so-called misfit kid by sharing my story, it makes it all worthwhile."
Amen to that Angel.
Photo credit: Emily Harney
Boxing writer Jeffrey Freeman grew up in the City of Champions, Brockton, Massachusetts from 1973 to 1987, during the marvelous career of Marvin Hagler. He then lived in Lowell, Mass during the best years of Micky Ward's illustrious career. A new member of the Boxing Writers Association of America, Freeman covers boxing for The Sweet Science in New England.
Check out more boxing news on video at The Boxing Channel
To comment on this story in The Fight Forum CLICK HERE
Fast Results from New York: Conlan Pitches a Shutout but the Leprechaun Loses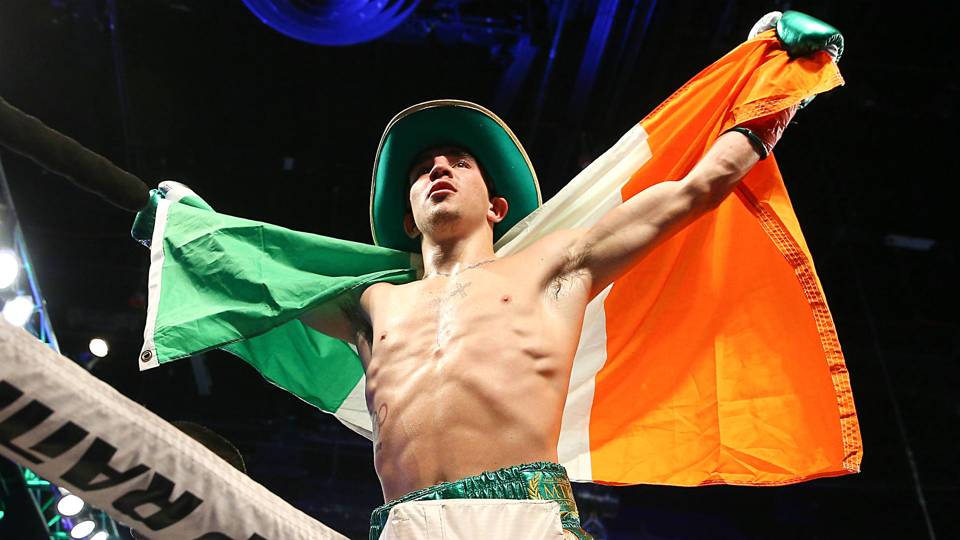 For the third straight year, Top Rank honcho Bob Arum brought New Yorkers a boxing card on St. Patrick's Day. And for the third straight year his primary allurement was Michael Conlan, the former Olympian from Belfast. Conlan made his pro debut at this venue and his bout tonight in the Hulu Theater of Madison Square Garden was his fifth visit to the Big Apple.
In his last start, in Manchester, England, Conlan stepped up in class against clever Jason Cunningham and was extended the 10-round distance for the first time in his career. His opponent tonight, Ruben Garcia Hernandez (24-3-2 heading in) was seemingly a notch above Cunningham. Hernandez's first two losses were to undefeated fighters and his third was a loss on points to Nonito Donaire, a world title-holder several times over. But Hernandez brought nothing to the table and Conlan, now 11-0, won every round on all three cards in a bout without an indelible moment.
The opposite side of the coin is that Conlan never had an anxious moment. One could say that he put on a clinic while keeping his undefeated record intact.
Paddy Barnes, dubbed the Leprechaun during his storied amateur career, wasn't so fortunate.
In a major upset, the two-time Olympian from Belfast, lost a 6-round split decision to Dallas bantamweight Oscar Mojica (12-5-1). Two judges favored Mojica 58-56. The third gave it to Barnes by the same score, but Barnes had no quibble with the decision, saying in his mind he lost every round.
It was the second straight loss for Barnes (5-2), a two-time Olympian from Belfast who was dubbed the Leprechaun during his storied amateur career. He came in at 119 pounds, seven more than he weighed in his last start against Cristofer Rosales, but Mojica, who had a three-inch height advantage, was still the bigger man. The Texan bloodied Barnes' nose in the first round and landed the harder punches.
Barnes was walked into the ring by his Belfast bosom buddy Carl Frampton, Top Rank's newest signee. After the fight, he indicated that he would likely retire.
In the televised co-feature, a battle of two heavily tattooed welterweights, 37-year-old southpaw Luis Collazo, a 19-year pro, scored a 10-round split decision over Samuel Vargas. The scores were 98-92, 96-94, 94-96.
Way back in 2005, Collazo, a Brooklynite, won the WBA version of the world welterweight title on the road in Worcester, Massachusetts. Tonight's win advanced his record to 39-7 (20). Vargas, a 29-year-old Columbian who fights out of Toronto, falls to 30-5-2 (14).
Both Collazo and Vargas went 12 rounds with Amir Khan who fights here next month in the big room against Terence Crawford.
Other Bouts
Josue Vargas, a 20-year-old Bronx lad of Puerto Rican descent, showboated his way to a shutout over Adriano Ramirez (10-3) of the Dominican Republic in a 6-round junior welterweight contest. Vargas is now 13-1 (8). His lone defeat was via a disqualification.
Joseph Adorno, who was 11-0 going in with 10 knockouts, seven in the opening round, had a harder time than expected in turning away Victor Rosas in a 6-round lightweight contest. Adorno prevailed by scores of 58-54 on all three cards. From Allentown, Pennsylvania, the 19-year-old Adorno is of Puerto Rican descent. Rosas, a tough Tex-Mex from Laredo, has lost five of his last six but is yet better than his 10-9 record would suggest.
Junior welterweight John Bauza, a  20-year-old Puerto Rican who currently resides in North Bergen, New Jersey, punished Ricardo Maldonado across six lopsided rounds, winning by scores of 60-54 on all three cards. Bauza improved to 12-0 (5). The stubborn Maldonado, from Arlington, Washington, declined to 8-9-1.
Russia's Vladimir Nikitin, a recent Top Rank signee, improved to 3-0 with a six-round majority decision over Brownsville, Texas, campaigner Juan Tapia (8-4). One judge had it even but the other two favored Nikitin 59-55.
Nikitin, whose style appears better suited for the amateur game, outpointed Michael Conlan at the Rio Olympics, a decision that unleashed a storm of protest. He and Conlan will undoubtedly meet up again soon.
In a 4-round welterweight match, Lee Reeves (3-0) won all four rounds on all three cards vs. San Antonio's Eduardo Torres (1-2). The 23-year-old Reeves, from Limerick, Ireland, is a two-time national Irish amateur champion.
Check out more boxing news on video at The Boxing Channel
To comment on this article in The Fight Forum CLICK HERE
By Winning Too Easily, Errol Spence Jr. May Have Diminished His Options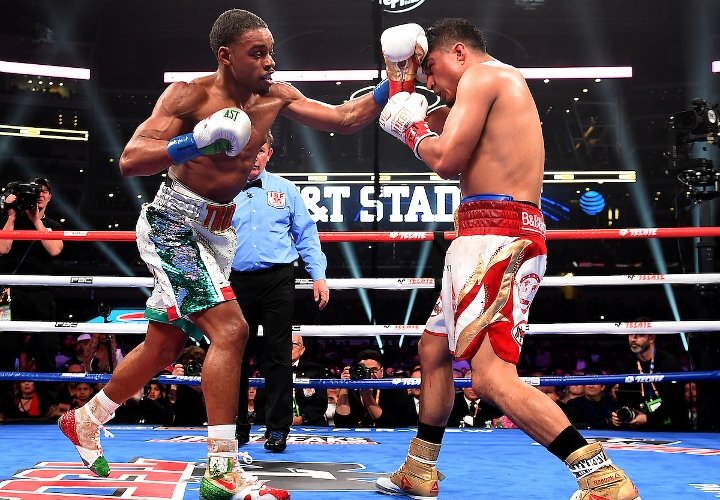 It was easy. Ridiculously easy. And, just maybe, too much so for the winner's own good in some ways.
On the one hand, IBF welterweight champion Errol Spence Jr.'s absolute domination of future Hall of Famer Mikey Garcia, achieved before 47,525 presumably impressed spectators in AT&T Stadium and a Fox Sports Pay Per View audience, certified the winner as a superstar and a rapid climber in everyone's pound-for-pound ratings. If Spence (25-0, 21 KOs) hadn't been widely recognized as such beforehand, his shocking (well, at least to a lot of people) shutout of Garcia (39-1, 30 KOs) likely moved him into one of the boxing penthouses reserved exclusively for fighters who not only are highly skilled inside the ropes but so marketable that their appearance in a bout virtually guarantees intense public interest and torrents of cash flowing into any promotion in which they happen to be involved.
OK, so maybe Spence did not "massacre" Garcia, as he had vowed to do, which suggested victory by knockout, boxing's standard exclamation point. Hey, you can't have everything. But a knockout can come on a lucky punch, or during a competitive fight in which the outcome might still be in question. The scorecards submitted by the judges in Arlington, Texas – Glenn Feldman had it 120-107, with Alex Levin and Nelson Vazquez just a tick behind with identical 120-108 tallies – tell a perhaps even more telling tale, of one terrific champion almost toying with another, albeit one who was so confident in himself that he not only agreed to move up two weight classes to make this particular match, he virtually demanded it.
Having great fighters he admired siding with the underdog stung Spence more than any of the few punches landed by Garcia, who must have known he had no chance of winning in the later rounds but allowed himself to be further battered for the small consolation and "moral" victory of making it to the final bell. In the 11th round, with Spence connecting almost at will, two-time former heavyweight champion Lennox Lewis, one of the commentators for the telecast, said of Garcia, "He's being a punching bag right now."
When it was over, and Spence had done all that he knew he was capable of doing, he took a few verbal swipes at the legends of the ring who had questioned whether he could solve so clever and versatile a fighter as Garcia.
"So many so-called experts were writing me off," Spence said of what had to be a source of additional motivation. "I felt insulted during training camp that people were saying he was smarter than me and I felt insulted that lot of these reporters were agreeing with them. Top guys like Sugar Ray Leonard were going for Mikey Garcia. Guys like (Juan Manuel) Marquez and (Marco Antonio) Barrera were going for him. (Mike) Tyson and Leonard saying Mikey Garcia was going to win kind of rubbed me the wrong way, too."
Given the nature of his victory, and on so large a stage, the case can be reasonably made that Spence has entered a select circle presently occupied by such proven fillers of stadiums as Anthony Joshua and Canelo Alvarez, an exclusive address to which not even such undeniably terrific fighters as Vasiliy Lomachenko and Terence Crawford have been able to take up residence. Spence might still be perceived in some quarters as a lesser fighter than fellow welterweight Crawford (34-0, 25 KOs), the WBO champion, but until further notice he likely will be acknowledged as the reigning king of boxing's most-stacked and top-heavy division, with all manner of megafights seemingly available to him, including a pairing with 40-year-old Manny Pacquiao, a former occupant of that figurative penthouse whose name value and brand are so established that he would be at or near the top of every prominent 147-pounder's wish list.
After he had exposed Garcia's foolishness in calling him out, Spence, before doing an in-ring interview with Fox's Heidi Androl, did the same by calling out Pacquiao (61-7-2, 39 KOs), who holds a secondary WBA welterweight title. "Pac-Man" had flown in with his wife, Jinkee, to see the fight on what can only be surmised as a scouting mission.
"Tell Manny Pacquiao to come back over here," Spence said to Androl, motioning for Pacquiao, who had entered the ring, to join him on-camera. "Manny, come on over here, man. He been here before (Pacquiao had fought twice in 2010 in what is now known as AT&T Stadium, on each occasion before a crowd in excess of 40,000). He done broke records here before. He's a legend of the sport. It'd be my honor to fight him next."
Asked flat-out if he would consent to being Spence's next opponent, perhaps in AT&T Stadium before another huge crowd, Pacquiao responded with what might be described as less-than-sincere enthusiasm. The only man to have won championships in eight separate weight classes, the Pacquiao of five or six years ago surely would have been a worthy opponent for the Spence of today, but his sights are set on another golden-oldies money grab in a rematch with the retired, 42-year-old Floyd Mayweather Jr., who even at his best was not stylistically suited to beat the snot out of the other guy.  If you exclude his 10th-round stoppage of mixed martial artist Conor McGregor in their dog-and-pony show on Aug 26, 2017, "Money" had not won inside the distance in six years, a span of seven fights.  Spence, meanwhile, had whacked out 11 consecutive opponents until the proud but outclassed Garcia hung around until the scheduled finish.
"Yeah, why not?" Pacquiao said when asked if Spence might be next on his dance card. "It'd give the fans a good fight. I'd be happy to be here (at AT&T Stadium). I'm hoping that I will be back here. Soon."
Yeah, but maybe not against Spence. And therein lies the problem for Spence, the southpaw from DeSoto, Texas, whose nickname, appropriately, is "The Truth." The truth just might be that Pacquiao and other elite or semi-elite welterweights might prove unavailable to him because of conflicting promotional affiliations or the simple desire to not be thumped by someone with the skills and power to win with either finesse or force.
Richard Schaefer, the former Golden Boy executive who now heads up Ringstar Sports, was in Arlington and it was his opinion that Spence might have been too good for his own good.
"If you think Spence had problems getting guys to fight him before, he's really going to have a problem now," Schaefer told ESPN's Steve Kim.
WBO welterweight champ Shawn Porter (30-2-1, 17 KOs), who would be a significant underdog should he get a unification gig with Spence, immediately volunteered to accept generous hazardous-duty pay for the assignment, to which Spence sniffed, "Shawn can't sell out a family dinner." Upon further reflection, Spence allowed that a man's gotta do what a man's gotta do, if it comes to that.
"If Manny Pacquiao doesn't want to fight, I'll smoke Shawn, too," he said.
The matchup that would make the most sense is a unification showdown that would pit Spence against Crawford. But that fight might require some marination to attain its full flavor, and Crawford is a Top Rank fighter and thus aligned with ESPN+, putting him, in Spence's words, "across the street" from where Spence is obliged to work. That narrows the field somewhat to still-attractive options Pacquiao, Porter, Keith Thurman (29-0, 22 KOs), the "super" WBA welter titlist, and former WBC welterweight ruler Danny Garcia (34-2, 20 KOs). Contract kinks would need to be worked out, but any of the aforementioned fighters would be more than acceptable to Fox PPV and Showtime PPV, with which Premier Boxing Champions, which holds paper on Spence, has working arrangements. Spence, however, has reservations about some of the top guys whose names have been floated, the theory being that they'd rather protect their own little slices of the championship pie for less money than to risk a beatdown in going for a larger piece, unless, of course, the financial compensation is too enticing to pass up.
It could be that Spence eventually might have to look down or up for the kind of high-visibility fights that will allow him to remain in the penthouse on a long-term lease. Might the potential talent pool include WBC super lightweight champion Regis Prograis (23-0, 1 KOs), who at some point is likely to move up to welterweight? Would Spence consider going up to super welter to challenge IBF/WBA super welterweight titlist Jarrett Hurd (23-0, 16 KOs) or WBO champ Jaime Munguia (32-0, 28 KOs)? Is it too much of a stretch to believe he might even try to do what Garcia did so unsuccessfully, which is to bulk up two weight classes, to middleweight, where WBA/WBC king Canelo Alvarez (51-1-2, 35 KOs), IBF champ Daniel Jacobs (35-2, 29 KOs) – Alvarez and Jacobs square off on May 4 in Las Vegas – and former IBF/WBA/WBC titlist Gennady Golovkin (38-1-1, 34 KOs) reside?
For now, it must be said that what Spence did to Garcia is reminiscent of a book about a World War II battle, A Bridge Too Far, authored in 1974 by Cornelius Ryan. Adapted into a 1977 movie of the same name, the ambitious Allied strategy was to launch a surprise attack and capture several bridges behind German lines in the occupied Netherlands. But in the words of British Field Marshal Bernard Montgomery, the plan failed because its reach exceeded its grasp and went, well, a bridge too far.
In Mikey Garcia's case, his bold bid definitely went at least one bridge too far, because Errol Spence Jr. was on the other side and resolute in his determination to not yield an inch of ground.
Bernard Fernandez is the retired boxing writer for the Philadelphia Daily News. He is a five-term former president of the Boxing Writers Association of America, an inductee into the Pennsylvania, New Jersey and Atlantic City Boxing Halls of Fame and the recipient of the Nat Fleischer Award for Excellence in Boxing Journalism and the Barney Nagler Award for Long and Meritorious Service to Boxing.
Check out more boxing news on video at The Boxing Channel
To comment on this story in The Fight Forum CLICK HERE