The Avila Perspective Chap. 20: Neeco Macias, Gamboa, Braekhus and More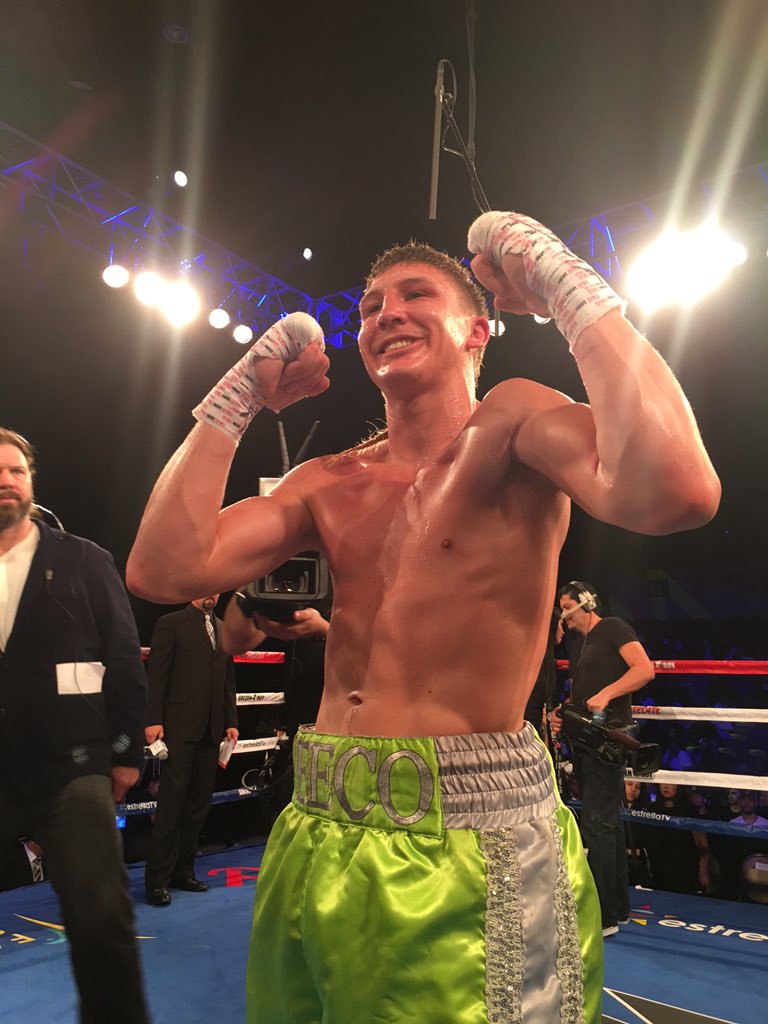 If you're searching for the finer points of the sweet science, the straight jabs, the well-placed counter left hook and the flowing footwork, you are not going to find this in a fight featuring Neeco "The Rooster" Macias.
Not even close.
What you will find is a nonstop wrecking machine capable of unleashing a mountain of punches. And when you add Jesus Soto Karass into the mix, that's a flaming Molotov Cocktail.
Macias (17-0, 10 KOs) faces Mexican veteran Soto Karass (28-13-4, 18 KOs) in the super welterweight main event Thursday Nov. 8, at Fantasy Springs Casino. ESPN2 will televise the Golden Boy Promotions card.
The last time Macias (pictured) stepped into the boxing ring he battered a fellow undefeated southpaw prospect named Marvin Cabrera for six rounds with over 1,000 blows. The boxing world hadn't seen anything like it before, not in near 20 years when Ray Oliveira and "Cool" Vince Phillips lit it up in 2000 for a regional title.
I remember watching that fight between Phillips and Oliveira on television and thinking the record number of blows they unfurled that night would stand for a long time and it did until last September 1.
Macias, 27, was a very crude fighter when he first stepped into the ring five years ago at the Doubletree Hotel on a Thompson Boxing Promotions card. During the introduction he seemed out of place but wildly amused at being introduced to the crowd. It was like watching Sacha Cohen doing one of his Borat performances.
When the first bell rang the rat-tailed Macias stormed forward with windmill punches and withstood every return blow from his opponent that night. Though he lacked skill, he definitely showed strength and determination. He also had unlimited stamina or the term MMA fighters fondly like to use "cardio."
For two years I saw all of Macias fights that took place in Southern California. And every time I expected him to lose. But every time he fought, the wild looking fighter from the desert area smiled his way to victory while the opponent seemed bewildered by the dizzying amount of incoming blows.
I lost sight of Macias for two years as he ventured out of state against better competition. When I saw him against Cabrera last September it was apparent that he had polished up his act. Slipping punches and moving into different angles was now part of his game. But throwing an avalanche of punches still was his forte.
"I've had to learn through all these fights," said Macias a tireless worker. "Hardest part is maintaining the weight. Just keeping our body fueled."
Facing Macias will be another tireless worker in Soto Karass who now makes Southern California his home. For the past decade the native of Los Mochis, Mexico has served as a litmus test for any fighter with world title aspirations.
Soto Karass has collected a bundle of scalps including wins over Andre Berto, Selcuk Aydin and many other once sparkling prospects in the past. He also is capable of raining blows like one of those tropical storms that batter the west coast of Mexico.
Macias loves to fight. He has one simple philosophy:
"It's pretty much like a fighting rooster moving forward throw 100 to 150 punches," said Macias. "They throw one, you throw three or four."
It's must watch television for fight fans.
Yuriorkis Gamboa
Gamboa (28-2, 17KOs) meets Mexico's Miguel Beltran Jr. (33-6, 22 KOs) in a 10-round main event on Saturday Nov. 10, at Miami-Dade County Fair & Expo in Miami, Florida. The fight card will be available on Integrated Sports pay-per-view for $24.95. It can also be watched via streaming at www.fite.tv.
The proud Cuban fighter hasn't fought in a year and has moved from promoter to promoter so he decided to do it himself. He is co-promoting this fight card.
Gamboa, 36, is gambling on himself with this pay-per-view card that also features former world champion Juan Manuel Lopez of Puerto Rico.
"My plan is to win this fight. I've prepared very well," said Gamboa while in Las Vegas last September. "If Juanma does well and I do well we are looking to fight each other in a title fight. Both of us have won many world titles."
Lopez (35-6, 32 KOs) a southpaw slugger, has bazookas in those gloves and faces Argentina's Cristian Mino (19-2, 17 KOs) who also has heavy hands. Their match is set for 10 rounds in the lightweight division. Now 35, Lopez has lost six of his last 11 fights including his clash against fellow Boricua, Jayson Velez by knockout.
Does he have enough left?
Chocolatito and Braekhus in L.A.
360 Promotions held a media day for former four-division world champion Roman "Chocolatito" Gonzalez and current undisputed female welterweight world champion Cecilia Braekhus at the Palm Restaurant on Wednesday.
Gonzalez and Braekhus will headline the final HBO boxing telecast ever on Dec. 8, from the StubHub Center in Carson, Calif. Both have fought there before.
HBO launched the first women's fight featuring Braekhus last May 5th at the same venue when she fought Kali Reis in a spirited fight that attracted more than 900,000 viewers during that fight.
Braekhus said she has multiple attractive foes to choose from including Amanda Serrano, Jessica McCaskill or Hanna Gabriels. One monster opponent was unattainable and that was Claressa Shields who allegedly opted to fight on Nov. 17, against Hannah Rankin on DAZN, said an HBO executive.
"We have so many great fighters to choose," said Braekhus who is training in Los Angeles for this fight. "This fight will be at 147 pounds."
Gonzalez already has an opponent and he will be facing Mexico's Pedro Guevara in a 10 round super flyweight match.
"All the Mexican fighters punch well and are good fighters," said Gonzalez. In his last fight he knocked out Mexico's Moises Fuentes in the fifth round.
Once again, this will be the last time HBO televises a boxing match.
"It's going to be a great night of boxing," said HBO's Tony Walker. "L.A. is the biggest boxing market in the world."
Tickets go on sale next week.
Return of Neno
After nearly two years in purgatory Saul "Neno" Rodriguez returned and showcased the electrifying punching power harbored in both of his fists. The undefeated Riverside prizefighter returned with a knockout win over Argentina's Claudio Tapia in the second round.
The first two knockdowns were delivered by right hands and the closing knockout came via the left hook. That's his money punch.
Rodriguez, 25, still has plenty of time to hone his defense before stepping up in class against the likes of the two fighters who participated in the main event on the same card in El Paso.
"I felt fine. Just felt a bit of ring rust," said Rodriguez (22-0-1, 16 KOs) who plans to compete in the super featherweight class. "I'm happy to be back active again and I'll be fighting soon."
On the same card, WBC super featherweight titlist Miguel Berchelt knocked out Mickey Roman after nine heated rounds in the Texas boxing ring. Fighting for the super featherweight world title is a goal of Rodriguez who knows he needs rounds before tangling against the champions.
Top Rank's Brad Goodman said he expects Rodriguez to have two or three more fights before increasing the competition.
"There's no rush," said Goodman. "No rush at all. We like what he brings."
Check out more boxing news on video at The Boxing Channel
It's a 'Three-Peat' for Eddie Hearn, the 2018 TSS Promoter of the Year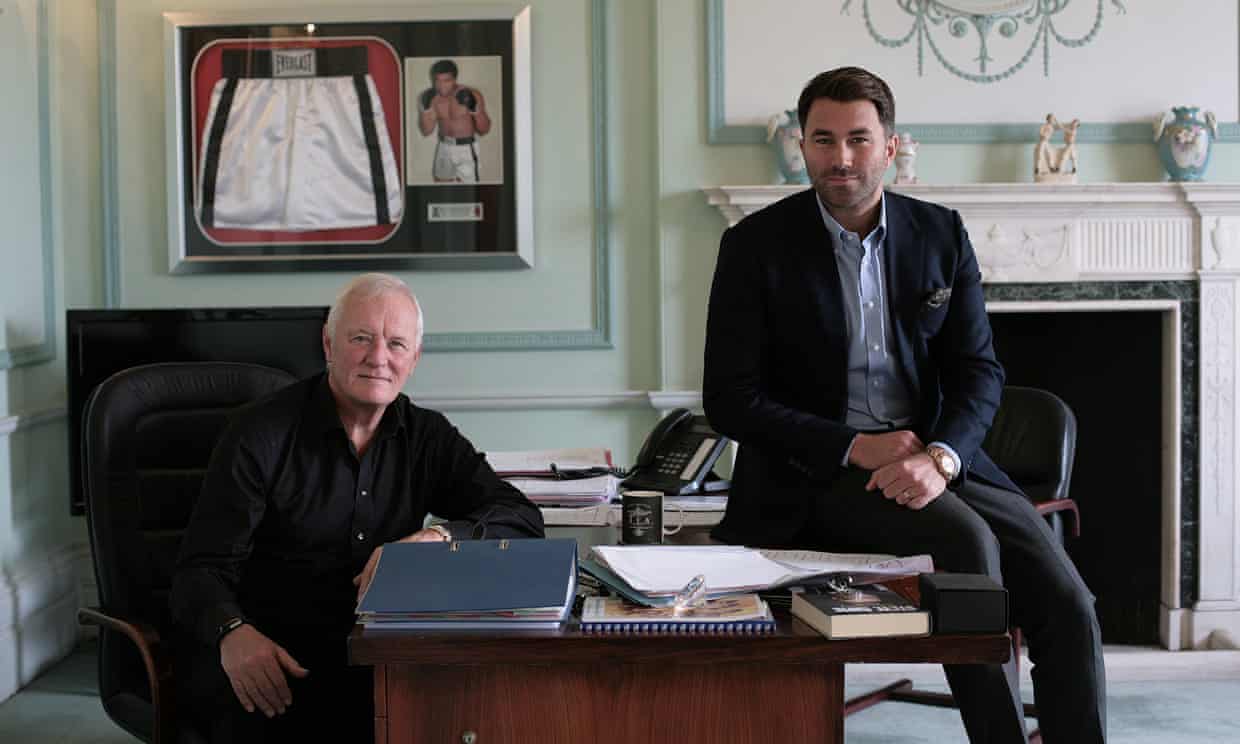 One billion.
That was the glitzy number rolling off the lips of men and women in sharp business suits as they knocked back glasses of champagne atop a rooftop garden in midtown Manhattan back in early May. It was here, in the commercial capital of the world, that UK promoter Eddie Hearn announced an eight-year deal with subscription streaming platform, DAZN, in a play to dramatically alter how boxing is consumed and disseminated  — all, yes, to the tune of one billion walloping dollars. The fine print let you know, of course, that only two years were guaranteed, among other caveats. But who was counting? Certainly not Hearn (pictured with his father, Matchroom Sport founder Barry Hearn), whose enterprising ways once again, for the third year in a row, make him TSS 2018 Promoter of the Year.
Some readers will find the honor redundant, perhaps even dubious. But if Hearn's work in 2016 and 2017 at Matchroom might be charitably described as "domestic-level," his endeavors this past year were far more international and innovative in scope.
No one would have begrudged Hearn if he had decided to stay put in an Essex abode and oversee, twice a year, what is by now one of the great sporting spectacles today: an Anthony Joshua fight, which depending on whether it takes place at the Principality Stadium in Cardiff or at Wembley Stadium in London, typically draws upwards of 75,000 spectators. But the inexhaustible Hearn, smelling fame and fortune across the Atlantic, had other ambitions in mind other than counting "AJ" gate receipts and PPV revenue from the comfort of his chaise lounge.
"I am trying to do what no UK promoter has ever done," said Hearn shortly after announcing the DAZN deal. "Everybody wants us to fail, just like they did when we came into the UK five or six years ago, but this deal gives me a chance. In six years' time we want to be the No 1 promoter in America."
That last statement might make a veteran US promoter like Bob Arum keel over on the floor in stitches. But the fact remains that Hearn arrives with more ammunition than any British outsider since the colonial days. By linking up with DAZN — a startup bankrolled by billionaire Len Blavatnik and helmed by ex-ESPN head John Skipper — Hearn boasts the infrastructure to grow his firm into an American and perhaps even global powerhouse. But it is his position at the forefront of the new technology that DAZN represents that makes Hearn the most noteworthy promoter of the past year. If streaming is the future (as seemingly everyone in the sports media aisle seems to think), Hearn wants to be sure that he has a seat at the table.
Through Hearn, DAZN, the self-styled "Netflix of Sports," has bulldozed its way into the American boxing market at a time in which the industry has never looked more in flux and fragmented. The news that HBO would no longer showcase boxing sent shockwaves across the industry, but for purely sentimental reasons. In reality, the boxing business had long outgrown the diminishing offerings from HBO. How Hearn will steer his company in this new landscape as DAZN's chief content provider will be a key story in the coming years.
Hearn launched the first DAZN boxing card in September with the Anthony Joshua-Alexander Povetkin fight in Cardiff. October was even busier. The first DAZN show in the US was held in Chicago and showcased the likes of Artur Beterbiev, Danny Roman, Katie Tayler, and Jarrell Miller, as well as the main event pairing Jessie Vargas against Thomas Dulorme. A few weeks later, Hearn promoted one of the last HBO shows at the Hulu Theater in Madison Square Garden featuring the tightly-contested middleweight title match between his charge Daniel Jacobs and Sergiy Derevyanchenko. The following weekend, Hearn flew up to Boston to stage another middleweight showdown on DAZN headlined by new signee Demetrius Andrade. Tevin Farmer, another DAZN signee, fought on the undercard.
But what has truly earned Hearn goodwill with boxing's finicky hardcore fanbase was his decision to put his weight behind the World Boxing Super Series, the much-lauded tournament series that lacked a significant and serious broadcast partner in its first iteration. An otherworldly talent like knockout artist Naoya Inoue, who is currently participating in the bantamweight tournament, deserves to seen by a US audience.
In a hint at his global designs, Hearn announced recently that Matchroom/DAZN would begin staging eight boxing cards a year in Italy, where DAZN currently has a significant presence in the soccer scene (Portuguese superstar Cristiano Ronaldo is a global ambassador for DAZN).
But for all the initial fanfare, the past year for Hearn has not been without its learning curves. His bold promise (or was it brash gloating?) to lure marketable US fighters aligned with Al Haymon, including Gervonta Davis, Adrien Broner, and the Charlo twins, fell flat on its face when the PBC announced its output deal with Fox, in addition to renewing its commitment with Showtime. And while Beterbiev, Andrade, Farmer, and Miller are nothing to scoff at, they are hardly the kind of fighters entrusted to bring major credibility and recognition to a brand sorely in need of both. Indeed, the splash that DAZN was looking for would come later in the year and without Hearn's involvement: the signing of Mexican superstar Saul "Canelo" Alvarez to an exclusive contract estimated to be worth $365 million.
Furthermore, though Hearn signing unified cruiserweight titleholder Oleksandr Uysk certainly deserves praise, his current roster of US fighters are not as impressive as he would have you believe. The November 17 show pitting a mismatch between Jarrell Miller and Bogdan Dinu and as well as a tawdry assortment of over-the-hill fighters, like Brandon Rios and Gabriel Rosado, in boxing backwater Kansas City was an obvious clunker.
Still, there has been no promoter in 2018 more joined to the efforts, for better or worse, to reinvent the sport. Who knows, maybe six years from now Hearn will find himself back safely ensconced in his London office happily hyping a homegrown contender from Yorkshire, and DAZN, blanched and faded from years of financial hemorrhaging, will have been auctioned off to some Silicon Valley unicorn at pennies to the dollar. Maybe.
In any case, should Hearn seek to add another TSS trophy to his Chippendale cabinet for a four-peat, he need only do one simple thing in 2019: cut the dillydallying and make the heavyweight matchup that everyone wants to see in Joshua vs. Deontay Wilder. Like many of the sport's most colorful impresarios before him, Hearn has attracted both admiration and disgust at a fever pitch. He will have much more of the former when he truly decides to play ball with Wilder's handlers and consummate the one fight that would benefit the sport as a whole.
But that is supposing he cares about such a thing. Most promoters, as they have shown time and time again, do not. We will find out soon if Hearn is any different.
Check out more boxing news on video at The Boxing Channel
To comment on this article in the Fight Forum, CLICK HERE
Tyson Fury is the 2018 TSS Comeback Fighter of the Year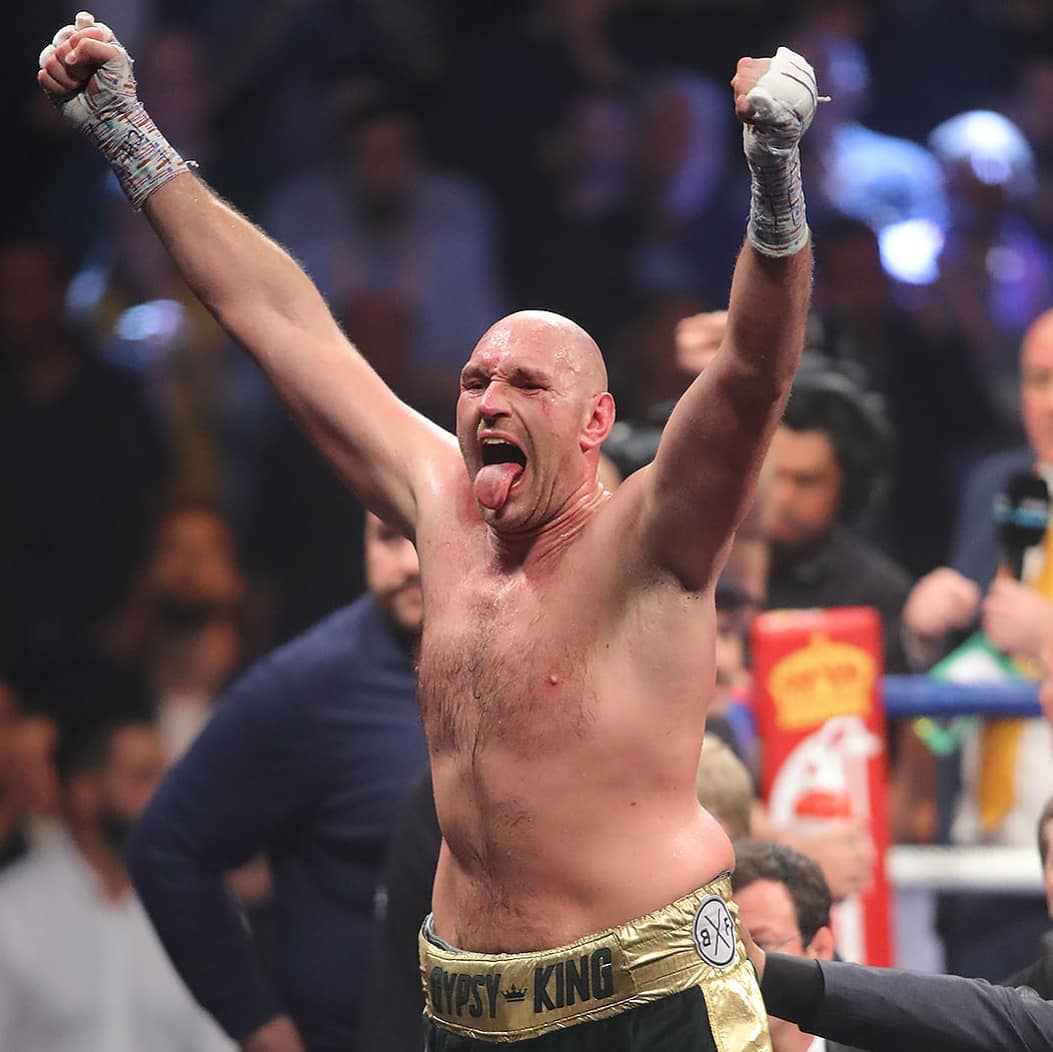 When the TSS year-end award season rolls around, some choices are no-brainers and others are head-scratchers because there are so many worthy candidates. Selecting Tyson Fury as our 2018 Comeback Fighter of the Year was a no-brainer.
When Fury left the sport for what would ultimately be a 31-month layoff, it soon became evident that we might never see him again. It wasn't just that his heart was no longer in the game. He fell to pieces, letting his weight balloon to almost 400 pounds.
We would learn that there was more to the story. Fury was abusing cocaine and alcohol and had mental health issues that he readily acknowledged. He told reporters that he was seeing a psychiatrist who had diagnosed him as bipolar and manic depressive.
But Fury pulled himself together and gradually worked his way back to where he was fit to fight again. He returned to the ring on June 9 in Manchester in a supporting bout to Terry Flanagan's140-pound title defense against Maurice Hooker. In the opposite corner was Sefer Seferi, a 39-year-old puffed-up cruiserweight.
The fight was a travesty. Fury, 11 inches taller and 66 pounds heavier, hardly worked up a sweat and the same could be said of his Albanian opponent who quit after four rounds.
For his second comeback fight, Fury chose a man nearer his own size, former sparring partner Francesco Pianeta. They met on August 18 in Belfast on a show headlined by hometown hero Carl Frampton. Fury won the contest easily in the eyes of the referee who awarded him all 10 rounds, but he wasn't impressive. Indeed, the fight had no indelible moments.
In the post-fight press conference following the Pianeta fight, Fury's promoter Frank Warren announced that the self-styled Gypsy King would fight WBC champion Deontay Wilder next and that the fight would materialize in late November in Las Vegas. As it turned out, the match came to fruition in Los Angeles at the Staples Center on Dec. 1.
It was widely assumed that Warren was blowing smoke. Surely Fury needed more rounds to shake off all the rust after his long spell of inactivity and self-abuse. But to some it made perfect sense that Fury would take on such a daunting assignment at this juncture. The cynics holding this view said that Fury was a certified loon and the longer the wait before he was thrust into a big money fight, the greater the chance that he would do something stupid and it would all fall apart.
The oddsmakers made Wilder a 7/5 favorite. In Las Vegas, there was late money on Wilder. At one large property, the odds shot up to 11/5 on the day of the fight.
After 40 pro fights, Deontay Wilder was still rough around the edges. Fury, it was widely understood, was the better boxer. But Wilder could take a man out with one punch and it figured that he would clock the Gypsy King who figured to tire in the late rounds if he could last that long.
By now every serious boxing fan is familiar with the details of the Wilder-Fury fight. Suffice it to say that Wilder did clock him in the late rounds, not once but twice, the second compliments of a left hook that knocked a staggering Fury down hard in the final round. The punch, wrote London Guardian scribe Kevin Mitchell, would have anaesthetized a horse.
The punch pulled the fight out of the fire for Deontay Wilder. For five long seconds as he lay prone on the canvas, Tyson Fury looked dead as a mackerel.
But hold the phone.
By some miracle, Fury was able to beat the count – just barely – and, more astoundingly, he got the best of the milling during the remainder of the round.
When the decision was announced – it went into the books as a draw – Fury didn't bellyache. He had a look of satisfaction on his face as referee Jack Reiss simultaneously raised his hand and the hand of his opponent. Afterwards, he would say that he was certain that he had won enough rounds to earn the decision, but that if he had ranted and raved it might have started a riot. Indeed, whenever there is an especially large delegation of British boxing fans there is a hooligan element. And the Wilder-Fury fight played out before a large delegation of Brits who left the premises justifiably disgruntled but orderly.
At the post-fight press conference, the Gypsy King did something charming. He burst into song, leading the media in a rendition of Don McLean's "American Pie." Yes, over the years, to his everlasting discredit, Fury has hurt people with words that were misogynistic, homophobic, and even anti-Semitic. But at moments like these the big galoot is so cuddly that it's hard not to love him.
As comebacks go, Fury's was strange. He wasn't coming off a loss and he didn't win. But he emerged from a very dark place and gave a performance that was not only redemptive but inspirational.
The 2018 TSS Comeback Fighter of the Year was a no-brainer.
Check out more boxing news on video at The Boxing Channel
To comment on this article at The Fight Forum, CLICK HERE
Eleider Alvarez Forged the 2018 TSS Upset of the Year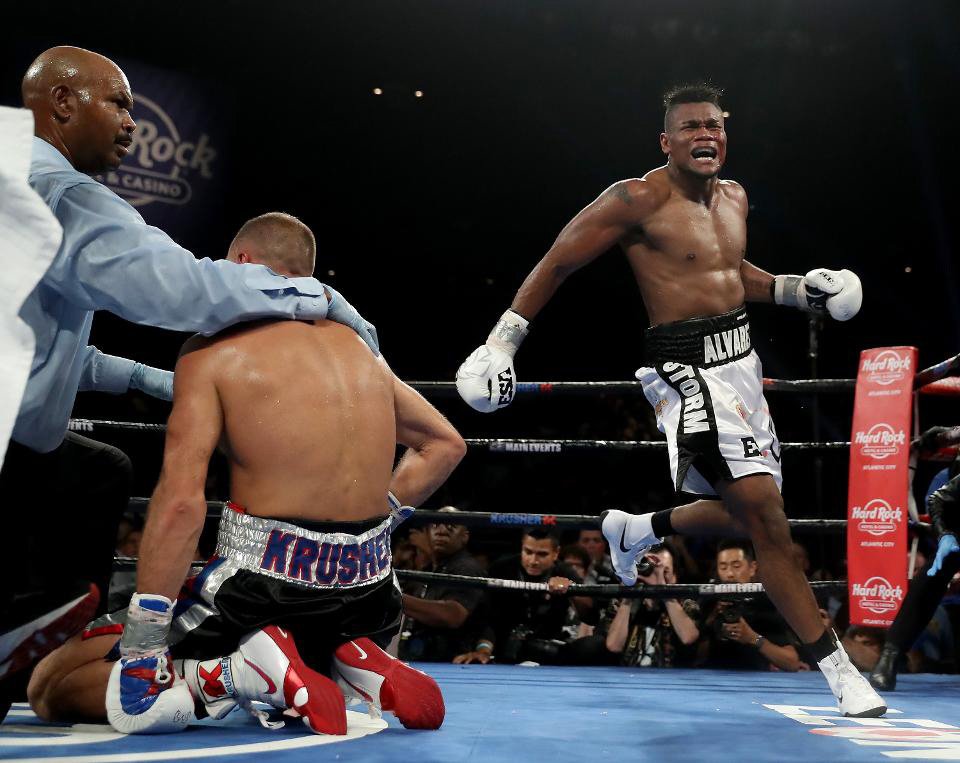 HBO World Championship Boxing called it quits in 2018 but not before airing the Sweet Science (TSS) Upset of the Year: Eleider "Storm" Alvarez's jaw dropping seventh round knockout of Sergey Kovalev to win the WBO light heavyweight title at Atlantic City's Hard Rock Hotel & Casino, formerly President Trump's Taj Mahal.
The legendary cable network that broadcast the Douglas-Tyson shocker in February of 1990 retained its reputation as a theatre of the totally unexpected on that Saturday, August 4. It was supposed to be a return to elite form for the Russian Kovalev (now 32-3-1 with 28 knockouts) and a chance for promoters to make boardwalk boxing great again.
For the 34-year-old Colombian Alvarez, successfully transplanted to Montreal, Quebec, Canada in 2009 by Groupe Yvon Michel, it was the realization of a bold prediction that fell upon mostly deaf ears: "Kovalev will be a very difficult fight but I will be the new WBO champion of the world."
Right on both counts.
Alvarez (booked as a +400 underdog) appeared to gain an early advantage with impressively aggressive boxing skills but Kovalev wasn't going anywhere without a fight and he pummeled Alvarez in the fourth round with his long jab and solid power punches—outlanding him 3 to 1.
Alvarez returned to his corner down on the scorecards.
Max Kellerman may have been able to see what Alvarez was doing to win the first three rounds but ringside judges Carter, Pasquale and Ortiz did not. Regardless, Alvarez pumped his fist in celebration, well aware he'd just taken the best of 'The Krusher' without being too badly hurt by any of it. "I wanted to show him I have a good chin," he said after the fight of the assault.
The fifth and sixth were fiercely competitive with both rounds being won legitimately by Kovalev who presently began showing signs of fatigue while Alvarez (24-0 with 12 knockouts) recovered from the fourth round drubbing he'd proudly endured; his left cheek bloodied. If Kovalev's plan was to outbox Alvarez and win a decision, he lacked the stamina needed to go six more rounds.
Alvarez answered the bell for the seventh ready to make good on his stormy forecast calling for rain on Kovalev's parade. With a minute and twenty seconds left in the frame, Alvarez feinted a left jab to the body; following up full-speed with a looping right hand to the side of Kovalev's unprotected head. Kovalev wobbled backwards onto the seat of his pants, decked by a jabby boxer assumed to be a light hitter with a trio of surgically repaired right knuckles.
Up fast at the count of "four" from American referee David Fields, Kovalev was in the eye of the storm now. Alvarez went for the kill with poise and precision. A right uppercut rocked Kovalev's head back. A left jab had a similar effect. A right cross strafed his face. With 40 seconds left in the round, Alvarez connected with a ferocious left-right combination and Kovalev fell again. And again—Kovalev got up quickly but this time in no condition to continue and he could no longer protect himself. Alvarez walked straight in and landed a clubbing right around Kovalev's guard. Kovalev collapsed onto all fours and Fields immediately waved it off as Alvarez celebrated.
A new light heavyweight star was being born.
Asked if he wanted to face HBO undercard winner Dmitry Bivol in a WBO/WBA unification match-up, Alvarez indicated a willingness to face all comers. "I've been waiting five years to fight the best in the division. I'm now among the best at 175. Whatever comes, I'm ready."
It won't be a long overdue confrontation with promotional stablemate Adonis Stevenson. The 41 year-old "Superman" was beaten into a medically induced coma by new WBC champion Oleksandr Gvozdyk on December 1 in Quebec City. What's coming instead is an immediate rematch with Kovalev, scheduled for February 2, 2019 in Frisco, Texas—streaming live on ESPN. Alvarez probably needs another KO to retain his new title. The three official judges in the first fight did him no favors and Texas is infamous for dodgy officiating and sketchy scoring.
Believing that he needs to be in better shape if he hopes to avenge his latest defeat, Kovalev is fielding yet another new trainer, new International Boxing Hall of Famer, James "Buddy" McGirt. Says Krusher of this 'last chance' sequel: "I'll be ready [this time] and I will take back my title."
Time will tell.
Despite taking an ambulance ride to the hospital after getting his ass officially kicked, Kovalev went on record claiming Alvarez was "lucky" to get the knockout victory. Kovalev's loyal promoter Kathy Duva may have convinced her guy it was a fluke but a result like that is surely no accident. "Sergey was clearly winning when he just got caught," she casually explains. "It happens."
No Kathy, it happened. It happened. The Sweet Science 2018 Upset of the Year. My Alvarez-Kovalev II prediction: It happens again. Alvarez TKO in nine, Kovalev calls it quits.
Other Notable 2018 Upsets: Roberto "Rifle" Ramirez's second round beat down of Dejan Zlaticanin in June, Francis Chua's split decision over Kye McKenzie on the Horn-Mundine undercard Down Under, Emanuel Navarrete's victory against Isaac Dogboe for the WBO 122 lb. title on the Lomachenko-Pedraza undercard at MSG, and as written about by TSS's own Matt Andrzejewski, Hassan Mwakinyo's shocking TKO of Sam Eggington in the United Kingdom.
UPSET PICK POSTSCRIPT
It's funny how "boxing experts" often claim to have picked the surprise winner of a prize fight only after said fight is over. At a packed press conference in New York City to announce the summer title bout between Kovalev and Alvarez, I couldn't find a single media member or industry insider willing to entertain the notion of an upset, much less an Alvarez knockout.
Face-to-face with Kovalev, Alvarez looked and sounded like a sure-fire winner to me. Where Alvarez appeared fit and ready to fight that day if need be, Kovalev struck me as a little too fat and happy for his own good. After Kovalev was knocked down and out on HBO, social media was full of 'I told you so' tweets from ex post facto smart alecks and keyboard warriors.
What I observed in the lead-up to the fight led me to conclude the 35 year-old Kovalev was not taking his relatively unknown opponent as seriously as he should have been. Kovalev's middle finger morphed into a peace symbol. He actually said it wasn't his goal to knock Alvarez out!
Ultimately, I was the only reporter out there who could read the writing on the wall, noting last May what a "high risk, low reward" fight this was for Kovalev; one with the potential to "go all wrong" for him. I couldn't have been more right. While most (if not all) fans and media regarded the result as a foregone conclusion, I wrote that Kovalev would be UPSET by Eleider Alvarez.
He told me, I told you.
It happened.
Check out more boxing news on video at The Boxing Channel
To comment on this article in The Forum, CLICK HERE