Wilder Puts 'Irrelevant' Joshua on the Back Burner Until Further Notice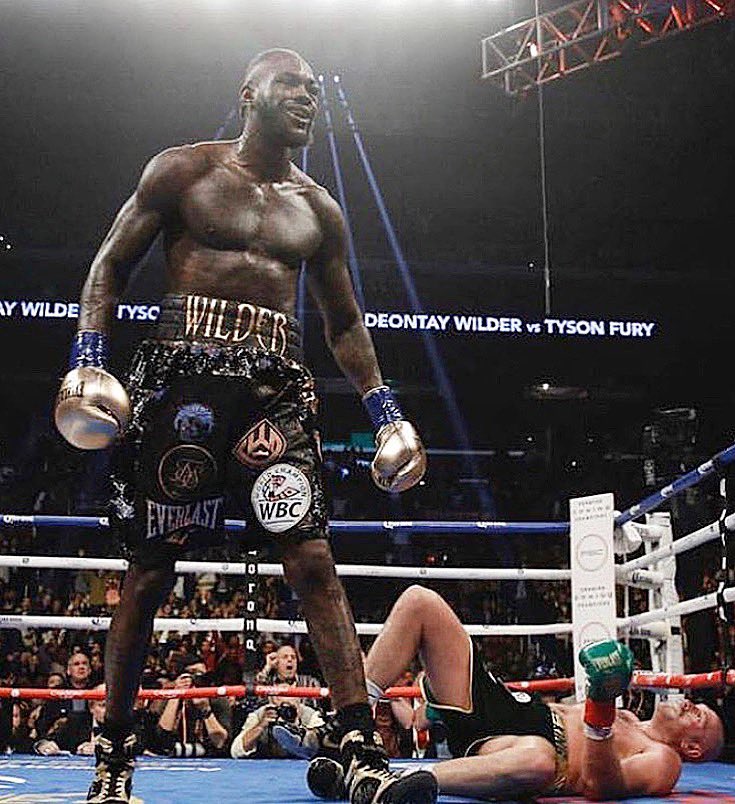 It's funny what a devastating 12th-round knockdown, a Lazarus-like rising from that knockdown and a controversial split draw can do to alter the current landscape of the heavyweight division, or at least some people's perception of it.
Until late Saturday night – or very early Sunday morning for Showtime Pay Per View subscribers on the East Coast – WBA/IBF/WBO heavyweight champion Anthony Joshua was the pivotal figure in heavyweight boxing, holder of three of the four widely recognized alphabet titles, the biggest box-office draw and the guy all the wannabe poachers of what Joshua possesses hoped to fight for pride, popularity and profit.
But that was before the mesmerizing standoff at Los Angeles' Staples Center that changed everything, at least for the moment. A strident minority of on-site spectators and Showtime viewers came away believing that WBC champion Deontay Wilder, who registered the fight's only two knockdowns, including the one in the final round that has become the stuff of instant legend, had done enough to come away with a come-from-behind victory. A just-as-argumentative majority supporting challenger and still-lineal-champ Tyson Fury is convinced that the massive Briton had built enough of a lead through the early and middle rounds to be rewarded with the decision. (Respondents to a Showtime viewer poll favored Fury by 65 percent to 35 percent.) But regardless of which side of the dividing line fans are on, apparently all of them, as well as the principals, now demand a final resolution to a conflict that produced no winner, but a raging tsunami of dispute.
An outcome that could and maybe should have been determined by the judges (Alejandro Rochin favored Wilder by 115-111, Robert Tapper had Fury by 114-112 and swing judge Phil Edwards saw it at 113-113) ultimately hinged on referee Jack Reiss' allowing Fury, on the wrong end of that devastating 12th-round knockdown, to fight on after he somehow made it to his feet at the count of nine, seemingly with enough time remaining for the bull-rushing Wilder to finish him off. But Fury, amazingly, not only evaded the champion's follow-up assault, but launched an improbable counter-attack that blunted Wilder's momentum and had him holding on at the final bell.
It all made for high drama, as well as raising several questions. Was Reiss – a veteran whose work throughout the bout was praised by the Showtime broadcast crew – a bit slow on his count, as Wilder contends? And even if he wasn't, would he have been justified in stopping a bout which more than a few other refs would have called then and there, what with a semi-conscious Fury laying on his back, unmoving, seemingly more in need of an ambulance than a reprieve?
"I don't know how this man got up," an incredulous Wilder said during a teleconference with the media on Tuesday. "(Fury) don't even know how he got up. I feel that God got this man up, for the rematch."
References to Lazarus and The Undertaker – that would be the WWE headliner, not a mortician, known for his dramatic rallies from the specter of imminent defeat – were rife from all concerned during the 50-minute session with the media, during which it was made clear that Wilder-Fury II will happen next, sometime in the spring of 2019 or possibly early summer, with Wilder-Joshua or Fury-Joshua, depending on the survivor of the rematch, moving to the back burner until further notice. Joshua (22-0, 21 KOs), who seemingly had been holding a pat hand, would seem to have been dealt out of any immediate discussions involving highly lucrative matchups with Wilder (40-0-1, 39 KOs) or Fury (27-0-1, 19 KOs). To Wilder, making Joshua wait constitutes justice of a sort, a penalty for arrogance that salves the disappointment of having had to settle for a draw, which usually leaves no one satisfied.
"I haven't even thought about Joshua," Wilder said when asked about the 800-pound gorilla in the room that apparently has been shunted to a corner. "They're (Joshua and his promoter, Matchroom Boxing's Eddie Hearn) getting what they deserve. They felt like they were the only people in the heavyweight division that people cared about. They felt like they were running this sport. We had to show them they're not the only ones. Me and Fury came together to show the world what it looks like for the best to fight the best. Look at the outcome. No one has talked about Joshua in I don't know how long. And we plan on keeping it that way.
"They had the opportunity. For four months they had their opportunity (to negotiate a full-unification showdown with Wilder). They led people on. It could have been me and Joshua to have this excitement going on. He could have had (Luis) Ortiz, he could have had Fury, he could have had me. But their egos got the best of them. So let them continue to fight the second-tier fighters. Who knows? We don't care about them no more."
To be fair, Joshua hasn't spent 2018 sifting through the discard bin of possible opponents. His first fight this year was a unification with then-WBO champ Joseph Parker, whose title Joshua claimed on a 12-round unanimous decision on March 31 in Cardiff, Wales. He followed that up with a seventh-round stoppage of highly regarded Russian Alexander Povetkin on Sept. 22 in London. But with Wilder and Fury both seemingly unavailable for now, Joshua might have to settle on Jarrell "Big Baby" Miller (23-0-1, 20 KOs) as his first opponent of 2019. It'll draw a big crowd somewhere in the United Kingdom, to be sure, but it won't be as significant as Joshua-Wilder or Joshua-Fury would have been, or Wilder-Fury II will be.
"For us, the overriding priority is the health of the fighters," Stephen Espinoza, president of Showtime Sports, said when asked for a possible date for the do-over. "That was a tough, tough fight. So we're not going to rush anything to fit anything into a specific timetable. Both of those guys earned a long rest.
"May would be great. June would be great. April sounds a little quick to me. But it will happen, and it will happen at its natural time."
Truth be told, Wilder-Fury was not without its faults. First and foremost was Wilder's unshakable belief that he could blast Fury out of there as he had blasted almost everyone else out of there previously. As round after round tolled by, with Fury putting them into his account the way squirrels store acorns in preparation for winter, the "Bronze Bomber" seemed oblivious to the entreaties of trainers Mark Breland and Jay Deas to compose himself and diversify his one-note tactics.
"I definitely got overanxious to knock Tyson Fury out," Wilder said. "I said I would do it, and I got very anxious to see the response and know I had the world's attention. I didn't know what to expect. This was my first time on pay-per-view. I know I had a lot of stuff going on. This was the moment and it got the best of me. I wanted to end it on a great note. I wanted to end it on a devastating knockout, and I pressed too much. I think I applied more pressure on myself than anything and it allowed me to get out of character, to just abandon the game plan.
"I was fighting against Tyson Fury and I was fighting against myself."
Wilder broke through Fury's commendable defense and his own obstinance in the ninth round, when he landed a chopping right hand to the back of the ear to floor the challenger for a nine-count. Fury regrouped to win the 10th and 11th rounds, setting the stage for the 12th round drama that elevated what had been a good heavyweight fight into something more meaningful and special. That pulverizing right hand landed first, augmented by a follow-up left hook, with the hulking Fury – all 6-foot-9 and 256½ pounds of him – falling hard, with the force of Wilder's 1-2 supplemented by the way the back of Fury's head struck the canvas. At that moment, Wilder had every reason to believe he had done exactly what he had been attempting to do all along, only later than he expected.
But Fury, the "Gypsy King," made it to his feet before Reiss had completed the 10-count, maybe the most stunning turnaround from such an emphatic knockdown since Larry Holmes arose after having been decked by Earnie Shavers in the seventh round of their WBC heavyweight title fight on Sept. 28, 1979. Holmes went on to retain his title on an 11th-round stoppage.
"I've been having a recurring thought in my head since Saturday night about the commercials for the next fight," said Wilder's promoter, Lou DiBella, who also was on the call. "You know, truth is sometimes stranger than fiction. A giant 6-foot-9 man went down like a tree and slammed into the canvas. And then popped up like The Undertaker! The look on Deontay's face at that moment was like one of those scripted looks that you'd see in a WWE Wrestlemania match. He just saw a guy get up, and had no idea how that was possible. That's a million buys for the next pay-per-view."
The lead-up to Wilder-Fury II presumably will feature less trash-talking and more mutual respect, but the quotes should still be entertaining. Both men have outsized personalities that make for nifty sound bites and Internet click-bait. Wilder's back story as an outcast Irish Traveller who rose to the top of his profession, plunged to the bottom in a morass of gluttony, cocaine bingeing and mental issues before righting himself, is as compelling as ever. And now we have both guys seeking to prove what they contended in the first place, that each is better than the other and only a definitive ending can bring the kind of closure that no draw ever can.
"We are the best in the division," Wilder said of himself and Fury. "We wanted to prove to each other who is the best in the heavyweight division. We did that, and it was amazing. I'm ready to do it again. The fact that he did survive makes it better for the rematch. It's an even playing ground. When I do knock him out the next time, then I want my full credit.
"Who knows? We might even have a trilogy."
Bernard Fernandez is the retired boxing writer for the Philadelphia Daily News. He is a five-term former president of the Boxing Writers Association of America, an inductee into the Pennsylvania, New Jersey and Atlantic City Boxing Halls of Fame and the recipient of the Nat Fleischer Award for Excellence in Boxing Journalism and the Barney Nagler Award for Long and Meritorious Service to Boxing.
Check out more boxing news on video at The Boxing Channel
To comment on this article at The Fight Forum, CLICK HERE
Odds Review for Friday's Boxing on Telemundo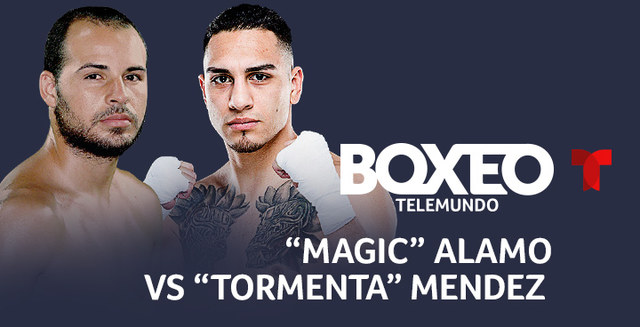 South Florida promoter Tuto Zabala Jr has a seven fight card planned for the Osceola Heritage Center in Kissimmee this Friday, February 22nd that sees three undefeated prospects headline the show. For more than two decades, Zabala Jr has promoted the sport in Mexico and Florida and Friday's event will air on Spanish language Telemundo in the United States, so check your local listings for start times.
A pair of ten round bouts hold the main event spots as undefeated Yomar Alamo faces veteran Manuel Mendez at welterweight and likewise unbeaten Carlos Monroe takes on Jonathan Tavira in a middleweight bout.
The 23 year old Alamo is from fight hungry Puerto Rico and he is considered a key piece to promoter Zabala Jr's plans to run shows back on the island. The 28 year old Mendez once carried the 'prospect' label as well but Mendez is 1-3-1 in his last five fights. The experience of being in there with the likes of Sonny Fredrickson (19-1) and undefeated Johnathan Navarro (15-0) will make him Alamo's toughest test to date. The welterweight division is crowded and Alamo is going to need to keep winning beyond Friday to get noticed, but he already banks on the fervent support of his "boriqua" crowd. Promoter Zabala Jr may be wondering if matchmaker Ruben DeJesus picked the right guy in Mendez. Alamo's record in Puerto Rico looks to have a good bit of fluff. He didn't face an opponent with a single pro win until his seventh fight. He faced 40 year old vet Edwin Lopez in 2016, but Lopez hurt his hand in the first round and could not continue, so Alamo is largely untested.
Middleweight prospect Carlos Monroe looks to go 12-0 as he steps in to his first bout scheduled for ten rounds. Veteran Jonathan Tavira provides the opposition for the 24 year old Monroe, who turned pro in December of 2017 and notched 10 fights in calendar year 2018. Monroe has been brought along carefully, as the combined record of his 11 opponents stands at 46-98-8. Tavira has been in there with the likes of Arif Magomedov, Dario Bredicean and Esquiva Falcao, all undefeated fighters on the way up. Tavira hits hard but he has been stopped five times in his six losses, so look for Monroe to improve on his eight KOs to date.
2016 U.S. Olympian Antonio Vargas looks to improve to 10-0 in an eight round bantamweight bout against Lucas Rafael Baez (34-17-5). Vargas was originally scheduled to take on Wilner Soto, a veteran with a 21-5 record and he was a big favorite in that match-up.
Below are the current lines as we start off fight week.
Fri 2/22 – Osceola Heritage Center – Kissimmee, Florida
Welterweight 10 rounds –
Manuel Mendez(16-4-1) +160
Yomar Alamo(15-0)         -210
Middleweight 10 rounds –
Jonathan Tavira (17-6)            +550
Carlos Monroe (11-0)             -1050
Bantamweight 8 rounds –
Lucas Rafael Baez        +1150
Antonio Vargas            -2450
(Opponent change for Vargas, line should be similar for new opponent Lucas Rafael Baez)
Check out more boxing news on video at The Boxing Channel
To comment on this story in The Fight Forum CLICK HERE
Blake Caparello Looks To Grab WBA Regional Belt This Friday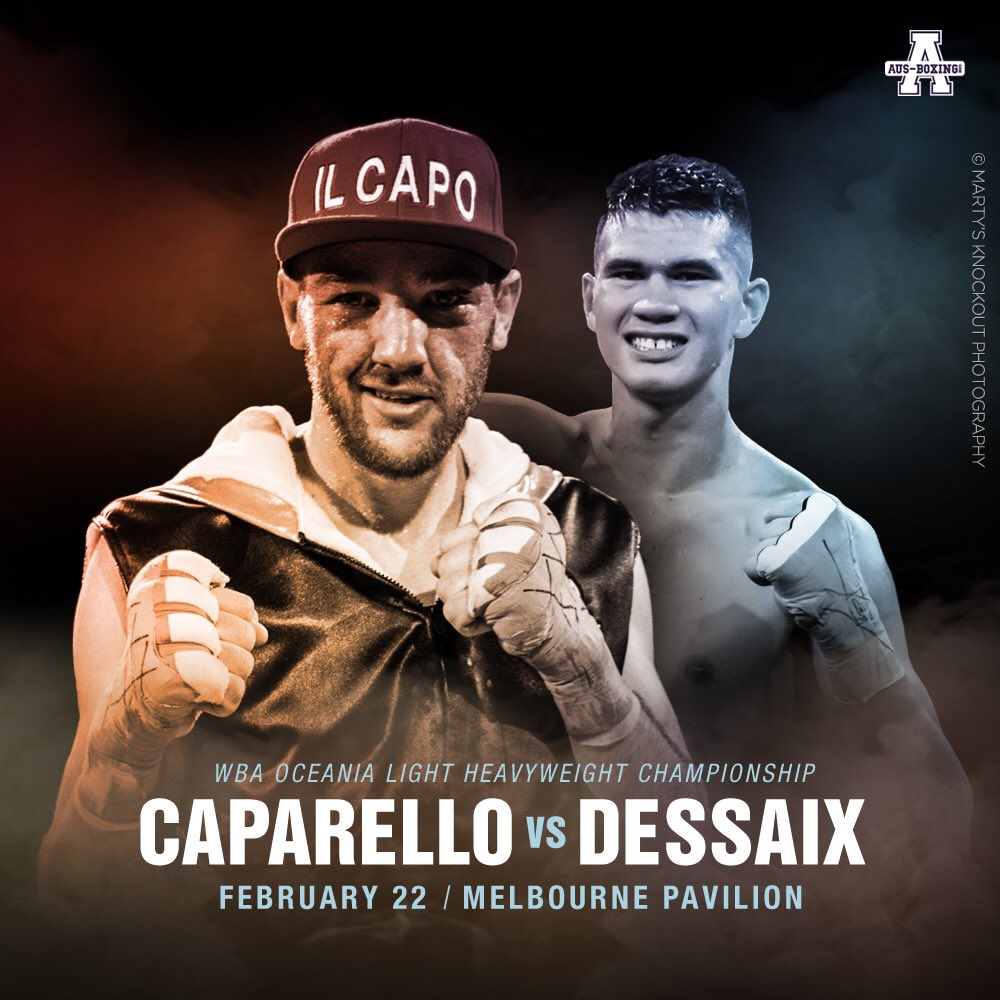 This Friday night in Australia, light heavyweight contender Blake Caparello returns to action as he faces youngster Reagan Dessaix for the WBA's Oceania title in the main event of a planned six fight card at The Melbourne Pavilion.
Dessaix currently holds the belt that Caparello held back in 2017, and the 22-year-old is hoping a win on Friday will put him on the international radar. It is where Caparello, who enters this fight as a 32-year-old, has been and hopes to get to again.
Those are the basics of Friday's main event, the youngster Dessaix making a significant leap in competition level as he looks to get ranked internationally, while the veteran Caparello is hopeful a win will propel him closer to another world title shot.
Caparello laid claim to the IBO's world title at 175 pounds back in October of 2013 when he won a comfortable unanimous decision over veteran Allan Green. Caparello, who was 17-0-1 at the time of the Green fight, went on to an introductory fight in the United States, and a win there saw him earn an August of 2014 title shot against WBO champion Sergey Kovalev.
Caparello has to feel he was close to a world title as he had the feared Kovalev down in round one before the "Krusher" took him out in round two. Since then, he has fought Isaac Chilemba and Andre Dirrell, extending both ranked veterans the full fight distance. The March of 2018 loss to Chilemba was for the WBC's world title, and Caparello managed to go 2-0 the rest of the calendar year.
Green, Kovalev, Dirrell and Chilemba. The bottom line is that Dessaix had a solid amateur career in Australia, but there is no one with resumes like the men Caparello has faced when asked to step onto the world scene.
The WBA's current world champion is Dmitry Bivol (15-0), who is making the fourth defense of his title in March against hard hitting Joe Smith Jr. The veteran Caparello could mount a case for a mandatory shot against either man with a win on Friday, while Dessaix would likely have to keep fighting and winning before earning a shot at a world title.
The co-feature bout is for the Australian title at 154 pounds and sees 31 year old Billy Klimov facing Joel Camilleri. Camilleri is favored as he has had a lot more professional experience than Limov, who turned professional at 29 years old. Strictly regional stuff here.
Both fights have lines at some of the sportsbooks. Check out the numbers as they were at the start of fight week below.
Fri 2/22 – The Melbourne Pavilion – Victoria, Australia
WBA Oceania Title
Light Heavyweight 10 rounds –
Reagan Dessaix(16-1)         +255
Blake Caparello (28-3-1)    -365
Australian Title
Super Welterweight 10 rounds –
Billy Limov (4-0-1)     +200
Joel Camilleri(16-5-1) -280
Check out more boxing news on video at The Boxing Channel
To comment on this story in The Fight Forum CLICK HERE
Will Fury's Deal With ESPN Torpedo The Fights That Fight Fans Want to See?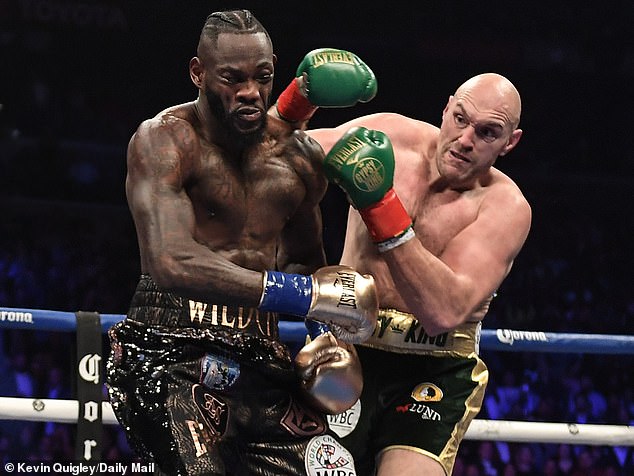 For the past few weeks, boxing fans have been led to believe that the rematch between Tyson Fury and Deontay Wilder was ever so-close to being a done deal. But in the world of professional boxing where Machiavellian characters seemingly hold all the positions of power, nothing is ever a done deal until it's finally finalized. Today's announcement that Tyson Fury has signed with ESPN is the latest case in point. It's a three-fight deal that will reportedly earn the Gypsy King $80 million if he can successfully hurdle the first two legs.
As Thomas Hauser has noted, what we have in boxing today is something similar to leagues in other sports. There's the Top Rank/ESPN League, the Matchroom/DAZN League, and the PBC/Showtime/FOX League. We would add that these are intramural leagues. Occasionally there's cross-pollination, similar to when the Yankees play the Mets in a game that counts in the regular season standings, but basically the boxers in each league compete against each other.
We have no doubt that WBC/WBA/IBF heavyweight ruler Anthony Joshua will eventually fight Wilder and/or Fury, but it now appears that these matches, when they transpire, will have marinated beyond the sell date. The action inside the ring may mirror the Mayweather-Pacquiao dud.
A match between Joshua and Wilder is already somewhat less enticing than it would have been if it had come to fruition last autumn. The odds lengthened in favor of Joshua after Wilder's raggedy performance against Tyson Fury on Dec. 1 in Los Angeles.
True, the Bronze Bomber almost pulled the fight out of the fire with a thunderous punch but he was out-slicked in most of the rounds and it wasn't as if he was fighting a bigger version of Pernell Whitaker. Before that fight, casual fans were less tuned-in to Deontay Wilder's limitations.
It was reported that the Wilder-Fury rematch was headed to Las Vegas or New York, but that Las Vegas fell out of the running when the State Athletic Commission insisted on using Nevada officials. Fury was the one that balked.
In hindsight we should have seen that this was fake news. No Nevada officials were involved in Fury-Wilder I. The judges were from California, Canada, and Great Britain. The California judge voted against Fury, scoring the fight 115-111, a tally for which he was excoriated. The judge from Great Britain, like many ringside reporters, had it draw. The TV crews, especially the crew from Great Britain, left no doubt that Fury should have had his hand raised and the controversy made the hoped-for rematch more alluring.
So who will be Tyson Fury's next opponent? Speculation immediately centered on Bulgaria's Kubrat Pulev.
Pulev, who turns 38 of May 4, sports a 26-1 record. He was slated to fight Anthony Joshua in October of 2017 but suffered a torn biceps in training and was forced to withdraw. In his most recent bout he outpointed Hughie Fury, Tyson's cousin. He's currently ranked #1 by the IBF.
On Dec. 8 of last year, Bob Arum announced that he had hammered out a deal to co-promote Pulev. It was subsequently reported that Pulev's first fight under the Top Rank/ESPN umbrella would be against Finland's Robert Helenius on March 23 in Los Angeles. Six days ago, the distinguished European fight writer Per Ake Persson told his readers that the fight had fallen out, ostensibly because the parties could not come to terms.
Tyson Fury is the most charismatic white heavyweight to come down the pike since Gerry Cooney and the big galoot is bigger than Cooney ever was as he has avid followers on both sides of the Atlantic and Cooney didn't have social media to enhance his profile. I have little doubt that ESPN will recoup their investment in him. However, deals in boxing are never consummated with an eye on uplifting the sport – on patching things up with the disaffected – and here's yet another example.
Check out more boxing news on video at The Boxing Channel
To comment on this story in The Fight Forum CLICK HERE