Wilder Puts 'Irrelevant' Joshua on the Back Burner Until Further Notice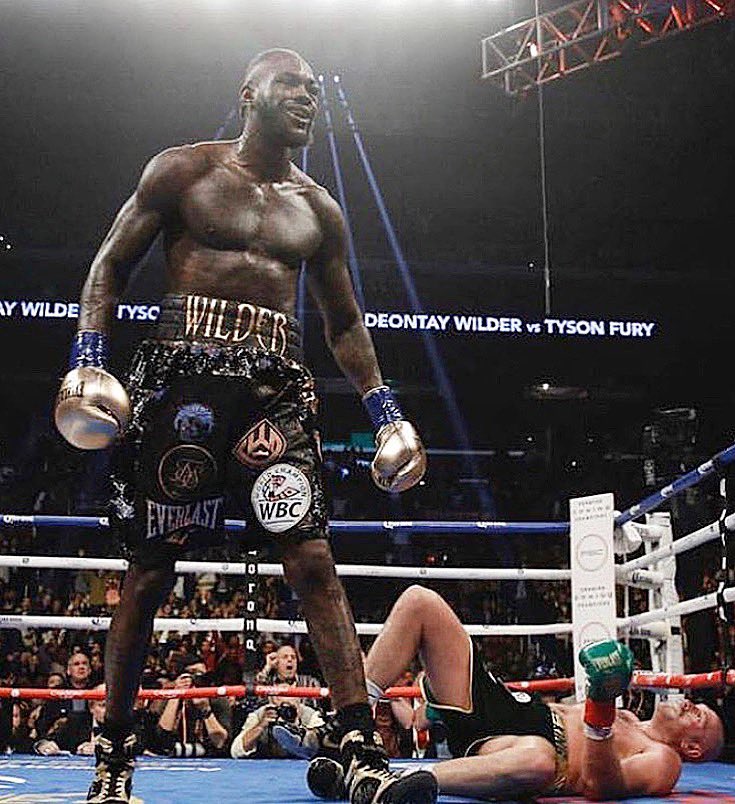 It's funny what a devastating 12th-round knockdown, a Lazarus-like rising from that knockdown and a controversial split draw can do to alter the current landscape of the heavyweight division, or at least some people's perception of it.
Until late Saturday night – or very early Sunday morning for Showtime Pay Per View subscribers on the East Coast – WBA/IBF/WBO heavyweight champion Anthony Joshua was the pivotal figure in heavyweight boxing, holder of three of the four widely recognized alphabet titles, the biggest box-office draw and the guy all the wannabe poachers of what Joshua possesses hoped to fight for pride, popularity and profit.
But that was before the mesmerizing standoff at Los Angeles' Staples Center that changed everything, at least for the moment. A strident minority of on-site spectators and Showtime viewers came away believing that WBC champion Deontay Wilder, who registered the fight's only two knockdowns, including the one in the final round that has become the stuff of instant legend, had done enough to come away with a come-from-behind victory. A just-as-argumentative majority supporting challenger and still-lineal-champ Tyson Fury is convinced that the massive Briton had built enough of a lead through the early and middle rounds to be rewarded with the decision. (Respondents to a Showtime viewer poll favored Fury by 65 percent to 35 percent.) But regardless of which side of the dividing line fans are on, apparently all of them, as well as the principals, now demand a final resolution to a conflict that produced no winner, but a raging tsunami of dispute.
An outcome that could and maybe should have been determined by the judges (Alejandro Rochin favored Wilder by 115-111, Robert Tapper had Fury by 114-112 and swing judge Phil Edwards saw it at 113-113) ultimately hinged on referee Jack Reiss' allowing Fury, on the wrong end of that devastating 12th-round knockdown, to fight on after he somehow made it to his feet at the count of nine, seemingly with enough time remaining for the bull-rushing Wilder to finish him off. But Fury, amazingly, not only evaded the champion's follow-up assault, but launched an improbable counter-attack that blunted Wilder's momentum and had him holding on at the final bell.
It all made for high drama, as well as raising several questions. Was Reiss – a veteran whose work throughout the bout was praised by the Showtime broadcast crew – a bit slow on his count, as Wilder contends? And even if he wasn't, would he have been justified in stopping a bout which more than a few other refs would have called then and there, what with a semi-conscious Fury laying on his back, unmoving, seemingly more in need of an ambulance than a reprieve?
"I don't know how this man got up," an incredulous Wilder said during a teleconference with the media on Tuesday. "(Fury) don't even know how he got up. I feel that God got this man up, for the rematch."
References to Lazarus and The Undertaker – that would be the WWE headliner, not a mortician, known for his dramatic rallies from the specter of imminent defeat – were rife from all concerned during the 50-minute session with the media, during which it was made clear that Wilder-Fury II will happen next, sometime in the spring of 2019 or possibly early summer, with Wilder-Joshua or Fury-Joshua, depending on the survivor of the rematch, moving to the back burner until further notice. Joshua (22-0, 21 KOs), who seemingly had been holding a pat hand, would seem to have been dealt out of any immediate discussions involving highly lucrative matchups with Wilder (40-0-1, 39 KOs) or Fury (27-0-1, 19 KOs). To Wilder, making Joshua wait constitutes justice of a sort, a penalty for arrogance that salves the disappointment of having had to settle for a draw, which usually leaves no one satisfied.
"I haven't even thought about Joshua," Wilder said when asked about the 800-pound gorilla in the room that apparently has been shunted to a corner. "They're (Joshua and his promoter, Matchroom Boxing's Eddie Hearn) getting what they deserve. They felt like they were the only people in the heavyweight division that people cared about. They felt like they were running this sport. We had to show them they're not the only ones. Me and Fury came together to show the world what it looks like for the best to fight the best. Look at the outcome. No one has talked about Joshua in I don't know how long. And we plan on keeping it that way.
"They had the opportunity. For four months they had their opportunity (to negotiate a full-unification showdown with Wilder). They led people on. It could have been me and Joshua to have this excitement going on. He could have had (Luis) Ortiz, he could have had Fury, he could have had me. But their egos got the best of them. So let them continue to fight the second-tier fighters. Who knows? We don't care about them no more."
To be fair, Joshua hasn't spent 2018 sifting through the discard bin of possible opponents. His first fight this year was a unification with then-WBO champ Joseph Parker, whose title Joshua claimed on a 12-round unanimous decision on March 31 in Cardiff, Wales. He followed that up with a seventh-round stoppage of highly regarded Russian Alexander Povetkin on Sept. 22 in London. But with Wilder and Fury both seemingly unavailable for now, Joshua might have to settle on Jarrell "Big Baby" Miller (23-0-1, 20 KOs) as his first opponent of 2019. It'll draw a big crowd somewhere in the United Kingdom, to be sure, but it won't be as significant as Joshua-Wilder or Joshua-Fury would have been, or Wilder-Fury II will be.
"For us, the overriding priority is the health of the fighters," Stephen Espinoza, president of Showtime Sports, said when asked for a possible date for the do-over. "That was a tough, tough fight. So we're not going to rush anything to fit anything into a specific timetable. Both of those guys earned a long rest.
"May would be great. June would be great. April sounds a little quick to me. But it will happen, and it will happen at its natural time."
Truth be told, Wilder-Fury was not without its faults. First and foremost was Wilder's unshakable belief that he could blast Fury out of there as he had blasted almost everyone else out of there previously. As round after round tolled by, with Fury putting them into his account the way squirrels store acorns in preparation for winter, the "Bronze Bomber" seemed oblivious to the entreaties of trainers Mark Breland and Jay Deas to compose himself and diversify his one-note tactics.
"I definitely got overanxious to knock Tyson Fury out," Wilder said. "I said I would do it, and I got very anxious to see the response and know I had the world's attention. I didn't know what to expect. This was my first time on pay-per-view. I know I had a lot of stuff going on. This was the moment and it got the best of me. I wanted to end it on a great note. I wanted to end it on a devastating knockout, and I pressed too much. I think I applied more pressure on myself than anything and it allowed me to get out of character, to just abandon the game plan.
"I was fighting against Tyson Fury and I was fighting against myself."
Wilder broke through Fury's commendable defense and his own obstinance in the ninth round, when he landed a chopping right hand to the back of the ear to floor the challenger for a nine-count. Fury regrouped to win the 10th and 11th rounds, setting the stage for the 12th round drama that elevated what had been a good heavyweight fight into something more meaningful and special. That pulverizing right hand landed first, augmented by a follow-up left hook, with the hulking Fury – all 6-foot-9 and 256½ pounds of him – falling hard, with the force of Wilder's 1-2 supplemented by the way the back of Fury's head struck the canvas. At that moment, Wilder had every reason to believe he had done exactly what he had been attempting to do all along, only later than he expected.
But Fury, the "Gypsy King," made it to his feet before Reiss had completed the 10-count, maybe the most stunning turnaround from such an emphatic knockdown since Larry Holmes arose after having been decked by Earnie Shavers in the seventh round of their WBC heavyweight title fight on Sept. 28, 1979. Holmes went on to retain his title on an 11th-round stoppage.
"I've been having a recurring thought in my head since Saturday night about the commercials for the next fight," said Wilder's promoter, Lou DiBella, who also was on the call. "You know, truth is sometimes stranger than fiction. A giant 6-foot-9 man went down like a tree and slammed into the canvas. And then popped up like The Undertaker! The look on Deontay's face at that moment was like one of those scripted looks that you'd see in a WWE Wrestlemania match. He just saw a guy get up, and had no idea how that was possible. That's a million buys for the next pay-per-view."
The lead-up to Wilder-Fury II presumably will feature less trash-talking and more mutual respect, but the quotes should still be entertaining. Both men have outsized personalities that make for nifty sound bites and Internet click-bait. Wilder's back story as an outcast Irish Traveller who rose to the top of his profession, plunged to the bottom in a morass of gluttony, cocaine bingeing and mental issues before righting himself, is as compelling as ever. And now we have both guys seeking to prove what they contended in the first place, that each is better than the other and only a definitive ending can bring the kind of closure that no draw ever can.
"We are the best in the division," Wilder said of himself and Fury. "We wanted to prove to each other who is the best in the heavyweight division. We did that, and it was amazing. I'm ready to do it again. The fact that he did survive makes it better for the rematch. It's an even playing ground. When I do knock him out the next time, then I want my full credit.
"Who knows? We might even have a trilogy."
Bernard Fernandez is the retired boxing writer for the Philadelphia Daily News. He is a five-term former president of the Boxing Writers Association of America, an inductee into the Pennsylvania, New Jersey and Atlantic City Boxing Halls of Fame and the recipient of the Nat Fleischer Award for Excellence in Boxing Journalism and the Barney Nagler Award for Long and Meritorious Service to Boxing.
Check out more boxing news on video at The Boxing Channel
To comment on this article at The Fight Forum, CLICK HERE
Canelo Finally Ready to Take Manhattan; More Bites of the Big Apple to Follow?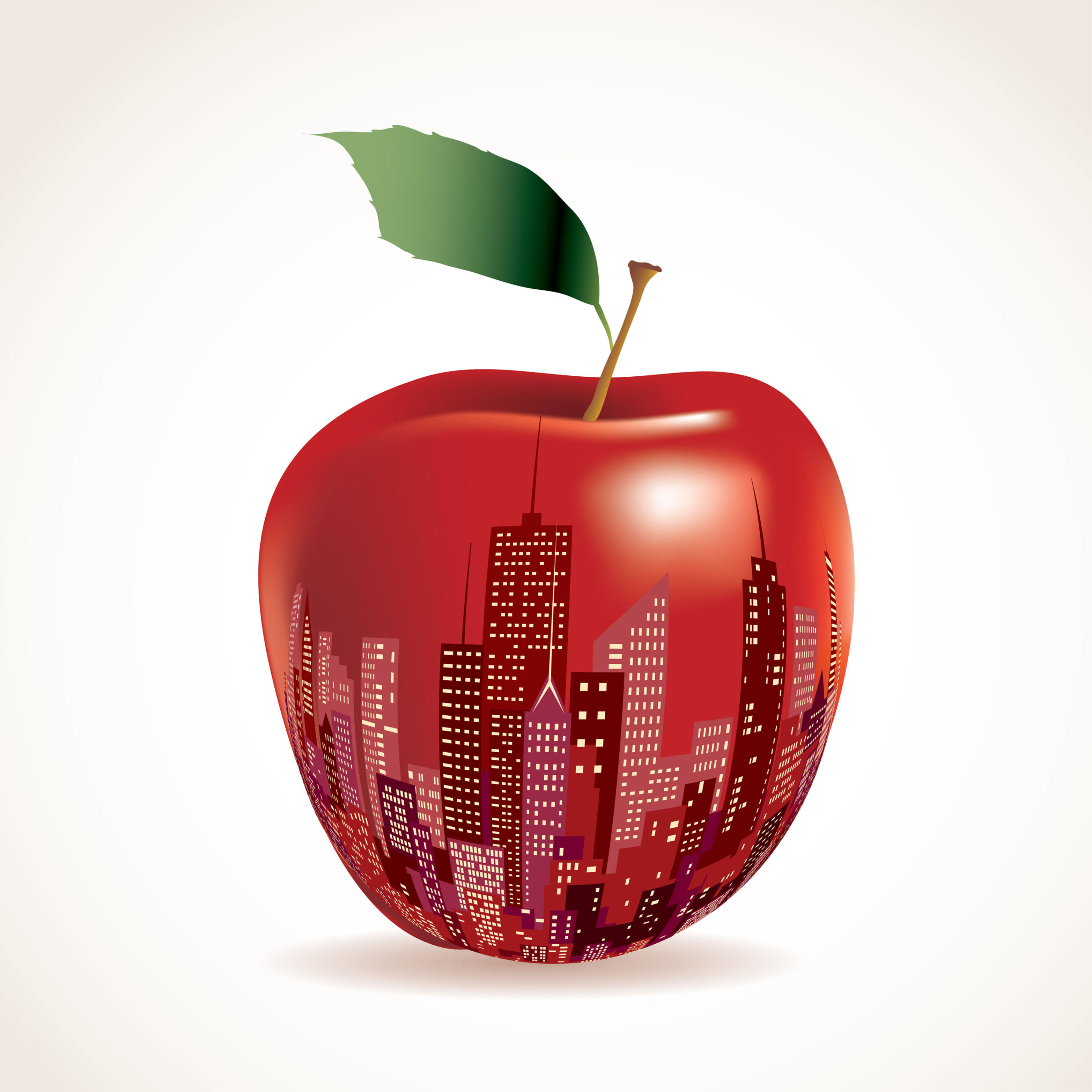 You know the words to the song, written by Paul Anka and most memorably sung by Frank Sinatra. It's a paean to America's glitziest, grittiest, most self-absorbed metropolis, whose citizens have come to believe the city is and always will be the center of the known universe. Everywhere else is, well, Hicksville.
If I can make it there, I'll make it anywhere
It's up to you, New York, New York
Canelo Alvarez, the WBO/WBA/WBC middleweight champion, is only 28 years of age, but the proud son of Guadalajara, Mexico, has been fighting professionally since he was 15. Arguably the most popular and marketable fighter in the world, he has been a creature of habit, fighting almost exclusively in places where his worshiping fans are plentiful and his star power has been allowed to flourish almost unabated. Of his 54 ring appearances as a pro, boxing's red-haired rock star has logged 34 fights in Mexico, 11 in Las Vegas, three in California and three in Texas. The furthest east Alvarez has come to ply his trade in the United States is a single bout in Miami, certain sections of which admittedly might seem like New York with palm trees.
But now Canelo says he is ready – eager, even – to finally make his mark in America's toughest town, and specifically in the famous arena, Madison Square Garden, which fancies itself the "Mecca of boxing." It is a not-undeserved sobriquet when you consider the roster of ring legends who have toiled at the Garden in any of its four incarnations.
Hey, if the historic building in midtown Manhattan, and the three preceding venues bearing its name, were good enough for Jack Dempsey, Joe Louis, Sugar Ray Robinson, Henry Armstrong, Jake LaMotta, Muhammad Ali, Joe Frazier, Roberto Duran, Sugar Ray Leonard, Mike Tyson and Canelo's promoter, Golden Boy CEO Oscar De La Hoya, then it's good enough for someone who considers himself to be the best pound-for-pound fighter in the world today.
But Saturday night's matchup of Alvarez (50-1-2, 34 KOs) — who will be moving up a weight class to challenge WBA super middleweight champion Rocky Fielding (27-1, 15 KOs) of England in a bout which will streamed internationally via DAZN — is not so much a one-off event as the first of many planned Garden parties in which Canelo will be the headliner.
"You know, Canelo's always wanted to fight in New York," said Eric Gomez, president of Golden Boy. "It seems like the last three years he's been talking to Oscar and myself about fighting in New York and, obviously, at the Garden. He's a big fan of Muhammad Ali and idolized Muhammad Ali.
"And to fight at the Mecca of boxing where all the greats have fought … Oscar fought there as well. It's something (Alvarez) always wanted to do. So we're extremely excited that we were able to squeeze in one more fight in December after having such a tough rematch in September with (Gennady) Golovkin."
So what about that, Canelo?
"I would like it to be the first of many fights there," Alvarez replied when asked about the hints he is dropping about possibly making MSG his new pugilistic home instead of Vegas. "To fight in New York is another landmark in my career and is another important story in my career. I want it to be the first of many more."
All well and good, although Fielding, virtually anonymous on this side of the Atlantic Ocean, has no chance of playing the role of Frazier to Canelo's Ali, or vice versa, even if he somehow captures lightning in a bottle. This also is the Briton's first fight in New York, and who can blame him for daring to dream that pulling off the upset will make him a superstar in his own right?
"This is what I'm in boxing for," Fielding, 31, said of the longshot opportunity he hopes to capitalize on. "This is what I've been doing in boxing since I was nine, for these nights. To fight at Madison Square Garden against the biggest name in boxing is unbelievable."
Fielding isn't quite the no-hoper Buster Douglas appeared to be on Feb. 11, 1990, when, as a 42-1 underdog, he pulled off boxing's biggest and most memorable upset with a 10th-round knockout of the seemingly invincible Mike Tyson in Tokyo. But Fielding is an 8-1 outsider for those willing to place a wager on him, and Canelo backers would have to bet $160 to make a 10-buck profit.
Any chance Fielding has of shocking the world lies in the fact that he is noticeably larger than Canelo, at 6-foot-1 to the celebrated challenger's 5-8, and with a 75-inch reach to Canelo's 70½-inch reach. That, and the fact Alvarez is moving up to an unfamiliar weight class, is enough to fuel Team Rocky's belief that they can spoil the star attraction's New York debut.
"We're going to ask (Alvarez) questions," said Jamie Moore, Fielding's trainer. "There's a lot of unanswered questions regarding him moving up to super middleweight. The height and reach advantages that Rocky's got is huge. How is he going to cope with those problems? When they come face to face in the middle of the ring, Rocky's going to be huge, an absolutely huge specimen compared to Canelo."
But there is another saying that seemingly applies here, and that is that it's the size of the fight in the dog, not the size of the dog in the fight, that matters. And the talent gap between Canelo and this Rocky, who is not likely to ever be compared to Marciano, Graziano or Balboa, is of much more consequence that a couple of inches and pounds.
The incentives for Alvarez taking this fight are many. If – when – he wins and becomes a world champion at super middle, he joins fellow Mexican greats Julio Cesar Chavez, Erik Morales, Marco Antonio Barrera and Jorge Arce as three-division champions. OK, so Alvarez has already announced he will be moving back down to middleweight. That itch he wants to scratch as a three-division titlist, even if only temporarily, is satisfied, as is his desire to make more dough before the end of the year and to show New York what he's all about. Who knows, maybe he'll even find time get in a little Christmas shopping at some of Manhattan's trendier boutiques.
If there is a drawback to Canelo's Manhattan adventure, other than the almost-unthinkable possibility of a loss, it's that New York fight fans, whose reputation as a tough lot is deserved, are not disposed to be warmly receptive to an uninspired performance as those who lavished so much love on him in the Nevada desert, Mexico and Texas. Canelo might be cherished elsewhere, but from the opening bell he is going to have to prove himself anew to a rowdy crowd that is as apt to boo as to cheer.
So it's up to Canelo to make New York as much his as it was for Sinatra. He theorized about the unlikely possibility of a rematch with Floyd Mayweather Jr. ("If that fight were to happen again, I would defeat him, no problem") and the presumably more realistic chances of a third go at Golovkin ("If we made two, I'll make a third one"). There are other attractive matchups that could bring him back to the Garden, if his fascination with the place is as genuine as he now claims and Golden Boy accedes to his wishes.
"We're open to doing more fights in New York. No problem," Gomez said. "Everything seems to be going smooth. Ticket sales are great. We're expecting a sellout. If everything goes as planned, why not?"
Bernard Fernandez is the retired boxing writer for the Philadelphia Daily News. He is a five-term former president of the Boxing Writers Association of America, an inductee into the Pennsylvania, New Jersey and Atlantic City Boxing Halls of Fame and the recipient of the Nat Fleischer Award for Excellence in Boxing Journalism and the Barney Nagler Award for Long and Meritorious Service to Boxing.
Check out more boxing news on video at The Boxing Channel
To comment on this article at the Fight Forum, Click Here
How Oddsmaker Jimmy Vaccaro Became a Sidebar in the Buster Douglas Story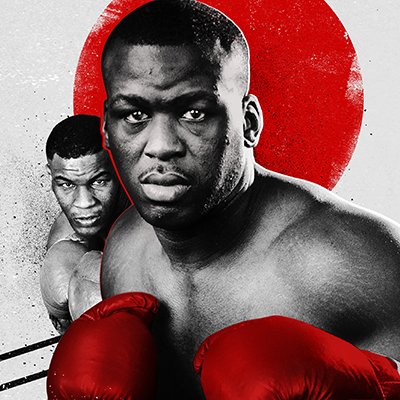 When Jimmy Vaccaro, a close friend of long standing, set odds on the Tyson-Douglas fight, he never imagined that he would become a central figure in the story about the greatest upset in boxing, arguably the most famous upset in all of sports. At some point during the course of the betting, the odds favoring Tyson hit 42 to 1 and that became the title of the newest ESPN "30 for 30" documentary which premiered on Tuesday, Dec. 11.
A little background. Vaccaro grew up in blue-collar Trafford, Pennsylvania, a small town about 20 miles from Pittsburgh. An older brother, John Paul "Sonny" Vaccaro, went on to become the most powerful man in basketball by virtue of his relationships with players, coaches, and shoe companies. He is credited with hatching Nike's "Air Jordan" empire. (Sonny was the subject of an ESPN "30 for 30" documentary in 2016.)
In 1975, Jimmy Vaccaro arrived in Las Vegas and found work as a 21-dealer at the Royal Inn, a small casino that sat just off the Strip. The pay for a break-in dealer was $16.50 a shift.
Nevada had recently passed legislation that allowed sports betting to co-exist under the same roof with other forms of gambling. During the previous 25 years, sports betting was quarantined in little mom-and-pop bookie joints. When the Royal Inn put in a sports book, Vaccaro moved over to that department.
In November of 1989, after stops at several other books, Steve Wynn hired Vaccaro to open a sportsbook inside his newest property, the Mirage. Situated in the center of the Las Vegas Strip, the Mirage, with its artificial volcano outside the front entrance, was instantly the most "must-see" attraction in town.
At the Mirage, Vaccaro was the only department head among those that interacted with hotel guests who wasn't made to wear a suit and tie. Sometimes he showed up for work in jeans. He was a "suit" by virtue of being a department head (a derogatory term in Las Vegas, similar in some respects to bean counter), but by all accounts he didn't own an actual suit. Concordantly, his style of bookmaking, unrestrained by Wynn, could be described as freewheeling.
In bookmaking, unlike pari-mutuel horse racing, odds are posted on an event and then adjusted, if necessary, to stimulate more betting on the side that is under-bet. A perfectly balanced book — where there is an identical amount of money on each side — is an ideal construct, an abstraction, but bookmakers strive to achieve this by adjusting the odds to where they get two-way action and thereby stand to make roughly the same profit regardless of the outcome.
At the Mirage, Vaccaro often didn't wait for the money to show to adjust a betting line. If he had a "dead number" – for example, a pointspread on a football game that wasn't attracting any good-sized wagers – he would adjust it in hopes of stimulating activity. He did this on slow days, or during slow periods of a day, simply as an antidote to boredom.
On one particularly slow day, basically just for the fun of it, Vaccaro decided to post a line on the Tyson-Douglas fight. Tyson would obviously be such a heavy favorite that the proposition would attract little betting, likely just a few peanuts from the suckers in the "bet a toothpick to win a lumberyard" crowd, but, what the heck, there was nothing wrong with a little window dressing. None of the other books in Nevada had it and most hadn't even bothered to offer odds on how long the fight would last. The wise-guys figured that Tyson would blow Douglas away within the first three rounds.
Then something incredible happened. The seemingly invincible Iron Mike Tyson lost. Buster knocked him out in the 10th round. In short order, Vaccaro was summoned to appear on "Good Morning America."
Window dressing at the Mirage wasn't like window dressing at other properties. At other properties, a proposition designed as a conversation piece would be attached to a very low limit. The primary intent was free publicity. But the Mirage attracted a fair number of so-called whales, men (mostly from Asia) who would bet more in a short fling at baccarat than an average workingman would earn in an entire year. If inclined to bet on a sporting event, a whale could get down pretty much whatever he wanted. The sky was the limit.
Vaccaro has said that he took a $160,000 wager on Mike Tyson at 40/1 odds, a wager that would have won $4,000. That's plausible given the clientele of the Mirage, but it's a figure that I have always taken with a grain of salt. I say this because my friend Jimmy Vaccaro has tossed out different numbers over the years when asked about the betting.
According to various newspaper reports and what appears in certain books, the betting line opened at 27/1 (the consensus) or 35/1. It crested at 42/1 (the consensus) or 48/1.
Many years ago, Vaccaro told me for a book that I was writing that he accepted a $56,000 wager on Tyson at 28/1, a $64,000 wager at 32/1, and a $143,000 wager at 39/1. He would subsequently provide different figures (close, but different) to Las Vegas Review-Journal sportswriter Stephen Nover and others.
What is almost certainly true is that the odds hit 42/1 as they bounced around and that's as good a number as any to illuminate the magnitude of Buster's upset.
Nowadays, when so much betting is done online, one often sees fights where the odds are higher than 42/1. But usually these lines are just for show. Getting down a serious wager on the underdog is out of the question, although an exception would likely be made for a valued client who spreads his action around. In the old days, there were so-called newspaper lines, lines provided to newspapers for information purposes. If one wanted to bet into this line, he would likely be told, and gruffly, to go down to the newspaper office and talk to the sports editor. Good luck with that.
Odds play an important role in sports because they cut to the chase, knifing through the ballyhoo to inform us whether a match is likely to be competitive. And, as mentioned, they serve the purpose of quantifying the bigness of an upset. Before the Tyson-Douglas fight, the biggest upset in heavyweight boxing in recent times came when Leon Spinks upset Muhammad Ali in their first meeting. Ali was widely quoted as a 9/1 favorite.
Odds bedevil sportswriters, however, because they are not static and often vary from place to place. When a sportswriter weaves odds into his story, he is taking a snapshot of something that is fluid. It's sort of like citing the distance from the shoreline to the lifeguard station at a beach. (As an aside, I would advise readers to be cautious of recycling odds that appear in old books. Most boxing historians have treated the odds very loosely and some have invented odds to imbue a storied fight with a higher shock quotient for dramatic effect.)
During my lifetime, there have been at least four instances where a baseball team available at 100/1 in April went on to win the World Series. The Leicester City soccer club overcame considerably higher odds to win the 2016 Premier League title. So, from a numbers standpoint, Buster Douglas's upset was hardly the biggest upset in sports.
But there are upsets and then there are quantifiably lesser upsets that register much higher on the shock meter. I once met a person who told me that when he read in his Sunday morning newspaper that Mike Tyson had lost, the world stood still, as it did when JFK was assassinated and when OJ was acquitted. For some people, talk about the Tyson-Douglas fight brings back a flood of memories even if they never saw the fight.
By the way, Jimmy Vaccaro, who is prominently featured in "42 to 1," is currently on the payroll at the South Point, a locals-oriented casino that is a good drive from the Strip, although it sits on the same boulevard. His main responsibility, so far as anyone can tell, is to hang around the sports book, one of the busiest in the city. His boss, South Point owner Michael Gaughan, once famously said, "I don't know exactly what it is that Jimmy does around here."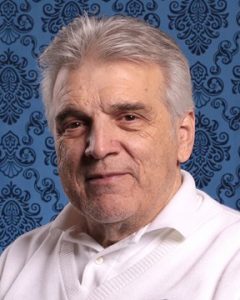 He's still the most quotable sports betting personality in town, and as down-to-earth as ever, about what one would expect from a fellow whose father spent 42 years working in a Pennsylvania steel mill.
There are rumors that Vaccaro will be heading back to Pennsylvania before the Super Bowl and the odds of that happening, unfortunately, are a lot lower than 42/1. He's the last of an era and the town would miss him.
Check out more boxing news on video at The Boxing Channel
To comment on this article at the Fight Forum, Click Here
The Avila Perspective: Canelo in Manhattan and other Boxing Notes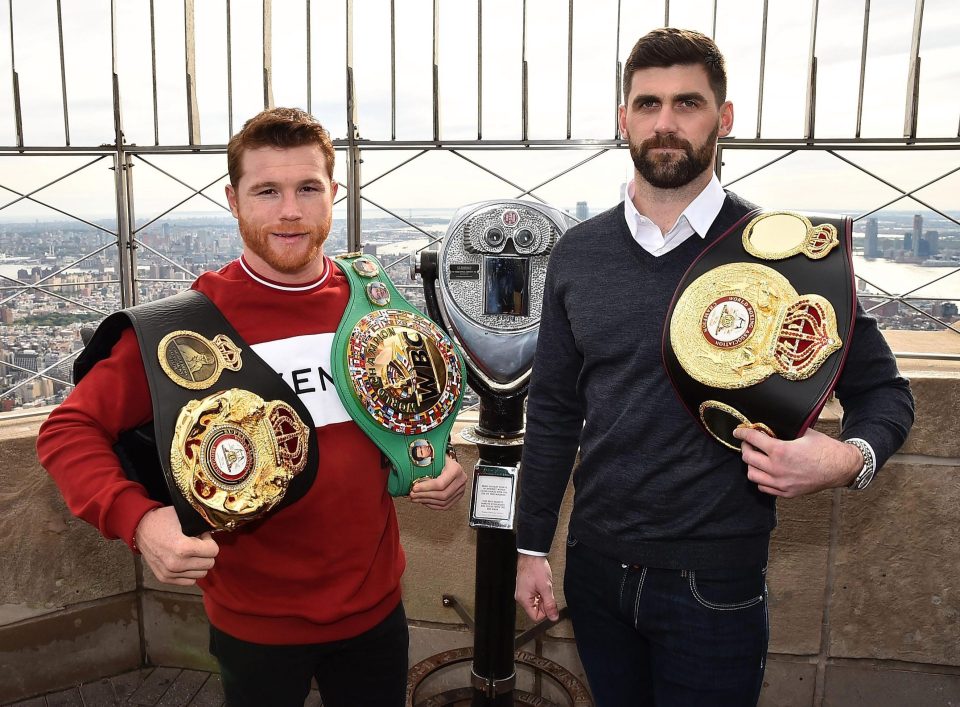 Amber alert. If you spot a muscular redhead walking through the streets of New York City don't be surprised. It's probably Saul "Canelo" Alvarez.
Once upon a time it was strange to see Mexicans in Manhattan, but today in the 21st century, plenty of Mexicans live in the city in areas like Hell's Kitchen.
It figures that's where the Mexicans would live.
Alvarez (50-1-2, 34 KOs) moves up a weight division to challenge England's Rocky Fielding (27-1, 15 KOs) for the WBA super middleweight title at Madison Square Garden. DAZN will stream the world title fight and entire card free for new users.
The great experiment begins.
Fresh off his $300 million signed contract Alvarez makes his DAZN debut in New York City, an area famous for its ability to attract boxing connoisseurs. Few areas in the USA have boxing fans like those crowds attending big fights at the Garden.
"It fills me with a lot of pride because I know great fighters have fought there, like Muhammad Ali," said Alvarez. "But to be the main event there at MSG, and if I'm not mistaken, the first Mexican there in a long time, it fills me with pride."
Also filling up the boxing ring will be the much taller WBA champion Fielding who has a distinct height advantage. When they stood next to each other, the British fighter towered over Alvarez like the Chrysler Building overlooking the tallest tree in Central Park.
"It's a massive fight for me at Madison Square Garden and a big challenge in Canelo Alvarez," said Fielding, 31, who sports a five-inch height asset over Mexico's Alvarez.
Fielding won the super middleweight title this past July when he knocked out undefeated Tyrone Zeuge in Offenburg, Germany. Knockouts have been a best friend for the Englishman in half of his last six fights.
Canelo will be carrying the load for the boxing card that features several other notable Golden Boy Promotions fighters. DAZN hopes that his star power can transfer from television to streaming.
Star power. It's a crazy asset that can't always be measured but in the case of Canelo he was able to attract around 1 million pay-per-views on several occasions.
From Morongo to MSG
Ten years ago an 18-year-old Canelo made his American debut at Morongo Casino, a venue that holds about 400 people. Max. I remember it well.
Located in the desert, few would have predicted that freckled face welterweight would become one of boxing's biggest draws. Well, here he is poised to make an entrance like one of those divas on Broadway. What's the male equivalent?
Canelo looks to become a three-division world champ of Mexican heritage. It's a list rife with hall of fame names like Juan Manuel Marquez, Marco Antonio Barrera, Erik Morales and of course Julio Cesar Chavez. That's lofty company.
"Canelo is going to make history that night and be one on the shortlist of Mexicans to be a three-division world champion," said Eric Gomez, president of Golden Boy Promotions.
"It's very important to be in that list of about ten Mexicans to become three-division world champions, so very important to enter history. That's why I'm here taking on this important fight, and it's important that we win this title," said Alvarez, 28, who lives in Guadalajara.
Facing someone as tall as Fielding does have its drawbacks, but the Mexican redhead has tangled with opponents equally as tall and heavy.
Does anyone remember Julio Cesar Chavez Jr.
Back on June 2017, the battle of Mexicans saw Alvarez destroy Chavez Jr. over 12 one-sided rounds with his speed, skills and relentless attack. Can Fielding find a flaw in Canelo's armor?
"I believe what we worked on and what I can do can cause a lot of damage and a lot of — a lot more than what people are thinking," said Fielding.
It's an intriguing matchup designed to entice New York area fans to watch the Mexican fighter perform just months after he toppled Gennady "GGG" Golovkin from the middleweight throne and handed him his first professional loss. In a nip and tuck display of trench warfare, Canelo traded hellacious blows with Triple G and emerged the victor by majority decision.
Golovkin's team had dared the Mexican to fight Mexican style and he obliged and overcame the Kazakh assassin's best blows.
Mexican style has its detriments too. Those who use the offensive go-for-broke fighting method can also be the victim. It's a 50/50 style meant to display a kill or be killed attitude that goes back to the Mexican Revolution when Pancho Villa's army would descend on machine gun nests on horseback or on foot and overrun them with brute force. It was kill or be killed. That's Mexican style.
Will Canelo resort to Mexican style or will he utilize the boxing skills that have made him one of the top pound for pound fighters in the world?
On Saturday fans in New York will see firsthand and those watching on DAZN will too.
HBO Farewell
Last weekend the final boxing show by HBO featured top female fighters Cecilia Braekhus and Claressa Shields in separate world title fights at the StubHub Center on a cold night.
About 900 fans scattered around the outdoor arena to watch the event that pit Braekhus against Aleksandra Lopes in a welterweight match. It was not very interesting.
In the middleweight match Shields fought Belgium's Femke Hermans in another very one-sided fight.
The challengers both looked to survive and were severely overmatched. Punches were seldom thrown by the challengers. It was pitiful.
HBO did not offer much money for the event and thus the opponents willing to fight for the agreed purses gave lukewarm performances.
Had a budget of at least $400,000 for each fight been offered, both title fights could have easily brought worthy opponents for Braekhus like Layla McCarter who was present for the boxing card or Kali Reis who fought the welterweight champion last May.
But HBO left the cupboard bare and offered crumbs on its final boxing show.
Shields and Braekhus would have been better off fighting each other. Perhaps that fight is in the future.
Check out more boxing news on video at The Boxing Channel
To comment on this article at The Fight Forum, CLICK HERE