This Day in Boxing History: Terrible Terry TKOs Little Chocolate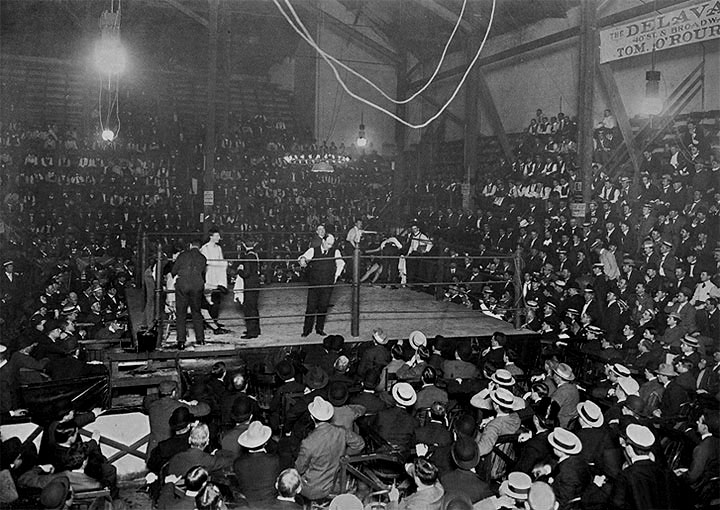 On Jan. 9, 1900, Terrible Terry McGovern and George "Little Chocolate" Dixon locked horns in the arena of the Broadway Athletic Club in New York City. Contested at 118 pounds, the bout between the exalted little gladiators – both of whom would enter the International Boxing Hall of Fame with the inaugural class of 1990 – was the first big fight of the 1900s and, in hindsight, the loudest example of a "changing of the guard" fight since Gentleman Jim Corbett upset John L. Sullivan in 1892.
Little Chocolate
George Dixon was born in 1870 in Halifax, Nova Scotia. In those days, the maritime province of Nova Scotia had the largest population of blacks of any province in Canada, many of whom were descendants of former U.S. residents who were assisted in escaping to Canada by British sea captains after supporting the British in the American Revolutionary War.
In 1870, at age 17, Dixon turned up in Boston where he had his early fights. In his 12th bout, he was matched against a railroad brakeman. The match was scheduled for 12 rounds but went 14. The referee was unable to determine a winner after 12 and ordered two additional rounds. He was still unable to separate them after the extra sessions and the bout went into the books as a draw. There would be three rematches that produced the same result, the last of which went 26 rounds. (In this era, draws were endemic. Some veteran fighters finished their careers with more draws than wins and losses combined.)
It was in Boston that Dixon hooked up with Tom O'Rourke. A plasterer by trade, born and raised in Boston, O'Rourke exploited his political connections to become one of the most influential people in boxing, serving the sport as a matchmaker, manager, and promoter.
For a time O'Rourke controlled all four of the leading boxing clubs in New York. He managed the two leading black fighters of the 1890s, George Dixon and Joe Walcott, and promoted several fights involving the great black lightweight Joe Gans. But the pragmatic O'Rourke was an equal opportunity employer who would join the rush to find a Great White Hope when Jack Johnson won the heavyweight title.
O'Rourke brought Dixon to London in 1890 where he laid claim to the world featherweight title with a 19th round stoppage of Nunc Wallace. For the remainder of the century, Little Chocolate, as he came to be referenced, was recognized as the world featherweight champion, notwithstanding two losses, both on points, in bouts billed as world title fights. As a weight class, the featherweight division then had no fixed boundary. His bout with Wallace had a ceiling of 114 pounds. In subsequent title fights, he weighed as high as 125.
Dixon's fame grew with each successful title defense and he came to be seen as invincible. Terry McGovern burst his bubble.
Terry McGovern
Ten years younger than George Dixon, Joseph Terrence McGovern was born in Johnstown, Pennsylvania, but his parents moved to Brooklyn before his first birthday and he grew up in that city, America's fourth largest before it was folded into New York City in 1898.
The McGoverns lived in South Brooklyn in an area heavily populated by Irish immigrants, many of whom found work on the waterfront of the heavily polluted Gowanus Canal. It was a hardscrabble neighborhood but a close-knit neighborhood with a strong sense of community.
McGovern's father died when Terry was 14. Three years later, after working as a newsboy and in a lumberyard, McGovern, carrying 110 pounds, made his pro debut in Brooklyn in a 10-round fight against an equally inexperienced opponent. Terry was disqualified in the fourth round (details are vague). The following year he was disqualified again, this coming in the 11th frame of a 25-round contest with Tim Callahan. These would be his only losses heading into his 1900 fight with George Dixon.
McGovern fought Callahan, a top shelf fighter from Philadelphia, three times in a span of four months. Their second meeting, which went 20 rounds, was ruled a draw. Terry knocked Callahan out in their third encounter. A left to the body followed by a right to the jaw put Callahan down for the count in the 10th round.
After one of these three fights — there are conflicting reports as to which one – McGovern's contract was purchased by theatrical producer Sam H. Harris. The Broadway magnate sold a piece to his frequent collaborator George M. Cohan, the astoundingly prolific playwright, songwriter, and actor, and entrusted the day-to-day affairs of Terrible Terry to Joe Humphries, New York's most prominent ring announcer. As was true of George Dixon, McGovern now had influential people in his corner.
McGovern's first eight fights went the distance, but as he matured he became a knockout machine. Prior to meeting Dixon, he reeled off a string of 13 wins by KO, 11 coming within the first three rounds. The most eye-catching of these knockouts was a first round stoppage of England's previously undefeated Pedlar Palmer. Their brief encounter played out in a makeshift arena in the little village of Tuckahoe, New York, 16 miles from midtown Manhattan.
The clever Palmer, who had one of boxing's best nicknames – "Box o' Tricks" – arrived in New York with great fanfare. Terrible Terry blew right through him. It was the first title fight under Queensberry rules that ended in the first round and it was a rousing performance by McGovern that had every bit the wow factor as Mike Tyson's 91-second annihilation of clever Michael Spinks in 1988.
After this fight, reporters exhausted every synonym for typhoon to describe McGovern's fighting style. He was a thunderstorm, a Krupp cannon, and a Gatling gun all rolled into one, said the prominent referee and pugilistic authority Charley White. But in the eyes of many, Terry, not quite 20 years old, was too wet behind the ears to defeat George Dixon. Lore had it that Little Chocolate had engaged in more than 800 bouts and had been knocked down only once. "More money was bet and won on Dixon than any half dozen fighters of his time," noted a writer for the Philadelphia Inquirer.
The arena of the Broadway Athletic Club was relatively small, holding only four thousand. But 4800 squeezed their way in to see the fight, slated for 25 rounds, and at least half as many huddled outside in the cold, unable or unwilling to meet the steep price demanded by scalpers who did a brisk business.
The Fight
Dixon started strong. For four rounds, said a reporter, Dixon showed all of his marvelous old-time speed and proved superior when fighting at long range. During the battle, which lasted one second short of eight full rounds, Dixon staggered McGovern half a dozen times. But the Irishman stayed tight to his game plan which meant working the body to wear his adversary down.
In round seven, McGovern became a head-hunter. One of his punches appeared to break Dixon's nose. It bled profusely. And then in the next round he battered Dixon all over the ring, knocking him down five times (some reports said eight) before Tom O'Rourke threw in the sponge. "It was," reminisced New York Evening World sports editor Robert Edgren (who would be one of McGovern's pallbearers), "the fastest and most sensational encounter at that weight that has ever been seen in this country."
Postscript 1
Reporters wrote about the battle as if it were George Dixon's final fight. To the contrary, he went on to have 76 more ring engagements, 48 in England, before retiring in 1906. During his career he answered the bell for an alarming 1744 rounds.
Thirteen months after his final fight, George "Little Chocolate" Dixon, once hailed as the greatest little man the sport of boxing had ever seen, died alone and destitute in New York's Bellevue Hospital. The cause of death was said to be alcoholism. He was 37 years old.
Postscript 2
Twenty-three months after dethroning George Dixon, Terry McGovern lost his featherweight title to William Rothwell, a little known fighter from Denver who took the ring name Young Corbett II. Rothwell knocked him out in the second round in Hartford, Connecticut. It was a massive upset. Terry fought off and on for the next five-and-a-half years, but mostly in little 6-round fights where no decision was given.
McGovern went broke too. He squandered a good portion of his ring earnings backing slow horses at Coney Island racetracks. In 1907, Sam Harris arranged a series of benefits for him, the first of which was held on Jan. 23 at Madison Square Garden. McGovern was then a patient in a sanitarium in Stamford, Connecticut. He was in and out of sanitariums during the last 10 years of his life.
On Feb. 20, 1918, Terry wasn't feeling well and checked himself in to Brooklyn's Kings County Hospital. Two days later he was dead. The cause, depending on the source, was pneumonia complicated by nervous exhaustion or Bright's disease complicated with acute indigestion.
In common with George Dixon, Terry McGovern was 37 years old when he drew his final breath.
Check out more boxing news on video at The Boxing Channel
To comment on this story in The Fight Forum CLICK HERE
In Oleksandr Gvozdyk, Teddy Atlas Finds One More Fighter He Can Trust and Love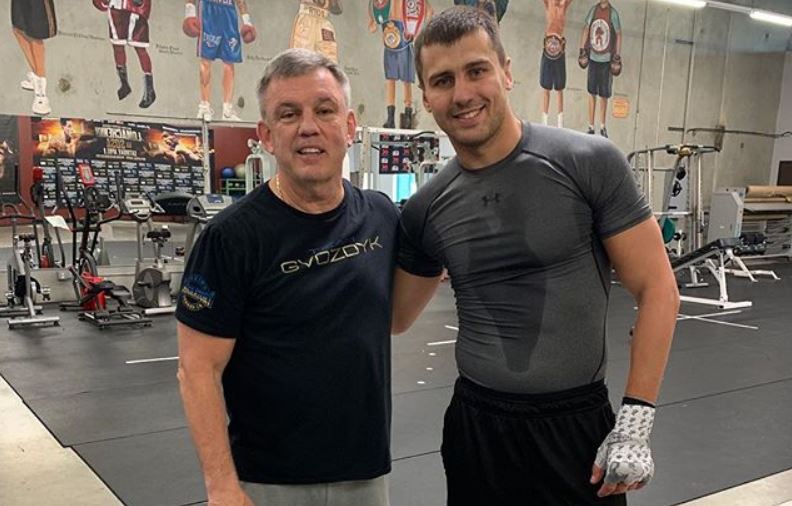 Teddy Atlas was so very young, just 19, when his mentor, Cus D'Amato, recognized his special gift for comprehending the many nuances of the sport they both loved, and imparting that knowledge to others. The "young master," D'Amato dubbed Atlas, and the wise-beyond-his-years kid from Staten Island, N.Y., whose own boxing career had been sidetracked by a back injury, soaked up D'Amato's dictums as if he were a sponge. He trusted Cus implicitly and if the old master, who was 77 when he died on Nov. 4, 1985, instructed him to do something, he did it. Every time.
Well, almost every time.
"I never wanted to love a fighter. It's a cardinal sin. Cus told me you're not supposed to do that," Atlas, 62, recalled of the sole D'Amato rule that never quite took root with him. But not every human being, including boxing trainers, is wired the same, and thus an intractable rule for one might not be the right thing for someone else.
Atlas, forever a Cus disciple in so many ways, has been burned more than a few times by fighters who initially pledged their undying fealty but later chafed at the conditions he had insisted upon at the outset of their association. Love and trust are wonderful things in any personal or professional relationship, but only if it's a two-way street. When it isn't, breakups are inevitable and usually painful. Teddy's pugilistic divorces from, among others, Donny Lalonde, Shannon Briggs, Michael Moorer and Alexander Povetkin – champions all – left scars upon his psyche as deep and distinctive as the one down the left side of his face, which required 400 stitches (200 inside, 200 outside) to close and was inflicted long ago by a knife-wielding opponent in a street fight.
"I look back sometimes and I wonder how the hell did I do this with so many fighters, going back more than 40 years, and still be whole," Atlas recalled of a career that will gain him induction into the International Boxing Hall of Fame on June 9 – but as a commentator for television, not as a trainer, which he has always considered himself to be first and foremost.
"But I'm not completely whole," he pointed out. "You do lose bits and pieces of yourself, and maybe that's why you hesitate before you do it again."
After the retirement of former super lightweight and welterweight titlist Timothy Bradley Jr., a fighter loved and trusted by Atlas to a degree he thought might be beyond duplication, the recalcitrant trainer was even more reluctant to believe he could expose himself to the possibility of having more jagged bits and pieces of his inner self cut away. Oh, the offers still came pouring in, from talented fighters and their managers, many of whom might be prepared to talk a good game when it came to the nitty-gritty of committing to always doing things the Atlas way. And for any potential pupil – Atlas sees his role as that of an intense but caring teacher — going part or even most of the way was never going to be sufficient for someone who demands 100 percent, of himself as well as of his fighter.
"I'm afraid," Atlas said of his apprehension of again plunging into a part of his life that could be, at alternate turns, exhilarating or depressing. "I don't mind saying that. Some people say fear is a forbidden word, a taboo word, because it shows vulnerability. But we're all vulnerable, I think, whether we show it or tell it. I'm strong when I have to be, but part of being strong is knowing that you can be hurt. It's just being honest with yourself."
But Atlas' children, Nicole and Teddy III, knew their father well enough to recognize that his being semi-idle and unfulfilled was as bad or worse than risking more disappointment. Teddy Atlas' destiny was made clear to him at an early age, and what he needed, maybe more than he realized, was another opportunity, albeit just the right one, to again do what he was meant to do.
So Atlas will again be the chief second for WBC light heavyweight champion Oleksandr Gvozdyk (16-0, 13 KOs) of the Ukraine when he defends his title against Doudou Ngumbu (38-8, 14 KOs), of France by way of his native Congo, in the ESPN-televised main event Saturday night at the 2300 Arena in South Philadelphia. It will be just the second fight together for Gvozdyk and Atlas, the first being Gvozdyk's dethronement of long-reigning WBC champ Adonis  Stevenson, via 11th-round knockout, on Dec. 1, 2018, in Quebec City, Canada.  It might be said that Atlas and Gvozdyk, 31, are still in the honeymoon phase of their relationship, but Nicole Atlas thinks this is a union that benefits both parties and has a chance to go the distance.
"My dad has had a lot of fighters, and his share of great ones," said Nicole, an attorney whose childhood and adolescence were so immersed in her father's occupation that she came to think of the men he trained almost as surrogate brothers. "We spent many holidays with the fighters and their families.
"You know, it's kind of funny. In the twilight of his career – I guess it's never too late – he finds Alex (Gvozdyk), who is the perfect fighter for him. Not everyone has the personality and makeup to be trained by my dad. He likes to control every aspect of training camp and, because he puts everything he has into it, he expects no less from his fighters. And Alex does that. That's part of what makes their relationship work. It's still early on, but you can see that there's a special chemistry between them."
Gvozdyk said that special chemistry was not instantaneous.  The first contact with Atlas was made by Gvozdyk's manager, Egis Klimas, who invited Atlas to fly out to Oxnard, Calif., where Gvozdyk now resides, for a get-together to determine if fighter and would-be trainer might prove a good fit.
"It was difficult at first, because I was two months before the biggest fight of my life," Gvozdyk recalled. "When Teddy came for a weekend he never told me whether he was going to train me or not. I couldn't understand why. But we talked a lot. I introduced him to my family. I think he wanted to find out what kind of person I am. I waited two weeks before he made his decision.
"I am so glad he trusts me and agreed to train me. People need to be important not only for themselves, but for somebody else. Teddy makes me a better fighter. But I think I help him in some ways, too. It is important to him to be a trainer, to have someone to teach. This is what he does best. He was born to teach boxing. He is still a pretty young person at 62. This is not a time for him to retire. If he can do this and enjoy it, staying involved in boxing is really the only right decision for him."
Interestingly, it is Nicole and Teddy III, who is the head of scouting for the NFL's Oakland Raiders, who urged their father to fly to California to determine whether he and Gvozdyk might be compatible on a personal as well as a professional level. It's not the first time that Atlas' children had nudged him back into a sometimes-harsh game, having done so previously with Bradley.
"My children are smarter than me," Atlas said. "I'm very blessed by what kind of people they are, how caring they are, how intuitive they are. They both told me that Alex was the perfect fighter for me. I would not have gotten involved again if that hadn't been the case. I was inclined to say no; I'd had enough. I'd lost trust in the business of the game, for different reasons. When Egis called me and asked if I would consider training Alex, my initial thought was to stay out.
"But then my children reminded me of how I had told them about the privilege I had had to be a trainer and a teacher. They said I had a gift and the privilege to do that and, like all gifts, it doesn't last forever. Yes, it is a job and it can be a heavy responsibility, but it's also a privilege. I could still help someone to improve.
"So who knows? Maybe I'm being given another opportunity to do what I was put on this earth to do."
It might be the last such opportunity and privilege. Unlike some other trainers who already are or eventually will be enshrined in the IBHOF, Atlas is selective. He cannot fathom how other trainers can work with 10 or 12 fighters, parceling snippets of their time to each instead of going all-in with just one.
"I know this (his involvement with Gvozdyk) could lead to something special," Atlas said. "I get that. But I also know that it can lead to something I don't want it to lead to, and I know what it can take out of me.
"Right now there's only one fighter I could even think about training, and it's the one I am training. I can only do this for a special person, and this kid is a special person."
Bernard Fernandez is the retired boxing writer for the Philadelphia Daily News. He is a five-term former president of the Boxing Writers Association of America, an inductee into the Pennsylvania, New Jersey and Atlantic City Boxing Halls of Fame and the recipient of the Nat Fleischer Award for Excellence in Boxing Journalism and the Barney Nagler Award for Long and Meritorious Service to Boxing.
Check out more boxing news on video at The Boxing Channel
To comment on this story in The Fight Forum CLICK HERE
With One Devastating Punch, Sam Maxwell Became an Overnight Sensation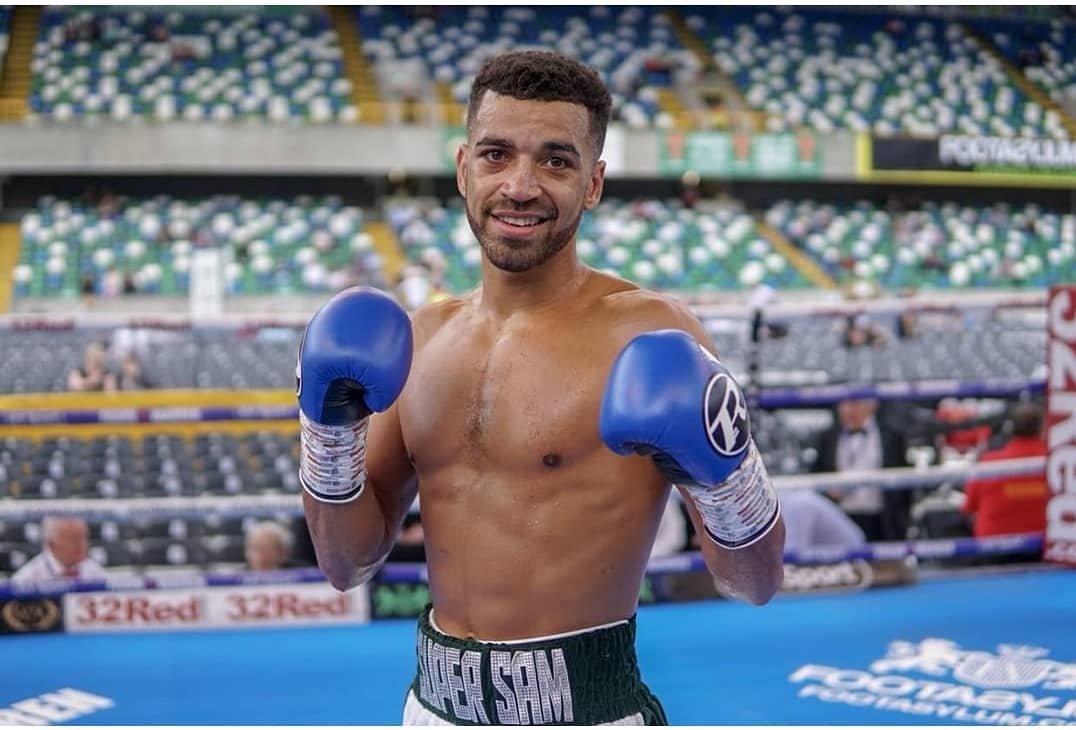 Speaking to reporters after his most recent show, veteran British promoter Frank Warren dusted off a saying most often attributed to former Dallas Cowboys quarterback and ABC Monday Night Football color commentator Don Meredith. "It's not over until the fat lady sings," said Warren.
The promoter was reacting to Sam Maxwell's stunning knockout of Sabri Sediri on Saturday night in Leicester. The video of it went viral, attracting more than two million views within the first 24 hours.
By now you have probably seen it too, but to refresh your memory, Maxwell's opponent, Sabri Sediri, a Frenchman, was comfortably ahead when he started showboating with about 30 seconds to go in the final round of this 10-round bout in the 140-pound weight class. Moments before Maxwell clipped him, Sediri had his hands at his side and was wiggling his behind in a little dance with a sly smile on his face.
Sediri had knocked Maxwell to the canvas in each of the first two rounds. Maxwell was wobbled earlier in the 10th and his bruised face gave evidence that he had been taking the worst of it. But he responded to Sediri's indignity with a one-two, a straight left followed by a devastating right that landed just under Sediri's ear, and the Frenchman went down in a heap. Sediri somehow made it to his feet but his legs were spaghetti and the referee properly waved the fight off. Had the fight lasted just a few more seconds, Sediri would have made it to the final bell and had his hand raised in triumph.
Each year in late December, TSS and other publications bestow awards in such categories as Knockout of the Year and Round of the Year. With the final punch that Maxwell threw, Maxwell-Sediri became the early favorite to cop both of these honors. As for Fight of the Year, well, tradition dictates that this goes to a fight of greater import. Maxwell-Sediri was on the undercard of show headlined by rising heavyweight contender Nathan Gorman who engaged trial horse Kevin Johnson in a predictably lackluster affair. Frank Warren's show in Leicester went head-to-head on TV with a more compelling show promoted by his arch-rival Eddie Hearn in London.
Sam Maxwell was born in the ethnically diverse London borough of Hackney. At age eight his family moved to a town on the outskirts of Liverpool. He currently spends much of his time in Glasgow where his trainer Danny Vaughan took over the management of a new state-of-the-art gym.
As an amateur, Maxwell defeated Albert Selimov, the only man to defeat Vasyl Lomachenko as an amateur, and competed in the 2014 Commonwealth Games where he lost a close decision to Josh Taylor. Many rate Taylor the best 140-pound boxer in the world, albeit fans of Regis Prograis would vehemently disagree.
Maxwell also represented Great Britain in the World Series of Boxing where he twice met Lomachenko in 5-round bouts, the first in Kiev and the second in London. He lost both, but was competitive in their second meeting.
Maxwell's observations of Lomachenko parrot what has been written about Loma by an awestruck press corps, but are interesting in that they come from a man that has actually been in the ring with him. "He's just an unbelievable talent," says Maxwell of the brilliant Ukrainian. "His feints, his angles, his intelligence; he's always a few steps ahead of you, knows your movements before you do. He just destroys opponents mentally."
That being said, Maxwell notes that his second meeting with Lomachenko, in which he wasn't overwhelmed, was a pivotal moment for him, alleviating his qualms about whether he had a future at the next level.
Maxwell, now 30 years old, made his pro debut in October of 2017 at Liverpool, opposing the infamous Ibrar Riyaz who at last glance had won only six of his 162 pro fights. Fighters of Riyaz's stripe undoubtedly list their occupation as boxer but they have more in common with pantomime artists. In his last fight before facing Sabri Sediri, Maxwell again faced a professional loser, Jamie Quinn (4-74-2 going in). While Quinn's probability of winning was approximately the same as the sun rising in the west, it's notable that Maxwell dismissed him in the opening round, caving him in with a couple of body punches. This was out of character for Quinn who had been stopped only once previously.
Maxwell was scheduled to fight Spain's Kelvin Dotel on Feb. 23, but that fight fell out when the entire card was scrapped. That opened the door to Sediri who was undefeated (10-0-1) and at a similar stage of development. This would be Sam Maxwell's first televised fight.
When Maxwell (now 11-0, 9 KOs) clocked the Frenchman, it wasn't the actual punch that elicited so much glee, but rather what it symbolized. "Sudden Sam" marched the entire universe of showboating athletes off to the woodshed for a good spanking, including those American football players whose self-serving end zone celebrations ruffle the feathers of so many long-time fans.
Before the fight, there was talk that Maxwell, if victorious, would go on to fight countryman Ohara Davies. The fight that he covets, however, is a third encounter with Lomachenko, a fight that could set him up financially for life. True, he would have scant chance of winning, but stranger things have happened, just ask poor Sabri Sediri.
Should that fight ever transpire, Maxwell, who took up boxing at age 12, could claim that he had paid his dues, but in reality it would have been a showboating Frenchman that propelled him there, a boxer who failed to heed the admonition "protect yourself at all times" and learned a hard lesson.
Check out more boxing news on video at The Boxing Channel
To comment on this story in The Fight Forum CLICK HERE
Three Punch Combo: An Under the Radar Fight, a Solid Gold Prospect and More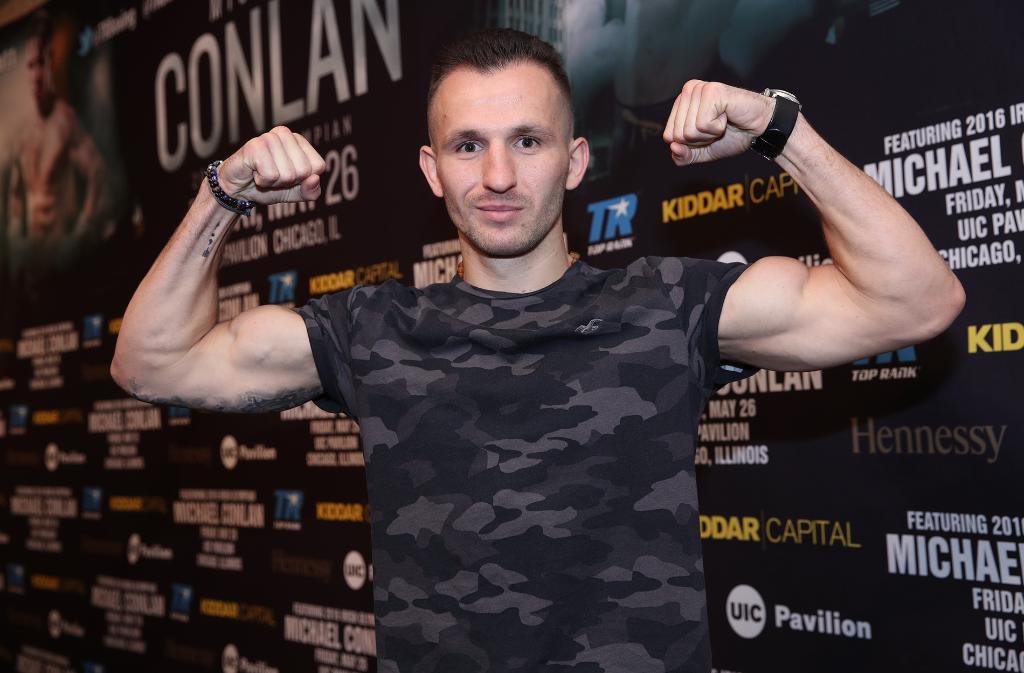 Next Saturday, boxing on ESPN returns with a Top Rank card from the 2300 Arena in Philadelphia, PA. Headlining the event is WBC light heavyweight champion Oleksandr Gvozdyk (16-0, 13 KO's) making the first defense of his title against Doudou Ngumbu (38-8, 14 KO's). Flying somewhat under the radar is the televised co-feature, a scheduled 10-round welterweight contest between Egidijus Kavaliauskas (pictured) and Ray Robinson.
I admit I have been on the Kavaliauskas bandwagon for some time. It was his raw power that first caught my eye. Adding to it, he possesses good boxing skills and will work behind a ramrod-like left jab. However, his career momentum as well as his development has dropped off in recent years. He will be 31 in three months and the time to move into bigger fights to live up to his massive potential is now. To do so, he must get by a tough veteran in Ray Robinson.
Robinson (24-3, 12 KO's) is coming in off a knockout loss last February to another welterweight contender in Yordenis Ugas. Before that, Robinson had not lost since 2010 when he dropped a ten round decision to Shawn Porter.
Robinson is a slick southpaw by trade. However, he will also fight as an orthodox fighter. Regardless of the stance he fights from, Robinson will look to use his legs and work behind the jab. He has good hand speed and is a sharp, accurate puncher. Defensively he is not easy to hit clean.
Stylistically, Robinson could pose problems for Kavaliauskas who recently struggled with another slick boxer in Juan Carlos Abreu. Kavaliauskas is undefeated (21-0, 17 KO's), but make no mistake; this is not an easy fight for the "Mean Machine."
Why would Kavaliauskas' team pick such a tough opponent given that he is seemingly on the verge of much bigger fights? The reason is simple. There is another Top Rank promoted welterweight who also fights interchangeably as a southpaw and orthodox fighter whom Kavaliauskas is being groomed to fight. If he looks good against Ray Robinson, he would not only prove he is a worthy challenger to Terence Crawford but that would also begin the drum beating for that fight.
In my opinion, Kavaliauskas-Robinson is a very fascinating fight. Not only is it an interesting stylistic matchup, but there are plenty of stakes on the line.
Solid Gold Prospect: Sadriddin Akhmedov
On Sunday in Kazakhstan, 154-pound prospect Sadriddin Akhmedov (8-0, 7 KO's) delivered another impressive performance with a wide 10-round unanimous decision over John Ruba (17-6-1, 9 KO's).
Akhmedov, who recently turned 21, has impressive amateur credentials having reportedly won more than 200 fights in the unpaid ranks and earning numerous accolades in his native Kazakhstan. He turned pro last April in Canada and has kept up a very brisk pace in his career to date.
Akhmedov's deep amateur background has furnished him with solid fundamentals. Akhmedov works behind a thudding left jab, has excellent timing and is a very good natural counterpuncher. Defensively he is already very sound and exhibits excellent head movement.
But what really stands out about Akhmedov is his devastating power. He has ferocious, heavy handed power in both fists, the kind of power not seen often in this sport.
So if Akhmedov has such devastating power why didn't he knock out Ruba? Well Ruba is a defensive minded fighter with a sturdy chin who had only been stopped once in his career. Against Akhmedov, Ruba kept a very tight guard for ten rounds and rarely opened up in fear of what would be coming back at him.
Akhmedov showed patience and maturity against Ruba. He boxed well behind a powerful left jab and picked his spots. For the most part, he avoided getting hit clean. In particular, Akhmedov did an excellent job beating the rib cage of Ruba throughout the fight.
Akhmedov also showed he can carry his power late as he did manage to get through Ruba's tight guard in the later rounds and hurt him on a few occasions. Despite not getting the knockout, Akhmedov put on a good display of overall boxing skills in going the distance for the first time in his young career.
If you have not yet seen Akhmedov fight, I encourage you to check him out. He could very well be the next great fighter to come out of Kazakhstan.
One Big Change Could Be Coming to the Pay-Per-View Model
As we all know, how we watch boxing in 2019 is much different from, say, how we watched boxing in 2009. Online streaming services such as DAZN and ESPN+ have entered the fray and given fans access to more events than ever before in the history of the sport.
Despite changes, the pay-per-view model still exists and it is not going away. However, with fans demanding more bang for their buck, one big change could be on the horizon.
Before I delve more into this, there is something about the current pay-per-view system that promoters did not often publicly acknowledge and that is the issue of illegally streaming. It happens and with a little effort fans can find a way to watch a pay-per-view fight through a stream without having to pay for it.
Illegal streams can be choppy, unreliable and just crash, but many yet find it worth the trouble to seek out an illegal stream to save a few bucks.  We don't know what the numbers are for pay-per-view fights, but the illegal streams unquestionably eat into a significant portion of the revenue for the event. It is a problem.
So how do promoters combat this? Well it is not easy to police, but if promoters give fans more value I am certain there will be less piracy. And promoters can do this by simply making more attractive undercard fights.
If promoters give fans more for their money, mark my words that will sway many would-be illegal streamers into just buying the event. For one big fight, many find it worth the trouble to rummage around in hopes of finding a stream to save a few bucks. But for several good fights with one excellent main event, many will inevitably purchase the pay-per-view, choosing not to mess with the frustration. It is about value.
Don't believe me? Look at some recent Top Rank pay-per-view undercards. Remember the one in October of 2013 for Bradley-Marquez? It was horrible.
Now look at the undercard for Crawford-Khan in April. It is tremendous with several highly attractive fights. My point here is that Top Rank clearly sees value in putting together a good pay-per-view undercard where in the past they did not.
Yes, the undercard for Spence-Garcia was terrible. And I think it cost the organizers despite the relatively solid numbers. I also think they will learn from this oversight and we can expect stronger undercards in the future that will feature some very big fights in support of the main attraction.
Check out more boxing news on video at The Boxing Channel
To comment on this story in The Fight Forum CLICK HERE