Ralph `Tiger' Jones, Conqueror of Sugar Ray Robinson, was the Ultimate Gatekeeper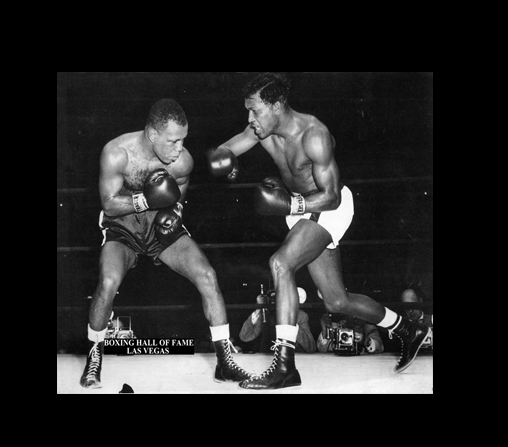 Being a gatekeeper, especially in boxing, can be a lonely and underappreciated function. And in the 1950s, a golden age for the sport, that might have been especially true for a highly competent but not-quite-elite middleweight named Ralph "Tiger" Jones, who fought so often on the Gillette Cavalcade of Sports' Friday Night Fights that he came to be known as "Mr. Television," a sobriquet he shared with another frequent face of the relatively new medium, comedian Milton Berle.
Jones, who was 66 when he passed away on July 17, 1994, is not enshrined in the International Boxing Hall of Fame. The Brooklyn-born, Yonkers, N.Y.-based scrapper has never even appeared on the IBHOF ballot. Then again, why should he have been? His career record of 52-32-5, with only 13 victories inside the distance, isn't particularly impressive, unless you take a closer look at the who's who list of guys with whom he shared the ring. He holds victories over, among others, IBHOF Hall of Famers Sugar Ray Robinson, Joey Giardello and Kid Gavilan (Giardello and Gavilan each defeated him twice), and he gave such capable and even world-class fighters as Gene Fullmer (twice), Laszlo Papp, Bobo Olson, Johnny Saxton (twice), Joey Giambra (twice), Rocky Castellani (twice), Paul Pender, Johnny Bratton, Rory Calhoun (twice), Joe DeNucci (thrice), Bobby Dykes, Chico Vejar, Charlie Humez (twice), Victor Salazar, Ernie Durando and Del Flanagan all they could handle.
Given the high level of competition he so routinely faced, it is remarkable that the Tiger was stopped only once, and even that was a bit of an outlier, a one-round TKO against someone named Henry Burroughs on Jan. 13, 1951. Burroughs, who went 3-4 in an abbreviated professional career, quickly vanished from the fight scene, but for Jones, who had come in 9-0, the shocking defeat might have had the effect of instantly downgrading him from hot prospect to "opponent" and, ultimately, gatekeeper of a loaded 160-pound weight class. Interestingly, Jones had virtually toyed with Burroughs in winning a four-round unanimous decision only two months earlier.
There are those who insist that Jones' most shining moment inside the ropes came when he stopped Dykes (career record: 120-23-8, with 57 KOs) on March 8, 1954, in Brooklyn when, well behind on points, he rallied to register two emphatic, outcome-shifting knockdowns in the 10th and final round. But even that keepsake triumph pales in comparison to what took place in Chicago Stadium on Jan. 19, 1955, when he presumably was served up as a sacrificial offering to the incomparable Sugar Ray Robinson. Sugar Ray, then 33, was in the early stages of a comeback after he failed to make it big as a tap dancer on a tour of Europe. Fighting for the first time in 2½ years, Robinson had stopped journeyman Joe Rindone in six rounds on Jan. 5, 1955, in Detroit, and the bout against Jones, an 8-1 underdog, was widely viewed as merely another step forward in the former welterweight and middleweight champion's graduated path back to the superstar status he once held and almost everyone believed he would soon reclaim.
But the outcome that was anticipated by the in-house turnout of 7,282 and a national TV audience underwent a quick rewrite when Jones, who had lost his previous five bouts, was the aggressor in the opening stanza of the scheduled 10-rounder, which ended with the great Sugar Ray — who had come in with an incredible 132-3-2 record — bleeding from a cut to his nose. It was more of the same in round two, Jones adding to Robinson's seepage when the living legend went back to his corner with another cut, to his right eyelid.
It should have been apparent to everyone, even then, that this was not going to be Sugar Ray's night, and it wasn't. Referee Frank Sikora submitted a scorecard favoring Jones by a 99-94 margin, with judges Ed Hintz and Howard Walsh seeing it as an even bigger rout for Jones, at 100-88 and 98-89. Years later, the punch-counters for CompuBox reviewed tape of the fight and determined that Tiger had connected on 232 of 407 (57 percent) to just 176 of 514 (34 percent) for Robinson.
But as is often the case when a legendary fighter is made to look something less than superhuman, the big story was not that Ralph "Tiger" Jones had won, but that a humbled Sugar Ray Robinson was now on his last legs, his nimble feet and fast hands left behind somewhere on nightclub stages in a far-away continent.
New York Journal American columnist Jimmy Cannon for all intents and purposes authored Sugar Ray's boxing obituary in his paper's Jan. 20 editions, opining that "There is no language spoken on the face of the earth in which you can be kind when you tell a man he is old and should stop pretending he is young … Old fighters, who go beyond the limits of their age, resent it when you tell them they're through … what he had is gone. The pride isn't. The gameness isn't. The insolent faith in himself is still there … but the pride and the gameness and that insolent faith get in his way … He was marvelous, but he isn't anymore."
And this, from The Associated Press report of the fight: "The former welterweight and middleweight titleholder … who started his comeback after 30 months as a song-and-dance entertainer by kayoing Joe Rindone two weeks ago, was handed the worst beating of his career by Jones … Time and again Tiger drove Robinson into the ropes and mauled him pitifully."
But as was the case with the false rumor in 1897 that novelist/humorist Samuel Clemens – better known by his pen name, Mark Twain — had passed away, any suggestion that Sugar Ray Robinson was finished as a top-tier fighter proved to be premature. The Sugar man held the middleweight championship five times in all, three of his title reigns coming after Cannon advised him in print that he was washed up.
"I never figure to win them all," the battered Robinson said after taking his licking from Jones. "You've got to figure you'll get beat somewhere along the line. I don't want to quit. This was a test. Like my manager said, it was just too tough for a second fight on a comeback."
And Jones?
He continued to get regular TV gigs because he was more skilled than many, doggedly determined to put on a good show and no day at the beach for any of the six world champions he fought on 10 different occasions. But he never got a shot at a world title, a cruel twist of fate for someone who not only had paid his membership dues in the school of hard knocks, but continued to pay them right up to the end, a 10-round, unanimous-decision loss to IBHOF Hall of Famer and three-time Olympic gold medalist Laszlo Papp of Hungary on March 21, 1962. Tiger was floored in three separate rounds, but true to his unyielding code of honor, he gutted it out to the final bell. His pride would not allow him to do otherwise.
As a child growing up in New Orleans and the son of police captain Jack Fernandez (career record: 4-1-1, 1 KO), a former welterweight of scant pro accomplishment whom I idolized as if he had been a world champion, it seemed to me that, if Tiger Jones didn't appear every week on the Gillette Cavalcade of Sports, he was in the featured bout at least every month or so. The best of the gatekeepers from that glorious era deserve at least some reflected glory for hanging in with their betters, and Jones holds a special place in my recollections along with, among others, Florentino Fernandez (I liked to pretend we were somehow related), Holly Mims and "Hammerin'" Henry Hank, the Detroit middleweight and light heavyweight who fought so often in New Orleans (18 times) that I chose to believe he was almost as local as Willie Pastrano, Ralph Dupas, Percy Pugh and Jerry Pellegrini. Hank, who was 62-30-4 with 40 KOs in a career that spanned from 1953 to '72, was a virtual replica of the never-say-die Jones, never fighting for a widely recognized world title (he did drop a 15-round decision to Eddie Cotton for the Michigan version of the light heavyweight championship) and losing just once inside the distance, on a ninth-round stoppage by Bob Foster on Dec. 11, 1964, in Norfolk, Va.
Yeah, that would be the same Bob Foster who would go on to become one of the most accomplished 175-pound champions ever and was inducted into the IBHOF in 1990.
Bernard Fernandez is the retired boxing writer for the Philadelphia Daily News. He is a five-term former president of the Boxing Writers Association of America, an inductee into the Pennsylvania, New Jersey and Atlantic City Boxing Halls of Fame and the recipient of the Nat Fleischer Award for Excellence in Boxing Journalism and the Barney Nagler Award for Long and Meritorious Service to Boxing.
Check out more boxing news on video at The Boxing Channel
To comment on this story on The Boxing Forum, CLICK HERE
Philadelphia's Danny Garcia Wins in LA (is Manny Next?) and Undercard Results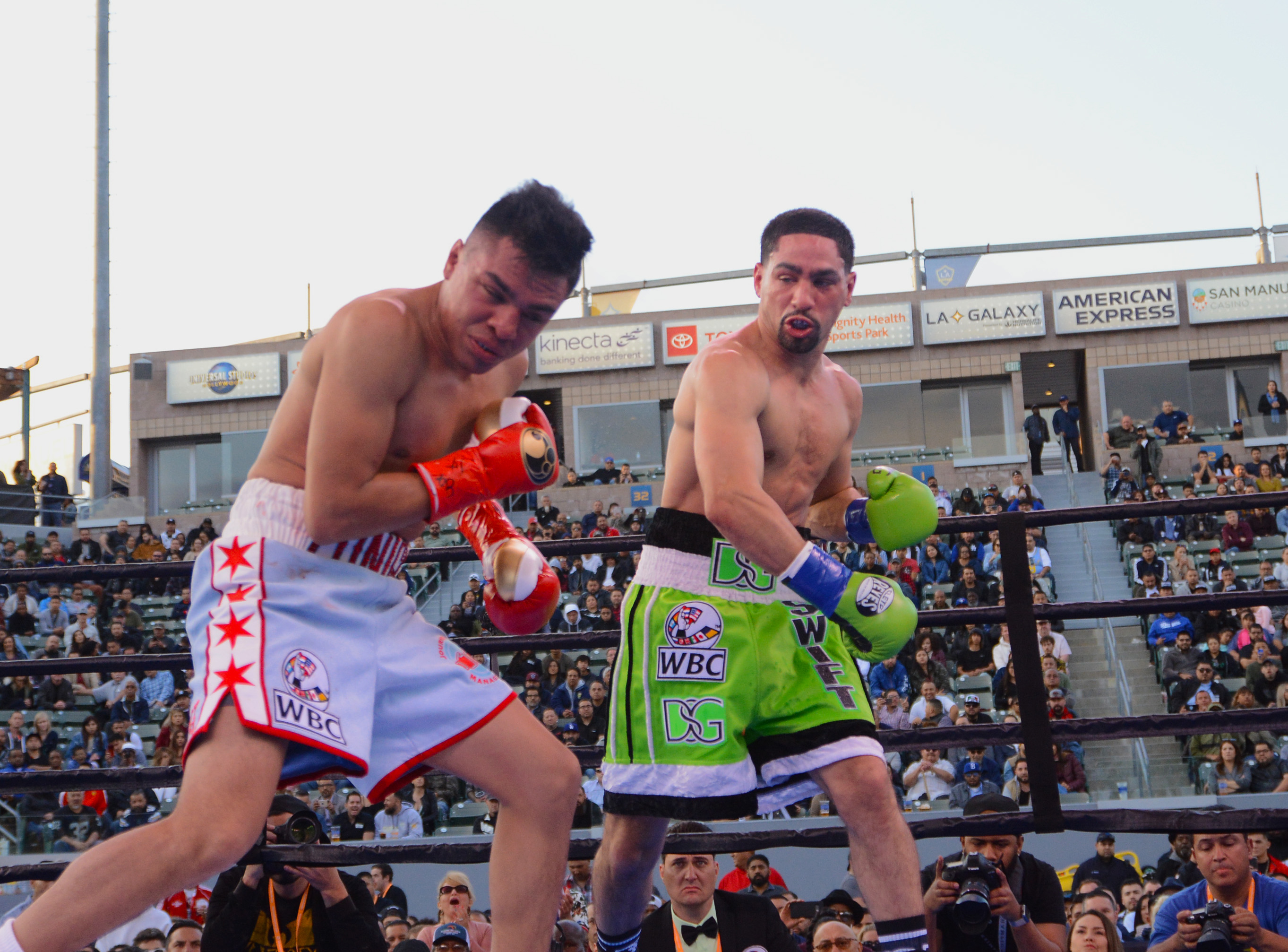 CARSON, Calif.-Former two division champion Danny "Swift" Garcia had too much firepower for Adrian Granados and simply overwhelmed the gritty fighter from Chicago before winning by knockout on Saturday.
No world title was at stake but future prizes were.
Philly fighter Garcia (35-2, 21 KOs) had predicted he would mow through Granados (20-7-2) who was moving up in weight again for this fight and was just too heavy handed before a crowd of more than 6,000 at the Dignity Health Sports Park. The PBC card was televised by FOX.
After a casual exchange of punches in the first round Garcia started bringing the thunder in the second round and connected with a double left hook to the body and a left hook to the head of Granados. The blows resounded throughout the arena and drew oohs from the crowd. Then Garcia caught Granados with a counter left hook that sent Granados sprawling across the ring. He got up and beat the count. Another exchange saw Garcia land a counter right cross and down went the Chicago fighter. He beat the count again but looked hurt. He survived the end of the round.
Garcia stalked Granados who moved more cautiously for the next two rounds but was still catching rights.
In the fifth round a straight right floored Granados while he was against the ropes. He survived the round again.
Granados tried every move he could think to change the momentum but nothing seemed to work. In the sixth both fought inside but Garcia soon began pummeling Granados with the referee looking closely. He allowed the fight to continue into the seventh round but checked with the corner twice.
With the crowd murmuring, Garcia gave chase to Granados and caught him near the ropes with a lead right and another right before unleashing a four-punch barrage. Referee Tom Taylor jumped in and stopped the beating at 1:33 of the seventh round to give Garcia the win by knockout.
Philadelphia's Garcia had won in Southern California once again. He had beaten Robert "The Ghost" Guerrero by decision three years ago in Los Angeles.
"This is what makes Danny Garcia one of the best fighters in the world," said Garcia. "I had to be the first man to stop him and I did that today."
The win puts Garcia as a strong candidate to face multi-divisional world champion Manny "Pacman" Pacquiao who now holds the WBO welterweight world title.
"I hope I didn't scare him away. Frankly I would love that fight or Keith Thurman or Errol Spence," Garcia said.
Other Bouts
Brandon Figueroa (19-0) of Texas rumbled to a knockout win over Venezuela's Yonfrez Parejo (22-4-1) to win the interim WBA super bantamweight title. The battle was fought mostly inside, forehead to forehead, but surprisingly, neither fighter suffered cuts from butts.
Figueroa and Parejo slugged it out inside until the sixth round when Parejo took the fight outside and scored well from distance. But Figueroa kept hunting him down and digging to the body and head. Finally, in the eighth round Figueroa began catching the moving Parejo with digging shots that seemed to affect the Venezuelan boxer. At the end of the round Parejo signaled he had enough.
Figueroa was deemed the winner by knockout.
"Honestly I thought I was going to finish him the next round," said Figueroa.
California's Andy "the Destroyer" Ruiz (32-1) won by knockout over Germany's much taller Alexander Dimitrenko (41-5) in a heavyweight fight set for 10 rounds. Despite the size disparity Ruiz was the aggressor throughout and attacked the body with punishing blows. In the third round Ruiz almost ended the fight when Dimitrenko was severely hurt. After the end of the fifth round Dimitrenko's cornered signaled the fight was over and referee Ray Corona waved it off. Ruiz wins by knockout as the crowd cheered loudly.
Ruiz was recently signed by PBC and may have found a home more suited for his weight division. It was his first fight under the PBC banner.
"I'm ready for the next one, I kind of seen that coming," said Ruiz who admitted to eating a Snickers for energy. "The game plan was dropping the body down."
Alfredo "El Perro" Angulo (25-7, 21 KOs) used the trusty knockout to win for the first time in four years. The victim was Evert Bravo (24-10-1) a super middleweight from Colombia who had his own losing streak like Angulo.
Both punished each other with hard combinations the first round, but in the second frame Angulo found his rhythm and fired a barrage of blows that left Bravo slumped along the ropes. Referee Rudy Barragan stopped the fight at 1:23 of the second round to give Angulo his first victory since he defeated Hector Munoz at the Staples Center on August 2015. He now trains with Abel Sanchez in Big Bear.
"I found a good coach," said Angulo.
More than 1,000 fans remained to see Angulo perform long after the Garcia-Granado's main event. He's still a draw, especially in Southern California.
Former US Olympian Carlos Balderas (8-0, 7 KOs) stopped Luis May (21-14-1) with a barrage of blows in the fourth round of their lightweight clash. Balderas knocked down May several times but the crafty May used every means to survive including multiple low blows. Finally, at 1:07 of round four, Balderas unleashed several blows that saw May go down and a towel was thrown from his corner. Referee Ray Corona stopped the fight.
Fontana, California's Raymond Muratalla (7-0) floored Mexico's Jose Cen Torres (13-12) three times in the third round to win by knockout at 2:58 of the round in a super lightweight bout. Muratalla dropped Torres with a short right uppercut for the first knockdown. A right to the body sent Torres down a second time. A double right cross delivered Torres down a final time as referee Ray Corona immediately stopped the fight.
Las Vegas fighter Rolando Romero (9-0, 8 KOs) knocked out Colombia's Andres Figueroa (9-5, 5 KOs) with a left hook during an exchange of blows at 1:27 of the fourth round in their lightweight scrap. Figueroa landed with a thud and was unconscious for several minutes and sent to the hospital.
Denver's Shon Mondragon (2-0) battered Mexico's Hugo Rodriguez (0-4) in the third round forcing referee Eddie Hernandez to end the fight at 1:55 of round three in a super bantamweight match.
Nelson Hampton (5-2) of Texas beat Phillip Bounds (0-3) by decision after lightweight fight.
Other winners were Jeison Rosario by split decision over Jorge Cota in a super welterweight fight. Omar Juarez beat Dwayne Bonds by decision in a super lightweight bout. Featherweights Ricky Lopez and Joe Perez fought to a draw after 10 rounds.
Photo credit: Al Applerose
Check out more boxing news on video at The Boxing Channel
To comment on this story in The Fight Forum CLICK HERE
Fast Results From NYC: Crawford TKOs Khan but not Without Controversy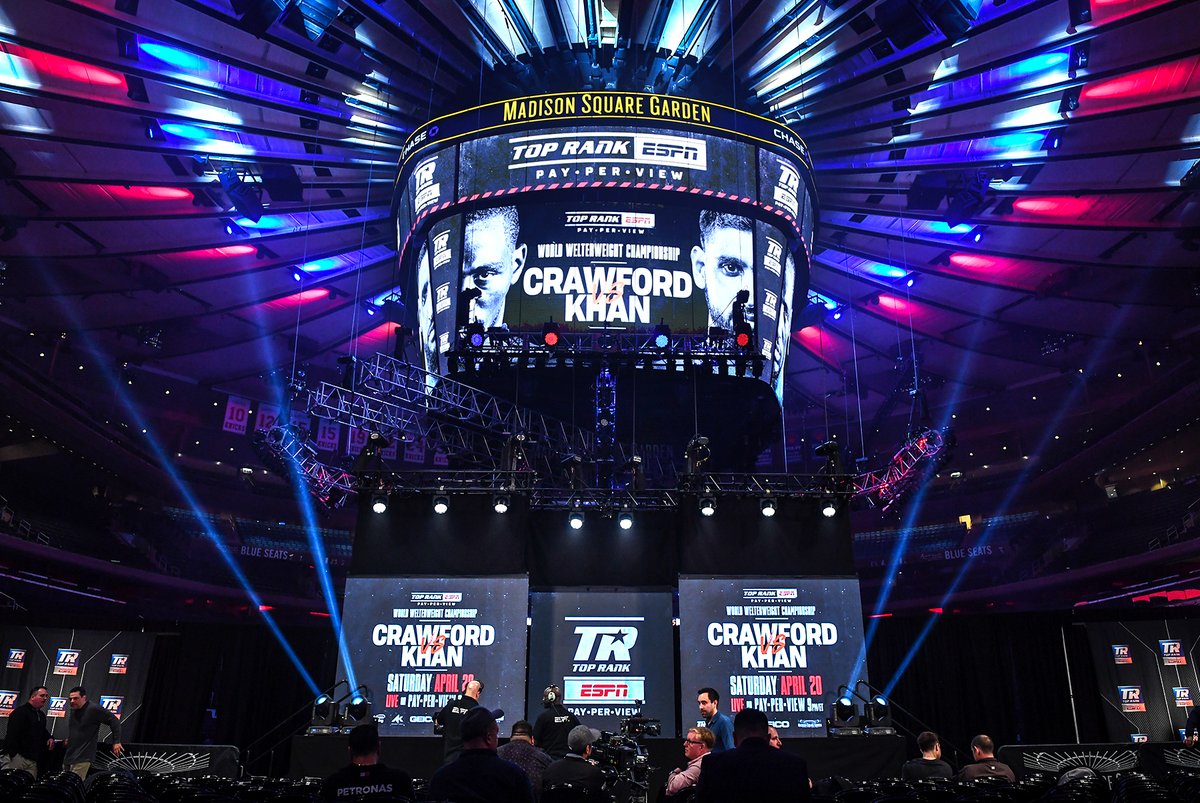 Amir Khan, who doesn't shy away from tough assignments, was in New York tonight opposing WBO welterweight champion Terence Crawford, a man who is on everyone's short list of boxing's top pound-for-pound fighters. The general assumption was that Khan had the slickness to win a few rounds but that his chin would ultimately betray him.
Khan won one round at the most — and that's being generous – before the bout was stopped after 47 seconds of the sixth frame with Khan in pain from a low blow. Referee David Fields stopped the action to allow Khan to recover and then stopped the fight on the advice of the ring doctor with the apparent encouragement of Khan's trainer Virgil Hunter. Because the low blow was accidental, Crawford was declared the winner by TKO.
It appeared that this fight would end in a hurry. In the opening round, Crawford decked Khan with an overhand right. Khan got to his feet but was in distress and for a moment it didn't appear that he would last out the round. But Crawford did not press his advantage in round two and Khan regained his composure.
Crawford was in complete control when the fight ended, having raked Khan with combinations and a series of body punches in the fourth and fifth stanzas. Although the final punch of the fight was way south of the border, Khan's refusal to continue was widely seen as an act of surrender. After the bout, Crawford called out Errol Spence.
PPV Undercard
Lightweight Teofimo Lopez, whose highlight reel knockouts and brash demeanor have made him arguably the most exciting young prospect in boxing, found a new way to conclude a fight tonight, collapsing Edis Tatli in the fifth round with a body punch. Lopez, who was born in Brooklyn and raised in a suburb of Miami (his parents are from Honduras and Spain), improved to 13-0 with his 11th knockout. Tatli, a Kosovo-born Finn making his U.S. debut, suffered his third loss in 34 starts. A two-time European lightweight champion, Tatli hadn't previously been stopped.
Fast rising featherweight contender Shakur Stevenson, the 2016 Olympic silver medalist from Newark, simply outclassed former world title challenger Christopher Diaz, winning the 10-round bout on scores of 100-90, 99-91, and 98-82. The 21-year-old southpaw, now 11-0, was too fast and too busy for his Puerto Rican adversary who fell to 24-2.
In the first of the four PPV bouts, lightweight Felix Verdejo won a unanimous 10-round decision over Bryan Vasquez. Verdejo, a 2012 Olympian for Puerto Rico once touted as the island's next Felix Trinidad, was returning to the site where he suffered his lone defeat, succumbing to heavy underdog Antonio Lozada whose unrelenting aggression ultimately wore him down, resulting in a 10th round stoppage.
Vasquez appeared to injure his left shoulder near the midpoint of the battle, an advantage to Verdejo, now 25-1, who started slowly but outworked Vasquez down the stretch, winning by scores of 98-92 and 97-93 twice. Costa Rica's Vasquez, the husband of prominent boxer Hanna Gabriels, falls to 37-4.
Other Bouts
 Super welterweight Carlos Adames, who hails from the Dominican Republic but has been training with Robert Garcia in Riverside, California, made a strong impression with a 4th round stoppage of Brooklyn's Frank Galarza. The undefeated Adames, now 17-0 (14 KOs), knocked Galarza (20-3-2) to the canvas with a hard left hook and then went for the kill, pinning Galarza against the ropes with a series of unanswered punches that compelled referee Benjy Estevez to intervene. The official time was 1:07.
 Super welterweight Edgar Berlanga, a 21-year-old New Yorker of Puerto Rican descent, needed only 46 seconds to dismiss 38-year-old Brazilian trail horse Samir dos Santos. Berlanga, who began his pro career in Mexico, has now knocked out all 10 of his opponents in the opening round.
Super welterweight Vikas Krishan, a two-time Olympian, improved to 2-0 with a 6-round unanimous decision over Noah Kidd (3-2-1). The scores were 59-55 and 60-54 twice.
A 27-year-old southpaw who as a job waiting for him as a police officer, Krishan is the second notable boxer to emerge from India, following on the footsteps of Top Rank stablemate Vijender Singh.
Bantamweight Lawrence Newton, a Floridian who has been training at Terence Crawford's gym in Omaha, won his 12th straight without a loss with a 6-round unanimous decision over Jonathan Garza (7-3). The scores were 60-54 and 59-55 twice.
In a 6-round junior welterweight match that was one-sided but yet entertaining, Lawrence Fryers won a unanimous decision over Dakota Polley. Fryers, wh is from Ireland but resides in New York, improved to 10-1. The 20-year-old Polley, from St. Joseph, Missouri, fell to 5-3.
Check out more boxing news on video at The Boxing Channel
To comment on this story in The Fight Forum CLICK HERE
Allen (KO 3) and Chisora (UD 10) Victorious in Heavyweight Action in London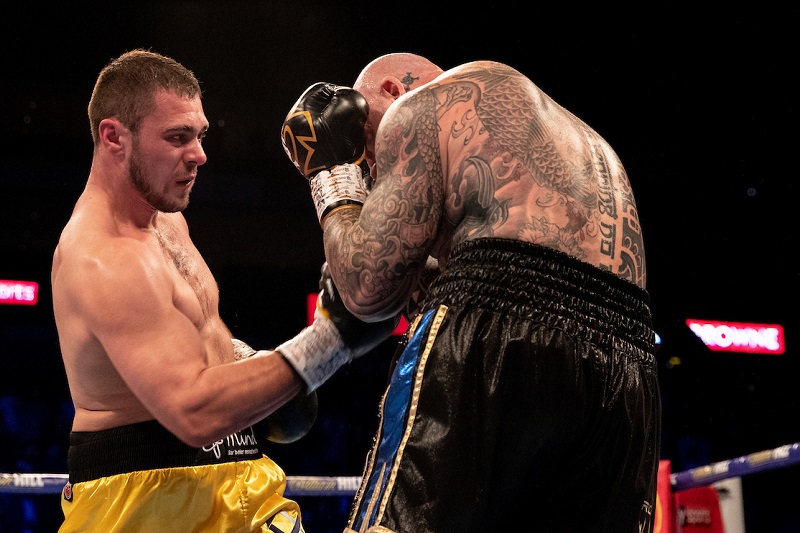 A pair of heavyweight battles topped the card at London's 02 Arena. Both favorites won, but neither bout played out as expected.
Fan favorite David Allen, a 27-year-old Yorkshireman, continued his ascent from the lower depths of the boxing firmament with a one-punch knockout of Australia's  heavily-tattooed Lucas Browne. Allen caved in Browne with a body punch in the third round that brought a sudden end to a bout that the Aussie appeared to be winning.
Browne, who turned 40 this month, made history when he became the first Australian to win a world heavyweight title (WBA version) when he scored a 10th round stoppage of Ruslan Chagaev in Russia. But, in hindsight, that win was a fluke. A gassed-out Chagaev was widely ahead on the cards when his roof fell in. Browne's tenure was brief. He was stripped of the belt after testing positive for clenbuterol.
Allen, nicknamed the White Rhino, has now won four straight beginning with an upset of previously undefeated Nick Webb. His reputation is that of a common brawler, a fighter willing to take two punches to land one, but, regardless, he positioned himself for a nice payday or two going forward. Browne lost his second straight after opening his career 28-0.
The maddeningly inconsistent Dereck Chisora, who engaged in two barnburners with Dillian Whyte, snoozed his way to a 10-round unanimous decision over milquetoast Senad Gashi. The 35-year-old Chisora, a Zinbabwe-born Londoner, improved to 30-9 but did nothing to improve his stock. The well-traveled Gashi, born in Kosovo and now residing in Spain, declined to 17-3 while acquiring the patina of a trial horse.
Other Bouts
Welterweight Josh Kelly, a 2016 Olympian, won a lopsided 10-round decision over stubborn Przemysla Runowski. Kelly (9-0, 6 KOs) had Runowski on the canvas in rounds two, nine, and 10, but the previously undefeated Pole (now 17-1, 3 KOs) stayed the course. Kelly appeared to hurt his hand early in the fight. That may knock him off the Joshua-TBA card on June 1 at Madison Square Garden.
Joe Cordina, a Welshman, now holds the British and Commonwealth lightweight titles after scoring a 6th round stoppage of Yorkshireman Andy Townend (22-5). Cordina started slowly but gradually picked up the pace and scored three knockdowns before the referee waived it off. A 2016 Olympian, Cordina (9-0, 7 KOs) was a heavy favorite despite a dearth of pro experience.
Conor Benn the 22-year-old son of Nigel Benn, was extended the distance for the third time in his last four fights but had little difficulty advancing his record to 14-0 (9) at the expense of Josef Zahradnik (10-3) of the Czech Republic. The referee awarded Benn every round in this 8-round welterweight affair.
Middleweight Nikita Ababiy, a hot prospect with a big upside, was extended into the second round for the first time in his young pro career but eliminated Dmitri Faltin after only 26 seconds of round two. A 20-year-old Brooklynite of Russian extraction, nicknamed White Chocolate, Ababiy (4-0) excelled in all manner of combat sports as teenager. In the ring he doesn't pussyfoot around. He won his pro debut in 28 seconds. Faltin, a 37-year-old Finn, fell to 2-4-1.
John Harding Jr., a 34-year-old middleweight, improved to 7-0-1 with a one-sided 6-round decision over Miroslav Juna (1-2). A protégé of Dillian Whyte, Harding started his pro career late after serving several stints in prison.
Cruiserweight Sam Hyde (14-1-1, 7 KOs) rebounded from his first defeat in fine fashion, blowing out Slovakia's Josef Jurko (5-2) in the opening round.
Super bantamweight Sam Cox (4-0) won a 4-round decision over Bulgaria's Georgi Georgiev.
In a woman's fight, British bantamweight Shannon Courtenay (2-0) outpointed Bulgaria's Roz Mari Silyanova (1-5-1). The ref gave Courtenay all four rounds.
Check out more boxing news on video at The Boxing Channel
To comment on this article in The Fight Forum CLICK HERE