Will Keith Thurman's  Hand Injury Force a Stylistic Makeover?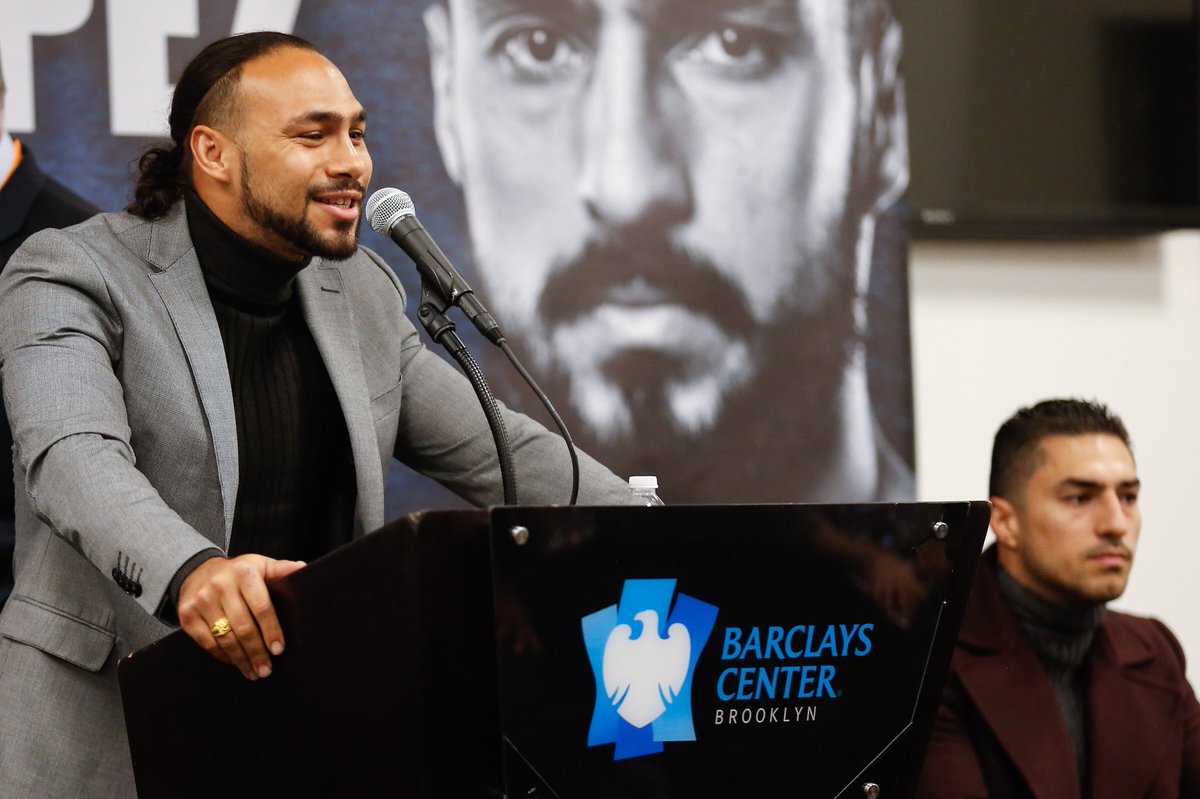 A boxer's hands are the tools of his trade. Like all tools, they are subject to chipping and breaking from repeated usage. But whereas a carpenter can go to a hardware store and purchase, say, a new hammer, a fighter with a damaged hand can't send out for a replacement fist during the course of a bout. He has to finish the job with the same physical equipment with which he began.
Given WBA welterweight champion Keith "One Time" Thurman's recent injury history, which has sidelined him for nearly two years, it remains to be seen if the 30-year-old from Clearwater, FL is still the elite fighter he was before the trouble he encountered with his right elbow (which required surgery) and badly bruised left hand that could affect him as much or more as any accumulated ring rust when he defends his title against Josesito Lopez Saturday night in Brooklyn's Barclays Center.
Thurman-Lopez is the main event of a Premier Boxing Champions card to be televised via Fox and Fox Deportes, with the lead-in a 10-rounder pitting heavyweight Adam Kownacki (18-0, 14 KOs against former world title challenger Gerald Washington (19-2-1,12 KOs).
Thurman (28-0, 22 KOs) understands his much-anticipated return against prohibitive underdog Lopez (30-7, 19 KOs) — barring a line change, Thurman is a whopping -2300, Lopez +1490 — comes shrouded in question marks. Is he the same devastating puncher who not so very long ago was widely considered to be the best 147-pounder on the planet, or have circumstances not of his choosing dictated that he switch to a less-aggressive style? And even if Thurman reveals himself to be all or nearly all of what he had been, where does he stand in a new and improved welterweight division in which IBF champion Errol Spence Jr. (24-0, 21 KOs) and WBO titlist Terence Crawford (34-0, 25 KOs), who moved up from super lightweight during the Floridian's medical sabbatical, may have usurped him in the public consciousness? Another welter who again has insinuated himself into that discussion is 40-year-old Manny Pacquiao ( 61-7-2, 39 KOs), the secondary WBA champ who demonstrated he still has some gas in his tank with the near-shutout he pitched en route to a unanimous decision over Adrien Broner on Jan. 19. And don't dismiss the very real possibility of another comeback by Floyd Mayweather Jr. (50-0, 27 KOs), despite the fact he turns 42 next month.
If nothing else, 22 months of inactivity have not adversely affected Thurman's ability to parry and counter tough questions posed to him by the media, as he proved during a teleconference on Tuesday in which he was asked frequently about the current state of his health and his vision of what the future might hold. Asked how he felt about skeptics who are leery of his readiness to quickly or even ever re-assume his former position atop the division, Thurman responded with some witty quips that came with a serious undertone.
"I could care less about what people say and think about Keith Thurman, how he's ducking guys, he's getting injured to avoid people," he responded. "I'm a seven-figure fighter, man. There's a lot of money out there to be made. I've worked really hard my whole life since the age of seven (when he took up boxing).
"A lot of opinions really don't get to me. If anything, some of them are humorous. My favorite is I'm Keith `One Time' Thurman, I'm Keith `None Time' Thurman, I'm Keith `Sometime Thurman,' I'm Keith `Once Upon a Time' Thurman. That was pretty amusing."
But it is not so easy to crack wise when the subject involves balky body parts and the necessary healing process that isn't always easy, fast or effective. Although he says and certainly hopes otherwise, what might otherwise be a standard keep-busy type of fight against the willing but limited Lopez now shapes up as a litmus test for Thurman to certify he is not damaged goods.
The hand injury obliged Thurman to withdraw from a scheduled May 19, 2018, bout against an opponent that had yet to be named. Given that boxing is an out-of-sight, out-of-mind activity, Thurman – whose most recent bout was a split-decision victory in his welterweight unification showdown with WBC champ Danny Garcia on March 4, 2017– understandably grew antsy as fight fans turned to others for their pugilistic adrenalin fixes. Spence, perhaps kiddingly and perhaps not, even suggested that Thurman's lengthening absence from the ring was deliberate.
"With Keith Thurman, he's going to stay injured as long as I keep winning," Spence said in November. "I don't think me and him are ever going to fight."
Thurman said there was nothing he could do about the reality of his circumstances and he would have jeopardized his career by attempting to rush back into action against medical advice.
"The elbow surgery … I kept pressing my doctor to give me a turnaround date," Thurman said. "I didn't understand why he kept beating around the bush. He was very clever with his wording. He pretty much never answered the question.
"Probably it was about six months after the surgery that I realized this was a long recovery and I would need more time. It was 10 months to a year of recovery, which would have been OK. It was frustrating, but it wouldn't have been the longest layoff. Luckily for me I got to spend a lot of time with my wife in Katmandu, Nepal. A lot of new life experiences.
"Then, when I was trying to get back in the ring, I had another injury to my left hand. The doctors were telling me, `You're not going to be out forever,' but it felt like forever."
It also felt pretty painful. You wouldn't think that something that initially was described as a "deep bruise" would have such potentially disastrous ramifications.
"When it occurred it was painful enough to where it hurt to land a jab on my sparring partner with 16-ounce gloves," Thurman recalled. "If I can't punch my sparring partner with a jab, I knew I wasn't going to get a fight date."
And now?
"In the back of my mind, yeah, we (Thurman refers to himself and trainer Dan Birmingham in a collective sense) were a little worried about things going into the future. But we're also doing our best to stay positive. We feel great, we're ready for this fight and I just want my health to hold up because I want to be an active fighter at the top of the welterweight division once again. I believe I will be able to do that even if I do have to monitor things.
"Maybe I do have to make adjustments in my fight style, but I'll do whatever it takes to continuously showcase the skills and talents that I have. I've always been versatile. There are many ways to get to the finish line when it comes to a 12-round championship fight. I didn't knock out Shawn (Porter) and I didn't knock out Danny. I'm hard to beat even if I'm not trying to knock you out."
The possibility of Thurman, or any fighter, making allowances for a chronic hand condition is real. Floyd Mayweather Jr., as gifted, rich and successful as he is, underwent a stylistic makeover that was largely wrought by his tender mitts. Boxing historian Bert Sugar, who was 75 when he passed away in 2012, said he was aware of the problem that dates back to Floyd's childhood.
"My wife is from Grand Rapids, Mich. (Mayweather's hometown), and when we went there to visit her family I sometimes would go over to Buster Mathis' gym," Sugar recalled in April 2007. "I remember seeing this little eight-year-old kid, who even then was magnificent. And even then that kid's hands were very fragile."
Veteran trainer and TV analyst Teddy Atlas believes Mayweather's defense-heavy, less-risk-taking approach to his craft is an outgrowth of a bad experience associated with those oft-throbbing hands.
"The only knockdown of Floyd's career, against Carlos Hernandez (on May 26, 2001), wasn't really a knockdown," Atlas said, also in 2007. "His right hand was hurting him so much that he doubled over in pain and his glove brushed the canvas. The referee saw it and called it a knockdown, which, technically, I guess it was.
"Against (Carlos) Baldomir (a fight which Mayweather won on a 12-round unanimous decision on Nov. 12, 2006), Floyd went all-out early, going for the knockout, but he hurt his hands so badly he could barely use them in the later rounds."
It will be interesting to see if Thurman winces whenever he connects with a hook or a jab against Lopez because, well, usually when you land a punch it's supposed to hurt the hitee more than the hitter. But like the man said, there are lots of ways to win a prizefight, and lots of ways to again be recognized as the welterweight division's top performer.
"I am the truth," Thurman said, playful again. "It is what it is, man. I belong here. Have I held my position? Some people say yes. Some people say no. Where do you put Keith Thurman? Maybe he's No. 1. Maybe he's No. 2. Oh, wait, but you have that Crawford guy now, so, well, he's No. 3."
Bernard Fernandez is the retired boxing writer for the Philadelphia Daily News. He is a five-term former president of the Boxing Writers Association of America, an inductee into the Pennsylvania, New Jersey and Atlantic City Boxing Halls of Fame and the recipient of the Nat Fleischer Award for Excellence in Boxing Journalism and the Barney Nagler Award for Long and Meritorious Service to Boxing.
Check out more boxing news on video at The Boxing Channel
To comment on this story in The Fight Forum CLICK HERE
Gervonta vs. Shakur: Street Fight or Boxing?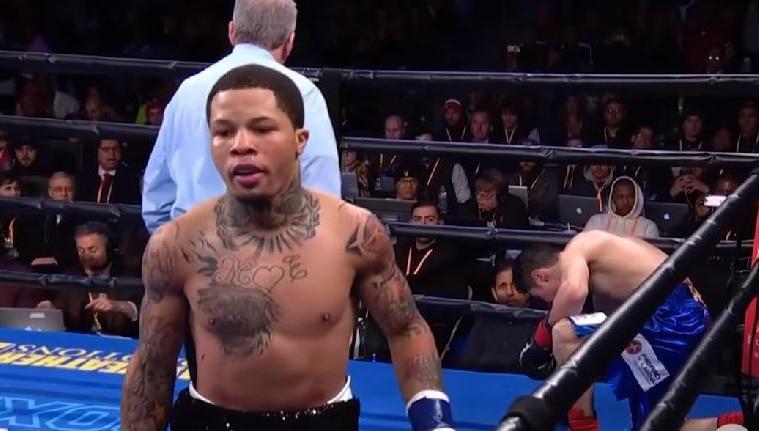 Gervonta "Tank" Davis — out of Baltimore — is a fan-friendly, undefeated (21-0, 20 KOs), two-time super featherweight champion. An all-action fighter, he brings the heat whenever and wherever he fights, operating like a mini-Tyson.
Shakur "Fearless" Stevenson—out of Virginia by way of Newark, NJ—won a Silver Medal at the 2016 Summer Olympics and is also undefeated as a pro (11-0, 6 KOs). In a moment of "unbridled" modesty, Floyd Mayweather Jr. called him "the next Mayweather."
Davis (pictured) and Stevenson used to be good friends but apparently no more. The two have been feuding on twitter.
Shakur, a featherweight, has now called out Tank, saying he wants him at 130—and with his win against Christopher Diaz on the Crawford-Khan undercard, the call-out quickly becomes more meaningful and likely will reignite their twitter war.
What's not quite clear is whether such a fight would be held in the ring or out in the street because of the many, many things they have in common, one, allegedly, is engaging in nasty street fights.
A recent and widely viewed video appears to show Stevenson, accompanied by fellow boxer David Grayton, in the middle of a parking garage brawl in Miami Beach in an incident that occurred nearly a year ago. Stevenson was in Miami Beach to celebrate his 21st birthday. It was not so much a brawl as it was a beatdown by the two boxers including a vicious kick at the end on a downed victim who already had received several flush shots to the face. A woman with the victim was also assaulted, suffering cuts and bruises. Afterwards, the two grabbed each other's hands in a somewhat bizarre scene and fled to their hotel where they were arrested.
The video was first posted by slaterscoops.com which revealed that Stevenson and Crayton were arrested on July 1 and charged with misdemeanor battery. By the time the video came to light, the matter had quietly been resolved. Stevenson's promoter Bob Arum seemed to have been involved in the resolution.
Here is what Arum said according to an article by Niall Doran in Boxing News: "We knew the facts and we knew that he was in a place that he shouldn't have been at. We had a long talk with him and luckily the people around him, his grandfather who raised him, coach Kay (Koroma) who has a big influence on him and Andre Ward and James Prince who are his managers, took him aside and talked to him. It will never happen again I assure you. He is a great, great kid and he understands what his responsibilities are. He's not a wild kid and he's going to be fine. I'm very comfortable with how he's being raised."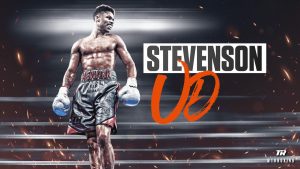 Let's hope Arum is correct.
Gervonta Davis
On August 1, 2017, an arrest warrant was issued for Gervonta Davis for an alleged assault. The charge was later reduced from first-degree aggravated assault to misdemeanor second-degree assault.
At the court, Anthony Wheeler, a long-time friend of Gervonta, complained that he was diagnosed with a concussion after Davis punched him on the side of the head with a 'gloved fist.' Wheeler subsequently dropped the charges. The Baltimore Sun reported that Tank and Wheeler both shook hands, embraced, and walked out of the courtroom together. All's Well That Ends Well.
But there's more.
According to TMZ, Davis was arrested in Washington, DC, in the early morning of Sept. 14, 2018, and charged with disorderly conduct after a dispute over a $10,000 bar bill. And then on February 17 of this year, according to TMZ and other sources, Davis was involved in an incident that began inside an upscale shopping mall in Virginia.
As things heated up, Tank and the other man took it to the streets and engaged in a fistfight with closed-fist punches being landed around the upper body. As people tried to break it up, both men fled but the police arrived and arrested them for disorderly conduct. They were booked and processed at a nearby station. Ten days after the incident, a warrant was issued for Davis's arrest.
Leonard Ellerbe of Mayweather Promotions, which promotes Davis, told ESPN "We'll let the judicial system play out….Obviously, this is just an allegation…Again, it just seems odd to me that a black man, allegedly, pushes or shoves — and I'm just reading what the TMZ article says — a police officer and he doesn't get arrested on the spot, then a couple of weeks later, then they issue an arrest warrant based on their internal investigation. That just seems a little odd to me."
The police reportedly made numerous attempts to contact Davis by telephone to serve the warrant but received no response.
Tank recently tweeted "Lies lies lies" (9:16 AM – 5 Mar 2019).
The case is still ongoing. Gervonta could well be exonerated and hopefully he will be, but these incidents, whether expunged, dismissed or dropped, are not good for boxing. The recent birth of a daughter seems to have grounded Tank and his recent tweet to wit: LOVE IS LOVE is not the tweet of someone who is in the wrong lane.
Let's wrap this up with a quite from Showtime Sports president Stephen Espinoza: "I think the sky is the limit for Gervonta Davis…You put those two elements together — the likability and charisma outside the ring and the entertainment value inside the ring — and he has the potential, if he stays on this track, to be one of the biggest names in the sport."
Ted Sares is a lifetime member of Ring 10, and a member of Ring 4 and its Boxing Hall of Fame. He also is an Auxiliary Member of the Boxing Writers Association of America (BWAA). He is an active power lifter and Strongman competitor in the Grand Master class and is competing in 2019.
Check out more boxing news on video at The Boxing Channel
To comment on this story in The Fight Forum CLICK HERE
Philadelphia's Danny Garcia Wins in LA (is Manny Next?) and Undercard Results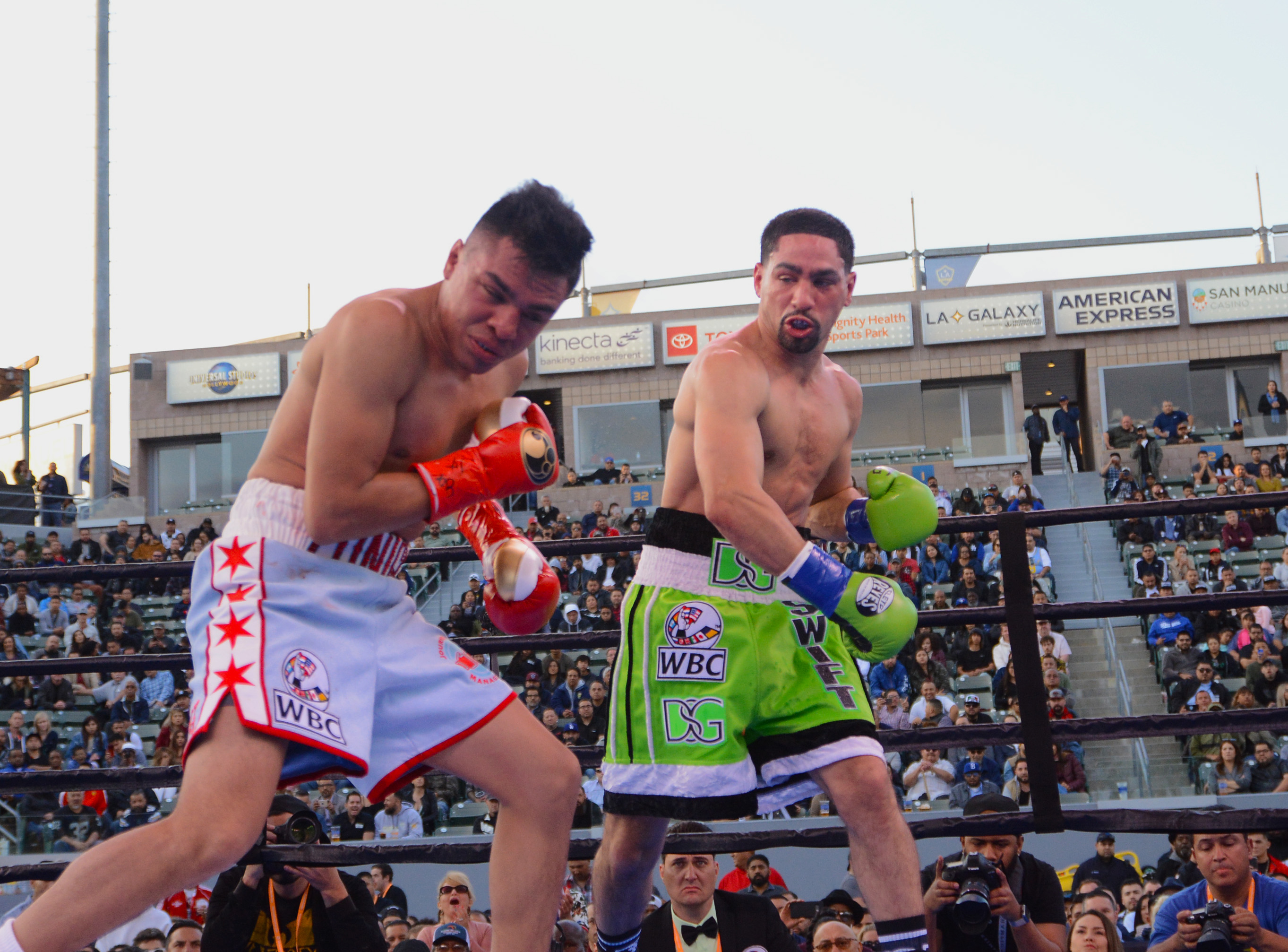 CARSON, Calif.-Former two division champion Danny "Swift" Garcia had too much firepower for Adrian Granados and simply overwhelmed the gritty fighter from Chicago before winning by knockout on Saturday.
No world title was at stake but future prizes were.
Philly fighter Garcia (35-2, 21 KOs) had predicted he would mow through Granados (20-7-2) who was moving up in weight again for this fight and was just too heavy handed before a crowd of more than 6,000 at the Dignity Health Sports Park. The PBC card was televised by FOX.
After a casual exchange of punches in the first round Garcia started bringing the thunder in the second round and connected with a double left hook to the body and a left hook to the head of Granados. The blows resounded throughout the arena and drew oohs from the crowd. Then Garcia caught Granados with a counter left hook that sent Granados sprawling across the ring. He got up and beat the count. Another exchange saw Garcia land a counter right cross and down went the Chicago fighter. He beat the count again but looked hurt. He survived the end of the round.
Garcia stalked Granados who moved more cautiously for the next two rounds but was still catching rights.
In the fifth round a straight right floored Granados while he was against the ropes. He survived the round again.
Granados tried every move he could think to change the momentum but nothing seemed to work. In the sixth both fought inside but Garcia soon began pummeling Granados with the referee looking closely. He allowed the fight to continue into the seventh round but checked with the corner twice.
With the crowd murmuring, Garcia gave chase to Granados and caught him near the ropes with a lead right and another right before unleashing a four-punch barrage. Referee Tom Taylor jumped in and stopped the beating at 1:33 of the seventh round to give Garcia the win by knockout.
Philadelphia's Garcia had won in Southern California once again. He had beaten Robert "The Ghost" Guerrero by decision three years ago in Los Angeles.
"This is what makes Danny Garcia one of the best fighters in the world," said Garcia. "I had to be the first man to stop him and I did that today."
The win puts Garcia as a strong candidate to face multi-divisional world champion Manny "Pacman" Pacquiao who now holds the WBO welterweight world title.
"I hope I didn't scare him away. Frankly I would love that fight or Keith Thurman or Errol Spence," Garcia said.
Other Bouts
Brandon Figueroa (19-0) of Texas rumbled to a knockout win over Venezuela's Yonfrez Parejo (22-4-1) to win the interim WBA super bantamweight title. The battle was fought mostly inside, forehead to forehead, but surprisingly, neither fighter suffered cuts from butts.
Figueroa and Parejo slugged it out inside until the sixth round when Parejo took the fight outside and scored well from distance. But Figueroa kept hunting him down and digging to the body and head. Finally, in the eighth round Figueroa began catching the moving Parejo with digging shots that seemed to affect the Venezuelan boxer. At the end of the round Parejo signaled he had enough.
Figueroa was deemed the winner by knockout.
"Honestly I thought I was going to finish him the next round," said Figueroa.
California's Andy "the Destroyer" Ruiz (32-1) won by knockout over Germany's much taller Alexander Dimitrenko (41-5) in a heavyweight fight set for 10 rounds. Despite the size disparity Ruiz was the aggressor throughout and attacked the body with punishing blows. In the third round Ruiz almost ended the fight when Dimitrenko was severely hurt. After the end of the fifth round Dimitrenko's cornered signaled the fight was over and referee Ray Corona waved it off. Ruiz wins by knockout as the crowd cheered loudly.
Ruiz was recently signed by PBC and may have found a home more suited for his weight division. It was his first fight under the PBC banner.
"I'm ready for the next one, I kind of seen that coming," said Ruiz who admitted to eating a Snickers for energy. "The game plan was dropping the body down."
Alfredo "El Perro" Angulo (25-7, 21 KOs) used the trusty knockout to win for the first time in four years. The victim was Evert Bravo (24-10-1) a super middleweight from Colombia who had his own losing streak like Angulo.
Both punished each other with hard combinations the first round, but in the second frame Angulo found his rhythm and fired a barrage of blows that left Bravo slumped along the ropes. Referee Rudy Barragan stopped the fight at 1:23 of the second round to give Angulo his first victory since he defeated Hector Munoz at the Staples Center on August 2015. He now trains with Abel Sanchez in Big Bear.
"I found a good coach," said Angulo.
More than 1,000 fans remained to see Angulo perform long after the Garcia-Granado's main event. He's still a draw, especially in Southern California.
Former US Olympian Carlos Balderas (8-0, 7 KOs) stopped Luis May (21-14-1) with a barrage of blows in the fourth round of their lightweight clash. Balderas knocked down May several times but the crafty May used every means to survive including multiple low blows. Finally, at 1:07 of round four, Balderas unleashed several blows that saw May go down and a towel was thrown from his corner. Referee Ray Corona stopped the fight.
Fontana, California's Raymond Muratalla (7-0) floored Mexico's Jose Cen Torres (13-12) three times in the third round to win by knockout at 2:58 of the round in a super lightweight bout. Muratalla dropped Torres with a short right uppercut for the first knockdown. A right to the body sent Torres down a second time. A double right cross delivered Torres down a final time as referee Ray Corona immediately stopped the fight.
Las Vegas fighter Rolando Romero (9-0, 8 KOs) knocked out Colombia's Andres Figueroa (9-5, 5 KOs) with a left hook during an exchange of blows at 1:27 of the fourth round in their lightweight scrap. Figueroa landed with a thud and was unconscious for several minutes and sent to the hospital.
Denver's Shon Mondragon (2-0) battered Mexico's Hugo Rodriguez (0-4) in the third round forcing referee Eddie Hernandez to end the fight at 1:55 of round three in a super bantamweight match.
Nelson Hampton (5-2) of Texas beat Phillip Bounds (0-3) by decision after lightweight fight.
Other winners were Jeison Rosario by split decision over Jorge Cota in a super welterweight fight. Omar Juarez beat Dwayne Bonds by decision in a super lightweight bout. Featherweights Ricky Lopez and Joe Perez fought to a draw after 10 rounds.
Photo credit: Al Applerose
Check out more boxing news on video at The Boxing Channel
To comment on this story in The Fight Forum CLICK HERE
Fast Results From NYC: Crawford TKOs Khan but not Without Controversy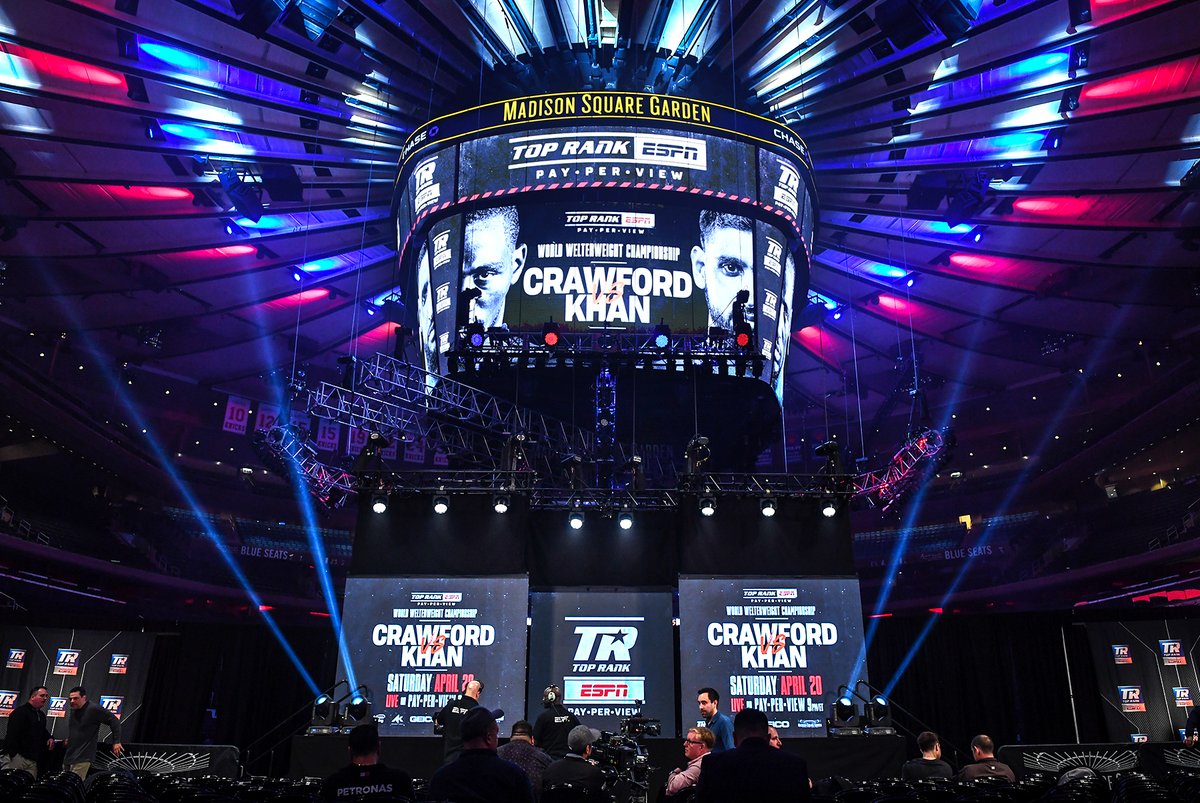 Amir Khan, who doesn't shy away from tough assignments, was in New York tonight opposing WBO welterweight champion Terence Crawford, a man who is on everyone's short list of boxing's top pound-for-pound fighters. The general assumption was that Khan had the slickness to win a few rounds but that his chin would ultimately betray him.
Khan won one round at the most — and that's being generous – before the bout was stopped after 47 seconds of the sixth frame with Khan in pain from a low blow. Referee David Fields stopped the action to allow Khan to recover and then stopped the fight on the advice of the ring doctor with the apparent encouragement of Khan's trainer Virgil Hunter. Because the low blow was accidental, Crawford was declared the winner by TKO.
It appeared that this fight would end in a hurry. In the opening round, Crawford decked Khan with an overhand right. Khan got to his feet but was in distress and for a moment it didn't appear that he would last out the round. But Crawford did not press his advantage in round two and Khan regained his composure.
Crawford was in complete control when the fight ended, having raked Khan with combinations and a series of body punches in the fourth and fifth stanzas. Although the final punch of the fight was way south of the border, Khan's refusal to continue was widely seen as an act of surrender. After the bout, Crawford called out Errol Spence.
PPV Undercard
Lightweight Teofimo Lopez, whose highlight reel knockouts and brash demeanor have made him arguably the most exciting young prospect in boxing, found a new way to conclude a fight tonight, collapsing Edis Tatli in the fifth round with a body punch. Lopez, who was born in Brooklyn and raised in a suburb of Miami (his parents are from Honduras and Spain), improved to 13-0 with his 11th knockout. Tatli, a Kosovo-born Finn making his U.S. debut, suffered his third loss in 34 starts. A two-time European lightweight champion, Tatli hadn't previously been stopped.
Fast rising featherweight contender Shakur Stevenson, the 2016 Olympic silver medalist from Newark, simply outclassed former world title challenger Christopher Diaz, winning the 10-round bout on scores of 100-90, 99-91, and 98-82. The 21-year-old southpaw, now 11-0, was too fast and too busy for his Puerto Rican adversary who fell to 24-2.
In the first of the four PPV bouts, lightweight Felix Verdejo won a unanimous 10-round decision over Bryan Vasquez. Verdejo, a 2012 Olympian for Puerto Rico once touted as the island's next Felix Trinidad, was returning to the site where he suffered his lone defeat, succumbing to heavy underdog Antonio Lozada whose unrelenting aggression ultimately wore him down, resulting in a 10th round stoppage.
Vasquez appeared to injure his left shoulder near the midpoint of the battle, an advantage to Verdejo, now 25-1, who started slowly but outworked Vasquez down the stretch, winning by scores of 98-92 and 97-93 twice. Costa Rica's Vasquez, the husband of prominent boxer Hanna Gabriels, falls to 37-4.
Other Bouts
 Super welterweight Carlos Adames, who hails from the Dominican Republic but has been training with Robert Garcia in Riverside, California, made a strong impression with a 4th round stoppage of Brooklyn's Frank Galarza. The undefeated Adames, now 17-0 (14 KOs), knocked Galarza (20-3-2) to the canvas with a hard left hook and then went for the kill, pinning Galarza against the ropes with a series of unanswered punches that compelled referee Benjy Estevez to intervene. The official time was 1:07.
 Super welterweight Edgar Berlanga, a 21-year-old New Yorker of Puerto Rican descent, needed only 46 seconds to dismiss 38-year-old Brazilian trail horse Samir dos Santos. Berlanga, who began his pro career in Mexico, has now knocked out all 10 of his opponents in the opening round.
Super welterweight Vikas Krishan, a two-time Olympian, improved to 2-0 with a 6-round unanimous decision over Noah Kidd (3-2-1). The scores were 59-55 and 60-54 twice.
A 27-year-old southpaw who as a job waiting for him as a police officer, Krishan is the second notable boxer to emerge from India, following on the footsteps of Top Rank stablemate Vijender Singh.
Bantamweight Lawrence Newton, a Floridian who has been training at Terence Crawford's gym in Omaha, won his 12th straight without a loss with a 6-round unanimous decision over Jonathan Garza (7-3). The scores were 60-54 and 59-55 twice.
In a 6-round junior welterweight match that was one-sided but yet entertaining, Lawrence Fryers won a unanimous decision over Dakota Polley. Fryers, wh is from Ireland but resides in New York, improved to 10-1. The 20-year-old Polley, from St. Joseph, Missouri, fell to 5-3.
Check out more boxing news on video at The Boxing Channel
To comment on this story in The Fight Forum CLICK HERE