`Big Baby' Proves Again That Heavyweights Need Not Have Ripped Physiques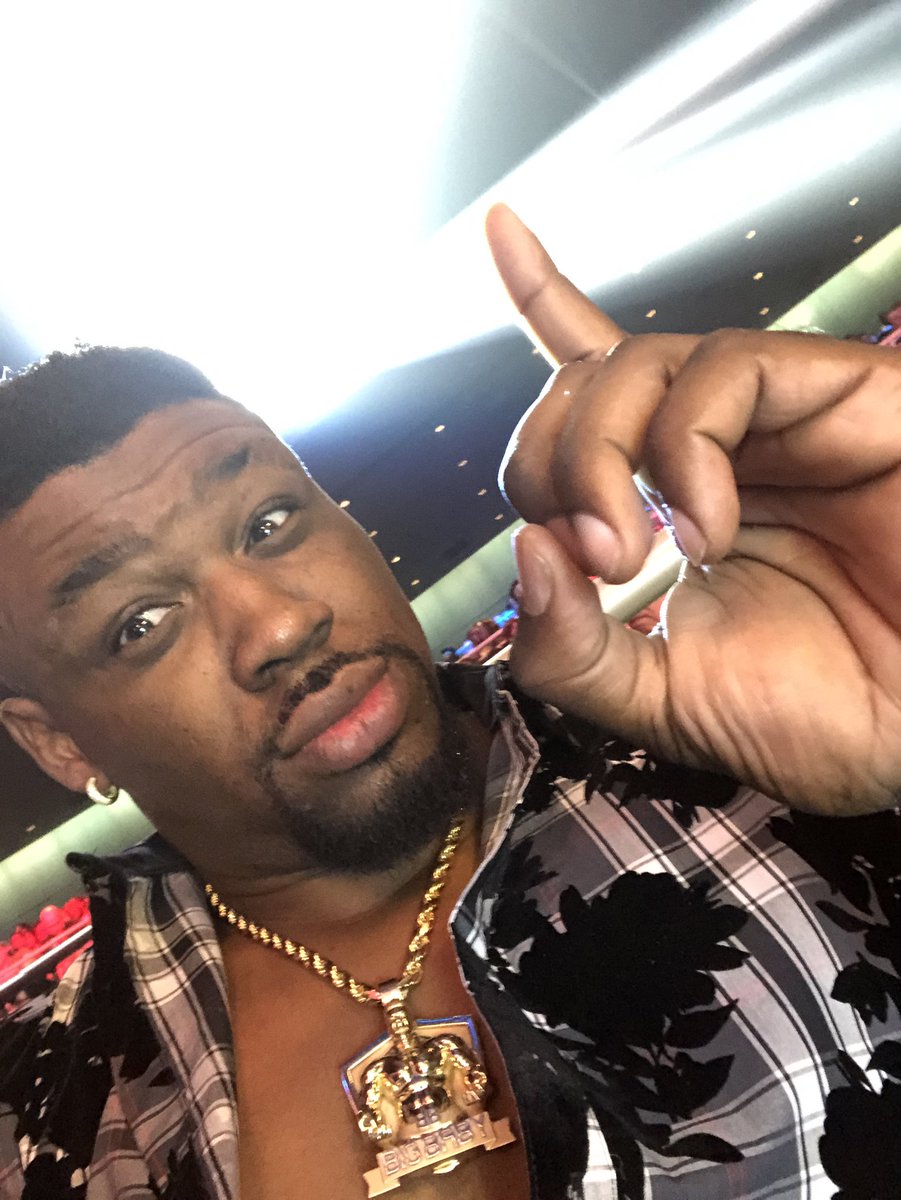 If we were to rate heavyweight champions on the basis of six-pack abs and overall confirmation, it's a pretty safe bet that the magnificently ripped physiques of Evander Holyfield and Ken Norton would place them at or pretty close to the top of the list of pugilism's most impressive big-man bodies. Also drawing consideration for a high slot would be Mike "Hercules" Weaver, who briefly held an alphabet title, but, his massive muscles notwithstanding, Weaver is hardly anyone's idea of a truly great heavyweight.
The old saying – "looks like Tarzan, fights like Jane" – doesn't come close to applying to Anthony Joshua (22-0, 21 KOs), the IBF/WBA/WBO heavyweight champ who defends those titles against Jarrell "Big Baby" Miller (23-0-1, 20 KOs) on June 1 in Madison Square Garden. Although the 6-foot-6 Joshua has fought as low as 229 pounds and as high as 254, at those weights and everything in-between he looks the part of a scary-good Tarzan who can and almost always pulverizes the guy selected to serve as his designated victim.
Which brings us to the 6-foot-4 "Big Baby" Miller, the well-fed Brooklyn, N.Y., native who has shown he can scrap a lot more like Tarzan than Jane, but at first glance is a closer physical approximation to Norm Peterson, the chubby guy on the end bar stool in Cheers so memorably played by George Wendt, winner of six Emmy Awards for Best Supporting Actor. Although Miller has averaged a semi-reasonable 265.7 pounds per ring appearance over the course of his professional boxing career, with a low of 242, he has come in at 300-plus for each of his last three bouts and it seems a safe bet he'll officially come in anywhere from 40 to 70 pounds heavier than Joshua when they square off three-plus months hence.
All of which raises a question of how much is too much when it comes to a corpulent heavyweight's scale reading? Talent comes in all shapes and sizes, and there are reasons why seemingly fat fighters are, well, seemingly fat fighters. It could be genetics (it's so convenient to blame mom or dad when you have to shop for pants with a larger waist size), a slow metabolism or simply a fondness for unhealthy fast food, second and third helpings at the dinner table and an insatiable sweet tooth.
George Foreman's body looked a lot like Joshua's does now in the earlier phase of his Hall of Fame career. No, the glowering Foreman that laid waste to Joe Frazier and Ken Norton didn't sport the six-pack abs of a male underwear model, but he had a thick – not overly thick – frame and could deliver battering-ram punches with either fist. It wasn't until he came off his 10-year retirement from boxing that Big George, now a smiling, playful jokester at press conferences, poked fun at his enlarged self, the one that came in at a career-high 267 pounds after paring down from 300-plus for his first comeback fight, against Steve Zouski. Foreman cracked wise about being on a "seafood" diet, telling media types that what he meant was he ate all the food he saw.
Other than Foreman, the best of the fight game's (too-)big men is Riddick Bowe, another Hall of Famer whose appetite for high-calorie fare was matched only by his top-tier skill set. The aptly nicknamed "Big Daddy" was terrific for a time and might have remained so for even longer had he been more diligent in heeding the dietary and training dictums of his strength-and-conditioning coach, Mackie Shilstone, and legendary trainer Eddie Futch, both of whom became understandably frustrated when Bowe would allow himself to blow up 40 to 50 pounds above his optimal fighting weight between bouts.
Other accomplished big guys who were able to overcome the burden of too many excess pounds are future first-ballot Hall of Famer James Toney, who fought as low as 157 pounds and won widely recognized world championships at middleweight and super middleweight before gorging himself up to the heavyweight ranks where he defeated, among others, Holyfield, Fres Oquendo and Dominick Guinn; "Two-Ton" Tony Galento, a veritable fireplug  of a man who shockingly knocked down seemingly invincible heavyweight champ Joe Louis before falling himself, and Buster Mathis Sr., the dancing bear whose jiggly love handles didn't prevent him from going the distance with Muhammad Ali and Jerry Quarry.
When it comes to almost unfathomable heft, however, special mention must be made to Eric "Butterbean" Esch, the erstwhile "King of the Four-Rounders," who despite being only 5-11½ logged 90 of his 91 pro bouts (77-10-4, 58 KOs) at 300 or more pounds, including three at 400-plus pounds. All right, so The Bean's list of opponents for the most part was hardly a Murderer's Row. It should be noted, however, that he defeated Louis Monaco, who defeated Kevin McBride, who defeated Mike Tyson, who defeated Larry Holmes, who defeated Muhammad Ali.
Honorable mention, if you want to call it that, is reserved for Gabe "Big G" Brown, who managed to compile a winning record (18-17-4, 12 KOs) despite weighing 300 or more pounds for 33 bouts, with a high of 367; Dustin "Worm" Nichols (5-12, 5 KOs), who came in at 400 or more four times and the rest at 300-plus, with all 12 of his losses by knockout; Alonzo "Big Zo" Butler (31-3-2, 24 KOs), who is still active and might yet evolve, considering his three most recent bouts were at 300-plus pounds, into an updated version of "Big Baby" Miller.
If you want to tick off "Bronco" Billy Wright (43-4, 34 KOs), he of the seven bouts at 300 or more pounds, try comparing him to Butterbean. "If you think I'm a bum or a joke, try saying that to my face. I guarantee you won't be laughing for long," the now-retired Bronco Billy, 54, said in 2015, when he was the WBC's 20th-ranked heavyweight. "I can knock out anybody on the planet, with either hand. I can knock them cold."
In retrospect, a matchup of Butterbean and Bronco Billy now rates among my all-time matchups that never happened, but should have. Whoever went down would cause a vibration that I'd like to think could have been registered on the Richter Scale.
Boxing, of course, is not the only sport where gifted but gluttonous athletes overcame, if briefly, their inclination to succumb to the more vexing temptations of food. Remember the time that third baseman Pablo "Kung Fu Panda" Sandoval's belt buckle snapped and his pants nearly slid down when he took a particularly vicious swing that missed? Basketball had the man with two nicknames, former University of Kentucky center Melvin Turpin, who alternately went by "Turp the Burp" and "Lard of the Rims", and no one will ever forget the sight of blimpish quarterback Jared Lorenzen, dubbed the "Pillsbury Throwboy," who could fire lefthanded lasers but ate himself out of the NFL, where he once received a Super Bowl ring as the backup to starter Eli Manning for the New York Giants' SB XLII victory over the New England Patriots.
It's a longshot that Big Baby Miller could pull off the upset of Anthony Joshua, but if he did it would serve as an inspiration to couch potatoes everywhere that athletic glory just might be theirs if they put aside the potato chips and beer, at least for a little while. After all, it isn't the size of the dog in the fight, it's the size of the fight in the dog that matters, right? Even if the dog in question is as large as a Clydesdale.
Bernard Fernandez is the retired boxing writer for the Philadelphia Daily News. He is a five-term former president of the Boxing Writers Association of America, an inductee into the Pennsylvania, New Jersey and Atlantic City Boxing Halls of Fame and the recipient of the Nat Fleischer Award for Excellence in Boxing Journalism and the Barney Nagler Award for Long and Meritorious Service to Boxing.
Check out more boxing news on video at The Boxing Channel
To comment on this article in The Fight Forum CLICK HERE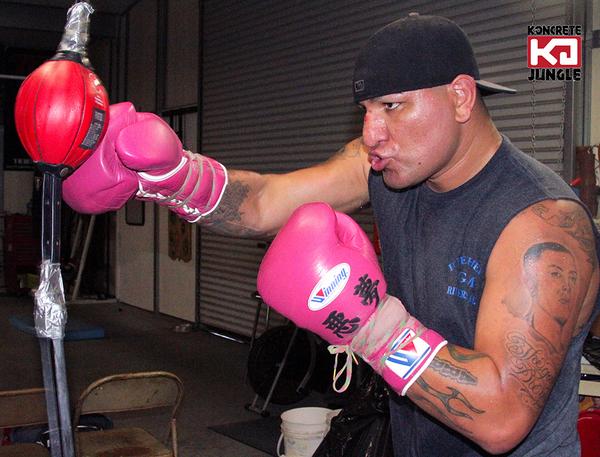 Chris "The Nightmare" Arreola is an emotional and very likable guy. Over the course of his career, there have been ups and downs providing the grist for a compelling story if one were inclined to write it. He'll kiss a beaten opponent (Joey Abell) or cry if beaten (Vitali Klitschko) and his language during a post-fight interview is, well it's special.
After his corner stopped the fight following the 10th round with Klitschko, and with tears streaming down his cheeks, he thanked the fans (as is his wont) and later, while being interviewed in the ring, said  "F–k that, I'm coming back."
It was his first loss after 26 straight wins out of the professional gate. For that "terrible" indiscretion, he was punished by the selectively politically correct World Boxing Council. WBC president José Sulaimán proposed a six months ban for vulgar language and the ban was approved by the WBC Board of Governors.
Arreola, who rarely uses filters, was brutally candid again after his first round KO over Erik Molina in 2012. The Nightmare cut loose on Don King, Molina's promoter, calling him a "f—ing a–hole and a racist," causing Showtime's Jim Gray to  terminate the post-fight interview forthwith. "Honestly Don King called me a wetback, and other Mexicans," Arreola told Fightnews.com. "That's a strong word. It's like me dropping N bombs. You don't say things like that."
No ban this time.
Arreola's weight varies but when he is fit and ready (and under 250), he is a very dangerous heavyweight, especially in the early rounds. Once he has his opponent hurt, there are few boxers who can close as well as this Southern California Mexican American tough guy who was an accomplished amateur fighter and knows his way around the ring.
His level of opposition has been stiff. In fact, his five losses have been to fighters who have held world titles at one time or another. Bermane Stiverne had Chris's number and beat him twice—the second time by way of a nasty knockout. However, he has a number of solid wins over the likes of Malcom Tann, Chazz Witherspoon, Travis Walker, Jameel McCline, Brian Minto, Curtis Harper –yes, that Curtis Harper who gave Chris all he could handle — and many others who came in with fine records. His first round blowout of once promising Seth Mitchell was quintessential Arreola. Mitchell retired after the fight.
In July 2016, The Nightmare was stopped by Deontay Wilder in yet another title bid but he did not disgrace himself. He then took off for over two years to assess whether he wanted to continue. Boxing fans pretty much forgot about him. Few took notice when he came back to stop the very stoppable Maurenzo Smith on the Wilder-Fury undercard on Dec. 1 of last year.
Fast Forward
Last weekend, on the undercard of the huge Errol Spence Jr. vs. Mikey Garcia PPV fight in Dallas, "The Nightmare" was matched against unbeaten but unheralded Jean Pierre Augustin (17-0-1).
Chris, now 38, came in at a svelte 237 pounds and looked fit and ready to go. The weary look on Augustin's face during the announcement said it all. True to form, Arreola was in blowout mode and stopped the Haitian who simply was in the wrong place at the wrong time.
Arreola wobbled Augustin with a brutally hard jab that connected flush to his face in the third round. After more heavy shots, a bloodied Augustin went down and upon getting up, was battered until the referee halted matters. Chris closed things like he had done on so many other occasions and in front of millions of fans tuning in around the world.
With a female interviewer, the elated "Nightmare" was polite during the post-fight ceremonies and, holding his daughter, signaled that he is BACK! That's good news for boxing fans because when Chris Arreola is fit and focused, he is entertaining and very competitive.
With a current record of 38-5-1 with 2 ND (the "no-contests" resulting from Chris's apparent affinity for non-medicinal marijuana), a fight with someone like Adam Kownacki would be a boxing fan's dream.
Ted Sares is one of the world's oldest active power lifters and Strongman competitors and plans to compete in at least three events in 2019. He is a lifetime member of Ring 10, and a member of Ring 4 and its Boxing Hall of Fame. He also is an Auxiliary Member of the Boxing Writers Association of America (BWAA).
Check out more boxing news on video at The Boxing Channel
To comment on this story in The Fight Forum CLICK HERE
Nobody Wants to Fight Dillian Whyte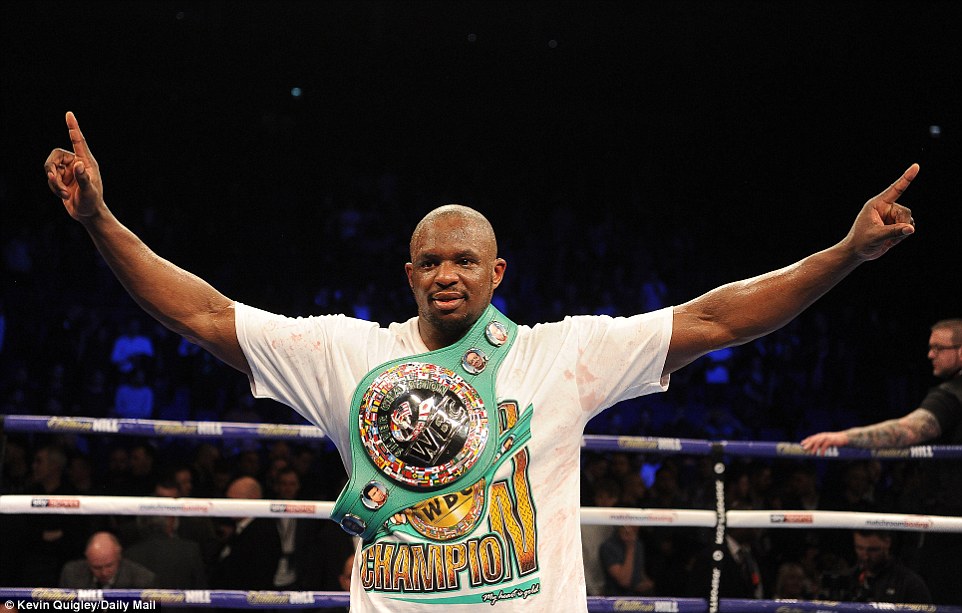 Dillian Whyte is one of the most dangerous fighters in the world. The 30-year-old is a former British heavyweight titleholder, a former kickboxing prodigy and an undefeated mixed martial artist. Overall, Whyte's professional fighting record is a sterling 46-2. He's 25-1 as a boxer, 20-1 as a K1 kickboxer and 1-0 as an MMA fighter.
So while the battle rages on between various television networks and streaming platforms over securing the top talent in the heavyweight division, one that includes Tyson Fury signing a multi-fight deal with ESPN and Deontay Wilder reportedly mulling over his future with PBC, perhaps something just as important right now is that the single most dangerous and deserved heavyweight contender in the world remains without a dance partner for his next fight.
Never mind Whyte being the No. 1 ranked contender by the World Boxing Council. That sanctioning body instead deemed Dominic Breazeale the mandatory challenger to Wilder's WBC title after the potential rematch between Wilder and Fury fell by the wayside.
Here's all that needs to be said about that grift. Breazeale only had to defeat Eric Molina to get his mandatory title shot while the WBC wanted Whyte to face Cuban southpaw Luis Ortiz, one of the top heavyweights in the sport.
And nobody seems to care that Whyte gave unified heavyweight champion Anthony Joshua the toughest test of his career (this side of Wladimir Klitschko anyway), when the two squared off in 2015 for the British and Commonwealth titles. Despite the obvious talent gap between the two fighters, Whyte gave the young Joshua just about all the former Olympic champion could handle in a seven-round war.
To hear Whyte tell the story, promoter Eddie Hearn must have intentionally lowballed Whyte for the proposed 2019 rematch in order to ensure Joshua could invade America on June 1 against the likely less dangerous Jarrell Miller. That makes sense for Joshua from a monetary perspective, but it doesn't do the same in terms of true competitiveness.
According to various reports, Whyte is currently considering a multi-fight deal to appear on ESPN, a move that would give the British battler a path to facing Fury who some consider the lineal heavyweight champion. Fury recently signed a multi-fight deal to be co-promoted by Bob Arum for appearances on the U.S.-based television network ESPN. It's the move that shelved a potential Wilder rematch and also opened up a huge can of worms in regards to what kinds of fights Fury might actually be able to secure. Currently, the Top Rank-promoted stable of heavyweights is best characterized by fighters who don't really move the needle in regards to title challenges, fighters like Oscar Rivas, Bryant Jennings and Kubrat Pulev.
Overall, though, the main problem about the heavyweight landscape is that there are three heavyweights who all have a claim to being heavyweight champion. IBF, WBA and WBO champion Joshua is promoted by Hearn and exclusive to DAZN. WBC champ Wilder is attached to the PBC whose television partnerships include Showtime and Fox. Fury is set to embark on his own ESPN crusade. Long story short, these guys probably aren't fighting each other anytime soon.
Worse is that while all three men are in desperate need of viable opponents, none have seemed all that interested in tussling with Whyte.
It's no wonder. As good as Whyte has been over the course of his 7-year professional boxing career, the scariest thing about the fighter is that he always seems to be getting better. In his last two fights, Whyte outfought talented former titleholder Joseph Parker and knocked out gritty UK heavyweight Dereck Chisora. In defeating Parker, Whyte was facing someone absolutely in need of a win to maintain his status among heavyweight contenders. In beating Chisora, Whyte was in tough against an opponent he had only defeated by split-decision two years prior. Both wins illustrate just how far Whyte has come as a professional prizefighter.
As it stands, Whyte is the clear top contender among all heavyweights, especially among those who have not yet been granted a shot at a world title. He's ranked No. 4 behind Joshua, Fury and Wilder by The Ring magazine and the same by the Transnational Boxing Rankings Board.
The only question that remains is which title claimant will prove the toughest holdout. Whyte's ultimate choice, in whether to stick with promoter Hearn on DAZN, link up with Arum and ESPN or continue playing the WBC shell game, will probably end up being tied to which path gets him the title shot that he so desperately craves first.
And it absolutely should happen. It's one thing to crave title opportunities and another to have earned them. Whyte's done both now, and it's time for boxing fans and the media to take notice. Better yet, it's time for Joshua, Fury and Wilder to pit themselves against their most dangerous competition. Since they're not facing each other, Whyte become the next logical choice for any or all of them.
Because Dillian Whyte is one of the best heavyweight boxers in the world, and he's done enough by now to warrant the chance to prove it.
Check out more boxing news on video at The Boxing Channel
To comment on this story in The Fight Forum CLICK HERE
The Hauser Report: St. Patrick's Day at Madison Square Garden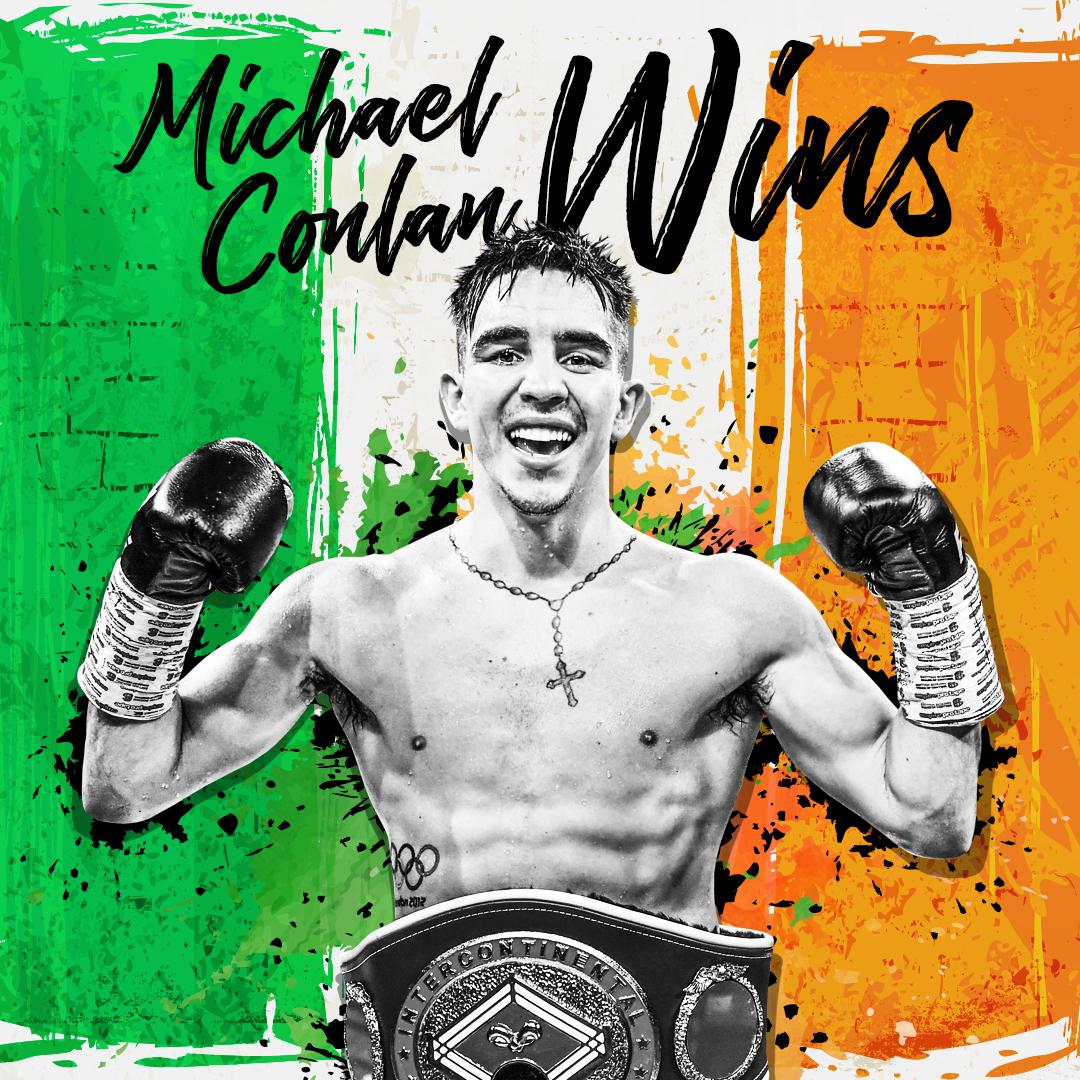 Boxing's three "major leagues" showed their respective wares this past weekend. On Friday night, DAZN presented a nine-bout card in conjunction with Matchroom USA. On Saturday, Fox and Premier Boxing champions teamed up for the Errol Spence vs. Mikey Garcia pay-per-view event. Then, on Sunday, ESPN and Top Rank had their turn in the form of a St. Patrick's Day card at Madison Square Garden headed by Belfast native and former Olympian Michael Conlan.
The star of the show was St. Patrick, the fifth-century saint widely credited with bringing Christianity to Ireland. In his honor, there were three Irishmen on the card: Conlan, flyweight Paddy Barnes, and welterweight Lee Reeves. That said; there was a Hispanic flavor to the proceedings. The sixteen combatants included Eduardo Torres, Victor Rosas, Juan Tapia, Ricardo Maldonado, Adriano Ramirez, Oscar Mojica, Joseph Adorno, John Bauza, Luis Collazo, Ruben Garcia Hernandez, and two Vargases (Josue and Samuel).
Irish-Americans have a record of supporting Irish fighters, particularly on St. Patrick's Day. This was no exception. The announced crowd of 3,712 arrived early. During the final pre-fight press conference, Top Rank president Todd duBoef had paid homage to the fans, although he did voice the view that, on St. Patrick's Day, "Their cognitive behavior is manipulated by the beer."
On fight night, the in-arena music was chosen accordingly. What Shall We Do With a Drunken Sailor? was played twice over the Hulu Theater sound system.
There was also green lighting.
Lee Reeves (2-0, 2 KOs) of Limerick, Ireland, opened the show with a four-round decision over Edward Torres.
In the third bout of the evening, Vladimir Nikitin (2-0, 0 KOs) won a majority decision over Juan Tapia. Nikitin defeated Conlan in the quarter-finals at the 2016 Olympics. Presumably, they'll fight again at a time of maximum opportunity for Conlan.
Flyweight Paddy Barnes (5-1, 1 KO) of Belfast was a teammate of Conlan's at the 2016 Olympics but lost in the first round to Spain's Samuel Carmona. On St. Patrick's Day, Barnes was matched against Oscar Mojica (11-5-1), who had one career knockout and had gone 3-5-1 in his previous nine outings.
Mojica broke Barnes's nose in round one and knocked him down with a body shot in the second stanza (although to the mystification of those in the press section, referee Danny Schiavone waved off the knockdown). It was a spirited outing in which both men were too easy to hit for their own good. Barnes rallied nicely in the second half of the bout and arguably did enough to win the decision. But two of the three judges thought otherwise, leading to a 58-56, 58-56, 56-58 verdict in Mojica's favor.
In the next-to-last fight of the evening, Luis Collazo (38-7, 20 KOs) took on Samuel Vargas (30-4-2, 14 KOs).
Collazo now 37 years old, reigned briefly as WBA welterweight champion twelve years ago. Since then, he had cobbled together twelve victories (an average of one per year) against six losses in eighteen fights. Vargas had one win in his previous three outings and has never been able to get the "W" against a name opponent.
It was a phone booth fight, which worked to Collazo's advantage because Luis's legs aren't what they once were. The decision could have gone either way. Two judges scored the bout 96-94; one for Collazo and the other for Vargas. Frank Lombardi turned in a wide-of-the-mark 98-92 scorecard in Collazo's favor.
Then it was time for the main event.
Conlan (10-0, 6 KOs) is best known to boxing fans for having given the finger (two middle fingers, actually) to the judges after coming out on the short end of a decision in the second round of the Rio de Janeiro Olympics. His skill set is better suited to the amateur than professional ranks. But his Irish heritage is a significant marketing plus. And Top Rank specializes in both savvy matchmaking and building narratives.
This was the third consecutive year that Conlan, now a featherweight, celebrated St. Patrick's Day weekend by fighting at Madison Square Garden. His ringwalk was marked by Irish-themed pageantry. And Ruben Garcia Hernandez, his opponent, was tailor-made for him.
Conlon controlled the fight with his jab. Nothing much else happened. "Mick" emerged victorious 100-90 on all three judges' scorecards. And the fans went home happy because their man won.
*     *     *
The sad news that New York Mets pitching great Tom Seaver is suffering from dementia and will retire from public life is a reminder that all people from all walks of life are susceptible to the condition, not just fighters.
Seaver was on the list of A+ athletes who rose to prominence in the 1960s when advances in television were redefining the sports experience. Muhammad Ali was at the top of that list. Years ago, sportswriter Dick Schaap told me about an evening he spent with Ali and Seaver.
"In 1969, the year the Mets won their first World Series,"Schaap reminisced, "I spent the last few days of the regular season with the team in Chicago. Ali was living there at the time. I was writing a book with Tom Seaver, and the three of us went out to dinner together. We met at a restaurant called The Red Carpet. I made the introductions. And of course, this was the year that Tom Seaver was Mr. Baseball, maybe even Mr. America. Ali and Tom got along fine. They really hit it off together. And after about half an hour, Ali in all seriousness turned to Seaver and said, 'You know, you're a nice fellow. Which paper do you write for?'"
Thomas Hauser's email address is thomashauserwriter@gmail.com. His most recent book – Protect Yourself at All Times – was published by the University of Arkansas Press. In 2004, the Boxing Writers Association of America honored Hauser with the Nat Fleischer Award for career excellence in boxing journalism.
Check out more boxing news on video at The Boxing Channel
To comment on this story in The Fight Forum CLICK HERE