When Life Imitated Art: The Birth of the Legend of Arturo Gatti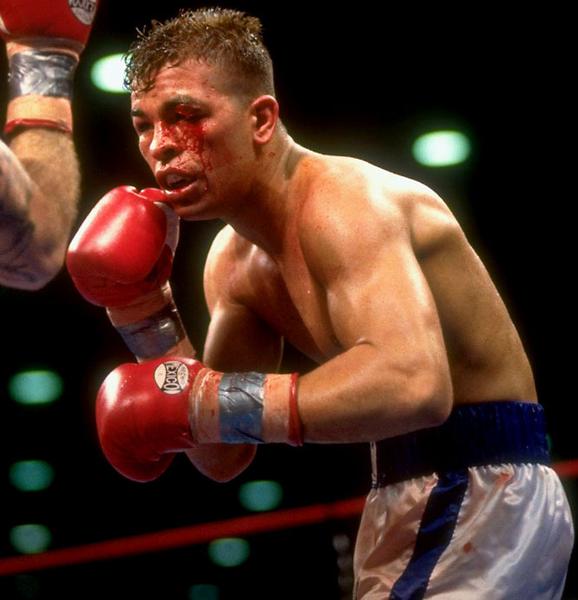 In retrospect, the timing was eerily appropriate. Less than 24 hours after Arturo "Thunder" Gatti announced himself as his generation's most compelling action fighter, Braveheart, a film about William Wallace, the legendary, late 13th century Scottish warrior, took the Best Picture Oscar at the 68th annual Academy Awards.
Nor was that the only applicable movie analogy after the nearly blinded Gatti's epic sixth-round knockout of Wilson Rodriguez on March 23, 1996 – to be technically accurate, very early on March 24, considering that the fight, the second installment of HBO's recently launched Boxing After Dark series, ended at 12:40 a.m. in the Eastern time zone. Upon entering his dressing room at Madison Square Garden, Gatti, his face a lumpy mess, turned around and shouted, to no one in particular, a familiar catch-phrase from Rocky, the fictional tale of a never-say-die boxer which was named Best Picture of 1977.
"Yo, Adrian, I did it!" screamed an exuberant Gatti, just 22 days shy of his 24th birthday and possibly unaware that his promising ring career had just crossed over into a different dimension.
"That was the transitional fight that took Gatti from being a budding attraction and a champion (the back-from-the-brink conquest of Rodriguez was his first defense of his IBF junior lightweight title) to being a cult figure," Lou DiBella, now a promoter but then the senior vice president of HBO Sports, said when contacted for his thoughts on a slugfest that became an instant classic, one of many authored by a fighter who demonstrated time and again he was always ready, even eager, to go down into the trenches.
"There's no question that fight changed everything. It was a Rocky movie, the most dramatic fight I've ever seen to this day. I'm not going to say it's the best fight I've ever seen, but it certainly was the most dramatic. The myth and legend of Arturo Gatti was born that night."
Pat Lynch, Gatti's manager, agrees with DiBella that the Rodriguez bout represented a sea change for his Italian-born, Montreal-reared, Jersey City-based fighter.
"There were a few people who knew how entertaining and exciting Arturo could be, but that's the one that really put him on the map because it was televised by HBO and a lot of people got to see it," Lynch recalled. "He had shown signs of being that guy early on, in a fight against Leon Bostic (winning an eight-round majority decision on Jan. 8, 1994, in Catskill, N.Y.). I remember that fight vividly. I was walking back to the dressing room when Al Gavin (a veteran cutman) made a sign with his hands as if to say, 'That kid's got 'em (cojones) this big.' That was the kind of throw-down war that Arturo came to be known for, but his coming-out party was definitely the Wilson Rodriguez fight."
It is curious then that Gatti-Rodriguez has become, if not exactly forgotten, a somewhat lesser entry in Gatti's thick file of unforgettable trials by combat. Ask fight fans what they most remember about Gatti – who was just 37 when he died under mysterious circumstances in Brazil on July 11, 2009 — and they're apt to cite his three bouts with Micky Ward, two of which were won by Gatti. Although Gatti was a participant in three Fights of the Year as selected by The Ring magazine (1997, KO5 of Gabriel Ruelas; 1998, L, SD10 to Ivan Robinson and 2002, L, MD10 to Micky Ward), his demolition derby with Rodriguez was aced out for 1996 Fight of the Year, understandably given its more consequential nature, by Evander Holyfield's 11th round stoppage of Mike Tyson.
"I think it's fair to say the trilogy with Micky Ward is the defining memory of Gatti in the ring," said Larry Merchant, the longtime color commentator for HBO boxing telecasts who was at ringside for Gatti-Rodriguez. "At the time Gatti fought Rodriguez we knew he was an exciting brawler, but given the circumstances – it was just the second Boxing After Dark show – and the theatrical drama of that fight, it's a part of his legacy, although maybe not as much as his fights with Ward."
It's also fair to say that Gatti was not exactly an unknown commodity when he squared off against Rodriguez. Even before he wrested the IBF 130-pound title from Tracy Harris Patterson on a 12-round unanimous decision on Dec. 15, 1995, the ruggedly handsome, tri-lingual Gatti had been identified as a potential superstar with the kind of crossover appeal that would find favor with fringe and even non-boxing fans. Integrated Sports International, a sports management company that represented, among others, Oscar De La Hoya, the NBA's Hakeem Olajuwon and NFL's Steve Young and Drew Bledsoe, envisioned Gatti as a key addition to its lineup of athletes who could also serve as commercial spokesmen.
DiBella's first Boxing After Dark telecast, the main event of which had been WBO super bantamweight champion Marco Antonio Barrera's 12th-round stoppage of Kennedy McKinney, had been an aesthetic and ratings smash, with Barrera going down once and McKinney four times. Hoping to build on that momentum, DiBella wanted to pair Gatti with Wilfredo Vazquez, a former WBA super bantamweight and featherweight champion who had more name recognition than Rodriguez, a 30-year-old native of the Dominican Republic based in Spain who was the IBF's No. 2-ranked junior lightweight but had never fought in the United States. Lynch lobbied for Rodriguez, whom he incorrectly believed would pose a somewhat easier test for Gatti after he had gone 12 grueling rounds with Patterson only three months earlier.
"I wanted Vazquez because he was the bigger name," DiBella reasoned. "I had no problem with Rodriguez. I thought it was a good fight. But I was trying to build a series. We did incredibly well with the ratings for Barrera-McKinney and I wanted to make sure we had a follow-up show that was attractive, so we doubled down with Junior Jones-Orlando Canizales as the lead-in. We had three of the best lower weight-class fighters in the world, and two of them were fighting each other."
Jones and Canizales held up their end with Jones, a Brooklyn native, winning a minor super bantamweight title on a unanimous, 12-round decision to the delight of the announced attendance of 3,698 (about 800 below capacity) in the Theater at Madison Square Garden. It might have been a tough act to follow, considering that one well-regarded boxing writer had labeled Gatti-Rodriguez as a "gimme" for Gatti, who went in with a 24-1 record and 20 KOs, including 14 in the first round.
Some gimme. Tagged with laser-like accuracy by Rodriguez's stiff jabs and overhand rights, Gatti returned to his corner after the first round with a puffy left eye and a mouse beginning to form under his right. It got worse for him in the second round, when he was floored with a three-punch combination. He was up at the count of three and, as was his custom, fought back gamely, refusing to clinch, but the condition of both of his eyes was rapidly deteriorating.
Fortunately for Gatti, one of the best cutmen in the business, Joe Souza, had just joined his support crew and was proving to be a valuable addition as he feverishly worked his magic. Souza's handiwork was evident when the ring physician examined Gatti after both the third and fourth rounds, with Gatti five times correctly answering how many fingers the doctor was holding up. But Gatti knew, as did trainer Hector Roca, that his field of vision would soon be too impaired for him to be allowed to fight on.
In typical Gatti fashion, each time he appeared to inch close to a loss by stoppage, he would launch a counterattack that bought him precious seconds. Despite being docked a penalty point by referee Wayne Kelly in the fifth round for repeated low blows, Gatti ripped a left hook to the liver that put Rodriguez down for a six count in the fifth round. It was a harbinger of what was to follow in the sixth, when, with Rodriguez's right hand held low to protect his injured side, Gatti went upstairs with another hook that landed flush on the jaw, the challenger collapsing onto his back where he was counted out at the 2:16 mark. He would remain prone, unable to rise, for over a minute.
"We've been billing Arturo Gatti as one of the most exciting fighters in the world," said his promoter, Dino Duva. "I just wish he wouldn't make it this exciting."
Kelly was asked how close he had come to awarding a TKO victory to Rodriguez, who was ahead by three points on two of the official scorecards and was behind by one point on the other. "I was close to stopping it in the third," he said. "But I've worked with Gatti before and know he's very resilient."
Gatti, of course, went on to become the franchise fighter in Atlantic City, so much so that Lynch observed that "People planned their vacations around going there for the full weekend when Arturo fought there. His fights were that kind of must-see event.
"I pulled up to Bally's one time and the bell kid came out to get all our stuff. He saw the corner jackets and the robe that were in my car and he asked, `You're with Team Gatti?' I said yeah. He goes, `We love it when Gatti comes to town. Everybody makes money.' And it was true. The taxi drivers made money, there were more restaurant reservations made. His following in Atlantic City just grew and grew. He had a cult following like you'd see anywhere the Grateful Dead played."
Rodriguez wasn't so fortunate. He did not get a rematch with Gatti and had only one more meaningful fight, a unanimous decision loss to Angel Manfredy, before retiring in 1999 with a 48-11-3 record and 37 KOs. Perhaps Gatti-Rodriguez has lost some of its original luster because Rodriguez did not rise in prominence as did Ward, whose three-bout passion play with Gatti has made him a more or less equal partner for posterity's sake.
Gatti was posthumously inducted into the International Boxing Hall of Fame in 2013, an honor more than a few pundits believe is undeserved because he never quite made it to the top tier of superstardom that owes in equal parts to popularity and success inside the ropes. DiBella would argue that Gatti did deserve enshrinement for the excitement he so frequently generated, even if his skills never approached those of De La Hoya and Floyd Mayweather Jr., both of whom defeated him with relative ease.
"Gatti was never a pound-for-pound guy," DiBella acknowledged. "If you were a warrior and had a good night, you could rumble with Gatti. But he was an incredible fighter, and you can't rewrite him into Floyd Mayweather. He was just a blood-and-guts warrior. Gatti wasn't really happy if he didn't get into a war."
Bernard Fernandez is the retired boxing writer for the Philadelphia Daily News. He is a five-term former president of the Boxing Writers Association of America, an inductee into the Pennsylvania, New Jersey and Atlantic City Boxing Halls of Fame and the recipient of the Nat Fleischer Award for Excellence in Boxing Journalism and the Barney Nagler Award for Long and Meritorious Service to Boxing.
Check out more boxing news on video at The Boxing Channel
To comment on this story in The Fight Forum CLICK HERE
Damon Feldman, the `16 Minute Man,' Aims to Bring His Wild Story to Silver Screen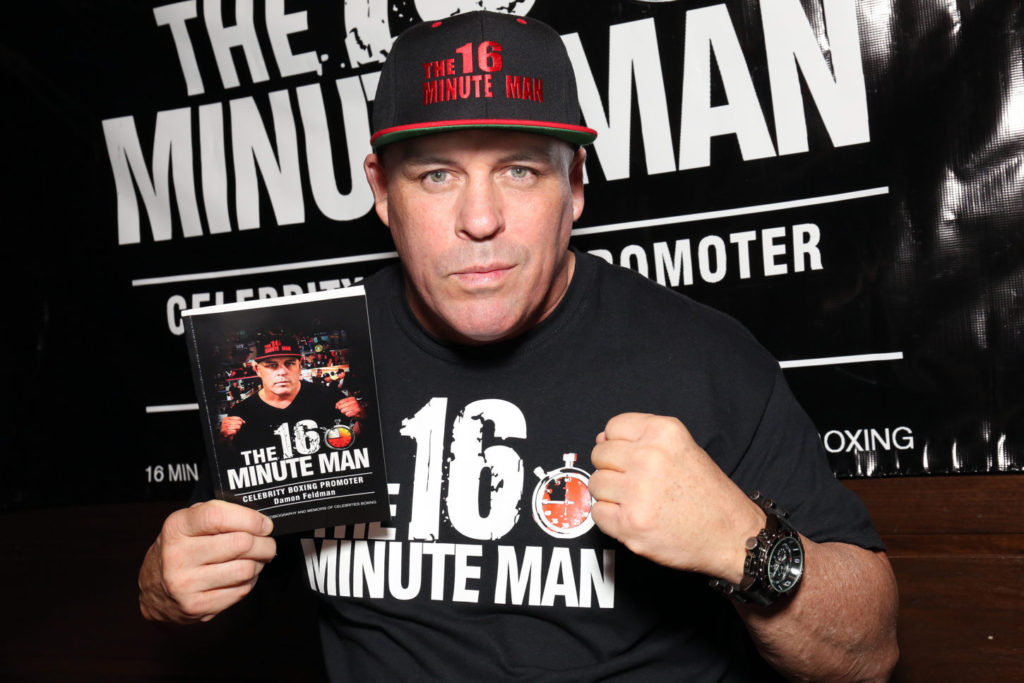 What do Jose Canseco, Tonya Harding, Rodney King, Danny Bonaduce, Joey Buttafuoco, Lindsay Lohan's father, Vai Sikahema, El Wingador, Octomom, a semi-notorious Philadelphia TV meteorologist and an aging Philly sports writer attempting to channel his onetime inner tough guy have in common?
At first glance, most people outside of Delaware County, Pennsylvania, would conclude there couldn't possibly be a link attaching such disparate individuals. But that assumption would be incorrect.
Meet Damon Feldman, the undefeated former super middleweight turned Celebrity Boxing huckster and unifier of all those seemingly mismatched parts. Once labeled "King of the D-List" in a Philadelphia magazine article that was something less than complimentary, the now-44-year-old Feldman is aiming for an alphabetical upgrade to another title of sorts, possibly "King of the B-Flicks." Earlier this month he hosted a gathering at a Drexel Hill, Pa., restaurant that drew two media members (I constituted half of the press corps) and about 50 prospective donors for the movie he intends to make about his occasionally tragic, sometimes infuriating, relentlessly optimistic and thoroughly improbable life.
If enough well-heeled backers can be brought on board, 16 Minute Man, the same title as Feldman's 2017 book that never made it onto the New York Times bestseller list, will reach silver screens nationwide sometime in 2020. He hopes to raise $50,000 in developmental money, a tiny acorn which, if all goes as planned, will transform into the mighty $5 million to $10 million oak he said it would take to make the film – if it actually advances beyond the theoretical — as much as a commercial and critical success as 2010's The Fighter, the tale of scrappy "Irish" Micky Ward and his drug-addicted brother-trainer, Dicky Eklund, which was nominated for seven Academy Awards and won two.
"Jackie (Borock) and Scott (Weiner) were doing a documentary on me," Feldman noted. "After watching Mark Wahlberg's movie about Micky Ward, who no doubt was an accomplished fighter, I thought, `I really do have a story to tell, too.' I wrote my book in jail (more about that later), Jackie jumped on board and, well, here we are."
But, meanwhile, the show must go on. Feldman – that "16 Minute Man" moniker refers to the 15 minutes of fame avant garde artist Andy Warhol once predicted everyone in the future would have – figured quasi-celebrities whose time limit as public figures had expired might need some fast cash or an ego boost that would accompany a bit of renewed exposure. Those sufficiently desperate for either or both reasons thus were susceptible to the sales pitch thrown by a natural self-promoter whose thwarted dream had been to become a world champion fighter. But harsh reality has a way of sometimes morphing lofty ambition into something less grandiose. Feldman's 68th Celebrity Boxing card will take place on June 8 at the Showboat Hotel in Atlantic City, with the main event pitting Natalie Didonato, most recently seen on the reality TV show Mob Wives, against female pro rassler Scarlett Bordaux. In the on-deck circle for June 29 in Los Angeles: Mark Wahlberg's best friend Henry "Nacho" Laun, featured on still another reality TV series, The Wahlbergers, vs. Megan Markle's half-brother, Thomas Markle Jr.
Just who would pay to see such low-rent matchups? Well, probably more than might be imagined. Rubber-neckers inevitably gather to see barroom brawlers or schoolyard kids go at it, and the stakes are hiked if the punch-throwers have retained even a thin vestige of fame or familiarity.
For Feldman, his legitimate goals sidetracked, the realization of the different course his life was about to take came after he was obliged to retire as an active boxer.
"I took odd jobs. I was down the (Jersey) Shore one weekend and saw these two guys fighting, a bar fight, and I thought, `We should do this in the ring,'" Feldman recalled in the Philadelphia magazine article authored by Don Steinberg which appeared in the December 2009 issue. His start was relatively modest, the staging of a Tough Guy tournament which drew eight participants of varying skill levels and 500 or so spectators for the one-night event. After expenses were paid and a winner announced, Feldman came away with a profit and the notion that what worked once would work again, and bigger, if presented as outrageously as possible and with a loquacious front man – himself –serving as carnival barker.
In retrospect, Feldman probably was destined to spend a large chunk of his life in some form of boxing.  Son of noted Philadelphia trainer Marty Feldman, his interest in the fight game and his inevitable place in it spiked when he was one of the "Faces in the Crowd" featured in the Aug. 15, 1983, issue of Sports Illustrated. There on page 69 was a photo of the then-13-year-old Damon and a caption that read: Damon Feldman, Broomall, Pa. Damon, 13, scored a second-round knockout of Joe Antepuna to win the Philadelphia Junior Olympic boxing title in the 13-and-under 112-pound class. He has been boxing since age five and has an 8-1 record with two KOs.
There was never any question that Damon, who was and still is billed as the "Jewish Rocky," would continue to hone his craft and assume his rightful place in the family business as a pro. Maybe, if he could just catch a break, he could go even further than his dad, who fashioned a 20-3 record with 17 KOs as a hard-hitting middleweight before transitioning as a trainer, most notably as the chief second of world-rated brothers Frank "The Animal" Fletcher and Anthony "Two Guns" Fletcher, as well as IBF light heavyweight titlist "Prince" Charles Williams. Also bearing the Feldman imprimatur was Damon's older brother David, five years his senior, who would go 4-1 with four KOs before hanging up his gloves.
Damon's history – his mom, Dawn Feldman, who had divorced Marty, was brutally attacked by an unidentified assailant shortly after their divorce in 1974 and suffered a broken neck that left her a quadriplegic – and ethnicity made him a popular and sympathetic figure as he stitched together a 9-0 record that included four KOs. Only four years old at the time his mother was assaulted, Damon and his brother never lived with her again. It speaks well of the now-deceased Dawn that, despite her physical limitations, she became something of an artist and poet despite spending most of her remaining years in rehab facilities. Nor was she the only victim of a horrific crime that was never solved; for the next six years, until they moved in with Marty, who had been struggling to earn a living, Damon and David were human pinballs, bouncing around to three different foster homes.
Was Damon good enough to someday rise above undercard status at the Blue Horizon? He says yes, definitely. "All I ever wanted to be was a world champion," he said. "It was my hope and dream to drive down to North Philadelphia every single day and train in the same gym as Bernard Hopkins, Robert Hines and all those guys. I wanted that belt more than anything."
Feldman's promoter, J Russell Peltz, said he tried to pair the likeable local kid with beatable opponents, but it would take a leap of faith to imagine him seeing his world-championship dream through to fruition. Nor is Peltz the biggest fan of Feldman as the face of low-grade Celebrity Boxing. "Damon has always been more about promoting himself than his events," Peltz is quoted as saying in the Philadelphia magazine story. "He's more about the sizzle than the steak."
Whatever Feldman could have been as a fighter became a moot point when he slipped outside a grocery store in Broomall and took a nasty fall. "The curb broke as I walked off it and I just fell," he recalled. "I hit my neck and my head, messed my disk up." He never fought again, at least in a sanctioned bout, and, despondent and angry about his adjusted circumstances, entered into what might be described as the infuriating and reprehensible phase of a topsy-turvy existence.
Although he tried his hand at promoting legitimate fight cards, five of which came off, Feldman proved to be less than an exemplary businessman as well as something of a loose cannon. He began drinking more heavily until it became a problem, although he is adamant in refusing to state he is or ever was an alcoholic. His promoter's license was revoked by the Pennsylvania State Athletic Commission when, in 2005, an argument over tickets and money at a pre-fight meeting turned violent. The other promoter placed his hand upon an increasingly agitated Feldman, who scored a one-punch knockout with a left hook.
Even worse, in October 16, 2016, he struck a woman, with whom he had been involved romantically, several times with a closed fist and enough force that police, upon arriving at her home, found her bleeding from the nose, head and face.
Feldman served 13 months of a two-year jail sentence after pleading guilty to simple assault and recklessly endangering another person. He now says the incident that led to his incarceration was the "stupidest mistake of my life, but I learned from it and I came back. I'm not a quitter."
So why is Feldman, who said this most recent redemptive chapter of his thick volume of ups and downs owes in large part to his parental devotion to his 12-year-old son and 16-year-old daughter, still as much or more of a celebrity as the D-Listers who populate his fight cards? It might be because, warts and all, he's essentially an impassioned salesman of himself and his brand. He has been a guest on Howard Stern's nationally broadcast radio program, at last count, 10 times and on Philadelphia drive-time sports station WIP, hosted by Stern's Philly equivalent, Angelo Cataldi, perhaps 10 times that. Former Philadelphia Daily News gossip columnist Dan Gross regularly featured references to Feldman and any of his off-the-wall gimmicks because what else is a gossip column about?
Feldman's first foray into Celebrity Boxing, in 1997, was limited in scope, the main event pitting Diego Ramos, a Philadelphia disc jockey, and John Bolaris, a weatherman for a Philly TV station. But Bolaris, a good-looking guy who got frequent mentions in Gross' gossip column for his man-about-town squiring of a steady stream of beautiful and high-profile women, was the prototype of the type of participant Feldman knew could fill a 500- to 800-seat room. Bolaris would have been an even more surefire draw if his appearance had come 13 years later, when he was drugged by a couple of Russian bar girls working for an international crime syndicate in Miami's South Beach. Seeking to confront the women, Bolaris met with them again, was slipped another roofie and awoke hours later with a pounding headache and $43,000 worth of charges on his American Express card. He contacted law enforcement officials, which led to 17 arrests, but instead of being hailed as a hero for the busting of so many nefarious types, as Bolaris had hoped, he was roundly derided for finding himself in such a humiliating situation and was fired by his station.
In other words, Bolaris at almost any stage of his television career was just the sort of "celebrity" that Feldman has sought out like a heat-seeking missile.
"I was a young guy, suffering and depressed," Feldman said of his state of mind after his boxing career ended and his promoter's license yanked. "Doing Celebrity Boxing shows became, like, my high. I just loved doing what I was doing. Anybody whose name was in the tabloids I tried to get in my ring. It's like my nickname. I try to give all of them their 16th minute of fame."
For appearance fees ranging from $1,500 to $5,000, Feldman has successfully enticed a string of down-on-their-luck notables to swing away at others of their ilk. Even when he failed to make sensationalistic bouts that were purposefully leaked to the media, he got the kind of publicity that promoters of "real" boxing would kill for. He attempted to pair Rodney King, the "Can't we all just get along?" victim of a 1991 beatdown by Los Angeles cops, with one of the police officers involved in the incident, which drove the Rev. Al Sharpton to near-hysterics. The LA cop didn't participate, but King mixed it up with an ex-cop from Chester, Pa., Simon Aouad, whom King defeated.
Another proposed fight that got lots of media attention but didn't happen would have pitted Marvin Hagler Jr. against Ray Leonard Jr., the non-boxer sons of legendary fighting fathers. But it's not just the near-misses with which Feldman has generated headlines; his most successful promotion to date was a matchup of Canseco, the steroid-fueled slugger of 462 major league home runs and the author of a tell-all book which outed Oakland teammate Mark McGwire as a fellow juicer, and a grown-up Bonaduce, the freckle-faced, red-haired kid everyone remembered from his time on TV sitcom The Partridge Family. Canseco seemingly got the better of Bonaduce, a friend of Feldman's, over three rounds, but the fight ended in a controversial draw (even Celebrity Boxing outcomes apparently can be disputed), leading to accusations that the fix was in.
Canseco, maybe more than any Celebrity Boxing contestant, is associated with Feldman. The large and heavily muscled former baseball player, at 6-foot-4 and 240 pounds, unwisely consented to duke it out in 2008 with former Arizona Cardinals and Philadelphia Eagles punt returner Vai Sikahema, who celebrated his touchdowns by whacking away at padded goal posts as if he were still the kid from Tonga who had been groomed by his father to become a champion boxer until he decided he liked football better. Sikahema, a two-time Pro Bowler who was then a sports director for a Philly TV station, tore into the much larger Canseco like a famished lion going after a stricken wildebeest. "I think I can safely say that 105,000 Tongans are well aware that I am fighting Jose Canseco," Sikahema said before the bout. "I do not intend to disappoint them."
Perhaps remembering the thrashing he took from Sikahema, Canseco, who was scheduled to appear in the main event of a 2011 Feldman-promoted event in Atlantic City, chose to stay home and sent identical twin brother Ozzie to fight in his stead. The ruse was immediately apparent when Ozzie stripped off his shirt and his upper-torso tattoos were different from Jose's. The fight was called off and Feldman sued Jose for breach of contract.
Feldman also was instrumental in Celebrity Boxing making it all the way to network television in 2002, with Fox airing two hour-long episodes featuring celebs who were a cut above D-Listers, at least in terms of how famous they once had been. In the first installment, Bonaduce floored Greg Williams, of The Brady Bunch, five times before Williams' corner threw in the towel in the second round. Tonya Harding, the disgraced figure skater who also fought for Feldman, had her way with a clearly frightened Paula Jones, alleged consort of former President Bill Clinton, who at one point attempted to hide behind the referee. Jones surrendered in the third and final round, allowing Harding to skate away with a TKO victory.
But it was a Ripley's Believe It Or Not matchup in the second installment that had to qualify as the most memorable Celebrity Boxing bout ever. In one corner was ultra-skinny former NBA center Manute Bol, all 7-foot-7 of him, against 400-pound-plus former NFL defensive lineman William "The Refrigerator" Perry. The Fridge basically ran out of gas moments after leaving his corner for round one, but he somehow stayed on his feet to the final bell, eating a smorgasbord of jabs from Bol, whose 102-inch reach might have been more incredible than his height.
Although TV Guide ranked Celebrity Boxing on Fox No. 6 on its "50 Worst TV Shows of All Time" later in 2002, Feldman takes pride in having had a hand in it. "I worked out a deal with (Fox) because it was my concept," he said. "They only did the two shows, but they did pretty good numbers. After that I just continued to do my own thing."
Full disclosure: I did a Celebrity Boxing turn for Feldman in July 2002, for no compensation, with any money I would have received going to the Don Guanella School (now closed) for intellectually disabled children. My opponent was Philadelphia attorney George Bochetto, a former commissioner for the Pennsylvania State Athletic Commission best known in boxing circles as the lawyer who represented former heavyweight contender Randall "Tex" Cobb in his libel lawsuit against Sports Illustrated, which resulted in a $10.7 million judgment for Cobb, later overturned on appeal. Bochetto – younger, leaner and a guy who regularly trained as a boxer three or four days a week – had everything going for him. But I was the son of a left-hooking former welterweight, and I wanted to see what, if anything, I had left. I did not inform my wife of my intentions until it was announced in my newspaper, which led her to ask, at a higher decibel level than I'd ever heard from her, "Are you nuts?"
George preferred to fight at a distance that suited him, and he was more accurate than I expected with the overhand right. But I bored in at every opportunity, trying to force him to the ropes and unloading left hooks and uppercuts with both hands. In effect, he was making Muhammad Ali moves and I was doing my best Joe Frazier impersonation. The split decision went to George, but the judge who had me ahead, the late, great Jack Obermayer, had been ringside for thousands of fights so I'm always going to think I really won.
Win or lose, though, my wife told me I was retired forever. Probably a wise decision on her part.
For those interested, more information on the movie project can be found at 16minutemanmovie.com.
Bernard Fernandez is the retired boxing writer for the Philadelphia Daily News. He is a five-term former president of the Boxing Writers Association of America, an inductee into the Pennsylvania, New Jersey and Atlantic City Boxing Halls of Fame and the recipient of the Nat Fleischer Award for Excellence in Boxing Journalism and the Barney Nagler Award for Long and Meritorious Service to Boxing.
Check out more boxing news on video at The Boxing Channel
To comment on this story in The Fight Forum CLICK HERE
GGG vs. Steve Rolls (Say Who?) is On; Lemieux vs. Ryder is Off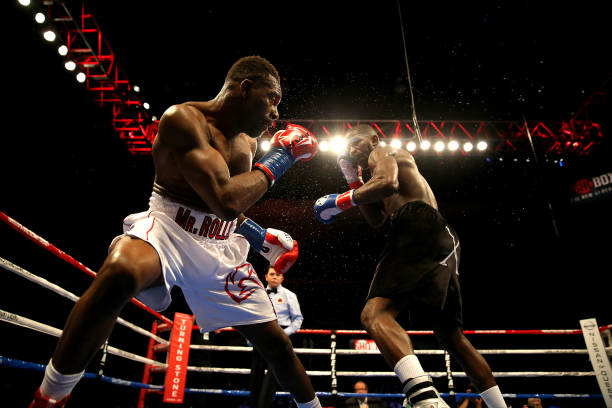 Yesterday (April 16) in a story submerged by a bigger story that broke later in the day — namely Jarrell Miller's failed drug test — it was announced that Team Gennady Golovkin had selected Steve Rolls as GGG's next opponent. GGG vs. Rolls is a go for June 8 at Madison Square Garden.
There was a collective groan when the pairing was announced. It was widely understood that GGG would go soft in advance of a likely third meeting with Canelo Alvarez in September, but choosing Rolls (pictured on the left against Demond Nicholson) was seen as tantamount to fighting an exhibition. The bookies will likely install GGG a 100/1 favorite, which in the old days was shorthand for a newspaper line, meaning a line crafted for conversation purposes only. Even today, with off-shore sports books jockeying for market share, no sensible bookie would take a straight wager on this fight save perhaps a peanut from a steady client as a courtesy to keep him in the fold.
Both Golovkin and Rolls had birthdays this month. GGG turned 37; Rolls 35.
Rolls, a Canadian, was reportedly 83-14 as an amateur. He's undefeated as a pro (19-0, 10 KOs), but a casual fan wouldn't recognize the name of any of his opponents with the possible exception of the aforementioned Nicholson. Rolls won an 8-round split decision over Nicholson (currently 23-3-1) in Verona, NY, in June of 2017. The verdict was controversial. The "ShoBox" broadcasting trio of Barry Tompkins, Steve Farhood, and Raul Marquez all had it 77-74 for the other guy, giving Nicholson the last six rounds.
Rolls is promoted by Lou DiBella who was in Full Damage Control mode when he addressed members of the press. "Steve Rolls is not some bum," DiBella was quoted as saying. "Steve Rolls can fight. He doesn't deserve this disrespect he's getting on social media."
That elicited this snarky retort (which I paraphrase) from a writer on an internet forum: "If Lou DiBella was in the business of selling bologna sandwiches, he would tell you it was ribeye."
Golovkin vs. Rolls will reportedly be contested at the catchweight of 164 pounds. We would guess that when GGG-Canelo III finally transpires, it too will be contested at 164. Canelo weighed 167 ¼ for his last match against Rocky Fielding. Plus, the third meeting will be a mega-fight regardless of whether any title is at stake.
GGG vs. Rolls can be seen as the downside of the great flurry of professional boxing that has accompanied the live-streaming transmutation. Whenever an industry experiences rapid growth – when there is a sudden need for more manpower – there's usually a lag before there are enough qualified applicants to fill all the slots.
That may be overstating it. The main reason that fight fans don't get the fights they want to see is because of a lack of cooperation between the major promotional groups. Moreover, as for marquee fighters choosing soft opponents, that's been going on forever. Joe Louis defended his title eight times in the 15 months leading up to his first encounter with Billy Conn. In the aggregate, his opponents were so hopelessly outclassed that sportswriters adopted the term "Bum of the Month."
Lemieux-Ryder Goes Poof
It hasn't been a good week for Eddie Hearn. Hearn promotes John Ryder who was slated to fight David Lemieux on May 4. The match between Lemieux (40-4, 34 KOs) and Ryder (27-4, 15 KOs) was penciled in as the chief undercard bout on the Canelo-Jacobs PPV card at the T-Mobile Arena. But Lemieux injured his hand in sparring and has been forced to pull out.
There was little sympathy for David Lemieux when he withdrew from his Dec. 15 bout with Taureano Johnson at the 11th hour because of severe dehydration. He should have managed his weight better. However, this is a bad break for him and it's hard not to sympathize. A fan-friendly fighter, Lemieux would have been making his first start as a super middleweight and, barring a mishap, would have energized an already strong 168-pound division.
Golden Boy Promotions, which is orchestrating the May 4 event, has had some strong undercards over the years but not on their biggest shows. The undercard for Canelo-GGG II was very weak.
As it now stands, the new co-feature on May 4 pits Vergil Ortiz against Mauricio Herrera. That simply won't cut it, a situation that isn't lost on the Golden Boy matchmakers who are reportedly working overtime to find a new co-feature.  Let's hope they find a good one.
Check out more boxing news on video at The Boxing Channel
To comment on this story in The Fight Forum CLICK HERE
Michael Hunter Emerges as Anthony Joshua's Most Likely Opponent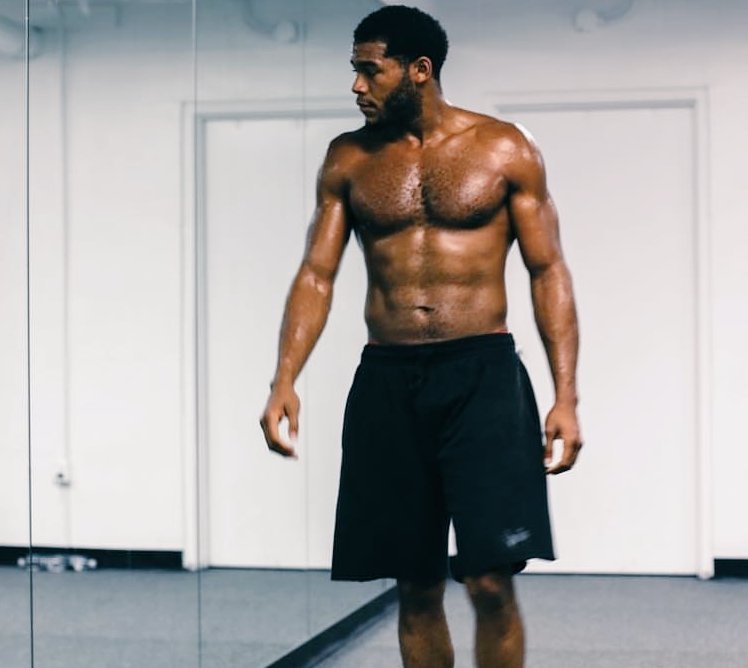 As you may have already heard, Anthony Joshua's June 1 match with Jarrell "Big Baby" Miller at Madison Square Garden is in limbo. Late yesterday (Tuesday, April 16), it was learned that Miller had failed a random drug test administered by representatives of VADA. Big Baby tested positive for GW1516, also known as cardarine and endurobol.
Useful as a weight loss aid, GW1516, among other things, is an endurance enhancer. Users don't get winded as quickly. It works, notes a report by Australia's Sports Anti-Doping Agency, by forcing skeletal muscle to use fat rather than carbohydrates as an energy source. In the example sometimes given of a professional cyclist, he or she can become thinner, putting less stress on their conveyance, while maintaining or increasing the leg power required to climb mountains quickly.
Several countries banned GWI516 when it was discovered that it increased the incidence of cancer in laboratory rats. Nonetheless, it is widely available on the Internet.
Anthony Joshua's promoter Eddie Hearn has reportedly stated that the June 1 date is locked in stone, no matter Joshua's opponent. The thousands of people that would be inconvenienced by a cancellation include members of the Boxing Writers Association of America. The BWAA's annual awards dinner is always held on the eve of a big fight. This year it's set for May 31.
Hearn has been in this predicament before. Back in October of 2017, the fight between Joshua and Kubrat Pulev at Cardiff, Wales, evaporated when Pulev was forced to pull out with a torn biceps. By then, 70,000 tickets had been sold. But Hearn had the foresight to have a pinch-hitter in the dugout, so to speak, and the show went off without a hitch with Carlos Takam subbing for Pulev.
With Joshua vs. Miller a shade more than six weeks away, Hearn hadn't yet formulated a back-up plan. This morning, the Internet was rife with speculation about Joshua's next opponent, all based on the assumption that Joshua vs. Miller was dead in the water.
One web site reported that there were five potential opponents on Hearn's short list: Luis Ortiz, Adam Kownacki, Manuel Charr, Kubrat Pulev, and Michael Hunter.
We doubt the veracity of this report. Ortiz and Kownacki are controlled by Al Hayman who hasn't done business with Eddie Hearn. It's widely assumed that Kownacki, who trains with Jarrell Miller in Brooklyn, is being groomed for a match with Deontay Wilder. June 1 is presumably too soon for Kubrat Pulev who emerged from his last fight with a bad cut that wouldn't be fully healed by June 1. Manuel Charr, a 34-year-old German of Syrian and Lebanese descent, holds a second-tier WBA title but is presumably out of the running because of previous PED issues. In September of last year, Charr tested positive for two banned anabolic steroids, scuttling a match with Ossie Oquendo.
That leaves Michael Hunter who recently signed with Hearn's company, Matchroom Boxing, making him, in our estimation, the overwhelming favorite to step in for Big Baby.
Now 30 years old, Hunter's lone defeat in 17 pro starts came at the hands of Oleksandr Usyk and Hunter had several good moments in that fight before fading down the stretch. Since then he's competed as a heavyweight, winning four straight, the last three by stoppage. In his last outing, he was impressive in scoring a ninth round TKO of Alexander Ustinov on an Eddie Hearn promoted show in Monte Carlo. He took that bout on three weeks notice. In his match before that, he upset the previously undefeated Scotch-Congolese prospect Martin Bakole Ilunga in London.
If he were selected to fight Anthony Joshua, Hunter would be at a severe weight disadvantage. However, that would be nothing new. He was outweighed by 43 pounds by Ilunga and by 66 pounds by Ustinov.
Hunter lacks name recognition, but has several "hooks" advantageous to the PR people. A former Olympian, he comes from a fighting family. His late father Mike "The Bounty" Hunter was a heavyweight contender, a noted spoiler with several good wins to his credit. Pop defeated Oliver McCall, among others, and McCall famously went to London and knocked out Lennox Lewis. Michael Hunter, who fights out of Las Vegas, is co-trained by Hasim Rahman who also scored a massive upset over Lennox Lewis.
Conspicuously absent from the dubious short list is Dillian Whyte. If the fans got to vote on Anthony Joshua's next opponent, Whyte would likely come in third behind Wilder and Tyson Fury. Unlike those two, Whyte doesn't have a fight scheduled in the near future.
Big Baby Miller is reportedly keeping to his training regimen and there remains a chance, however slim, that Joshua vs. Miller can be salvaged. Tickets for the fight, priced from $106 to $2,506 (plus applicable booking fees), went on sale on Feb. 15 at Ticketmaster and at the Garden Box Office four days later. Advance sales were reportedly so brisk that a sellout is virtually guaranteed.
Joshua, who will be making his U.S. debut, is the big draw, but Miller has a strong following in New York and if he is forced to pull out there will undoubtedly be a clamor for refunds. That may trigger Madison Square Garden lobbyists to put the squeeze on state legislators in Albany to find a solution to let the match go forward.
If that should happen, the lobbyists will be swimming against the tide. The New York State Athletic Commission has come under fire repeatedly for lax practices, most recently in a four-part series by frequent TSS contributor Thomas Hauser for The Ring. It's doubtful the agency would want to risk more heat. Moreover, this apparently isn't the first time that Jarrell "Big Baby" Miller has been exposed as a user of banned substances. It's been reported that he tested positive for two banned anabolic steroids while competing as a kickboxer.
Check out more boxing news on video at The Boxing Channel
To comment on this story in The Fight Forum CLICK HERE