GGG vs Canelo: It's Getting Ugly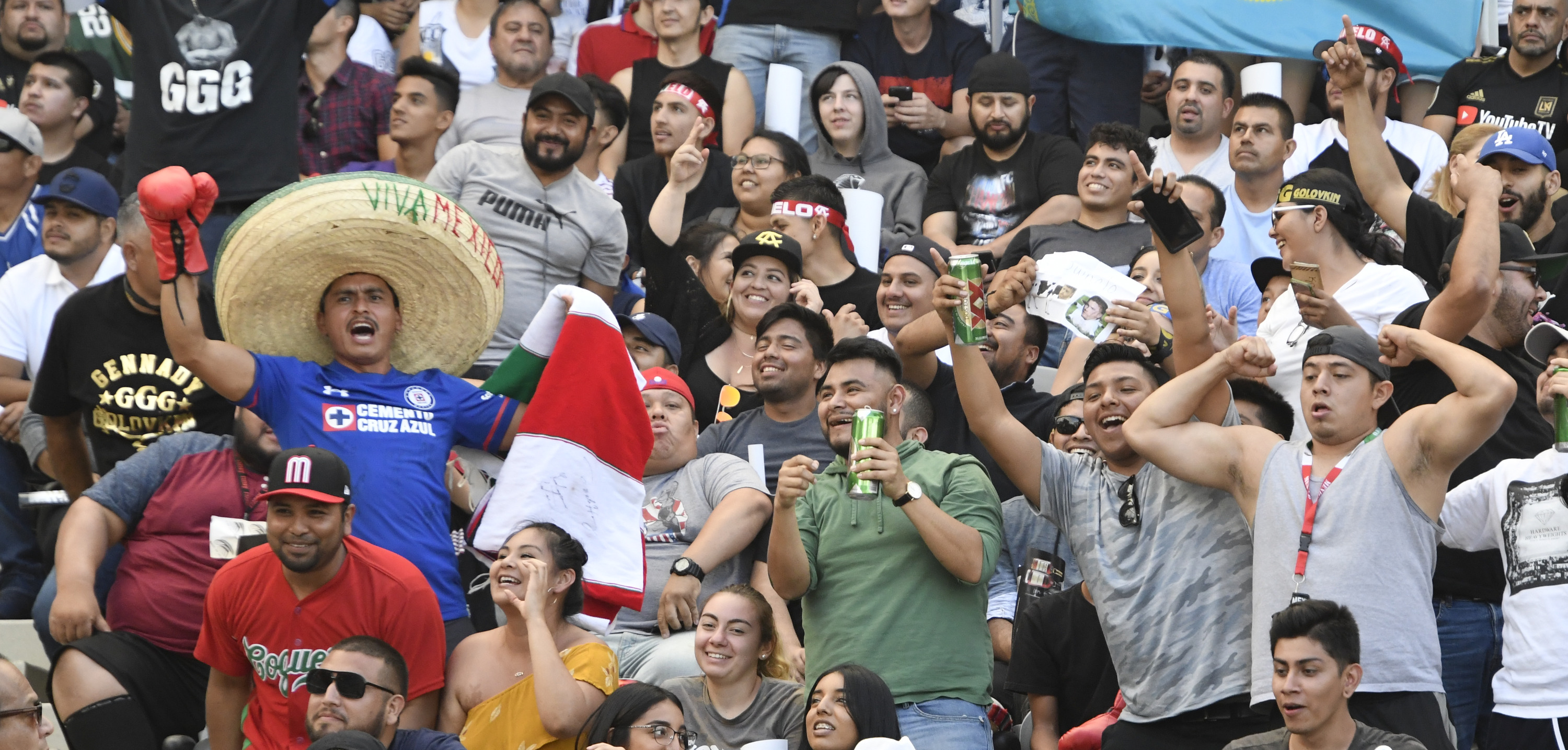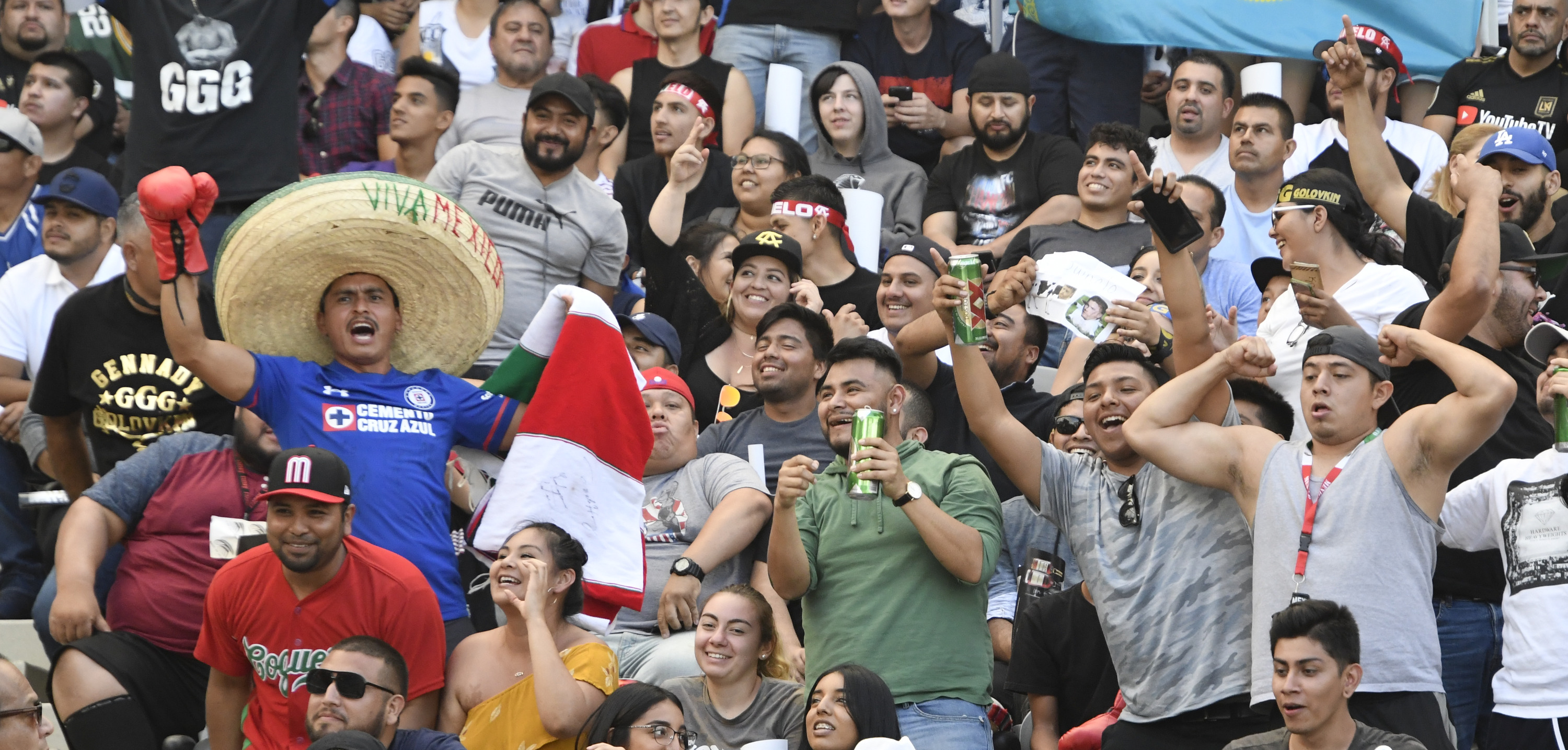 LOS ANGELES-Crowds surrounded the eastern side of the new soccer stadium built on the old L.A. Sports Arena site, waiting to see middleweight champions Gennady "GGG" Golovkin and Saul "Canelo" Alvarez and super welterweight champion Jaime Munguia on Sunday afternoon.
A 220 yard-long Conga line formed along Figueroa Street waiting to get into the Banc of California Stadium.
One reason: Triple G and Canelo are about to get it on and they don't like each other. They brought along little brother Munguia to serve as a buffer between the middleweight division's two baddest bad boys.
Less than three weeks remain until Golovkin (38-0-1, 34 KOs) and Alvarez (49-1-2, 34 KOs) meet at the T-Mobile Arena in Las Vegas for the middleweight belts. HBO pay-per-view will telecast the Sept. 15 event promoted by Golden Boy Promotions and GGG Promotions.
It's the rematch of the 12-round slugfest that took place nearly a year ago in Las Vegas that ended in a majority draw. A lot has transpired since then.
Alvarez and Golovkin were scheduled to meet this past May but the Mexican redhead failed a PED test in February and was subsequently suspended. Golovkin fought Vanes Martirosyan instead and annihilated the Californian in two rounds.
Words and accusations were slung like spitballs by each camp since that cancellation. A once friendly rivalry has now turned ugly ever since Golovkin's camp accused Alvarez of not fighting "Mexican style" and for a number of other things.
"I am happy to get at Canelo again. It is another big chance to beat him again," said Golovkin, 36. "Of course I want to knock out Canelo. It would be nice if Canelo came to fight this time."
One of the stark accusations flung by Golovkin's camp was Alvarez not fighting like a Mexican.
"There is no defined Mexican style," said Alvarez, 28, who was born and raised in Guadalajara, Mexico. "There is no typical style. I'm a Mexican and that's what is important."
Neither fighter saw the other face to face.
"I did lose all respect for him," said Golovkin who once shared a training camp and sparred with Alvarez several years ago in Big Bear. "Canelo is not the biggest name in boxing, just the biggest scandal."
Alvarez feels that some of the accusations are not merely from Golovkin's camp but also from the media. He keeps a sharp eye on all who question him.
"This fight is personal because of all that's been said, and it will be difficult to regain the respect that we once had," said Alvarez about any future friendship with Golovkin. "The statements that have been made about me have given me more motivation to train harder."
Split Support
Golovkin smiled throughout the media day event, content with seeing so many supporters in a city dominated by a Latino population. There are roughly 10 million people in the greater Los Angeles area and more than 60 percent are Latino. Of those, more than 70 percent are of Mexican descent. Many support Golovkin as was evident at the media day.
But Alvarez still maintains a strong hold on fans as demonstrated by the loud cheers from his fans. Even Munguia got a piece of their cheers on the moderately warm afternoon.
It was the very first time any boxing related event was held in the spanking new stadium located on Figueroa and Martin Luther King Boulevard.
Blue and gold Kazakhstan flags mixed with "Triple G" hats dotted the crowd that easily exceeded 3,000 fans for those in favor of Golovkin. Others had Mexican flags and Canelo hats for the Mexican fighter.
Both fighters were interviewed on the makeshift boxing ring and also shadow boxed. Alvarez was the last to appear in front of the fans. He was blunt about the upcoming clash.
"Like I've said many times, the first fight gave me the guideline for the second fight. I know that I can do many things in the ring against him. I know that I can hurt him. I hurt him in the first fight, and I'm going to hurt him even more in the second fight," said Alvarez. "My objective is the knockout and I'll be looking for that from the opening round."
Meanwhile, Munguia watched the entire drama unfold in front of him with keen interest through the tunnel at the stadium. The tall WBC super welterweight world champion from Tijuana, Mexico has a fight date against little known Brandon Cook of Canada. But he was spellbound watching the bigger middleweight rivals.
"Maybe, in a couple of years," said Munguia, hinting toward fighting one or the other.
But on Sunday, the smiling champion from Mexico was the buffer to the middleweight giants who return to settle their differences on Sept. 15.
Tickets
Limited tickets still remain for the world title card. Prices remaining are $5,000, $2,000, $1,500, $800, $700 and $500. For more information call (888) 929-7849.
Check out more boxing news on video at The Boxing Channel
Fast Results From Latvia: Mairis Briedis and the KO Doctor advance in the WBSS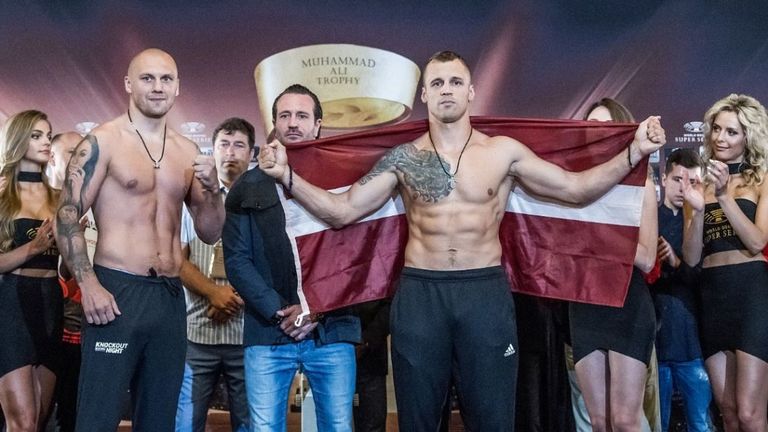 The semifinal round of the Wold Boxing Super Series cruiserweight tournament played out today in Riga, Latvia, the hometown of Mairis Briedis who was matched against Poland's Krzysztof Glowacki. Both fighters had only one blemish on their ledger and in both cases their lone defeat came at the hands of Oleksandr Usyk.
The fans left happily after Briedis (26-1, 19 KOs) knocked out Glowacki (34-2) in the third frame. But it was messy fight that invites a lot of second-guessing and likely a challenge from the Glowacki camp.
After a feeling-out first round, Briedis cranked up the juice. An errant elbow landed behind Glowacki's head, putting him on the canvas. For this discretion, Briedis was docked a point. A legitimate knockdown followed — Glowacki was hurt — and then another knockdown after the bell had sounded. The referee could not hear the bell in the din. It was a wild scene.
The fight was allowed to continue, but didn't last much longer. Coming out for round three, Glowacki wasn't right and Briedis pounced on him, scoring another knockdown, leading referee Robert Byrd to waive the fight off at the 27 second mark. It wasn't Byrd's finest hour.
The tournament organizers anticipated the complication of a draw and assigned extra judges to eliminate this possibility. They did not anticipate the complication of a "no-contest." If the outcome isn't overturned, Briedis, a former WBC cruiserweight champ, is the new WBO title-holder.
Dorticos-Tabiti
In the co-feature, Miami-based Cuban defector Yunier Dorticos, nicknamed the KO Doctor, lived up to his nickname with a smashing one punch knockout of previously undefeated Andrew Tabiti. The end for Tabiti came with no warning in round 10. An overhand right left him flat on his back, unconscious. Referee Eddie Claudio didn't bother to count. The official time was 2:33.
It was easy to build case for Dorticos (24-1, 22 KOs). He was three inches taller than Tabiti, packed a harder punch, and had fought stronger opposition. But it was understood that Tabiti, now 17-1, had a more well-rounded game. Moreover, there were concerns about Dorticos' defense and stamina.
Dorticos was ahead on the scorecards after nine frames. He rarely took a backward step and let his hands go more freely. And it didn't help Tabiti's cause that he was docked a point for holding in the sixth frame. Earlier in that round, an accidental clash of heads left Dorticos with a cut over his right eye. The ringside physician was called into the ring to examine it and let the bout continue.
With the victory, Dorticos became the IBF world cruiserweight champion and moved one step closer to acquiring the coveted Muhammad Ali trophy in what will be, win or lose, the most lucrative fight of his career.
To comment on this story in The Fight Forum CLICK HERE
Angel Ruiz Scores 93 Second KO in Ontario, CA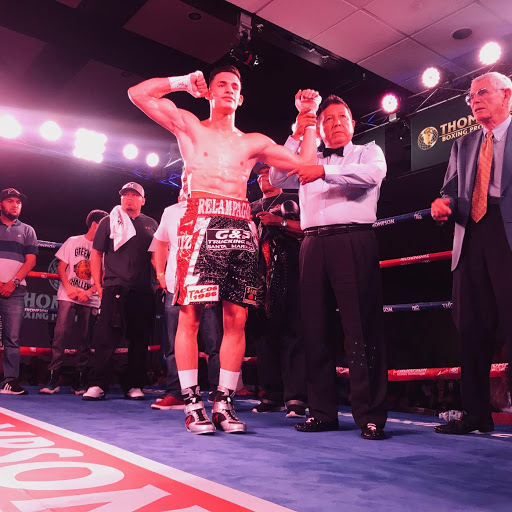 (Ringside Report by Special Correspondent Tarrah Zeal) ONTARIO, CA – "Path to Glory" featured some of Southern California's hottest prospects carving their image into the boxing world through the Thompson Boxing Promotions platform at the Doubletree Hotel in Ontario, CA Friday night.
Undefeated welterweight prospect Angel Ruiz (14-0, 11 KO) of Maywood, CA finished veteran Miguel Zamudio (43-13-1, 27 KO) from Los Mochis, Mexico with an impressive stoppage at 1:33 in the first round scheduled for eight.
At 21 years young, Ruiz (pictured) came into the night with four KO wins in his last four bouts and looking to continue his streak. A second-round body shot win over Gerald Avila (8-17-3) on May 10th and first round KO win against Roberto Almazan (8-9) just this year.
Ruiz was just getting started in the ring using his long distance and power punches to punish Zamudio.
Twenty seconds into the opening round, Ruiz' mouthpiece went flying out and a timeout was called. Once the mouthpiece was placed back in, Ruiz administered a quick flurry of punches but with no exchange from Zamudio, referee Raul Caiz stepped in and stopped the main event fight.
After the fight interview Ruiz was asked about what he saw in the fight, "I see this guy. He wants to fight. He was trying to fight but I'm too hard. I got you." Ruiz said. "I feel ready. I want to fight with the best."
With 89 amateur bouts under his belt, although not signed with any promoters, Ruiz is verbally challenging Vergil Ortiz, "Vergil if you see this video, remember me".
Brewart
In he co-main event, a six round junior middleweight bout, Richard "Cool Breeze" Brewart (6-0, 2 KO) of Rancho Cucamonga, CA won a unanimous decision over Antonio "El Tigre" Duarte (2-1) of Tijuana, Mexico.
Brewart was coming into the fight looking like the faster, more technical fighter of the two. Duarte over-telegraphed all of his punches, allowing Brewart to use his overhand right and awesome agility to angle out of reach.
Even after Duarte checked Brewart on the chin with a strong punch, Brewart's power punches always ended the rounds. The judges scored the bout 60-54 twice and 59-55 for Brewart.
Other Bouts
A victorious unanimous decision at the end of a six-round toe-to- toe bantamweight fight was given to Mario "Mighty" Hernandez, (8-1-1, 3 KO) of Santa Cruz, CA over lefty Victor "Lobo" Trejo Garcia (16-11-1, 8 KO) from Mexico City, Mexico.
Continuous hard punches were exchanged from both brawlers starting at the bell of round one. Fans were excited after a flurry of punches and then a clear push from Hernandez sent Trejo to the floor at the end of round three, giving the crowd excitement for the coming rounds.
It deemed to be a bit of a challenge for both, as orthodox Hernandez managed to match southpaw Trejo's overhand right punches with his own in response. After six rounds of continuous action two judges scored the bout 57-56 and one 59-54 for Hernandez.
In what would be an exciting and entertaining four-round heavyweight bout, Oscar Torrez (6-0, 3 KO) from Riverside, CA took on Allen Ruiz (0-2) of Ensenada, Mexico.
A surprising uppercut from Ruiz, in the beginning of round one, put Torrez on the canvas and every eye in the room were all fixated on both brawlers. The look in Torrez' eyes were more calculated, as he was careful from then on.
Wild punches were being thrown from Ruiz without fear of repercussion, but then a quick liver shot from Torrez sent him to his knees. After a couple of seconds to adjust back into the bout, Ruiz was then checked again by left hook to the chin knocking out his mouthpiece. There were 20 seconds left in round two and the round ended with no mouthpiece.
Torrez showed he was stronger and the more technical fighter and finally ended the bout by KO with a right hook to Ruiz's body at 1:08 in the third round.
Jose "Tito" Sanchez, a rising featherweight prospect with two knockouts in his first two fights and training under star trainer Joel Diaz, out of Indio, CA, took on veteran Pedro "Pedroito" Melo (17-20-2, 8 KO). Even with his low experience in the professional boxing world, Sanchez showed his maturity in the ring by controlling the fight when following Melo around the ring and landing clean left hooks and powerful body shots. After four rounds Sanchez won by 40-36 on all three cards.
Check out more boxing news on video at The Boxing Channel
To comment on this story in The Fight Forum CLICK HERE
Is the UFC Purchasing Premier Boxing Champions?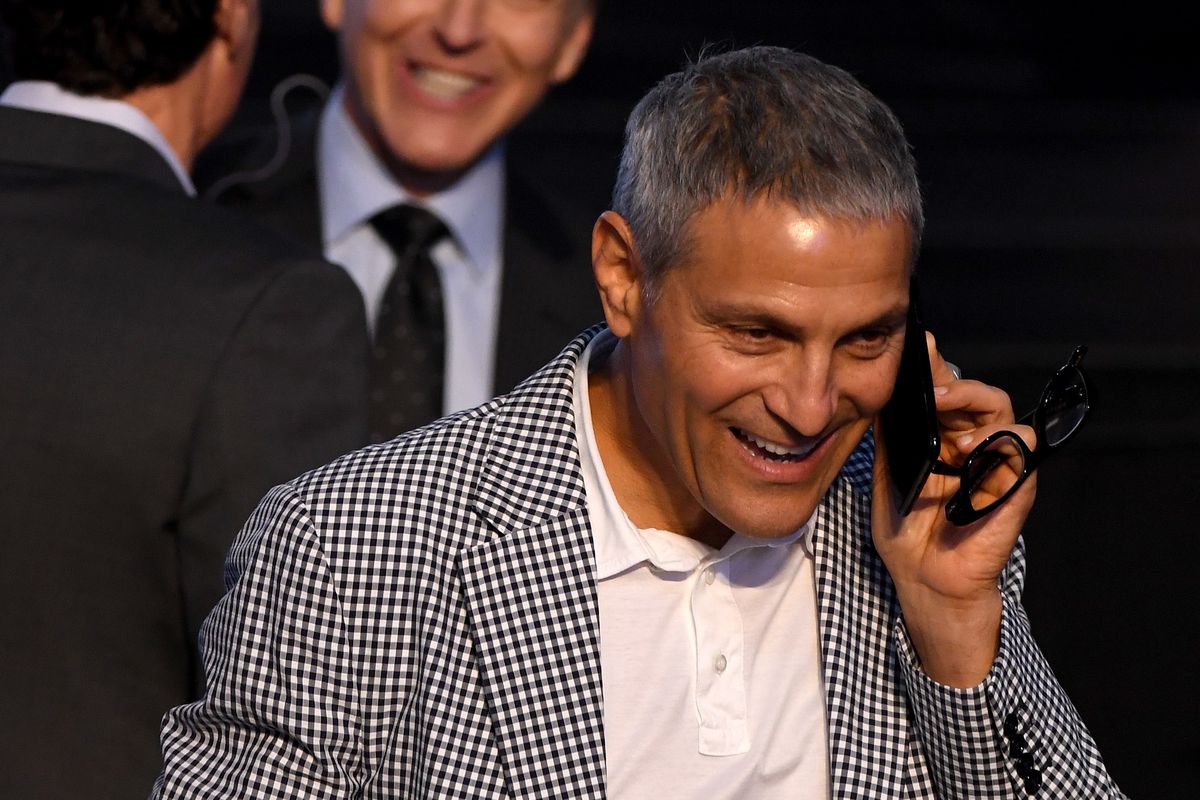 Several news outlets are reporting that the Ultimate Fighting Championship's parent company Endeavor is in talks with Al Haymon to purchase the Premier Boxing Champions. The deal is far from happening and will be complicated if it is completed. Let's look at some of the details.
Dana White has been the face of the UFC since the brand was purchased by Zuffa in 2001 and over the years he has repeatedly hinted about invading the world of boxing. In his early days as the UFC's head honcho, White even challenged his biggest star, Tito Ortiz, to a boxing match. The match never happened but to this day White will tell you he would have beaten Ortiz in a fight under Queensberry rules.
In more recent years the UFC co-promoted the Conor McGregor versus Floyd Mayweather Jr match and White, although he would vehemently deny it, also had to have at least tacitly approved of Oscar De LaHoya's promotion of the third bout between Ortiz and his rival Chuck Liddell. That match-up was likely assessed by White this way: "If Oscar wants to promote MMA let him lose his money," but he didn't stand in the way of De La Hoya and his Golden Boy Promotions.
White's name has also come up in connection with Anthony Joshua. White is said to have had a huge offer ready for the then heavyweight champion, but he backed off when the realization hit that he could not make matches for Joshua in the way he is accustomed because he had no roster of potential opponents. However, White has been insistent that the UFC will "100 percent get into boxing."
Under new owners Endeavor, White cannot operate like he did under old owners Zuffa, but if the deal goes down it is likely because White crafted some type of long term vision that he sold to Endeavor co-founder and CEO Ari Emanuel (pictured).
When Endeavor purchased the UFC in July of 2016 for a reported $4.05 billion, White agreed to guide the company for at least five more years, of which roughly two are up.
On the flipside, it is difficult to see Al Haymon relinquishing control of PBC. More than likely Haymon would stay in charge of the PBC wing and Endeavor would serve as a cash cow to keep what he has built going.
Haymon must stay aboard for another reason, though few will say it. The reason is ethnicity. If Haymon is left out, that would basically leave Leonard Ellerbe and his boss Floyd Mayweather Jr as the only prominent African-American promoters in boxing and that would not be a healthy situation.
Premier Boxing Champions has a diverse group of fighters among the over 200 pugilists under contract. Some are African-American as are many of Haymon's key employees and associates. Frankly, at least a portion of those fighters and employees would not feel the same comfort level they have with Haymon if Emanuel, a member of an influential Jewish family (his brother is former Chicago mayor Rahm Emanuel) and Vegas power broker White were abruptly substituted.
Another effect on the PBC model is on the promotional end. Haymon has cobbled together a group of promoters that operate regionally under his PBC umbrella. The model that Endeavor brings with the UFC will have a more centralized approach to promotion. How will the new owners deal with Lou DiBella in NY, James Leija and Mike Battah in Texas, and Tom Brown in California? Throw in the aforementioned Ellerbe and Mayweather, who operate primarily in Vegas but also in the Washington DC and Baltimore area. How will the promoters who work with the PBC see their relationship change if Haymon left and Dana White was in charge?
Haymon has built the PBC over the years into a big business. He has the PBC on FOX and Showtime whereas the UFC, which previously partnered with FOX, now has a long-term deal with ESPN. This suggests that if a deal is made, PBC and the UFC will have to operate as completely separate entities under the same umbrella, at least for the foreseeable future. And even that might be further away from happening than most people realize.
Check out more boxing news on video at The Boxing Channel
To comment on this story in The Fight Forum CLICK HERE