Canelo Finally Ready to Take Manhattan; More Bites of the Big Apple to Follow?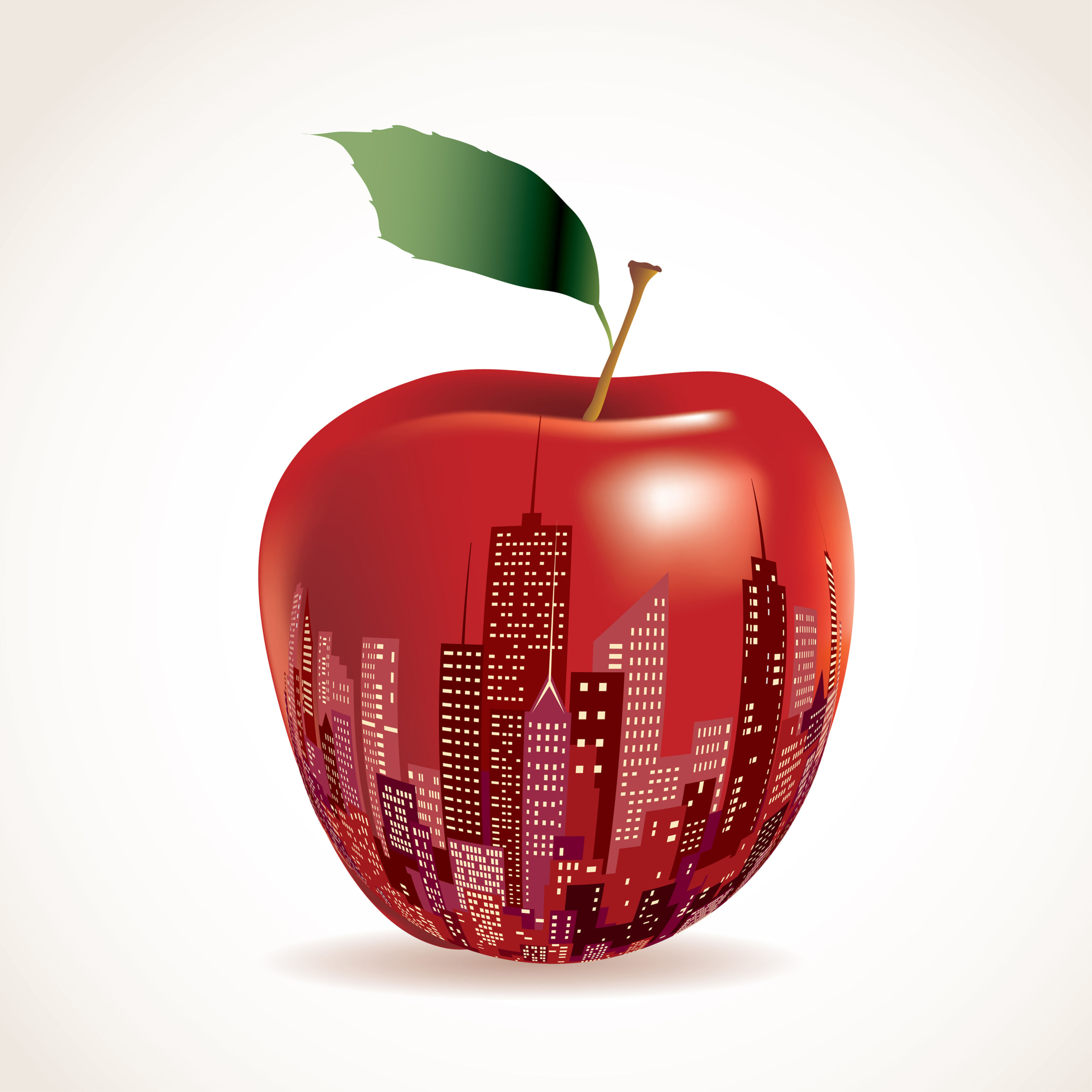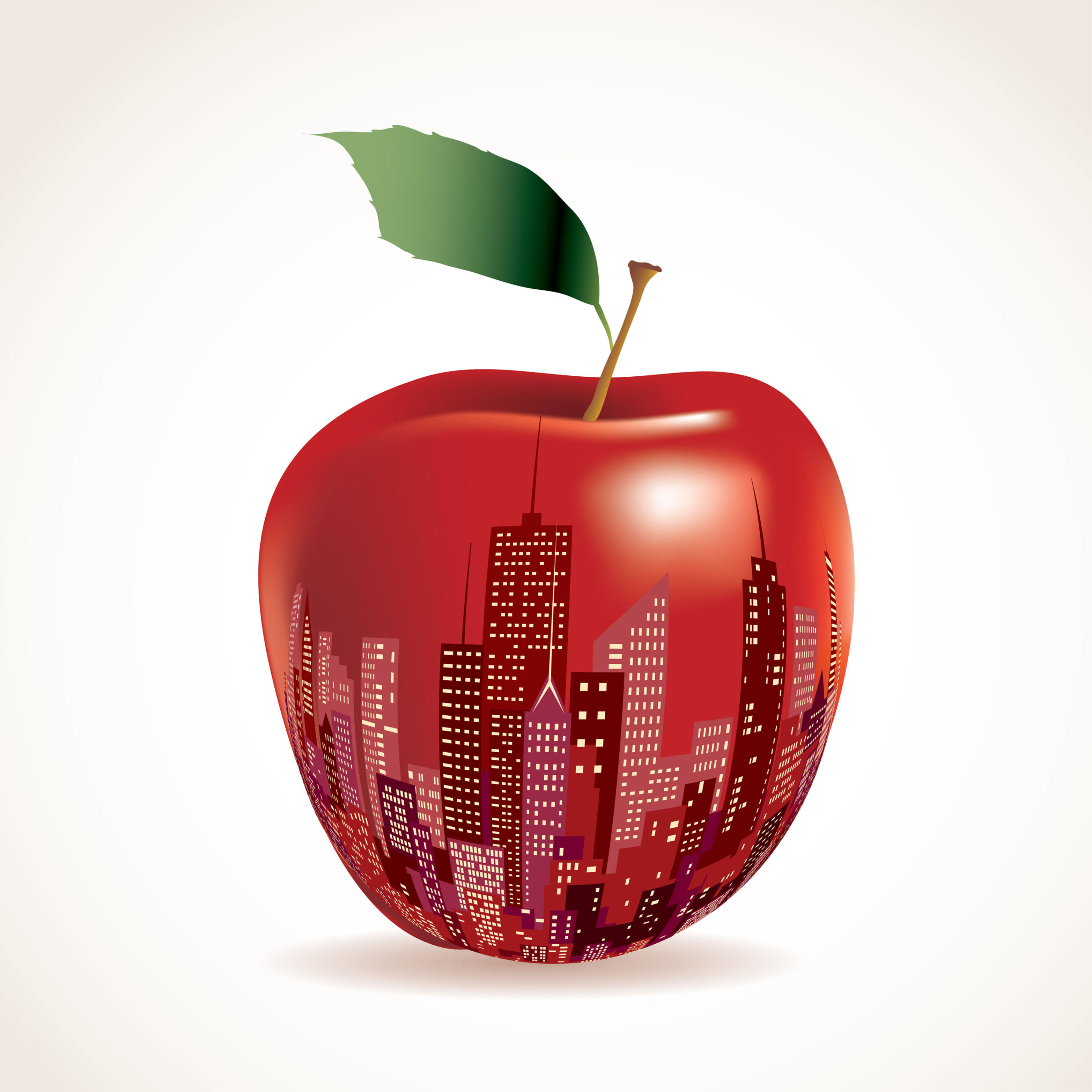 You know the words to the song, written by Paul Anka and most memorably sung by Frank Sinatra. It's a paean to America's glitziest, grittiest, most self-absorbed metropolis, whose citizens have come to believe the city is and always will be the center of the known universe. Everywhere else is, well, Hicksville.
If I can make it there, I'll make it anywhere
It's up to you, New York, New York
Canelo Alvarez, the WBO/WBA/WBC middleweight champion, is only 28 years of age, but the proud son of Guadalajara, Mexico, has been fighting professionally since he was 15. Arguably the most popular and marketable fighter in the world, he has been a creature of habit, fighting almost exclusively in places where his worshiping fans are plentiful and his star power has been allowed to flourish almost unabated. Of his 54 ring appearances as a pro, boxing's red-haired rock star has logged 34 fights in Mexico, 11 in Las Vegas, three in California and three in Texas. The furthest east Alvarez has come to ply his trade in the United States is a single bout in Miami, certain sections of which admittedly might seem like New York with palm trees.
But now Canelo says he is ready – eager, even – to finally make his mark in America's toughest town, and specifically in the famous arena, Madison Square Garden, which fancies itself the "Mecca of boxing." It is a not-undeserved sobriquet when you consider the roster of ring legends who have toiled at the Garden in any of its four incarnations.
Hey, if the historic building in midtown Manhattan, and the three preceding venues bearing its name, were good enough for Jack Dempsey, Joe Louis, Sugar Ray Robinson, Henry Armstrong, Jake LaMotta, Muhammad Ali, Joe Frazier, Roberto Duran, Sugar Ray Leonard, Mike Tyson and Canelo's promoter, Golden Boy CEO Oscar De La Hoya, then it's good enough for someone who considers himself to be the best pound-for-pound fighter in the world today.
But Saturday night's matchup of Alvarez (50-1-2, 34 KOs) — who will be moving up a weight class to challenge WBA super middleweight champion Rocky Fielding (27-1, 15 KOs) of England in a bout which will streamed internationally via DAZN — is not so much a one-off event as the first of many planned Garden parties in which Canelo will be the headliner.
"You know, Canelo's always wanted to fight in New York," said Eric Gomez, president of Golden Boy. "It seems like the last three years he's been talking to Oscar and myself about fighting in New York and, obviously, at the Garden. He's a big fan of Muhammad Ali and idolized Muhammad Ali.
"And to fight at the Mecca of boxing where all the greats have fought … Oscar fought there as well. It's something (Alvarez) always wanted to do. So we're extremely excited that we were able to squeeze in one more fight in December after having such a tough rematch in September with (Gennady) Golovkin."
So what about that, Canelo?
"I would like it to be the first of many fights there," Alvarez replied when asked about the hints he is dropping about possibly making MSG his new pugilistic home instead of Vegas. "To fight in New York is another landmark in my career and is another important story in my career. I want it to be the first of many more."
All well and good, although Fielding, virtually anonymous on this side of the Atlantic Ocean, has no chance of playing the role of Frazier to Canelo's Ali, or vice versa, even if he somehow captures lightning in a bottle. This also is the Briton's first fight in New York, and who can blame him for daring to dream that pulling off the upset will make him a superstar in his own right?
"This is what I'm in boxing for," Fielding, 31, said of the longshot opportunity he hopes to capitalize on. "This is what I've been doing in boxing since I was nine, for these nights. To fight at Madison Square Garden against the biggest name in boxing is unbelievable."
Fielding isn't quite the no-hoper Buster Douglas appeared to be on Feb. 11, 1990, when, as a 42-1 underdog, he pulled off boxing's biggest and most memorable upset with a 10th-round knockout of the seemingly invincible Mike Tyson in Tokyo. But Fielding is an 8-1 outsider for those willing to place a wager on him, and Canelo backers would have to bet $160 to make a 10-buck profit.
Any chance Fielding has of shocking the world lies in the fact that he is noticeably larger than Canelo, at 6-foot-1 to the celebrated challenger's 5-8, and with a 75-inch reach to Canelo's 70½-inch reach. That, and the fact Alvarez is moving up to an unfamiliar weight class, is enough to fuel Team Rocky's belief that they can spoil the star attraction's New York debut.
"We're going to ask (Alvarez) questions," said Jamie Moore, Fielding's trainer. "There's a lot of unanswered questions regarding him moving up to super middleweight. The height and reach advantages that Rocky's got is huge. How is he going to cope with those problems? When they come face to face in the middle of the ring, Rocky's going to be huge, an absolutely huge specimen compared to Canelo."
But there is another saying that seemingly applies here, and that is that it's the size of the fight in the dog, not the size of the dog in the fight, that matters. And the talent gap between Canelo and this Rocky, who is not likely to ever be compared to Marciano, Graziano or Balboa, is of much more consequence that a couple of inches and pounds.
The incentives for Alvarez taking this fight are many. If – when – he wins and becomes a world champion at super middle, he joins fellow Mexican greats Julio Cesar Chavez, Erik Morales, Marco Antonio Barrera and Jorge Arce as three-division champions. OK, so Alvarez has already announced he will be moving back down to middleweight. That itch he wants to scratch as a three-division titlist, even if only temporarily, is satisfied, as is his desire to make more dough before the end of the year and to show New York what he's all about. Who knows, maybe he'll even find time get in a little Christmas shopping at some of Manhattan's trendier boutiques.
If there is a drawback to Canelo's Manhattan adventure, other than the almost-unthinkable possibility of a loss, it's that New York fight fans, whose reputation as a tough lot is deserved, are not disposed to be warmly receptive to an uninspired performance as those who lavished so much love on him in the Nevada desert, Mexico and Texas. Canelo might be cherished elsewhere, but from the opening bell he is going to have to prove himself anew to a rowdy crowd that is as apt to boo as to cheer.
So it's up to Canelo to make New York as much his as it was for Sinatra. He theorized about the unlikely possibility of a rematch with Floyd Mayweather Jr. ("If that fight were to happen again, I would defeat him, no problem") and the presumably more realistic chances of a third go at Golovkin ("If we made two, I'll make a third one"). There are other attractive matchups that could bring him back to the Garden, if his fascination with the place is as genuine as he now claims and Golden Boy accedes to his wishes.
"We're open to doing more fights in New York. No problem," Gomez said. "Everything seems to be going smooth. Ticket sales are great. We're expecting a sellout. If everything goes as planned, why not?"
Bernard Fernandez is the retired boxing writer for the Philadelphia Daily News. He is a five-term former president of the Boxing Writers Association of America, an inductee into the Pennsylvania, New Jersey and Atlantic City Boxing Halls of Fame and the recipient of the Nat Fleischer Award for Excellence in Boxing Journalism and the Barney Nagler Award for Long and Meritorious Service to Boxing.
Check out more boxing news on video at The Boxing Channel
To comment on this article at the Fight Forum, Click Here
Will a Canelo Alvarez Trilogy Turn 'Triple G' into a Mexican Style Piñata?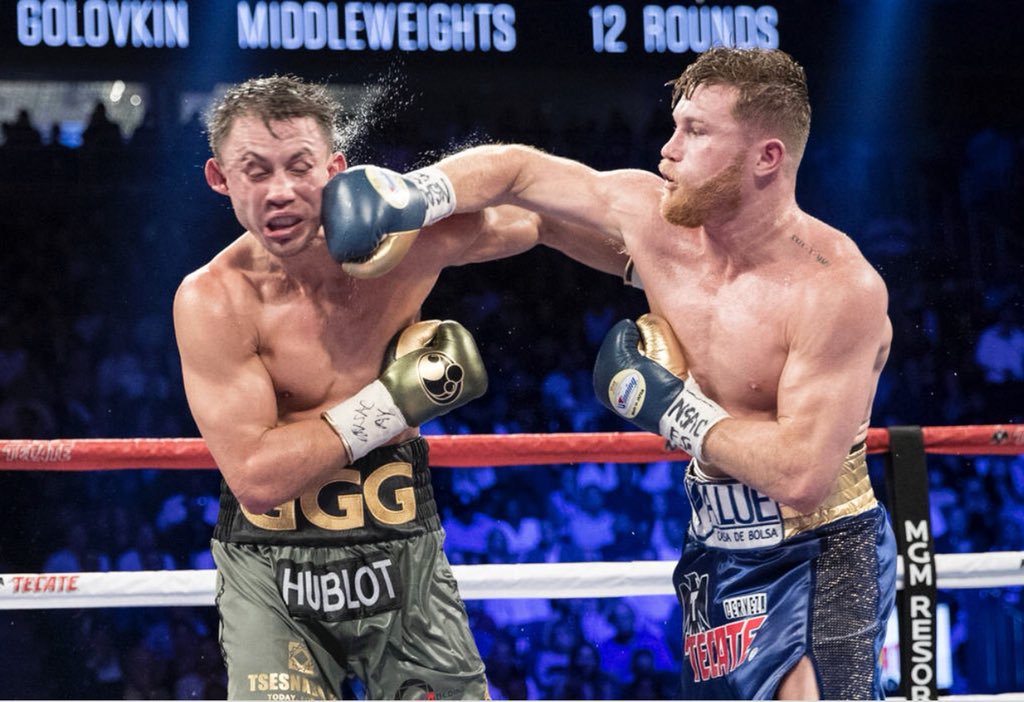 We've all seen the birthday video of some poor kid swingin' for a strung-up stuffed toy but getting back in the face something other than the expected bounty of candies and treats. Dizzy from being spun around in circles and blindfolded against a moving target, a child is beaten by paper mache. Score one for the much-abused piñata. It can only take so much punishment.
Before it opens up—explodes!
Perhaps that's 37-year-old Gennady Gennadyevich Golovkin now in his single-minded desire to fight world middleweight champion Saúl "Canelo" Álvarez, 28, for a third time following a successful comeback KO of Steve Rolls at Madison Square Garden in New York City.
Maybe he'll bust Canelo's belly open. Or maybe this time he'll get busted up? Three strikes in this game; sorry Buster.
"I'm ready. Bring on Canelo," Golovkin told DAZN's Chris Mannix after improving to 39-1-1 with 35 big knockouts. "A third fight is more interesting because we both have experience against each other. I come to open up, he comes to open up…the next fight will be amazing for us."
Their first two title bouts were amazing for fans but they lacked a sense of finality. Neither boxer was ever visibly hurt and there were no knockdowns registered. In two fights, only six points divided the combatants and that includes the despicable 118-110 score from Adalaide Byrd in favor of Canelo in the first meeting. In the rematch, Alvarez was superior—but not by much.
The piñata is still in play.
In his many swings in two HBO-PPV tries against Alvarez, Golovkin came up short of bursting the economic bubble that surrounds Canelo and appears to protect him at all times. Their 2017 contest was ruled a split draw and their 2018 rematch was won by Canelo via majority decision. If Golovkin was cloaked in an aura of invincibility, it was Alvarez who stripped him naked but helped fund a brand-new wardrobe by providing Golovkin with his two biggest paydays by far.
Golovkin's ability to knock out ordinary fighters and second-tier contenders like Vanes Martirosyan remains intact. The offense looks good. Punches still fly like hatchets. However, GGG's defense looked third-rate against Rolls and he's back to taking punches in the face in order to connect with harder punches of his own to end matters early as a "gift" for fans.
New trainer Johnathon Banks wasn't impressed.
As a student of the late trainer Emanuel Steward and caretaker of his KRONK legacy, 'Mister Banks' is a fine human being and an honest man in an industry full of lies told to sell fights.
"It was very uncomfortable for me," said Banks at the post-fight press conference of having to watch Golovkin, now without Abel Sanchez, take shots he shouldn't be taking. On the other hand, Canelo's Golden Boy Promotions promoter Oscar De La Hoya had to like what he saw.
The TSS Truth: The Golovkin who beat Rolls didn't look ready at all for the Canelo who beat Jacobs. And if you listened carefully to the post-fight breakdown by Banks, the trainer knows it's true. What's also true is that as Canelo approaches his peak, Golovkin is approaching age 40.
Can Banks teach Golovkin to correct his mistakes and be better than Alvarez in September—in three months? "If we can grow day to day as trainer and fighter, that can change the outcome."
I'm not so sure.
THE BANK STATEMENT
After getting his head bobbled around by Rolls before dropping the boom in the fourth, GGG didn't sound too interested in a New York rematch with Danny Jacobs or a shot at Providence, Rhode Island's Demetrius Andrade for Boo-Boo's new WBO trinket—and who can blame him at this point? The only big money fight out there for GGG is still against Canelo Alvarez.
It's all about his legacy now. Uno mas en Las Vegas. Third times a charm?
As Golovkin gets another year older, his red-headed target grows another year wiser. Canelo's 24 rounds of experience in the ring with GGG have taught him how to do what nobody else before him could do which was beat Golovkin back and take his unified middleweight titles.
Ask Canelo, as DAZN's Mannix did, and he'll say a third fight with Golovkin is unnecessary. "For me, we are done, but if the people want to see it, we can do it again. And I'll beat him again."
But can Alvarez finish the job and be the first to finish off Golovkin inside the distance? If he wants to get the critics off his back who insist he received two gifts against Golovkin, he'll want to. It worked for Andre Ward against Sergey Kovalev but even then fans cried foul over the TKO.
Can Alvarez make GGG quit?
The way Golovkin got hit by Steve Rolls has me wondering if the counterpunching Canelo has been setting him up all along for a trilogy winning knockout of some sort. Is the rock-solid chin of Golovkin finally ready to burst after years of getting whacked at by eager-fisted title challengers?
Canelo is by no means a knockout puncher against fully fleshed out middleweights but he has grown into the 160-pound division very well over time. His recent unanimous decision victory over Danny Jacobs didn't feature any knockdowns but his win over the 'Miracle Man' was more conclusive than was Golovkin's in 2017. Nobody was claiming afterwards that Jacobs deserved the decision while some still insist that Danny actually beat GGG. If Golovkin is right and both of them open up more in a third fight, Canelo-Golovkin III could exceed expectations.
We've all heard the saying: Be careful what you wish for. Because you just might get it!
There wouldn't be a bigger Big Drama Show in all of boxing than to see the once seemingly invincible Gennady Golovkin dropped and/or stopped by the Mexican Style of Canelo Alvarez.
Boxing Writer Jeffrey Freeman grew up in the City of Champions, Brockton, Massachusetts from 1973 to 1987, during the Marvelous career of Marvin Hagler. JFree then lived in Lowell, Mass during the best years of Irish Micky Ward's illustrious career. A new member of the Boxing Writers Association of America and a Bernie Award Winner in the Category of Feature Under 1500 Words, Freeman covers boxing for The Sweet Science in New England.
Check out more boxing news on video at The Boxing Channel
To comment on this story in The Fight Forum CLICK HERE
Tyson Fury Blasts Out Germany's Tom Schwarz in Las Vegas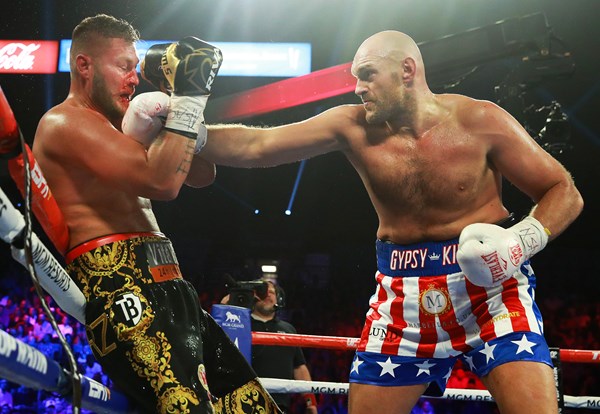 LAS VEGAS-In his first Las Vegas show Great Britain's Tyson Fury showcased a neon light kind of performance with a second round knockout over Germany's Tom Schwarz to retain the lineal heavyweight world championship on Saturday.
"I came to put on a show for Las Vegas and I hoped everyone enjoyed it," Fury said.
Though facing an undefeated fighter like himself, Fury (28-0-1, 20 KOs) proved to Schwarz (24-1, 16 KOs) and the more than 9,000 fans at the MGM Grand there are elite levels in the prizefighting world with a quick, decisive knockout victory.
The heavyweight known as the "Gypsy King" had recently signed with Top Rank after giving a riveting and inspiring performance last December against WBC heavyweight titlist Deontay Wilder. Both electrified the crowd in Los Angeles and around the world proving the heavyweight division is alive and well.
It had been decades since heavyweights had sparked interest outside of Europe. But Fury and Wilder's performance proved exciting despite ending in a majority draw after 12 rounds.
On Saturday, Fury met Schwarz and in his first fight in Las Vegas and easily out-classed Schwarz with his ability to use distance, slip punches and basically hit the German fighter with ease, even as a southpaw.
"Key tonight was telling myself to use the jab, and slip to the side," said Fury.
After a rather tepid first round Fury changed to a southpaw stance and invited Schwarz to try and hit him. In one flurry the German fired a six-punch combination and every blow was slipped by the smiling Fury. He then smoothly slipped around Schwarz and fired his own six punch combination and capped it with a right to the chin that dropped the German to his knees. Schwarz got up and was met with another dozen blows that forced referee Kenny Bayless to end the bludgeoning at 2:54 of the second round. Fury was declared the winner by technical knockout.
"I put on an extra 12 pounds. This time it was only a few months out of the ring and I'm back," said Fury. "I came here a southpaw and I hoped everybody enjoyed it."
When asked if a Wilder rematch was on tap Fury was effusive and declared that promoter Bob Arum of Top Rank assured it would be in September or October.
"I've never seen promoting like this," said Fury. "God bless America."
Once again the heavyweights seem to be the darling division with Fury, Wilder, Andy Ruiz and Anthony Joshua the leading heavyweights.
Mikaela
Mikaela Mayer (11-0, 4 KOs) started slowly but once she figured out the awkward aggressiveness of Lizbeth Crespo (13-4, 3 KOs) she slipped into overdrive with the right cross and right uppercuts and rolled to victory by unanimous decision after 10 rounds. The former American Olympian retains the NABF super featherweight title.
For the first two rounds Crespo scored well with overhand rights and constant punching. Though Mayer scored with solid left jabs, she was countered by looping rights and lefts that caught the taller American fighter pulling out.
Adjustments were made and by the third round Mayer was staying close and using lethal right hands that boomed off Crespo's head and body. After charging hard for two rounds those blows suddenly slowed down the Argentine's attack.
Mayer took over after the third round and kept the momentum going with that lethal right and check left hook. Crespo tried but couldn't solve the right of Mayer.
After 10 rounds the judges scored it 100-90, 99-91, and 98-92 for Mayer.
"Crespo was a tough challenge, but I got through it and I'm ready to move on to bigger things," said Mayer. "I am ready for a world title fight next. It's time for the champions to step up and get in the ring with me."
Other Bouts
Albert Bell (15-0, 5 KOs) proved a little too slick for Northern California's Andy Vences (22-1-1, 12 KOs) and won the WBC Continental America's super featherweight title by unanimous decision after 10 rounds. The scores were all 97-93 for Bell.
WBC International featherweight titlist Isaac Lowe (17-1-3, 6 KOs) won a boring unanimous decision over Wisconsin's Duarn Vue (14-2-2, 4 KOs) after 10 rounds. Lowe ran and ran some more with occasional pot shots but there were long stretches where it was more a track meet than a prize fight. It was like amateur boxing for 10 rounds. The scores were 98-92, 97-93 and 99-91 for Lowe.
Italian heavyweight Guido "The Gladiator" Vianello (4-0, 4 KOs) showed off agility and power before knocking out Louisiana's Keenan Hickman (6-4-1, 2 KOs). Vianello, who is trained by Abel Sanchez in Big Bear, floored Hickman three times before the fight was stopped at 2:22 of the second round.
Germany's Peter Kadiriv (4-0) had no problems with Houston's southpaw heavyweight Juan Torres (3-2-1) and won every round with a steady lead right and occasional combinations. All three judges scored it 40-36 for Kadiriv.
Philadelphia's Sonny Conto (3-0, 3 KOs) knocked out Youngstown, Ohio's Daniel Infante (1-2) with an overhand right at 2:08 of the second round of their heavyweight confrontation. Conto had floored Infante earlier in the round with a seven-punch flurry.
Fight of the Night
In the final fight of the night super middleweights Cem Kelic (14-0, 9 KOs) and Martez McGregor (8-2, 6 KOs) electrified the small audience remaining in the crowd with a memorable slugfest.
Chicago's McGregor started quick and floored Los Angeles-based Kelic in the first round with a right cross. That was only the beginning.
For the next seven rounds the two 168-pounders blasted each other with blows that would have taken out normal human beings. Both gave super human performances until Kelic connected with a left hook that staggered McGregor forcing referee Tony Weeks to halt the fight at 1:45 of the eighth and final round.
It was truly the best fight of the night.
Photo credit: Mikey Williams / Top Rank
Check out more boxing news on video at The Boxing Channel
To comment on this story in The Fight Forum CLICK HERE
Fast Results From Latvia: Mairis Briedis and the KO Doctor advance in the WBSS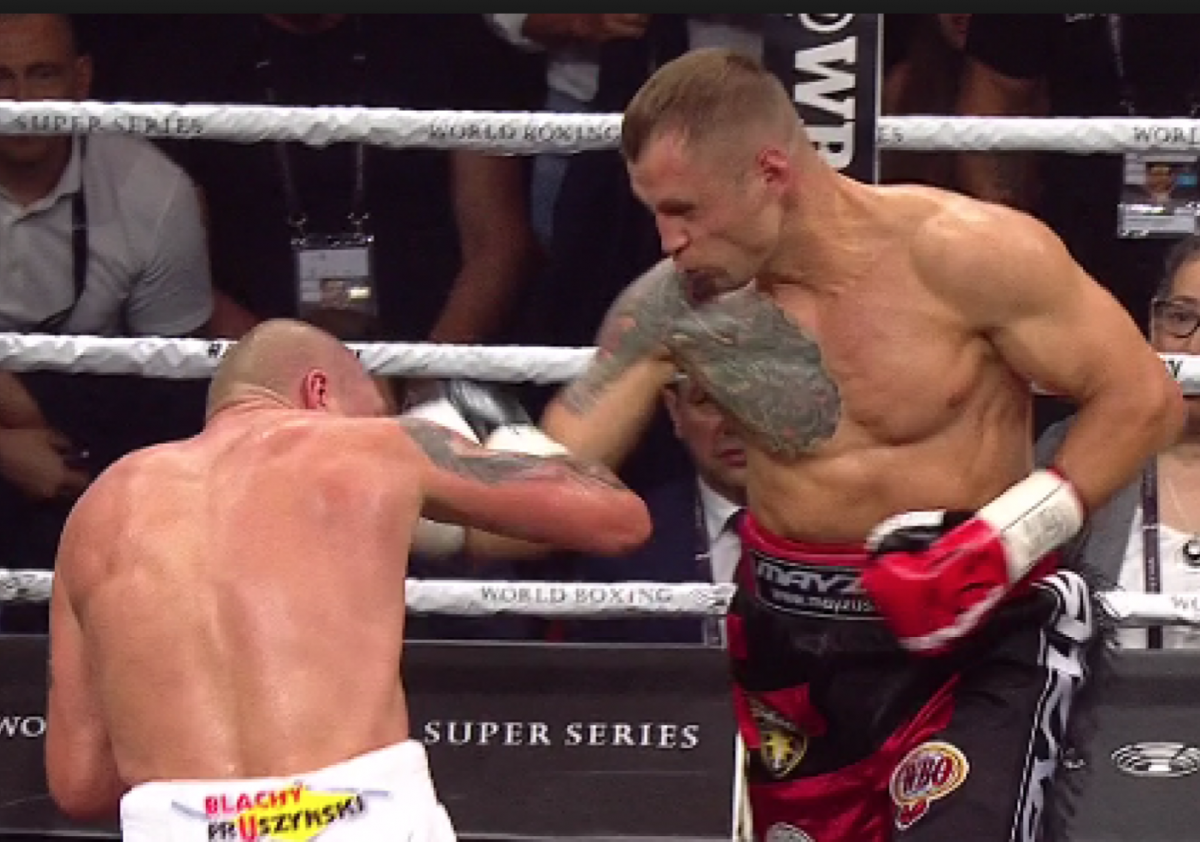 The semifinal round of the Wold Boxing Super Series cruiserweight tournament played out today in Riga, Latvia, the hometown of Mairis Briedis who was matched against Poland's Krzysztof Glowacki. Both fighters had only one blemish on their ledger and in both cases their lone defeat came at the hands of Oleksandr Usyk.
The fans left happily after Briedis (26-1, 19 KOs) knocked out Glowacki (34-2) in the third frame. But it was messy fight that invites a lot of second-guessing and likely a challenge from the Glowacki camp.
After a feeling-out first round, Briedis cranked up the juice. An errant elbow landed behind Glowacki's head, putting him on the canvas. For this discretion, Briedis was docked a point. A legitimate knockdown followed — Glowacki was hurt — and then another knockdown after the bell had sounded. The referee could not hear the bell in the din. It was a wild scene.
The fight was allowed to continue, but didn't last much longer. Coming out for round three, Glowacki wasn't right and Briedis pounced on him, scoring another knockdown, leading referee Robert Byrd to waive the fight off at the 27 second mark. It wasn't Byrd's finest hour.
The tournament organizers anticipated the complication of a draw and assigned extra judges to eliminate this possibility. They did not anticipate the complication of a "no-contest." If the outcome isn't overturned, Briedis, a former WBC cruiserweight champ, is the new WBO title-holder.
Dorticos-Tabiti
In the co-feature, Miami-based Cuban defector Yunier Dorticos, nicknamed the KO Doctor, lived up to his nickname with a smashing one punch knockout of previously undefeated Andrew Tabiti. The end for Tabiti came with no warning in round 10. An overhand right left him flat on his back, unconscious. Referee Eddie Claudio didn't bother to count. The official time was 2:33.
It was easy to build case for Dorticos (24-1, 22 KOs). He was three inches taller than Tabiti, packed a harder punch, and had fought stronger opposition. But it was understood that Tabiti, now 17-1, had a more well-rounded game. Moreover, there were concerns about Dorticos' defense and stamina.
Dorticos was ahead on the scorecards after nine frames. He rarely took a backward step and let his hands go more freely. And it didn't help Tabiti's cause that he was docked a point for holding in the sixth frame. Earlier in that round, an accidental clash of heads left Dorticos with a cut over his right eye. The ringside physician was called into the ring to examine it and let the bout continue.
With the victory, Dorticos became the IBF world cruiserweight champion and moved one step closer to acquiring the coveted Muhammad Ali trophy in what will be, win or lose, the most lucrative fight of his career.
To comment on this story in The Fight Forum CLICK HERE