33 Boxing Notables Name Their Top 'Must-See-TV' Fighters: A New TSS Survey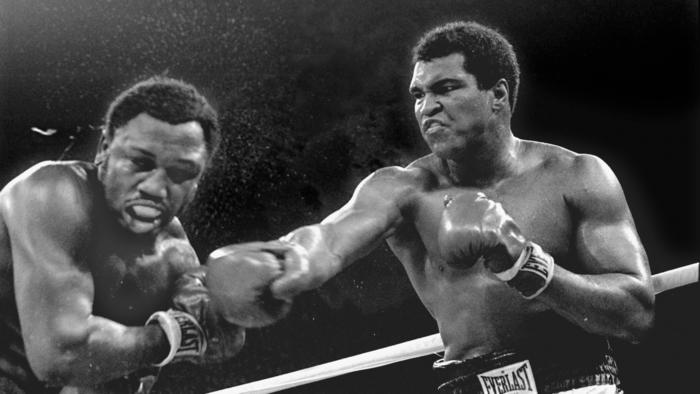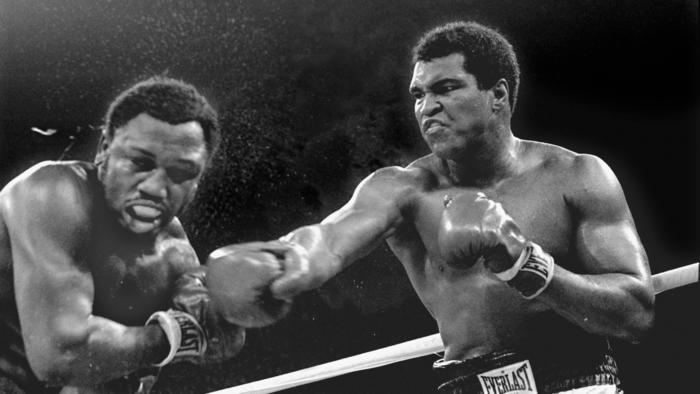 Welcome to the first Quarterly TSS Survey of 2019. The following questions were asked: In the past, what ONE fighter did you most look forward to watching on week-end TV? How about today? Who is that ONE fighter that makes work go by faster on Friday in anticipation? As always, the respondents are listed alphabetically.
JIM AMATO — author, writer, historian and collector: Whenever Roberto Duran was on TV I would try to find time to watch him. Even in the 90s when he was fighting on the USA Network. He was such a clever technician. A true master of fisticuffs. Today I enjoy watching Mikey Garcia. He's a real throwback to yesterday's boxers. I respect the fact that he is willing to meet the talented and bigger Errol Spence Jr. A supreme challenge. Like Duran, Arguello, Basilio, Olivares, etc…Mikey is ready to take on the very best.
RUSS ANBER — trainer, elite cornerman, and owner of Rival Boxing Equipment: The one name that popped into my head above all others was Danny "Little Red" Lopez. I believe I watched every fight he had on mainstream television, and was thrilled every time. I also remember how heartbroken I was when he lost to the great Salvador Sanchez. I loved Little Red!
MATT ANDRZEJEWSKI — TSS boxing writer: In the past it was Arturo Gatti. What can I say about Gatti that has not already been said? His fights were almost always fan friendly, high contact affairs with plenty of drama. Even his tune-up fights, like the one against Calvin Grove in 1997, turned out to be wars. Today, it is Srisaket Sor Rungvisai. He sure is exciting to watch. Just comes forward, abandoning defense, and only thinking about landing his own shots. Like Gatti, even Sor Rungvisai's tune-up fights turn out to be exciting.
DAVID AVILA — TSS West Coast Bureau Chief: In the past Muhammad Ali was that fighter I would plan ahead to make time to watch. Even when he was suspended I read about anything he had to say. When he returned to boxing against Jerry Quarry, I celebrated. Today, I would say Canelo Alvarez. I saw his first fight in America and I'm amazed at his career.
BOB BENOIT — former pro fighter and current referee: Archie Moore was my favorite to look forward to in the past.  Presently, I don't have one.
JOE BRUNO — former New York City sportswriter; prolific author: I would wait in anticipation to see any Joe Frazier fight. He gave it his all and never cheated the public. Same with Arturo Gatti. As for today, nobody comes to mind. Most of the potential great fighters are now fighting MMA which, to me, is unwatchable.
STEVE CANTON – author and President of the Florida Boxing Hall of Fame: I don't think that I can say that there was just one fighter I looked forward to seeing on week-end TV. Growing up, I always looked forward to the Gillette Cavalcade of Sports Friday Night Fights with Don Dunphy. The fighters who appeared regularly were always a treat to watch, like Emile Griffith, Gaspar Ortega, Chico Vejar, Vince Martinez, Luis Rodriguez, Dick Tiger, Carlos Ortiz, Joe Brown, etc. etc. etc.
CHARLIE DWYER — former professional referee and member of U.S. Marine Corps Boxing Hall of Fame: Micky Ward. Win, lose or draw it was going to be a good one to watch. Today, Gennady Golovkin, a disciplined, consistent, no-nonsense fighter.
STEVE FARHOOD — Showtime announcer, former editor of The Ring magazine and 2017 IBHOF inductee: In the days of weekend network TV, the fighter I most looked forward to seeing in action was Matthew Saad Muhammad. Fortunately, he fought often in Atlantic City, so I was usually able to attend his fights. I was never surprised by the twists and turns in Saad's fights; after half a dozen times, I came to expect them. He was thrilling–and at a very high level. And I'd put Marvin Johnson up there, too, largely because he twice fought Saad. Today, that fighter would be John Molina. While Molina is, of course, defensively weak, and hasn't proven to be championship caliber, his fights have been as consistently entertaining–and as consistently unpredictable–as those of any fighter you can name. He may not lead the league in home runs, but nobody has hit more eight-run homers than Molina.
BERNARD FERNANDEZ — TSS mainstay and lifetime Member of the BWAA:  As a grade-school kid, I put Carmen Basilio right up there with my other sports heroes, Billy Cannon (LSU's only Heisman Trophy winner), Bob Pettit (the NBA great and also an LSU product) and Stan Musial, who had nothing at all to do with LSU. The "Upstate Onion Farmer" was my dad's favorite fighter, so he became mine, but I probably would have liked him anyway because he was in The Ring's Fight of the Year five years running, from 1955-59. Later on, I was drawn to Roberto Duran and Sugar Ray Leonard, who were so alike in some ways and so different in others.
Now? I admit to having a natural affinity for Regis Prograis, partly because he is a native New Orleanian, as I am, but also because he's an action fighter with a big punch. Other southpaws whose bouts I never want to miss are Errol Spence Jr. and, of course, Vasiliy Lomachenko, who does stuff like nobody else can.
JEFFREY FREEMAN (aka KO Digest) — TSS boxing writer: Mike Tyson was my weekend warrior back in the good old days of cable television. I'd plan my busy work schedule around Tyson's fights, always requesting those Saturday nights off. These days, I'm most excited about Anthony Joshua's world heavyweight title bouts. With the DAZN app loaded onto my iPhone, I never have to miss any AJ action even if I'm at a wedding in Provincetown, Massachusetts like I was when he knocked out Alexander Povetkin. Joshua's fights are global events and I will go out of my way not to miss the flagship fighter of boxing's resurgent flagship division.
RANDY GORDON — writer, editor, radio show host and former head of the New York State Athletic Commission: When I was in college, Joe Frazier was the man! Today, I can't get enough of Vasiliy Lomachenko, Regis Prograis and Deontay Wilder (I just can't pick one!).
LEE GROVES – author, writer and Wizard of CompuBox: When I first began watching boxing, the fighter I looked most forward to seeing was Danny "Little Red" Lopez because he was an incredibly exciting fighter who often had to overcome adversity before securing victory. I also admired his humility and sportsmanship, assets that stood in contrast to the destruction he had just completed inside the ring. I soon learned that was the case for many big hitters, but he was among the first I saw that demonstrated that dynamic. As for today, I can only speak as a punch-counter, so, in that vein, I look forward to counting Leo Santa Cruz because he throws a lot of punches and those punches are easy for me to see and discern. Also, because he maintains his rhythm, it makes it easier for me to maintain my rhythm.
HENRY HASCUP – historian; President of the New Jersey Boxing Hall of Fame:  That's a tough one. I know most people would say Tyson or Pacquiao and I would agree with them, but I also liked Matthew Saad Muhammad and Arturo Gatti. They didn't win all the time but they sure gave us our money's worth. Regarding today, I have several but none gives me the excitement of the ones I listed above!  I love watching guys like Crawford, Spence, Alvarez,  Lomachenko, Triple G, and the Garcias, but I just can't pick just one!
JACK HIRSCH– former President and now lifetime member of the BWAA: There is no one particular fighter I can name. If absolutely forced to, I would say Ali and Frazier for the great drama they gave to the heavyweight division in the 60's and 70's.
BRUCE KIELTY — boxing matchmaker, manager, and historian: Whether you liked him or hated him, Mike Tyson had the type of menacing charisma that compelled you to watch. Apparently many people felt the same way because it was once reported that Mike was responsible for 30% of HBO subscribers. Today, Errol Spence captures my attention. He has consistent excellence and poise beyond his years. More importantly, he carries himself with class, unlike so many of boxing's ignorant buffoons.
STUART KIRSCHENBAUM – boxing commissioner emeritus, State of Michigan: Thomas Hearns fighting on national TV would have me and all of Motown watching. Without so many networks having boxing you do not have the same fan base until they reach Pay Per View, so I haven't felt that same anticipation in years. Even a Floyd Mayweather fight you would have to mortgage your house to watch…then it would be like eating Chinese food. One hour after the fight you would feel hungry again for some action.
 JIM LAMPLEY– linchpin of the HBO announcing team; 2015 IBHOF inductee: In my youth, long before I could have envisioned working in boxing media, it was of course Muhammad Ali. Once I arrived in the sport, 1986, it was of course Mike Tyson. And regardless of recent results, among the current crop of great fighters, there are a flock of them but if you force me to choose one it is Triple G. "Big Drama Show" still applies. But as I hope my work demonstrated, for the most part I loved and appreciated them all. Collectively, they taught me about life. Their instruction in that regard is irreplaceable for me.
ARNE LANG — TSS editor-in-chief, author, historian: I really can't think of any fighters who were "must-see TV" for me other than those I knew personally. But I became smitten with the stumpy Avtandil Khurtsidze while watching him dismantle Antoine Douglas and was very much looking forward to seeing Khurtsidze fight Billy Joe Saunders. That would have been a great style matchup. Unfortunately, Khurtsidze got swept up by U.S. federal prosecutors in a sweep of the Russian Mafia and it's likely we will never see him again.
RON LIPTON — former fighter, retired police officer, pro referee: Back in the early 60's after seeing Rubin Carter knock out Florentino Fernandez and Emile Griffith in one round each, he was the one I looked forward to seeing in his next fight on the Gillette Cavalcade of Sports the most. Then it became Ali and Mike Tyson that generated the most anticipation for me. As to today, I have to pass on that one as an active referee.
ADEYINKA MAKINDE – UK barrister, author, and contributor to the forthcoming Cambridge Companion to Boxing: I always looked forward to watching Hogan Jimoh, a lightweight, and Eddie Ndukwu, a featherweight, on Nigerian TV in the late 1970's. They were the best that Nigeria could offer in the post-Dick Tiger era and attracted sizeable crowds to the National Stadium. As for today, I can't pick one fighter as it invariably depends on the quality of opposition they are facing. So it could be the exceedingly skillful Terence Crawford one week or the very resourceful Oleksandr Usyk on the other.
JOE PASQUALE — elite boxing judge:  I can only respond to the question as it pertains to retired boxers to avoid any conflict of interest perceptions on fighters I may be judging in the future. That said, Sugar Ray Leonard in his prime probably stands out as the one fighter I looked forward to watching on TV. His boxing IQ combined with his explosive abilities, heart and charisma always made Leonard a fighter full of intrigue for me. I am still thrilled when I watch the videos of his bouts.
J. RUSSELL PELTZ — venerable Philadelphia boxing promoter and 2004 IBHOF inductee: As a kid, Dick Tiger because there always was a chance for a knockout.  Also Sonny Liston but when I began watching late in 1959 I only saw him once with Eddie Machen. Henry Hank also was a pleasure due to his style. Emile Griffith because of his great back and shoulders. Also, Bennie Briscoe. Today, no one gets my juices going. Wilder is interesting because he can crack you at any moment in the fight.
CLIFF ROLD — boxing writer; founding member of the Transnational Boxing Rankings Board: Mike Tyson in the past, today Naoya Inoue.
FRED ROMANO — author and former ESPN researcher:  There were so many great weekend warriors from the late seventies into the 90s. I particularly looked forward to the Mancini fights, such as those against Arguello, Frias and Espana. You were always guaranteed to get a good action fight. Today, I enjoy watching Lomachenko for his unique style and excellent technique and skill. If Tuesdays were included, my throwback choice would be Foreman and his comeback fights on the USA Network.
LEE SAMUELS — Top Rank publicist and 2019 IBHOF Inductee: Years ago seeing Muhammad Ali in action was awesome – a tremendous all-action bigger-than -life champion. As a writer with the Philadelphia Bulletin we covered two of Ali's fights – his first fight with Leon Spinks, then in his finale against Trevor Berbick. Ali was a dynamic athlete, full of life and mischief in media rooms and always had something unique to say about his opponents. As far as today's champions, Bob Arum said it best when he noted "Vasiliy  Lomachenko reminds me of Muhammad  Ali." Loma, the greatest amateur of our time, is an unpredictable force who attacks from a variety of angles and is unquestionably the most exciting athlete in the ring today. Which brings us to Terence Crawford who amazingly takes time, rhythm and space to figure out his challenger and – while facing hard punching – finds a route to where he can take out his opponent in spectacular fashion. He is a must-see champion in the game of boxing right now."
 ICEMAN JOHN SCULLY — former boxer; manager, trainer, TV commentator, writer, historian: When I was coming up as a kid watching weekend TV fights I never missed an Aaron Pryor fight. I remember him getting knocked down once and before the referee could even start an eight count he had done sort of a somersault while on the canvas and lifted himself off the canvas and started punching at his opponent before the guy could even get his hands back up. Never missed his fights after that.
Today I'm not as drawn to as many guys because they aren't as visible as they were back when the three major networks along with USA and ESPN were showing fights on a weekly basis but I'd say in terms of action and watching someone who you know is going to produce or at least try as hard as he can to produce some fireworks every time he steps in there, Id' say that Deontay Wilder is a must-watch type of guy.
 TED SARES — TSS writer: In the past it was Bobby Chacon. I watched him fight Olivares, Little Red, then two with Boza Edwards and three with Limon. It was scotch and cigar time each time. Today, it's a tie between Loma simply because he does things I have never seen before, and Wilder because the concussive end can come at any time in the fight.
PETER SILKOV — boxing writer: In the past, (80s/90s) there was a whole host of fighters who would make me look forward to Friday and Saturdays, unfortunately, that isn't the case now. If I had to pick one fighter from recent years who I have followed avidly it would be Roman Gonzalez, closely followed by GGG and Kovalev. Unfortunately, all three now seem to be at the end of their careers. If I had to pick a fighter for right now it would be Usyk, followed by Tyson Fury.
ALAN SWYER — filmmaker, writer, and producer of the acclaimed El Boxeo: As a very young kid, I couldn't wait to see Sugar Ray Robinson, especially when he was scheduled to fight Basilio. Today, the guy I most look forward to seeing is Terence Crawford. For an in-depth interview with Alan Swyer about "El Boxeo" please CLICK HERE
GARY "DIGITAL" WILLIAMS –the voice of "Boxing on the Beltway":  For me in the 80's, it was Hector "Macho" Camacho. It was a lot of fun watching him during that time. He seemed to be a very cool character and someone fresh for that time.
BEAU WILLIFORD – former trainer and manager and Mr. Boxing in Louisiana's Cajun Country: When I was a very young boy, my father took me to Lee Field House at Fort Bragg to see Rocky Marciano vs. Archie Moore. I became a huge fan of both. My favorite weekend boxer was Gaspar Ortega. Today I get excited when "Canelo" Alvarez is boxing.
 PETER WOOD — former boxer and author of several books including The Boy Who Hit Back — There was once a wild heavyweight–a large human-shaped piece of muscle. He was dripping in id and marinated in pure ego. He was the only fighter who bested Muhammad Ali in a pre-fight press conference, calling Ali a "chicken…cheep! cheep! cheep!" and "a black kangaroo". He was the only fighter who was ever able to knock Joe Frazier down twice in one round. He was the only fighter to be disqualified in the Pan-American Games for biting Lee Carr's shoulder, and the only fighter to be shot dead at the Mustang whorehouse in Nevada–Oscar Bonavena. RIP … Today? Tyson Fury is an interesting character. He is cut out of the same maniacal cloth–id and ego.
Observations:
A very wide range of answers with Ali, Frazier, and Tyson being mentioned the most. As for today, Lomachenko, Spence, Crawford and Wilder get the nod but not by much.
Peter Wood's contribution was especially enjoyable because it reflected his special way of writing. And Jim Lampley's was as poignant as they get.
Many thanks to all the contributors.
P.S. How about you? Is there one particular fighter — past or present – who has you waiting for Saturday with bated breath?
Ted Sares is one of the world's oldest active power lifters and Strongman competitors. He is a lifetime member of Ring 10, and a member of Ring 4 and its Boxing Hall of Fame. He also is an Auxiliary Member of the Boxing Writers Association of America (BWAA).
Check out more boxing news on video at The Boxing Channel
To comment on this article in The Fight Forum, CLICK HERE
Fast Results From Latvia: Mairis Briedis and the KO Doctor advance in the WBSS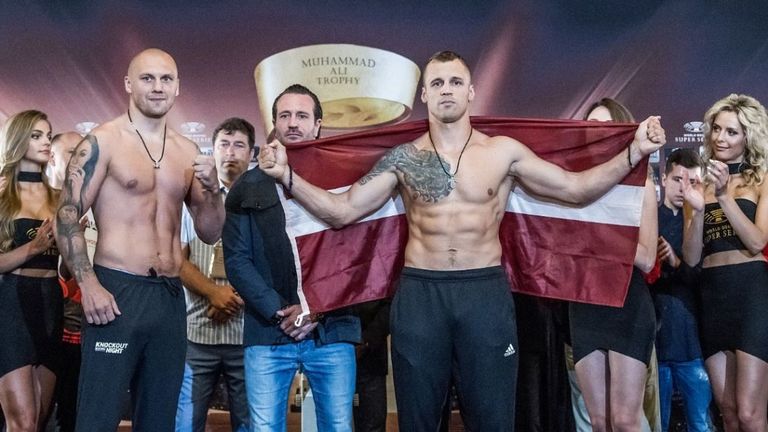 The semifinal round of the Wold Boxing Super Series cruiserweight tournament played out today in Riga, Latvia, the hometown of Mairis Briedis who was matched against Poland's Krzysztof Glowacki. Both fighters had only one blemish on their ledger and in both cases their lone defeat came at the hands of Oleksandr Usyk.
The fans left happily after Briedis (26-1, 19 KOs) knocked out Glowacki (34-2) in the third frame. But it was messy fight that invites a lot of second-guessing and likely a challenge from the Glowacki camp.
After a feeling-out first round, Briedis cranked up the juice. An errant elbow landed behind Glowacki's head, putting him on the canvas. For this discretion, Briedis was docked a point. A legitimate knockdown followed — Glowacki was hurt — and then another knockdown after the bell had sounded. The referee could not hear the bell in the din. It was a wild scene.
The fight was allowed to continue, but didn't last much longer. Coming out for round three, Glowacki wasn't right and Briedis pounced on him, scoring another knockdown, leading referee Robert Byrd to waive the fight off at the 27 second mark. It wasn't Byrd's finest hour.
The tournament organizers anticipated the complication of a draw and assigned extra judges to eliminate this possibility. They did not anticipate the complication of a "no-contest." If the outcome isn't overturned, Briedis, a former WBC cruiserweight champ, is the new WBO title-holder.
Dorticos-Tabiti
In the co-feature, Miami-based Cuban defector Yunier Dorticos, nicknamed the KO Doctor, lived up to his nickname with a smashing one punch knockout of previously undefeated Andrew Tabiti. The end for Tabiti came with no warning in round 10. An overhand right left him flat on his back, unconscious. Referee Eddie Claudio didn't bother to count. The official time was 2:33.
It was easy to build case for Dorticos (24-1, 22 KOs). He was three inches taller than Tabiti, packed a harder punch, and had fought stronger opposition. But it was understood that Tabiti, now 17-1, had a more well-rounded game. Moreover, there were concerns about Dorticos' defense and stamina.
Dorticos was ahead on the scorecards after nine frames. He rarely took a backward step and let his hands go more freely. And it didn't help Tabiti's cause that he was docked a point for holding in the sixth frame. Earlier in that round, an accidental clash of heads left Dorticos with a cut over his right eye. The ringside physician was called into the ring to examine it and let the bout continue.
With the victory, Dorticos became the IBF world cruiserweight champion and moved one step closer to acquiring the coveted Muhammad Ali trophy in what will be, win or lose, the most lucrative fight of his career.
To comment on this story in The Fight Forum CLICK HERE
Angel Ruiz Scores 93 Second KO in Ontario, CA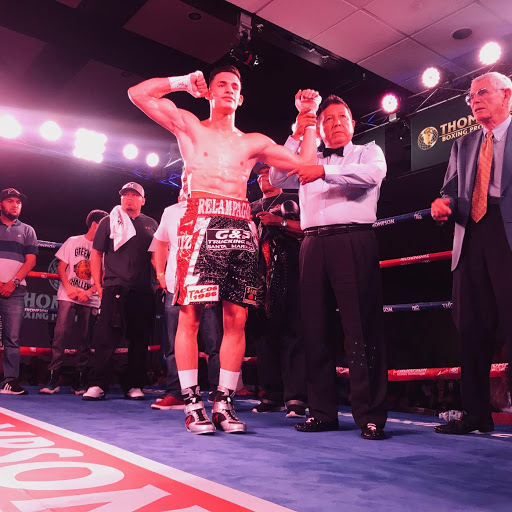 (Ringside Report by Special Correspondent Tarrah Zeal) ONTARIO, CA – "Path to Glory" featured some of Southern California's hottest prospects carving their image into the boxing world through the Thompson Boxing Promotions platform at the Doubletree Hotel in Ontario, CA Friday night.
Undefeated welterweight prospect Angel Ruiz (14-0, 11 KO) of Maywood, CA finished veteran Miguel Zamudio (43-13-1, 27 KO) from Los Mochis, Mexico with an impressive stoppage at 1:33 in the first round scheduled for eight.
At 21 years young, Ruiz (pictured) came into the night with four KO wins in his last four bouts and looking to continue his streak. A second-round body shot win over Gerald Avila (8-17-3) on May 10th and first round KO win against Roberto Almazan (8-9) just this year.
Ruiz was just getting started in the ring using his long distance and power punches to punish Zamudio.
Twenty seconds into the opening round, Ruiz' mouthpiece went flying out and a timeout was called. Once the mouthpiece was placed back in, Ruiz administered a quick flurry of punches but with no exchange from Zamudio, referee Raul Caiz stepped in and stopped the main event fight.
After the fight interview Ruiz was asked about what he saw in the fight, "I see this guy. He wants to fight. He was trying to fight but I'm too hard. I got you." Ruiz said. "I feel ready. I want to fight with the best."
With 89 amateur bouts under his belt, although not signed with any promoters, Ruiz is verbally challenging Vergil Ortiz, "Vergil if you see this video, remember me".
Brewart
In he co-main event, a six round junior middleweight bout, Richard "Cool Breeze" Brewart (6-0, 2 KO) of Rancho Cucamonga, CA won a unanimous decision over Antonio "El Tigre" Duarte (2-1) of Tijuana, Mexico.
Brewart was coming into the fight looking like the faster, more technical fighter of the two. Duarte over-telegraphed all of his punches, allowing Brewart to use his overhand right and awesome agility to angle out of reach.
Even after Duarte checked Brewart on the chin with a strong punch, Brewart's power punches always ended the rounds. The judges scored the bout 60-54 twice and 59-55 for Brewart.
Other Bouts
A victorious unanimous decision at the end of a six-round toe-to- toe bantamweight fight was given to Mario "Mighty" Hernandez, (8-1-1, 3 KO) of Santa Cruz, CA over lefty Victor "Lobo" Trejo Garcia (16-11-1, 8 KO) from Mexico City, Mexico.
Continuous hard punches were exchanged from both brawlers starting at the bell of round one. Fans were excited after a flurry of punches and then a clear push from Hernandez sent Trejo to the floor at the end of round three, giving the crowd excitement for the coming rounds.
It deemed to be a bit of a challenge for both, as orthodox Hernandez managed to match southpaw Trejo's overhand right punches with his own in response. After six rounds of continuous action two judges scored the bout 57-56 and one 59-54 for Hernandez.
In what would be an exciting and entertaining four-round heavyweight bout, Oscar Torrez (6-0, 3 KO) from Riverside, CA took on Allen Ruiz (0-2) of Ensenada, Mexico.
A surprising uppercut from Ruiz, in the beginning of round one, put Torrez on the canvas and every eye in the room were all fixated on both brawlers. The look in Torrez' eyes were more calculated, as he was careful from then on.
Wild punches were being thrown from Ruiz without fear of repercussion, but then a quick liver shot from Torrez sent him to his knees. After a couple of seconds to adjust back into the bout, Ruiz was then checked again by left hook to the chin knocking out his mouthpiece. There were 20 seconds left in round two and the round ended with no mouthpiece.
Torrez showed he was stronger and the more technical fighter and finally ended the bout by KO with a right hook to Ruiz's body at 1:08 in the third round.
Jose "Tito" Sanchez, a rising featherweight prospect with two knockouts in his first two fights and training under star trainer Joel Diaz, out of Indio, CA, took on veteran Pedro "Pedroito" Melo (17-20-2, 8 KO). Even with his low experience in the professional boxing world, Sanchez showed his maturity in the ring by controlling the fight when following Melo around the ring and landing clean left hooks and powerful body shots. After four rounds Sanchez won by 40-36 on all three cards.
Check out more boxing news on video at The Boxing Channel
To comment on this story in The Fight Forum CLICK HERE
Is the UFC Purchasing Premier Boxing Champions?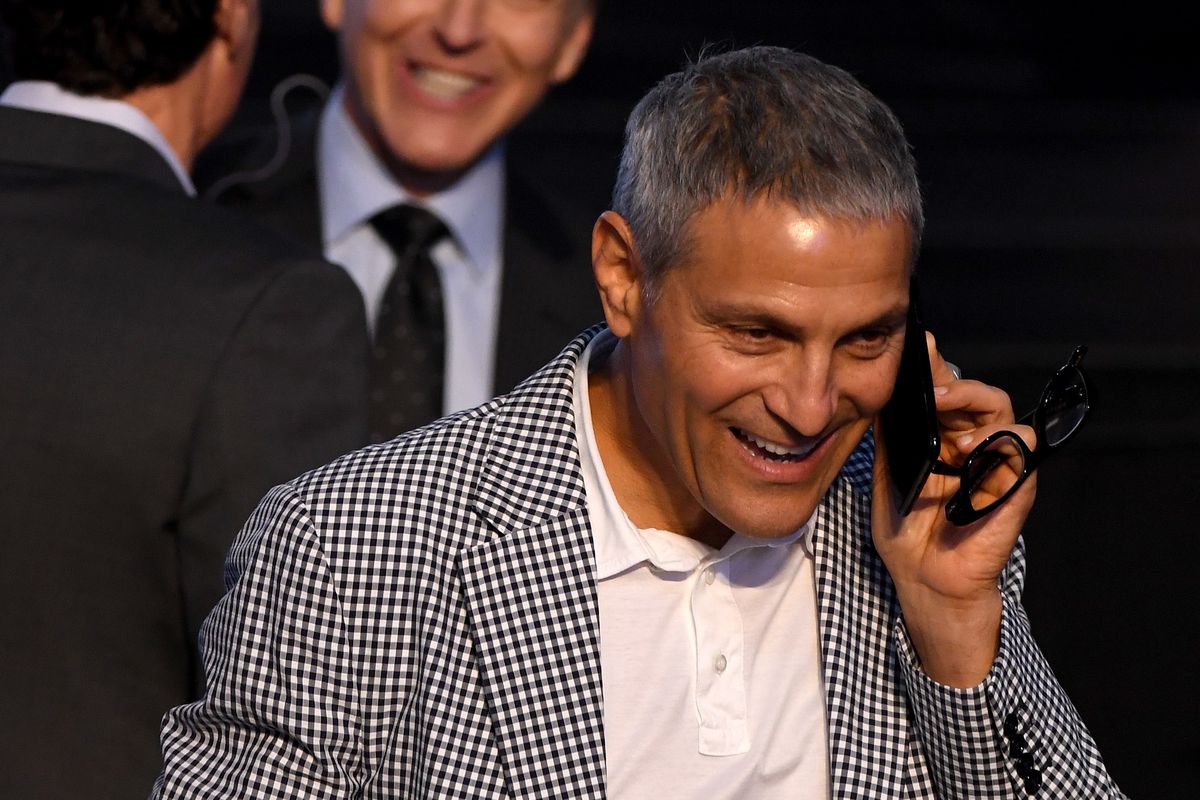 Several news outlets are reporting that the Ultimate Fighting Championship's parent company Endeavor is in talks with Al Haymon to purchase the Premier Boxing Champions. The deal is far from happening and will be complicated if it is completed. Let's look at some of the details.
Dana White has been the face of the UFC since the brand was purchased by Zuffa in 2001 and over the years he has repeatedly hinted about invading the world of boxing. In his early days as the UFC's head honcho, White even challenged his biggest star, Tito Ortiz, to a boxing match. The match never happened but to this day White will tell you he would have beaten Ortiz in a fight under Queensberry rules.
In more recent years the UFC co-promoted the Conor McGregor versus Floyd Mayweather Jr match and White, although he would vehemently deny it, also had to have at least tacitly approved of Oscar De LaHoya's promotion of the third bout between Ortiz and his rival Chuck Liddell. That match-up was likely assessed by White this way: "If Oscar wants to promote MMA let him lose his money," but he didn't stand in the way of De La Hoya and his Golden Boy Promotions.
White's name has also come up in connection with Anthony Joshua. White is said to have had a huge offer ready for the then heavyweight champion, but he backed off when the realization hit that he could not make matches for Joshua in the way he is accustomed because he had no roster of potential opponents. However, White has been insistent that the UFC will "100 percent get into boxing."
Under new owners Endeavor, White cannot operate like he did under old owners Zuffa, but if the deal goes down it is likely because White crafted some type of long term vision that he sold to Endeavor co-founder and CEO Ari Emanuel (pictured).
When Endeavor purchased the UFC in July of 2016 for a reported $4.05 billion, White agreed to guide the company for at least five more years, of which roughly two are up.
On the flipside, it is difficult to see Al Haymon relinquishing control of PBC. More than likely Haymon would stay in charge of the PBC wing and Endeavor would serve as a cash cow to keep what he has built going.
Haymon must stay aboard for another reason, though few will say it. The reason is ethnicity. If Haymon is left out, that would basically leave Leonard Ellerbe and his boss Floyd Mayweather Jr as the only prominent African-American promoters in boxing and that would not be a healthy situation.
Premier Boxing Champions has a diverse group of fighters among the over 200 pugilists under contract. Some are African-American as are many of Haymon's key employees and associates. Frankly, at least a portion of those fighters and employees would not feel the same comfort level they have with Haymon if Emanuel, a member of an influential Jewish family (his brother is former Chicago mayor Rahm Emanuel) and Vegas power broker White were abruptly substituted.
Another effect on the PBC model is on the promotional end. Haymon has cobbled together a group of promoters that operate regionally under his PBC umbrella. The model that Endeavor brings with the UFC will have a more centralized approach to promotion. How will the new owners deal with Lou DiBella in NY, James Leija and Mike Battah in Texas, and Tom Brown in California? Throw in the aforementioned Ellerbe and Mayweather, who operate primarily in Vegas but also in the Washington DC and Baltimore area. How will the promoters who work with the PBC see their relationship change if Haymon left and Dana White was in charge?
Haymon has built the PBC over the years into a big business. He has the PBC on FOX and Showtime whereas the UFC, which previously partnered with FOX, now has a long-term deal with ESPN. This suggests that if a deal is made, PBC and the UFC will have to operate as completely separate entities under the same umbrella, at least for the foreseeable future. And even that might be further away from happening than most people realize.
Check out more boxing news on video at The Boxing Channel
To comment on this story in The Fight Forum CLICK HERE