Hard Times: The Resurrection of Angel Camacho Jr. (With Postscipt)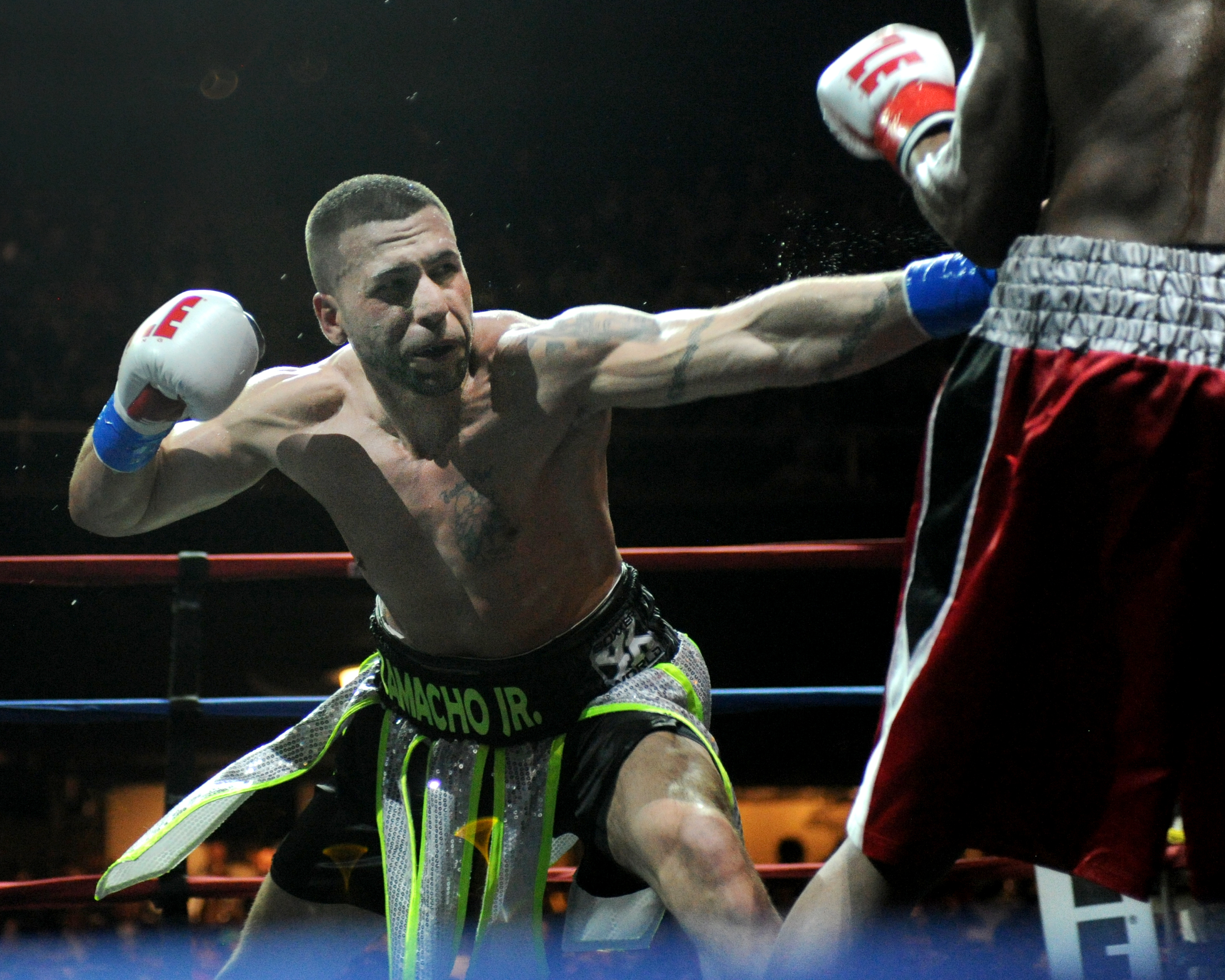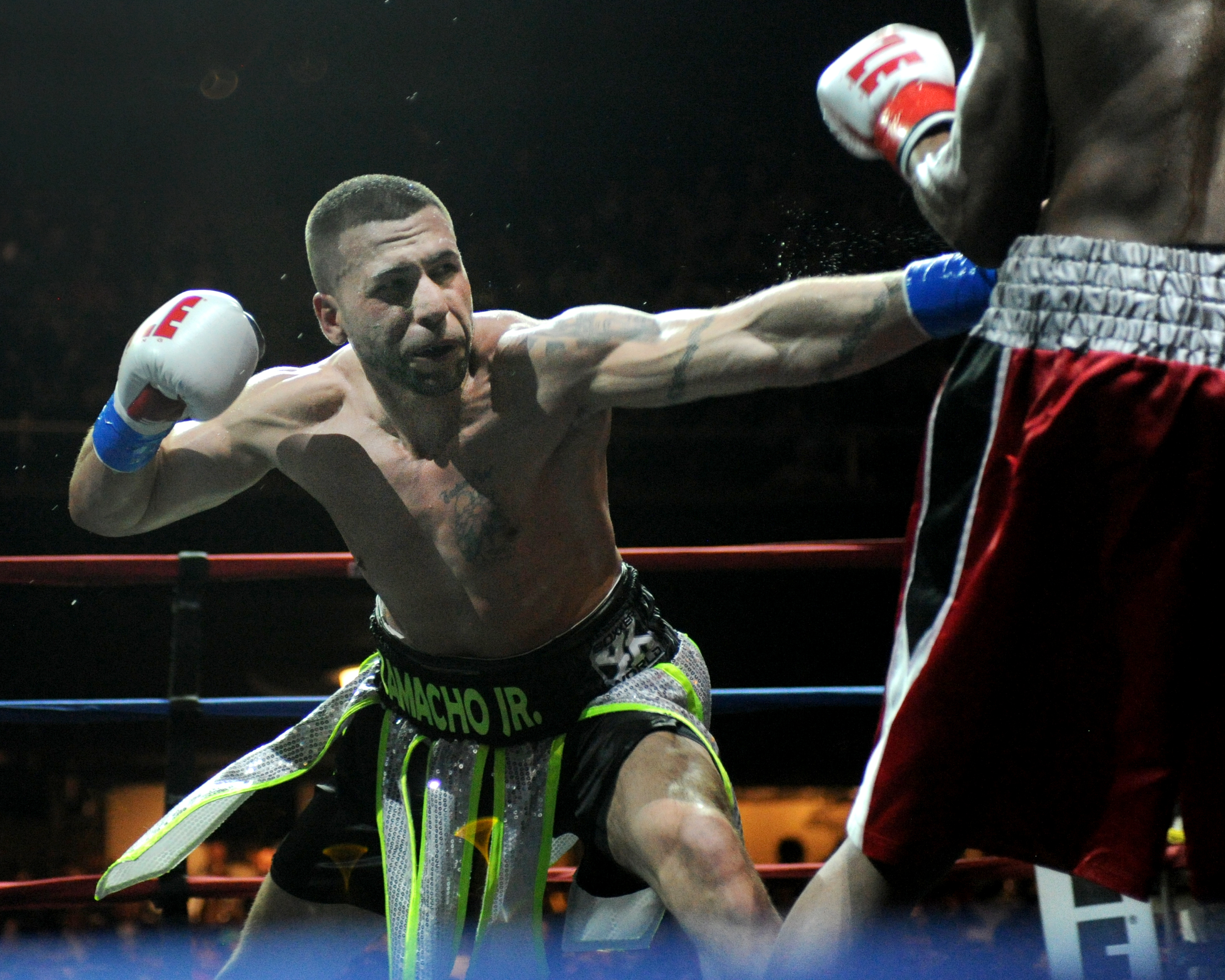 A junior is following in his father's fighting footsteps and he's taking strides beyond those made by Angel Camacho Sr., a tenacious power punching former Golden Glover from Puerto Rico. And although he's not related in any form or fashion to the late Hall of Famer Hector "Macho" Camacho, you probably should have heard about the 35-year-old Angel Camacho Jr. by now.
The Providence, Rhode Island born light heavyweight (16-0, with 5 KOs) is currently on the third of three comeback trails from three lengthy periods of career inactivity totaling over nine years.
He knows it's now or never.
"I still have to grind," he says.
If things had gone according to plan, Camacho Jr. may have by now added a victory over Peter Manfredo Jr. to his resume. Instead, the talented boxer lost his biggest opportunity to a foot injury suffered while running on an outdoor trail just two weeks before the biggest fight of his life.
"I don't run on trails anymore."
Making his pro debut in 2006 at age 23 after a brief 1996 stint in the amateurs where he competed in only fifteen bouts, Camacho racked up eleven wins in two years on the New England circuit before a domestic assault situation landed him in jail; derailing his true passion.
He ultimately served nine months.
When Camacho came back in 2011, he was matched against local gatekeeper Keith Kozlin on a Big Six Entertainment card in West Warwick. It was obvious to everyone who saw him that the quick-fisted Camacho could still move his hands. Using his height and reach advantages, the six foot tall Puerto Rican American busted up Kozlin's right eye and scored a unanimous four round decision while wearing an RI-DOC issued ankle bracelet as a condition of his parole.
FALL BACK
Rather than building on the momentum of victory, what followed was three more years of inactivity. "It was just life's hurdles. Life's complications," explains Camacho. "I had a divorce. I was dealing with my significant other wanting me to spend more time at home. I've gone through a lot—drug issues, self-medicating because of depression, to now being clean and focused."
Currently estranged from his second wife, Camacho freely admits that women are his downfall. "I'm addicted to them," he tells me with a grin. "But in jail I turned a negative into a positive. I got my GED while I was in there. I stayed in great shape. I worked with a big guy named 'Moose' who'd wrap his mattress around his body and let me punch with towels wrapped on my hands."
When he came back again in 2014, Camacho, signed and promoted by Jimmy Burchfield's Classic Entertainment & Sports, faced another stiff test in Paul Gonsalves. Camacho notched a unanimous six round decision win at CES's homebase of Twin River Casino in Lincoln, R.I.
Things were looking up in 2015 for the local standout and he was starting to show up on my radar as a New England fight writer. Five months after the Gonsalves win, Camacho was back in a CES ring, stepping up against tough super-middleweight southpaw trial horse Chris Chatman. Camacho scored another unanimous six round win but it was quite a struggle.
Originally scheduled to fight Kevin Cobbs at 178, Camacho had two weeks to get down 168. "I was dead in that fight, drained. My legs were like noodles. I had nothing in me but pure heart."
Five months later in September at Twin River, Camacho faced his sternest test yet, a ten round scheduled matchup against Rich Gingras for a vacant UBF 175 pound title belt. In a high contact local throwdown, Camacho stopped Gingras in the eighth round to grab the biggest victory of his on-again, off-again career. The fight was an absolute war of attrition won big by Camacho after uncorking a highlight reel worthy nine-punch combination to end it. The brutal loss effectively ended the boxing career of Gingras who came back unsuccessfully three years later in 2018.
Using social media, Camacho reached out to me after the Gingras TKO wondering why I hadn't yet written a story about him. He encouraged me to do so and I set out to pay extra close attention to his development. I could see he was clearly a cut above the locals he was being matched with and that good things were in his future. Instead, Camacho dropped off a cliff.
He didn't stop training but Camacho did stop fighting. It's a shame too because even though the title belt he won in the Gingras fight is a minor one, Camacho was enthusiastic and excited about defending it. In May of 2016, he was scheduled to put it up for grabs in an all-Providence vs. Providence battle with former Contender star Peter Manfredo Jr. in a huge CES main event.
This high profile encounter with Manfredo was supposed to be the fight that propelled Camacho beyond New England, to the next level, to the bigger and better things that boxing offers winners.
It wasn't meant to be.
Camacho pulled out with a foot injury. Manfredo fought replacement opponent Vladine Biosse instead. The 'Pride of Providence' was held to an eight round split draw and has not fought again since. From ringside, Camacho could see the decline of the ring rusted Manfredo as clearly as anyone else around him. Had they fought as scheduled, it's likely that the slick and aggressive Camacho would have upset Manfredo, kept his title and maybe even earned another one as the new Pride of Providence.
"I should've fought him with the bad foot," says Camacho, only half-joking. "I know I would have beaten him. I was doing everything right in training," he laments. Pridefully, Camacho still holds out hope that Manfredo might attempt another money making comeback and that a Manfredo-Camacho bout could still become a reality. "I would love for that to happen. I'm pretty sure if they offer him what they offered him before, he'd come back for it. I can still beat him."
Slated to return just a few months later on July 15, 2016 in defense of his beloved UBF title against "Vermont Bully" Kevin Cobbs, Camacho saw another CES main event opportunity slip through his fingers when a devastating shoulder injury occurred in training. Camacho was in the gym throwing his right hand at the heavy bag when he felt a terrible shoulder pain. He'd injured his rotator cuff and he now needed surgery to repair it. The recovery was long and grueling.
It looked like Camacho was no mas.
"I was in a sling for forever. I was done," he recalls. "But I finished most of my physical therapy knowing that I needed to get back into boxing. Today my shoulder feels better than it ever has."
Frustrated with boxing's ups and downs, Camacho started working manual labor jobs to support his family. Days turned into weeks and into months and then into years. I never got to write that story about the up-and-coming Angel Camacho Jr. because there was no longer one to tell.
SPRING FORWARD
It's three years later.
Camacho (who insists he's really a hungry super middleweight) got himself back into the ring and had his hand raised for the sixteenth time as a professional on March 15, 2019. He describes himself as still being in his "peak" physical prime. "I'm probably in the best shape of my life," he says after officially weighing-in at 171 lbs. He doesn't want to live with the regret of never knowing what he could have accomplished in the sport he loves and thinks of like chess.
Last Friday night in Massachusetts, the comebacking Camacho appeared on the undercard of rookie promoter Chuck Shearn's debut Worcester Palladium fight card entitled Every Man For Himself—a local club show full of pawns making their opening moves in the boxing game.
Camacho had to work to defeat his 40 year-old opponent Larry Smith, a 10-40-1 Texas fall guy who always shows up and tries to win even if he rarely does. Camacho showed no sign of his two previous injuries (he led with his left foot and threw strong right hands at Smith) but he complained of a new issue after the fight in the dressing room, revealing an unknown chest injury suffered in sparring with previous opponent and now good friend Keith Kozlin.
"It hurts when I take a deep breath."
Camacho did show some signs of ring rust after his long layoff but he stayed busy to the body and was rewarded with a clear unanimous decision. There was also an angry little nick under his right eye from being thumbed by Smith. The judge's scores were 60-54 and 59-55 twice.
"This is the first step in my comeback," says Camacho. Speaking of which, he almost tripped on the metal ring steps on his way into the ring and in the third, with Smith leaning on him, he nearly fell out of the ring and onto the photographers on the ring apron. Trying to hurt him but not get him hurt, Smith held onto Camacho and prevented him from falling clear out the ring.
"I love him," the respectful Smith said of the winner. "It could have been a win for me to let him go but to see him fall out the ring, come on, he got kids. Just look at Prichard Colon right now, perfect example. He can't box. Can he talk? He can't talk. He can't walk. He in a wheelchair."
"I love you Larry," Angel said before the men parted ways.
REVELATIONS
Humble so as not to be humbled, Camacho puts his resurrection as a man and as a fighter in His hands. "God gave me the talent to do this," he says. "I've been boxing since I was 12 years-old after being terrorized and bullied as a little kid by a much bigger kid who really tortured me."
Nick Tucci, a guardian angel the same age as Angel's tormentor, stopped the bullying from "Bubba" and in 1995 introduced Camacho to trainer Artie Artwell at the Phantom Boxing Club on Branch Avenue in Providence. "I learned how to fight and I won the silver gloves in 1996."
"That was the beginning of my boxing career," Camacho recalls. "I owe it to Nick and to my grandfather who'd bring me to the gym. It's time to get back in there and see what happens."
According to his management team, Camacho is now looking at a return to Twin River casino on April 26 and then a possible June appearance against local upstart Richie "Popeye The Sailor Man" Rivera, an undefeated 10-0 (9) light heavyweight puncher from Hartford, Connecticut.
"I wasn't meant to just stop fighting," insists Camacho. "There's more to do. I want to spread the word of God and help young people. I want to use boxing as a platform to reach out to kids in need. That's why we set up the Angel Wings Foundation to raise money for those kids in the inner city. If I can help one so-called misfit kid by sharing my story, it makes it all worthwhile."
Amen to that Angel.
GONE TOO SOON (ADDENDUM)
The next time I saw Angel Camacho, it was Saturday April 6, three weeks after the comeback win in Worcester. He was in West Warwick, Rhode Island kneeling over the open casket of his former opponent and good friend Keith Kozlin, a former prizefighter, movie actor and all-around good guy. Camacho was as distraught as any one of the hundreds of people who came to show their final respects to Kozlin, a husband and father of three girls including twins.
"I can't believe it."
The 37 year-old Kozlin, 7-3-1 (4) as a pro, passed away at home suddenly on April 1 just two weeks after I talked to him for this story. He spoke highly of Camacho and looked forward to sparring with him in the gym soon. "After Angel's fight against Larry we'll work with each other again." He had a final message for Camacho. I've delivered it to him personally. "Go to work!"
Rest in Peace Keith Kozlin.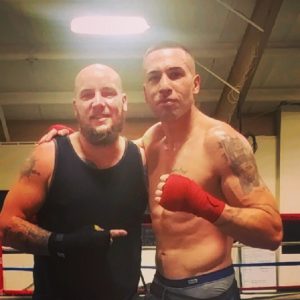 Go to work Angel Camacho.
Boxing writer Jeffrey Freeman grew up in the City of Champions, Brockton, Massachusetts from 1973 to 1987, during the marvelous career of Marvin Hagler. He then lived in Lowell, Mass during the best years of Micky Ward's illustrious career. A new member of the Boxing Writers Association of America, Freeman covers boxing for The Sweet Science in New England.
Photo credit: Emily Harney
Check out more boxing news on video at The Boxing Channel
To comment on this story in The Fight Forum CLICK HERE
Will a Canelo Alvarez Trilogy Turn 'Triple G' into a Mexican Style Piñata?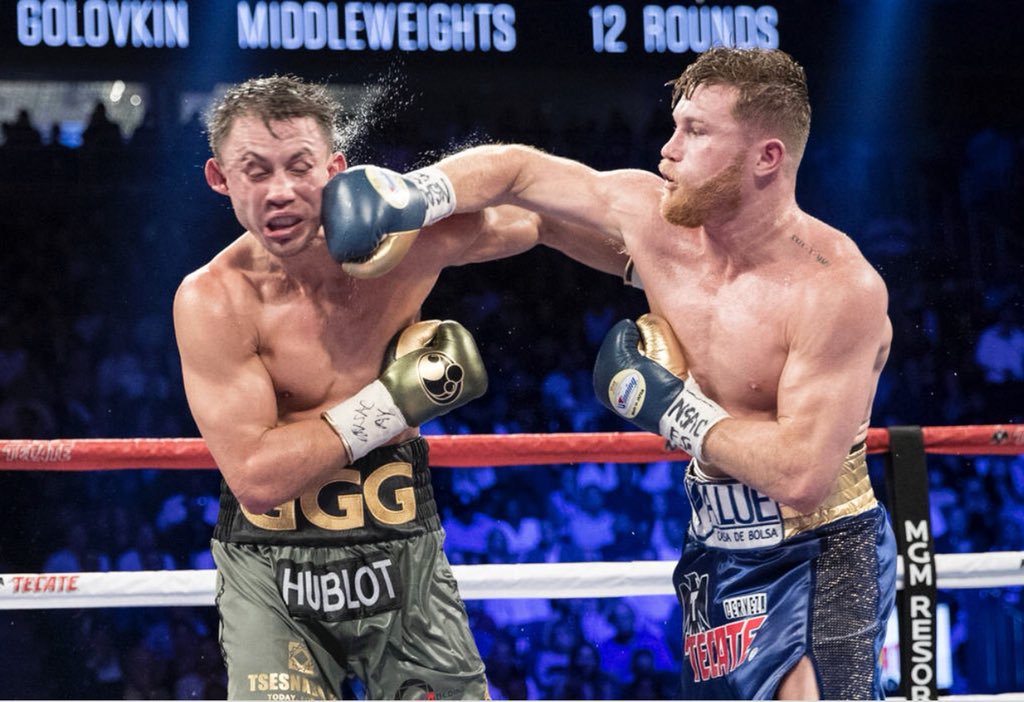 We've all seen the birthday video of some poor kid swingin' for a strung-up stuffed toy but getting back in the face something other than the expected bounty of candies and treats. Dizzy from being spun around in circles and blindfolded against a moving target, a child is beaten by paper mache. Score one for the much-abused piñata. It can only take so much punishment.
Before it opens up—explodes!
Perhaps that's 37-year-old Gennady Gennadyevich Golovkin now in his single-minded desire to fight world middleweight champion Saúl "Canelo" Álvarez, 28, for a third time following a successful comeback KO of Steve Rolls at Madison Square Garden in New York City.
Maybe he'll bust Canelo's belly open. Or maybe this time he'll get busted up? Three strikes in this game; sorry Buster.
"I'm ready. Bring on Canelo," Golovkin told DAZN's Chris Mannix after improving to 39-1-1 with 35 big knockouts. "A third fight is more interesting because we both have experience against each other. I come to open up, he comes to open up…the next fight will be amazing for us."
Their first two title bouts were amazing for fans but they lacked a sense of finality. Neither boxer was ever visibly hurt and there were no knockdowns registered. In two fights, only six points divided the combatants and that includes the despicable 118-110 score from Adalaide Byrd in favor of Canelo in the first meeting. In the rematch, Alvarez was superior—but not by much.
The piñata is still in play.
In his many swings in two HBO-PPV tries against Alvarez, Golovkin came up short of bursting the economic bubble that surrounds Canelo and appears to protect him at all times. Their 2017 contest was ruled a split draw and their 2018 rematch was won by Canelo via majority decision. If Golovkin was cloaked in an aura of invincibility, it was Alvarez who stripped him naked but helped fund a brand-new wardrobe by providing Golovkin with his two biggest paydays by far.
Golovkin's ability to knock out ordinary fighters and second-tier contenders like Vanes Martirosyan remains intact. The offense looks good. Punches still fly like hatchets. However, GGG's defense looked third-rate against Rolls and he's back to taking punches in the face in order to connect with harder punches of his own to end matters early as a "gift" for fans.
New trainer Johnathon Banks wasn't impressed.
As a student of the late trainer Emanuel Steward and caretaker of his KRONK legacy, 'Mister Banks' is a fine human being and an honest man in an industry full of lies told to sell fights.
"It was very uncomfortable for me," said Banks at the post-fight press conference of having to watch Golovkin, now without Abel Sanchez, take shots he shouldn't be taking. On the other hand, Canelo's Golden Boy Promotions promoter Oscar De La Hoya had to like what he saw.
The TSS Truth: The Golovkin who beat Rolls didn't look ready at all for the Canelo who beat Jacobs. And if you listened carefully to the post-fight breakdown by Banks, the trainer knows it's true. What's also true is that as Canelo approaches his peak, Golovkin is approaching age 40.
Can Banks teach Golovkin to correct his mistakes and be better than Alvarez in September—in three months? "If we can grow day to day as trainer and fighter, that can change the outcome."
I'm not so sure.
THE BANK STATEMENT
After getting his head bobbled around by Rolls before dropping the boom in the fourth, GGG didn't sound too interested in a New York rematch with Danny Jacobs or a shot at Providence, Rhode Island's Demetrius Andrade for Boo-Boo's new WBO trinket—and who can blame him at this point? The only big money fight out there for GGG is still against Canelo Alvarez.
It's all about his legacy now. Uno mas en Las Vegas. Third times a charm?
As Golovkin gets another year older, his red-headed target grows another year wiser. Canelo's 24 rounds of experience in the ring with GGG have taught him how to do what nobody else before him could do which was beat Golovkin back and take his unified middleweight titles.
Ask Canelo, as DAZN's Mannix did, and he'll say a third fight with Golovkin is unnecessary. "For me, we are done, but if the people want to see it, we can do it again. And I'll beat him again."
But can Alvarez finish the job and be the first to finish off Golovkin inside the distance? If he wants to get the critics off his back who insist he received two gifts against Golovkin, he'll want to. It worked for Andre Ward against Sergey Kovalev but even then fans cried foul over the TKO.
Can Alvarez make GGG quit?
The way Golovkin got hit by Steve Rolls has me wondering if the counterpunching Canelo has been setting him up all along for a trilogy winning knockout of some sort. Is the rock-solid chin of Golovkin finally ready to burst after years of getting whacked at by eager-fisted title challengers?
Canelo is by no means a knockout puncher against fully fleshed out middleweights but he has grown into the 160-pound division very well over time. His recent unanimous decision victory over Danny Jacobs didn't feature any knockdowns but his win over the 'Miracle Man' was more conclusive than was Golovkin's in 2017. Nobody was claiming afterwards that Jacobs deserved the decision while some still insist that Danny actually beat GGG. If Golovkin is right and both of them open up more in a third fight, Canelo-Golovkin III could exceed expectations.
We've all heard the saying: Be careful what you wish for. Because you just might get it!
There wouldn't be a bigger Big Drama Show in all of boxing than to see the once seemingly invincible Gennady Golovkin dropped and/or stopped by the Mexican Style of Canelo Alvarez.
Boxing Writer Jeffrey Freeman grew up in the City of Champions, Brockton, Massachusetts from 1973 to 1987, during the Marvelous career of Marvin Hagler. JFree then lived in Lowell, Mass during the best years of Irish Micky Ward's illustrious career. A new member of the Boxing Writers Association of America and a Bernie Award Winner in the Category of Feature Under 1500 Words, Freeman covers boxing for The Sweet Science in New England.
Check out more boxing news on video at The Boxing Channel
To comment on this story in The Fight Forum CLICK HERE
Tyson Fury Blasts Out Germany's Tom Schwarz in Las Vegas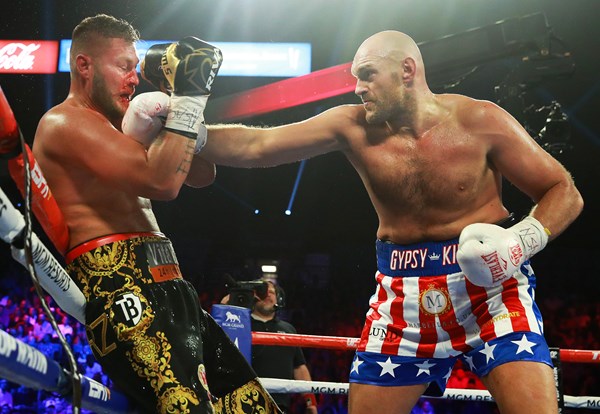 LAS VEGAS-In his first Las Vegas show Great Britain's Tyson Fury showcased a neon light kind of performance with a second round knockout over Germany's Tom Schwarz to retain the lineal heavyweight world championship on Saturday.
"I came to put on a show for Las Vegas and I hoped everyone enjoyed it," Fury said.
Though facing an undefeated fighter like himself, Fury (28-0-1, 20 KOs) proved to Schwarz (24-1, 16 KOs) and the more than 9,000 fans at the MGM Grand there are elite levels in the prizefighting world with a quick, decisive knockout victory.
The heavyweight known as the "Gypsy King" had recently signed with Top Rank after giving a riveting and inspiring performance last December against WBC heavyweight titlist Deontay Wilder. Both electrified the crowd in Los Angeles and around the world proving the heavyweight division is alive and well.
It had been decades since heavyweights had sparked interest outside of Europe. But Fury and Wilder's performance proved exciting despite ending in a majority draw after 12 rounds.
On Saturday, Fury met Schwarz and in his first fight in Las Vegas and easily out-classed Schwarz with his ability to use distance, slip punches and basically hit the German fighter with ease, even as a southpaw.
"Key tonight was telling myself to use the jab, and slip to the side," said Fury.
After a rather tepid first round Fury changed to a southpaw stance and invited Schwarz to try and hit him. In one flurry the German fired a six-punch combination and every blow was slipped by the smiling Fury. He then smoothly slipped around Schwarz and fired his own six punch combination and capped it with a right to the chin that dropped the German to his knees. Schwarz got up and was met with another dozen blows that forced referee Kenny Bayless to end the bludgeoning at 2:54 of the second round. Fury was declared the winner by technical knockout.
"I put on an extra 12 pounds. This time it was only a few months out of the ring and I'm back," said Fury. "I came here a southpaw and I hoped everybody enjoyed it."
When asked if a Wilder rematch was on tap Fury was effusive and declared that promoter Bob Arum of Top Rank assured it would be in September or October.
"I've never seen promoting like this," said Fury. "God bless America."
Once again the heavyweights seem to be the darling division with Fury, Wilder, Andy Ruiz and Anthony Joshua the leading heavyweights.
Mikaela
Mikaela Mayer (11-0, 4 KOs) started slowly but once she figured out the awkward aggressiveness of Lizbeth Crespo (13-4, 3 KOs) she slipped into overdrive with the right cross and right uppercuts and rolled to victory by unanimous decision after 10 rounds. The former American Olympian retains the NABF super featherweight title.
For the first two rounds Crespo scored well with overhand rights and constant punching. Though Mayer scored with solid left jabs, she was countered by looping rights and lefts that caught the taller American fighter pulling out.
Adjustments were made and by the third round Mayer was staying close and using lethal right hands that boomed off Crespo's head and body. After charging hard for two rounds those blows suddenly slowed down the Argentine's attack.
Mayer took over after the third round and kept the momentum going with that lethal right and check left hook. Crespo tried but couldn't solve the right of Mayer.
After 10 rounds the judges scored it 100-90, 99-91, and 98-92 for Mayer.
"Crespo was a tough challenge, but I got through it and I'm ready to move on to bigger things," said Mayer. "I am ready for a world title fight next. It's time for the champions to step up and get in the ring with me."
Other Bouts
Albert Bell (15-0, 5 KOs) proved a little too slick for Northern California's Andy Vences (22-1-1, 12 KOs) and won the WBC Continental America's super featherweight title by unanimous decision after 10 rounds. The scores were all 97-93 for Bell.
WBC International featherweight titlist Isaac Lowe (17-1-3, 6 KOs) won a boring unanimous decision over Wisconsin's Duarn Vue (14-2-2, 4 KOs) after 10 rounds. Lowe ran and ran some more with occasional pot shots but there were long stretches where it was more a track meet than a prize fight. It was like amateur boxing for 10 rounds. The scores were 98-92, 97-93 and 99-91 for Lowe.
Italian heavyweight Guido "The Gladiator" Vianello (4-0, 4 KOs) showed off agility and power before knocking out Louisiana's Keenan Hickman (6-4-1, 2 KOs). Vianello, who is trained by Abel Sanchez in Big Bear, floored Hickman three times before the fight was stopped at 2:22 of the second round.
Germany's Peter Kadiriv (4-0) had no problems with Houston's southpaw heavyweight Juan Torres (3-2-1) and won every round with a steady lead right and occasional combinations. All three judges scored it 40-36 for Kadiriv.
Philadelphia's Sonny Conto (3-0, 3 KOs) knocked out Youngstown, Ohio's Daniel Infante (1-2) with an overhand right at 2:08 of the second round of their heavyweight confrontation. Conto had floored Infante earlier in the round with a seven-punch flurry.
Fight of the Night
In the final fight of the night super middleweights Cem Kelic (14-0, 9 KOs) and Martez McGregor (8-2, 6 KOs) electrified the small audience remaining in the crowd with a memorable slugfest.
Chicago's McGregor started quick and floored Los Angeles-based Kelic in the first round with a right cross. That was only the beginning.
For the next seven rounds the two 168-pounders blasted each other with blows that would have taken out normal human beings. Both gave super human performances until Kelic connected with a left hook that staggered McGregor forcing referee Tony Weeks to halt the fight at 1:45 of the eighth and final round.
It was truly the best fight of the night.
Photo credit: Mikey Williams / Top Rank
Check out more boxing news on video at The Boxing Channel
To comment on this story in The Fight Forum CLICK HERE
Fast Results From Latvia: Mairis Briedis and the KO Doctor advance in the WBSS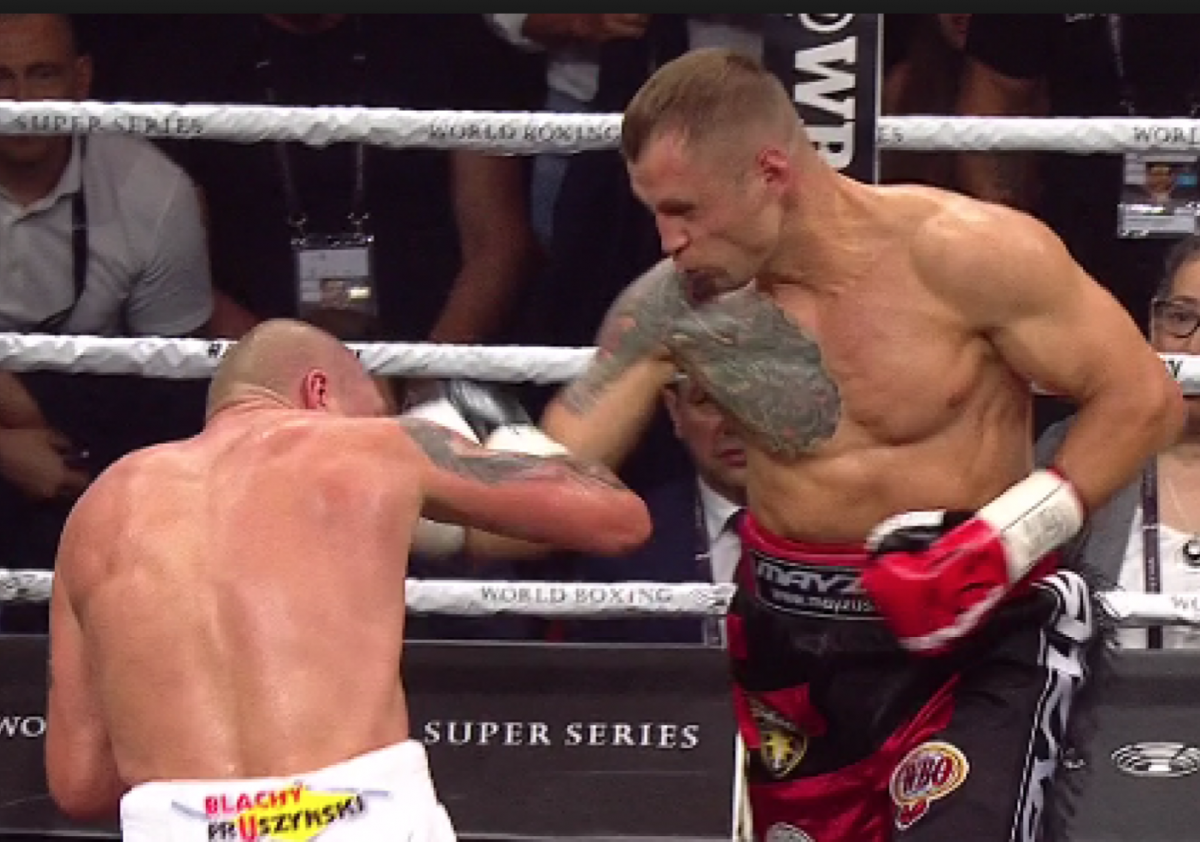 The semifinal round of the Wold Boxing Super Series cruiserweight tournament played out today in Riga, Latvia, the hometown of Mairis Briedis who was matched against Poland's Krzysztof Glowacki. Both fighters had only one blemish on their ledger and in both cases their lone defeat came at the hands of Oleksandr Usyk.
The fans left happily after Briedis (26-1, 19 KOs) knocked out Glowacki (34-2) in the third frame. But it was messy fight that invites a lot of second-guessing and likely a challenge from the Glowacki camp.
After a feeling-out first round, Briedis cranked up the juice. An errant elbow landed behind Glowacki's head, putting him on the canvas. For this discretion, Briedis was docked a point. A legitimate knockdown followed — Glowacki was hurt — and then another knockdown after the bell had sounded. The referee could not hear the bell in the din. It was a wild scene.
The fight was allowed to continue, but didn't last much longer. Coming out for round three, Glowacki wasn't right and Briedis pounced on him, scoring another knockdown, leading referee Robert Byrd to waive the fight off at the 27 second mark. It wasn't Byrd's finest hour.
The tournament organizers anticipated the complication of a draw and assigned extra judges to eliminate this possibility. They did not anticipate the complication of a "no-contest." If the outcome isn't overturned, Briedis, a former WBC cruiserweight champ, is the new WBO title-holder.
Dorticos-Tabiti
In the co-feature, Miami-based Cuban defector Yunier Dorticos, nicknamed the KO Doctor, lived up to his nickname with a smashing one punch knockout of previously undefeated Andrew Tabiti. The end for Tabiti came with no warning in round 10. An overhand right left him flat on his back, unconscious. Referee Eddie Claudio didn't bother to count. The official time was 2:33.
It was easy to build case for Dorticos (24-1, 22 KOs). He was three inches taller than Tabiti, packed a harder punch, and had fought stronger opposition. But it was understood that Tabiti, now 17-1, had a more well-rounded game. Moreover, there were concerns about Dorticos' defense and stamina.
Dorticos was ahead on the scorecards after nine frames. He rarely took a backward step and let his hands go more freely. And it didn't help Tabiti's cause that he was docked a point for holding in the sixth frame. Earlier in that round, an accidental clash of heads left Dorticos with a cut over his right eye. The ringside physician was called into the ring to examine it and let the bout continue.
With the victory, Dorticos became the IBF world cruiserweight champion and moved one step closer to acquiring the coveted Muhammad Ali trophy in what will be, win or lose, the most lucrative fight of his career.
To comment on this story in The Fight Forum CLICK HERE