In Oleksandr Gvozdyk, Teddy Atlas Finds One More Fighter He Can Trust and Love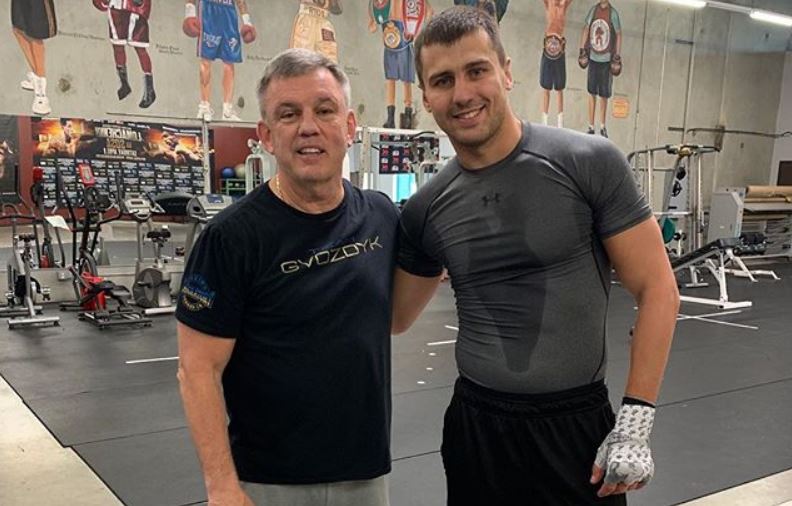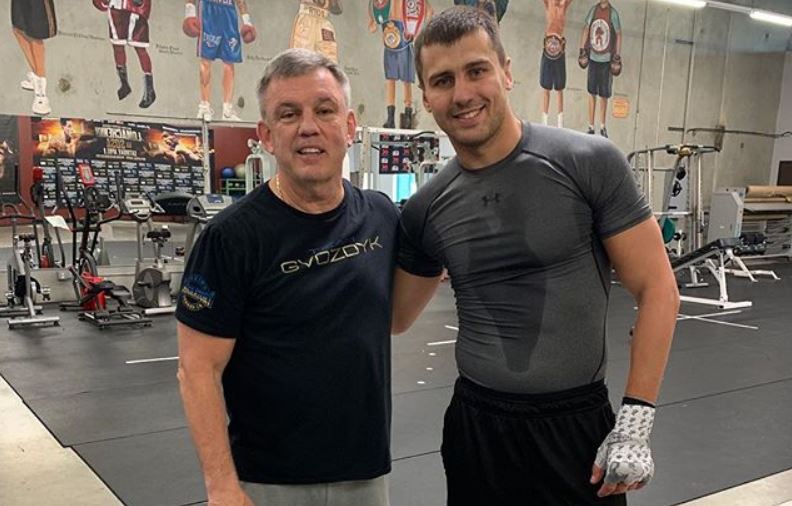 Teddy Atlas was so very young, just 19, when his mentor, Cus D'Amato, recognized his special gift for comprehending the many nuances of the sport they both loved, and imparting that knowledge to others. The "young master," D'Amato dubbed Atlas, and the wise-beyond-his-years kid from Staten Island, N.Y., whose own boxing career had been sidetracked by a back injury, soaked up D'Amato's dictums as if he were a sponge. He trusted Cus implicitly and if the old master, who was 77 when he died on Nov. 4, 1985, instructed him to do something, he did it. Every time.
Well, almost every time.
"I never wanted to love a fighter. It's a cardinal sin. Cus told me you're not supposed to do that," Atlas, 62, recalled of the sole D'Amato rule that never quite took root with him. But not every human being, including boxing trainers, is wired the same, and thus an intractable rule for one might not be the right thing for someone else.
Atlas, forever a Cus disciple in so many ways, has been burned more than a few times by fighters who initially pledged their undying fealty but later chafed at the conditions he had insisted upon at the outset of their association. Love and trust are wonderful things in any personal or professional relationship, but only if it's a two-way street. When it isn't, breakups are inevitable and usually painful. Teddy's pugilistic divorces from, among others, Donny Lalonde, Shannon Briggs, Michael Moorer and Alexander Povetkin – champions all – left scars upon his psyche as deep and distinctive as the one down the left side of his face, which required 400 stitches (200 inside, 200 outside) to close and was inflicted long ago by a knife-wielding opponent in a street fight.
"I look back sometimes and I wonder how the hell did I do this with so many fighters, going back more than 40 years, and still be whole," Atlas recalled of a career that will gain him induction into the International Boxing Hall of Fame on June 9 – but as a commentator for television, not as a trainer, which he has always considered himself to be first and foremost.
"But I'm not completely whole," he pointed out. "You do lose bits and pieces of yourself, and maybe that's why you hesitate before you do it again."
After the retirement of former super lightweight and welterweight titlist Timothy Bradley Jr., a fighter loved and trusted by Atlas to a degree he thought might be beyond duplication, the recalcitrant trainer was even more reluctant to believe he could expose himself to the possibility of having more jagged bits and pieces of his inner self cut away. Oh, the offers still came pouring in, from talented fighters and their managers, many of whom might be prepared to talk a good game when it came to the nitty-gritty of committing to always doing things the Atlas way. And for any potential pupil – Atlas sees his role as that of an intense but caring teacher — going part or even most of the way was never going to be sufficient for someone who demands 100 percent, of himself as well as of his fighter.
"I'm afraid," Atlas said of his apprehension of again plunging into a part of his life that could be, at alternate turns, exhilarating or depressing. "I don't mind saying that. Some people say fear is a forbidden word, a taboo word, because it shows vulnerability. But we're all vulnerable, I think, whether we show it or tell it. I'm strong when I have to be, but part of being strong is knowing that you can be hurt. It's just being honest with yourself."
But Atlas' children, Nicole and Teddy III, knew their father well enough to recognize that his being semi-idle and unfulfilled was as bad or worse than risking more disappointment. Teddy Atlas' destiny was made clear to him at an early age, and what he needed, maybe more than he realized, was another opportunity, albeit just the right one, to again do what he was meant to do.
So Atlas will again be the chief second for WBC light heavyweight champion Oleksandr Gvozdyk (16-0, 13 KOs) of the Ukraine when he defends his title against Doudou Ngumbu (38-8, 14 KOs), of France by way of his native Congo, in the ESPN-televised main event Saturday night at the 2300 Arena in South Philadelphia. It will be just the second fight together for Gvozdyk and Atlas, the first being Gvozdyk's dethronement of long-reigning WBC champ Adonis  Stevenson, via 11th-round knockout, on Dec. 1, 2018, in Quebec City, Canada.  It might be said that Atlas and Gvozdyk, 31, are still in the honeymoon phase of their relationship, but Nicole Atlas thinks this is a union that benefits both parties and has a chance to go the distance.
"My dad has had a lot of fighters, and his share of great ones," said Nicole, an attorney whose childhood and adolescence were so immersed in her father's occupation that she came to think of the men he trained almost as surrogate brothers. "We spent many holidays with the fighters and their families.
"You know, it's kind of funny. In the twilight of his career – I guess it's never too late – he finds Alex (Gvozdyk), who is the perfect fighter for him. Not everyone has the personality and makeup to be trained by my dad. He likes to control every aspect of training camp and, because he puts everything he has into it, he expects no less from his fighters. And Alex does that. That's part of what makes their relationship work. It's still early on, but you can see that there's a special chemistry between them."
Gvozdyk said that special chemistry was not instantaneous.  The first contact with Atlas was made by Gvozdyk's manager, Egis Klimas, who invited Atlas to fly out to Oxnard, Calif., where Gvozdyk now resides, for a get-together to determine if fighter and would-be trainer might prove a good fit.
"It was difficult at first, because I was two months before the biggest fight of my life," Gvozdyk recalled. "When Teddy came for a weekend he never told me whether he was going to train me or not. I couldn't understand why. But we talked a lot. I introduced him to my family. I think he wanted to find out what kind of person I am. I waited two weeks before he made his decision.
"I am so glad he trusts me and agreed to train me. People need to be important not only for themselves, but for somebody else. Teddy makes me a better fighter. But I think I help him in some ways, too. It is important to him to be a trainer, to have someone to teach. This is what he does best. He was born to teach boxing. He is still a pretty young person at 62. This is not a time for him to retire. If he can do this and enjoy it, staying involved in boxing is really the only right decision for him."
Interestingly, it is Nicole and Teddy III, who is the head of scouting for the NFL's Oakland Raiders, who urged their father to fly to California to determine whether he and Gvozdyk might be compatible on a personal as well as a professional level. It's not the first time that Atlas' children had nudged him back into a sometimes-harsh game, having done so previously with Bradley.
"My children are smarter than me," Atlas said. "I'm very blessed by what kind of people they are, how caring they are, how intuitive they are. They both told me that Alex was the perfect fighter for me. I would not have gotten involved again if that hadn't been the case. I was inclined to say no; I'd had enough. I'd lost trust in the business of the game, for different reasons. When Egis called me and asked if I would consider training Alex, my initial thought was to stay out.
"But then my children reminded me of how I had told them about the privilege I had had to be a trainer and a teacher. They said I had a gift and the privilege to do that and, like all gifts, it doesn't last forever. Yes, it is a job and it can be a heavy responsibility, but it's also a privilege. I could still help someone to improve.
"So who knows? Maybe I'm being given another opportunity to do what I was put on this earth to do."
It might be the last such opportunity and privilege. Unlike some other trainers who already are or eventually will be enshrined in the IBHOF, Atlas is selective. He cannot fathom how other trainers can work with 10 or 12 fighters, parceling snippets of their time to each instead of going all-in with just one.
"I know this (his involvement with Gvozdyk) could lead to something special," Atlas said. "I get that. But I also know that it can lead to something I don't want it to lead to, and I know what it can take out of me.
"Right now there's only one fighter I could even think about training, and it's the one I am training. I can only do this for a special person, and this kid is a special person."
Bernard Fernandez is the retired boxing writer for the Philadelphia Daily News. He is a five-term former president of the Boxing Writers Association of America, an inductee into the Pennsylvania, New Jersey and Atlantic City Boxing Halls of Fame and the recipient of the Nat Fleischer Award for Excellence in Boxing Journalism and the Barney Nagler Award for Long and Meritorious Service to Boxing.
Check out more boxing news on video at The Boxing Channel
To comment on this story in The Fight Forum CLICK HERE
Angel Ruiz Scores 93 Second KO in Ontario, Calif.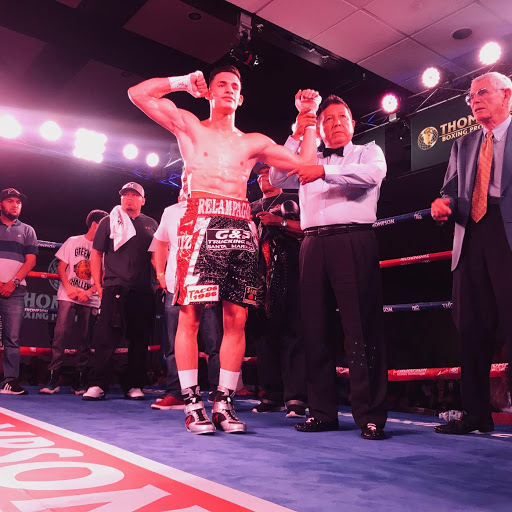 (Ringside Report by Special Correspondent Tarrah Zeal) ONTARIO, Calif.- "Path to Glory" featured some of Southern California's hottest prospects carving their image into the boxing world through the Thompson Boxing Promotions platform at the Doubletree Hotel in Ontario, CA Friday night.
Undefeated welterweight prospect Angel Ruiz (14-0, 11 KO) of Maywood, CA finished veteran Miguel Zamudio (43-13-1, 27 KO) from Los Mochis, Mexico with an impressive stoppage at 1:33 in the first round scheduled for eight.
At 21 years young, Ruiz (pictured) came into the night with four KO wins in his last four bouts and looking to continue his streak. A second-round body shot win over Gerald Avila (8-17-3) on May 10th and first round KO win against Roberto Almazan (8-9) just this year.
Ruiz was just getting started in the ring using his long distance and power punches to punish Zamudio.
Twenty seconds into the opening round, Ruiz' mouthpiece went flying out and a timeout was called. Once the mouthpiece was placed back in, Ruiz administered a quick flurry of punches but with no exchange from Zamudio, referee Raul Caiz stepped in and stopped the main event fight.
After the fight interview Ruiz was asked about what he saw in the fight, "I see this guy. He wants to fight. He was trying to fight but I'm too hard. I got you." Ruiz said. "I feel ready. I want to fight with the best."
With 89 amateur bouts under his belt, although not signed with any promoters, Ruiz is verbally challenging Vergil Ortiz, "Vergil if you see this video, remember me".
Brewart
In he co-main event, a six round junior middleweight bout, Richard "Cool Breeze" Brewart (6-0, 2 KO) of Rancho Cucamonga, CA won a unanimous decision over Antonio "El Tigre" Duarte (2-1) of Tijuana, Mexico.
Brewart was coming into the fight looking like the faster, more technical fighter of the two. Duarte over-telegraphed all of his punches, allowing Brewart to use his overhand right and awesome agility to angle out of reach.
Even after Duarte checked Brewart on the chin with a strong punch, Brewart's power punches always ended the rounds. The judges scored the bout 60-54 twice and 59-55 for Brewart.
Other Bouts
A victorious unanimous decision at the end of a six-round toe-to- toe bantamweight fight was given to Mario "Mighty" Hernandez, (8-1-1, 3 KO) of Santa Cruz, CA over lefty Victor "Lobo" Trejo Garcia (16-11-1, 8 KO) from Mexico City, Mexico.
Continuous hard punches were exchanged from both brawlers starting at the bell of round one. Fans were excited after a flurry of punches and then a clear push from Hernandez sent Trejo to the floor at the end of round three, giving the crowd excitement for the coming rounds.
It deemed to be a bit of a challenge for both, as orthodox Hernandez managed to match southpaw Trejo's overhand right punches with his own in response. After six rounds of continuous action two judges scored the bout 57-56 and one 59-54 for Hernandez.
In what would be an exciting and entertaining four-round heavyweight bout, Oscar Torrez (6-0, 3 KO) from Riverside, CA took on Allen Ruiz (0-2) of Ensenada, Mexico.
A surprising uppercut from Ruiz, in the beginning of round one, put Torrez on the canvas and every eye in the room were all fixated on both brawlers. The look in Torrez' eyes were more calculated, as he was careful from then on.
Wild punches were being thrown from Ruiz without fear of repercussion, but then a quick liver shot from Torrez sent him to his knees. After a couple of seconds to adjust back into the bout, Ruiz was then checked again by left hook to the chin knocking out his mouthpiece. There were 20 seconds left in round two and the round ended with no mouthpiece.
Torrez showed he was stronger and the more technical fighter and finally ended the bout by KO with a right hook to Ruiz's body at 1:08 in the third round.
Jose "Tito" Sanchez, a rising featherweight prospect with two knockouts in his first two fights and training under star trainer Joel Diaz, out of Indio, CA, took on veteran Pedro "Pedroito" Melo (17-20-2, 8 KO). Even with his low experience in the professional boxing world, Sanchez showed his maturity in the ring by controlling the fight when following Melo around the ring and landing clean left hooks and powerful body shots. After four rounds Sanchez won by 40-36 on all three cards.
Check out more boxing news on video at The Boxing Channel
To comment on this story in The Fight Forum CLICK HERE
Is the UFC Purchasing Premier Boxing Champions?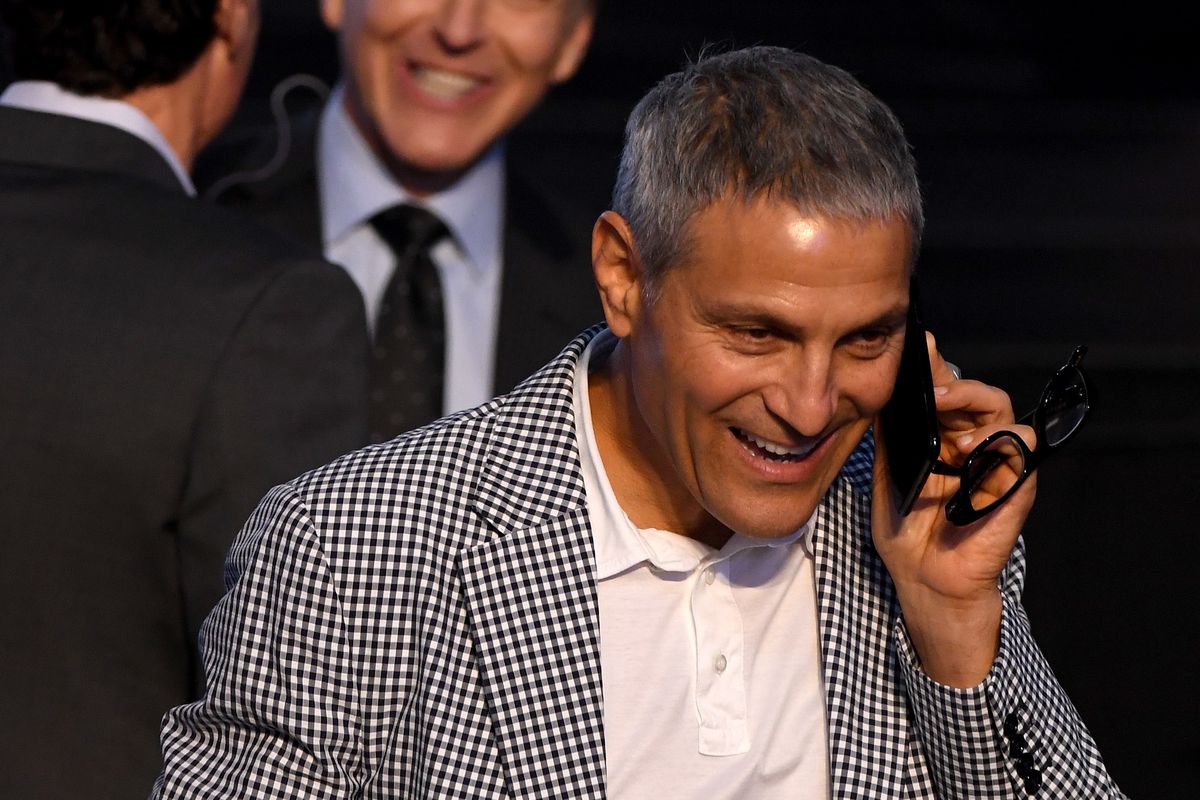 Several news outlets are reporting that the Ultimate Fighting Championship's parent company Endeavor is in talks with Al Haymon to purchase the Premier Boxing Champions. The deal is far from happening and will be complicated if it is completed. Let's look at some of the details.
Dana White has been the face of the UFC since the brand was purchased by Zuffa in 2001 and over the years he has repeatedly hinted about invading the world of boxing. In his early days as the UFC's head honcho, White even challenged his biggest star, Tito Ortiz, to a boxing match. The match never happened but to this day White will tell you he would have beaten Ortiz in a fight under Queensberry rules.
In more recent years the UFC co-promoted the Conor McGregor versus Floyd Mayweather Jr match and White, although he would vehemently deny it, also had to have at least tacitly approved of Oscar De LaHoya's promotion of the third bout between Ortiz and his rival Chuck Liddell. That match-up was likely assessed by White this way: "If Oscar wants to promote MMA let him lose his money," but he didn't stand in the way of De La Hoya and his Golden Boy Promotions.
White's name has also come up in connection with Anthony Joshua. White is said to have had a huge offer ready for the then heavyweight champion, but he backed off when the realization hit that he could not make matches for Joshua in the way he is accustomed because he had no roster of potential opponents. However, White has been insistent that the UFC will "100 percent get into boxing."
Under new owners Endeavor, White cannot operate like he did under old owners Zuffa, but if the deal goes down it is likely because White crafted some type of long term vision that he sold to Endeavor co-founder and CEO Ari Emanuel (pictured).
When Endeavor purchased the UFC in July of 2016 for a reported $4.05 billion, White agreed to guide the company for at least five more years, of which roughly two are up.
On the flipside, it is difficult to see Al Haymon relinquishing control of PBC. More than likely Haymon would stay in charge of the PBC wing and Endeavor would serve as a cash cow to keep what he has built going.
Haymon must stay aboard for another reason, though few will say it. The reason is ethnicity. If Haymon is left out, that would basically leave Leonard Ellerbe and his boss Floyd Mayweather Jr as the only prominent African-American promoters in boxing and that would not be a healthy situation.
Premier Boxing Champions has a diverse group of fighters among the over 200 pugilists under contract. Some are African-American as are many of Haymon's key employees and associates. Frankly, at least a portion of those fighters and employees would not feel the same comfort level they have with Haymon if Emanuel, a member of an influential Jewish family (his brother is former Chicago mayor Rahm Emanuel) and Vegas power broker White were abruptly substituted.
Another effect on the PBC model is on the promotional end. Haymon has cobbled together a group of promoters that operate regionally under his PBC umbrella. The model that Endeavor brings with the UFC will have a more centralized approach to promotion. How will the new owners deal with Lou DiBella in NY, James Leija and Mike Battah in Texas, and Tom Brown in California? Throw in the aforementioned Ellerbe and Mayweather, who operate primarily in Vegas but also in the Washington DC and Baltimore area. How will the promoters who work with the PBC see their relationship change if Haymon left and Dana White was in charge?
Haymon has built the PBC over the years into a big business. He has the PBC on FOX and Showtime whereas the UFC, which previously partnered with FOX, now has a long-term deal with ESPN. This suggests that if a deal is made, PBC and the UFC will have to operate as completely separate entities under the same umbrella, at least for the foreseeable future. And even that might be further away from happening than most people realize.
Check out more boxing news on video at The Boxing Channel
To comment on this story in The Fight Forum CLICK HERE
Seniesa Estrada Scores Fifth Consecutive KO and "Crazy A" Wins Too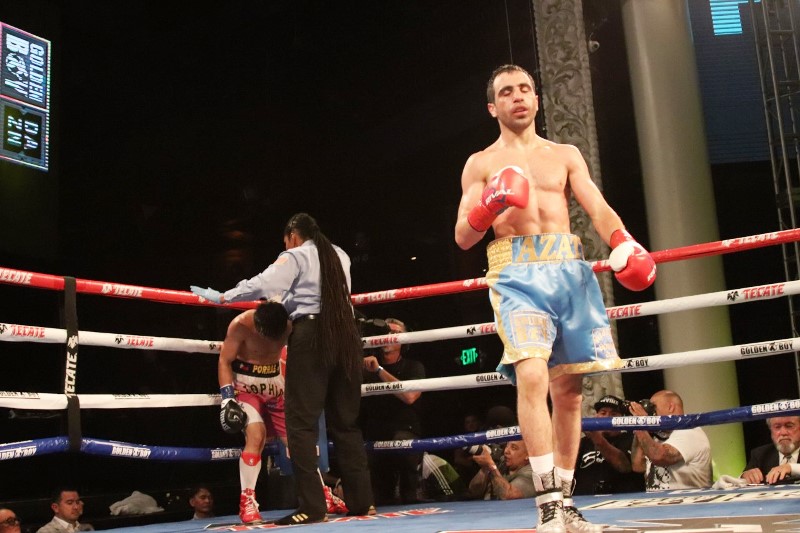 HOLLYWOOD, Ca.-After a turbulent first round Seniesa Estrada turned on the after burners and delivered a savage body attack to defeat Philippines Gretchen Abaniel and score her fifth consecutive knockout on Thursday evening.
It was the first time a Golden Boy Promotions female fight was featured as the main event on a DAZN streamed boxing card.
WBC Silver light flyweight titlist "Super Bad" Estrada (17-0, 7 KOs) was making her second defense of the title and clashed heads with the veteran Abaniel (18-11, 6 KOs) in front of a sold out audience at the Avalon Theater.
"It didn't bother me at all. Blood doesn't faze me," said Estrada who was cut on the side of her head from a supposed head butt.
In the opening round both clashed with a flash of blows inside and perhaps heads clashed. The exchange was furious as both found themselves tangled with each other and unable to find distance or a rhythm.
That would end soon.
The next round saw Estrada switch to southpaw. That seemed to stall Abaniel's attack and then the East L.A. fighter began establishing a left hook as an attacking blow and a countering measure. Abaniel seemed stymied and confused. The quickness of the East L.A. fighter and her ability to hit and get out of range left the Filipina slugger waiting instead of fighting.
It would only get worse.
Abaniel's corner admonished her to attack and forget about trying to out-think Estrada. She almost ran toward Estrada swinging with abandon until the East L.A. fighter hit her with a quick one-two. Then Estrada began targeting the body with punishing blows that drew winces from the crowd at the sound of the blows. Abaniel fought back and launched a five-punch combination. Estrada returned fire with a four-punch combination that saw Abaniel try and counter. Estrada slipped the blow and returned with a lightning quick four-punch combination at the bell.
Estrada had established her distance and rhythm and was now in full control. After several counter left hooks and counter rights, Estrada zeroed in toward Abaniel's body and pummeled her abdomen with resounding shots. Body shot after body shot was sent to Abaniel's body and it was apparent that she was slowing from the punishment. At the end of round four she went to her corner stool and was asked if she wanted to continue. Abaniel's corner halted the fight. Estrada was declared the winner by knockout at the end of round four.
It was Estrada's fifth consecutive knockout win.
"I was landing some really hard shots I had to be careful because her style makes for a really sloppy fight," said Estrada after the fight.
Now the East L.A. light flyweight champion knows exactly what road she intends to take.
"Of course everybody knows the rivalry between Marlen Esparza and me," said Estrada. "The fight I want is Yesenia Gomez the WBC champion. Let's make it happen."
Estrada has no doubt its world title or bust.
 Azat
Super bantamweight contender Azat Hovhannisyan (17-3, 14 KOs) battered Philippines gladiator Glen Porras (32-9, 20 KOs) relentlessly for four rounds until the fight was stopped.
"Crazy A" Hovhannisyan has previously fought for a world title and lost to WBC titlist Rey Vargas and was eager to prove he belongs on the big stage again. Porras, a contender also, just could not match Hovhannisyan's speed or stamina though he did try.
After a 15-punch barrage followed by a 13-punch barrage by Hovhannisyan, the referee Sharon Sands decided she had seen enough and stopped the one-sided match up at 2:08 of the fourth round. Hovhannisyan was given the win by knockout.
"Everything is good, it was a good fight," said Hovhannisyan who arrived with a large crowd and told everyone he wants to the champions and ex-champions. "I want TJ (Doheny) and Danny Roman and Rey Vargas. First, maybe TJ."
A battle between two island fighters saw Puerto Rico's Carlos Caraballo (12-0, 12 KOs) gain his 12th knockout in 12 fights with a second round ending over Dominican Esteban Aquino (12-7, 7 KOs) in a super bantamweight clash.
From the opening bell Aquino showed no fear in opening up aggressively against the left-hand slugger. Both exchanged blows but nothing much in the first round.
Aquino was even more aggressive in the second round and during an exchange ran into a left counter by Caraballo. Aquino resumed the attack and ran into another counter left cross and down he went for the count. Referee Zachary Young ended the fight at 1:52 of the second round.
Arizona's Cesar Valenzuela (15-6-1, 5 KOs) used a stiff jab and right cross to upset L.A's Christian "Chimpa" Gonzalez (19-4, 15 KOs) and win by unanimous decision after eight rounds in a lightweight contest. Valenzuela was the busier fighter throughout as Gonzalez could not pull the trigger. Round after round Valenzuela connected with solid jabs and rights to the body.
Gonzalez seemed listless and unable to mount an offense despite the urgings from his corner. A Valenzuela left hook in the seventh round connected solidly and Gonzalez seemed unable to retaliate. All three judges scored the fight 79-73 for Valenzuela who fights out of Phoenix.
Two-time Olympian Bektemir Melikuziev (1-0) won his pro debut with a single power shot to knock out Argentina's veteran Martin Rios (23-20-4, 13 KOs) in the first round of their light heavyweight match up. Melikuziev, 23, a southpaw from Uzbekistan who is trained by brothers Joel and Antonio Diaz in Indio, used a single left cross to the belly to end the night for Rios at 1:39 of the round. The taller Argentine could not beat the count.
"I wanted the toughest challenge out there," said Melikuziev. "I went in there and took care of business."
Photo credit: Al Applerose
Check out more boxing news on video at The Boxing Channel
To comment on this story in The Fight Forum CLICK HERE