I'm neither saint nor sinner. I'm a gladiator.
—Sugar Ray Robinson
Two thousand years ago, the first bell summoning gladiators to ring center wasn't a bell at all. It was a long, hollow blast from an ancient Roman wind instrument called a tibia . The tibia was also heard during public sacrifices and funerals, much like bells today are used at church and as a death toll.
The crowd's roar at the Flavian Amphitheatre is still heard at the MGM Grand. It is an echo in time. Virgil's words echo with it:
Now, let any man with heart,
with the fire in his chest, come forward—
put up his fists, strap on the rawhide gloves.
The Roman poet's words are found in the Aeneid, which was written between 29 and 19 BC. Today, they dominate a wall at Gleason's Gym in Brooklyn.
The fighter comes forward like he always has, struggling to do unto the opponent what the opponent intends to do unto him —and doing it first. Hand-wringing turtledoves needn't look much further to support their argument for boxing's abolition, the strongest of which is not that it is the most dangerous sport (it isn't), but that the intention of its participants is to inflict harm: "Clean punching" is the first of the four typical criteria judges use to score a round. That is what separates boxing from other sports, including mixed martial arts. Although the injury rate in the so-called savage science exceeds boxing's, head trauma is less frequent in the octagon because there are more options to end matters early. Submission holds appear brutal, but they are, in fact, safer than a knockout. The beset MMA fighter need only "tap-out" to end his suffering. The beset boxer has no such option. He'd be better off letting an official halt the fight or just take one on the chin, because to quit would invite a scarlet letter for the rest of his life.
Ray Arcel's career as a trainer spanned seven decades. "Only once," he recalled, "did I have a fighter tell me he wanted to quit; he said, 'I'm gonna quit this round.' I said, 'You can't. There are people here. They paid to see these fights.'" Arcel lifted him off the stool and sent him out round after round. His fighter would not quit; instead he kept maneuvering the opponent's back to the corner. "Ray!" he'd yell over a shoulder. "Throw in the towel!"
Boxing's culture is not only older than the MMA's, it's tougher. It has spawned a mythos closest to the gladiator in ancient Rome, compelling the boxer to wade into danger when he knows he won't win and to get up when he can't. There are haunting images of fighters who should have quit and ended up half-conscious on their stool slipping invisible shots after the fight is called off, or laid out flat on the canvas with their eyelids fluttering, still punching up at the lights. The mythos lays heavy across shoulders that are rarely broad enough to uphold it. Sometimes something snaps. Four days before Bob Olin was scheduled to defend his light heavyweight crown, Arcel walked into his hotel room and found him standing there with his pants on over his pajamas and wearing an overcoat. "I'm gonna die, I'm gonna die," Olin moaned. "I don't know what's the matter with me. I'm gonna die." Arcel put him to bed and got him warm milk. "I stroked his hands and his forehead," he said, "and talked to him like he was a baby."
Trainer, author, humanitarian, and commentator on ESPN's Friday Night Fights Teddy Atlas understands the mythos. He holds that the boxer is not as secure as assumed; that he is actually very insecure because he is acting against his own instincts for self-preservation—he is doing something "unnatural." "You know, fighters don't tell you they're afraid," Arcel said. "They don't try to tell you what's going on inside of them. They lose their food in the dressing room, and they'll say it must have been something they ate." Leaving the dressing room on fight night is the worst. Draped in a robe that feels like a shroud, the boxer walks to the ring, trainer in tow, like a condemned man walks to the death chamber, priest in tow.
Some fighters distract themselves with feigned bravura. Others surround themselves with familiars like security blankets: friends tag along behind. Ethnic garb is donned. Patriotic music blares. When Holman Williams walked toward a Baltimore ring to face his bête noir Cocoa Kid in 1940, Joe Louis and Jack Blackburn came with him. As if that wasn't enough, he had a mysterious symbol stitched on the front of his robe and the words "I WILL" on the back. In recent years, gangsta rappers have accompanied champions en route to the ring to fill his ears with courage. (Bubblegum Justin Bieber followed Floyd Mayweather recently though the point of that was lost on me.) Older boxing fans will recall a premiere fighter who performed his own rap on the way to dispense with one more in a parade of mid-career soft touches. What fans may not recall is that this parade began after a rival ended up blind and disabled in a wheelchair.
It isn't hard to understand, really. The truth of existence has a way of coming into focus when you're flat on your back under the lights and there's nowhere to look but up. Whether those lights are in an arena, a nursing home, or on a Chicago street is beside the point; we'll all see them eventually. In this sense, the boxer is a proxy preparing the way for all of us. He takes self-reliance as far as it will go and finds it's not enough. Advanced skill is cancelled out by a badly-timed blink and a shot he didn't see as easily as the power of positive thinking is cancelled out by the Grim Reaper. It's an awful truth. Pop culture has it all wrong—our fate, ultimately, is not in our hands. It's a roll of the dice, a game of chance, blind luck.
Or is it?
The two best fighters today don't consider themselves lucky; they consider themselves blessed. After super middleweight king Andre Ward stopped then light heavyweight king Chad Dawson, he was asked about the risks involved. "Give me five seconds," Ward interrupted. "I want to thank my Lord and Savior Jesus Christ and all the people that's been praying for me leading up to this fight." After Mayweather defeated Robert Guerrero, he said "first off, I'd like to thank God for this victory."
Character flaws don't block the view. The most flawed among us tend to get knocked flat more than the rest and so don't have to crank our heads to look up. Roberto Duran reached the peak of his spiteful splendor when he defeated Sugar Ray Leonard, only to fall from the sky like Lucifer when he quit the rematch. He was surging again in 1983 when he found himself in the ring with middleweight king and three-to-one favorite Marvin Hagler; an ominous challenge bigger and stronger than anything he had ever faced this side of a horse. Just before the first bell rang, Duran did something uncharacteristic—he crossed himself.
The praying boxer has been a motif at least since the modern era began in 1920. Harry Greb was a member of the Pittsburgh Lyceum, which was founded by a Roman Catholic priest who later presided over his marriage. Greb himself was a devout Catholic who donated thousands to his parish and rarely boxed or trained on Sundays. His successor to the middleweight throne was Tiger Flowers. Flowers was known as "the Deacon" and told the Atlanta Constitution that he took time after every fight to "thank God for the strength that brought me through." When Ezzard Charles defeated Joe Louis, he said what his grandmother told him to say, "I'd like to give thanks to God for giving me the strength and courage to win the fight." Henry Armstrong walked into a Harlem club to celebrate after he took the second of his three simultaneous crowns. After the manager greeted him, he felt "a strange touch on his shoulder." He said it was God. After that, he made it a point to go off alone after his fights to pray. He was ordained a Baptist minister in 1951 and wrote an autobiography called Gloves, Glory, and God.
Sugar Ray Robinson was no exception. "I believe that of himself man can do nothing," he said, "that he needs God to guide him and bless him." When he first retired from the ring and tried show business, he made an oath to stay retired. "I intend to keep it," he told a Franciscan priest in 1955, despite the fact that his new venture was an utter failure. "But I'm thousands behind. I want to pay my bills, but I can't if I'm a hoofer." Father Jovian Lang assured him that his boxing talent was a gift from his Maker and that it was all right to return to the ring. With the fighter on his knees, the priest gave him a blessing to protect him from harm, and by the end of the year, Sugar Ray was preparing to challenge the middleweight champion to reclaim his old crown. A reporter was in the dressing room twenty minutes before the fight. He noted that everyone walked lightly and spoke softly "almost as if they were at a funeral" while the fighter sucked an ice cube and paced to and fro like a man awaiting execution. The reporter was surprised to see him kiss a silver crucifix that was pinned to the inside of his trunks.
Sugar Ray scored a knockout in the fourth round, and cried all the way to the dressing room.
Within two years he would lose the title to Gene Fullmer and was training for the rematch when that old familiar fear overtook him. Father Jovian received a "distress call" from his wife. Sugar Ray "was tied up in knots, spiritually," he said. "His confidence had begun to waver." The priest and the thirty-six-year-old pugilist had several private sessions in the weeks leading up to the fight. When the priest noted that the bout would be on May 1st, the feast of St. Joseph the Worker, he added an intercessory prayer to that saint.
At Chicago Stadium, spectators saw a peculiar figure in a long brown robe shouting "Go to work, Ray! Go to work!" from a seat behind the Robinson corner. It was Father Jovian.
That thunderbolt of a left hook that Sugar Ray landed in the fifth round was a study in efficiency. It was set up on the retreat, knocked Fullmer out, and is remembered as perhaps the most perfect punch ever landed. It began his fourth reign on the middleweight throne and confirmed his status as one of history's greatest gladiators.
As the crowds filed out of Chicago Stadium and well-wishers filed into his dressing room, an AP reporter noticed that a sense of wonder seemed to have swept over the new champion. "Somebody up there likes you," the reporter said.
"He sure does," said Sugar Ray, looking up. "He's got His arm around me."
---
This essay is dedicated to "Babs."
Photo credit: "Chemin des brumes ii" by David Sénéchal Polydactyle, appears with permission. (http://www.oneeyeland.com/member/member_portfolio.php?pgrid=4875)
This essay includes information derived from the following: Alan Baker's The Gladiator: The Secret History of Rome's Warrior Slaves (2000), "Most Fighters are Scared," by W.C. Heinz ( Saturday EveningPost, 6/24/1950), Sugar Ray by Sugar Ray Robinson with Dave Anderson (1970), "I Pray With Sugar Ray" by Jovian Lang, O.F.M. as told to John M. Ross (Milwaukee Sentinel, 3/23/1958),"A Portrait of the Fighter Who Did What They Said He Could Never Do" (LIFE, 12/19/1955). Steve Compton's insights about Harry Greb were very much appreciated. Steve is currently working on a new and highly anticipated biography about Greb, scheduled for release in 2014.
Springs Toledo can be contacted at scalinatella@hotmail.com.
Odds Review for Friday's Boxing on Telemundo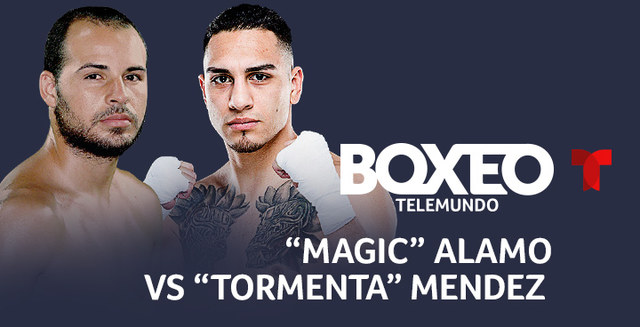 South Florida promoter Tuto Zabala Jr has a seven fight card planned for the Osceola Heritage Center in Kissimmee this Friday, February 22nd that sees three undefeated prospects headline the show. For more than two decades, Zabala Jr has promoted the sport in Mexico and Florida and Friday's event will air on Spanish language Telemundo in the United States, so check your local listings for start times.
A pair of ten round bouts hold the main event spots as undefeated Yomar Alamo faces veteran Manuel Mendez at welterweight and likewise unbeaten Carlos Monroe takes on Jonathan Tavira in a middleweight bout.
The 23 year old Alamo is from fight hungry Puerto Rico and he is considered a key piece to promoter Zabala Jr's plans to run shows back on the island. The 28 year old Mendez once carried the 'prospect' label as well but Mendez is 1-3-1 in his last five fights. The experience of being in there with the likes of Sonny Fredrickson (19-1) and undefeated Johnathan Navarro (15-0) will make him Alamo's toughest test to date. The welterweight division is crowded and Alamo is going to need to keep winning beyond Friday to get noticed, but he already banks on the fervent support of his "boriqua" crowd. Promoter Zabala Jr may be wondering if matchmaker Ruben DeJesus picked the right guy in Mendez. Alamo's record in Puerto Rico looks to have a good bit of fluff. He didn't face an opponent with a single pro win until his seventh fight. He faced 40 year old vet Edwin Lopez in 2016, but Lopez hurt his hand in the first round and could not continue, so Alamo is largely untested.
Middleweight prospect Carlos Monroe looks to go 12-0 as he steps in to his first bout scheduled for ten rounds. Veteran Jonathan Tavira provides the opposition for the 24 year old Monroe, who turned pro in December of 2017 and notched 10 fights in calendar year 2018. Monroe has been brought along carefully, as the combined record of his 11 opponents stands at 46-98-8. Tavira has been in there with the likes of Arif Magomedov, Dario Bredicean and Esquiva Falcao, all undefeated fighters on the way up. Tavira hits hard but he has been stopped five times in his six losses, so look for Monroe to improve on his eight KOs to date.
2016 U.S. Olympian Antonio Vargas looks to improve to 10-0 in an eight round bantamweight bout against Lucas Rafael Baez (34-17-5). Vargas was originally scheduled to take on Wilner Soto, a veteran with a 21-5 record and he was a big favorite in that match-up.
Below are the current lines as we start off fight week.
Fri 2/22 – Osceola Heritage Center – Kissimmee, Florida
Welterweight 10 rounds –
Manuel Mendez(16-4-1) +160
Yomar Alamo(15-0)         -210
Middleweight 10 rounds –
Jonathan Tavira (17-6)            +550
Carlos Monroe (11-0)             -1050
Bantamweight 8 rounds –
Lucas Rafael Baez        +1150
Antonio Vargas            -2450
(Opponent change for Vargas, line should be similar for new opponent Lucas Rafael Baez)
Check out more boxing news on video at The Boxing Channel
To comment on this story in The Fight Forum CLICK HERE
Blake Caparello Looks To Grab WBA Regional Belt This Friday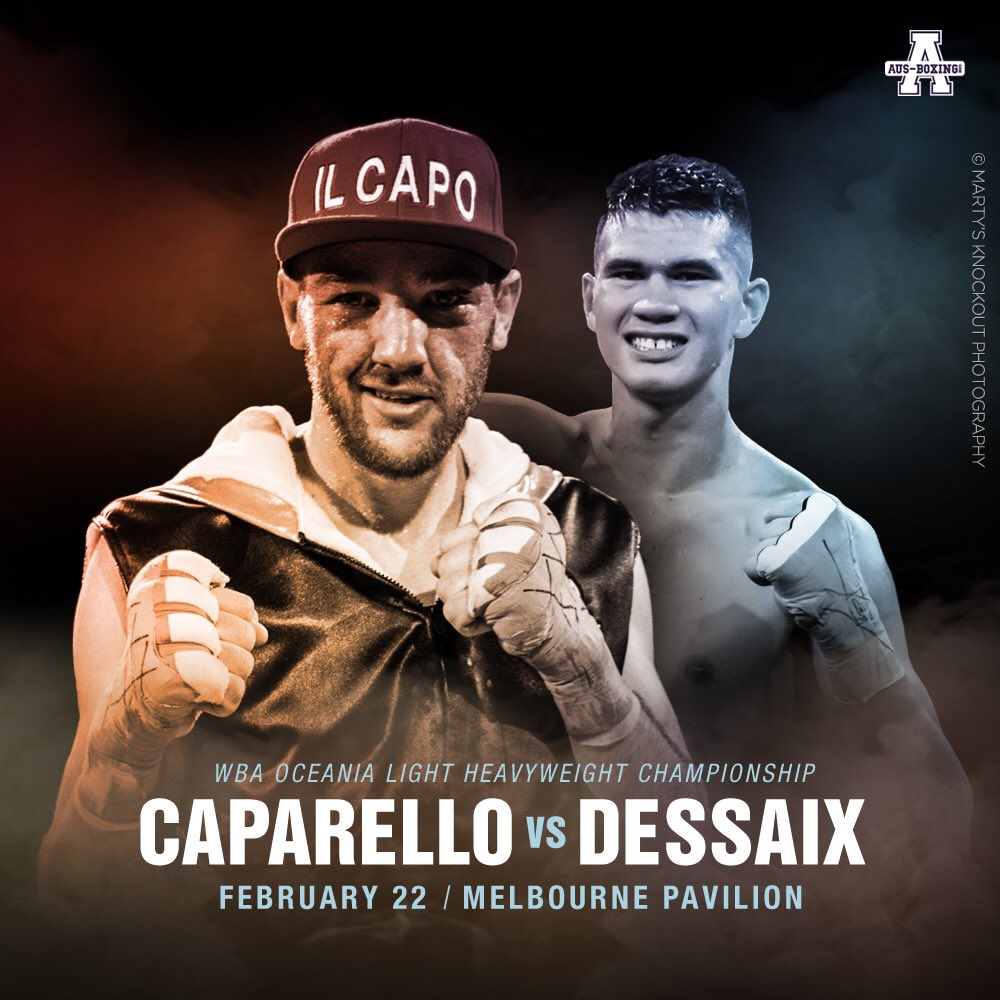 This Friday night in Australia, light heavyweight contender Blake Caparello returns to action as he faces youngster Reagan Dessaix for the WBA's Oceania title in the main event of a planned six fight card at The Melbourne Pavilion.
Dessaix currently holds the belt that Caparello held back in 2017, and the 22-year-old is hoping a win on Friday will put him on the international radar. It is where Caparello, who enters this fight as a 32-year-old, has been and hopes to get to again.
Those are the basics of Friday's main event, the youngster Dessaix making a significant leap in competition level as he looks to get ranked internationally, while the veteran Caparello is hopeful a win will propel him closer to another world title shot.
Caparello laid claim to the IBO's world title at 175 pounds back in October of 2013 when he won a comfortable unanimous decision over veteran Allan Green. Caparello, who was 17-0-1 at the time of the Green fight, went on to an introductory fight in the United States, and a win there saw him earn an August of 2014 title shot against WBO champion Sergey Kovalev.
Caparello has to feel he was close to a world title as he had the feared Kovalev down in round one before the "Krusher" took him out in round two. Since then, he has fought Isaac Chilemba and Andre Dirrell, extending both ranked veterans the full fight distance. The March of 2018 loss to Chilemba was for the WBC's world title, and Caparello managed to go 2-0 the rest of the calendar year.
Green, Kovalev, Dirrell and Chilemba. The bottom line is that Dessaix had a solid amateur career in Australia, but there is no one with resumes like the men Caparello has faced when asked to step onto the world scene.
The WBA's current world champion is Dmitry Bivol (15-0), who is making the fourth defense of his title in March against hard hitting Joe Smith Jr. The veteran Caparello could mount a case for a mandatory shot against either man with a win on Friday, while Dessaix would likely have to keep fighting and winning before earning a shot at a world title.
The co-feature bout is for the Australian title at 154 pounds and sees 31 year old Billy Klimov facing Joel Camilleri. Camilleri is favored as he has had a lot more professional experience than Limov, who turned professional at 29 years old. Strictly regional stuff here.
Both fights have lines at some of the sportsbooks. Check out the numbers as they were at the start of fight week below.
Fri 2/22 – The Melbourne Pavilion – Victoria, Australia
WBA Oceania Title
Light Heavyweight 10 rounds –
Reagan Dessaix(16-1)         +255
Blake Caparello (28-3-1)    -365
Australian Title
Super Welterweight 10 rounds –
Billy Limov (4-0-1)     +200
Joel Camilleri(16-5-1) -280
Check out more boxing news on video at The Boxing Channel
To comment on this story in The Fight Forum CLICK HERE
Will Fury's Deal With ESPN Torpedo The Fights That Fight Fans Want to See?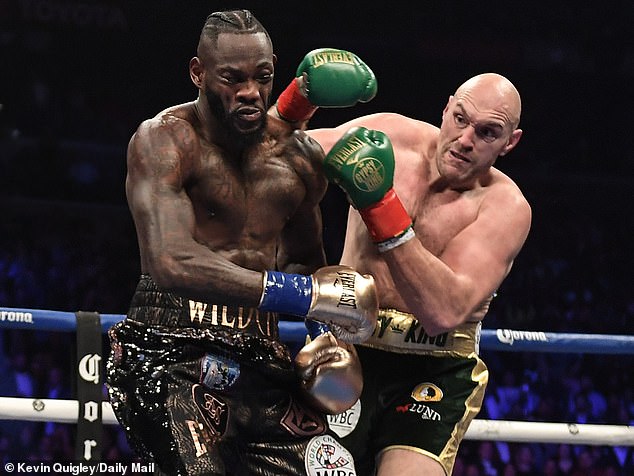 For the past few weeks, boxing fans have been led to believe that the rematch between Tyson Fury and Deontay Wilder was ever so-close to being a done deal. But in the world of professional boxing where Machiavellian characters seemingly hold all the positions of power, nothing is ever a done deal until it's finally finalized. Today's announcement that Tyson Fury has signed with ESPN is the latest case in point. It's a three-fight deal that will reportedly earn the Gypsy King $80 million if he can successfully hurdle the first two legs.
As Thomas Hauser has noted, what we have in boxing today is something similar to leagues in other sports. There's the Top Rank/ESPN League, the Matchroom/DAZN League, and the PBC/Showtime/FOX League. We would add that these are intramural leagues. Occasionally there's cross-pollination, similar to when the Yankees play the Mets in a game that counts in the regular season standings, but basically the boxers in each league compete against each other.
We have no doubt that WBC/WBA/IBF heavyweight ruler Anthony Joshua will eventually fight Wilder and/or Fury, but it now appears that these matches, when they transpire, will have marinated beyond the sell date. The action inside the ring may mirror the Mayweather-Pacquiao dud.
A match between Joshua and Wilder is already somewhat less enticing than it would have been if it had come to fruition last autumn. The odds lengthened in favor of Joshua after Wilder's raggedy performance against Tyson Fury on Dec. 1 in Los Angeles.
True, the Bronze Bomber almost pulled the fight out of the fire with a thunderous punch but he was out-slicked in most of the rounds and it wasn't as if he was fighting a bigger version of Pernell Whitaker. Before that fight, casual fans were less tuned-in to Deontay Wilder's limitations.
It was reported that the Wilder-Fury rematch was headed to Las Vegas or New York, but that Las Vegas fell out of the running when the State Athletic Commission insisted on using Nevada officials. Fury was the one that balked.
In hindsight we should have seen that this was fake news. No Nevada officials were involved in Fury-Wilder I. The judges were from California, Canada, and Great Britain. The California judge voted against Fury, scoring the fight 115-111, a tally for which he was excoriated. The judge from Great Britain, like many ringside reporters, had it draw. The TV crews, especially the crew from Great Britain, left no doubt that Fury should have had his hand raised and the controversy made the hoped-for rematch more alluring.
So who will be Tyson Fury's next opponent? Speculation immediately centered on Bulgaria's Kubrat Pulev.
Pulev, who turns 38 of May 4, sports a 26-1 record. He was slated to fight Anthony Joshua in October of 2017 but suffered a torn biceps in training and was forced to withdraw. In his most recent bout he outpointed Hughie Fury, Tyson's cousin. He's currently ranked #1 by the IBF.
On Dec. 8 of last year, Bob Arum announced that he had hammered out a deal to co-promote Pulev. It was subsequently reported that Pulev's first fight under the Top Rank/ESPN umbrella would be against Finland's Robert Helenius on March 23 in Los Angeles. Six days ago, the distinguished European fight writer Per Ake Persson told his readers that the fight had fallen out, ostensibly because the parties could not come to terms.
Tyson Fury is the most charismatic white heavyweight to come down the pike since Gerry Cooney and the big galoot is bigger than Cooney ever was as he has avid followers on both sides of the Atlantic and Cooney didn't have social media to enhance his profile. I have little doubt that ESPN will recoup their investment in him. However, deals in boxing are never consummated with an eye on uplifting the sport – on patching things up with the disaffected – and here's yet another example.
Check out more boxing news on video at The Boxing Channel
To comment on this story in The Fight Forum CLICK HERE