HBO Boxing Looks Back With Pride At A Year of Transition
It's time to take pause, and ponder. The four titans of the industry, HBO, Top Rank, Showtime and Golden Boy went their separate ways, and decided nine months ago to divide, and conquer.
HBO set the so-called Cold War in motion, deciding that Floyd's ask was too grand, and that they'd rather not pay such a hefty price to roll the dice for a fighter closer to 40 than 30, even one as majestically talented as maestro Mayweather. They chose not to match the Showtime buy-in, so they bid adieu to the talents and services and pay-per-view potential of the greatest fighter of his era. One might have figured they'd be quaking, or at the very least, their braintrust would be needing the odd Ambien or two to facilitate the shutdown of brain churning, as they lay awake, pondering what their identity would be. No more Floyd, no more business with Golden Boy, and by extension, minimal interaction with uber advisor Al Haymon.
To get some clarity on the subject, I headed over to HBO headquarters in Manhattan, where ex Showtime boss Ken Hershman steers the ship, and chatted with Mark Taffet, the PPV guru now in his 20th year at the cabler. Hershman was busy dealmaking, crafting the first quarter 2014 calendar, and the foundation of the year-long slate for his crew, so I listened to Taffet synopsize the eventful year, and peppered him with some queries, looking to get some intel on what's next for the wrecking crew they are building around, in this post Floyd period.
First off, my overall takeaway perception: I didn't get the sense that I was being spun, as Taffet, who can be a persuasive salesman, in a decidedly low-key manner, told me that this was "one of the most exhilarating, exciting, rewarding years" he's had at HBO. "There's been a lot of adrenaline flowing."
Understandable, given that Mayweather jumped ship (was helped to disembark, maybe Team HBO would put it?) in February, and gleefully signed a six-fight megadeal with the Stephen Espinoza-led Showtime, for $250 million. Yep, I dare say adrenaline flowed when HBO in March filed divorce papers, and stated they'd no longer buy bouts from Richard Schaefers' Golden Boy, because, after all, a re-invention would be necessitated. But, to hear Taffet describe it, it was adrenaline, it wasn't the stress hormone cortisol which flooded their collective system post split. His evidence: just look at the top 25 bouts on cable TV this year. HBO presented 21 of them. The Miguel Cotto-Delvin Rodriguez bout on Oct. 5 drew 1.6 million eyeballs, with Julio Cesar Chavez Jr. (vs. Brian Vera on 9-28), Gennady Golovkin (vs. Curtis Stevens last month), and then" Mr. HBO" Adrien Broner (vs. Gavin Rees in February) just behind the Puerto Rican drawing card.
The shift in strategy, away from Floyd, and the focus on pay-per-view, he said, has been a revitalizer for HBO, because fight fans now get to see more must-see hitters on the regular channel. HBO did just two PPVs, featuring Manny Pacquiao, and the Juan Manuel Marquez-Tim Bradley tussle. They aren't out of the business, Taffet said, but he seemed to be content with that number.
"Pay per view events are primarily an opportunity to reach a general audience which occasionally looks at boxing," he said. That windfall primarily goes to the fighter, in the boxing realm, as opposed to the MMA realm, so, the message in between the lines was, it's not like PPV is making boatloads of cash for the parent company when so much of it is diverted to the talent (and let's not forget the cut going to the cable companies which offer the staging platforms.) I was reminded at this meeting that HBO heard similar sort of talk when Mike Tyson took his talents to Showtime, in 1991, and it forced them to work harder and smarter.
(I also got the sense there is, perhaps, in some circles at HBO, a degree of respectful skepticism about the ability of Team Showtime to continue the momentum woven during the Mayweather-Canelo promotion, which did a record $150 million in PPV revenue. I never pretend to be a master predictor, so I won't even guess how a Mayweather vs. Amir Khan fight would do, but I will say I won't demean the skillfulness at the promoters in these big leagues at whetting appetites for matches that some deride as sub-premium. I actually think Khan's speed, combined with his iffy chin, makes for a more fun fight than the last two Mayweather scraps, so there.)
Listen, contrary to what the wife occasionally tells me when I put a red shirt in with whites in the wash and turn everything pink, I'm no fool. I get it that any entity is going to put that best foot, freshly manicured with painted nails, forward. It's not like Team HBO is purely euphoric all the time post-Floyd. The man did generate 9.6 million buys and $543 million in television revenue, in nine PPV appearances on HBO. And he has looked as good, or maybe better, than ever in his last two scraps. And Showtime has surged in buzz, and they love their year over year numbers. Showtime Championship Boxing is up 24 percent in 2013 and 64 percent since 2011.
Maybe the lesson, or part of it, anyway, is that this so called cold war hasn't been all bad for the fan, for the consumer. The titans are all battling hard to be the best, and yes, the rivalry sometimes veers toward the bitter. You get the sense that a Bob Arum-Richard Schaefer rumble wouldn't look out of place as a curtain jerker on a Floyd PPV…
But from that consumer perspective, I dare say we can all agree that it hasn't been a bad thing for HBO to be in that revision mode, which meant they put energy and funds into building up some fighters that we all can agree are fun to watch. Gennady Golovkin is top three in the pound for pound buzz category, and but of course you know I gave Taffet the third degree on when and if we will get that light heavyweight showdown we are craving, between Sergey Kovalev and Adonis Stevenson. "We are in conversations," is all he would really say about where that bout stands. "It's a fight every fan wants to see, and we have to talk to the fighters and promoters."
Fans are curious to know if HBO might televise the next Golovkin scrap, Feb. 1 in Monaco against Osumanu Adama. "Right now, we're not planning to show that," Taffet said. The time difference would make such a choice harder, as it's no slam dunk to spend dough on an overseas fight, when the location is in a time zone six hours ahead of EST, is my sense. I think Golovkin back on HBO in April is a better bet, fans.
You have to get the sense that HBO is casting their lot more so with traders and rumblers than cuties. It's not like cuties and slickies and technicians can't do numbers, but apart from Broner, who drew eyeballs as much probably for his personality as anything, and Bernard Hopkins, all the more popular principals in the top ten most watched bouts on cable this year were more so punchers than sweet scientists. So, if HBO continues that course, that could spell doom for a Guillermo Rigondeaux, whose fight with Joseph Agebko wasn't universally embraced by the craver of trading. When I asked Taffet about Rigo's future on HBO, he replied, "We're going to listen to the fans. That's going to be the watchword for us going into 2014."
Speaking of listening to the fans, I've been a vocal proponent for many moons of packing cards, from top to bottom, with compelling matches. Resume builder squashes, especially on PPVs, always irk me, as a consumer. I asked Taffet about that, in context of the undercard of Pacquiao's Macau appearance. "We listen to the fans, the fans have said they want value," he answered, "in the main event and the supporting fights. Top Rank understands that."
One thing that was clarified for me as I sat at HBO, I was under the assumption that it often takes about ten years for a fighter to get to a place where they can really reap the rewards of their name recognition. Cotto, Chavez Jr., Bradley, these guys are now at a place where their years of toil have resulted in solid name recognition. But I was surprised at the Golovkins, Broners, Stevensons, Kovalevs, and Provodnikovs topping the top ten most watched list. I do think the supporting programming, the 2 Days, the Faceoffs, etc., really helped accelerate the popularity growth of these guys, and resulted in HBO having a better year than many folks might have assumed back in February or March. Also, I was told, appetite for that support programming is growing nicely among millenials, which is a good thing for people who want to see the sport they appreciate continue to thrive.
That's me, and that's you. We want boxing to flourish. Looking forward, a lot of us will be clamoring the "give peace a chance" carol, and advocating for the titans to kiss and make up, or at least, shelve the animus long enough to make those handful of fights we all want, which can only happen if the Godzillas work together. As my sense is that isn't happening in the near future, perhaps it's best we wrap our brains around the dynamic as it presently exists. And as it presently exists, in my mind, Showtime has lifted their game, and is presenting some compelling programming, and HBO has pivoted skillfully in this year of transition, befitting their veteran status, with a 40 year history in the space, and proven that no Floyd by no means means their relevance is reduced.
Blake Caparello Looks To Grab WBA Regional Belt This Friday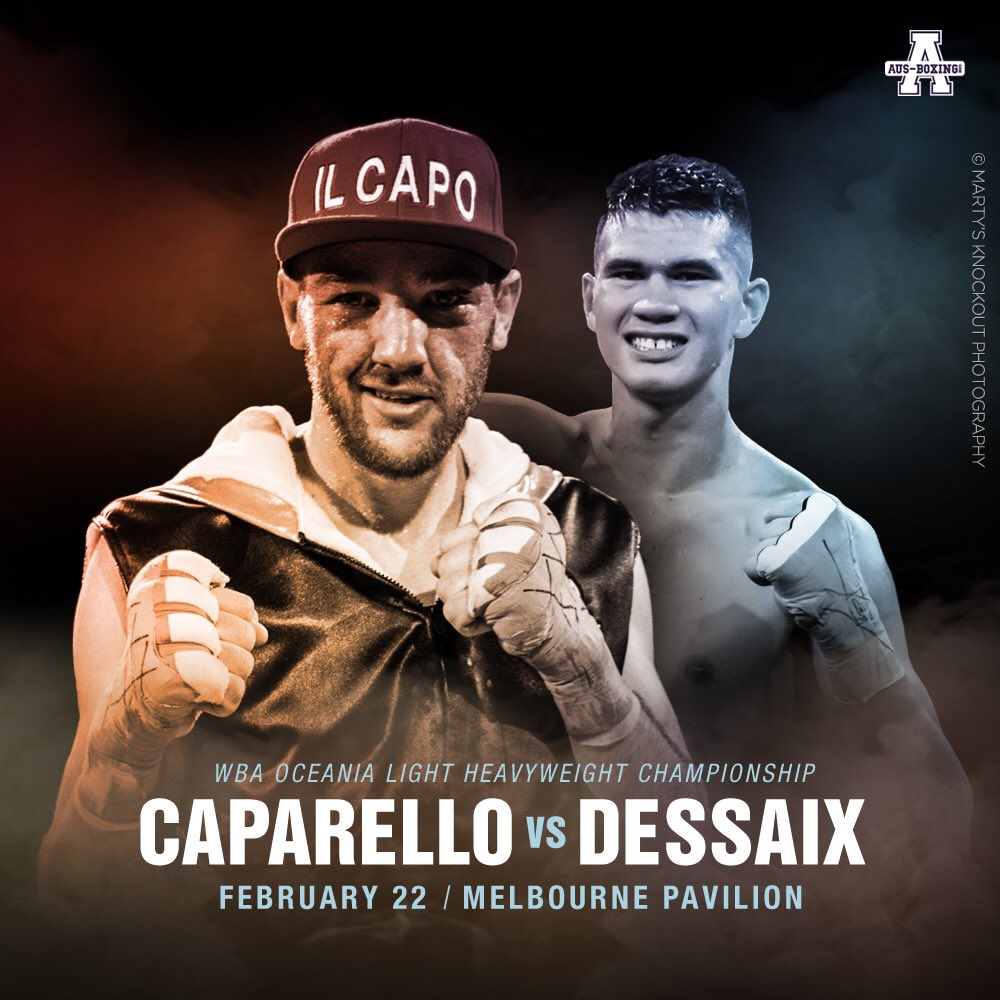 This Friday night in Australia, light heavyweight contender Blake Caparello returns to action as he faces youngster Reagan Dessaix for the WBA's Oceania title in the main event of a planned six fight card at The Melbourne Pavilion.
Dessaix currently holds the belt that Caparello held back in 2017, and the 22-year-old is hoping a win on Friday will put him on the international radar. It is where Caparello, who enters this fight as a 32-year-old, has been and hopes to get to again.
Those are the basics of Friday's main event, the youngster Dessaix making a significant leap in competition level as he looks to get ranked internationally, while the veteran Caparello is hopeful a win will propel him closer to another world title shot.
Caparello laid claim to the IBO's world title at 175 pounds back in October of 2013 when he won a comfortable unanimous decision over veteran Allan Green. Caparello, who was 17-0-1 at the time of the Green fight, went on to an introductory fight in the United States, and a win there saw him earn an August of 2014 title shot against WBO champion Sergey Kovalev.
Caparello has to feel he was close to a world title as he had the feared Kovalev down in round one before the "Krusher" took him out in round two. Since then, he has fought Isaac Chilemba and Andre Dirrell, extending both ranked veterans the full fight distance. The March of 2018 loss to Chilemba was for the WBC's world title, and Caparello managed to go 2-0 the rest of the calendar year.
Green, Kovalev, Dirrell and Chilemba. The bottom line is that Dessaix had a solid amateur career in Australia, but there is no one with resumes like the men Caparello has faced when asked to step onto the world scene.
The WBA's current world champion is Dmitry Bivol (15-0), who is making the fourth defense of his title in March against hard hitting Joe Smith Jr. The veteran Caparello could mount a case for a mandatory shot against either man with a win on Friday, while Dessaix would likely have to keep fighting and winning before earning a shot at a world title.
The co-feature bout is for the Australian title at 154 pounds and sees 31 year old Billy Klimov facing Joel Camilleri. Camilleri is favored as he has had a lot more professional experience than Limov, who turned professional at 29 years old. Strictly regional stuff here.
Both fights have lines at some of the sportsbooks. Check out the numbers as they were at the start of fight week below.
Fri 2/22 – The Melbourne Pavilion – Victoria, Australia
WBA Oceania Title
Light Heavyweight 10 rounds –
Reagan Dessaix(16-1)         +255
Blake Caparello (28-3-1)    -365
Australian Title
Super Welterweight 10 rounds –
Billy Limov (4-0-1)     +200
Joel Camilleri(16-5-1) -280
Check out more boxing news on video at The Boxing Channel
To comment on this story in The Fight Forum CLICK HERE
Will Fury's Deal With ESPN Torpedo The Fights That Fight Fans Want to See?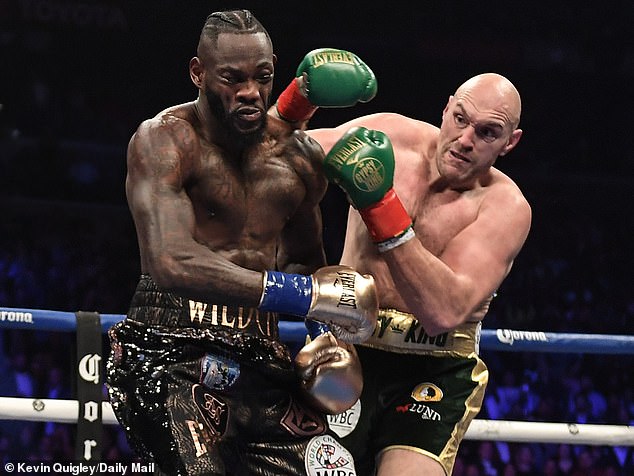 For the past few weeks, boxing fans have been led to believe that the rematch between Tyson Fury and Deontay Wilder was ever so-close to being a done deal. But in the world of professional boxing where Machiavellian characters seemingly hold all the positions of power, nothing is ever a done deal until it's finally finalized. Today's announcement that Tyson Fury has signed with ESPN is the latest case in point. It's a three-fight deal that will reportedly earn the Gypsy King $80 million if he can successfully hurdle the first two legs.
As Thomas Hauser has noted, what we have in boxing today is something similar to leagues in other sports. There's the Top Rank/ESPN League, the Matchroom/DAZN League, and the PBC/Showtime/FOX League. We would add that these are intramural leagues. Occasionally there's cross-pollination, similar to when the Yankees play the Mets in a game that counts in the regular season standings, but basically the boxers in each league compete against each other.
We have no doubt that WBC/WBA/IBF heavyweight ruler Anthony Joshua will eventually fight Wilder and/or Fury, but it now appears that these matches, when they transpire, will have marinated beyond the sell date. The action inside the ring may mirror the Mayweather-Pacquiao dud.
A match between Joshua and Wilder is already somewhat less enticing than it would have been if it had come to fruition last autumn. The odds lengthened in favor of Joshua after Wilder's raggedy performance against Tyson Fury on Dec. 1 in Los Angeles.
True, the Bronze Bomber almost pulled the fight out of the fire with a thunderous punch but he was out-slicked in most of the rounds and it wasn't as if he was fighting a bigger version of Pernell Whitaker. Before that fight, casual fans were less tuned-in to Deontay Wilder's limitations.
It was reported that the Wilder-Fury rematch was headed to Las Vegas or New York, but that Las Vegas fell out of the running when the State Athletic Commission insisted on using Nevada officials. Fury was the one that balked.
In hindsight we should have seen that this was fake news. No Nevada officials were involved in Fury-Wilder I. The judges were from California, Canada, and Great Britain. The California judge voted against Fury, scoring the fight 115-111, a tally for which he was excoriated. The judge from Great Britain, like many ringside reporters, had it draw. The TV crews, especially the crew from Great Britain, left no doubt that Fury should have had his hand raised and the controversy made the hoped-for rematch more alluring.
So who will be Tyson Fury's next opponent? Speculation immediately centered on Bulgaria's Kubrat Pulev.
Pulev, who turns 38 of May 4, sports a 26-1 record. He was slated to fight Anthony Joshua in October of 2017 but suffered a torn biceps in training and was forced to withdraw. In his most recent bout he outpointed Hughie Fury, Tyson's cousin. He's currently ranked #1 by the IBF.
On Dec. 8 of last year, Bob Arum announced that he had hammered out a deal to co-promote Pulev. It was subsequently reported that Pulev's first fight under the Top Rank/ESPN umbrella would be against Finland's Robert Helenius on March 23 in Los Angeles. Six days ago, the distinguished European fight writer Per Ake Persson told his readers that the fight had fallen out, ostensibly because the parties could not come to terms.
Tyson Fury is the most charismatic white heavyweight to come down the pike since Gerry Cooney and the big galoot is bigger than Cooney ever was as he has avid followers on both sides of the Atlantic and Cooney didn't have social media to enhance his profile. I have little doubt that ESPN will recoup their investment in him. However, deals in boxing are never consummated with an eye on uplifting the sport – on patching things up with the disaffected – and here's yet another example.
Check out more boxing news on video at The Boxing Channel
To comment on this story in The Fight Forum CLICK HERE
Three Punch Combo: Two Recent Upsets Trigger Memories of Forgotten Fights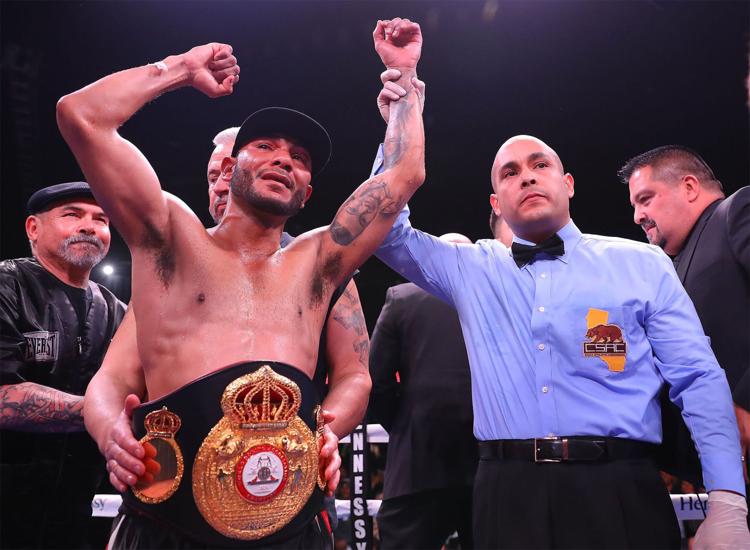 THREE PUNCH COMBO — There is just something magical about a longshot overcoming seemingly unsurmountable odds to accomplish a major feat in boxing such as winning a world title.
Earlier this month, undefeated 130-pound champion Alberto Machado defended his title against Andrew Cancio in Indio, CA. Cancio (pictured) was considered a solid pro, but he had been outclassed on the occasions when he stepped up his level of opposition and few expected him to remotely compete with Machado. But Cancio elevated his game and sprung an unthinkable upset, stopping Machado in the fourth round to become a world champion. Cancio's incredible backstory has since been well documented by several media outlets.
In terms of shock value, Cancio's upset was mindful of another recent upset, Caleb Traux's monster upset of James DeGale in December of 2017. Truax traveled to the UK to challenge 168-pound title-holder DeGale.  He was given no shot to win; most doubted that he would be competitive. But Truax overcame the odds and shocked the boxing world winning a majority decision to become a world title-holder. Truax's story of overcoming incredible odds to dethrone DeGale became the feel good boxing story of 2017.
The underdog stories of Truax and Cancio are still fresh in our minds. But often times, such stories become somewhat forgotten as time passes. In this week's three punch combo, I will look at three other incredible underdog stories that all occurred in 1997. They were all equally as heartwarming as those of Truax and Cancio.
Keith Mullings vs. Terry Norris, 12/06/1997
In 1997, 154-pound champion Terry Norris left his promoter Don King to sign with Top Rank with the express purpose of securing a big money fight against Oscar De La Hoya. After winning two non-title fights under the Top Rank banner against low level opponents, Norris was placed on the same pay-per-view card as De La Hoya who would be defending his WBC world welterweight title against Wilfredo Rivera. Top Rank was planting the seeds for a De La Hoya-Norris showdown the following year. Not wanting to take any chances, they selected a seemingly safe opponent for Norris in Keith Mullings.
Mullings entered with a record of 14-4-1. He had one win in his last six fights. However, Mullings was coming off a controversial split decision loss to another 154-pound champion in Raul Marquez three months earlier in a fight many believed Mullings deserved to win. The performance against Marquez gave Mullings credibility but his limited skills did not leave many to believe that he could compete with an elite fighter like Norris.
For the first seven rounds, the script seemed to be going according to plan. Norris boxed effectively using his left jab to control range and landing combinations behind that punch. He was seemingly in total control of the fight.
In round eight, Norris's movement slowed and Mullings began to land on a more stationary target. Although not known as a puncher, he dropped Norris with a hard right hand. Norris survived the round but Mullings came out aggressive to start round nine. After reigning punch after punch on Norris in the first minute of the round, referee Tony Perez stepped in to save Norris from more punishment.
Mullings would make one successful defense of his title three months later, stopping Davide Ciarlante in round five, but that would be the last win of his career. He would lose his title in his next outing to Javier Castillejo and then lose three more times before hanging up the gloves for good in 2001.
Mauricio Pastrana vs. Michael Carbajal, 01/18/1997
Entering 1997, 108-pound champion Michael Carbajal had only two losses on his resume in 46 professional fights. Both losses had come in 1994 to the great Humberto Gonzalez. One was by majority decision and one by split decision. Carbajal had won 12 fights in a row following the second defeat to Gonzalez and was still considered to be in the prime of his Hall of Fame career as he entered a title defense against unknown Mauricio Pastrana on January 18th, 1997.
Pastrana had an undefeated record of 15-0 with 13 of those wins coming by knockout. But he had fought nobody of note, feasting on inferior competition in his native Columbia. He was given literally no shot by most in boxing to even be competitive with the much more experienced and seemingly more skilled Carbajal. As a matter of fact, so little was thought of Pastrana that during the beginning of the fight a promo was run hyping Carbajal's next scheduled title defense in March.
The first two rounds were largely feeling-out type rounds. In round three, Pastrana announced his presence, shaking Carbajal with a hard right hand. From there, Pastrana upped his output using an effective well-timed stinging left jab to set up his combinations. He outworked Carbajal and landed the cleaner punches as the fight progressed. Carbajal certainly had his moments in what became a surprisingly exciting fight but in the end the judges preferred the activity and cleaner punching of Pastrana who would win a split decision.
Pastrana made two successful defenses against overmatched foes before losing his belt on the scales before a scheduled title defense in August of 1998. In his next fight, he would capture an interim title belt in the flyweight division but that would be his last success in any major title fight. He never was able to replicate the performance he had against Carbajal. Along the way, Pastrana suffered defeats to some big names including Rafael Marquez, Celestino Caballero, Jhonny Gonzalez and Gary Russell Jr. Following a knockout loss to Mikey Garcia in 2012, Pastrana retired with a final professional record of 35-17-2.
Uriah Grant vs. Adolpho Washington, 06/21/1997
In his second pro fight, Uriah Grant was fed to debuting 1984 Olympic Heavyweight Gold Medalist Henry Tillman and was knocked out in the second round. Three fights later, Grant was selected as an opponent for prospect Ricky Womack and dropped a six round decision. It appeared that Grant's career was ticketed to being that of a journeyman.
Grant's career would bounce up and down following the Womack loss. With a lack of depth in the cruiserweight division, Grant did get opportunities at bigger fights and even world title bouts but continued to fall short when he stepped up in class. The journeyman tag seemed appropriate as he entered his 13th year as a pro in 1997 with a pedestrian record of 25-12.
In August of 1996, Adolpho Washington traveled to Spain and scored a unanimous decision victory over the previously undefeated Torsten May to win a cruiserweight title. The win moved Washington's record to 26-3-2. After a bit of a layoff, Washington settled on a title defense against Grant to help shake off the rust.
Stuffed deep on a Don King promoted card in Florida, the fight was thought to be a mismatch with no US television interested and barely anyone in attendance. But in an absolute shocker, Grant defeated Washington by split decision. The unheralded cruiserweight went from journeyman to world champion overnight.
Unfortunately for Grant, his championship reign would be short. Five months later in his first title defense, he was out-boxed by Imamu Mayfield losing a unanimous decision.
Grant would not fight for a major title again, but in 2000 he would gain a little more notoriety when he defeated a faded Thomas Hearns. Four years after defeating Hearns and following a string of losses, Uriah Grant retired with a final record of 30-21.
Photo credit: Tom Hogan / Hogan Photos / Golden Boy Promotions
Check out more boxing news on video at The Boxing Channel
To comment on this article in The Fight Forum CLICK HERE