Canelo Wins Mexican Style Rematch by Majority Decision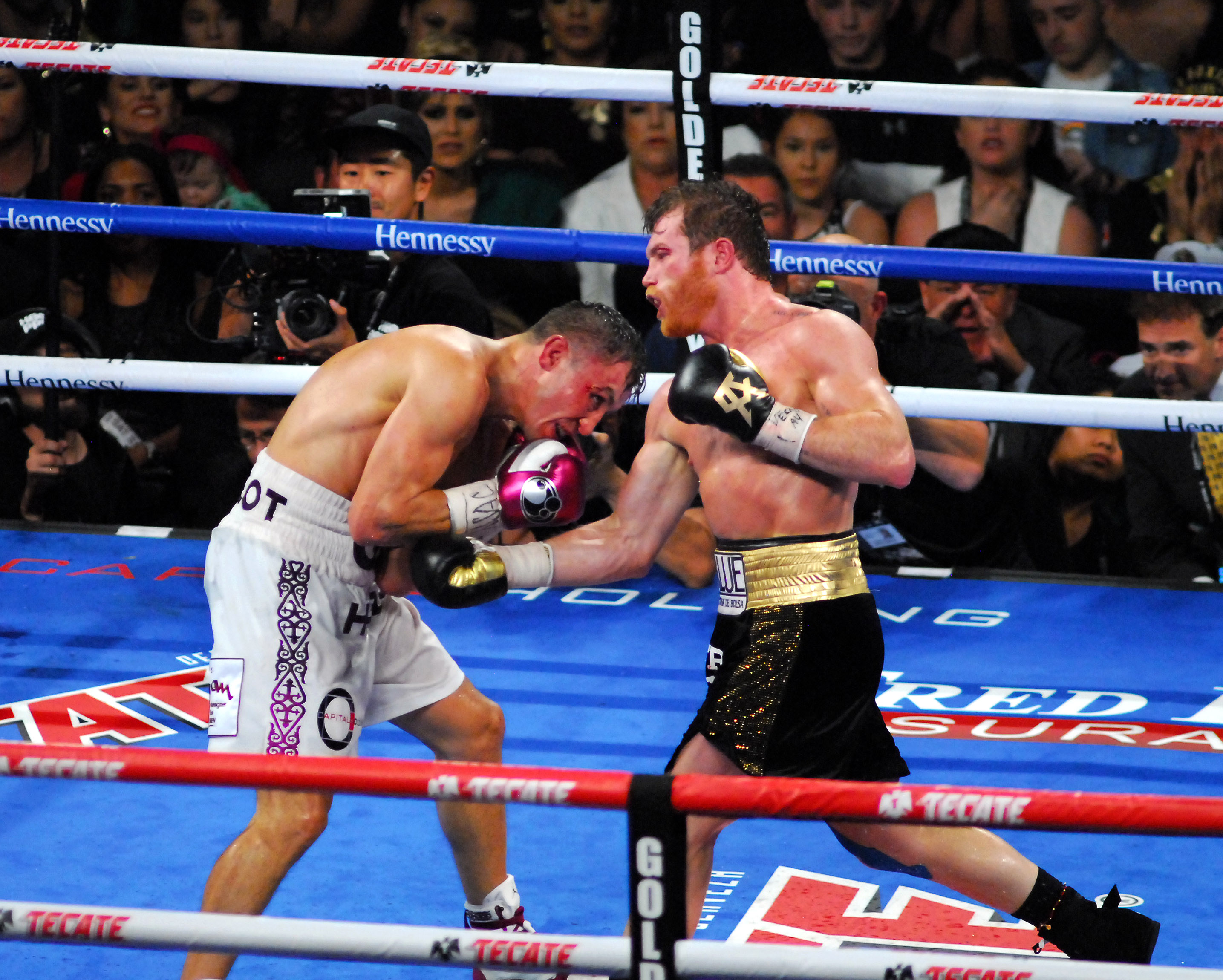 LAS VEGAS-Mexican style erupted and Saul "Canelo" Alvarez proved that it's not foreign to him as he bested powerful Gennady "GGG" Golovkin to win the middleweight world titles by majority decision on Saturday.
The Mexican redhead Alvarez (50-1-2, 34 KOs) proved in his 50th win superior to Mexican style fighter Golovkin (38-1-1, 34 KOs) of Kazakhstan before a sold-out crowd of 21,965 screaming fans at T-Mobile Arena. Still, it was close.
After months of name calling and accusations of cheating, plus a suspension by the Nevada State Athletic Commission because of illegal use of banned drugs, Alvarez abided by the penalty rendered and was supervised by VADA to be eligible to fight Golovkin in the rematch after their first encounter ended in a majority draw.
This time Alvarez cleaned the slate and won by majority decision after 12 turbulent back and forth rounds. The fans were loud in their support for both throughout.
Youth was in Alvarez's favor and he took advantage with his speed despite standing in striking distance in every round. It was a matter of machismo for the Guadalajara native who had suffered hearing Golovkin's team claim he did not fight like a Mexican while the middleweight champion did in the first fight.
Alvarez took it to heart.
Early in the fight Alvarez was quicker to the draw though Golovkin was able to counter with powerful blasts. The exchange of blows was measured in a pace dictated by Golovkins jabs in the first three rounds. It was too early to determine who was the superior fighter.
Golovkin picked up the pace in the fourth round and snapped Alvarez's head back with vicious right uppercut. Alvarez then blasted a left hook to the body and got a reaction from the blow, but overall Golovkin had his best round.
The quickened pace continued and Alvarez began targeting Golovkin's body with right uppercuts to the belly and left hooks to the liver and ribs. Though the always strong Golovkin did not show it, Alvarez continued the body assault. In the sixth round both unloaded with tremendous blows that seemingly would knock out anyone. Both remained standing.
Alvarez began to get into a rhythm with rights to the body and lefts to the body mixed in with power shots to the head. Golovkin rallied a bit with a three-punch combination and seemed to regain control of the round overall. It stopped Alvarez's momentum.
Both fighters engaged in some hellacious shots in the next few rounds though both seemed tired. At one point Alvarez did the sign of the cross and entered in the fray as if prepared to walk into fire. He did.
Golovkin absorbed some tremendous blows to the head and though tired he never wilted. Neither did Alvarez. The final two rounds were hard to determine whose blows were affecting each other. Golovkin must have known the decision was in the balance and erupted in the final round with rights and a right uppercut followed by a left hook and right-left combination. A big right cross from Alvarez stopped the onslaught and then the Mexican redhead began connecting with his own.
A collective exhaling took part when the final bell sounded. Both Golovkin and Alvarez hugged briefly. Both had fought to the full extent of their abilities and both fought Mexican style.
One judge Glenn Feldman scored it a draw 114-114, while Steve Weisfeld and Dave Moretti scored it 115-113 for Alvarez who becomes the new WBC, WBA and IBF middleweight titleholder.
"It was a very exciting and very emotional 12th round," said Alvarez, 28. "He's a great fighter. I salute him. He's a great fighter but I did this for Mexico."
Golovkin was classy in defeat and knew it was very close and could have been a draw.
"I'm not going to say who won tonight because the victory belongs to Canelo according to the judges," said Golovkin, 36, who was taken to the hospital for stitches. "I thought the fight was very good for the fans."
Many felt the fight was superior to the first in terms of pure action.
"If he wants, we can do it again," said Alvarez. "But let's enjoy this tonight."
Munguia
WBO super welterweight titlist Jaime Munguia tried to contain the storm within but once Canada's Brandon Cook began unleashing wild overhand rights, the chains of restraint were off and both were flailing away like bullies in a street fight. In this street fight Munguia was vastly in his element in winning by third round knockout.
Munguia used his jab and foot movement to keep the fight at a distance in the opening round. Cook looked to land some counter rights every time the taller Mexican fighter fired a jab, but no luck. And when Cook tried to mount an offense with more overhand rights the fight was on and Munguia was like a wild stallion unleashed out of the gates.
At the end of the second round Munguia had Cook cornered in the corner and connected with a blistering right cross from that long arm he possesses. Cook barely survived.
Munguia seemed more intent to close out the fight in the third round as he cornered Cook and dropped a right hand like an anchor and down went Cook. The Canadian bravely got up but Munguia raked him with a blistering four-punch combination and referee Tony Weeks wisely stopped the fight at 1:03 of the round. It was another knockout win for the Tijuana fighter.
"I was a little more composed and concentrated this time around," Munguia said as fans cheered. "Before, I was always looking first for the knockout and only the knockout, this time I focused a little bit more."
Talk on his readiness to move up to the middleweight division is already being discussed.
"Little by little you find out what you do well," said Munguia about what he learned from this win. "I think it's a process I'm only 21 and I'll take the fight of the winner. We've learned a lot of things. I want to show that I can fight the best to show that I am the best.
Lemieux
A blistering war on social media was ended abruptly in the boxing ring as former middleweight world champion David Lemieux (40-4, 34 KOs) knocked out Ireland's Spike O'Sullivan (28-3, 20 KOs) with a left hook to the chin in the first round.
Lemieux and O'Sullivan warred like hungry dogs on social media but when it came to the actual fighting the real alpha dog showed when the Canadian beat the handle-bar moustache boxer to the punch with a quick left hook. Down went O'Sullivan in sections at the end of the first round. After delivering a jab O'Sullivan was following up with a right when Lemieux short-circuited him with the blow. The end came at 2:44 of the first round as referee Russell Mora stopped the fight though a wobbly O'Sullivan got up.
Now will Lemieux fight the winner of Golovkin-Alvarez?
"They're two excellent fighters but there is no middleweight like David Lemieux. I'm not rooting for anybody, I think it's a 50/50 fight," said Lemieux before the main event. "I once fought Golovkin at his peak. Perhaps Golovkin will fight Lemieux at his peak."
Chocolatito
Roman "Chocolatito" Gonzalez (47-2, 39 KOs) answered several questions at once with a single blow as he knocked out Mexico's Moises Fuentes (25-6-1, 14 KOs) to return with a bang after a year's absence.
After losing back-to-back fights and the super flyweight world title, many felt Gonzalez no longer possessed the fighting skills that enabled him to capture four division world titles and consideration as the top fighter pound for pound. Others wondered if his political leanings in his native Nicaragua might also be a tug on his ability to concentrate on boxing.
With one punch, Gonzalez answered all those questions with a rocket right cross that deposited Fuentes in his own corner and unconscious at 1:44 of the fifth round as referee Robert Byrd stopped the fight.
"When he hit the floor, I got very worried for him and I panicked," said Gonzalez who trotted over to the fallen Fuentes. "I asked for him to forgive me because this is the job that we chose and that I didn't mean to hurt him."
Up until the fifth round Gonzalez exchanged combinations with fellow multi-division world champion Fuentes and looked faster and sharper than his Mexican counterpart.
"I'm very thankful for this opportunity," said Gonzalez. "I am a step closer to being a world champion."
Other Bouts
Heavy-hitting prospect Vergil Ortiz (11-0, 11 KOs) crushed former sparring partner Mexico's Roberto Ortiz (35-3-2, 26 KOs) and scored two knockdowns before the fight was stopped at 1:00 of the second round. A quick counter right cross delivered Roberto Ortiz to the floor and he rolled around for a few seconds. Though he did beat the count and tried to rally he was blasted out by a three-punch combination and down he went for the final time forcing referee Vic Drakulich to halt the super lightweight fight.
Though both prizefighters are named Ortiz they are not related. But they do know each other from ring sessions earlier in their careers.
"The win is bittersweet because I won against a great name and a record, but "Massa" (Roberto Ortiz) was my first ever sparring partner when I first turned pro," said Vergil Ortiz, who grew up in Dallas and trains in Riverside, Calif. "Now he's a win on the next step of my career. During my first sparring session he gave me a swollen lip. Today I knocked him out."
Santa Ana's Alexis Rocha (12-0, 8 KOs) won the battle of southpaws versus Carlos Ortiz (10-3, 10 KOs) of Mexico by unanimous decision after six rounds in a super welterweight clash. Rocha was a little quicker and slicker with his punches and nearly had a whitewash. The scores were 80-72 twice and 79-73 for Rocha.
"I wish I could have thrown more punches and more combinations," said Rocha whose brother is former featherweight contender Ronny Rios. "He was really good at catching shots and countering."
Philadelphia's Jaba Khositashvili (4-0) won by decision after six super middleweight rounds against San Bernardino's Lawrence King (4-1).
"My opponent kept holding me and wouldn't let me fight him," said Khositashvili.
New York's Brian Ceballo (5-0, 3 KOs) won by stoppage in the second round over David Thomas of Texas in a welterweight match set for six rounds. The end came at 30 seconds of round two.
"I figured out beforehand that he always fights the same way," said Ceballo. "So I knew to keep my distance and keep a fast pace."
Photo credit: Al Applerose
Check out more boxing news on video at The Boxing Channel
Eleider Alvarez Forged the 2018 TSS Upset of the Year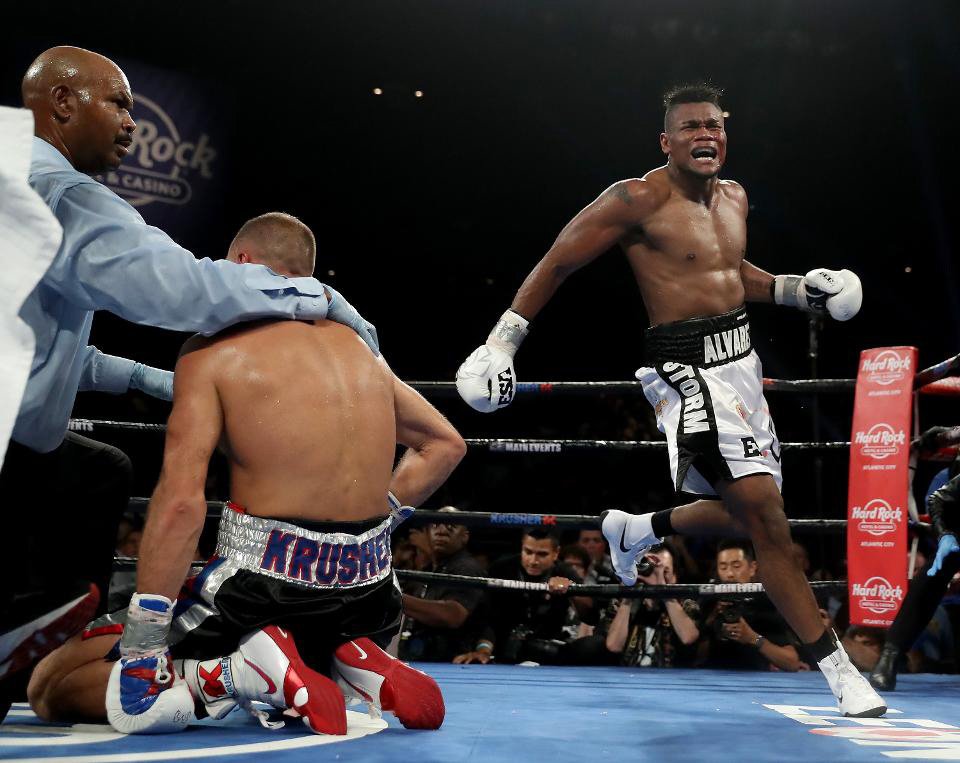 HBO World Championship Boxing called it quits in 2018 but not before airing the Sweet Science (TSS) Upset of the Year: Eleider "Storm" Alvarez's jaw dropping seventh round knockout of Sergey Kovalev to win the WBO light heavyweight title at Atlantic City's Hard Rock Hotel & Casino, formerly President Trump's Taj Mahal.
The legendary cable network that broadcast the Douglas-Tyson shocker in February of 1990 retained its reputation as a theatre of the totally unexpected on that Saturday, August 4. It was supposed to be a return to elite form for the Russian Kovalev (now 32-3-1 with 28 knockouts) and a chance for promoters to make boardwalk boxing great again.
For the 34-year-old Colombian Alvarez, successfully transplanted to Montreal, Quebec, Canada in 2009 by Groupe Yvon Michel, it was the realization of a bold prediction that fell upon mostly deaf ears: "Kovalev will be a very difficult fight but I will be the new WBO champion of the world."
Right on both counts.
Alvarez (booked as a +400 underdog) appeared to gain an early advantage with impressively aggressive boxing skills but Kovalev wasn't going anywhere without a fight and he pummeled Alvarez in the fourth round with his long jab and solid power punches—outlanding him 3 to 1.
Alvarez returned to his corner down on the scorecards.
Max Kellerman may have been able to see what Alvarez was doing to win the first three rounds but ringside judges Carter, Pasquale and Ortiz did not. Regardless, Alvarez pumped his fist in celebration, well aware he'd just taken the best of 'The Krusher' without being too badly hurt by any of it. "I wanted to show him I have a good chin," he said after the fight of the assault.
The fifth and sixth were fiercely competitive with both rounds being won legitimately by Kovalev who presently began showing signs of fatigue while Alvarez (24-0 with 12 knockouts) recovered from the fourth round drubbing he'd proudly endured; his left cheek bloodied. If Kovalev's plan was to outbox Alvarez and win a decision, he lacked the stamina needed to go six more rounds.
Alvarez answered the bell for the seventh ready to make good on his stormy forecast calling for rain on Kovalev's parade. With a minute and twenty seconds left in the frame, Alvarez feinted a left jab to the body; following up full-speed with a looping right hand to the side of Kovalev's unprotected head. Kovalev wobbled backwards onto the seat of his pants, decked by a jabby boxer assumed to be a light hitter with a trio of surgically repaired right knuckles.
Up fast at the count of "four" from American referee David Fields, Kovalev was in the eye of the storm now. Alvarez went for the kill with poise and precision. A right uppercut rocked Kovalev's head back. A left jab had a similar effect. A right cross strafed his face. With 40 seconds left in the round, Alvarez connected with a ferocious left-right combination and Kovalev fell again. And again—Kovalev got up quickly but this time in no condition to continue and he could no longer protect himself. Alvarez walked straight in and landed a clubbing right around Kovalev's guard. Kovalev collapsed onto all fours and Fields immediately waved it off as Alvarez celebrated.
A new light heavyweight star was being born.
Asked if he wanted to face HBO undercard winner Dmitry Bivol in a WBO/WBA unification match-up, Alvarez indicated a willingness to face all comers. "I've been waiting five years to fight the best in the division. I'm now among the best at 175. Whatever comes, I'm ready."
It won't be a long overdue confrontation with promotional stablemate Adonis Stevenson. The 41 year-old "Superman" was beaten into a medically induced coma by new WBC champion Oleksandr Gvozdyk on December 1 in Quebec City. What's coming instead is an immediate rematch with Kovalev, scheduled for February 2, 2019 in Frisco, Texas—streaming live on ESPN. Alvarez probably needs another KO to retain his new title. The three official judges in the first fight did him no favors and Texas is infamous for dodgy officiating and sketchy scoring.
Believing that he needs to be in better shape if he hopes to avenge his latest defeat, Kovalev is fielding yet another new trainer, new International Boxing Hall of Famer, James "Buddy" McGirt. Says Krusher of this 'last chance' sequel: "I'll be ready [this time] and I will take back my title."
Time will tell.
Despite taking an ambulance ride to the hospital after getting his ass officially kicked, Kovalev went on record claiming Alvarez was "lucky" to get the knockout victory. Kovalev's loyal promoter Kathy Duva may have convinced her guy it was a fluke but a result like that is surely no accident. "Sergey was clearly winning when he just got caught," she casually explains. "It happens."
No Kathy, it happened. It happened. The Sweet Science 2018 Upset of the Year. My Alvarez-Kovalev II prediction: It happens again. Alvarez TKO in nine, Kovalev calls it quits.
Other Notable 2018 Upsets: Roberto "Rifle" Ramirez's second round beat down of Dejan Zlaticanin in June, Francis Chua's split decision over Kye McKenzie on the Horn-Mundine undercard Down Under, Emanuel Navarrete's victory against Isaac Dogboe for the WBO 122 lb. title on the Lomachenko-Pedraza undercard at MSG, and as written about by TSS's own Matt Andrzejewski, Hassan Mwakinyo's shocking TKO of Sam Eggington in the United Kingdom.
UPSET PICK POSTSCRIPT
It's funny how "boxing experts" often claim to have picked the surprise winner of a prize fight only after said fight is over. At a packed press conference in New York City to announce the summer title bout between Kovalev and Alvarez, I couldn't find a single media member or industry insider willing to entertain the notion of an upset, much less an Alvarez knockout.
Face-to-face with Kovalev, Alvarez looked and sounded like a sure-fire winner to me. Where Alvarez appeared fit and ready to fight that day if need be, Kovalev struck me as a little too fat and happy for his own good. After Kovalev was knocked down and out on HBO, social media was full of 'I told you so' tweets from ex post facto smart alecks and keyboard warriors.
What I observed in the lead-up to the fight led me to conclude the 35 year-old Kovalev was not taking his relatively unknown opponent as seriously as he should have been. Kovalev's middle finger morphed into a peace symbol. He actually said it wasn't his goal to knock Alvarez out!
Ultimately, I was the only reporter out there who could read the writing on the wall, noting last May what a "high risk, low reward" fight this was for Kovalev; one with the potential to "go all wrong" for him. I couldn't have been more right. While most (if not all) fans and media regarded the result as a foregone conclusion, I wrote that Kovalev would be UPSET by Eleider Alvarez.
He told me, I told you.
It happened.
Check out more boxing news on video at The Boxing Channel
To comment on this article in The Forum, CLICK HERE
Filip Hrgovic is the TSS 2018 Prospect of the Year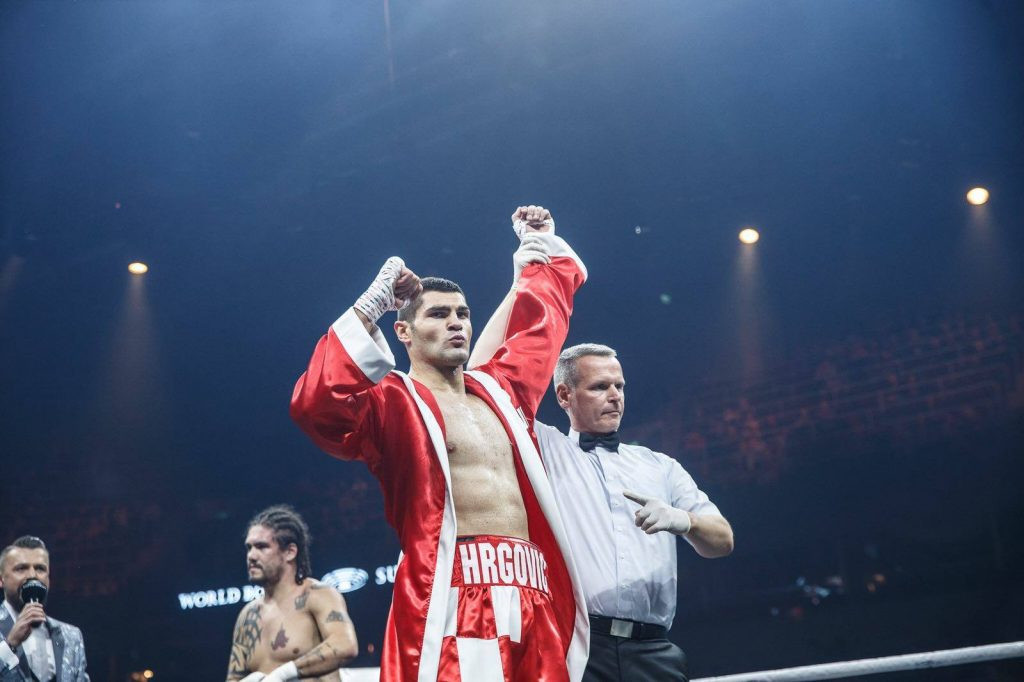 So awash is boxing with prospects currently that picking just one has proved so excruciating that I floated a different idea with The Sweet Science's fearless editor.
"What about selecting a prospect from each division?"
"Egad," he literally replied.  "I wouldn't go that far…would be a good story though. But for now we need to recognize just one fighter for historical continuity."
He's right of course; the Prospect of the Year for The Sweet Science goes back a bit and it's an honor to pitch in. As for that divisional breakdown? I'll have 17 nominees for you in January.  Watch this space.
As for today, I offer you the 6'6 Croatian, "el Animal", 7-0, 233lbs, 26-year-old, Filip Hrgovic.
This is something of a controversial pick, I think. I don't lean towards potentiality in heavyweights as a rule. They're slower, generally less organized, less compact and a questionable chin is a fiercer impediment to a heavyweight of class than the equivalent in any other division. In short, the heavyweight division is a place of hammers and anvils, and if you are shy the latter, journeymen will find you out.
I'm wary, too, of relying upon a fighter's amateur achievements to protect them from professional doubts. Too many times Audley Harrison; too many times David Price. Hrgovic drew the eye in 2010 though, beating up Tony Yoka and Joseph Parker on his way to winning the World Youth Championships. Times have changed too in that the World Series of Boxing offers an amateur/professional crossover, a nursery for the paid ranks and one in which Hrgovic excelled.
That is the past, however.  What of the future?
Trainer Pedro Diaz is clear: "Filip is ready for a title fight," he offered in the build up to his last fight with Kevin "Kingpin" Johnson, "right now.  You can all see it."
Diaz, a late 2018 addition to the Hrgovic camp, is an inspired choice. An eastern European and a tall one, Hrgovic is already being tarred with the "robotic" brush unearned by Vitali Klitschko and questionable even in relation to Wladimir Klitschko, but his fluidity is limited to the jab right-hand. Diaz, a veteran of the Cuban amateur system who has worked with the likes of Miguel Cotto, Guillermo Rigondeaux and the legendary Felix Savon, is the right man to de-program any mechanical tendencies in a charge young and hungry enough to learn. Hrgovic will never be Eusebio Pedroza but already he punches to the body more smoothly than was the case a year ago.
Promoter Nisse Sauerland, too, thinks that Filip is in for "a big 2019." Croatia Week after discussions with the heavyweight prospect claim that a title fight is possible as early as next year.
That seems ridiculous for two reasons, which I'll get to momentarily, but first, what does the man himself say about it?
"I go really, really fast," he told press in his vastly improved English this December.  "They put me in the fast track."  A smile, then: "I enjoy it."
"In 2019," he adds, "I am coming for all the belts."
In 2018, Hrgovic ran 5-0 and there was a discernible step up in his two most recent contests.  First he met Amir Mansour, the New Jersey fringe contender who had lost just twice, once on a freak cut (Mansour bit his tongue while beating up Dominic Breazeale and could not continue due to breathing difficulties) and once in being out-pointed by the skilled Steve Cunningham over ten rounds. Hrgovic stopped him in less than nine minutes. As I wrote at the time covering that fight "Hrgovic looked nothing less than a natural fighter and a special one. He cracked an elite jaw and solved a singular puzzle with no more effort than if he had been sparring a straight-backed amateur."
Next up was Johnson, and again Hrgovic impressed but this time he did not dazzle. Variety is not a strong point and Diaz will know now that his man needs work on his left hook and serious work on his feinting, which is almost non-existent.
Hrgovic likes one plane of attack, one-two, at distance. This combination is highly evolved, however. He goes up and down, he has a short cross, a wild looking overhand right in the style of Deontay Wilder and a straight right-hand down the pipe behind that busy jab. People have derided this final punch as "slow". This is not entirely accurate and while his hand speed is not dizzying, his mechanics are excellent and therefore the right hand is heading in as near behind the jab as is technically possible. This is important because it barracks his greatest asset: his accuracy.
Hrgovic is already wasting very little. Johnson is no longer the fighter that extended Vitali Klitschko the full distance back in 2009 but equally, Hrgovic was clearly landing at a higher rate than the deadly Vitali. Hrgovic hardly missed Johnson with a serious punch. The fighters who were his equal in this attribute after seven professional fights who are currently active are also both on the pound-for-pound list.
Stylistically, he's going to struggle with someone really good at closing the distance to mid-range, say a Luis Ortiz type, and he is fortunate that modern interpretation of the rules has all but eliminated the great in-fighter, but anyone who remains at his preferred range, outside, is going to be in for a tough night. The very best would be able to outbox him though, and the very best are in possession of the titles and the top contender spots.
This is the big problem with Hrgovic's "I'm coming for all the belts" statement.  His ambition is to be admired and by December 2019 he could be 10-0 and ranked among the ten best heavyweight on the planet; indeed, he has already started to pop up on some of the less reputable ABC rankings. But however many times he fights next year the heavyweight timeline for 2019 basically looks like Wilder-Fury II and Joshua against the winner of Whyte-Chisora in the first part of the year, with the winners from those fights squaring off in London around November.
Whatever kind of 2019 Hrgovic has, he's beginning it behind both Oleksandr Usyk and Jarrell Miller and, when the dust settles, is likely to remain so given the way Eddie Hearn continues to corner the market.
So a title shot in 2019 is not just premature physically – Hrgovic needs to work on the left hand, defense and feinting as well as stamina, never having gone past the eighth – but politically.  March 2020 is the earliest he could hope to visit a title ring and even then probably only if Wilder emerges on top of the pile.
What Hrgovic should be gunning for by the end of 2019 is the loser of Chisora-Whyte, perhaps on a London undercard.  If he prefers the United States, his eventual target should be Jarrell Miller and that would be obtainable come the end of next year.
The main reason I make Hrgovic the one to watch however, is that in 2019 we are going to find out about him. It might not be "his year", it really might not be, but, it will be the year we find out if he can take a punch.
If he has the heart to carry him to the top.
If he's real.
And that's a prospect I'm rather looking forward to.
Check out more boxing news on video at The Boxing Channel
To comment on this story in the Fight Forum, CLICK HERE
Oleksandr Usyk TSS' 2018 Fighter of Year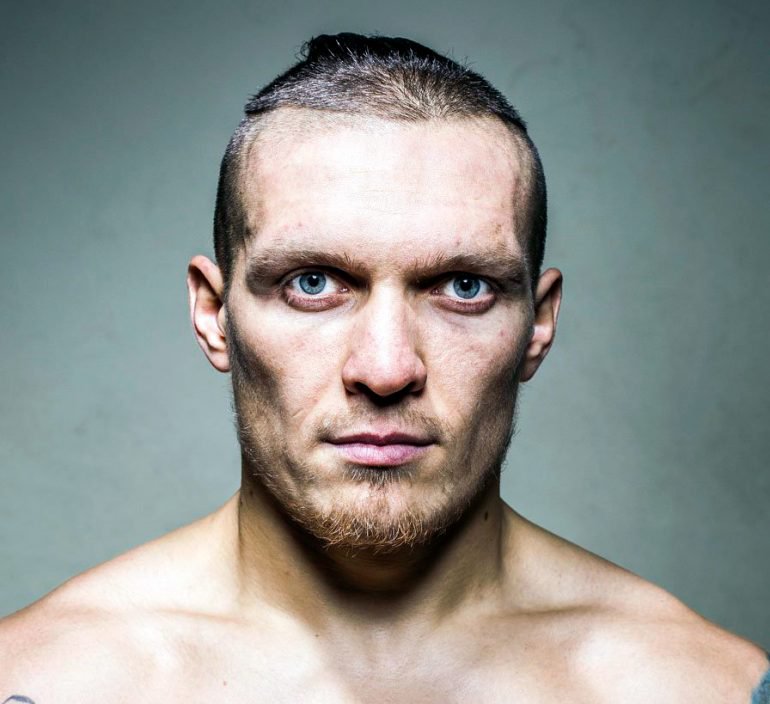 The best advertisement for a newly released movie – any product, actually – is not television commercials or print ads in newspapers and magazines. It is favorable word of mouth. People see or use something, they like it, and they tell their friends and neighbors they should give it a try as well. There is no better endorsement of a restaurant's quality than to peek inside and see a full dining room.
And so it is for undisputed cruiserweight champion Oleksandr Usyk, The Sweet Science's 2018 Fighter of the Year. The 31-year-old Ukrainian southpaw's publicists and handlers don't have to try very hard to sell his worthiness as a fighter whose time is now and maybe well into the future; his vanquished opponents are doing a fine job of that as it is. Who better to spread by word of mouth of any fighter's star quality than laudatory comments uttered by the men he has beaten up?
After Usyk (now 16-0, 12 KOs) fully unified the cruiserweight title with a wide unanimous decision over Russia's formidable Murat Gassiev on July 21 of this year in Moscow, adding Gassiev's WBA and IBF 200-pound belts to the WBC and WBO ones Usyk already possessed, the losing fighter was so complimentary toward the man who had just given him a boxing lesson that he felt compelled to pass out more compliments than the punches he had thrown but was unable to land.
"He's the best opponent in my professional career," gushed Gassiev, who lost for the first time as a professional after winning his first 26 fights, including 19 inside the distance. "How on earth do you beat this guy?"
How, indeed? Despite performing before a hostile, pro-Gassiev crowd that might have influenced the judges had the match been even reasonably close, Usyk won by yawning margins of 120-108 and 119-109 (twice). For those of you keeping track at home, Usyk won 34 of 36 rounds on the official scorecards. That's a level of domination seldom seen at such a high level of competition.
Nor is Gassiev the only vanquished opponent who is flinging verbal rose petals at the feet of Oleksandr the Great. In his third and final ring appearance of the year, Usyk traveled to Manchester, England – unfriendly turf once more – to defend his four titles against popular Briton Tony Bellew, a two-time former cruiserweight champ who, at 35, had announced his retirement beforehand, thus making the 35-year-old even more of a sentimental favorite than he otherwise would have been. Bellew fought courageously and even led by a point on two of the three official cards, with the third even after seven rounds.  However, he was nailed with a jolting left hand, went down, and ultimately was stopped in the eighth in the Nov. 10 bout that has helped fuel Usyk's continued rise toward superstardom and in the pound-for-pound ratings.
"He is an exceptional champ," Bellew, as gracious in defeat as Gassiev had been, said in complimenting Usyk. "He is everything I have feared. He is the best I ever fought. He is probably the best cruiserweight that ever lived."
On a more ominous note to the biggest boppers in the heavyweight division, which Usyk now appears ready to enter, Bellew, who holds two victories over former WBA heavyweight champion David Haye, issued a warning that they had better not sleep on Usyk, who is 6-foot-3 and, according to Usyk's manager, Egis Klimas, is already a genuine heavyweight at 215 pounds, which is 2½ pounds more than WBC titlist Deontay Wilder came in at for his controversial split draw with lineal champ Tyson Fury on Dec. 1.
"I don't think there's anybody else for him to fight in the cruiserweight division," said Klimas. "Well, maybe there would be if (former super middleweight and light heavyweight ruler) Andre Ward comes out of retirement and moves up, which is something I've been hearing. But if he doesn't, we probably will go to heavyweight."
If it really is a done deal that Usyk is through with the cruisers, acknowledgment should be rendered to his incredible body of work in 2018. It might be a matter of opinion as to whether Usyk is the finest cruiserweight ever, a designation that arguably could go to the late 1980s version of future four-division heavyweight champion Evander Holyfield, but there is no disputing that the polished Ukrainian's three-victory run through the year that is about to end surpasses anything ever seen in the division over a 365-day period. Although he entered the cruiserweight portion of the eight-participant World Boxing Super Series as the nominal favorite and reigning WBO champion, the way Usyk separated himself from the pack of highly regarded 200-pounders was something to behold. He began the tournament on Sept. 9, 2017, with an impressive 10th-round stoppage of Germany's Marco Huck before kicking it into overdrive in 2018, beginning with his majority-decision unification victory over previously undefeated WBC champion Mairis Breidis in Breidis' hometown of Riga, Latvia, on Jan. 27. After adding Gassiev's two titles in the WBSS finale, his TKO of Bellew made it three up, three down in 2018 against opponents who were a collective 79-2-1 with 57 knockouts at the time they faced him.
It is one thing to win a Fighter of the Year award, and quite another to possibly be recognized as 2018's best among all athletes. Usyk is one of four finalists for the BBC World Sport Star of 2018 Award, where his competition will come from U.S. gymnast Simone Biles, winter sports athlete Esther Ledecka of the Czech Republic and Italian golfer Francesco Molinari.
However that vote goes, it is interesting to note that Usyk is TSS' Fighter of the Year the year after the same honor went to fellow Ukrainian Vasiliy Lomachenko, who, like Usyk, was a gold medalist at the 2012 London Olympics and, like Usyk, is trained by Loma's father, Anatoly Lomachenko. It has been said that Usyk is, for all intents and purposes, a virtual replication of Lomachenko, only larger. That is high praise indeed, what with Vasiliy Lomachenko widely considered to be the world's finest pound-for-pound practitioner of the pugilistic arts.
Not everyone agrees with that assessment, however. Before the launch of the WBSS tourney in September 2017, one writer, Gleb Kuzin, opined that "the reality is Usyk is not and never will be a producer of highlights like Vasyl Lomachenko. Usyk is a blue-collar technician. His work is subtle. The comparisons to Lomachenko or any other fighter are ill-informed. Usyk isn't a highlight-reel machine. He's out to make his opponents feel hopeless."
Some would say that making quality opponents feel hopeless is by definition highlight-reel stuff. But either as his own man or a stylistic match for his buddy Vasiliy Lomachenko, 2018 was the year of years in the boxing journey of Oleksandr Usyk. Until, of course, he possibly tops it as a heavyweight.
Bernard Fernandez is the retired boxing writer for the Philadelphia Daily News. He is a five-term former president of the Boxing Writers Association of America, an inductee into the Pennsylvania, New Jersey and Atlantic City Boxing Halls of Fame and the recipient of the Nat Fleischer Award for Excellence in Boxing Journalism and the Barney Nagler Award for Long and Meritorious Service to Boxing.
Check out more boxing news on video at The Boxing Channel
To comment on this article at The Fight Forum, CLICK HERE