Avila Perspective, Chapter 15: Las Vegas Boxing Journal
Usually the world of boxing has two massive fight weekends, but this year it was down to one. All of that pent-up energy had to be released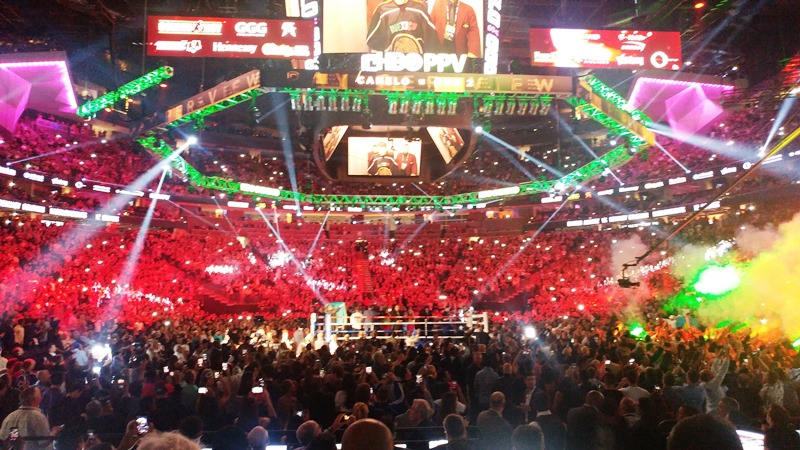 Usually the world of boxing has two massive fight weekends, but this year it was down to one. All of that pent-up energy had to be released and this past weekend, for Mexican Independence Day, it all came pouring out.
Las Vegas was my destination once again.
In the last four years the Nevada gambling capital has seen fewer and fewer boxing cards as other destinations like New York, Texas and California have gobbled up fight dates. What used to be almost a monthly journey has been whittled down to twice a year.
When it comes to staging a mega event, you just can't beat Las Vegas. Saul "Canelo" Alvarez meeting Gennady "GGG" Golovkin for the second time definitely qualifies.
I was supposed to drive up Thursday morning with photographer Al Applerose but we could not coordinate our schedules. It was important to leave early to reach the Hard Rock Hotel and Casino where the Golden Boy Promotions card featuring Maricela Cornejo versus Franchon Crews for a world title was being held. Starting time for the fight card was 2 p.m. because of ESPN.
By the time I checked into my hotel and drove over to the Hard Rock, it was already 3 p.m. Surprisingly, a decent crowd was there mostly to see Cornejo vs. Crews. ESPN televised the event and despite the early start time fans and celebrities were in the house.
It had been 14 years since that network had televised a female world championship bout. I remember because I saw that fight in 2004 and it was a doozy.
Finally, another female world title fight and it was great to see two female warriors finally get their day under the spotlight. After 10 rounds Crews won by majority decision and the green WBC belt was wrapped around her waist. Watching the joy on her face was priceless.
If you have followed me as a reader then you know female boxing has been a favorite passion. I truly believe it will rival male prizefighting one day, maybe soon. The world of MMA has proven it can be done as Ronda Rousey so emphatically showed.
Women prizefighters will get their day.
After the fight we headed to the Pink Taco mainly because they serve decent margaritas. I'm kind of a connoisseur of the drink. The first one I received was passable, but that second one was pretty good. Our group consisted of two reporters from Japan and Applerose, the photographer. Tacos and margaritas for everyone.
Friday
No fights were scheduled for Friday but the weigh-ins and press conferences were stacked together. I moved from my hotel and drove to Summerlin where a friend of mine has a place. He had invited me to stay and was insistent.
My friend is known as "Mr. Las Vegas." It's a name given to him the great Fernando "El Feroz" Vargas who now lives in Vegas. He gave him this nickname because no one knows Las Vegas like this guy (that I won't name unless he gives approval). This 40-something year old gentleman was born and raised in the casino city and has been involved in boxing, MMA and personally knows the high rollers and political powers of the city and state.
Mr. Las Vegas invited me months ago but he's always on the go and sometimes it slips his mind so I booked a room just in case. But, he was adamant about me staying with him and we go back a ways.
He's also a big proponent of women's boxing.
I headed back to the Strip to the MGM media center where a press conference for Tito Ortiz and Chuck Liddell was taking place. The media was in force. Easily 200 were already in the David Copperfield Theater at 10 a.m.
Maybe it was the free breakfast that enticed reporters and photographers to get up early. It was amazing to see so many media members on a Friday morning. It was a mad scramble.
The theater is fairly large and from a distance I could spot many friends and colleagues. During the face-off Liddell and Ortiz squared off and Oscar De La Hoya looked like a midget between the two. They will be fighting at the Inglewood Forum on Nov. 24. Golden Boy Promotions is the promoter for the pay-per-view event. It will be the third time the MMA stars clash.
So while Dana White delves into boxing, De La Hoya delves into MMA. Strange happenings.
Later that Friday a press conference for Yuri Gamboa was staged by the Cuban fighter himself at Gonzalez Gonzalez restaurant in the New York, New York Hotel and Casino.
Gamboa briefly had a contract with Golden Boy, and had been connected to Top Rank and Fifty Cent. The slick southpaw (is there any other kind of lefty?) seeks another chance to hit a jackpot in the boxing ring.
About two dozen reporters met at the Mexican restaurant eatery. Gamboa was busy speaking to each reporter one-by-one and helped by a small group of publicists including New York sharp Ed Keenan. Food and drinks were great.
Last year Gamboa was quite busy and had four prizefights. His lone loss was against Mexico's extremely dangerous Robinson Castellanos who stopped the Cuban at the end of the seventh round in Las Vegas.
So far this year, no fights. It's a primary reason he's doing it himself on a risky pay-per-view show.
"I can't depend on anyone else," said Gamboa. "If I want to advance. I feel I should do it myself. I have experience and knowledge in professional boxing."
Gamboa, 36, will fight Mexico's Miguel Beltran on Nov. 20, in Miami, Florida. He will be the main event. The co-main event will be Puerto Rico's Juan Manuel Lopez meeting Jesse Rodriguez. If all goes well, the two former world champions will meet each other sometime next year.
"I still have goals to accomplish," said Gamboa.
Super Lightweight Title Clash
While sitting around eating and drinking at the Mexican restaurant, the ESPN fight card featured Jose Carlos Ramirez and Antonio Orozco fighting for the WBC super lightweight world title. It was body puncher versus body puncher and that means fireworks.
Ramirez had not faced anyone who could match punch output with him until that Friday night. I expected Orozco to fire all his guns and that's exactly what he did.
For 12 volatile rounds the two 140-pounders fought at 100 miles an hour and though Ramirez won the majority of the rounds according to the judges, each round in itself was a battle.
Orozco, 30, is a very mild-mannered gentleman outside the ropes, but inside he's one of the most fierce body punchers in the business. He has fought for Golden Boy Promotions for a number of years and may have passed his peak two years ago.
Ramirez, 26, was making his second defense of the world title he won almost a year ago and fights under the Top Rank banner. Whenever these two promotion companies go against each other it's like the Dodgers and the Giants. No mercy.
The titleholder Ramirez was fighting in front of the adopted hometown of Fresno and floored Orozco twice with body shots and head shots. You would have expected Orozco to wilt but every time he was dropped he came back with a ferocious attack.
It was a gripping fight to watch.
As I sat at the bar in the Mexican restaurant with photographer Applerose, we couldn't help but admire the spirit that both fighters showed for 12 rounds. Crowds gathered around the bar to watch the final three or four rounds. A few had noticed us watching and stopped to see what had us glued to the television screen perched above the various liquors.
We had a few beers after that incredible title fight.
Ramirez won the fight and retained the world title but Orozco had won the hearts of everyone watching with his tremendous heart. Both fighters congratulated each other and showed sincere respect. If you haven't seen it, watch the replay. You won't be sorry.
Saturday
The schedule for Saturday started early with two press conferences staged in the morning.
WBC super featherweight titlist Miguel Berchelt and challenger Mickey Roman met with media at Wolfgang Puck at 12 noon to talk about their pending clash on HBO. It's another meeting between a Top Rank affiliated fighter and Golden Boy affiliated fighter.
Can it match Ramirez-Orozco?
Berchelt is a heavy-hitting but skilled fighter from the Yucatan area. Roman is a hard-nosed heavy hitter from Juarez, Mexico. Its North versus South in this Mexican battle that takes place on Nov. 3 in El Paso, Texas.
This could be extremely explosive.
Immediately after the Top Rank press conference, and a few feet away, another media luncheon took place for interim WBC super lightweight titlist Regis Prograis.
Prograis, 29, is an interesting cat.
Raised in New Orleans and Houston, the extremely strong Prograis will participate in the World Boxing Super Series that begins in late October. He faces former lightweight world champion Terry Flanagan of England.
"I chose to fight Terry Flanagan because he's a former world champion," said Prograis whose last fight was a knockout win over Argentina's Juan Jose Velasco in New Orleans. "I'm trying to prove I'm the best. I don't want an easy fight. It's a waste of time."
Of course he would love a match with current WBC titlist Jose Carlos Ramirez but he can wait.
"We'll meet one day in the ring," Prograis said.
The Rematch
After the pair of press luncheons we headed to the T-Mobile Arena for the Alvarez-Golovkin mega fight. It was an early 2 p.m. start so we missed a couple of early fights. I always try to watch every bout. It's my duty as a reporter to cover all the fights that take place. Not just the headliners, but the afternoon press conferences held me up.
The best of the undercard saw Vergil Ortiz Jr. annihilate his former sparring partner Roberto Ortiz in two rounds.
Vergil Ortiz trains in Riverside, Calif. with Robert Garcia. He formerly was based in Indio, Calif. with Joel Diaz. Both trainers have excellent troops.
Ortiz, 20, has long limbs and fights long too. He's buzzed through 11 straight opponents and kind of resembles late actor Jack Palance in the movie Shane. Vergil is a likeable guy who seems nothing like a feared monster in a boxing ring.
Golden Boy keeps stepping up the competition a notch and he keeps rendering them unconscious. The promoter doesn't want to overstep the process with Ortiz so they are doing things de-li-cate-ly.
So far Ortiz has treated everyone who steps in the ring with him like fragile china. He touches them and they fall to pieces. Technically he is very sound. But the Golden Boy crew sees something very special in the kid from Dallas. He is one to watch.
Boycott?
After several fights including the main event that saw Alvarez win by majority decision, it's important to note that the entire "ringside" media group was placed more than 50 yards away from the boxing ring. No one from the media had a sufficient view to analyze the fight that has been very disputed by fans and others.
But my question is: why did the promoters place the media a ridiculous 50 yards away?
Sadly, it's a move that says to the media "we don't need you."
Maybe it's time to organize.
Regis Prograis photo by Al Applerose
Check out more boxing news on video at The Boxing Channel
Pacman vs. Thurman: The Last of the Gen X Champions vs The Millennials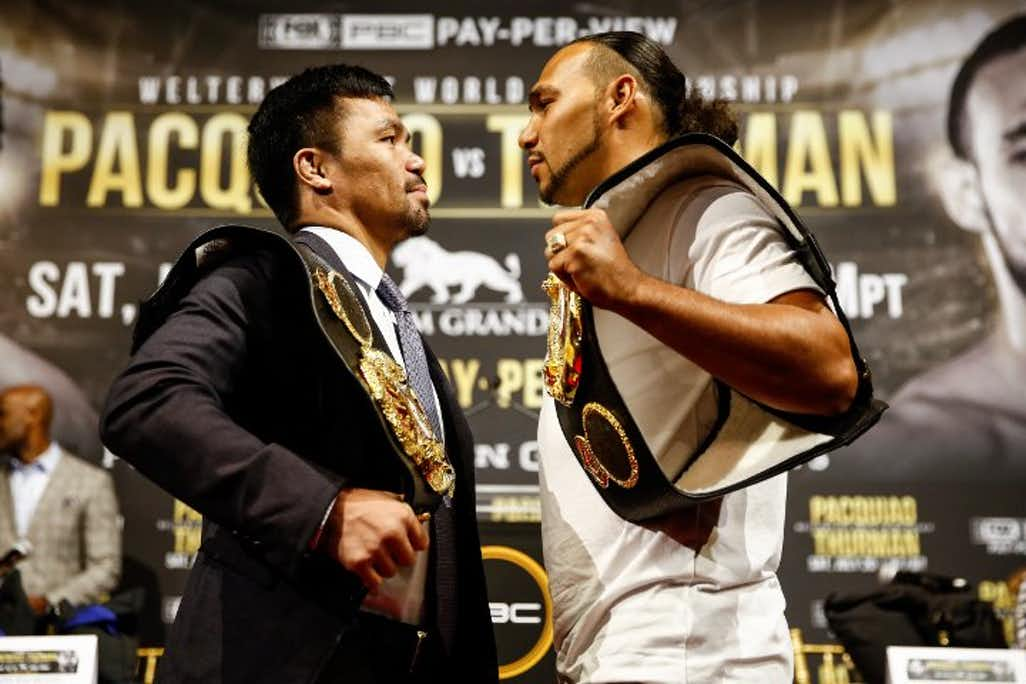 BEVERLY HILLS-Rain and grey skies filled the Southern California landscape on Wednesday as Manny Pacquiao and fellow warriors met the media.
Now 40 years old, Pacquiao entered the Beverly Hills Hotel with his usual entourage of family, fans and carry-on luggage of media followers. The eight division world champion has been running through this routine since arriving in 1999.
Will this be the last time?
Pacquiao remains the last of the Generation X fighters on a TGB Promotions boxing card that features millennial world champions and contenders. One of those millennial champions contends it will be the Filipino's last.
"He's got T-Rex arms. I'm not going to lose to someone with T-Rex arms," said Keith Thurman the WBA welterweight world titlist. "All Manny does is hop around in the ring. I'm not going to lose to someone with T-Rex arms."
Both Pacquiao (61-7-2, 39 KOs) and Thurman (29-0, 22 KOs) each have versions of the WBA welterweight belt and the winner of their fight emerges as the true belt holder.
Senator Pacquiao has an extensive history over the last decades of battles with some of the best prizefighters to ever lace up boxing gloves. When asked to name some of the most skilled of his former foes he quickly rattled off Oscar De La Hoya, Floyd Mayweather, and Timothy Bradley.
All of those Generation X fighters are gone now via retirement. Two are currently boxing promoters and one a television analyst. Pacquiao remains the last of his generation competing at the highest level. He is a phenomenon.
As Thurman eloquently spouted the reasons why he will dominate when they meet in the ring at the MGM Grand Hotel in Las Vegas on July 20, the always reserved Pacquiao sat quietly amused with a subtle grin. He's heard all of these taunts and degradations before.
"I'm thankful for what he's been saying, because it's giving me motivation to prove that at 40-years-old, I feel 29," said Pacquiao. "I've heard that many times before and I beat them all."
Thurman corrected Pacman.
"Last time I looked he had seven losses," said Thurman. "He had a hard time fighting Jeff Horn."
There's no Millennial respect for the last of the Generation Xers.
More Millennials
IBF super middleweight titlist Caleb "Sweet Hands" Plant (18-0, 10 KOs) makes his first world title defense against Chicago's Mike Lee (21-0, 11 KOs) in a battle between undefeated millennials on the same MGM card.
These millennials have no respect for anyone including each other.
"Mike Lee is in uncharted territory. I'm curious on how he plans on beating me. Does he plan on roughing me up and trying to knock me out like my last opponent? Can he do that better than Jose Uzcategui?," said Plant of his next foe.
Lee doesn't understand the disrespect.
"I respect Caleb Plant. He's the champion for a reason and I respect any fighter who can step into that ring. You have to be a different kind of animal to do that in front of all those people, and I am that animal," said Lee. "I came into this event very respectful. He (Plant) had to come out with another line of disrespect. I don't understand it. So be it."
Plant captured the title with a riveting performance against Jose Uzcategui that saw him floor the Venezuelan twice before holding off a late rally against the hard-hitting former champion. It showcased Plant's speed, skill and grit.
"Nobody from 160 to 175 can beat me," said Plant, hinting that perhaps he plans a quick move into the light heavyweight division soon.
Lee, a former walk-on Notre Dame football player, has been slowly moving up the prizefighting ladder with pure determination and grit since his pro debut nine years ago.
"I've chased this since I was eight-years-old and I'm thankful for this chance to go after a dream that others thought I couldn't reach," said Lee. "The beauty of this sport is that it's only going to be me and Caleb in there."
Gen X
In the heat of July, the millennials will have their say. And what about the last of the Generation X generation?
"This is a big fight as far as the stage goes, but it's a big fight against a little guy. He's a veteran and I've dismantled veterans in the past. I believe I would have destroyed Manny Pacquiao five years ago," said Thurman, 30. "I've always been ready for this fight. He's never fought someone like me with this kind of lateral movement, speed and power. I'm coming for him."
Pacman, the last of a retiring breed, smiles at the words.
"My experience will be very important for this fight. It's going to be useful against an undefeated fighter. I'm going to give him the experience of losing for the first time," said Pacquiao. "I am excited for this fight."
Will the last of the Gen X champions continue on his journey? Or will the Millennials close that chapter for good?
Check out more boxing news on video at The Boxing Channel
To comment on this story in The Fight Forum CLICK HERE
Lou Savarese: Houston's Humble Heavyweight Champ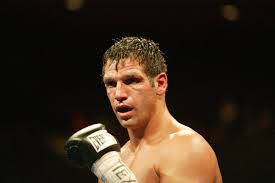 Lou Savarese could hardly contain himself.
There he was, just four years after his last professional boxing match, a Bronx-born, boxing behemoth bursting into the room to tell his family about finally getting a speaking part as an actor on HBO's hit TV series "The Sopranos".
"Ma! Ma! I got a speaking part!" Savarese roared.
"That's great," muttered Ma as she went on with her business and his brother strolled by just in time to add a joke.
"Yeah, but are there going to be subtitles?"
Thus cued the laugh track for this scene, one that seems straight out of a Savarese family inspired sitcom. There was love. There were laughs. There were fights. They all had accents.
All these years later, the 53-year-old ex-boxer credits his success, both inside the ring and out, largely due to his family of origin.
"I was so lucky," said Savarese. "Boxing is a very unstable sport, so it was good to have that kind of stability when I went home. They would keep me humble."
Savarese's humble attitude helped him parlay his excellent boxing career, one that stretched 18 years and included bouts against heavyweight greats Mike Tyson, George Foreman and Evander Holyfield, into becoming one of Houston's most successful and popular local boxing figures.
Local in the sense that Savarese has become synonymous with the phrase "Houston's heavyweight champion" as he is so often labeled by local newspaper and magazine writers tasked with covering his various business exploits. This has happened repeatedly over the years despite Savarese not actually being from Houston (he's from White Plains, New York) and never technically becoming the heavyweight champion of the world unless one counts the fringe title he won when he knocked out Buster Douglas in the opening round.
Still, Savarese did fight a who's who of heavyweight greats, and his performances in at least some of the fights lend themselves to the idea that Savarese-the-almost-champ might have become a legitimate heavyweight titleholder in just about any other era had he gotten the chance.
Savarese was a heavyweight contender during one of the division's best eras. Typically, the 1990s, led by Evander Holyfield, Lennox Lewis, Mike Tyson and Riddick Bowe, are considered by historians to be deeper and better than most other eras except for probably the 1970s when Muhammad Ali, Joe Frazier and a young George Foreman plied their trades.
Savarese, who considers himself a boxing historian, said there was no doubt in his mind which of the two eras was best.
"I think the 1970s was definitely the best because even the [secondary level] heavyweights back then were really good," said Savarese. "You had guys like George Chuvalo, Oscar Bonavena and Bob Foster around. There were so many great guys back then."
Still, Savarese, the historian, knew the era he fought in was also considered elite.
"Our era–we had some really good guys in it, too."
It was interesting to get the boxer's input on all the great heavyweights Savarese faced during his career, especially when it came to the question about which one he thought was the best overall.
"Believe it or not, probably Riddick Bowe," said Savarese. "I fought him in the amateurs. He should have been the greatest heavyweight ever. He was amazing. He had everything. He had such heavy hands. He could punch. He could fight inside. He could fight outside. Not many guys could do all that. In the history of big guys, he was probably the best inside fighter. He had the whole package. He should have been the greatest fighter ever."
Savarese said he admired Holyfield greatly, the first undisputed cruiserweight champion who went on to do the same at heavyweight.
"Holyfield, to me, was the guy who did the most with his ability," said Savarese. "He just had so much heart. I probably hit him harder than I ever hit anybody and he didn't go down. And he came back and knocked me down. That kinda sucked. He was just too strong and had a lot of heart."
And while Tyson scored a first-round knockout over Savarese during their encounter in 2000, Savarese admitted after some prodding that he didn't really agree with the quick stoppage.
"I didn't get it. I mean everything happens for a reason and hindsight is 20/20. I had been hurt way worse than that. I had been down and come back before. Lance Whitaker hit me with like 18 unanswered punches and I came back to win that fight."
Admittedly, having never seen the fight before I was to meet Savarese later that day, I was also surprised to see it had been halted so quickly. Boxing is a funny sport. What appears a blowout loss on BoxRec can sometimes look so different when you actually watch the action.
"I would have liked to keep fighting," said Savarese. "I think the referee kind of got overwhelmed because Tyson clipped him. In our corner, we thought they had stopped the fight because of that. We thought they had disqualified him. We had no idea they were stopping the fight. I got up pretty quickly. He's a great finisher, though, so who knows? Maybe he would have stopped me, but I would have liked the chance to keep going."
Savarese really does seem like a champion in the truest sense of the word. In fact, Savarese is exactly the person people probably picture in their heads when they imagine meeting a heavyweight boxing champion. He's humble. He's honest. He's kind. He's 6-foot-5 and looks like he can punch a hole through a brick wall.
He's basically Rocky Balboa.
Besides, Savarese boxed well enough against Foreman in 1997 to have one of the judges total a scorecard in his favor in the split-decision loss. That fight was for Foreman's lineal heavyweight championship, the same title Foreman had won three fights prior by knocking out Michael Moorer in the tenth round.
Had things gone just a little differently for Savarese that night, perhaps he would have had his hand raised as the heavyweight champion of the world.
"It was a close fight," said Savarese. "I mean, I might be biased because it's me."
But perhaps most impressively of all, Savarese is genuine in the way that only ex-boxers seem to pull off with any sort of regularity. It's a funny thing that boxing, a sport deemed crude and crass by some, can at the same time produce such delightful human beings.
All things considered, Savarese enjoyed a tremendous career. Since the very first day he started boxing, Savarese has known what he wanted to do with his life. More importantly, he made the decision to go out and do it.
"I love it," said Savarese. "I always wondered why I liked it so much, and it sounds crazy, but it's just the simplicity of it. I love training. Even when I lost, I could always just come back and train harder."
That, of course, technically ended when Savarese retired following his 2007 unanimous decision loss to Holyfield. But Savarese's shirts still hang off of him like he just finished doing a thousand pushups, and he's still heavily involved in the sport in multiple ways.
Savarese is the most successful local boxing promoter of the last decade and part owner of both the Main Street Boxing & Muay Thai gym in downtown Houston as well as a new gym, Savarese Fight Fit West U, on Bellaire Blvd.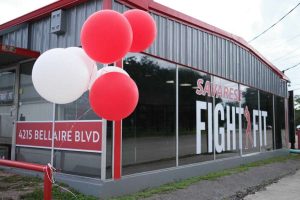 While boxing fans know Main Street as one of Houston's oldest and most successful local fight gyms, Savarese's new endeavor, which opened about eight months ago, caters to a different sort of crowd.
Here people from all walks of life, including oil and gas executives, attorneys, rabbis and even moms in yoga pants, take a giant leap into the world of boxing together, and for many of them, it's their very first exposure to the sport. Where some of these kinds of people do exist in more traditional gyms like Main Street, Savarese Fight Fit West U practically screams for them to come and check things out.
It's posh, clean and branded to sell to a certain kind of crowd.
Even the heavy bags are upgraded from traditional fare. Equipped with electronic sensors that measure how many times someone hits the bag and with what force, it's the kind of gym just about any person could walk into and want to try things out.
"Everyone gets really competitive about it. It also helps with accountability. Because sometimes when people train, they get to talking to each other and lose track of what they're doing."
That Savarese would be part of such a successful looking new venture shouldn't really be all that surprising. After all, beyond Savarese's ring exploits and even after his various stints on TV and in movies, he just seems to be a special person who knows this life is for him and so goes about doing his best to live it.
Savarese is the person maybe every professional fighter should someday grow up to be. While his brother might have been mostly wrong about people needing subtitles to understand him when he speaks, there remains something homey and comfortable about Savarese that invites people to be warm-hearted and jovial toward him. Perhaps that alone is what has brought Savarese such good fortune, or maybe, like he said, it really can be traced back his family.
"I just enjoy life and try to do my own thing," said Savarese. "I've been really lucky."
Check out more boxing news on video at The Boxing Channel
To comment on this story in The Fight Forum CLICK HERE
Jim Gray, To His Discredit, is Too Often 'The Story'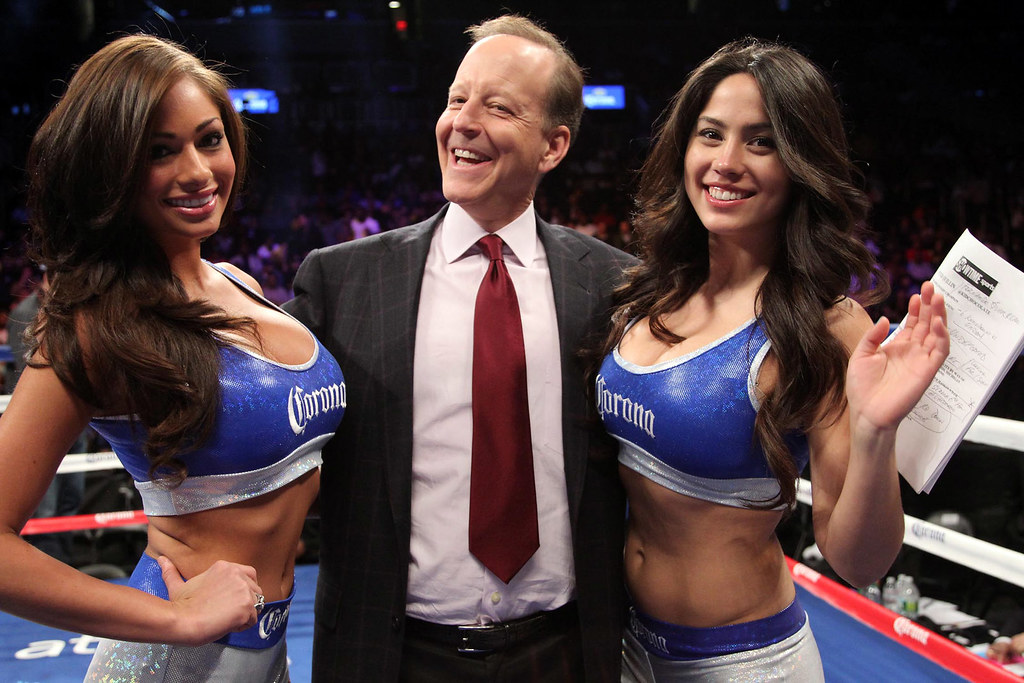 Showtime's widely-connected Jim Gray is the ultimate networker, insider, and friend to the stars (from Jack Nicholson to Kobe Bryant to LeBron James to Tom Brady and everyone in between—or almost everyone). He has won more awards than Carter has pills, a list that includes 12 National Emmy Awards, and he even has his own star on the Hollywood Walk of Fame. He was named as one of the 50 Greatest Sports Broadcasters of All-Time by David Halberstam and last year he was inducted into the International Boxing Hall of Fame.
For an interesting read about Jim and his complex but important interconnections, see "The Zelig of Sports," by Bryan Curtiss, dated June 24, 2016. https://www.theringer.com/2016/6/24/16043100/jim-gray-is-looking-for-his-next-exclusive-fc23ceb544e
However, as noted by "Sports Media Watch" writer and editor Paulsen (no first name) and others, Gray has become The Story on too many occasions and that's a no-no in his line of work.
In boxing, Gray's condescending and confrontational style was on display as far back as 2001 when he interviewed Kostya Tszyu in the ring following Tszyu's defeat of Oktay Urkal at the Mohegan Sun Casino in Connecticut. As Gray was beginning his routine, the "Thunder From Down Under" grabbed the mic and quickly told Gray "Do not be rude to me."
Many years later, after Juan Manuel Lopez had just been knocked silly by Orlando "Siri" Salido, a bizarre post-fight interview ensued during which Lopez accused referee Roberto Ramirez and his son Roberto Ramirez Jr (who was the third man for the first Salido-Lopez fight) of having gambling problems.
Lopez was arguably still on Queer Street, but that didn't stop Gray. Eager to catch someone off guard, as is his wont, Gray managed to get "Juanma" to say more than enough to get himself suspended while Gray went on to induction into the IBHOF
There have been many other incidents including James Toney dominating Gray in an interview after the Holyfield-Toney fight. Jim never had a chance. "Don't come up here and try to give me no badass questions," James warned Gray before knocking the mic out of Gray's hands..
The fact is Gray had built up a litany of edgy if not downright embarrassing moments. His most infamous came in 1999 during game two of the World Series.
During the game, Pete Rose, barred from baseball but still a fan favorite, was introduced as a member of the Major League All-Century Team as the crowd went wild. Then the ever-opportunistic Gray launched a series of questions regarding allegations that Rose's had gambled on major league baseball games.
Gray was unrelenting. Finally, Pete cut it off, saying, "This is a prosecutor's brief, not an interview, and I'm very surprised at you. I am, really." Later on, New York Yankee outfielder Chad Curtis, who won Game 3 with a walk off homer, refused Gray's request for an interview as a show of unity with Rose. (Jim Gray's complete interview with Pete Rose can be found in Gray's Wikipedia entry. Gray was somewhat vindicated in 2004 when Rose came clean and admitted that he had bet on baseball.)
Fast Forward
After the scintillating Wilder-Breazeale fight this past week in Brooklyn's Barclay Center, Luis Ortiz bounded into the ring during the post-fight interviews and Gray shoved the mic in his face without so much as a hello and shouted "when do you want to fight Wilder?" Ortiz wanted to focus on what had just occurred in the ring, but he never had a chance. Gray continued to badger him about future fights and thus the fans did not get to hear what Ortiz had to say about the fight.
But what was far worse was when Dominic Breazeale waved Gray away as the commentator walked towards the badly beaten fighter. Gray was stopped by a member of Breazeale's camp and he quickly got the message that he was persona non grata in the Breazeale corner. Previously, and within Dominic's earshot, Gray had said to Wilder "the public does not want to see you fight people like Breazeale, the public does not want to see Joshua fight Ruiz, the public does not want to see whoever this guy is fighting Tyson Fury."
There may be truth in what Jim said, but there was a better way to say it and a better place to say it. The man just got knocked senseless in front of his family and friends, Jim, show him some respect!
Photo credit: Tom Casino / SHOWTIME
Ted Sares is a member of Ring 8, a lifetime member of Ring 10, and a member of Ring 4 and its Boxing Hall of Fame. He also is an Auxiliary Member of the Boxing Writers Association of America (BWAA). He is an active power lifter and Strongman competitor in the Grand Master class and is competing in 2019.
Check out more boxing news on video at The Boxing Channel
To comment on this story in The Fight Forum CLICK HERE