Avila Perspective, Chapter 15: Las Vegas Boxing Journal
Usually the world of boxing has two massive fight weekends, but this year it was down to one. All of that pent-up energy had to be released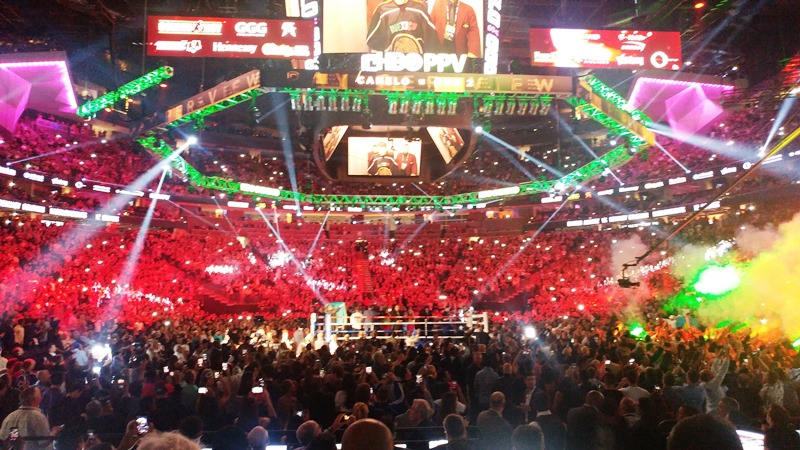 Usually the world of boxing has two massive fight weekends, but this year it was down to one. All of that pent-up energy had to be released and this past weekend, for Mexican Independence Day, it all came pouring out.
Las Vegas was my destination once again.
In the last four years the Nevada gambling capital has seen fewer and fewer boxing cards as other destinations like New York, Texas and California have gobbled up fight dates. What used to be almost a monthly journey has been whittled down to twice a year.
When it comes to staging a mega event, you just can't beat Las Vegas. Saul "Canelo" Alvarez meeting Gennady "GGG" Golovkin for the second time definitely qualifies.
I was supposed to drive up Thursday morning with photographer Al Applerose but we could not coordinate our schedules. It was important to leave early to reach the Hard Rock Hotel and Casino where the Golden Boy Promotions card featuring Maricela Cornejo versus Franchon Crews for a world title was being held. Starting time for the fight card was 2 p.m. because of ESPN.
By the time I checked into my hotel and drove over to the Hard Rock, it was already 3 p.m. Surprisingly, a decent crowd was there mostly to see Cornejo vs. Crews. ESPN televised the event and despite the early start time fans and celebrities were in the house.
It had been 14 years since that network had televised a female world championship bout. I remember because I saw that fight in 2004 and it was a doozy.
Finally, another female world title fight and it was great to see two female warriors finally get their day under the spotlight. After 10 rounds Crews won by majority decision and the green WBC belt was wrapped around her waist. Watching the joy on her face was priceless.
If you have followed me as a reader then you know female boxing has been a favorite passion. I truly believe it will rival male prizefighting one day, maybe soon. The world of MMA has proven it can be done as Ronda Rousey so emphatically showed.
Women prizefighters will get their day.
After the fight we headed to the Pink Taco mainly because they serve decent margaritas. I'm kind of a connoisseur of the drink. The first one I received was passable, but that second one was pretty good. Our group consisted of two reporters from Japan and Applerose, the photographer. Tacos and margaritas for everyone.
Friday
No fights were scheduled for Friday but the weigh-ins and press conferences were stacked together. I moved from my hotel and drove to Summerlin where a friend of mine has a place. He had invited me to stay and was insistent.
My friend is known as "Mr. Las Vegas." It's a name given to him the great Fernando "El Feroz" Vargas who now lives in Vegas. He gave him this nickname because no one knows Las Vegas like this guy (that I won't name unless he gives approval). This 40-something year old gentleman was born and raised in the casino city and has been involved in boxing, MMA and personally knows the high rollers and political powers of the city and state.
Mr. Las Vegas invited me months ago but he's always on the go and sometimes it slips his mind so I booked a room just in case. But, he was adamant about me staying with him and we go back a ways.
He's also a big proponent of women's boxing.
I headed back to the Strip to the MGM media center where a press conference for Tito Ortiz and Chuck Liddell was taking place. The media was in force. Easily 200 were already in the David Copperfield Theater at 10 a.m.
Maybe it was the free breakfast that enticed reporters and photographers to get up early. It was amazing to see so many media members on a Friday morning. It was a mad scramble.
The theater is fairly large and from a distance I could spot many friends and colleagues. During the face-off Liddell and Ortiz squared off and Oscar De La Hoya looked like a midget between the two. They will be fighting at the Inglewood Forum on Nov. 24. Golden Boy Promotions is the promoter for the pay-per-view event. It will be the third time the MMA stars clash.
So while Dana White delves into boxing, De La Hoya delves into MMA. Strange happenings.
Later that Friday a press conference for Yuri Gamboa was staged by the Cuban fighter himself at Gonzalez Gonzalez restaurant in the New York, New York Hotel and Casino.
Gamboa briefly had a contract with Golden Boy, and had been connected to Top Rank and Fifty Cent. The slick southpaw (is there any other kind of lefty?) seeks another chance to hit a jackpot in the boxing ring.
About two dozen reporters met at the Mexican restaurant eatery. Gamboa was busy speaking to each reporter one-by-one and helped by a small group of publicists including New York sharp Ed Keenan. Food and drinks were great.
Last year Gamboa was quite busy and had four prizefights. His lone loss was against Mexico's extremely dangerous Robinson Castellanos who stopped the Cuban at the end of the seventh round in Las Vegas.
So far this year, no fights. It's a primary reason he's doing it himself on a risky pay-per-view show.
"I can't depend on anyone else," said Gamboa. "If I want to advance. I feel I should do it myself. I have experience and knowledge in professional boxing."
Gamboa, 36, will fight Mexico's Miguel Beltran on Nov. 20, in Miami, Florida. He will be the main event. The co-main event will be Puerto Rico's Juan Manuel Lopez meeting Jesse Rodriguez. If all goes well, the two former world champions will meet each other sometime next year.
"I still have goals to accomplish," said Gamboa.
Super Lightweight Title Clash
While sitting around eating and drinking at the Mexican restaurant, the ESPN fight card featured Jose Carlos Ramirez and Antonio Orozco fighting for the WBC super lightweight world title. It was body puncher versus body puncher and that means fireworks.
Ramirez had not faced anyone who could match punch output with him until that Friday night. I expected Orozco to fire all his guns and that's exactly what he did.
For 12 volatile rounds the two 140-pounders fought at 100 miles an hour and though Ramirez won the majority of the rounds according to the judges, each round in itself was a battle.
Orozco, 30, is a very mild-mannered gentleman outside the ropes, but inside he's one of the most fierce body punchers in the business. He has fought for Golden Boy Promotions for a number of years and may have passed his peak two years ago.
Ramirez, 26, was making his second defense of the world title he won almost a year ago and fights under the Top Rank banner. Whenever these two promotion companies go against each other it's like the Dodgers and the Giants. No mercy.
The titleholder Ramirez was fighting in front of the adopted hometown of Fresno and floored Orozco twice with body shots and head shots. You would have expected Orozco to wilt but every time he was dropped he came back with a ferocious attack.
It was a gripping fight to watch.
As I sat at the bar in the Mexican restaurant with photographer Applerose, we couldn't help but admire the spirit that both fighters showed for 12 rounds. Crowds gathered around the bar to watch the final three or four rounds. A few had noticed us watching and stopped to see what had us glued to the television screen perched above the various liquors.
We had a few beers after that incredible title fight.
Ramirez won the fight and retained the world title but Orozco had won the hearts of everyone watching with his tremendous heart. Both fighters congratulated each other and showed sincere respect. If you haven't seen it, watch the replay. You won't be sorry.
Saturday
The schedule for Saturday started early with two press conferences staged in the morning.
WBC super featherweight titlist Miguel Berchelt and challenger Mickey Roman met with media at Wolfgang Puck at 12 noon to talk about their pending clash on HBO. It's another meeting between a Top Rank affiliated fighter and Golden Boy affiliated fighter.
Can it match Ramirez-Orozco?
Berchelt is a heavy-hitting but skilled fighter from the Yucatan area. Roman is a hard-nosed heavy hitter from Juarez, Mexico. Its North versus South in this Mexican battle that takes place on Nov. 3 in El Paso, Texas.
This could be extremely explosive.
Immediately after the Top Rank press conference, and a few feet away, another media luncheon took place for interim WBC super lightweight titlist Regis Prograis.
Prograis, 29, is an interesting cat.
Raised in New Orleans and Houston, the extremely strong Prograis will participate in the World Boxing Super Series that begins in late October. He faces former lightweight world champion Terry Flanagan of England.
"I chose to fight Terry Flanagan because he's a former world champion," said Prograis whose last fight was a knockout win over Argentina's Juan Jose Velasco in New Orleans. "I'm trying to prove I'm the best. I don't want an easy fight. It's a waste of time."
Of course he would love a match with current WBC titlist Jose Carlos Ramirez but he can wait.
"We'll meet one day in the ring," Prograis said.
The Rematch
After the pair of press luncheons we headed to the T-Mobile Arena for the Alvarez-Golovkin mega fight. It was an early 2 p.m. start so we missed a couple of early fights. I always try to watch every bout. It's my duty as a reporter to cover all the fights that take place. Not just the headliners, but the afternoon press conferences held me up.
The best of the undercard saw Vergil Ortiz Jr. annihilate his former sparring partner Roberto Ortiz in two rounds.
Vergil Ortiz trains in Riverside, Calif. with Robert Garcia. He formerly was based in Indio, Calif. with Joel Diaz. Both trainers have excellent troops.
Ortiz, 20, has long limbs and fights long too. He's buzzed through 11 straight opponents and kind of resembles late actor Jack Palance in the movie Shane. Vergil is a likeable guy who seems nothing like a feared monster in a boxing ring.
Golden Boy keeps stepping up the competition a notch and he keeps rendering them unconscious. The promoter doesn't want to overstep the process with Ortiz so they are doing things de-li-cate-ly.
So far Ortiz has treated everyone who steps in the ring with him like fragile china. He touches them and they fall to pieces. Technically he is very sound. But the Golden Boy crew sees something very special in the kid from Dallas. He is one to watch.
Boycott?
After several fights including the main event that saw Alvarez win by majority decision, it's important to note that the entire "ringside" media group was placed more than 50 yards away from the boxing ring. No one from the media had a sufficient view to analyze the fight that has been very disputed by fans and others.
But my question is: why did the promoters place the media a ridiculous 50 yards away?
Sadly, it's a move that says to the media "we don't need you."
Maybe it's time to organize.
Regis Prograis photo by Al Applerose
Check out more boxing news on video at The Boxing Channel
Will Fury's Deal With ESPN Torpedo The Fights That Fight Fans Want to See?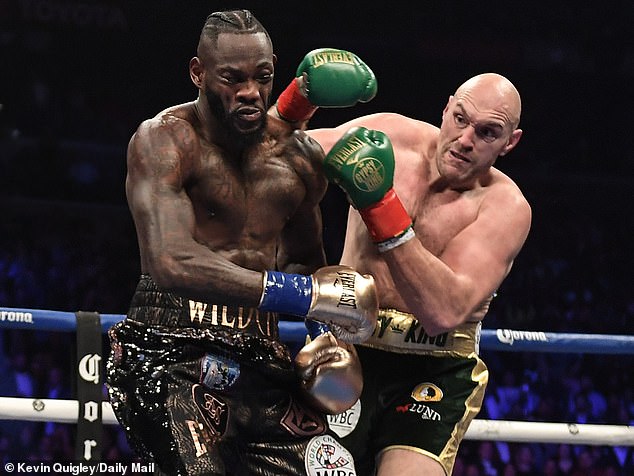 For the past few weeks, boxing fans have been led to believe that the rematch between Tyson Fury and Deontay Wilder was ever so-close to being a done deal. But in the world of professional boxing where Machiavellian characters seemingly hold all the positions of power, nothing is ever a done deal until it's finally finalized. Today's announcement that Tyson Fury has signed with ESPN is the latest case in point. It's a three-fight deal that will reportedly earn the Gypsy King $80 million if he can successfully hurdle the first two legs.
As Thomas Hauser has noted, what we have in boxing today is something similar to leagues in other sports. There's the Top Rank/ESPN League, the Matchroom/DAZN League, and the PBC/Showtime/FOX League. We would add that these are intramural leagues. Occasionally there's cross-pollination, similar to when the Yankees play the Mets in a game that counts in the regular season standings, but basically the boxers in each league compete against each other.
We have no doubt that WBC/WBA/IBF heavyweight ruler Anthony Joshua will eventually fight Wilder and/or Fury, but it now appears that these matches, when they transpire, will have marinated beyond the sell date. The action inside the ring may mirror the Mayweather-Pacquiao dud.
A match between Joshua and Wilder is already somewhat less enticing than it would have been if it had come to fruition last autumn. The odds lengthened in favor of Joshua after Wilder's raggedy performance against Tyson Fury on Dec. 1 in Los Angeles.
True, the Bronze Bomber almost pulled the fight out of the fire with a thunderous punch but he was out-slicked in most of the rounds and it wasn't as if he was fighting a bigger version of Pernell Whitaker. Before that fight, casual fans were less tuned-in to Deontay Wilder's limitations.
It was reported that the Wilder-Fury rematch was headed to Las Vegas or New York, but that Las Vegas fell out of the running when the State Athletic Commission insisted on using Nevada officials. Fury was the one that balked.
In hindsight we should have seen that this was fake news. No Nevada officials were involved in Fury-Wilder I. The judges were from California, Canada, and Great Britain. The California judge voted against Fury, scoring the fight 115-111, a tally for which he was excoriated. The judge from Great Britain, like many ringside reporters, had it draw. The TV crews, especially the crew from Great Britain, left no doubt that Fury should have had his hand raised and the controversy made the hoped-for rematch more alluring.
So who will be Tyson Fury's next opponent? Speculation immediately centered on Bulgaria's Kubrat Pulev.
Pulev, who turns 38 of May 4, sports a 26-1 record. He was slated to fight Anthony Joshua in October of 2017 but suffered a torn biceps in training and was forced to withdraw. In his most recent bout he outpointed Hughie Fury, Tyson's cousin. He's currently ranked #1 by the IBF.
On Dec. 8 of last year, Bob Arum announced that he had hammered out a deal to co-promote Pulev. It was subsequently reported that Pulev's first fight under the Top Rank/ESPN umbrella would be against Finland's Robert Helenius on March 23 in Los Angeles. Six days ago, the distinguished European fight writer Per Ake Persson told his readers that the fight had fallen out, ostensibly because the parties could not come to terms.
Tyson Fury is the most charismatic white heavyweight to come down the pike since Gerry Cooney and the big galoot is bigger than Cooney ever was as he has avid followers on both sides of the Atlantic and Cooney didn't have social media to enhance his profile. I have little doubt that ESPN will recoup their investment in him. However, deals in boxing are never consummated with an eye on uplifting the sport – on patching things up with the disaffected – and here's yet another example.
Check out more boxing news on video at The Boxing Channel
To comment on this story in The Fight Forum CLICK HERE
Three Punch Combo: Two Recent Upsets Trigger Memories of Forgotten Fights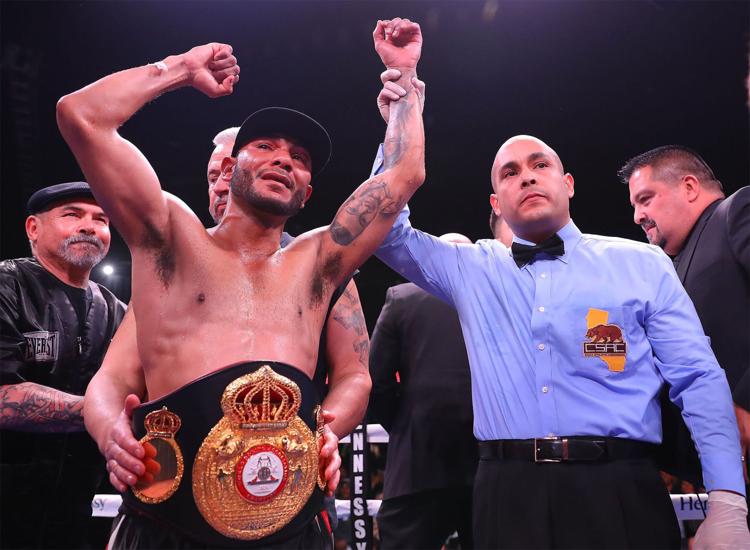 THREE PUNCH COMBO — There is just something magical about a longshot overcoming seemingly unsurmountable odds to accomplish a major feat in boxing such as winning a world title.
Earlier this month, undefeated 130-pound champion Alberto Machado defended his title against Andrew Cancio in Indio, CA. Cancio (pictured) was considered a solid pro, but he had been outclassed on the occasions when he stepped up his level of opposition and few expected him to remotely compete with Machado. But Cancio elevated his game and sprung an unthinkable upset, stopping Machado in the fourth round to become a world champion. Cancio's incredible backstory has since been well documented by several media outlets.
In terms of shock value, Cancio's upset was mindful of another recent upset, Caleb Traux's monster upset of James DeGale in December of 2017. Truax traveled to the UK to challenge 168-pound title-holder DeGale.  He was given no shot to win; most doubted that he would be competitive. But Truax overcame the odds and shocked the boxing world winning a majority decision to become a world title-holder. Truax's story of overcoming incredible odds to dethrone DeGale became the feel good boxing story of 2017.
The underdog stories of Truax and Cancio are still fresh in our minds. But often times, such stories become somewhat forgotten as time passes. In this week's three punch combo, I will look at three other incredible underdog stories that all occurred in 1997. They were all equally as heartwarming as those of Truax and Cancio.
Keith Mullings vs. Terry Norris, 12/06/1997
In 1997, 154-pound champion Terry Norris left his promoter Don King to sign with Top Rank with the express purpose of securing a big money fight against Oscar De La Hoya. After winning two non-title fights under the Top Rank banner against low level opponents, Norris was placed on the same pay-per-view card as De La Hoya who would be defending his WBC world welterweight title against Wilfredo Rivera. Top Rank was planting the seeds for a De La Hoya-Norris showdown the following year. Not wanting to take any chances, they selected a seemingly safe opponent for Norris in Keith Mullings.
Mullings entered with a record of 14-4-1. He had one win in his last six fights. However, Mullings was coming off a controversial split decision loss to another 154-pound champion in Raul Marquez three months earlier in a fight many believed Mullings deserved to win. The performance against Marquez gave Mullings credibility but his limited skills did not leave many to believe that he could compete with an elite fighter like Norris.
For the first seven rounds, the script seemed to be going according to plan. Norris boxed effectively using his left jab to control range and landing combinations behind that punch. He was seemingly in total control of the fight.
In round eight, Norris's movement slowed and Mullings began to land on a more stationary target. Although not known as a puncher, he dropped Norris with a hard right hand. Norris survived the round but Mullings came out aggressive to start round nine. After reigning punch after punch on Norris in the first minute of the round, referee Tony Perez stepped in to save Norris from more punishment.
Mullings would make one successful defense of his title three months later, stopping Davide Ciarlante in round five, but that would be the last win of his career. He would lose his title in his next outing to Javier Castillejo and then lose three more times before hanging up the gloves for good in 2001.
Mauricio Pastrana vs. Michael Carbajal, 01/18/1997
Entering 1997, 108-pound champion Michael Carbajal had only two losses on his resume in 46 professional fights. Both losses had come in 1994 to the great Humberto Gonzalez. One was by majority decision and one by split decision. Carbajal had won 12 fights in a row following the second defeat to Gonzalez and was still considered to be in the prime of his Hall of Fame career as he entered a title defense against unknown Mauricio Pastrana on January 18th, 1997.
Pastrana had an undefeated record of 15-0 with 13 of those wins coming by knockout. But he had fought nobody of note, feasting on inferior competition in his native Columbia. He was given literally no shot by most in boxing to even be competitive with the much more experienced and seemingly more skilled Carbajal. As a matter of fact, so little was thought of Pastrana that during the beginning of the fight a promo was run hyping Carbajal's next scheduled title defense in March.
The first two rounds were largely feeling-out type rounds. In round three, Pastrana announced his presence, shaking Carbajal with a hard right hand. From there, Pastrana upped his output using an effective well-timed stinging left jab to set up his combinations. He outworked Carbajal and landed the cleaner punches as the fight progressed. Carbajal certainly had his moments in what became a surprisingly exciting fight but in the end the judges preferred the activity and cleaner punching of Pastrana who would win a split decision.
Pastrana made two successful defenses against overmatched foes before losing his belt on the scales before a scheduled title defense in August of 1998. In his next fight, he would capture an interim title belt in the flyweight division but that would be his last success in any major title fight. He never was able to replicate the performance he had against Carbajal. Along the way, Pastrana suffered defeats to some big names including Rafael Marquez, Celestino Caballero, Jhonny Gonzalez and Gary Russell Jr. Following a knockout loss to Mikey Garcia in 2012, Pastrana retired with a final professional record of 35-17-2.
Uriah Grant vs. Adolpho Washington, 06/21/1997
In his second pro fight, Uriah Grant was fed to debuting 1984 Olympic Heavyweight Gold Medalist Henry Tillman and was knocked out in the second round. Three fights later, Grant was selected as an opponent for prospect Ricky Womack and dropped a six round decision. It appeared that Grant's career was ticketed to being that of a journeyman.
Grant's career would bounce up and down following the Womack loss. With a lack of depth in the cruiserweight division, Grant did get opportunities at bigger fights and even world title bouts but continued to fall short when he stepped up in class. The journeyman tag seemed appropriate as he entered his 13th year as a pro in 1997 with a pedestrian record of 25-12.
In August of 1996, Adolpho Washington traveled to Spain and scored a unanimous decision victory over the previously undefeated Torsten May to win a cruiserweight title. The win moved Washington's record to 26-3-2. After a bit of a layoff, Washington settled on a title defense against Grant to help shake off the rust.
Stuffed deep on a Don King promoted card in Florida, the fight was thought to be a mismatch with no US television interested and barely anyone in attendance. But in an absolute shocker, Grant defeated Washington by split decision. The unheralded cruiserweight went from journeyman to world champion overnight.
Unfortunately for Grant, his championship reign would be short. Five months later in his first title defense, he was out-boxed by Imamu Mayfield losing a unanimous decision.
Grant would not fight for a major title again, but in 2000 he would gain a little more notoriety when he defeated a faded Thomas Hearns. Four years after defeating Hearns and following a string of losses, Uriah Grant retired with a final record of 30-21.
Photo credit: Tom Hogan / Hogan Photos / Golden Boy Promotions
Check out more boxing news on video at The Boxing Channel
To comment on this article in The Fight Forum CLICK HERE
Ringside in LA: Leo Santa Cruz Educates Rafael Rivera in an Entertaining Fight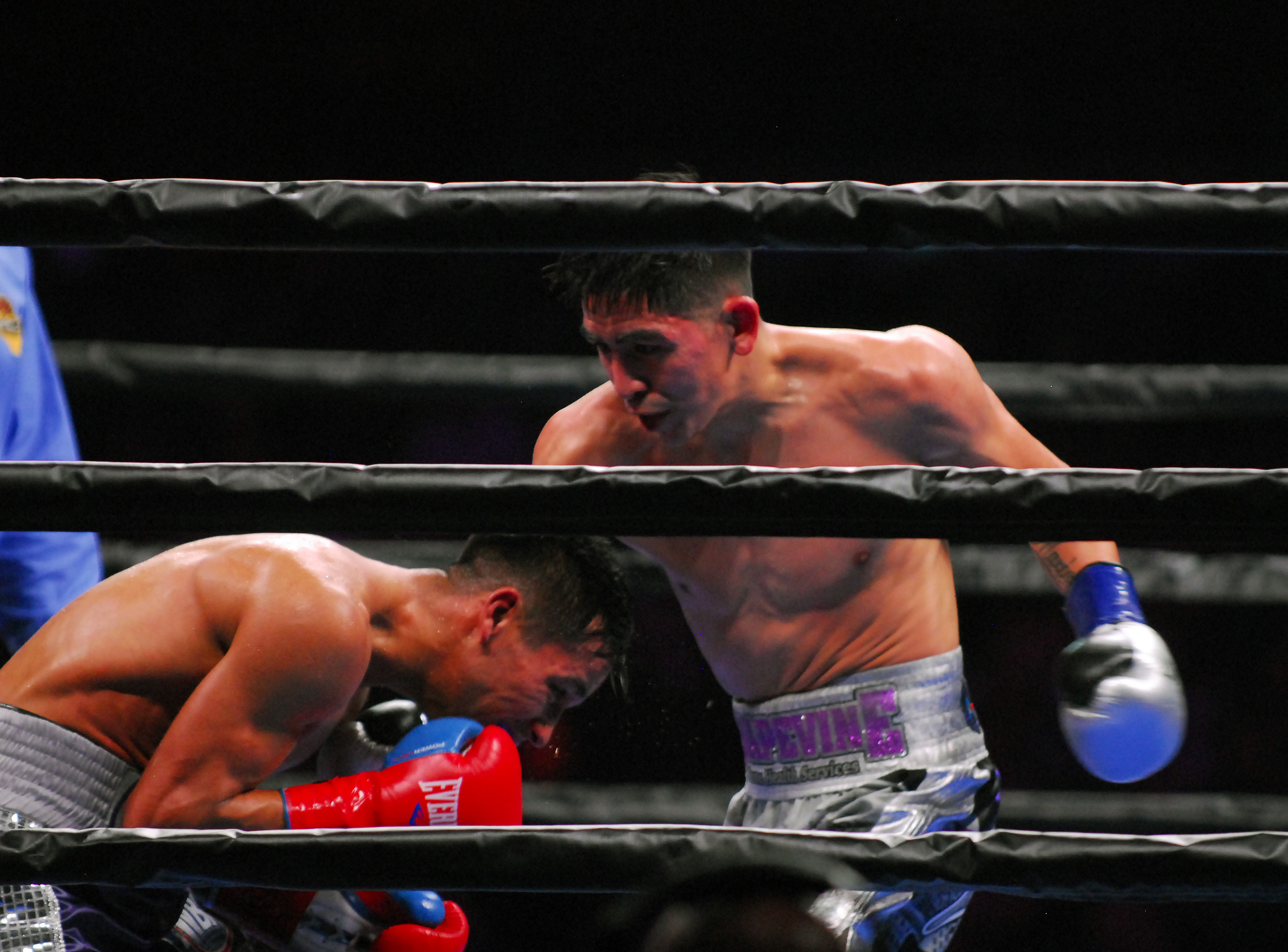 LOS ANGELES-Last minute substitute or not, Leo Santa Cruz met the future in Mexico's Rafael Rivera and banged it out with the youngster for 12 entertaining rounds to retain the WBA featherweight world title by decision on Saturday.
It was all about that learning curve.
Santa Cruz (36-1-1, 19 KOs) gave Tijuana's Rivera (26-3-2, 17 KOs) a lesson on elite prizefighting before more than 5,000 at the Microsoft Theater. Despite the disparity in experience the featherweight clash was still packed with action.
If fans expected Rivera to be run out of town by the much more experienced Santa Cruz, they were badly mistaken. The Tijuana fighter had fought in Southern California twice before and exhibited a toughness and grit you don't see from run-of-the-mill opponents. Though he was called in just weeks ago, Rivera was ready and willing.
Immediately Santa Cruz showed the skill and intelligence needed to be a world champion and targeted Rivera's body from the first round. Despite the painful looking digs to the body, the youngster Rivera held firm.
It was all Santa Cruz for the first four rounds as he showed off his ability to blast body shots at will. The painful looking shots seemed to bother Rivera, not because of the pain inflicted, but from embarrassment from not being able to defend against the onslaught.
"I hit him hard to the body and head very well, but he didn't go down," said Santa Cruz.
Rivera found his break in the fifth round when he managed to give the champion a different look. Multiple left hooks connected on the champion and he then capped the end of the round with a vicious left hook body shot and right uppercut. Santa Cruz smiled at the effort.
Santa Cruz never allowed Rivera much more from there on. He mixed up his attack and confused Rivera with different looks, except in the ninth round when both flurried with a barrage of blows like angry alley cats.
The winner of the fight was never in doubt during the last half of the fight. But fans enjoyed the high caliber exhibition of the art of banging Mexican style. After 11 rounds both fighters looked at each other with respect and were ready for an eventful finale.
Santa Cruz probably knew he was far ahead and though he relishes bang, bang type of fights, he was still careful enough to not make obvious openings for Rivera. It was a careful and scientific round until the final 10 second warning clap, then both looked at each other and nodded simultaneously and proceeded to unleash a barrage of punches in tornado-like fashion. The fans yelled in unison for the flourish of blows and cheered at the final bell.
But after 12 rounds the judges were in agreement and all tabbed the fight 119-109 for Santa Cruz.
"I'm very happy with my performance and I thought I gave everyone a great fight. I was in there with one of the best fighters in the world and throwing punches and exchanging with him. More than anything, I'm very proud to have fought 12 rounds with a great world champion like Leo Santa Cruz," said Rivera.
Santa Cruz was not as pleased with the performance, but happy that it was an entertaining fight.
"I tried to do my best and do what I could to give them a great fight," said Santa Cruz. "I would have loved to have been even better, but he's really tough and solid opponent."
Santa Cruz fans were pleased by the effort and the champion himself seeks even more challenges this year.
"I want to fight the best. I want to fight any of the champions at featherweight or a third fight with Carl Frampton," said Santa Cruz. "I want to be back this summer and fight three times this year against the best in the division."
Figueroa Wins
A battle between welterweight sluggers saw Omar Figueroa (28-0-1, 19 KOs) out-punch John Molina (30-8, 24 KOs) and win by unanimous decision after 10 rounds in a fight that surprisingly saw no knockdowns despite their lofty records for stoppages.
Figueroa was the busier fighter throughout but Molina had his moments especially with the overhand rights. Each fighter scored with heavy shots throughout the 10 round match but the judges liked Figueroa's busier output. The scores were 97-93, 98-92, 99-91 for Figueroa.
It was expected to be a fight resulting in a knockout but each fighter showed a good chin despite the big blows scored. Figueroa, who hails from Weslaco, Texas, is a former lightweight world titlist but has been forced to move up due to weight problems. Southern California's Molina showed a good chin and keeps his name in the game.
Ryosuke Iwasa Wins Elimination Bout
Japan's Ryosuke Iwasa (26-3) won by technical decision after 10 rounds against Mexico's Cesar Juarez (23-7) in an IBF super bantamweight elimination title fight. The fight was stopped because of a cut on Juarez from an accidental clash of heads in the second round, A ringside physician stopped the fight at the end of the ninth round and according to California rules it went to the scorecards where Iwasa was ruled the winner by majority decision 95-95, 97-93, 98-92.
Other Bouts
Giant super welterweight Sebastian Fundora (12-0, 8 KOs) knocked out Buffalo's Donnie Marshall (10-1, 6 KOs) at 1:08 of the third round to win the battle of undefeated 154-pounders.
Despite the nine-inch reach advantage and the six-inch height advantage Fundor fought most of the clash on the inside and scored heavily with long right uppercuts. It was a long right uppercut that caught Marshall moving away and floored him in the third round. Fundora then chased the dazed fighter around the ring and battered him with a dozen unanswered blows that forced referee Jerry Cantu to halt the fight and declare a knockout win for Fundora.
Fundora fights out of Coachella, Calif.
Argentina's Neri Romero (12-0) was blasted to the floor with a sneak punch by Thomas Smith (5-7-1) right during a break but managed to claw his way back to a win by unanimous decision after six rounds in a super featherweight match. Smith, who fights out of Dallas, showed he could really take a shot but tired at the end of the last three rounds and allowed Romero to win on endurance. All three judges saw it the same 58-55.
Shon Mondragon (1-0) stopped Julio Martinez (1-1) at 47 seconds of round two with a two-fisted attack that forced referee Ray Corona to halt the super bantamweight fight. Mondragon, a southpaw, fights out of Commerce, Colorado.
Photo credit: Al Applerose
Check out more boxing news on video at The Boxing Channel
To comment on this story in The Fight Forum CLICK HERE