Avila Perspective, Chapter 15: Las Vegas Boxing Journal
Usually the world of boxing has two massive fight weekends, but this year it was down to one. All of that pent-up energy had to be released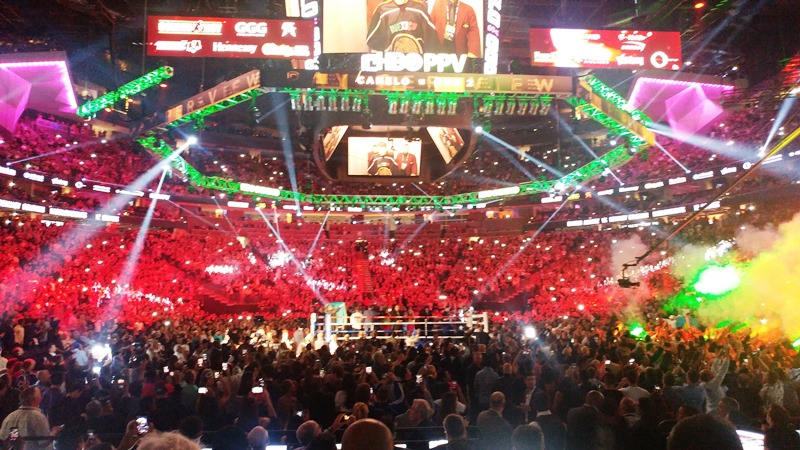 Usually the world of boxing has two massive fight weekends, but this year it was down to one. All of that pent-up energy had to be released and this past weekend, for Mexican Independence Day, it all came pouring out.
Las Vegas was my destination once again.
In the last four years the Nevada gambling capital has seen fewer and fewer boxing cards as other destinations like New York, Texas and California have gobbled up fight dates. What used to be almost a monthly journey has been whittled down to twice a year.
When it comes to staging a mega event, you just can't beat Las Vegas. Saul "Canelo" Alvarez meeting Gennady "GGG" Golovkin for the second time definitely qualifies.
I was supposed to drive up Thursday morning with photographer Al Applerose but we could not coordinate our schedules. It was important to leave early to reach the Hard Rock Hotel and Casino where the Golden Boy Promotions card featuring Maricela Cornejo versus Franchon Crews for a world title was being held. Starting time for the fight card was 2 p.m. because of ESPN.
By the time I checked into my hotel and drove over to the Hard Rock, it was already 3 p.m. Surprisingly, a decent crowd was there mostly to see Cornejo vs. Crews. ESPN televised the event and despite the early start time fans and celebrities were in the house.
It had been 14 years since that network had televised a female world championship bout. I remember because I saw that fight in 2004 and it was a doozy.
Finally, another female world title fight and it was great to see two female warriors finally get their day under the spotlight. After 10 rounds Crews won by majority decision and the green WBC belt was wrapped around her waist. Watching the joy on her face was priceless.
If you have followed me as a reader then you know female boxing has been a favorite passion. I truly believe it will rival male prizefighting one day, maybe soon. The world of MMA has proven it can be done as Ronda Rousey so emphatically showed.
Women prizefighters will get their day.
After the fight we headed to the Pink Taco mainly because they serve decent margaritas. I'm kind of a connoisseur of the drink. The first one I received was passable, but that second one was pretty good. Our group consisted of two reporters from Japan and Applerose, the photographer. Tacos and margaritas for everyone.
Friday
No fights were scheduled for Friday but the weigh-ins and press conferences were stacked together. I moved from my hotel and drove to Summerlin where a friend of mine has a place. He had invited me to stay and was insistent.
My friend is known as "Mr. Las Vegas." It's a name given to him the great Fernando "El Feroz" Vargas who now lives in Vegas. He gave him this nickname because no one knows Las Vegas like this guy (that I won't name unless he gives approval). This 40-something year old gentleman was born and raised in the casino city and has been involved in boxing, MMA and personally knows the high rollers and political powers of the city and state.
Mr. Las Vegas invited me months ago but he's always on the go and sometimes it slips his mind so I booked a room just in case. But, he was adamant about me staying with him and we go back a ways.
He's also a big proponent of women's boxing.
I headed back to the Strip to the MGM media center where a press conference for Tito Ortiz and Chuck Liddell was taking place. The media was in force. Easily 200 were already in the David Copperfield Theater at 10 a.m.
Maybe it was the free breakfast that enticed reporters and photographers to get up early. It was amazing to see so many media members on a Friday morning. It was a mad scramble.
The theater is fairly large and from a distance I could spot many friends and colleagues. During the face-off Liddell and Ortiz squared off and Oscar De La Hoya looked like a midget between the two. They will be fighting at the Inglewood Forum on Nov. 24. Golden Boy Promotions is the promoter for the pay-per-view event. It will be the third time the MMA stars clash.
So while Dana White delves into boxing, De La Hoya delves into MMA. Strange happenings.
Later that Friday a press conference for Yuri Gamboa was staged by the Cuban fighter himself at Gonzalez Gonzalez restaurant in the New York, New York Hotel and Casino.
Gamboa briefly had a contract with Golden Boy, and had been connected to Top Rank and Fifty Cent. The slick southpaw (is there any other kind of lefty?) seeks another chance to hit a jackpot in the boxing ring.
About two dozen reporters met at the Mexican restaurant eatery. Gamboa was busy speaking to each reporter one-by-one and helped by a small group of publicists including New York sharp Ed Keenan. Food and drinks were great.
Last year Gamboa was quite busy and had four prizefights. His lone loss was against Mexico's extremely dangerous Robinson Castellanos who stopped the Cuban at the end of the seventh round in Las Vegas.
So far this year, no fights. It's a primary reason he's doing it himself on a risky pay-per-view show.
"I can't depend on anyone else," said Gamboa. "If I want to advance. I feel I should do it myself. I have experience and knowledge in professional boxing."
Gamboa, 36, will fight Mexico's Miguel Beltran on Nov. 20, in Miami, Florida. He will be the main event. The co-main event will be Puerto Rico's Juan Manuel Lopez meeting Jesse Rodriguez. If all goes well, the two former world champions will meet each other sometime next year.
"I still have goals to accomplish," said Gamboa.
Super Lightweight Title Clash
While sitting around eating and drinking at the Mexican restaurant, the ESPN fight card featured Jose Carlos Ramirez and Antonio Orozco fighting for the WBC super lightweight world title. It was body puncher versus body puncher and that means fireworks.
Ramirez had not faced anyone who could match punch output with him until that Friday night. I expected Orozco to fire all his guns and that's exactly what he did.
For 12 volatile rounds the two 140-pounders fought at 100 miles an hour and though Ramirez won the majority of the rounds according to the judges, each round in itself was a battle.
Orozco, 30, is a very mild-mannered gentleman outside the ropes, but inside he's one of the most fierce body punchers in the business. He has fought for Golden Boy Promotions for a number of years and may have passed his peak two years ago.
Ramirez, 26, was making his second defense of the world title he won almost a year ago and fights under the Top Rank banner. Whenever these two promotion companies go against each other it's like the Dodgers and the Giants. No mercy.
The titleholder Ramirez was fighting in front of the adopted hometown of Fresno and floored Orozco twice with body shots and head shots. You would have expected Orozco to wilt but every time he was dropped he came back with a ferocious attack.
It was a gripping fight to watch.
As I sat at the bar in the Mexican restaurant with photographer Applerose, we couldn't help but admire the spirit that both fighters showed for 12 rounds. Crowds gathered around the bar to watch the final three or four rounds. A few had noticed us watching and stopped to see what had us glued to the television screen perched above the various liquors.
We had a few beers after that incredible title fight.
Ramirez won the fight and retained the world title but Orozco had won the hearts of everyone watching with his tremendous heart. Both fighters congratulated each other and showed sincere respect. If you haven't seen it, watch the replay. You won't be sorry.
Saturday
The schedule for Saturday started early with two press conferences staged in the morning.
WBC super featherweight titlist Miguel Berchelt and challenger Mickey Roman met with media at Wolfgang Puck at 12 noon to talk about their pending clash on HBO. It's another meeting between a Top Rank affiliated fighter and Golden Boy affiliated fighter.
Can it match Ramirez-Orozco?
Berchelt is a heavy-hitting but skilled fighter from the Yucatan area. Roman is a hard-nosed heavy hitter from Juarez, Mexico. Its North versus South in this Mexican battle that takes place on Nov. 3 in El Paso, Texas.
This could be extremely explosive.
Immediately after the Top Rank press conference, and a few feet away, another media luncheon took place for interim WBC super lightweight titlist Regis Prograis.
Prograis, 29, is an interesting cat.
Raised in New Orleans and Houston, the extremely strong Prograis will participate in the World Boxing Super Series that begins in late October. He faces former lightweight world champion Terry Flanagan of England.
"I chose to fight Terry Flanagan because he's a former world champion," said Prograis whose last fight was a knockout win over Argentina's Juan Jose Velasco in New Orleans. "I'm trying to prove I'm the best. I don't want an easy fight. It's a waste of time."
Of course he would love a match with current WBC titlist Jose Carlos Ramirez but he can wait.
"We'll meet one day in the ring," Prograis said.
The Rematch
After the pair of press luncheons we headed to the T-Mobile Arena for the Alvarez-Golovkin mega fight. It was an early 2 p.m. start so we missed a couple of early fights. I always try to watch every bout. It's my duty as a reporter to cover all the fights that take place. Not just the headliners, but the afternoon press conferences held me up.
The best of the undercard saw Vergil Ortiz Jr. annihilate his former sparring partner Roberto Ortiz in two rounds.
Vergil Ortiz trains in Riverside, Calif. with Robert Garcia. He formerly was based in Indio, Calif. with Joel Diaz. Both trainers have excellent troops.
Ortiz, 20, has long limbs and fights long too. He's buzzed through 11 straight opponents and kind of resembles late actor Jack Palance in the movie Shane. Vergil is a likeable guy who seems nothing like a feared monster in a boxing ring.
Golden Boy keeps stepping up the competition a notch and he keeps rendering them unconscious. The promoter doesn't want to overstep the process with Ortiz so they are doing things de-li-cate-ly.
So far Ortiz has treated everyone who steps in the ring with him like fragile china. He touches them and they fall to pieces. Technically he is very sound. But the Golden Boy crew sees something very special in the kid from Dallas. He is one to watch.
Boycott?
After several fights including the main event that saw Alvarez win by majority decision, it's important to note that the entire "ringside" media group was placed more than 50 yards away from the boxing ring. No one from the media had a sufficient view to analyze the fight that has been very disputed by fans and others.
But my question is: why did the promoters place the media a ridiculous 50 yards away?
Sadly, it's a move that says to the media "we don't need you."
Maybe it's time to organize.
Regis Prograis photo by Al Applerose
Check out more boxing news on video at The Boxing Channel
The Avila Perspective: Canelo in Manhattan and other Boxing Notes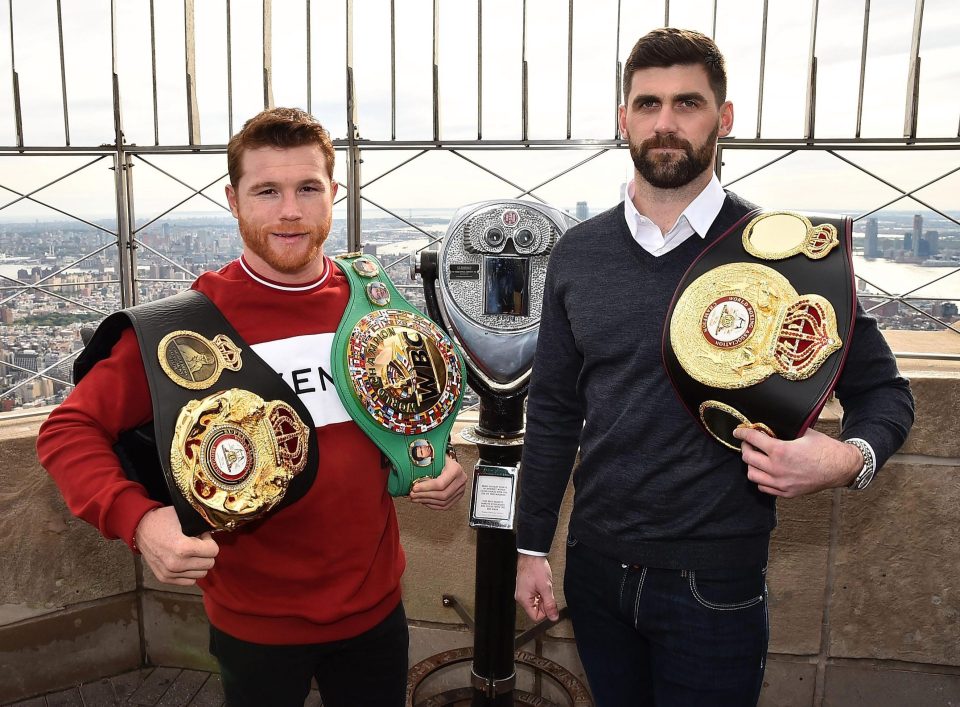 Amber alert. If you spot a muscular redhead walking through the streets of New York City don't be surprised. It's probably Saul "Canelo" Alvarez.
Once upon a time it was strange to see Mexicans in Manhattan, but today in the 21st century, plenty of Mexicans live in the city in areas like Hell's Kitchen.
It figures that's where the Mexicans would live.
Alvarez (50-1-2, 34 KOs) moves up a weight division to challenge England's Rocky Fielding (27-1, 15 KOs) for the WBA super middleweight title at Madison Square Garden. DAZN will stream the world title fight and entire card free for new users.
The great experiment begins.
Fresh off his $300 million signed contract Alvarez makes his DAZN debut in New York City, an area famous for its ability to attract boxing connoisseurs. Few areas in the USA have boxing fans like those crowds attending big fights at the Garden.
"It fills me with a lot of pride because I know great fighters have fought there, like Muhammad Ali," said Alvarez. "But to be the main event there at MSG, and if I'm not mistaken, the first Mexican there in a long time, it fills me with pride."
Also filling up the boxing ring will be the much taller WBA champion Fielding who has a distinct height advantage. When they stood next to each other, the British fighter towered over Alvarez like the Chrysler Building overlooking the tallest tree in Central Park.
"It's a massive fight for me at Madison Square Garden and a big challenge in Canelo Alvarez," said Fielding, 31, who sports a five-inch height asset over Mexico's Alvarez.
Fielding won the super middleweight title this past July when he knocked out undefeated Tyrone Zeuge in Offenburg, Germany. Knockouts have been a best friend for the Englishman in half of his last six fights.
Canelo will be carrying the load for the boxing card that features several other notable Golden Boy Promotions fighters. DAZN hopes that his star power can transfer from television to streaming.
Star power. It's a crazy asset that can't always be measured but in the case of Canelo he was able to attract around 1 million pay-per-views on several occasions.
From Morongo to MSG
Ten years ago an 18-year-old Canelo made his American debut at Morongo Casino, a venue that holds about 400 people. Max. I remember it well.
Located in the desert, few would have predicted that freckled face welterweight would become one of boxing's biggest draws. Well, here he is poised to make an entrance like one of those divas on Broadway. What's the male equivalent?
Canelo looks to become a three-division world champ of Mexican heritage. It's a list rife with hall of fame names like Juan Manuel Marquez, Marco Antonio Barrera, Erik Morales and of course Julio Cesar Chavez. That's lofty company.
"Canelo is going to make history that night and be one on the shortlist of Mexicans to be a three-division world champion," said Eric Gomez, president of Golden Boy Promotions.
"It's very important to be in that list of about ten Mexicans to become three-division world champions, so very important to enter history. That's why I'm here taking on this important fight, and it's important that we win this title," said Alvarez, 28, who lives in Guadalajara.
Facing someone as tall as Fielding does have its drawbacks, but the Mexican redhead has tangled with opponents equally as tall and heavy.
Does anyone remember Julio Cesar Chavez Jr.
Back on June 2017, the battle of Mexicans saw Alvarez destroy Chavez Jr. over 12 one-sided rounds with his speed, skills and relentless attack. Can Fielding find a flaw in Canelo's armor?
"I believe what we worked on and what I can do can cause a lot of damage and a lot of — a lot more than what people are thinking," said Fielding.
It's an intriguing matchup designed to entice New York area fans to watch the Mexican fighter perform just months after he toppled Gennady "GGG" Golovkin from the middleweight throne and handed him his first professional loss. In a nip and tuck display of trench warfare, Canelo traded hellacious blows with Triple G and emerged the victor by majority decision.
Golovkin's team had dared the Mexican to fight Mexican style and he obliged and overcame the Kazakh assassin's best blows.
Mexican style has its detriments too. Those who use the offensive go-for-broke fighting method can also be the victim. It's a 50/50 style meant to display a kill or be killed attitude that goes back to the Mexican Revolution when Pancho Villa's army would descend on machine gun nests on horseback or on foot and overrun them with brute force. It was kill or be killed. That's Mexican style.
Will Canelo resort to Mexican style or will he utilize the boxing skills that have made him one of the top pound for pound fighters in the world?
On Saturday fans in New York will see firsthand and those watching on DAZN will too.
HBO Farewell
Last weekend the final boxing show by HBO featured top female fighters Cecilia Braekhus and Claressa Shields in separate world title fights at the StubHub Center on a cold night.
About 900 fans scattered around the outdoor arena to watch the event that pit Braekhus against Aleksandra Lopes in a welterweight match. It was not very interesting.
In the middleweight match Shields fought Belgium's Femke Hermans in another very one-sided fight.
The challengers both looked to survive and were severely overmatched. Punches were seldom thrown by the challengers. It was pitiful.
HBO did not offer much money for the event and thus the opponents willing to fight for the agreed purses gave lukewarm performances.
Had a budget of at least $400,000 for each fight been offered, both title fights could have easily brought worthy opponents for Braekhus like Layla McCarter who was present for the boxing card or Kali Reis who fought the welterweight champion last May.
But HBO left the cupboard bare and offered crumbs on its final boxing show.
Shields and Braekhus would have been better off fighting each other. Perhaps that fight is in the future.
Check out more boxing news on video at The Boxing Channel
To comment on this article at The Fight Forum, CLICK HERE
The ESPN special '42 to 1' Opened a Portal Back Into a Special Time For Me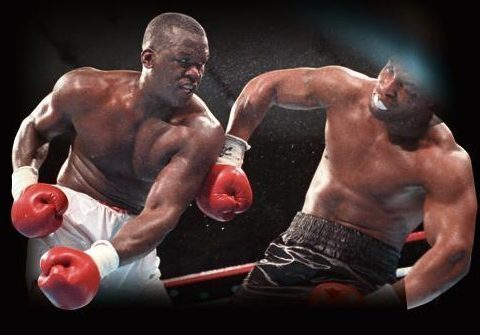 There are moments in life when you feel as if you somehow have been transported back to an event or an occasion that always will hold special meaning to the time traveler.
Watching ESPN's latest entry in its "30 for 30" documentary series, 42 to 1, was like that for me. Not that the 50-minute special, directed by Ben Houser and Jeremy Schaap, broke new ground or revealed much, if anything, I didn't already know. In fact, there was much behind-the-scenes stuff that might have been included and maybe even should have been, had the documentarians had more time to tell the familiar story of James "Buster" Douglas' epic upset of seemingly invincible heavyweight champion Mike Tyson on Feb. 11, 1990. But this particular stroll down memory lane is especially significant to me because, well, I was there. It wasn't the best prizefight or sporting event I ever covered live and in person, but it was the most compelling because it was arguably the biggest upset not only in boxing history, but maybe ever in the sports world. Being courtside for Villanova's shocker over Georgetown and Patrick Ewing in the 1985 NCAA championship basketball game pales by comparison.
"Forty-two to one stands right at the top," veteran Las Vegas oddsmaker Jimmy Vaccaro, who is an instrumental figure in the actual lead-up to Tyson-Douglas and throughout the documentary, said of the seemingly one-sided matchups he has made betting lines for during his long career and did not go as expected. "There's nothing even close to it. I'm tired of hearing about the `Miracle on Ice' (the 1980 U.S. Olympic hockey team, loaded with college kids, shocking the veteran Soviet Union squad in the semifinals en route to the gold medal in Lake Placid, N.Y.). Yes, we understand it was a big upset . But you know what? (The U.S.) was only a 3 to 1 underdog as opposed to a 42 to 1 favorite (Tyson). I think it's a little bit different.
"Forty-two to one? I'd lay 50 to one you'll never see it again."
Nobody with the possible exception of Douglas and a few fellow dreamers in his support crew thought that it might be possible for the often-unmotivated, frequently out-of-shape heavyweight from Columbus, Ohio, to cash the lottery ticket he had been given only because Tyson needed to fight somebody before he moved on to a scheduled June 1990 pairing with Evander Holyfield that both parties already had agreed to.
"Buster Douglas is a dog," Tyson's promoter, Don King, had dismissively said, not even attempting to throw a positive comment toward the designated victim who surely was about to become Iron Mike's 38th victim. "He's always been a quitter. Buster Douglas has a history of quitting. He quit with Tony Tucker in 1987. Really, that's why I chose him."
ESPN sports anchor Charley Steiner, on the evening the presumed massacre was to take place (which was actually the following day in Tokyo, 14 hours ahead of Eastern Standard Time), advised viewers that "Tonight's heavyweight championship fight might be best titled `30 seconds over Tokyo.'"
So why had I arrived in the Land of the Rising Sun eight full days before the first punch was thrown in earnest? Because my paper, the Philadelphia Daily News, was years away from having its travel budget slashed to the bone and because our then-executive sports editor, Mike Rathet, believed that there are certain athletes who were of such high interest that doing stories about them off TV simply would not suffice. Mike had dispatched another PDN writer, my colleague Elmer Smith, to Tokyo to report on Tyson's perfunctory second-round TKO of pudgy challenger Tony Tubbs on March 21, 1988. I figured my trip to Japan would end on a similarly quick and emphatic note, but then the beauty of sports is that nothing is ever absolutely certain.
The day before I headed to the airport, I attended, but did not cover, a fight card in Atlantic City where other reporters, including Robert Seltzer, my counterpart at the Philadelphia Inquirer, asked why the PDN was spending so much money to send me halfway around the world to witness a fight that seemed a foregone conclusion. "Because Tyson is Tyson," I replied, "and we want to be there if the mother of all upsets occurs."
In retrospect, maybe the mother of all upsets wasn't as long of a long shot as might have appeared at first glance. Tyson's personal life was unraveling; his marriage to actress Robin Givens was on the rocks, he had fired capable trainer Kevin Rooney nearly two years earlier and instead would have the Bobbsey twins, Aaron Snowell and Jay Bright, working his corner. He also, an inside source had advised several media members, was shuttling Japanese hookers in and out of his hotel suite at night as if they were a relay team passing the baton at an X-rated track meet. In a story authored by Eric Raskin for Playboy a couple of years ago, I was quoted as saying that, if sex really does sap a boxer's strength in the weeks before a bout, it was amazing that Tyson had enough energy to crawl into the ring before the opening bell.
Meanwhile, Douglas – whose potential never had been questioned, only his commitment to push himself in training – was in the best condition of his career, and his mind was right, too, having dedicated the victory he dared to believe he could get to his late mother, Lula Pearl Douglas, who had passed away less than three weeks earlier.
It was a jumble of circumstances that would have stamped Douglas as far less likely to have his butt kicked, had all information been available to the public. In addition to his litany of personal woes, an arrogant Tyson had made the same mistake that often brings down the luminously gifted. He figured he could just show up and win because, well, hadn't he always done that?
During a TV interview prior to squaring off against Douglas, a clearly bored Tyson dropped broad hints that he had not exactly punished himself into peak condition.
Q: Do you always go into the ring feeling like you're invincible?
A: Yeah.
Q: Let's get to Buster. What's you biggest concern going into this fight?
A: I got no concerns.
Q: What do you think Buster's …
A: I don't have any idea what he's thinking. I don't care. I'm a champion, you know what I mean?
So prohibitive a favorite was Tyson to continue his reign of terror that almost every sports book in Las Vegas didn't bother to post a line. That's where Vaccaro came in, unwittingly setting the stage and the now-legendary numbers for the title of the ESPN documentary.
"Well, almost none," Vaccaro said after an unseen voice mentions that every other sports book was taking a pass on Tyson-Douglas. "I did. Let me set the stage for you. In 1990, the biggest star in sports was Mike Tyson. `Iron Mike' was a knockout machine. In 37 fights he'd never been on the canvas. Never hurt, never challenged. Nobody thought James `Buster' Douglas would be any different. No one thought Buster could win.
"Back then I was at The Mirage and I decided we would take action on the fight. The favorite? Tyson, of course. The underdog, Douglas. The odds? Forty-two to one."
That where the steadily rising line stopped, in any case.
"Well, naturally everybody thought, including myself, that Tyson couldn't lose the fight," Vaccaro pointed out later in the program. "So the opening odds were set at 27 to 1. But I kept raising the odds to maybe get a bet  on James `Buster' Douglas. From 32 to 1 to 37 to 1, but we still couldn't get anyone to bet on the underdog until we got to the pinnacle – 42 to 1."
Even then, most of the bets that did come in were from well-heeled types who figured they'd put up a lot to get a little on what seemed to be a sure thing.
"We got a thousand, $1,500 here and there on Douglas," Vaccaro continued. "But, you know, we actually took about 10 bets on Mike Tyson at 42 to 1, meaning you'd have to bet $42,000 to win $1,000. One gentleman put up over $160,000 on one bet to win, like, $4,000. It was incredible."
Here's guessing that guy was looking for a tall building with a roof from which he could jump off after Douglas methodically beat up and finally stopped Tyson in the 10th round. The only time a window of opportunity opened for the soon-to-be former champ was when he connected with a ripping right uppercut that dropped Douglas for a nine count in round eight. Tyson supporters to this day insist that referee Octavio Meyran was slow with his count , but Douglas was looking straight at Meyran and knew he could get up before the toll reached 10. He then demonstrated he wasn't as hurt as he might have appeared by again seizing the upper hand with a dominant ninth round.
Alas, the mountaintop Douglas had just scaled proved to be a slippery slope. He had slain the most fearsome beast in the heavyweight jungle, all right, a feat that would bring him a $24 million payday for his first title defense, which came on Oct. 25, 1990, at The Mirage, against Holyfield. But the determined, in-shape Douglas had again slipped back into the shadows by then, and when he weighed in at a jiggly 246 pounds against Holyfield, 14½ more than he had for Tyson, there was a mad rush toward the betting windows by attendees hoping to get a hefty wager down on Holyfield before the odds shifted. The race belonged to the swift as Holyfield delivered a beautiful counter right to win by knockout in the third round.
At 58, Buster Douglas appears to be fat and happy these days. You can live a pretty good life if you are intent on making a $24 million windfall last, and the fighter previously known for wasted potential still is riding the high surf generated by one magical performance. He now serves as a boxing instructor to young kids in the same Columbus gym where his late father, a tough middleweight named Billy "Dynamite" Douglas, first dreamed of making his son into the world titlist he never got to be himself. It is a success story with only one undeniably positive chapter, but that sometimes is more than other people ever get a whiff at when the book of their lives is written.
I came back from Tokyo with the kind of memories that aren't easily erased. One of my sons received my souvenir program; he now lives out of state and I don't see him as often as I would like. I hope he held onto it because I suspect it might be worth something now.
Bernard Fernandez is the retired boxing writer for the Philadelphia Daily News. He is a five-term former president of the Boxing Writers Association of America, an inductee into the Pennsylvania, New Jersey and Atlantic City Boxing Halls of Fame and the recipient of the Nat Fleischer Award for Excellence in Boxing Journalism and the Barney Nagler Award for Long and Meritorious Service to Boxing.
Editor's Note: ESPN's "42 to 1" premiered Tuesday evening, Dec. 11, at 9:00 PM EST. The next showings are scheduled for 2:00 AM Wednesday morning, Dec. 12, on ESPN2, Sunday, Dec. 16, at 5 PM on ESPN2, and Sunday, Dec. 16, at 9:00 PM on ESPN. All times Eastern.
Check out more boxing news on video at The Boxing Channel
To comment on this article at The Fight Forum, CLICK HERE
Three Punch Combo: My Odd Choice for Upset of the Year and More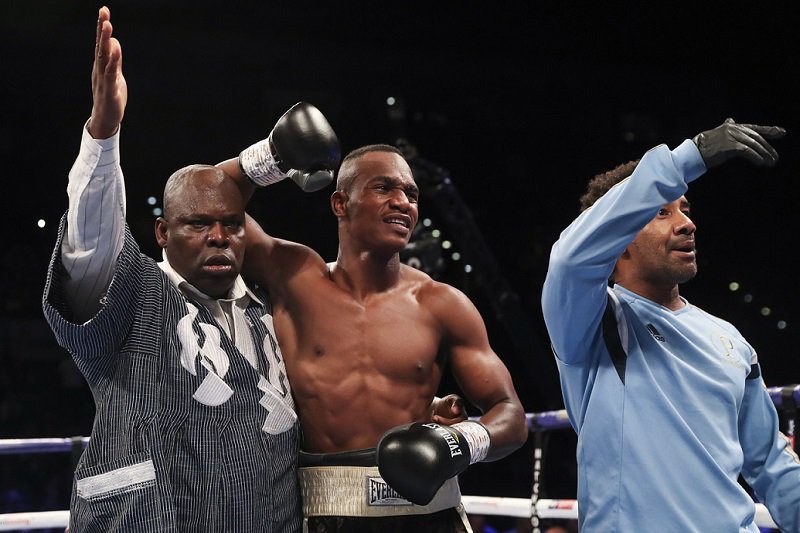 THREE PUNCH COMBO: On Saturday night, Saul "Canelo" Alvarez (50-1-2, 34 KO's) makes his 168-pound debut when he faces Rocky Fielding (27-1, 15 KO's) at Madison Square Garden in New York. Fielding is a substantial underdog and most experts would be surprised if Fielding was even remotely competitive.
Given that he is such a big underdog, Fielding would seemingly be a lock for Upset of the Year if he were to win. But a much bigger upset, albeit in not a high profile fight, occurred earlier this year.
Sam Eggington was added to the Amir Khan-Samuel Vargas card on September 8th  to simply get in some work. Two weeks later, he was slated to face Brandon Rios on a big stage on the Joshua-Povetkin undercard. The opponent chosen for Eggington's tune-up was little known Hassan Mwakinyo of Tanzania.
Mwakinyo (pictured) entered the bout with a record of 11-2 with 7 knockouts. All but one of his fights had taken place in Africa and he hadn't defeated anyone of note. He had one knockout loss to a 5-6-5 fighter and his other loss was by wide decision when he traveled to Moscow to face undefeated prospect Lendrush Akopian. Now, Mwakinyo was traveling on late notice to Eggington's backyard in the UK to face a fighter who was 23-4, had won several regional belts, and had never been stopped.
Eggington was a lock-solid favorite. Some sportsbooks had Eggington at minus -10000 (100 to 1) at fight time while others had him a little lower. There are no sure things in boxing but this fight was as close to a sure thing as there was in the eyes of the sportsbooks.
Eggington got off to a good start in round one and seemed to be on his way to the expected dominant knockout win. But with ten seconds remaining in the round, Mwakinyo clipped him with a counter left hook. Eggington sagged back into the ropes and was visibly hurt. Mwakinyo teed off on Eggington for the final few seconds in the round before the bell rang.
Mwakinyo hurt Eggington with a counter right to open the second round and battered Eggington around the ring, landing countless clean punches to Eggington's jaw. About a minute into the round, with Eggington eating so many clean punches, the referee was forced to jump in and stop the fight.
End of the year lists tend to focus on high profile fights and fighters, but that should not always be the case. As far as Upset of the Year in 2018, there was no bigger shocker in my opinion than when little known last minute opponent Hassan Mwakinyo defeated Sam Eggington.
IBHOF Voting Process – Transparency and Changes Are Needed
This past week, the International Boxing Hall of Fame in Canastota, NY released its 2019 class. Each year, three fighters are elected in the Modern category. This year's honorees are Donald Curry, Julian Jackson and James "Buddy" McGirt.
The selections have sparked plenty of debate. And I think it is finally time for the IBHOF to not only become more transparent in the voting process but to also make some long needed changes.
Only the IBHOF views the final ballots and is aware of the final tallies. Right or wrong, this has led to rumors about what it really takes for someone to get elected in the IBHOF. I don't buy into the rumors myself but I think it is time for them to get squashed once and for all.
My suggestion is simple. The IBHOF should have a livestream of them opening the ballots and tallying the votes. Read the name of the person who submitted the ballot and who they voted for. This is not meant to open the voter to any critique but to make sure their ballot is tallied correctly. And it also lets everyone know the exact results. That would put to an end any rumors about the voting process.
Also, changes are needed to the voting process. For one, why set the number at three for the Modern category every year? There needs to be a percentage threshold, say 65% of the vote, for someone to qualify for induction. Whoever hits that number each year is elected whether it is one, five, ten, etc.
Second, for whatever reason it seems voters tend to favor fighters in the Modern category who fought often on American television and somewhat ignore those whose careers were fought off US television. With streaming today, this issue could go away over time but right now needs to be addressed.
My suggestion would be to break up the fighters on the ballot by the decade they primarily fought and then to list certain statistics of each fighter as a side by side comparison. Stats would consist of some of the following: career record, world titles won, number of successful title defenses, number of champions defeated, number of Hall of Famers defeated and other relevant stats.
I'm certain that some voters already look at these stats, but I'm not sure this is always the case. By putting these measurable statistics on the ballot, it at least gives each voter something to think about (and maybe could cause them to do further research) before filling out the ballot. And that may give more consideration to fighters who weren't seen as often on US television.
It is time for the IBHOF to make some badly needed changes to the voting process. Doing so will ensure the credibility of the IBHOF for years to come.
Under The Radar Fight
There will be plenty of live boxing on streaming services this coming week. ESPN+ has cards on Friday and Saturday. And, of course, there is the big card on Saturday evening on DAZN headlined by Canelo Alvarez. With so many fights on the docket, there is bound to be at least one solid fight slipping deep under the radar.
Stashed deep on the undercard of Alvarez-Fielding, Sadam Ali (26-2, 14 KO's) returns to the welterweight division to face veteran Mauricio Herrera (24-7, 7 KO's). Ali is only a year removed from his biggest win when he won a 154-pound title belt against the legendary Miguel Cotto. However, Ali is coming of a devastating knockout loss in his first defense against Jaime Munguia in May. In that fight, Ali showed a lot of courage but absorbed a tremendous beating before the fight was stopped in round four.
So how much did Munguia take out of Ali? And is going back to 147 going to provide resurgence in Ali's career? We should know more after his contest with Herrera.
Herrera last fought in August of 2017 when he won a majority ten round decision over Jesus Soto Karass. That fight was a war and Herrera proved in winning that he still had something in the tank.
Ali is a boxer puncher who has a penchant to mix it up with his opposition. Herrera was once a technician but as he has gotten older has been more willing to exchange with his opponents. Given the styles, I see a very entertaining fight. Ali is more talented but, as I alluded to, there are questions as to exactly what he has left in his tank following the beating he suffered at the hands of Munguia.
This is an interesting, well matched welterweight crossroads fight and I am very intrigued to see how it plays out.
Check out more boxing news on video at The Boxing Channel
To comment on this article at The Fight Forum, CLICK HERE