Oscar De La Hoya: As a Fighter and as a Promoter, He's Been a Boon for Boxing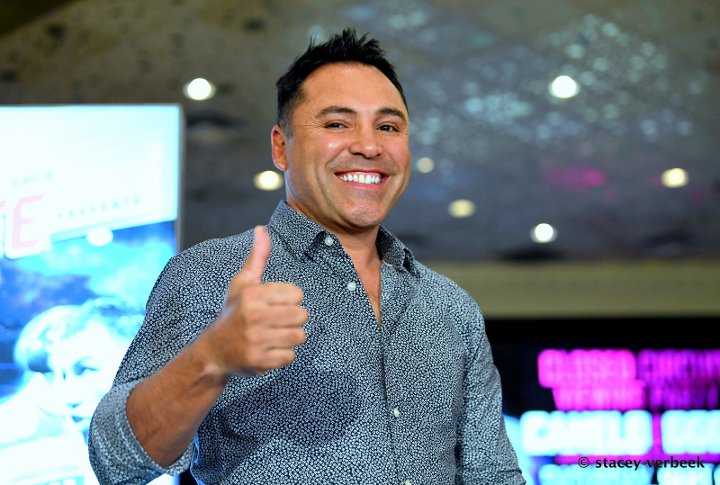 Oscar De La Hoya is an anomaly and one of the most successful and unique figures in the history of boxing.
De La Hoya rose from the mean streets of East Los Angeles to capture the Gold Medal at the 1992 Olympic Games in Barcelona, Spain, and then carved out a wildly productive career inside the ring where he became a 10-time world champion in six different weight divisions.
Sure, De La Hoya isn't the first to take this road and likely won't be the last to navigate this route to fame and fortune. But what separated De La Hoya from so many others who came before is that while still boxing, six years before his final fight, he became a fight promoter. And not just any fight promoter, but one of the most prominent and important, alongside Bob Arum, CEO of Top Rank, which promoted many of De La Hoya's fights.
After countless big fights and huge sums of money earned on both sides, De La Hoya sued Arum, claiming that millions of dollars never found its way into his bank account. De La Hoya wanted out of his contract and the matter was settled in 2001 with De La Hoya prevailing.
De La Hoya founded Golden Boy Promotions in 2002. Keenly aware that a boxer, even the best, can fall victim to his own fame and outside influences, De La Hoya wanted to change the template. He knew the pitfalls first hand, having been at the very top and bottom of the mountain.
Like many boxers before him, De La Hoya has battled drugs and alcohol, a combination more powerful than Bernard Hopkins, Floyd Mayweather Jr. and Manny Pacquiao, three great champions that he lost to in the ring. Still, De La Hoya, like most everything that he's done in his life, has come out smelling like a rose.
Take the recent rematch between Saul "Canelo" Alvarez and Gennady Golovkin for the middleweight championship at T-Mobile Arena in Las Vegas. De La Hoya, who co-promoted the mega-fight claimed by Alvarez via majority decision, was proud to have had a hand in both money-making bouts.
Beside Alvarez, Golden Boy Promotions has under its umbrella such up-and-coming stars as Angel Acosta, the World Boxing Organization light flyweight champion, Jaime Munguia, the undefeated WBO junior middleweight title holder who was on the Alvarez-Golovkin II undercard, unblemished Rey Vargas, the World Boxing Council super bantamweight king and undefeated Alberto Machado, the World Boxing Association super featherweight belt holder.
Knowing just how tough it is to reach the top, De La Hoya recognizes that a boxer's time in the ring is limited and that the right promoter is crucial if he is to reach the top rung of the ladder.
De La Hoya said that boxing helped him to know what makes him tick. "Talk about never giving up, that's exactly what boxing taught me," he said. "Look, you're going to get knocked down in a round or two. Just get back up and imagine winning the fight after you get knocked down several times. It's that much more gratifying."
De La Hoya, who lost to Shane Mosley twice, said he wants to make the best matches for the fans because without their support at the venue or buying pay-per-view telecasts, his job as a promoter would be that much tougher.
"That's what it's about, working with everyone," he said. "Working with the best promoters in the world so that the fans can see the best fights. In today's boxing landscape…it's not that they are afraid, but they are not taking risks to make the best fights for the public, because they may lose their fighter. It's not our case. If our fighter is ready for a championship fight or to fight with the best in the world, we do it….that's how we are, we think of the fans first."
Nicknamed the "Golden Boy" by the media en route to the Olympic Gold Medal, De La Hoya soon after became the face of boxing. Blessed with movie star good looks, an outgoing personality, a powerful jab and a knockout punch, he became one of the most popular fighters ever.  He was 31-0 before losing a majority decision to Felix Trinidad at the Mandalay Bay in September 1999 and finished his professional career with a record of 39 wins, six losses and 30 knockouts.
By any measure, these assets helped De La Hoya transition into his second career as a promoter. "It was a tough road, but not an impossible one," he said of being a promoter. "I love this hands on. I love this day-to-day. I love the decision making. I love creating and putting together what ultimately is going to be, I believe, my legacy."
Of course, De La Hoya, who defeated Fernando Vargas, Ricardo Mayorga and Arturo Gatti and has already been inducted into the International Boxing Hall of Fame, seems to want something more than being recognized as one of the all-time ring greats.
How about a second ceremony as a fight promoter?  "I actually do have a goal as a promoter, and that's to be the very first fighter to be inducted into the Hall of Fame again, the second time around, as a promoter. I don't think it's ever been done," he said.
Still the road hasn't always been easy for De La Hoya, who has had some of his demons exposed.
Glenn Cooper, who worked in ESPN's advertising department, has known De La Hoya for many years. "Oscar's had some problems," he said recently. "He's battled them and come out better for it. I've had my own problems and I told Oscar that if he ever needed someone to call, I'd be there. He called me a few times and I tried to be there for him."
Cooper added, "Oscar's such a really nice guy. But when you lead that type of lifestyle where everybody knows who you are, it's not easy staying out of trouble."
Then there was the breakup with longtime business partner Richard Schaefer, a well-connected Swiss banker who joined De La Hoya and helped build what has become a business empire.
Initially Schaefer, who was the CEO of Golden Boy Promotions before leaving in 2014 in order to form his own company, Ringstar Sports, handled only the business end, often working with fighters and managing their careers. Schaefer then switched gears and began lining up deals for several major boxing matches.
When De La Hoya was in rehabilitation, Schaefer began taking over more responsibility. Critical was that Schaefer allowed many of the promotional contracts under Golden Boy with adviser/promoter Al Haymon to expire, which obviously left the company vulnerable.
In June 2014, De La Hoya sued Schaefer for $50 million and the case was settled by an arbitrator in De La Hoya's favor.
De La Hoya recently expanded Golden Boy Promotions to include MMA. The company's first venture will be a third meeting between former UFC superstars Chuck Liddell and Tito Ortiz, set for Nov. 24 at the Inglewood Forum.
"I'm really looking forward to getting involved with MMA and building a new business," he said recently. "If any fighter who is an MMA fighter wants to explore a different avenue, come knock on our door, give us a call. I'm really excited about starting Golden Boy MMA. When we do things, we do them the right way, just like we've done in boxing."
Don Chargin, who just passed away at age 90, joined Golden Boy Promotions as a senior adviser late in his legendary career.
With more than six decades of experience under his belt as a matchmaker and promoter, Chargin, dubbed "War A Week" by sportscaster Jim Healy after making so many fan-friendly fights at the Olympic Auditorium in Los Angeles, was a valuable asset for De La Hoya.
Chargin was perhaps even more of an asset for Eric Gomez, president of Golden Boy, who said he owes Chargin a huge debt of gratitude for teaching him how to be a matchmaker.
No, De La Hoya isn't perfect, but he has operated Golden Boy Promotions at an extremely high level and has been a boon for boxing.
Check out more boxing news on video at The Boxing Channel
Allen (KO 3) and Chisora (UD 10) Victorious in Heavyweight Action in London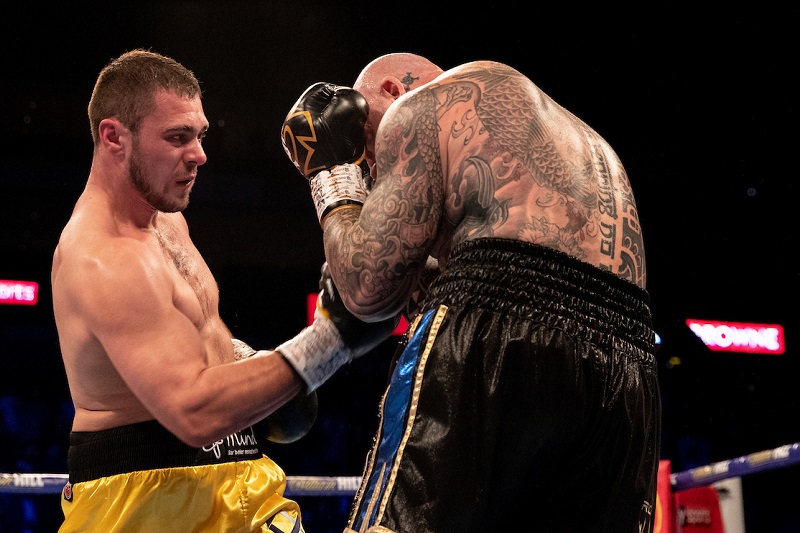 A pair of heavyweight battles topped the card at London's 02 Arena. Both favorites won, but neither bout played out as expected.
Fan favorite David Allen, a 27-year-old Yorkshireman, continued his ascent from the lower depths of the boxing firmament with a one-punch knockout of Australia's  heavily-tattooed Lucas Browne. Allen caved in Browne with a body punch in the third round that brought a sudden end to a bout that the Aussie appeared to be winning.
Browne, who turned 40 this month, made history when he became the first Australian to win a world heavyweight title (WBA version) when he scored a 10th round stoppage of Ruslan Chagaev in Russia. But, in hindsight, that win was a fluke. A gassed-out Chagaev was widely ahead on the cards when his roof fell in. Browne's tenure was brief. He was stripped of the belt after testing positive for clenbuterol.
Allen, nicknamed the White Rhino, has now won four straight beginning with an upset of previously undefeated Nick Webb. His reputation is that of a common brawler, a fighter willing to take two punches to land one, but, regardless, he positioned himself for a nice payday or two going forward. Browne lost his second straight after opening his career 28-0.
The maddeningly inconsistent Dereck Chisora, who engaged in two barnburners with Dillian Whyte, snoozed his way to a 10-round unanimous decision over milquetoast Senad Gashi. The 35-year-old Chisora, a Zinbabwe-born Londoner, improved to 30-9 but did nothing to improve his stock. The well-traveled Gashi, born in Kosovo and now residing in Spain, declined to 17-3 while acquiring the patina of a trial horse.
Other Bouts
Welterweight Josh Kelly, a 2016 Olympian, won a lopsided 10-round decision over stubborn Przemysla Runowski. Kelly (9-0, 6 KOs) had Runowski on the canvas in rounds two, nine, and 10, but the previously undefeated Pole (now 17-1, 3 KOs) stayed the course. Kelly appeared to hurt his hand early in the fight. That may knock him off the Joshua-TBA card on June 1 at Madison Square Garden.
Joe Cordina, a Welshman, now holds the British and Commonwealth lightweight titles after scoring a 6th round stoppage of Yorkshireman Andy Townend (22-5). Cordina started slowly but gradually picked up the pace and scored three knockdowns before the referee waived it off. A 2016 Olympian, Cordina (9-0, 7 KOs) was a heavy favorite despite a dearth of pro experience.
Conor Benn the 22-year-old son of Nigel Benn, was extended the distance for the third time in his last four fights but had little difficulty advancing his record to 14-0 (9) at the expense of Josef Zahradnik (10-3) of the Czech Republic. The referee awarded Benn every round in this 8-round welterweight affair.
Middleweight Nikita Ababiy, a hot prospect with a big upside, was extended into the second round for the first time in his young pro career but eliminated Dmitri Faltin after only 26 seconds of round two. A 20-year-old Brooklynite of Russian extraction, nicknamed White Chocolate, Ababiy (4-0) excelled in all manner of combat sports as teenager. In the ring he doesn't pussyfoot around. He won his pro debut in 28 seconds. Faltin, a 37-year-old Finn, fell to 2-4-1.
John Harding Jr., a 34-year-old middleweight, improved to 7-0-1 with a one-sided 6-round decision over Miroslav Juna (1-2). A protégé of Dillian Whyte, Harding started his pro career late after serving several stints in prison.
Cruiserweight Sam Hyde (14-1-1, 7 KOs) rebounded from his first defeat in fine fashion, blowing out Slovakia's Josef Jurko (5-2) in the opening round.
Super bantamweight Sam Cox (4-0) won a 4-round decision over Bulgaria's Georgi Georgiev.
In a woman's fight, British bantamweight Shannon Courtenay (2-0) outpointed Bulgaria's Roz Mari Silyanova (1-5-1). The ref gave Courtenay all four rounds.
Check out more boxing news on video at The Boxing Channel
To comment on this article in The Fight Forum CLICK HERE
BWAA Writing Awards Announced: The Sweet Science Earns Multiple Citations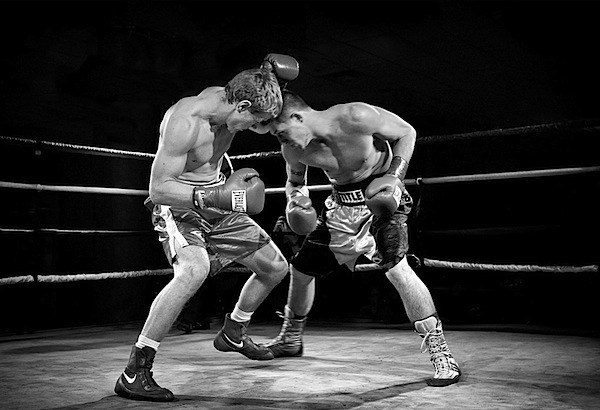 The Boxing Writers Association of America has announced their annual Bernie Awards which recognize excellence in boxing journalism. Five stories that ran on this web site earned commendations.
TSS editor-in-chief Arne K. Lang copped first place in the category "Boxing Feature Under 1,500 Words." Springs Toledo and Thomas Hauser earned third place ribbons, Toledo in the category "Best Column" and Hauser in "Boxing Investigative Reporting," a category in which he has excelled. In addition, TSS New England correspondent Jeffrey Freeman and Sean Nam earned Honorable Mentions, Freeman in "Boxing Feature Under 1,500 Words" and Nam for an investigative reporting piece.
Four TSS correspondents – Toledo, Hauser, Kelsey McCarson, and Nam – were honored for stories that appeared on other web sites.
Springs Toledo, who has had the most abundant haul of BWAA writing awards since 2010 was omnipresent once again, earning five citations overall including a first place finish for "Boxing Feature Over 1,500 Words." The multi-decorated Thomas Hauser also achieved a first place finish, this in the category "Boxing News Story." Kelsey McCarson tied for first in "Boxing Column" and Sean Nam came in third in "Boxing Feature Under 1500 Words."
What follows is the full press release authored by Awards Chairman BERNARD FERNANDEZ. A TSS mainstay, Fernandez is a former five-term president of the Boxing Writers Association of America.
PRESS RELEASE: Toledo, Kriegel, Boxing News Top BWAA Writing Contest
Springs Toledo and Mark Kriegel scored highest among individual entrants, while Boxing News/BoxingNewsOnline.com topped the overall sweepstakes in the 18th annual Boxing Writers Association of America writing contest. Those who placed in the contest, which drew a record 147 submissions from a record 49 media representatives who cover the sport, will be recognized at the 94th annual BWAA Awards Ceremony, to be held May 31 at the Copacabana in New York City.
 Toledo, a Boston native and frequent honoree in the BWAA writing contest, led all entrants with 14 points on a scoring system of five points for a first place, three for second, two for third and one for an honorable mention. In the blind judging, in which all bylines and other identifying marks were removed beforehand before being forwarded to a distinguished panel of sports journalists and academics, Toledo took a first in Feature (Over 1,500 words), seconds in Investigative Reporting and a tie for Feature (Under 1,500 Words), a tie for third in Event Coverage and an honorable mention in Column. He spread the wealth around, too, with submissions for Boxing News, thesweetscience.com and City Journal.
 Kriegel, who took first places in both Feature categories in the 2017 contest, was again a major factor in multiple categories, totaling 12 points. He took first place in Investigative Reporting, seconds in Feature (Under 1,500 Words) and Feature (Over 1,500 Words) and an HM in Column, all for ESPN.com.
Other first places went to Arne K. Lang, editor of thesweetscience.com in Feature (Under 1,500 Words); Paul Wheeler of Boxing News in Event Coverage and Kelsey McCarson of NYFights.com (tie) in Column.
Boxing News and BoxingNewsOnline.com, based in the United Kingdom, stormed the BWAA contest like the Beatles coming to America in 1964, totaling 27 points on two firsts, three seconds, a third and five HMs. ESPN.com was next with 16 points, followed by thesweetscience.com and BoxingScene.com with 11 apiece.
 The entire list of placing entrants:
2018 BERNIE WINNERS
BOXING EVENT COVERAGE
First Place
PAUL WHEELER, "Win-Win for Usyk and Bellew," Boxing News, November 11, 2018
Second Place
MATTHEW AGUILAR, "Vargas, Dulorme Draw is WBC Silver Welterweight," The Associated Press, October 7, 2018
Third Place (Tie)
LANCE PUGMIRE, "Wilder – Fury Embodied the Greatness of Heavyweight Boxing of Yesteryear," Los Angeles Times, December 2, 2018,
SPRINGS TOLEDO, "Art and Heroism in a Corrupted Sport," thesweetscience.com, December 3, 2018
Honorable Mention: Tris Dixon, BoxingScene.com; Lee Groves,CompuBoxTV.com; Gordon Marino, TheDailyBeast.com; Kieran Mulvaney, InsideHBOBoxing.com; Cliff Rold, BoxingScene.com; Don Stradley, Ringside Seat; Chris Walker, BoxingNewsOnline.net.
BOXING COLUMN
First Place (Tie)
THOMAS GERBASI, "Beyond the Ring, The Next Fight," BoxingScene.com, December 26, 2018
KELSEY McCARSON, "Tyson Fury, Mental Health and Vunerability," NYFights.com, June 8, 2018
Second Place (Tie)
DON STRADLEY, "Goodbye to All That," donstradley.blogspot.com, December 29, 2018
ELLIOT WORSELL, "Joe Fournier is the 11th Best Light-Heavyweight in the World – Apparently," Boxing News, March 29, 2018
Third  Place
GREG BISHOP, "In Search of a Happy Ending to Boxing Career, Manny Pacquiao is Following a Familiar, Sad Trajectory Instead," Sports Illustrated, January 12, 2018
Honorable Mention: Tris Dixon, Boxingscene.com; Mark Kriegel, ESPN.com; Kieran Mulvaney, Boxing News; Springs Toledo, Boxing News
BOXING NEWS STORY
First Place
THOMAS HAUSER, "Curtis Harper Goes Viral," The Sporting News, August 29, 2018
Second Place
NORM FRAUENHEIM, "Bob Arum on the Passing of 'The Boxing Senator' John McCain: 'He Was a Great American,'" RingTV.net, August 25, 2018
Third Place (Tie)
DON STRADLEY, "DeMarco is In!," donstradley.blogspot.com; December 31, 2018
LEE GROVES, "Farewell to a Boxing Lifer, Don Chargin, the Last Gentleman Promoter," CompuBoxTV.com, September 29, 2018
Honorable Mention: Lance Pugmire, Los Angeles Times; Dan Rafael, ESPN.com.
BOXING FEATURE (Under 1,500 words)
First Place
ARNE K. LANG, "Christmas Day in Germany with Sugar Ray Robinson," thesweetscience.com, December 24, 2018
Second Place (Tie)
JOHN DENNEN, "Thank God I'm Not a World Champion," Boxing News, September 16, 20128
MARK KRIEGEL, "The Old Man and the Kid: Alex Saucedo Fighting for a Title and His Mentor's Legacy," ESPN.com, November 13, 2018
CLIFF ROLD, "Golovkin, Hopkins, Monzon: The Record at Middleweight," BoxingScene.com, May 2, 2018
SPRINGS TOLEDO, "The Quiet Man," Boxing News, October 25, 2018
Third Place
SEAN NAM, "Eleider Alvarez Stuns Sergey Kovalev," UCNLive.com, August 10, 2018
Honorable Mention: Ron Borges, Boxing Monthly; Thomas Gerbasi, The Ring; David Weinberg, Press of Atlantic City; Jeffrey Freeman, thesweetscience.com; Lance Pugmire, Los Angeles Times
BOXING FEATURE (Over 1,500 words)
First Place
SPRINGS TOLEDO, "The Historian: Mike Tyson and the Ghost of Boxing's Past," Boxing News, March 22, 2018
Second Place
MARK KRIEGEL, "The Education of Terence Crawford," ESPN.com, June 9, 2018
Third Place
TRIS DIXON, "A Warrior's Brain," Boxing News, August 2, 2018
Honorable Mention: Matthew Aguilar, El Paso Times; Thomas Gerbasi, Boxing News; Lance Pugmire, Los Angeles Times; Dan Rafael, ESPN.com; Don Stradley, The Ring
BOXING INVESTIGATIVE REPORTING
First Place
MARK KRIEGEL, "A Unique Family Dynamic and the Shooting Nobody Wants to Talk About: The Jose Benavidez Jr. Story," ESPN.com, October 13, 2018
Second Place
SPRINGS TOLEDO, "191 Edgecombe," City Journal, Summer 2018
Third Place
THOMAS HAUSER, "1,501 Tests, One Reported Positive? What's Going on with the USADA and Boxing?," thesweetscience.com, September 7, 2018 and December 7, 2018
Honorable Mention: Ron Borges, Boxing Monthly; Matt Christie, Boxing News; Jack Hirsch, Boxing News; Sean Nam, thesweetscience.com; Adam Pollack,Boxinginsider.com; Lance Pugmire, Los Angeles Times; Joseph Santoliquito, PremierBoxingChampions.com
 News Outlets
Boxing News/BoxingNewsOnline.net (27 points) 
ESPN.com (16)
THESWEETSCIENCE.COM(11); BoxingScene.com (11)
NYFights.com (7)
Los Angeles Times (6)
The Ring/RingTV.com (5)
The Sporting News (5)
The Associated Press (3); CompuBox.com (3); City Journal (3); DonStradley.blogspot.com (3)
Sports Illustrated (2); Boxing Monthly (2); UCNLLive.com (2)
El Paso Times (1); PremierBoxingChampions.com (1); Ringside Seat (1); The Press of Atlantic City (1); Boxinginsider.com (1); The Daily Beast (1); InsideHBOBoxing.com (1); BoxingNews (1)
2018 BERNIES JUDGES:
MICHAEL HIRSLEY, Chicago Tribune (Retired)
FRANZ LIDZ, Sports Illustrated (Retired)
THOMAS MACDONALD, Novelist and Boston College Writing Instructor
JOHN SCHULIAN, Chicago Sun-Times (Retired)
JOHN WHISLER, San Antonio Express News (Retired)
Check out more boxing news on video at The Boxing Channel
To comment on this story on The Fight Forum CLICK HERE
Erick Ituarte Wins Featherweight Battle in Ontario, CA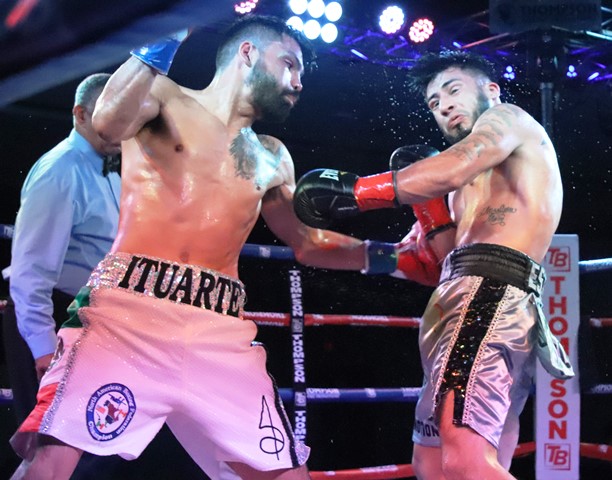 ONTARIO, CA.-Looking to make waves as a featherweight, Santa Ana's Erick Ituarte battled Tijuana's Jose Estrella evenly before pulling away in the last third of the fight to win by decision on Friday.
Ituarte (21-1-1, 3 KOs) lacks the big punch but has the long arms that enabled him to keep distance and out-point the shorter Estrella (20-16-1, 14 KOs) in their 10-round bout at the Doubletree Hotel. Thompson Boxing Promotions staged the fight card that saw about 500 fans at the event.
Estrella used his guts and guile to keep the fight close in the first four rounds of the fight. Back and forth they went trading momentum, Ituarte was effective attacking the body and Estrella was good at connecting with big blows to the head.
It wasn't until the seventh round that Ituarte began utilizing his reach and mobility to make Estrella chase and run into pot shots. From that moment on Ituarte was in control of the fight. No knockdowns were scored with one judge scoring it 98-92 and two others 100-89 for Ituarte. Each round was very competitive.
Other bouts
Corona's Luis Lopez (5-0, 3 KOs) powered his way to victory by unanimous decision over Mexico's Daniel Perales (10-17-2, 5 KOs) after four rounds in a welterweight match. Though Lopez won every round with sharper punches he was never able to hurt the super tough Mexican fighter from Monterrey. He recognized that early and used crisp combinations to win each round though Perales had his moments too. All three judges scored it 40-36 for Lopez.
A heavyweight fight saw local fighter Oscar Torres (5-0, 2 KOs) run his record to five wins with a fourth round stoppage over Houston's Thomas Hawkins (4-4) after a barrage of punches. The fight was stopped twice in the fourth round and a final barrage of blows prompted referee Tony Crebs to halt the fight at 1:20 of the round. Torres fights out of Rialto, California and is trained by Henry Ramirez.
Lightweights Davonte McCowen (0-0-1) and Chris Crowley (0-0-1) fought to a majority draw after four torrid rounds. Both were making their pro debuts. McCowen started faster and slowed in the last two rounds that allowed Britain's Crowley to mount a rally in the last two rounds. It was a spirited fight between the two newcomers.
Photo credit: Alonzo Coston
Check out more boxing news on video at The Boxing Channel
To comment on this story in The Fight Forum CLICK HERE