David Tua: It Was First And Goal From Day One
Last week it was announced without much fanfare that 1990's heavyweight contender David Tua, 39, was retiring from professional boxing, for a multitude of personal reasons. In Tua's last bout he lost a unanimous decision to perennial fringe contender Monte Barrett 35-9-2 (20). Actually, the fight with Barrett was a rematch of their July 2010 first meeting in which Tua suffered the first official knockdown of his career en route to the fight being scored a majority draw.
Set aside whatever his personal reasons are for retiring – the fact that he couldn't beat Barrett once in two fights is sufficient evidence that Tua, who finishes with a stellar career record of 54-3-2 (43) having never been stopped, will never fulfill his dream of becoming the world heavyweight boxing champion.
The first words that come to mind when thinking of or describing the career of David Tua are "unfulfilled potential." Wouldn't it have been something to see how things would've unfolded in the heavyweight division had Tua's career had not gone off the tracks after his great fight with Ike Ibeabuchi, a decision loss on his record. That was a fight that he looked sensational in and would've gone through any other heavyweight in the world that night with the exception of Ibeabuchi. For the record I had Tua beating Ike by a point.
Tua won a bronze medal at the 1992 Olympics as a 19 year old and turned pro after wards. He fought the only way he could being he was just 5'10″ — as a swarmer. Fighting as a swarmer is the hardest route to travel as a professional boxer and requires a fighter to be in the greatest condition possible and he also must be very disciplined. That's why there's only been four great swarmers in heavyweight history, Jack Dempsey, Rocky Marciano, Joe Frazier and Mike Tyson.
Tua was blessed at birth with two things that a swarmer must posses that can't be learned or taught, a cast iron chin and one punch fight altering power. And David Tua was a genuine life-taker. Nobody lived with him when he was at or near his best by trading with him. I believe, along with Freddie Roach who was once in line to train Tua, that he would've knocked Mike Tyson out had they fought. No, he wasn't better nor did he achieve as much as Tyson, but in a head to head confrontation he would've beat Mike in what would've been a great two round fight.
Some have stated that Tua should've emulated Tyson stylistically, but they couldn't be more wrong. Joe Frazier, who was a much better swarmer than Tyson, is the fighter Tua should've done everything in his power to emulate. Joe cut off the ring better, was harder to hit, and applied more bell-to-bell pressure than Tyson did at his best. Mike attacked more so in spurts. Also, Tyson couldn't fight on the inside and was easy to tie up. On the other hand, Frazier was murder inside and even "The Greatest" Muhammad Ali took a beating trying to tie Joe up. Another thing David and Joe shared that Mike didn't was, they didn't get discouraged or lose focus when they got hit. Perhaps Tua did once against Lennox Lewis, but Joe never did.
Tua, like Frazier, carried his power. Whereas Tyson was a three or four round fighter and became less effective the longer the fight went. Mike also didn't score many late round stoppages against quality opposition. Had Tua been able to slip the jab and bob and weave while pressing the fight like Frazier, he would've been murder and a handful for either Klitschko on their best nights.
When one thinks about how Tua destroyed Oleg Maskaev, John Ruiz, Hasim Rahman and Michael Moorer, who all won a piece of the heavyweight title, yet he never did, it's almost mind boggling. But in his defense, he did meet Lennox Lewis who was at the top of his game in his only title shot. Maybe that's the most mind boggling, the fact that Tua only got one title shot during an era where at least four titles existed that he could've challenged for.
For his entire career fans waited for a fully flowered and not overweight Tua to show up. However, no one ever saw that version. For years we've heard David say how much he loved the sport of boxing and how it was his life. The only thing that blurred his words was the loudness in which his actions spoke as Tua usually came to the ring too heavy and was huffing and puffing after a few spirited rounds. Not the way for a swarmer to approach combat when he's looking to be crowned heavyweight champion.
Tua talked a great fight and actually convinced me that he was gonna throw 120 punches a round at Lennox Lewis when they fought and eventually knock him out. But David came in way too heavy at 245 and once he got hit and realized how much work and risk were involved in getting near Lennox, he went through the motions and lost by a landslide. Nothing was more frustrating than watching fighters like Rahman and Chris Byrd touch him with a few inconsequential jabs and then take a step or two to the left and force him to reset. Had Tua fought with the same zeal and tenacity when it came to forcing an opponent to have to fight and trade with him the way Frazier did, Tua may have only been an underdog to George Foreman circa 1973-74.
Imagine finding a heavyweight who you could hit across the chin with a baseball bat and it wouldn't faze him. In addition to that he had dynamite in both hands and was a rarity in that he carried his power from rounds one through 12. The thought would have to be that with a few refinements along with the fighter's desire and willingness to learn how to fight as the attacker and not follow opponents around the ring, he'd have to at some point win a piece of the title. Not to mention that Muhammad Ali, George Foreman and Larry Holmes, who would've been a nightmare for Tua stylistically, were long gone by the time he arrived.
What would Tua have done to the heavyweights who won a piece of the title circa 1997 to 2005 had he been a 20 pound bigger version of Frazier? Yeah, it would've been something to see, but cookbook analogies don't apply in the ring on fight night. It's doubtful even Joe himself could've molded Tua into the fighter he would've needed to become in order for him to dominate the heavyweight division.
I was told by some in the Tua camp that in the gym during training there were times when the "Tuaman" looked like "Smokin" Joe slipping the jab while cutting off the ring as he was closing the distance and working his way inside during sparring. But on fight night he'd end up stranding a little more erect and just followed his opponent around the ring. And as it's been said in this space many times over, sparring in the gym and correcting mistakes and refining fight plans are a world apart. And that's what separates good and great fighters. Like Tyson, but not to nearly the same degree, Tua lost focus when he got hit fighting the best of the best, something that never happened to Joe, even against the most destructive wrecking machine in history, George Foreman.
My guess is that deep down David Tua wasn't defined by fighting or becoming the heavyweight champion of the world. He fought because he was good at it, it paid well, and he achieved some notoriety along the way. And that's what separates the greats and the near greats. And that's why Tua never reached his potential and his name cannot be added to the list of all-time great attackers and swarmers the likes of Dempsey, Marciano, Frazier and Tyson.
If one wants to think about how much Tua was blessed with at birth as a fighter, think of a football team taking possession of the ball on the other team's 10 yard line every time they get it. In order to score they only have to move it 10 yards as opposed to the other team who has to go the length of the field after returning the punt or kick. Yet the team starting at the 10 yard line never gets in the end zone.
Well, that's the story of David Tua's career that fell about 10 yards short of what it should've been. He had what most fighters would give up 10 years of their life to possess, a concrete chin and one punch knockout power in both hands. What a monumental advantage he started with but unfortunately he never learned the teachable things that would've rounded him into an almost unbeatable professional fighter.
U.K. Boxing Update: Gorman, Bowen, Edwards, Quigley, and More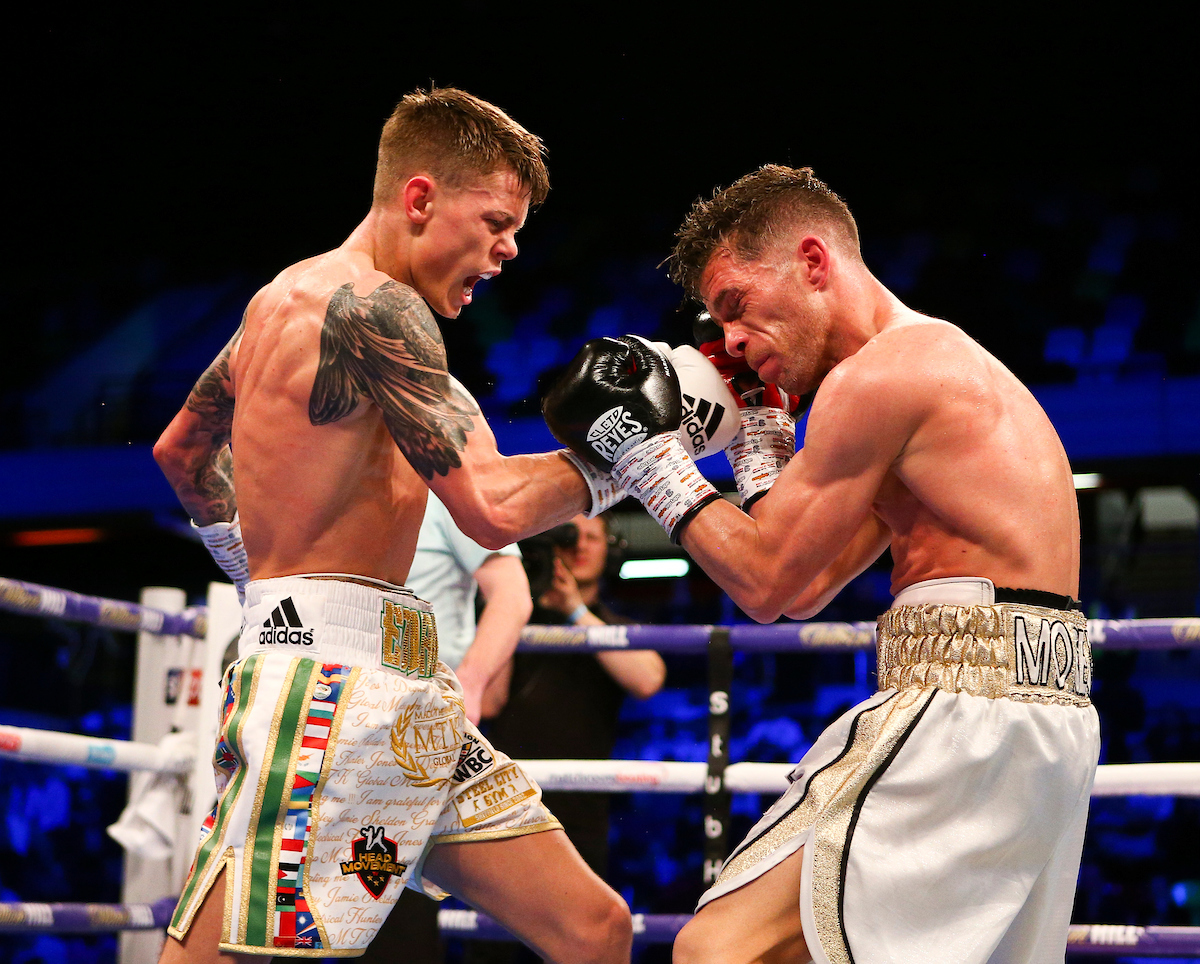 For the second time in the last three months, Great Britain's top promoters Eddie Hearn and Frank Warren went head-to-head with dueling fight cards in England. When this last happened, back on Dec. 22, Warren had the stronger card from top to bottom, but Hearn's show had the more compelling main event, namely the rematch between Dillian Whyte and Dereck Chisora. Today the roles were somewhat reversed. Hearn's show had the stronger undercard, but the fighter attracting the most eyeballs, undefeated heavyweight Nathan Gorman, is promoted by Warren.
Leicester / Queensberry (Frank Warren) Promotion
In a predictably desultory affair, Nathan Gorman (16-0, 11 KOs) outpointed Kevin Johnson (34-13-1). This being a 10-rounder, the referee was the sole arbiter and he gave every round to Gorman, a distant cousin of Tyson Fury.
Kevin Johnson, a pro since 2003, took Vitali Klitschko the distance in 2009 and Tyson Fury the distance in 2012 and more recently went the full route with Daniel Dubois and Filip Hrogivic, but he won scarcely a round in those fights and in recent years has degenerated from a journeyman into a trial horse. He came into the fight 20 pounds heavier than in his last start 13 weeks ago and fought to survive, allowing Gorman to initiate what action there was.
Frank Warren can't be blamed for promoting this snoozer. Johnson was a late replacement for Fabio Maldonado, a Brazilian who, although something of a mystery, was expected to provide Gorman with a sterner test. But Maldonado reneged after getting a better offer and will now fight Oleksandr Teslenko in Toronto next week.
The 22-year-old Gorman, who carried 253 pounds on his six-foot-three frame, is very light on his feet and some expect him to out-box his harder punching countryman Daniel Dubois when they eventually meet.
In the featured bout, Sam Bowen, a Leicestershire man, retained his British 130-pound title with a ninth round stoppage of Scotland's Jordan McCorry. Bowen improved to 15-0 with his 10th stoppage.
London / Copper Box / Matchroom (Eddie Hearn) Promotion
In the main event of Hearn's card, baby-faced Charlie Edwards (pictured on the left) put on a clinic in the first defense of the WBC world flyweight title he won with an upset of Cristofer Rosales. Edwards (15-1, 6 KOs) won every round over determined but outclassed Angel Moreno (19-3-2), a 35-year-old Spaniard and former sparring partner. Edwards scored a flash knockdown with a counter right hand in round six. All three judges had it 120-107.
Irish middleweight Jason Quigley, who signed with Golden Boy coming out of the amateur ranks and had fought exclusively in the United States, improved to 16-0 (12) with a second round stoppage of Mathias Eklund (10-2-2). Eklund was on his feet, but the ref thought it wise to keep the overmatched Finn from taking more punishment after Quigley blistered him with a series of unanswered punches. Quigley's dream fight would be a match in Ireland with stablemate Canelo Alvarez.
Joshua Buatsi, an emerging star in the light heavyweight division, chopped down Liam Conroy to win the vacant BBBofC 175-pound title. Buatsi had taken out his last three opponents in the opening round but Conroy, who came into the match riding a nine-fight winning streak, lasted into the third. Buatsi, a Londoner born in Ghana and a bronze medalist at the Rio Olympics, improved to 10-0 (8). Conroy, who was on the deck twice, fell to 16-4-1.
Conroy's promoter Eddie Hearn confirms that Buatsi's next fight is likely to take place at Madison Square Garden on June 1 underneath Joshua-Miller.
In a cruiserweight fight with British and Commonwealth titles at stake, Lawrence Okolie improved to 12-0 (9) with a fourth round stoppage of Wadi Camacho (21-8). Okolie knocked Camacho to his knees with a hard combination and finished him off with a big right hand.
The most inexperienced British boxer to ever compete in the Olympics, the rangy six-foot-five Okolie has sparred with Anthony Joshua and Tyson Fury and will almost assuredly compete as a heavyweight when he grows into his body.
Check out more boxing news on video at The Boxing Channel
To comment on this story in The Fight Forum CLICK HERE
Meet Tom Schwarz, Tyson Fury's Next Opponent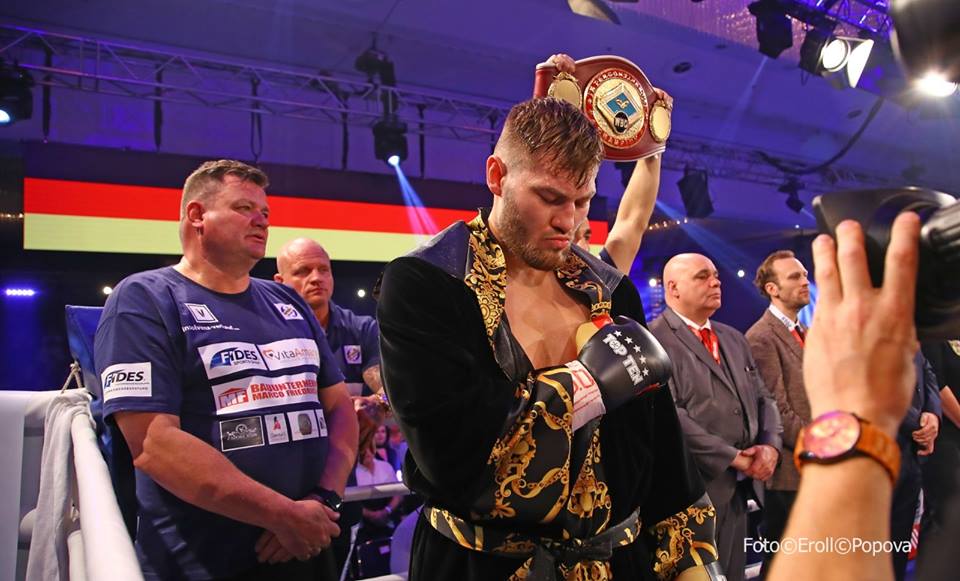 Someone can't keep a secret.
Top Rank honcho Bob Arum said he would not reveal Tyson Fury's next opponent until tomorrow (Saturday, March 23) when he would "unseal the envelope" during the ESPN telecast of his show from the Orange County Fairgrounds in Costa Mesa, CA. But, as the saying goes, the cat is out of the bag. Multiple sources, including ESPN's Dan Rafael, are reporting that Fury will fight Tom Schwarz in Las Vegas on June 15, likely at the MGM Grand although other Las Vegas venues are in the running.
The reaction has been overwhelmingly negative. By choosing Schwarz over a rematch with Deontay Wilder, Tyson Fury's reputation in the court of public opinion has taken a big tumble. "Tyson Fury fight with bum Tom Schwarz makes mockery of Gypsy King's big claims and is bad news for fans," reads the headline in the online edition of the infamous (but widely read) London Sun. "It's yet another blow for boxing fans; the paying public is being shortchanged due to a current TV bidding war," reads the article by the un-bylined author.
Bob Arum and his comrades at ESPN are facing a lot of damage control. We'll give them a booster shot by saying that Tom Schwarz, a 24-year-old German who customarily carries 240 pounds on a six-foot-five-and-a-half frame, isn't too shabby.
Here's the negatives; let's get them out of the way.
Although undefeated in 24 fights with 16 knockouts, Schwarz has defeated no one of note. The folks at BoxRec are so unimpressed with his strength of schedule that they rate him 41st among heavyweights which, for reference purposes, is 35 slots below Anthony Joshua's next opponent Jarrell Miller and 31 places below Deontay Wilder's next opponent, Dominic Breazeale.
Schwarz has had the home field advantage in most of his fights. He's fought only twice outside Germany and he didn't venture very far. Six of his fights, including his match with Kristijan Krstacic earlier this month, were in Magdeburg, his hometown.
But there are some plusses that a PR man can seize upon. Although records in professional boxing are notoriously deceiving, it seems relevant that Schwarz's last six opponents are a combined 84-5-1. He hasn't fought a real tomato can since October of 2014 when he met Tomas Mrazek, a fellow whose current record shows only 10 wins in 86 fights.
Schwarz's fight with Krstacic can be found on YouTube. One can't learn much from it as Krystacic, a 38-year-old Croatian, was outweighed by 31 pounds, but one could see that Schwarz has good fundamentals. He landed some good body shots in the opening round and then clubbed his man into submission in the next stanza, scoring three knockdowns.
German heavyweights, in the main, have performed poorly on American soil although it's worth noting that many ringsiders thought Axel Schulz deserved the nod when he fought George Foreman at the MGM Grand in April of 1995. Foreman won a majority decision and then relinquished his IBF belt rather than give Schulz a rematch.
If Tom Schwarz is looking for inspiration, he should summon the 1936 ghost of Max Schmeling who was a big underdog when he knocked out the seemingly indestructible Joe Louis. That was a non-title fight, by the way, as will be true of Schwarz's fight with Tyson Fury unless one of the four major sanctioning bodies creates a hole for it by declaring their title vacant. And as for that possibility, don't bet against it.
Check out more boxing news on video at The Boxing Channel
To comment on this story in The Fight Forum CLICK HERE
A Night of Upsets on the Golden Boy Card in Hollywood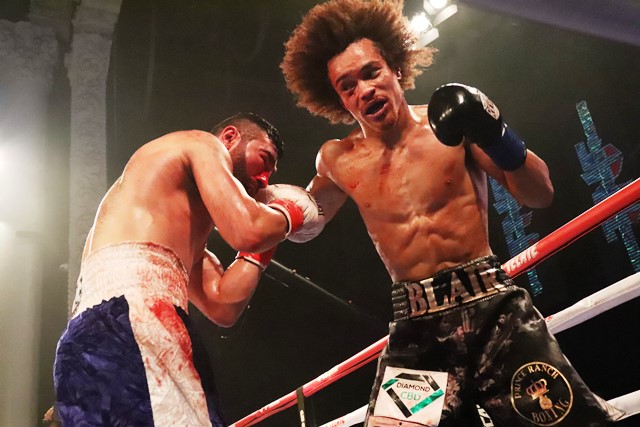 HOLLYWOOD-A night of upsets awaited those driving to Hollywood in the angry storm on Thursday night. No one survived unscathed in the film and music capital of the world.
Mercito Gesta (32-3-2) tasted defeat against Juan Antonio Rodriguez (30-7, 26 KOs) by technical knockout in their lightweight clash that was the main event at the Avalon Theater. The likeable Filipino southpaw was world ranked in the top position by one organization.
Few expected Rodriguez to battle Gesta on even terms, especially with his multiple losses, but those who had seen him perform before knew he could punch and knew he could take a punch.
It was a battle of chins and a battle between southpaws.
Rodriguez absorbed heavy blows from Gesta and at times seemed ready to surrender. But somehow he would return fire and the heavy blows continued to rain from both lefthanders.
Gesta had the speed advantage but was unable to use it effectively. For eight rounds the two blasted each other with impunity but never reckless.
Finally, in the ninth round, as Gesta decided to hit and move, Rodriguez timed one of the blows coming in and delivered an overhand left cross that staggered the former world title challenger. Rodriguez immediately sensed the moment was ripe and unloaded strategic blows on Gesta who was out-punched 20 to 2 in the last 15 seconds. Referee Zachary Young stopped the fight at 2:55 of the ninth round.
A shaky Gesta walked back to his corner.
"He was there all the time so I went to the body," said Rodriguez. "He just stopped punching."
The classy Gesta was generous even in defeat.
"It was a good fight," said Gesta who is trained by Freddie Roach. "The guy was tough. He fought hard. No excuses from me…I'm a fighter, and I love challenges."
Undefeated Welterweights
Las Vegas fighter Blair Cobb (10-0-1, 6 KOs) won the battle of undefeated welterweights by unanimous decision after eight bloody rounds with local hero Ferdinand Kerobyan (11-1, 6 KOs). The win gave Cobb (pictured) the Junior NABA title.
Kerobyan, a North Hollywood native, brought hundreds of fans to the historic Avalon Theater and cheers went up when he first arrived to the boxing ring.
Cobb, who fights out of Las Vegas but is originally from Philadelphia, arrived with his small contingent including former world champion Clarence "Bones" Adams in his corner and used his reach and speed to deliver some heavy blows early in the fight. During one of the exchanges in the first round a gash emerged above the right eye of Kerobyan. From that point on it was an uphill battle for the Armenian-American fighter. But he never quit.
After eight back and forth rounds the judges scored the fight 77-75 twice and 79-73 for Cobb.
"I give him a lot of credit for hanging in there. He was very tough, but I showed I was the superior fighter," said Cobb. "He was a phenomenal fighter. I expected the fight to be easy."
Featherweights
A featherweight clash between Manuel "Tito" Avila (23-1-1) and Mexico's Jose Gonzalez (23-7-1) ended in a split draw after eight rounds of clinching. It was Northern California's Avila's second fight since losing to Jojo Diaz last year in Las Vegas. The bullish rushes by Gonzalez especially with his head seemed to bother Avila. After eight rounds all three judges saw it differently 77-75 for Avila, 77-75 for Gonzalez and 76-76 a split draw.
Other Bouts
You can never tell by someone's physique who's going to win. Muscular heavyweight James "The Beast" Wilson (7-0-1, 6 KOs) met blown up doughboy Miguel Cubos (13-20-1, 10 KOs) in what looked to be a mismatch. Even to Wilson it must have seem like easy pickings, but when he unloaded his barrage of heavy blows and could not land a damaging blow in the first round it became apparent the flabby Mexican foe from San Luis Potosi could apparently box. And he did it very well.
Wilson was determined to get the knockout especially after Cubos began taunting him with raised arms after landing his own blows. But it became apparent it was not going to happen and Wilson's corner must have warned him not to blow his gas tank. From the third round on it was a strategic battle of wits and big blows that missed. And each time Cubos would raise his both arms a la Manny Pacquiao. The crowd cheered every time.
After six back and forth rounds of action from the two physically different heavyweights the judges scored it a majority draw with tallies of 58-56 for Wilson and two others 57-57 even.
Super lightweight David Mijares (7-0, 3 KOs) won by unanimous decision over Puerto Rico's Antonio Sanchez (6-6-2, 3 KOs) after six rounds. Mijares was the more technically adept fighter and used his southpaw stance effectively against Sanchez. The Puerto Rican fighter had his moments especially with the right cross down the pipe. Neither fighter was ever hurt and Mijares won by scores 60-54 three times.
Oscar Acevedo (5-0) defeated tough Daniel Bastien (6-6-2) by decision after four rounds in a lightweight contest. Acevedo used his jabs and sharp combinations to keep the always aggressive Bastien from over running him. Both traded evenly especially in the last two rounds with Acevedo losing ground to Bastien. But not enough to convince the judges. The scores were 40-38, and 39-37 twice for Acevedo.
In a fight featuring a huge height disparity Chicago's Chris Ousley (10-0, 9 KOs) took care of business against the much smaller Jorge Munguia(13-15, 5 KOs) in the first round by knockout in a super middleweight match. The first stiff jab by Ousley rocked Munguia who tried to hide behind a peek-a-boo defense to no avail. Ousley tore that defense apart with ease. A three-punch combination capped by a right uppercut sent the Honduran fighter to one knee. He beat the count but was battered by Ousley until referee Zachary Young ended it at 1:54 of the first round.
Photo credit: Alonzo Coston
Check out more boxing news on video at The Boxing Channel
To comment on this story in The Fight Forum CLICK HERE