When a heavyweight is defeated in the manner that undisputed heavyweight #1 Wladimir Klitschko defeated Alexander Povetkin at the end of 2013, he usually has the good grace to disappear.
Ernie Terrell went 7-4 after Ali spent fifteen rounds turning his face into luncheon meat in their infamous "what's my name!" encounter from 1967; behind the hideous beating he absorbed against a furious Rocky Marciano in their 1953 rematch, the excellent Roland LaStarza managed just 3-4 before hanging them up for good.
It is physical, yes.
Professional athletes of this standard, whether they are a surgeon of Ali's calibre or a cannonball of Marciano's density, do damage. They shift organs. They grind bone. But it is also psychological. Fighters, in reaching the summit of their personal Everest only to be confronted by an animal so in excess of their own evolutionary prism that they are, in essence, chanceless, perhaps don't want to climb again. Every blow absorbed, every meal missed, every first step taken by a toddler to whom the fighter is a stranger, is for a reason in the beginning – The Title, The Title, but when The Title seems no longer a possibility it becomes easier to stay down, to clinch instead of punch, to run instead of box. Terrell and LaStarza found the end of their string in the ring of the dominant champion that bloodied their respective eras, and with that string providing a definitive measurement of their abilities, certain realities had to be accepted.
Yesterday in Moscow, Povetkin reversed this trend, finalising his rehabilitation with a sensational first round knockout over #10 heavyweight Mike Perez.
Perez is an impressive scalp almost regardless of circumstances. A superb body-puncher capable of deploying a high workrate (when he's in the mood), Perez is a rarity in the modern heavyweight division on two different scores and his technical gifts and counter-punching ability certainly put him in the "handful for anyone" category despite certain doubts concerning his temperament (and his commitment to training). These doubts deepened after the injury tragically inflicted upon Magomed Abdusalamov by Perez during their rousing 2013 encounter in New York. In the wake of this contest, doubts surrounding Perez's already questionable temperament deepened, but he was desperately unlucky against Bryant Jennings the following summer, missing out on a draw by virtue only of a point deduction in the final round. Jennings had been pushed to the absolute brink by a more talented fighter who could not match his athleticism. That said, Jennings adapted superbly, eschewing his reach advantage to come inside and make a fight of it after being cleanly out-boxed over the first three rounds.
Neither man was disgraced in that contest, but what it meant for Perez was that he was to enter his showdown with Alexander Povetkin last night in Moscow with, having knocked out cruiserweight journeyman Darnell Wilson in two rounds earlier this year, and drawn with the ranked Carlos Takam in January of last year, a 1-1-1 ledger for 2014 and 2015. Despite the bad luck, tragedy and slick counter-punching that had defined his previous 30 months in the ring, a loss would have sent Perez bumping roughly down the ladder to gatekeeper status.
More shockingly, a loss would have had the same impact upon Povetkin.
Re-watching Perez-Jenkins this morning, I was struck by how efficiently Harvey Dock managed the Cuban's fouling early in the fight. Every time, without exception, that Perez placed his forearm or any weight across the American's neck or back, the referee stepped in to separate the two. What would Povetkin have given for such a referee the night of his contest with Wladimir Klitschko?
Luis Pabon was the third man in the ring the night of Povetkin's shot at king Klitschko, and as the champion over and over again drew the Russian in with his enormous reach before placing his full 241lbs on the smaller man's back, crushing him, literally, with his superior size, the referee neglected to act. It was an exhausted Povetkin who was repeatedly barrelled to the canvas by the champion as the fight descended into a physical and technical mis-match. Much spleen was vented in the aftermath concerning Wladimir's solution to Povetkin's rushing tactics, but the scorecards of the three judges, bereft of any instruction from Pabon to remove any points from Wladimir's total, sang out their scores as a choir: 119-104. Povetkin had been outclassed and had absorbed a horrific beating in the process.
When he returned, Povetkin did so against the perfect opponent, Manuel Charr. The enormous Lebanese, who boxes out of Germany, was neither ranked nor particularly dangerous, but he was known, courtesy of his crack at Vitali Klitschko's alphabet strap, and he was durable. He promised a comeback victory and a good workout. Povetkin's triumph was no surprise but the manner, perhaps, was. Charr, who had been stopped just once on a cut, was blasted out in seven, the finishing left-hook/right-hand combination so spectacular as to remind one of Joe Braddock's near decapitation at the hands of Joe Louis. Returning to ranked competition, Povetkin did a similar job on Carlos Takam, dropping him in the ninth, following fluid combinations with a monster right hand, before landing a glorious left hook to end proceedings in the tenth.
This performance pricked my ears a little; Povetkin, perhaps, was not going to go the way of Terrell and LaStarza. But what was his role to be? That was decided in last night's contest with Mike Perez.
Perez came out showing measured aggression, probing with the jab before launching a two-handed attack over the top. Povetkin gave ground and then re-took his territory in the middle of the ring. When he threw his first one-two it was clear that Perez was surprised by the speed with which Povetkin punched; he made no attempt to counter. When, after leading with his own one-two seconds later he was caught by a lightning-fast right-hand to the top of the head, Perez lost his feet. He stammered backwards, hurt, and not just physically but neurologically – he was suffering not from messages of pain but from messages of disaster, his nerve endings alerting his brain to the fact that he no longer had complete control over his body.
It is worth reiterating at this point that Perez, like Charr, like Takam, has never been stopped; his chin was tested by Magomed Abdusalamov, among the hardest punchers in the division when he repeatedly reached the Cuban's chin; Jennings, too, repeatedly landed clean, crisp shots to little affect. But here was Perez, grasping for the canvas. Seconds later, when Povetkin stepped out of a half clinch to give himself room for the shortest of right hands, Perez was suddenly on the ground looking up. Closed-faced, he defeated the count, and stepped tenderly towards the gallows. A sweeping left sent Perez crashing into the ropes and out of the rankings and made Povetkin once more the preeminent heavyweight in the world with a name other than Klitschko.
Generationally, it makes no sense. On paper, Povetkin's time had come and gone. In reality, he looks better than he did before Wladimir beat the contendership out of him. He almost looks faster but in reality it is a new sharpness that appears to have gripped his offense. The punches that Povetkin is throwing are absolutely deadly.
His ability to absorb the beating that Terrell and LaStarza could not is partly a matter of physiology. He is made of different stuff and that stuff has reacted differently. Partly it is circumstantial; such is Povetkin's promotional support in Russia that he was able to reintroduce himself immediately to good money – and to draw ranked fighters to the Moscow fortress that served him no advantage against Klitschko. But I wonder, too, if he is not driven by a certain sense of injustice. As I wrote in coverage for that fight, "if heart is the greatest attribute to which a fighter can lay claim, then Povetkin was a great opponent indeed, for in the eighth he showed as much as any heavyweight who has ever stepped into the ring." Povetkin really tried against Klitschko and to a degree was let down by an incompetent referee. After the fight he made all the right noises, calling Wladimir the better fighter, but having reviewed the footage it must irk him that his heart-fuelled stab at the title was rendered chanceless by officiating. Perhaps the top of the mountain holds no fear for him, despite the agonies he suffered there, for this very reason.
Regardless, such was the margin of the defeat of Povetkin by Wladimir Klitschko that despite his ranking above some of the other top heavyweight contenders by virtue of his wider and deeper resume, he was not really in any discussion over who is to meet Wladimir Klitschko next. Even when he was restored to the #1 contender's berth ahead of the likes of Tyson Fury, Deontay Wilder and Bryant Jennings, nobody expected Wladimir to drop everything and rematch Povetkin at the expense of the next generation; but Povetkin's destruction of Perez in mere seconds has made him something new, even though that thing has yet to take on any real form. Ethereal in his identity, without a belt, or a route to the legitimate heavyweight king, Povetkin has become a bogeyman to the division and most especially to the two men jostling for a shot at Klitschko next. Do not expect to hear talk of either Tyson Fury or Deontay Wilder matching the #1 contender in an attempt to cement their own status as contenders. They will both neatly sidestep the man policing the world heavyweight title and wait for the call. The reason is a sound one: he would beat either one of them.
Povetkin will haunt Wilder and Fury now until they have had their title shots, or have been shorn of any belts. He will dog Wilder's comeback. He will be made to lurk but will do so in the full glare of the #1 contender's slot that has been made his until such time as he is beaten, something that only Wladimir Klitschko can do, but equally, something he has already done and something he is unlikely to do again any time soon. The champion has his own problems.
Made to look, for the first time, old, by Jennings, who in turn was made to look limited by Mike Perez, who in turn has been blasted out in mere seconds by a vastly superior Povetkin, Klitschko is poised at the far edge of an illustrious career. This combination has ushered in a game of thrones for the biggest seat in boxing. The heavyweight division is much maligned, but in my view the last few months have made it fascinating once more, a twisted web. In the middle of this web sits an ageing spider that has been preying upon all manner of intruders into his domain for an incredible eleven years – arranged around him are suitors positioning themselves in the belief that they are the right man to take advantage of his advancing years.
Should someone surprise us by doing so, or if Wladimir should reach the end of his ride, Povetkin's haunting of the division will end with another title shot.
What price, King Povetkin?
Fast Results From NYC: Crawford TKOs Khan but not Without Controversy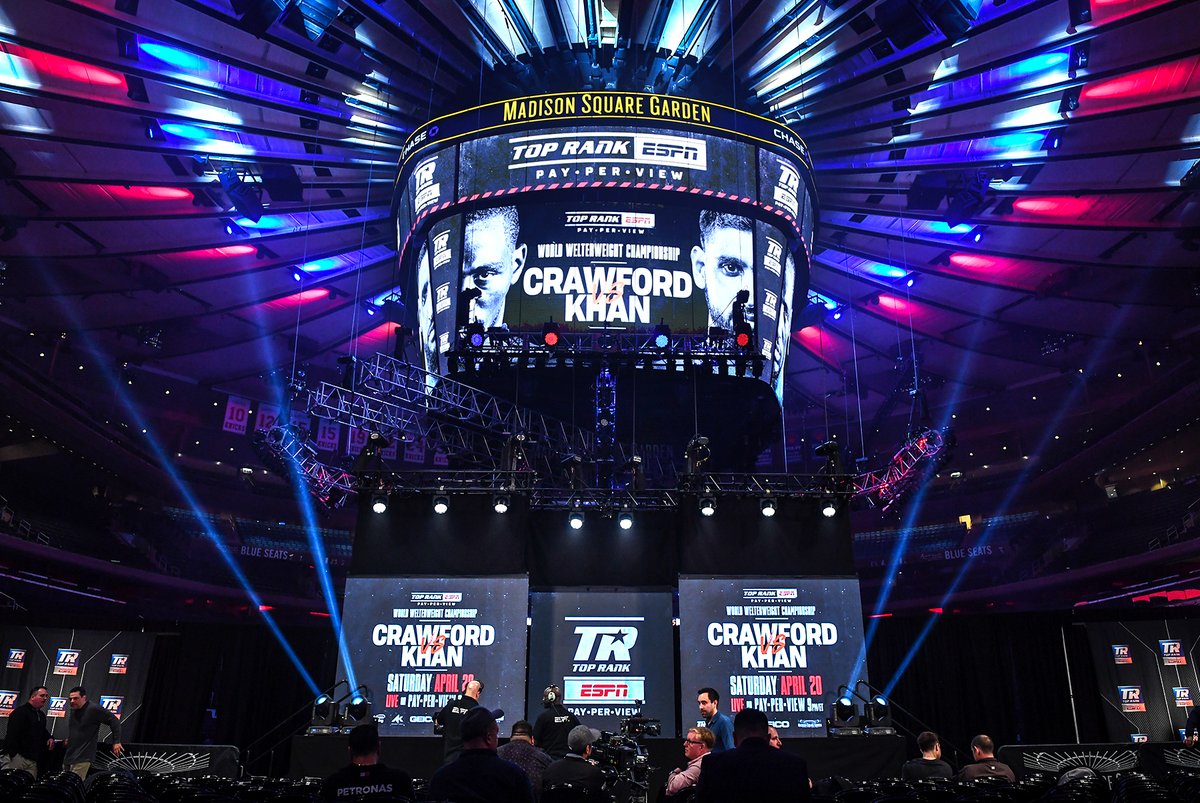 Amir Khan, who doesn't shy away from tough assignments, was in New York tonight opposing WBO welterweight champion Terence Crawford, a man who is on everyone's short list of boxing's top pound-for-pound fighters. The general assumption was that Khan had the slickness to win a few rounds but that his chin would ultimately betray him.
Khan won one round at the most — and that's being generous – before the bout was stopped after 47 seconds of the sixth frame with Khan in pain from a low blow. Referee David Fields stopped the action to allow Khan to recover and then stopped the fight on the advice of the ring doctor with the apparent encouragement of Khan's trainer Virgil Hunter. Because the low blow was accidental, Crawford was declared the winner by TKO.
It appeared that this fight would end in a hurry. In the opening round, Crawford decked Khan with an overhand right. Khan got to his feet but was in distress and for a moment it didn't appear that he would last out the round. But Crawford did not press his advantage in round two and Khan regained his composure.
Crawford was in complete control when the fight ended, having raked Khan with combinations and a series of body punches in the fourth and fifth stanzas. Although the final punch of the fight was way south of the border, Khan's refusal to continue was widely seen as an act of surrender. After the bout, Crawford called out Errol Spence.
PPV Undercard
Lightweight Teofimo Lopez, whose highlight reel knockouts and brash demeanor have made him arguably the most exciting young prospect in boxing, found a new way to conclude a fight tonight, collapsing Edis Tatli in the fifth round with a body punch. Lopez, who was born in Brooklyn and raised in a suburb of Miami (his parents are from Honduras and Spain), improved to 13-0 with his 11th knockout. Tatli, a Kosovo-born Finn making his U.S. debut, suffered his third loss in 34 starts. A two-time European lightweight champion, Tatli hadn't previously been stopped.
Fast rising featherweight contender Shakur Stevenson, the 2016 Olympic silver medalist from Newark, simply outclassed former world title challenger Christopher Diaz, winning the 10-round bout on scores of 100-90, 99-91, and 98-82. The 21-year-old southpaw, now 11-0, was too fast and too busy for his Puerto Rican adversary who fell to 24-2.
In the first of the four PPV bouts, lightweight Felix Verdejo won a unanimous 10-round decision over Bryan Vasquez. Verdejo, a 2012 Olympian for Puerto Rico once touted as the island's next Felix Trinidad, was returning to the site where he suffered his lone defeat, succumbing to heavy underdog Antonio Lozada whose unrelenting aggression ultimately wore him down, resulting in a 10th round stoppage.
Vasquez appeared to injure his left shoulder near the midpoint of the battle, an advantage to Verdejo, now 25-1, who started slowly but outworked Vasquez down the stretch, winning by scores of 98-92 and 97-93 twice. Costa Rica's Vasquez, the husband of prominent boxer Hanna Gabriels, falls to 37-4.
Other Bouts
 Super welterweight Carlos Adames, who hails from the Dominican Republic but has been training with Robert Garcia in Riverside, California, made a strong impression with a 4th round stoppage of Brooklyn's Frank Galarza. The undefeated Adames, now 17-0 (14 KOs), knocked Galarza (20-3-2) to the canvas with a hard left hook and then went for the kill, pinning Galarza against the ropes with a series of unanswered punches that compelled referee Benjy Estevez to intervene. The official time was 1:07.
 Super welterweight Edgar Berlanga, a 21-year-old New Yorker of Puerto Rican descent, needed only 46 seconds to dismiss 38-year-old Brazilian trail horse Samir dos Santos. Berlanga, who began his pro career in Mexico, has now knocked out all 10 of his opponents in the opening round.
Super welterweight Vikas Krishan, a two-time Olympian, improved to 2-0 with a 6-round unanimous decision over Noah Kidd (3-2-1). The scores were 59-55 and 60-54 twice.
A 27-year-old southpaw who as a job waiting for him as a police officer, Krishan is the second notable boxer to emerge from India, following on the footsteps of Top Rank stablemate Vijender Singh.
Bantamweight Lawrence Newton, a Floridian who has been training at Terence Crawford's gym in Omaha, won his 12th straight without a loss with a 6-round unanimous decision over Jonathan Garza (7-3). The scores were 60-54 and 59-55 twice.
In a 6-round junior welterweight match that was one-sided but yet entertaining, Lawrence Fryers won a unanimous decision over Dakota Polley. Fryers, wh is from Ireland but resides in New York, improved to 10-1. The 20-year-old Polley, from St. Joseph, Missouri, fell to 5-3.
Check out more boxing news on video at The Boxing Channel
To comment on this story in The Fight Forum CLICK HERE
Allen (KO 3) and Chisora (UD 10) Victorious in Heavyweight Action in London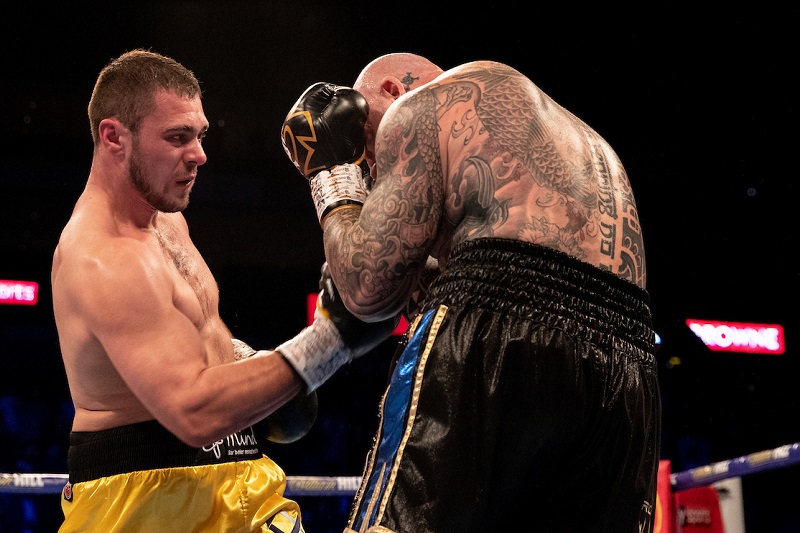 A pair of heavyweight battles topped the card at London's 02 Arena. Both favorites won, but neither bout played out as expected.
Fan favorite David Allen, a 27-year-old Yorkshireman, continued his ascent from the lower depths of the boxing firmament with a one-punch knockout of Australia's  heavily-tattooed Lucas Browne. Allen caved in Browne with a body punch in the third round that brought a sudden end to a bout that the Aussie appeared to be winning.
Browne, who turned 40 this month, made history when he became the first Australian to win a world heavyweight title (WBA version) when he scored a 10th round stoppage of Ruslan Chagaev in Russia. But, in hindsight, that win was a fluke. A gassed-out Chagaev was widely ahead on the cards when his roof fell in. Browne's tenure was brief. He was stripped of the belt after testing positive for clenbuterol.
Allen, nicknamed the White Rhino, has now won four straight beginning with an upset of previously undefeated Nick Webb. His reputation is that of a common brawler, a fighter willing to take two punches to land one, but, regardless, he positioned himself for a nice payday or two going forward. Browne lost his second straight after opening his career 28-0.
The maddeningly inconsistent Dereck Chisora, who engaged in two barnburners with Dillian Whyte, snoozed his way to a 10-round unanimous decision over milquetoast Senad Gashi. The 35-year-old Chisora, a Zinbabwe-born Londoner, improved to 30-9 but did nothing to improve his stock. The well-traveled Gashi, born in Kosovo and now residing in Spain, declined to 17-3 while acquiring the patina of a trial horse.
Other Bouts
Welterweight Josh Kelly, a 2016 Olympian, won a lopsided 10-round decision over stubborn Przemysla Runowski. Kelly (9-0, 6 KOs) had Runowski on the canvas in rounds two, nine, and 10, but the previously undefeated Pole (now 17-1, 3 KOs) stayed the course. Kelly appeared to hurt his hand early in the fight. That may knock him off the Joshua-TBA card on June 1 at Madison Square Garden.
Joe Cordina, a Welshman, now holds the British and Commonwealth lightweight titles after scoring a 6th round stoppage of Yorkshireman Andy Townend (22-5). Cordina started slowly but gradually picked up the pace and scored three knockdowns before the referee waived it off. A 2016 Olympian, Cordina (9-0, 7 KOs) was a heavy favorite despite a dearth of pro experience.
Conor Benn the 22-year-old son of Nigel Benn, was extended the distance for the third time in his last four fights but had little difficulty advancing his record to 14-0 (9) at the expense of Josef Zahradnik (10-3) of the Czech Republic. The referee awarded Benn every round in this 8-round welterweight affair.
Middleweight Nikita Ababiy, a hot prospect with a big upside, was extended into the second round for the first time in his young pro career but eliminated Dmitri Faltin after only 26 seconds of round two. A 20-year-old Brooklynite of Russian extraction, nicknamed White Chocolate, Ababiy (4-0) excelled in all manner of combat sports as teenager. In the ring he doesn't pussyfoot around. He won his pro debut in 28 seconds. Faltin, a 37-year-old Finn, fell to 2-4-1.
John Harding Jr., a 34-year-old middleweight, improved to 7-0-1 with a one-sided 6-round decision over Miroslav Juna (1-2). A protégé of Dillian Whyte, Harding started his pro career late after serving several stints in prison.
Cruiserweight Sam Hyde (14-1-1, 7 KOs) rebounded from his first defeat in fine fashion, blowing out Slovakia's Josef Jurko (5-2) in the opening round.
Super bantamweight Sam Cox (4-0) won a 4-round decision over Bulgaria's Georgi Georgiev.
In a woman's fight, British bantamweight Shannon Courtenay (2-0) outpointed Bulgaria's Roz Mari Silyanova (1-5-1). The ref gave Courtenay all four rounds.
Check out more boxing news on video at The Boxing Channel
To comment on this article in The Fight Forum CLICK HERE
BWAA Writing Awards Announced: The Sweet Science Earns Multiple Citations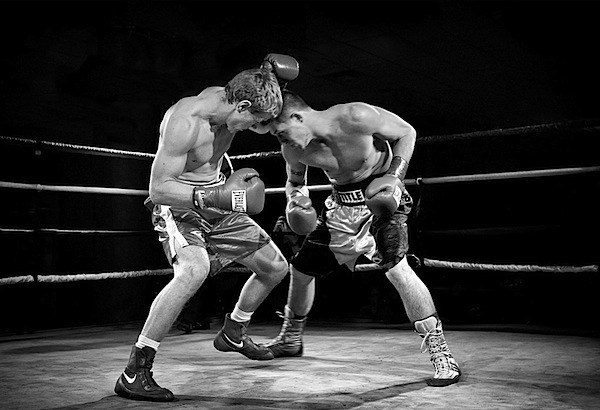 The Boxing Writers Association of America has announced their annual Bernie Awards which recognize excellence in boxing journalism. Five stories that ran on this web site earned commendations.
TSS editor-in-chief Arne K. Lang copped first place in the category "Boxing Feature Under 1,500 Words." Springs Toledo and Thomas Hauser earned third place ribbons, Toledo in the category "Best Column" and Hauser in "Boxing Investigative Reporting," a category in which he has excelled. In addition, TSS New England correspondent Jeffrey Freeman and Sean Nam earned Honorable Mentions, Freeman in "Boxing Feature Under 1,500 Words" and Nam for an investigative reporting piece.
Four TSS correspondents – Toledo, Hauser, Kelsey McCarson, and Nam – were honored for stories that appeared on other web sites.
Springs Toledo, who has had the most abundant haul of BWAA writing awards since 2010 was omnipresent once again, earning five citations overall including a first place finish for "Boxing Feature Over 1,500 Words." The multi-decorated Thomas Hauser also achieved a first place finish, this in the category "Boxing News Story." Kelsey McCarson tied for first in "Boxing Column" and Sean Nam came in third in "Boxing Feature Under 1500 Words."
What follows is the full press release authored by Awards Chairman BERNARD FERNANDEZ. A TSS mainstay, Fernandez is a former five-term president of the Boxing Writers Association of America.
PRESS RELEASE: Toledo, Kriegel, Boxing News Top BWAA Writing Contest
Springs Toledo and Mark Kriegel scored highest among individual entrants, while Boxing News/BoxingNewsOnline.com topped the overall sweepstakes in the 18th annual Boxing Writers Association of America writing contest. Those who placed in the contest, which drew a record 147 submissions from a record 49 media representatives who cover the sport, will be recognized at the 94th annual BWAA Awards Ceremony, to be held May 31 at the Copacabana in New York City.
 Toledo, a Boston native and frequent honoree in the BWAA writing contest, led all entrants with 14 points on a scoring system of five points for a first place, three for second, two for third and one for an honorable mention. In the blind judging, in which all bylines and other identifying marks were removed beforehand before being forwarded to a distinguished panel of sports journalists and academics, Toledo took a first in Feature (Over 1,500 words), seconds in Investigative Reporting and a tie for Feature (Under 1,500 Words), a tie for third in Event Coverage and an honorable mention in Column. He spread the wealth around, too, with submissions for Boxing News, thesweetscience.com and City Journal.
 Kriegel, who took first places in both Feature categories in the 2017 contest, was again a major factor in multiple categories, totaling 12 points. He took first place in Investigative Reporting, seconds in Feature (Under 1,500 Words) and Feature (Over 1,500 Words) and an HM in Column, all for ESPN.com.
Other first places went to Arne K. Lang, editor of thesweetscience.com in Feature (Under 1,500 Words); Paul Wheeler of Boxing News in Event Coverage and Kelsey McCarson of NYFights.com (tie) in Column.
Boxing News and BoxingNewsOnline.com, based in the United Kingdom, stormed the BWAA contest like the Beatles coming to America in 1964, totaling 27 points on two firsts, three seconds, a third and five HMs. ESPN.com was next with 16 points, followed by thesweetscience.com and BoxingScene.com with 11 apiece.
 The entire list of placing entrants:
2018 BERNIE WINNERS
BOXING EVENT COVERAGE
First Place
PAUL WHEELER, "Win-Win for Usyk and Bellew," Boxing News, November 11, 2018
Second Place
MATTHEW AGUILAR, "Vargas, Dulorme Draw is WBC Silver Welterweight," The Associated Press, October 7, 2018
Third Place (Tie)
LANCE PUGMIRE, "Wilder – Fury Embodied the Greatness of Heavyweight Boxing of Yesteryear," Los Angeles Times, December 2, 2018,
SPRINGS TOLEDO, "Art and Heroism in a Corrupted Sport," thesweetscience.com, December 3, 2018
Honorable Mention: Tris Dixon, BoxingScene.com; Lee Groves,CompuBoxTV.com; Gordon Marino, TheDailyBeast.com; Kieran Mulvaney, InsideHBOBoxing.com; Cliff Rold, BoxingScene.com; Don Stradley, Ringside Seat; Chris Walker, BoxingNewsOnline.net.
BOXING COLUMN
First Place (Tie)
THOMAS GERBASI, "Beyond the Ring, The Next Fight," BoxingScene.com, December 26, 2018
KELSEY McCARSON, "Tyson Fury, Mental Health and Vunerability," NYFights.com, June 8, 2018
Second Place (Tie)
DON STRADLEY, "Goodbye to All That," donstradley.blogspot.com, December 29, 2018
ELLIOT WORSELL, "Joe Fournier is the 11th Best Light-Heavyweight in the World – Apparently," Boxing News, March 29, 2018
Third  Place
GREG BISHOP, "In Search of a Happy Ending to Boxing Career, Manny Pacquiao is Following a Familiar, Sad Trajectory Instead," Sports Illustrated, January 12, 2018
Honorable Mention: Tris Dixon, Boxingscene.com; Mark Kriegel, ESPN.com; Kieran Mulvaney, Boxing News; Springs Toledo, Boxing News
BOXING NEWS STORY
First Place
THOMAS HAUSER, "Curtis Harper Goes Viral," The Sporting News, August 29, 2018
Second Place
NORM FRAUENHEIM, "Bob Arum on the Passing of 'The Boxing Senator' John McCain: 'He Was a Great American,'" RingTV.net, August 25, 2018
Third Place (Tie)
DON STRADLEY, "DeMarco is In!," donstradley.blogspot.com; December 31, 2018
LEE GROVES, "Farewell to a Boxing Lifer, Don Chargin, the Last Gentleman Promoter," CompuBoxTV.com, September 29, 2018
Honorable Mention: Lance Pugmire, Los Angeles Times; Dan Rafael, ESPN.com.
BOXING FEATURE (Under 1,500 words)
First Place
ARNE K. LANG, "Christmas Day in Germany with Sugar Ray Robinson," thesweetscience.com, December 24, 2018
Second Place (Tie)
JOHN DENNEN, "Thank God I'm Not a World Champion," Boxing News, September 16, 20128
MARK KRIEGEL, "The Old Man and the Kid: Alex Saucedo Fighting for a Title and His Mentor's Legacy," ESPN.com, November 13, 2018
CLIFF ROLD, "Golovkin, Hopkins, Monzon: The Record at Middleweight," BoxingScene.com, May 2, 2018
SPRINGS TOLEDO, "The Quiet Man," Boxing News, October 25, 2018
Third Place
SEAN NAM, "Eleider Alvarez Stuns Sergey Kovalev," UCNLive.com, August 10, 2018
Honorable Mention: Ron Borges, Boxing Monthly; Thomas Gerbasi, The Ring; David Weinberg, Press of Atlantic City; Jeffrey Freeman, thesweetscience.com; Lance Pugmire, Los Angeles Times
BOXING FEATURE (Over 1,500 words)
First Place
SPRINGS TOLEDO, "The Historian: Mike Tyson and the Ghost of Boxing's Past," Boxing News, March 22, 2018
Second Place
MARK KRIEGEL, "The Education of Terence Crawford," ESPN.com, June 9, 2018
Third Place
TRIS DIXON, "A Warrior's Brain," Boxing News, August 2, 2018
Honorable Mention: Matthew Aguilar, El Paso Times; Thomas Gerbasi, Boxing News; Lance Pugmire, Los Angeles Times; Dan Rafael, ESPN.com; Don Stradley, The Ring
BOXING INVESTIGATIVE REPORTING
First Place
MARK KRIEGEL, "A Unique Family Dynamic and the Shooting Nobody Wants to Talk About: The Jose Benavidez Jr. Story," ESPN.com, October 13, 2018
Second Place
SPRINGS TOLEDO, "191 Edgecombe," City Journal, Summer 2018
Third Place
THOMAS HAUSER, "1,501 Tests, One Reported Positive? What's Going on with the USADA and Boxing?," thesweetscience.com, September 7, 2018 and December 7, 2018
Honorable Mention: Ron Borges, Boxing Monthly; Matt Christie, Boxing News; Jack Hirsch, Boxing News; Sean Nam, thesweetscience.com; Adam Pollack,Boxinginsider.com; Lance Pugmire, Los Angeles Times; Joseph Santoliquito, PremierBoxingChampions.com
 News Outlets
Boxing News/BoxingNewsOnline.net (27 points) 
ESPN.com (16)
THESWEETSCIENCE.COM(11); BoxingScene.com (11)
NYFights.com (7)
Los Angeles Times (6)
The Ring/RingTV.com (5)
The Sporting News (5)
The Associated Press (3); CompuBox.com (3); City Journal (3); DonStradley.blogspot.com (3)
Sports Illustrated (2); Boxing Monthly (2); UCNLLive.com (2)
El Paso Times (1); PremierBoxingChampions.com (1); Ringside Seat (1); The Press of Atlantic City (1); Boxinginsider.com (1); The Daily Beast (1); InsideHBOBoxing.com (1); BoxingNews (1)
2018 BERNIES JUDGES:
MICHAEL HIRSLEY, Chicago Tribune (Retired)
FRANZ LIDZ, Sports Illustrated (Retired)
THOMAS MACDONALD, Novelist and Boston College Writing Instructor
JOHN SCHULIAN, Chicago Sun-Times (Retired)
JOHN WHISLER, San Antonio Express News (Retired)
Check out more boxing news on video at The Boxing Channel
To comment on this story on The Fight Forum CLICK HERE