Better UK 168er, Froch or Calzaghe?
With the recent retirement of British super middleweight Carl Froch, one topic that has received much attention is his standing among former British greats in a division that has produced some of the finest ever champions from these shores.
Below I analyse the respective careers of arguably the top two British 168lb legends and give my take on who stands higher in the all-time pantheon.
Joe Calzaghe
Overview:
After bursting on to the world scene with an impressive first title victory, long periods of frustration followed until "The Pride of Wales" finally proved the doubters wrong and cemented his place among the greats of the sport with a superb finish to the longest ever championship reign in the 168lb weight class. While it's true that there are a number of sub-par and even downright useless opponents littered among Calzaghe's CV, the Welshman also defeated a range of former champions and world-class fighters in over a decade as WBO champion, as well as establishing himself as the premier fighter in a second weight division.
Style & Ability:
A super-fast southpaw with blurring combinations and a furious work-rate, Calzaghe had a seemingly inexhaustible engine, completing the twelve-round championship distance on thirteen occasions. He also had an excellent set of whiskers, and despite several brief visits to the canvas, never came close to being stopped in 46 contests. Fragile hands plagued his career and probably prevented more knockout victories, but he nevertheless carried serious power, with a number of former foes commenting on the deceptively hurtful effect of his so called "slaps". Capable of boxing to a disciplined plan at long range and frustrating opponents with his speed and movement, as well as biting down on his gum shield and brawling wildly when it suited him, one of Calzaghe's main strengths was his uncanny ability to adjust his style mid-fight and outmatch any opponent skill for skill.
Titles & Accolades:
[168lbs] British champion (1995-1996, 1 defence); WBO world champion (October 1997-September 2008, 21 defences); IBF world champion (March 2005-November 2006, 1 defence); WBC & WBA "super" world champion (November 2007, 0 defences); The Ring & lineal champion (March 2006-September 2008, 3 defences); undisputed champion (2007 following unification with Mikkel Kessler); holds the all-time records for the longest reign (10 years, 11 months) and consecutive number of title defences (21, joint with Sven Ottke) in the 168lb division.
[175lbs] The Ring champion (April 2008-February 2009, 1 defence).
2014 Boxing Hall of Fame, first ballot inductee.
Five Significant Opponents:
1. Chris Eubank (vacant WBO title, October 1997). Calzaghe floored Eubank in the first round and then barely let the former champion take a breather, claiming a wide, unanimous victory in an excellent, break out performance.
2. Byron Mitchell (13th defence WBO title, June 2003). In a wild two-round brawl, Calzaghe was floored briefly for the first time in his career before blazing back and putting Mitchell to the canvas within seconds of rising to his feet. The champion then poured on flurries of punches, rocking the former WBA titleholder backwards and causing referee Dave Parris to intervene.
3. Jeff Lacy (18th defence WBO title/IBF unification/The Ring & lineal title, March 2006). Lacy came over to the UK as an undefeated, rival champion being heavily hyped as a monster puncher and a new "Mini Tyson", but Calzaghe absolutely ruined him – winning every second of every round in one of the finest performances ever seen in a British ring.
4. Mikkel Kessler (21st defence WBO title/3rd defence The Ring & lineal title/WBC/WBA unification, November 2007). In an absorbing battle between undefeated champions, the fight ebbed back and forth for the first four rounds before Calzaghe made the necessary adjustments to befuddle his opponent in a brilliant exhibition of technical boxing, winning comfortably on the cards to finally prove even the most ardent of his detractors wrong.
5. Bernard Hopkins (The Ring light-heavyweight [175lb] championship, April 2008). In a scrappy encounter, Calzaghe was floored by a counter right hand in the first round before clawing his way back to win a close split decision in the American's backyard, landing more punches on Hopkins than any previous opponent had ever recorded. To put the victory in context, in his next bout Hopkins dominated the much younger, undefeated American puncher Kelly Pavlik in one of his finest ever performances.
Other Notable Victories:
W12 Robin Reid (a close split decision over a former WBC champion); TKO5 Omar Sheika (the boisterous American contender was coming off a quality victory over world-rated Glen Johnson); TKO10 Richie Woodhall (the Olympic bronze medalist and former WBC champion was world class, but stopped late); TKO1 & TKO6 Mario Veit (the undefeated mandatory challenger was blasted out in a round, before stringing together fifteen consecutive victories and forcing a rematch, but Calzaghe travelled to Germany and repeated the result in six); W12 Charles Brewer (an exciting battle ended in a wide unanimous decision over the former IBF champion); W12 Sakio Bika (the awkward African was unlucky to receive a technical draw against WBC champion Markus Beyer prior to facing Calzaghe, and went on to become champion in 2013); W12 Roy Jones Junior (the Welshman humiliated a vastly faded version of the best fighter of his generation at New York's Madison Square Garden).
Ones That Got Away:
Steve Collins was scheduled to defend against Calzaghe in October 1997 before withdrawing injured at late notice and then retiring from the sport, citing a lack of motivation for the fight. Carl Froch chased a fight with Calzaghe towards the end of his reign, but Calzaghe opted instead to pursue bigger names in America at light-heavyweight. Fights with American greats Roy Jones and Bernard Hopkins were mooted for much of Calzaghe's 168lb reign, with Hopkins even agreeing terms at one point before backing out of the contest. A fight with long-reigning rival IBF holder Sven Ottke also should have happened, but neither champion was prepared to travel to the other's backyard. Fights against middleweight Kelly Pavlik and light-heavyweight Antonio Tarver would also have been huge, but failed to materialize.
Carl Froch
Overview:
Perhaps no British fighter in history has ever undertaken a more challenging run of back-to-back, world-class match-ups than Carl Froch: From December 2008-May 2012, The Cobra fought eight consecutive contests of the highest caliber (Pascal-Taylor-Dirrell-Kessler-Abraham-Johnson-Ward-Bute), winning far more than he lost and earning the respect of the entire boxing community as one of the sport's toughest warriors. On the downside, despite the array of entertaining victories, he never quite managed to reach the summit of his division.
Style & Ability:
A super-strong fighter who loved a tear-up, Froch was also a world amateur bronze medalist who possessed an underrated and at times under-utilized set of boxing skills, with a 'hands low', unorthodox style often masking his technical know-how and effective left jab. He was also the owner of an absolute granite jaw and legitimate one-punch knockout power. The Englishman's warrior spirit and inclination towards a straight shoot-out perhaps proving his shortcoming against more technically adept opposition, he nevertheless demonstrated he was capable of boxing to a disciplined strategy when it suited him.
Titles & Accolades:
[168lbs] English champion (2003, 0 defences), Commonwealth champion (2004-2006, 7 defences) & British champion (2004-2007, 4 defences); 2 x WBC world champion (December 2008-April 2010, 2 defences & November 2010-December 2011, 1 defence); IBF world champion (May 2012-February 2015, 4 defences); WBA "regular" world champion (May 2013-May 2015, 2 defences) [Note: Andre Ward was recognized as the WBA's "super" world champion during this period]
"Super Six World Boxing Classic" tournament, runner-up (2011).
Five Significant Opponents:
1. Jermain Taylor (1st defence WBC title, April 2009). After being floored in the 3rd round by a right hand and behind on two of the judges' cards going into the 12th, The Cobra scored a dramatic, Hollywood-style stoppage with just fifteen seconds remaining on the clock.
2. Mikkel Kessler (3rd defence WBC title, April 2011 & 2nd defence IBF title/WBA unification, May 2013). In their first meeting, the teak-tough "Viking Warrior" ended Froch's first reign as WBC champion, earning a unanimous points verdict in a brutal back-and-forth battle in his native Denmark. After re-establishing himself as a world champion, Froch enticed the Dane to London and returned the favour – this time unanimously outpointing Kessler in yet another closely fought, outstanding war of attrition.
3. Arthur Abraham (vacant WBC title, November 2010). Abraham was considered a dangerous puncher and even went into the battle as a betting favourite, but was completely out-boxed by Froch, scoring a virtual shutout in easily his most disciplined, polished performance.
4. Andre Ward (2nd defence [2nd reign] WBC title/WBA unification, December 2011). The Englishman fought bravely, but Ward's awkward style, more refined defence and superior technical skills proved a step too far, taking a clear unanimous victory over the twelve-round distance.
5. Lucian Bute (IBF title, May 2012). Bute started as a favourite in the Englishman's hometown, but Froch battered the shell-shocked, undefeated IBF champion in a one-sided, five round beat down in one of his most impressive wins.
Other Notable Victories:
WRTD5 Robin Reid (the faded former WBC champion couldn't hold off the rising star); W12 Jean Pascal (the undefeated, world-class Canadian later established himself as a light-heavyweight champion); W12 Andre Dirrell (undefeated, Olympic bronze medalist Dirrell lost a somewhat controversial split decision in Nottingham); W12 Glen Johnson (the faded 42 year-old former light-heavyweight champion fought well in losing a majority decision); TKO9 & KO8 George Groves (Froch's bitter domestic rival floored and hurt The Cobra in the first round of their first meeting before being controversially stopped later in the fight, but the feud was brutally and conclusively settled in Froch's final outing).
Ones That Got Away:
Froch pestered Calzaghe to give him his first title shot, but lacking the requisite name-value, couldn't bait the Welshman into a fight. A rematch with Andre Ward and a rubber match with Mikkel Kessler would both have been interesting, but the Dane retired and Froch seemed to show a lack of interest in a second meeting with his American conqueror. Domestic rival James DeGale earned a mandatory shot at Froch's IBF title, but – as Collins had done to Calzaghe and then Calzaghe had done to Froch years earlier – the champion cited a lack of motivation in meeting another domestic rival, and relinquished the belt instead. Light-heavyweight champions Sergey Kovalev & Adonis Stevenson would have presented an interesting test had the super middleweight elected to try for a belt in a second weight division, but Froch always said he was comfortable at the 168lb limit. Perhaps the most mouth-watering match-up of all would have been with middleweight monster Gennady Golovkin. The undefeated and much feared Kazakhstan champion called out Froch through the media, but despite early signs a deal might be made, the 38 year-old Englishman decided to retire instead.
The Verdict
Success in boxing is all about levels. And it seems to me that there is often a tendency to conflate respect for the Nottingham hero's warrior spirit and formidable series of match-ups with the level of his actual success in the ring; whereas with Calzaghe the reverse is true, and many observers tend to let the disappointing periods during his career detract from the magnitude of his final accomplishments. So while there is certainly no argument here that Froch indeed faced a more consistent level of challenging opposition, we should remember that just because a fighter consistently fights the best, that does not automatically make him the best. (If it did, Oscar De La Hoya would probably be the greatest fighter of all time). Ultimately, there is a reason that a younger, more dangerous version of Mikkel Kessler was handily beaten by Calzaghe but the older, more shopworn version was able to defeat Carl Froch; and there is a reason Calzaghe reached the absolute pinnacle of the super middleweight division, while Froch never did. The reason is that he was not quite able to compete successfully at the same level.
Had these two fine champions met in the ring, the evidence suggests that Calzaghe's greater speed and more refined boxing technique would probably have won the day. That being said, the theoretical victor in a meeting between the pair is not really the main issue here. "Mythical" match-ups are of course fun to debate, but based as they are on pure conjecture, they do not form the primary basis for assessing a fighter's overall achievements. Looking at what they actually did, rather than what they might have done had they faced off in the ring, the only conclusion to be drawn, I think, is that Calzaghe still comfortably surpasses The Cobra in terms of his overall level of success.
That conclusion should not be construed as denigrating the career of Carl Froch. He is undoubtedly one of the finest champions Britain has ever produced. Ultimately though, it was Calzaghe who scaled the greatest heights: becoming the undisputed, consensus No.1 in his weight class; defeating fellow pound-for-pound entrants and Hall of Fame legends; emerging victorious in his most significant, defining contests; becoming a two-division champion and being regarded as a top three pound-for-pound talent for a sustained period of time, on both sides of the Atlantic. The Cobra's CV, while outstanding, simply falls a notch below these accomplishments.
Matt can be followed on Twitter @Boxinphilosophy
Fast Results From London: Eubank Jr Punishes DeGale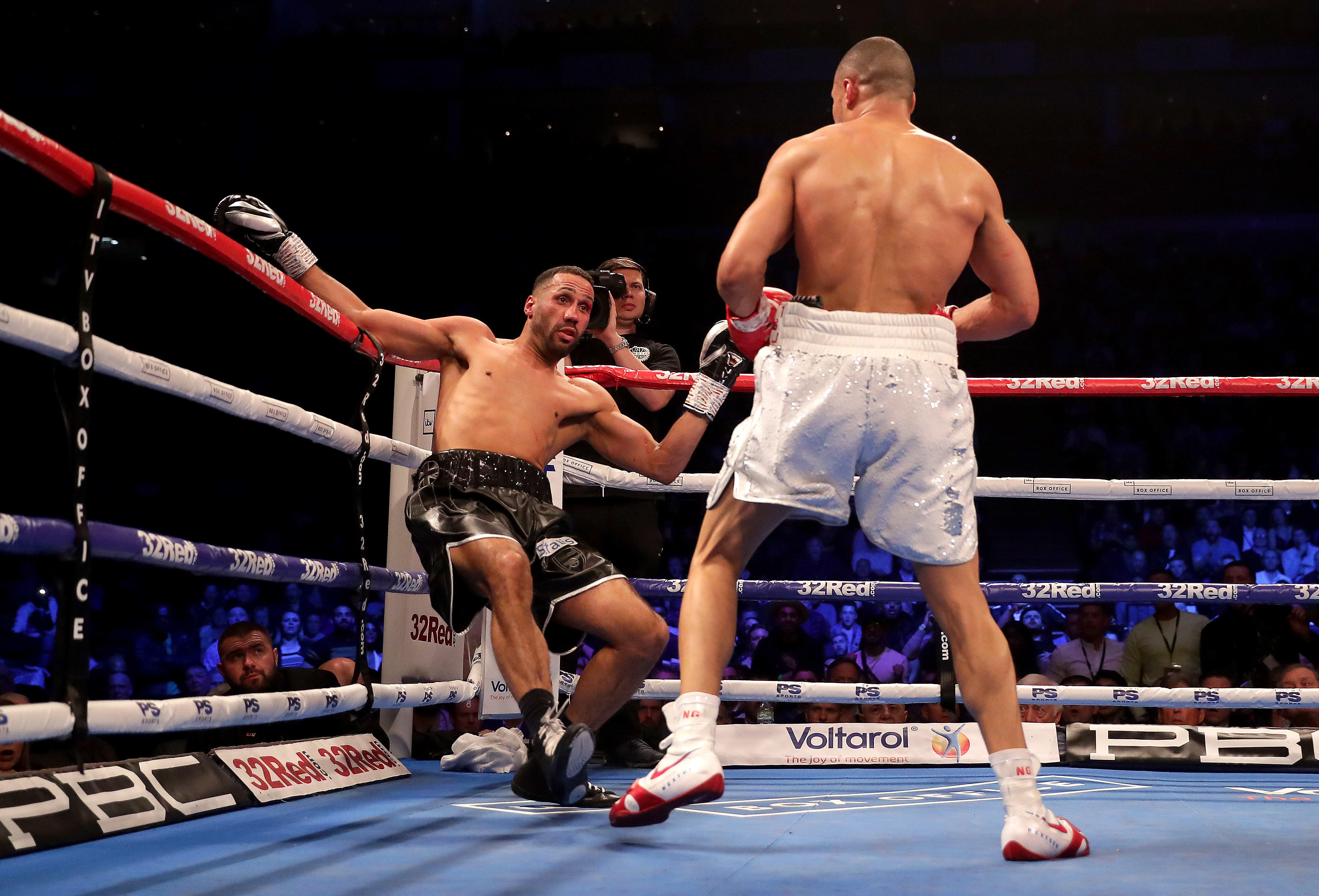 Tonight's fight in London between James DeGale and Chris Eubank Jr. was a near-pick'em affair. That seemingly portended a very close fight, but Eubank took command early and won going away.
One of the main arguments in favor of DeGale was that he possessed a higher ring IQ. Eubank looked amateurish in his last important fight when he was taken to school by George Groves who won a unanimous decision. But the son of the British boxing legend of the same name was the stronger man, and DeGale, who turned 33 earlier this month, didn't have the guile to hold him off.
Eubank, the younger man by 43 months, knocked DeGale against the ropes in round two. In the estimation of the ref, the ropes held DeGale up so he was given a count. DeGale did better in the middle rounds, but he was fighting off his back foot and couldn't match Eubank's workrate.
Round 10 was Eubank's best round. A vicious combination preceded by a thudding left hook sent DeGale to the canvas near the end of the round. The bell saved him from further punishment. Round 11 was also a strong round for Eubank, or would have been had he not had a point deduced for throwing DeGale to the mat. The only question now was whether DeGale would still be standing when the final bell sounded.
He made it to the finish, but the outcome wasn't in doubt. The judges returned scores of 117-109, 115-112, and 114-112.
In hindsight, DeGale, whose career has been plagued by injuries, looked older than his 33 years. He had talked of retiring before the fight and hinted at it in a post-fight interview. "I've left my mark in boxing," he said, "if I call it a day."
Indeed he has. The first British fighter to win an Olympic gold medal and a world title as a professional, the two-time IBF super middleweight champion would leave the sport with a 25-3-1 record. Chris Eubank Jr, who likely has a rematch with Billy Joe Saunders in his future, improved to 28-2.
Other Bouts
In two other bouts of note, Joe Joyce stopped Bermane Stiverne in the sixth round and Lee Selby, in his first go as a lightweight, dug deep to turn away Omar Douglas.
Joyce vs. Stiverne was an old-fashioned slugfest, but the 40-year-old Stiverne, who came in at a flabby 273 pounds, couldn't keep up the pace. He was knocked into the ropes in the third frame – it was properly ruled a knockdown – and buzzed on multiple occasions until the referee decided that he had seen enough.
Joyce advanced to 8-0 with his eighth straight knockout, but showed that while he has a sturdy chin, he needs to tighten up his defense. After the fight, Stiverne was taken to a hospital as a precaution.
Selby, a former IBF featherweight champion, overcame bad cuts over both eyes to win a unanimous decision. The scores were 115-114 and 116-112 twice.
Check out more boxing news on video at The Boxing Channel
To comment on this story in The Fight Forum CLICK HERE
Undercard Results From the DeGale – Eubank Jr Show in London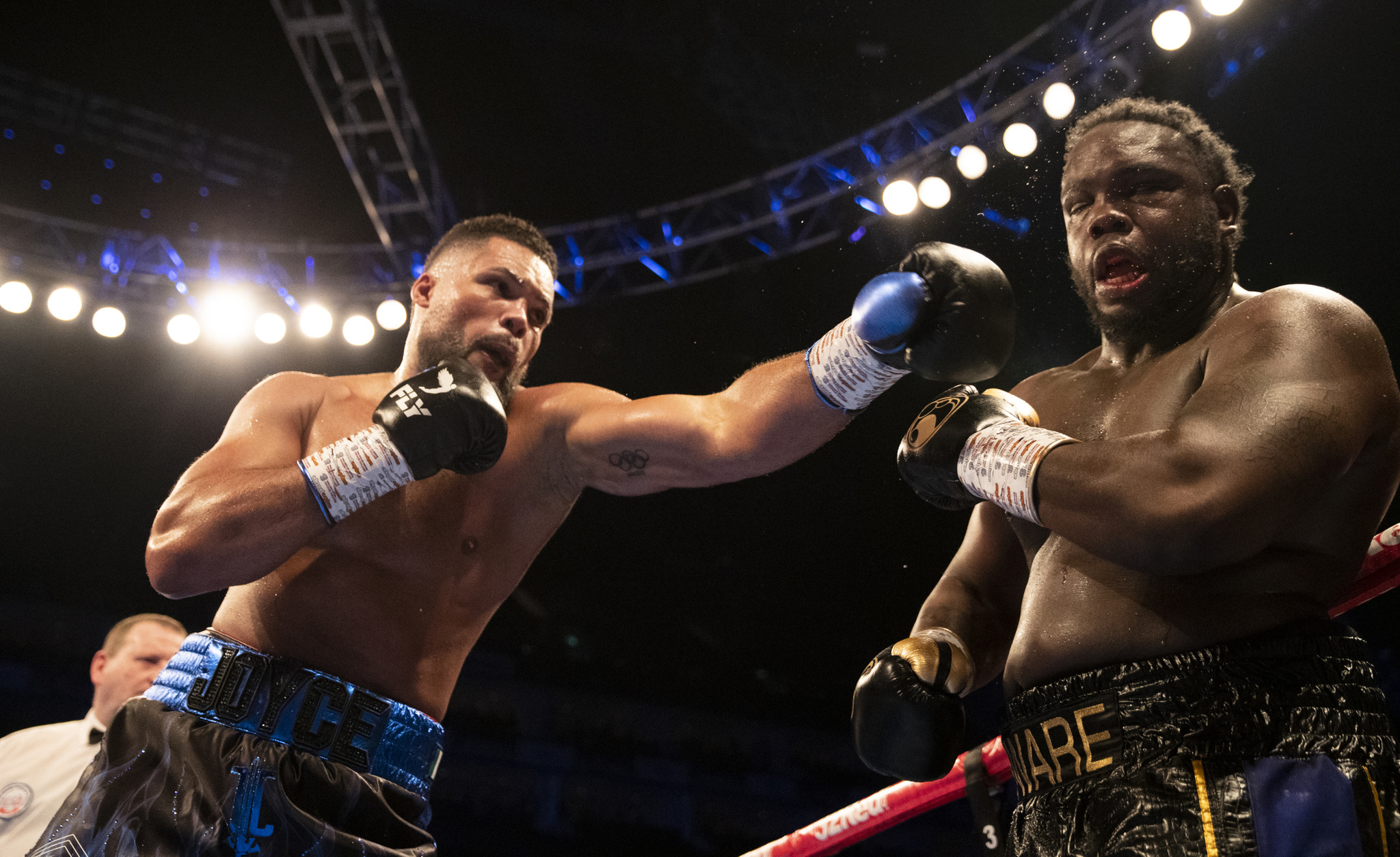 The biggest fight on today's busy boxing docket takes place at the O2 Arena in London where former two-time world super middleweight title-holder James DeGale takes on Chris Eubank Jr. in a domestic squabble with global implications. The winner will have a lot of options going forward, including potential big money dates with Callum Smith and Billy Joe Saunders. The loser, assuming he loses badly, will sink into irrelevancy.
There are eight fights altogether on the program. Refresh this page frequently as we keep you abreast of the action.
In the semi-windup, fast-rising Joe Joyce (8-0, 8 KOs) ran roughshod over Bermane Stiverne (25-4-1) en route to a sixth round stoppage. After a fairly even first round in which both traded haymakers, Joyce took control with his higher workrate. He knocked Stiverne into the ropes in round three — which counted as a knockdown — and buzzed him several times thereafter. Stiverne was on his feet but had eaten a lot of leather when the referee decided that he had seen enough.
A former world heavyweight titlist, Stiverne came in at 273 pounds. By comparison, he carried 239 pounds for his first meeting with Deontay Wilder. Because Stiverne spent much of his youth in Canada, the fight was billed for the British Empire Heavyweight Title.
In a 12-round lightweight contest, former IBF featherweight champion Lee Selby (27-2), weighing a career high 134 1/2 pounds, overcame bad cuts over both eyes to win a unanimous decision over Delaware invader Omar Douglas (19-3). The scores were 115-114 and 116-112 twice.
The first cut, over the left eye, came in round three and may have been the result of an accidental clash of heads. The second cut was undeniably the result of an accidental head butt. Selby started slow and the fight was in the balance heading into the late rounds, but Selby exhibited more class (and arguably more grit) when it mattered. The oldest of two prominent fighting brothers, Selby aspires to be the first Welshman to win world titles in to different weight classes.
In a late addition to the card, cruiserweight Chez Nihell, a 31-year-old British Army Corporal, won his pro debut with a 4-round decision over Kent Kauppinen (2-8).
In a fight billed as a British light heavyweight title eliminator, Andre Sterling improved to 10-0 with a 10-round decision over scrappy but ultimately out-gunned Ricky Summers (15-2). Sterling was on the deck in the second round, put there by a short right hand, but wasn't badly hurt. Summers fought from the third round on with a bad cut over his right eye. The scores were 97-92 and 97-93 twice.
In the opening bout of the evening, an entertaining 8-round affair in the 130-pound weight class, Northern Ireland's Anthony "The Apache" Cacase (17-1) outpointed Argentina's Alan Isaias Castillo (27-7). The referee, the sole arbiter, awarded the Argentine only one round with one round even.
This was Cacace's first fight in 15 months and second fight back after losing a close but unanimous 12-round decision to Martin Ward in a bout for the British 130-pound title.
Photo credit: Ian Walton /  SHOWTIME
The Avila Perspective, Chap. 35: Bam Bam Rios, Heavyweights and More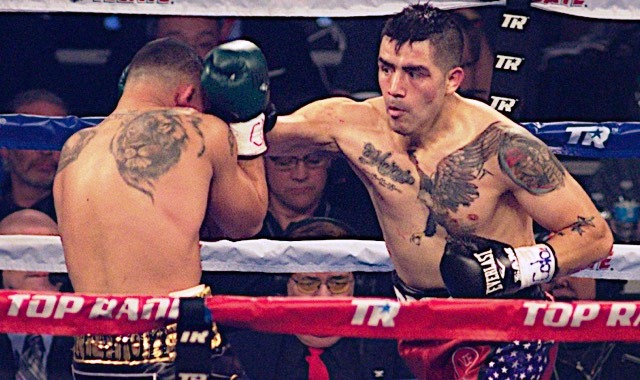 They don't make fighters like "Bam Bam" Brandon Rios every day you know. But there was a time when it was as common as a Helms Bakery truck arriving in the morning.
He talks like a snarling character out of a Mickey Spillane novel and looks like a guy who eats nuts and bolts for breakfast, not Wheaties.
And when you put on a pair of mitts on his fists look out.
Rios (35-4-1, 26 KOs) won his last bout and now takes on another Mexican veteran Humberto Soto (68-9-2) in a welterweight battle of tough guys at Tijuana, Mexico. Its home turf for Soto and the match will be streamed on DAZN.
Time can be a sonofagun and even the toughest get taken down a notch or two. Since losing the WBO welterweight world title to Timothy Bradley in 2015, the road has been covered with spiked strips for the Garden City, Kansas native who now lives in Oxnard, Calif.
Before a win two months ago, he was stopped by former welterweight and super lightweight world champion Danny Garcia in the ninth round a year ago in February. It always seems to be the ninth round when things happen or not for Rios. When he lost to Bradley the end also took place in the ninth.
But that's OK for Rios. When your family grows up working in the slaughter houses in temperatures not fit for human beings, that kind of labor hardens a person's grit to not quit. No matter what other normal people might do, it's not an option for Rios. And that's the way he's always fought.
"Anything can happen though, at the end of the day it's not about who has what, it's about me and him in the ring," said Rios, 32.
Just last November the Oxnard-based fighter, who trains in Riverside with Robert Garcia, engaged in a Mexican war with Ramon Alvarez. He's the older brother of Saul "Canelo" Alvarez and he traded cannon blows with Rios until the pivotal ninth round when the back and forth battle was finally stopped by referee Tom Taylor. It was the kind of fight you might have seen in the 1940s; a kind of Tony Zale vs Rocky Graziano war of attrition that Rios was groomed for since a child in the Kansas gyms.
Like we mentioned before, they don't make fighters like Rios any more.
When he crosses the Mexican border on Saturday in Tijuana, don't expect him to feel out of place. He's been there many times and his family comes from Mexico.
"Even though Soto will be in his own country, I have a lot of Mexican fans, my dad was born in Chihuahua, Mexico and LA is just a couple hours away so I hope to see my fans there supporting me," said Rios.
This time he has Soto in front of him, a former world champion who lives in Tijuana and can recite word for word the book on dirty fighting. He's not shy about elbowing and hitting below the belt or butting you with his head. He knows every dark trick known to prizefighters. When he fought John Molina Jr. a while back he feigned getting hit below the belt after that fighter dropped him with a legal body shot. Soto's act was so convincing the referee deducted a point though he never actually saw the blow, unless he has X-ray vision. Soto is as wily as they come. And don't expect the referee to keep the fight legal. I've seen battles in Tijuana where a veteran fighter was actually hitting another guy's kneecaps and thighs. True story.
Rios will have his hands full. He's run into these types of fighters before. Remember Argentina's Diego Chaves? That fighter was ultimately disqualified for elbows and intentional head butts.
"Soto is a veteran, he's 30 years old. he knows some tricks, he's a former three-time world champion, so we've got to be ready for whatever he brings," said Rios. "That's why I'm working so hard to correct the mistakes."
It's Rios style of fighting that seems to attract those kind of fights. It's not for the squeamish. But if you prefer Rios "two for two" style of bang it out in the boxing ring, then, this is for you. His three wars with Mike Alvarado were brutal and beautiful at the same time.
DAZN signed up Rios for this reason.
Also, East L.A.'s Seniesa Estrada defends the WBC Silver light flyweight title she recently won against Venezuela's Yenifer Leon on the co-main event at Auditorio Municipal. DAZN will stream the fight.
Estrada (15-0, 5 KOs) meets hard-hitting Leon (9-1, 6 KOs) in a female bout set for 10 rounds. Estrada has stretched three consecutive opponents. She will be fighting in the hometown of interim WBC light flyweight titlist Kenia Enriquez. It should make for an interesting development.
Heavyweights
In a move that caught the boxing world by surprise, giant heavyweight Tyson Fury signed a multi-year contract with Top Rank and ESPN. Frank Warren remains his co-promoter with Queensberry Promotions.
The contract requires a minimum of two Fury fights in the US a year. His fights will still be shown in the United Kingdom by BT Sport. Fury has the lineal heavyweight championship title because he beat Wladimir Klitschko the previous lineal champion.
Most of the boxing world anticipated a Fury rematch with WBC champion Deontay Wilder especially after their torrid – for a heavyweight match – fight that took place this past December at the Staples Center and ended in a split draw. Fans of both were eager to see a rematch and rumors were flying like one of those shotgun machine saucers.
Now, Fury has ESPN, Wilder has Showtime and Anthony Joshua is with DAZN. Basically each has a bargaining position now.
Joshua was in New York City recently to pump up his IBO, WBA, WBO and IBF title defense against Jarrell "Big Baby" Miller at Madison Square Garden on June 1, 2019. DAZN will stream that heavyweight world title event.
What's next for Wilder the WBC titlist?
If anything it puts the heavyweight scenario to the forefront for hard core boxing fans. For casual fans it dilutes it.
More UK- Super Middleweights
London, England will be ground zero on Saturday afternoon as British super middleweights James DeGale (25-2-1, 15 KOs) and Chris Eubank Jr. (27-2, 21 KOs) battle for the vacant IBO world title. Showtime will televise.
These Brits have no love for each other.
Eubank, 29, is the former IBO super middleweight titlist and wants it back. He was beaten by George Groves a year ago who gives everyone trouble. The son of hard-hitting Chris Eubank Sr. depends heavily on those heavy hands and it gets him into trouble.
DeGale, 33, is a gritty southpaw and former IBF super middleweight titlist who doesn't punch like Eubank but has that something, something that keeps him in every fight. He surprisingly knocked out Mexico's Marco Periban who was known for having a rock solid chin. You just never know who can knock out who? But in this fight, we do know they don't like each other.
"If I'm honest, if his surname was Smith, you wouldn't know who he was. He's riding off his dad's name," said DeGale. "There are levels in boxing and I'm on a level above him. Come fight night, it's going to be a schooling. Eubank Jr is gonna get schooled. I've dubbed this a 'retirement' fight. When he loses, he's finished, he's done. This will be his last fight."
Eubank has heard it all before.
"He knows I'm a livewire and that I'm dangerous; he knows being ill-prepared is dangerous for his health. I don't think he's going to put himself in that position," said Eubank.
On the same fight card shown by Showtime, heavyweight Joe Joyce meets Bermane Stiverne.
Joyce (7-0, 7 KOs) looks like the real deal. Known as the "Juggernaut," the London heavyweight blew out Joe Hanks at Staples Center on the undercard of the Wilder-Fury match. I expected Hanks and his heavy hands to give Joyce pause, especially if he connected. Well, Hanks connected but then Joyce connected and blew out Hank's candle. It was impressive.
Stiverne (25-3-1), the former WBC heavyweight world titlist, hasn't been too impressive lately. In his last fight with Wilder he was blown out in less than one round. He didn't look like he wanted to be there. Joyce is a serious heavyweight contender and at age 33 knows he doesn't have much time to prove his worth. Expect an execution.
Check out more boxing news on video at The Boxing Channel
To comment on this story in The Fight Forum CLICK HERE