Why Choice Of Berto For Mayweather Is OK
Writing about the emerging news that Andre Berto had been selected as Floyd Mayweather's September twelfth opponent, the Sweet Science's own Frank Lotierzo deemed anyone who buys the fight on pay-per-view "a complete and utter fool."
Lotierzo, always forthright and never dull, has the courage of his convictions. I admire that.
But I did not agree with him and I thought, with the date looming large as does each and every Mayweather combat, I might say so, and say why.
First though, I would like to get the obvious out of the way.
I would most like to see Mayweather fight Gennaday Golovkin, a mission impossible worthy of a p4p #1. Failing that, I would like to see him in a rematch with the victor of the fight between Miguel Cotto, the lineal middleweight champion, and Saul Alvarez, still the #1 contender to Mayweather's lineal light-middleweight claim. Barring that, a rematch with Pacquiao would be reasonable (and remains a distinct possibility) most especially as Manny remains Mayweather's #1 contender at welterweight. Failing that there are good matches to be made at welterweight against Amir Khan or Kell Brook, or against the perennially ignored potential Mayweather opponent Timothy Bradley. Bradley actually reads like a perfect Mayweather opponent– he can't punch, he comes to fight, he has a high profile in America based upon decision he did not deserve – but is hamstrung by promotional issues.
Whatever the details, Mayweather hasn't delivered us any of these fights for his last, second-to-last, or latest fight depending upon which version of the truth you prefer, he has instead delivered us Berto. It is not a decision which has been well received by either press or, judging by the weight of objections groaning from various internet message-boards over the past few weeks, the public.
I was immediately reminded of Roy Jones Junior's 1995 match with the ordinary Antoine Byrd.
Jones was, like Mayweather, coming off a disappointingly one-sided contest with fellow pound-for-pounder in James Toney. A case can be made for these two being, like Pacquiao and Mayweather, the two best fighters on the planet at the time of their confrontation and if it was so, that may have been the first time since Billy Conn's 1941 confrontation with Joe Louis that the p4p top two climbed into the same ring. Note that if we do not acknowledge the claim of Toney and Jones to be pound-for-pound numbers one and two, Mayweather-Pacquiao may have been the first such contest in more than seventy-five years. In the wake of his enormous confrontation with Toney, Roy Jones did not select as his next opponent the brutal and direct Englishman Nigel Benn, nor his prancing stylistic pole and countryman Chris Eubank, his #2 and #3 ranked contender respectively. He didn't leap up to light-heavyweight to take on Virgil Hill, nor did he invite to step up the killing puncher that was Gerald McClellan. He instead matched Byrd.
Byrd had lost three straight in 1991 and 1992, decisioned by Lindell Holmes and Tim Littles, knocked out in just four rounds by 12-8-3 journeyman Larry Musgrove. He did stage a recovery of sorts in 1993 and 1994 but if the truth is told there was little to qualify him for his shot at Roy outside of an inexplicably high ranking bequeathed upon him by one of the alphabet mafia. Just as Berto is inexplicably ranked #1 by the drunken WBA, so Byrd was stationed for a title shot by IBF who for some reason thought it was important that the man who vanquished the 9-4 Eduardo Ayala get in the ring with Jones immediately.
What Jones did essentially was this: he fought one for the industry, against Toney, and then he fought one "for himself" against Byrd. What I mean by that phrase is that he fought a fighter who posed no real threat to him, for easy money, having earned that rope with the earlier contest, that monumental pound-for-pound confrontation with Toney. Beating Toney was easy for Jones. He didn't really get hurt, he won any round he chose to contest and he had "Lights Out" sitting in his corner between rounds staring blankly into the middle distance as Bill Miller offered up the best he had. Nevertheless, in the parlance of the sport he had earned a soft one. Byrd proved just that, buckling under pressure and punches in less than a round.
Instead of complaining, the crowd was ecstatic. This, briefly, is why Mayweather-Berto is going to do very good business. Mayweather, like Jones, is brilliant. He is the best fighter of his generation and has spent the majority of the past ten years sat atop the pound-for-pound list, a fighter who, despite a defensive style generally anathema to great financial success, has crossed over to become the single biggest dollar machine the sport has ever produced. People love him, hate him and love to hate him. Just as seeing Jones beat an overmatched opponent was of huge appeal to a 1995 fight crowd, so seeing Mayweather outclass Berto is going to be of huge appeal to the 2015 fight crowd. In what remains the last bastion of pure capitalism in modern sport, the bottom line will speak very loudly in defence of this fight (for all that it will not be as successful as Floyd's other more recent efforts).
Of course, there are differences between the Jones-Byrd situation and this one. Jones was a relative newcomer to the upper-echelons of boxing and there was still a great deal of curiosity wedded to that expectation, and while the expectation remained unsatisfied, the curiously was fulfilled. His fistic youth spared Jones the increased scrutiny Mayweather is suffering. Second, Byrd was ranked; he was ranked at #10, but he was ranked. Berto isn't ranked, not by anyone with any good sense. In fact he doesn't even make it into the Fightnews top fifteen at the weight, although he does appear in one or two fan-driven rankings systems available online, and has since before the Mayweather fight was made. I personally would be given to arguing that Berto is probably more prepared for Maywether than Byrd was for  Jones. Furthermore, Berto has lost only to solid opponents; Byrd managed to lose to a journeyman. But it must be acknowledged that an argument can be made for Byrd being a better fighter than Berto. Fortunately, boxing history is awash with examples of the one-for-you, one-for-me culture that there is no particular pressure on this example.
Muhamad Ali followed his monumental confrontation with George Foreman against a fighter who had the word "Bleeder" in his nickname, Chuck Wepner. Ali was all but wrapped up in a deal to take on #3 contender Ron Lyle but reneged to take on a fighter who had had his face transmogrified into loose lamb's liver by the bones of Sonny Liston five years previously. Ali was to be paid $1.5m, around $6.6m adjusting for inflation. When he was asked why he had selected Wepner as an opponent he answered "because he's white." But there was no torches and pitchfork assault upon Ali; nobody pointed and laughed at his opponent. There was a tacit understanding that having just settled completely the matter of who the best in the world was, he was entitled to a soft fight for pay, despite the fact that the Louisville Lip was already talking retirement.
Joe Calzaghe rewarded himself for his excruciatingly difficult victory over Bernard Hopkins with a pancaking of a shot Roy Jones, Roman Gonzalez spoiled himself with Rocky Fuentes after annexing the world flyweight title against Akira Yaegashi, Wladimir Klitschko gift-wrapped the chanceless Alex Leapai for his own consumption after a one-sided but crucial encounter against Alexander Povetkin; this is a list almost without end.
Where it does end, is with a group of fighters so unusual and singular in its pursuit of tough competition that we even have a name for it: we call it "old-school." Guys like Juan Manuel Marquez and Manny Pacquiao and Carl Froch who, up to a point, seek out the toughest challenges available. These guys eschew the one-for-me one-for-you model in favour of determined domination. It is this type of attitude that we are demanding of Floyd Mayweather.
Is that reasonable? I think, probably, yes. I don't find it unreasonable. Nevertheless, only a blind man could fail to see that the anonymity in debate provided by the internet in combination with Floyd Mayweather's disgusting behaviour outside of the ring has created something of a perfect storm of criticism; still, it is fair to point out in return that he is, for better or worse, the flag-bearer for our sport and the best paid athlete in history. That he is fighting Andre Berto, a fighter rather less good than previous Mayweather victim Robert Guerrero, is not satisfying to me. He is an unsatisfying opponent, but I do not defend him as an opponent – what I defend is Mayweather's right to fight an unsatisfactory opponent. He's a one-for-me one-for-you guy. Trace it back:
After taking on and stopping Victor Ortiz, a soft defence for pay, Mayweather stepped out of his weight-division and his comfort-zone for a difficult fight against Miguel Cotto up at light-middleweight. He then gifted himself Robert Guerrero to pick up a few million, perhaps to fund his gambling habits, before taking on Saul Alvarez in a fight that generated much hype. Devon Alexander victim Marcos Maidana was supposed to be a soft one, but when Mayweather was unexpectedly run close – and we must never forget that that can and will happen – he re-matched the Argentine in a fight that happened to discharge his responsibilities to boxing. Then, he fought Manny Pacquiao. Pacquiao was a universally recognised pound-for-pounder who was also Mayweather's very clear #1 contender for the lineal title in his possession. Winning was easy, but this was a fight, despite the fact that it came several years too late, that boxing was crying out for. It was very much an industry match.
Now, Berto.
What astonishes me about the bitterness aimed at Floyd Mayweather is the lack of historical perspective. Yes, the fight is poor, but people seem to expect some sort of retrospective punishment to be inflicted upon Floyd for the temerity of having made it. That will not happen, and it won't happen because Mayweather hasn't done anything odd. He's done what Joe Louis did after knocking out Billy Conn in that desperate 13th round all those years ago and found a Lou Nova to play patsy for him next time out. It is no more his fault that Pacquiao couldn't extend him than it was Louis's fault that Billy Conn could. That is what happens in boxing when styles mesh and abilities clash.
What is key is not what Mayweather is doing now, but what he does next. A second soft defence would be inexcusable and not in keeping with the normality of boxing's recent history. But if he fights Pacquiao, then Berto, then the winner of Cotto-Alvarez or Pacquiao again, people in fifty years will understand absolutely what they are looking at: a fighter who mixed the good opposition with bad, the same as almost every fighter who has ever lived, regardless of their standing.
Lotierzo is right to peg the number of pay-per-views bought in America as being a significant in influencing Mayweather's next move, though I suspect an unlikely failure will induce a huffy retirement and inevitable comeback rather than any change in matchmaking policy, a policy which is likely to come to an end sometime soon anyway. Should a visitation from Marciano's ghost render this fight Mayweather's last, he is one of a multitude of champions to go out on a soft one. If the great Italian-American's bones remain undisturbed and Mayweather pushes for 50-0 against a second chanceless opponent, this will be a break with that matchmaking policy and then you can hand me a pitchfork because I'm in.
In the meantime, I don't think we should treat this as anything other than what it is:
Normal.
Erick Ituarte Wins Featherweight Battle in Ontario, Calif.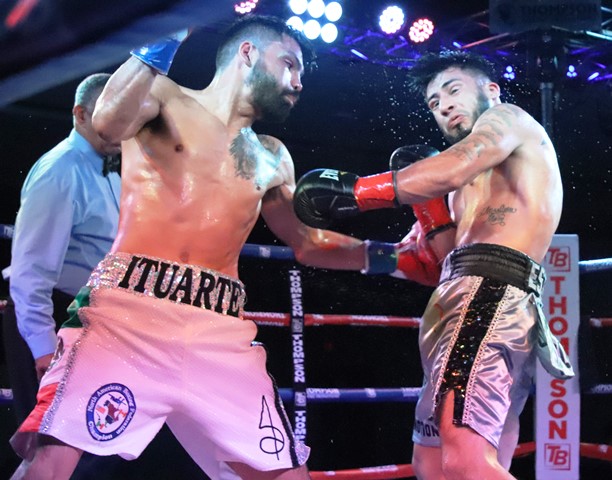 ONTARIO, CALIF.-Looking to make waves as a featherweight, Santa Ana's Erick Ituarte battled Tijuana's Jose Estrella evenly before pulling away in the last third of the fight to win by decision on Friday.
Ituarte (21-1-1, 3 KOs) lacks the big punch but has the long arms that enabled him to keep distance and out-point the shorter Estrella (20-16-1, 14 KOs) in their 10-round bout at the Doubletree Hotel. Thompson Boxing Promotions staged the fight card that saw about 500 fans at the event.
Estrella used his guts and guile to keep the fight close in the first four rounds of the fight. Back and forth they went trading momentum, Ituarte was effective attacking the body and Estrella was good at connecting with big blows to the head.
It wasn't until the seventh round that Ituarte began utilizing his reach and mobility to make Estrella chase and run into pot shots. From that moment on Ituarte was in control of the fight. No knockdowns were scored with one judge scoring it 98-92 and two others 100-89 for Ituarte. Each round was very competitive.
Other bouts
Corona's Luis Lopez (5-0, 3 KOs) powered his way to victory by unanimous decision over Mexico's Daniel Perales (10-17-2, 5 KOs) after four rounds in a welterweight match. Though Lopez won every round with sharper punches he was never able to hurt the super tough Mexican fighter from Monterrey. He recognized that early and used crisp combinations to win each round though Perales had his moments too. All three judges scored it 40-36 for Lopez.
A heavyweight fight saw local fighter Oscar Torres (5-0, 2 KOs) run his record to five wins with a fourth round stoppage over Houston's Thomas Hawkins (4-4) after a barrage of punches. The fight was stopped twice in the fourth round and a final barrage of blows prompted referee Tony Crebs to halt the fight at 1:20 of the round. Torres fights out of Rialto, California and is trained by Henry Ramirez.
Lightweights Davonte McCowen (0-0-1) and Chris Crowley (0-0-1) fought to a majority draw after four torrid rounds. Both were making their pro debuts. McCowen started faster and slowed in the last two rounds that allowed Britain's Crowley to mount a rally in the last two rounds. It was a spirited fight between the two newcomers.
Photo credit: Alonzo Coston
Check out more boxing news on video at The Boxing Channel
To comment on this story in The Fight Forum CLICK HERE
Introducing Australia's Bilal Akkawy who steps in for David Lemieux on May 4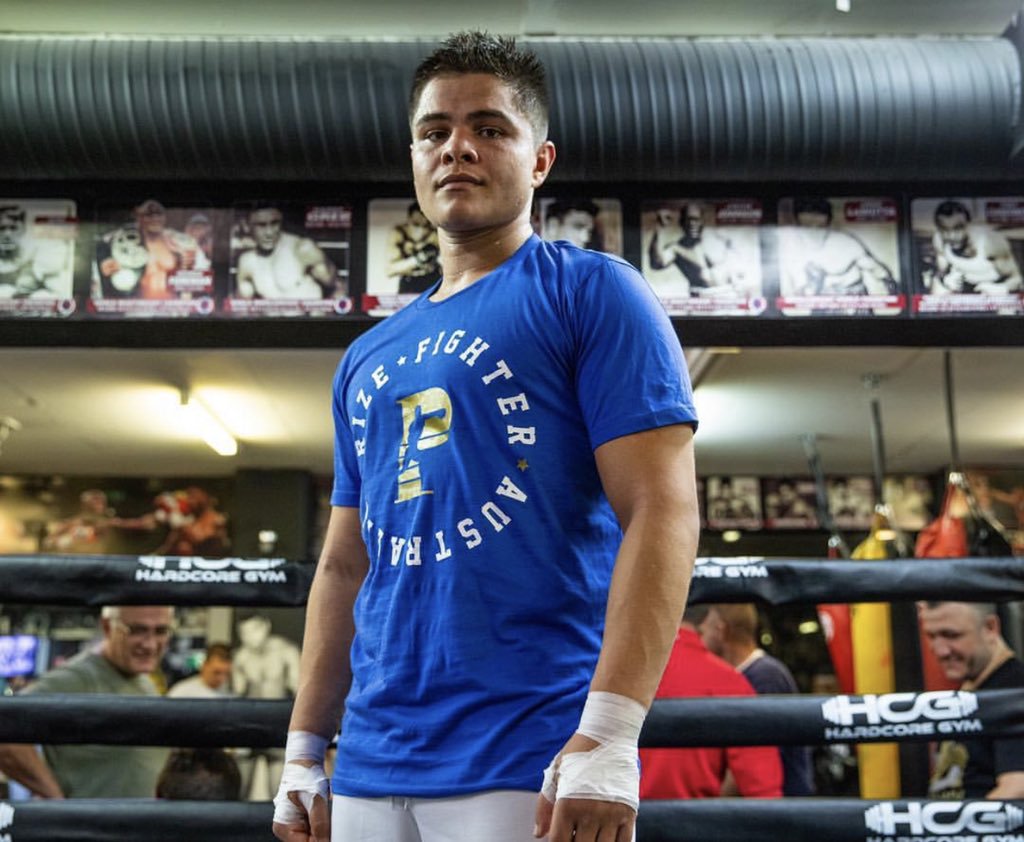 "Big Announcement Coming – Stay Tuned" wrote Bilal Akkawy late yesterday (April 18) on his twitter page. And then the Nevada Athletic Commission went and stole his thunder.
Later that day, the commission released its agenda for its forthcoming meeting on April 24. Among the items on the docket will be the selection of officials for Akkawy's fight with England's John Ryder. The 12-round contest for a "Vacant WBA Interim Super Middleweight Title" is penciled in as the chief undercard bout on the big May 4 show at the T-Mobile Arena topped by the match between Canelo Alvarez and Daniel Jacobs.
John Ryder's original opponent, David Lemieux, was forced to pull out when he suffered a hand injury in training.
Born and raised in Sydney, Australia, the undefeated Akkawy (20-0-1, 16 KOs) has been Canelo Alvarez's chief sparring partner. Canelo's trainer, Eddy Reynoso, hired Akkawy based on a video that Akkary sent him as he was preparing to set up Canelo's camp for the 2018 Cinco de Mayo rematch with Gennady Golovkin.
Two days before Canelo-Golovkin II, which was pushed back until September, Akkawy made his U.S. debut at the Hard Rock Hotel in Las Vegas, scoring an 8-round decision over Christian Olivas. He appeared on the Canelo-Fielding card this past December in New York, scoring a 7th round stoppage over Victor Fonseca, and has had one fight since then, a stay-busy fight buried on a small show in Tamazula, Mexico, in which he didn't stay very busy, dismissing his hopelessly overmatched opponent in the opening round.
Akkawy comes from a fighting family. His father Mahmoud "Mick" Akkawy and two of Mick's brothers were good amateurs. Mick Akkawy was 2-0 as a pro when his career was cut short by a serious car accident. Mick and his brother Ahmad "Al" Akkawy now run a boxing club.
The elder Akkawy, whose roots are in Tripoli, was tutored by Johnny Lewis. To this day, Lewis, now 75 years old, insists that Mick Akkawy was the hardest puncher that he ever coached. Bilal Akkawy, says Lewis, inherited his old man's genes. Lewis rates Bilal the hardest puncher, pound-for-pound, in Australia today.
That's high praise. Inducted into the International Boxing Hall of Fame in 2017, Johnny Lewis has worked with six world title-holders, most notably Jeff Fenech and Kostya Tsyzu.
Bilal Akkawy's power was on display on Oct. 30, 2016 when he stopped fellow Aussie Kerry Hope in the seventh round. Akkawy shattered Hope's jaw – two operations were necessary – and dislodged four of his teeth. His best win since then was a wide 10-round decision over Italian veteran Giovanni De Carolis who had briefly held the WBA world super middleweight title.
Not all of Akkawy's performances were glowing, however. The draw on his ledger is an ugly smudge, notwithstanding the fact that it came in a 4-round bout. His opponent was Joe Rea, a British slug who is currently 11-37-5 after losing 24 of his last 25 fights. Moreover, although he won every round in his U.S. debut vs. Christian Olivas, we were unimpressed. Akkawy had Olivas down in the second frame but was unable to apply the finisher.
Although Akkawy is a second-generation prizefighter, his father discouraged him from pursuing a career in the ring and he entered the pro ranks without the benefit of a single amateur bout. By contrast, John Ryder had 35 amateur fights before turning pro in September of 2010.
Ryder (27-5-1, 15 KOs) is no slouch. A southpaw, the Londoner has won three straight inside the distance since losing a split decision to Rocky Fielding. At age 30, he's five years older than Akkawy and has far more experience, answering the bell as a pro for 187 rounds compared to only 84 for the Aussie.
Akkawy vs. Ryder won't get the juices flowing in the United States where both are obscure. However, it's an intriguing match. It will be interesting to see how the bookmakers price it.
Check out more boxing news on video at The Boxing Channel
To comment on this article in The Fight Forum CLICK HERE
The Avila Perspective, Chap. 43: Welterweight Wars Coast to Coast and More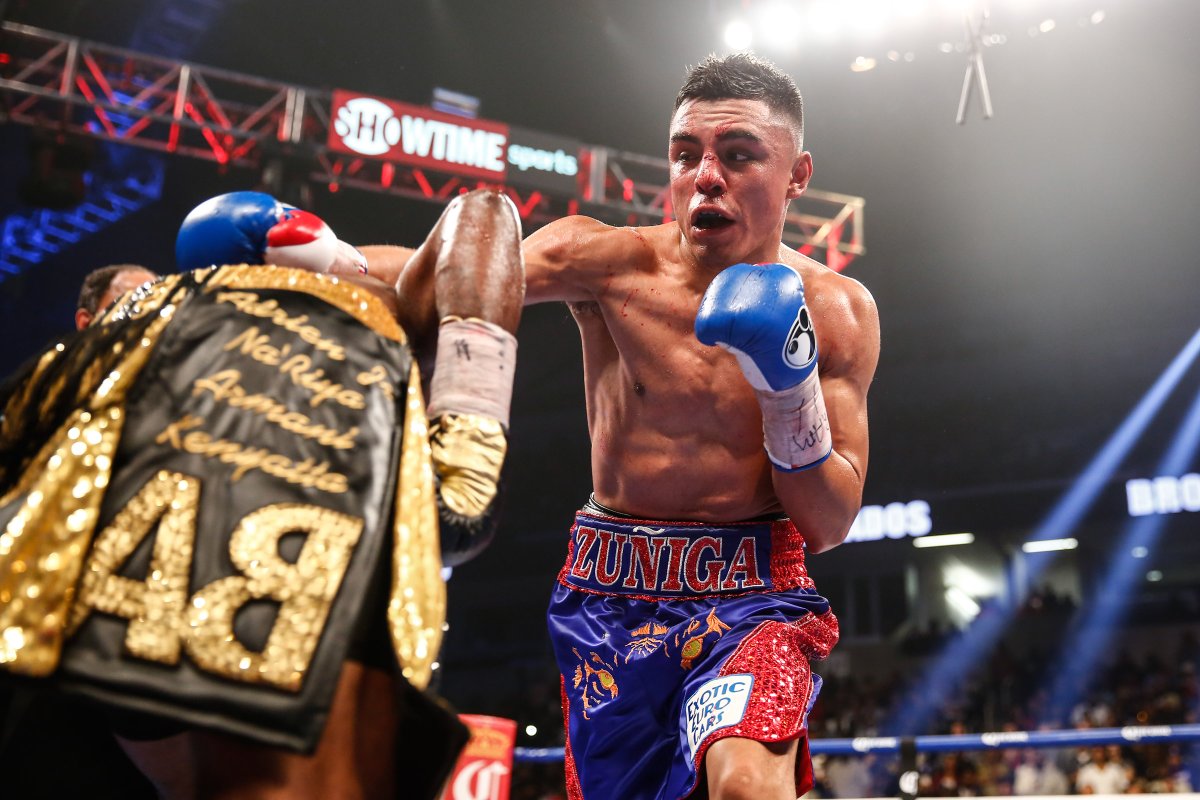 In a twisted development a couple of East Coast guys are headed to Los Angeles to battle while another pair of West Coast guys are headed to New York City.
Makes sense I guess.
Former two-division world champion Danny "Swift" Garcia of Philadelphia faces Adrian Granados of Chicago at the Dignity Health Sports Park in Carson, California on Saturday April 20. The PBC card will be televised by FOX.
Dignity Health is the new name attached to the complex formerly known as the StubHub Center and before that it was the Home Depot Center. Ironically, Dignity Health owns most of the cemeteries in Southern California.
Is that an omen?
Garcia (34-2, 20 KOs) is a counter-punching Puerto Rican who needs someone to fight that's always on attack mode in order for him to shine. When he's matched with another counter-puncher the crowd goes to sleep.
That's where Chicago Mexican Granados (20-6-2, 14 KOs) fits in.
Granados (pictured) has never fought in a snoozer in his life. He probably kicked his way out when he was born. In fights against slow developers like Adrien Broner and Felix Diaz he made them fight for their lives. If this were ancient Roman times he would be fighting in the main event armed with a tooth pick against a lion. Blindfolded.
But he's weary of being labeled as merely an entertaining fighter.
"I'm tired of it," Granados, 29, said. "I want the title or I'm out of here."
World titles are something Garcia knows about. He's held the WBC and WBA super lightweight titles and the WBC welterweight title. In unification clash with Shawn Porter last September he lost by a razor close decision. He feels naked without a strap around his waist.
"I'm going to make a statement," said Garcia about his pending battle with Granados. "I definitely want a rematch with Shawn Porter or Keith Thurman."
Granados eyes Garcia with slight envy whenever they're in the same room.
"I'm trying to cash in baby," said Granados. "I just got to go in there and do my thing."
Another interesting bout on the PBC card includes undefeated Brandon Figueroa (18-0, 13 KOs) a southpaw super bantamweight fighting Venezuela's Yonfrez Parejo (22-3-1) for the interim WBA title. The actual titleholder is Los Angeles fighter Danny Roman who fights next week at the Inglewood Forum.
Other fighters of interest are Andy Ruiz, Alfredo Angulo, Omar Juarez and Carlos Balderas. It's an extremely long card and begins at 3 p.m.
Friday is Thompson Boxing
Headlining a boxing card at the Doubletree Hotel in Ontario, California is featherweight Erick Ituarte (20-1-1) versus Jose Estrella (20-15-1) in a 10-round main event. Ituarte is the stablemate of WBA champion Danny Roman. Estrella hails from Tijuana and has fought some tough customers like Miguel Marriaga and Christopher Diaz.
The Thompson Boxing Promotions event also features a solid looking welterweight Richard Brewart (4-0) against Vincent Morales (2-2-2) in a four round bout. Another interesting fight showcases Uzbekistan's Murodjon Akhmadaliev (5-0) a southpaw slugger trained by Joel and Antonio Diaz in Indio. The lefty faces former world title contender Carlos Carlson (23-5) in a super bantamweight clash.
Thompson Boxing always delivers solid boxing cards and you never know which new boxing jewel will be discovered by them. They have a 20 year history of finding outstanding talent. You can also watch it streamed on Thompson Boxing's page on Facebook.com.
Doors open at 6:30 p.m. For more information call (714) 935-0900.
New York Card
If you plan on staying home on Saturday night a solid fight card at Madison Square Garden features a welterweight world title fight between WBO titlist Terence Crawford and former two-division champion Amir Khan. It will be shown on ESPN pay-per-view at $59.95.
It's a loaded card with Top Rank unfurling its best. Of course the best is Crawford who in my opinion is the top fighter pound for pound. And I was a late convert.
Nebraska's Crawford (34-0, 25 KOs) is based in the Midwest and heads east to fight England's Khan (33-4, 20 KOs) who trains in California. They're fighting for the WBO title and it should be a very good fight.
Khan has always been a favorite of mine. He's blessed with speed and agility and also has a lot of guts. Not just because he fought Saul "Canelo" Alvarez at middleweight, but because he's a true prizefighter looking for the biggest fights in the world. He's been criticized by his own countrymen for not fighting some of his fellow Brits, but Khan looks at everything globally, not nationally. He especially wants fights that Americans want to see. They want to see this fight.
"I wanted this fight because I wanted to fight the best. Terence Crawford presented the greatest challenge to me at this point in my career. Listen, the Kell Brook fight was there, but fighting Terence gives me the opportunity to show I am a pound-for-pound fighter," said Khan.
Of course thousands of Brits will be flying across the Atlantic Ocean for a glimpse of this showdown. First because it's New York, second because it's boxing and Brits love boxing. Gotta love them Brits.
Crawford, like Khan, is blessed with speed and agility too. And he also has several ways to attack. He's not a one-dimensional fighter. He's like a jazz musician; he can take it wherever it needs to go. Whether its hip hop or improvisational he can easily slip into another tempo. That's his magic.
"Amir Khan is undefeated as a welterweight and can't be underestimated. He has great hand speed, movement, and some power as well," said Crawford. "I want to showcase all of my talents in this fight."
Keep your eyes open in this fight.
Other bouts on this high quality fight card:
Top Rank has a couple of their prospects jumping up to face contenders. First you have Shakur Stevenson (10-0) meeting former world title challenger Christopher Diaz (24-1) of Puerto Rico in a 10-round featherweight clash. If it were any other prospect I might say the kid is moving too fast. But Shakur has eye-popping talent.
Another prospect going against a contender is Brooklyn's Teofimo Lopez (12-0) meeting Finland's Edis Tatli (31-2, 10 KOs) in a lightweight match. Lopez, 21, already has fought in three 10-round fights and has the NABF and USBA lightweight belts. Tatli has the EBU lightweight belt. Whose belt means more in this fight?
Puerto Rico's highly touted Felix Verdejo (24-1,16 KOs) lost a year ago to Mexico's Ines Lozada Torres by knockout. Then he returned to win by knockout last November. Now he's back against a tough customer in Bryan Vasquez. It's not an easy fight for either fighter.
Verdejo was Top Rank's golden child a couple of years ago and ran into some personal problems before running into Lozada's fists. Now he has Vasquez, a slick fighting Costa Rican who arguably could have won a world title had he been given the decision after fighting Raymundo Beltran two years ago. Beltran won by majority decision that night in August 2017, then proceeded to win the WBO lightweight title against Paulus Moses. That could have been Vasquez's title.
It's a strong boxing card.
Lights Out
Next Thursday on April 25, former middleweight, super middleweight, light heavyweight, cruiserweight and heavyweight world champion James "Lights Out" Toney will be the honored guest at the Golden Boy Promotions boxing card at Fantasy Springs Casino in Indio, Calif.
Toney spent the last 25 years in Southern California where he first trained at the Wild Card Boxing gym in Hollywood. Over the years he became one of the most popular prizefighters by fans who loved his aggressive style and off-the-charts boxing skills. The Michigan native had more than 90 fights as a professional against some of the best to ever put on gloves.
Many boxing writers, including myself, consider Toney one of the best, if not the best prizefighter in the last 60 years. He's beaten some of the best in the business and performed at a high level for decades in classic fights. Among the gems were his knockout wins against Michael Nunn, Tim Littles, Vassiliy Jirov, and Evander Holyfield.
Toney, 50, will be available to sign autographs and take photos with fans. Be sure to be there and meet the great multi-division champion.
One of the featured fights is Oscar Negrete (18-1-1) in a rematch against Joshua Franco (14-1-1) who fought to a draw last October. It was one of the best fights of the year. The NABF bantamweight title is the prize.
For tickets or information call (800) 827-2946.
Check out more boxing news on video at The Boxing Channel
To comment on this story in The Fight Forum CLICK HERE