Chatting With #CottoCanelo Referee ROBERT BYRD
The best referees in sports are more complex than mysterious. Their agenda to keep an even playing field is often what any fan would expect, but their preparation is at times overlooked.
Boxing referee Robert Byrd thinks it's best to stay out of the equation. The veteran referee might be the perfect referee for any fight fan because he has built a reputation to, in his own words, "let fighters fight." Maybe that is why he was chosen by the Nevada State Athletic Commission to referee the big fight between Miguel Cotto and Canelo Alvarez on Saturday night.
Or maybe it is because Byrd is a World Boxing Hall of Fame referee with over 100 world title bouts on his resume and 34 years of experience. Some of the most recent title fights Byrd worked include Floyd Mayweather vs. Robert Guerrero, and Timothy Bradley vs. Juan Manuel Marquez.
We spoke with Byrd on Wednesday about his preparation for Cotto vs. Canelo, his reputation in boxing, and the importance of positioning.
Ray Markarian: What's going on Robert?
Robert Byrd: Well, I am at the gym. I am just waiting for the guy to get here and open shop…
RM : Are you going to work out?
RB : Well, I am going to work some sparring before I really have to go to work.
RM : Do you work at the boxing gyms often before fights?
RB : Well, I try to get in a couple times a week, whether I am working a fight or not. I am a strong believer in you practice the way you play. I can go out and run four or five miles, or do some push ups or sit ups, but that doesn't get me into fight shape. I think that you are doing the fighters a disservice if you don't do your best to prepare to get into fight shape.
RM : Do many referees get into fight shape before fights?
RB : I know a few. But I don't know. It's maybe one or two refs that get in shape.
RM : Is it something you think they should do?
RB : Yes, I do. You have to get into fight shape. You can run miles or do other types of workouts but that doesn't allow you to work on your positioning, or to work on your voice command, and it doesn't help you work on being in the proper position in the ring during a fight. I can definitely tell when a person doesn't do a lot of exercise in the ring. You can see it.
RM : Do the fighters see it too?
RB : Oh yeah. And I think the fighters, managers, and trainers appreciate when you come to the gym and work with them because it creates a realistic atmosphere. They are used to the third man in the ring. So, when they see it in the gym, it makes them comfortable. It also gives me an opportunity to educate fighters.
RM : You have been a referee for 34 years. If you can go back to 1981 and tell yourself one thing, what would it be?
RB : I would never want a fight to end too late. I can live with a fight ending too soon. But I never ever want to be guilty of stopping a fight too late.
RM : That's a referee's worst nightmare, right?
RB : That's right. It sure is.
RM : And, have you ever lost sleep over a decision you made in the ring?
RB : No. Never.
RM : No?
RB : Nope.
RM : OK. I have played competitive sports. And obviously, I have never refereed professionally, but when I play sports, and I make a mistake during a critical moment in the game, it sticks with me. I still think about it afterwards.
RB : Yeah…
RM : So, do you get that feeling as a referee? Do you ever feel regret or anxiety about a decision?
RB : Well, I can't speak for other guys but for me, it's all about preparation. I prepare the best I can. And I go in the ring and do the best I can, and I move on. I learn from my actions. Sometimes I think back and say maybe I could have used an alternate option, because nobody is perfect. You always want to learn. That's why I still go to the gym. People ask me why I still go to the gym. It's because I continue to learn. Once you get to a point where you feel like you know it all, you need to quit.
RM : So, you are working the fight coming up between Miguel Cotto and Canelo Alvarez. Are you studying their fight styles at all?
RB : No not really, I have worked with many of the fighters in the past, so I already have a good idea of what their styles are. And styles don't really matter because, once you get hit upside the head, styles change. They can change in a hurry. My real focus is to be in shape physically and mentally so I can react to anything that happens in that ring, or I can anticipate better. Most of our profession comes down to being physically and mentally ready for the job you are going to do.
RM : You have to stay sharp…
RB : Yeah.
RM : What is the most important role for a referee in the ring?
RB : Positioning is the most important. But that is true with any sport. If you are not in the proper position, you cannot make the proper call. If you are not in proper position, you might not see something that you should have seen, like a low blow.
RM : Do you get nervous before fights?
RB : A little bit. But it's just like any athlete, after that first pitch or when the bell rings that all goes away.
RM : How would you describe your referee style?
RB : I tend to let fighters fight. I think that's my reputation in the business. All of these managers and trainers have a book on officials. They have a book and know about our tendencies.
RM : I'm sure they do.
RB : Oh yeah. They do. So, my reputation is that I let fighters fight. And I can live with that. I am happy with that.
RM : So, why is it your style to let fighters fight?
RB : Because the fighters are the most important people. The fans don't come to watch me. They come to watch the fighters.
RM : And when you go in the corners in between rounds to speak with fighters, what types of questions are you asking?
RB : Well, normally I am telling them something.
RM : OK.
RB : If I ask them anything it will be something like, "Are you ok?" "How do you feel?"… But most of the time I am telling them something like, "If you are not going to defend yourself, then I will have to take appropriate action." And they know what I am talking about. I always focus on the fighters. I don't pay attention to their corner because most of them (corner men) are very brave. But they ain't taking any punches. After a while, you get to understand who some of the better trainers or managers are because they take care of their fighter. The good trainers make my job easier. But there are those corners that act recklessly at times, and force a referee to take care of their fighter because they are not going to do it themselves.
RM : When you are in the middle of the round and you do not get opportunity to speak with a fighter, how do you know when to stop a fight?
RB : It's a judgment call. You look for muscle control. You look for their ability to defend themselves. If a fighter is not intelligently defending himself, then they are out of it. I usually look for what a fighter is doing to help himself or herself. Are they thinking in the ring? If I can see that they are thinking, then I will give them an opportunity to work through it. If a fighter is taking some shots and he is trying to grab the opponent or move intelligently, then it tells me that you are thinking. But if I don't any of those things then I have to make a decision.
RM : Protecting the fighters first, right?
RB : Absolutely. That's the number one priority.
RM : You don't care about the outcome of a fight.
RB : No I don't. I don't give a damn who wins. That's up to the fighter. My job is providing an even playing field. I don't want to determine the outcome. I don't have a problem stepping in if I have to as an official. But I don't want to determine outcome the fight unless it's necessary.
RM : How did you get good at letting fighters fight?
RB : Well, it's not something you learn overnight. It takes time. It's experience.
RM : What else can we learn about Robert Byrd?
RB : I am just happy to be a part of this game. And I mean that sincerely. It is a blessing to be a part of this game. It's a beautiful game. And it's a game that has given me an opportunity to see things that I would have never seen, or meet people that I would have never seen. Boxing gives me an opportunity to be an inspiration to kids. I am truly blessed to be a member of this game in any capacity. I truly feel that way.
You can follow Ray on Twitter @raymarkarian or email him here raymond.markarian@yahoo.com
U.K. Boxing Update: Gorman, Bowen, Edwards, Quigley, and More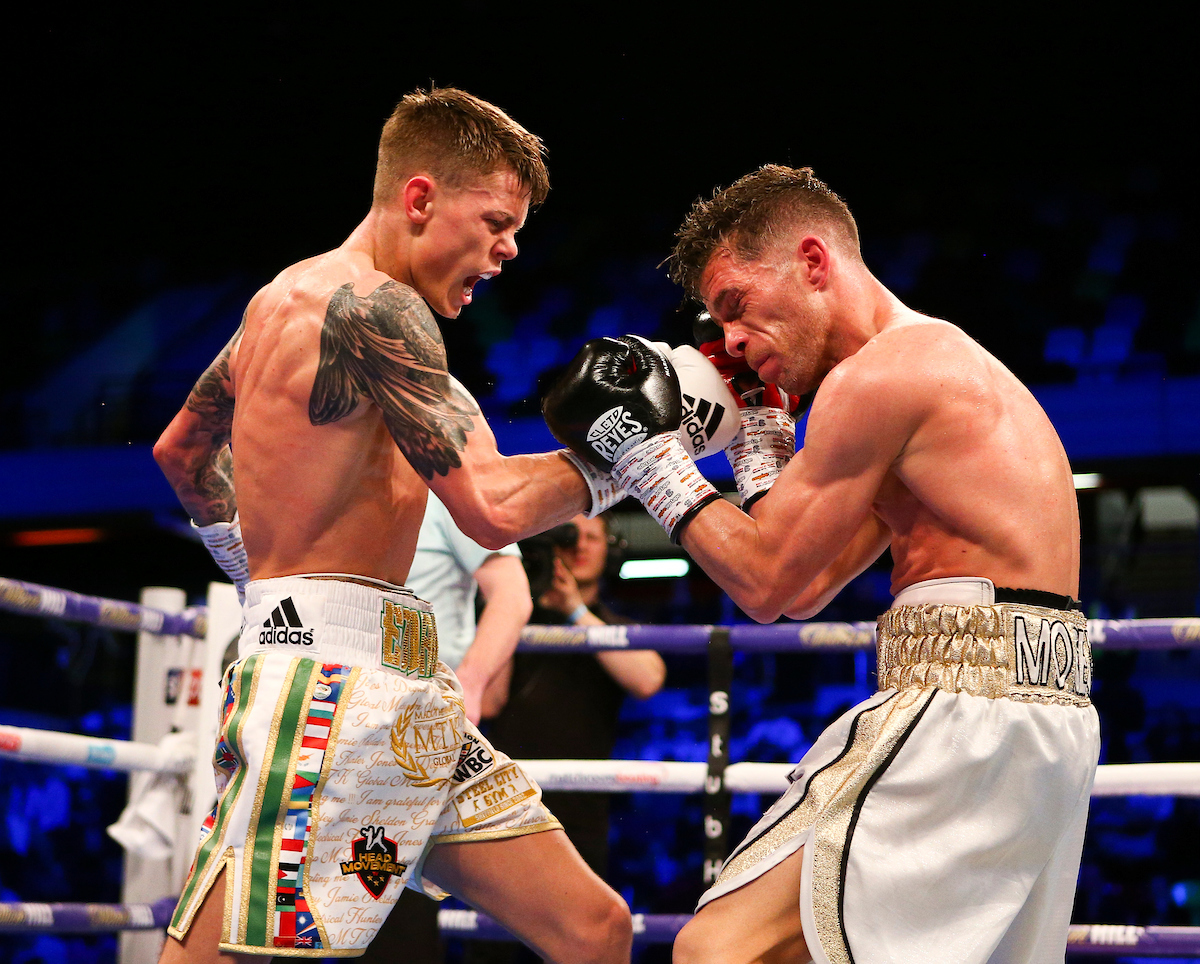 For the second time in the last three months, Great Britain's top promoters Eddie Hearn and Frank Warren went head-to-head with dueling fight cards in England. When this last happened, back on Dec. 22, Warren had the stronger card from top to bottom, but Hearn's show had the more compelling main event, namely the rematch between Dillian Whyte and Dereck Chisora. Today the roles were somewhat reversed. Hearn's show had the stronger undercard, but the fighter attracting the most eyeballs, undefeated heavyweight Nathan Gorman, is promoted by Warren.
Leicester / Queensberry (Frank Warren) Promotion
In a predictably desultory affair, Nathan Gorman (16-0, 11 KOs) outpointed Kevin Johnson (34-13-1). This being a 10-rounder, the referee was the sole arbiter and he gave every round to Gorman, a distant cousin of Tyson Fury.
Kevin Johnson, a pro since 2003, took Vitali Klitschko the distance in 2009 and Tyson Fury the distance in 2012 and more recently went the full route with Daniel Dubois and Filip Hrogivic, but he won scarcely a round in those fights and in recent years has degenerated from a journeyman into a trial horse. He came into the fight 20 pounds heavier than in his last start 13 weeks ago and fought to survive, allowing Gorman to initiate what action there was.
Frank Warren can't be blamed for promoting this snoozer. Johnson was a late replacement for Fabio Maldonado, a Brazilian who, although something of a mystery, was expected to provide Gorman with a sterner test. But Maldonado reneged after getting a better offer and will now fight Oleksandr Teslenko in Toronto next week.
The 22-year-old Gorman, who carried 253 pounds on his six-foot-three frame, is very light on his feet and some expect him to out-box his harder punching countryman Daniel Dubois when they eventually meet.
In the featured bout, Sam Bowen, a Leicestershire man, retained his British 130-pound title with a ninth round stoppage of Scotland's Jordan McCorry. Bowen improved to 15-0 with his 10th stoppage.
London / Copper Box / Matchroom (Eddie Hearn) Promotion
In the main event of Hearn's card, baby-faced Charlie Edwards (pictured on the left) put on a clinic in the first defense of the WBC world flyweight title he won with an upset of Cristofer Rosales. Edwards (15-1, 6 KOs) won every round over determined but outclassed Angel Moreno (19-3-2), a 35-year-old Spaniard and former sparring partner. Edwards scored a flash knockdown with a counter right hand in round six. All three judges had it 120-107.
Irish middleweight Jason Quigley, who signed with Golden Boy coming out of the amateur ranks and had fought exclusively in the United States, improved to 16-0 (12) with a second round stoppage of Mathias Eklund (10-2-2). Eklund was on his feet, but the ref thought it wise to keep the overmatched Finn from taking more punishment after Quigley blistered him with a series of unanswered punches. Quigley's dream fight would be a match in Ireland with stablemate Canelo Alvarez.
Joshua Buatsi, an emerging star in the light heavyweight division, chopped down Liam Conroy to win the vacant BBBofC 175-pound title. Buatsi had taken out his last three opponents in the opening round but Conroy, who came into the match riding a nine-fight winning streak, lasted into the third. Buatsi, a Londoner born in Ghana and a bronze medalist at the Rio Olympics, improved to 10-0 (8). Conroy, who was on the deck twice, fell to 16-4-1.
Conroy's promoter Eddie Hearn confirms that Buatsi's next fight is likely to take place at Madison Square Garden on June 1 underneath Joshua-Miller.
In a cruiserweight fight with British and Commonwealth titles at stake, Lawrence Okolie improved to 12-0 (9) with a fourth round stoppage of Wadi Camacho (21-8). Okolie knocked Camacho to his knees with a hard combination and finished him off with a big right hand.
The most inexperienced British boxer to ever compete in the Olympics, the rangy six-foot-five Okolie has sparred with Anthony Joshua and Tyson Fury and will almost assuredly compete as a heavyweight when he grows into his body.
Check out more boxing news on video at The Boxing Channel
To comment on this story in The Fight Forum CLICK HERE
Meet Tom Schwarz, Tyson Fury's Next Opponent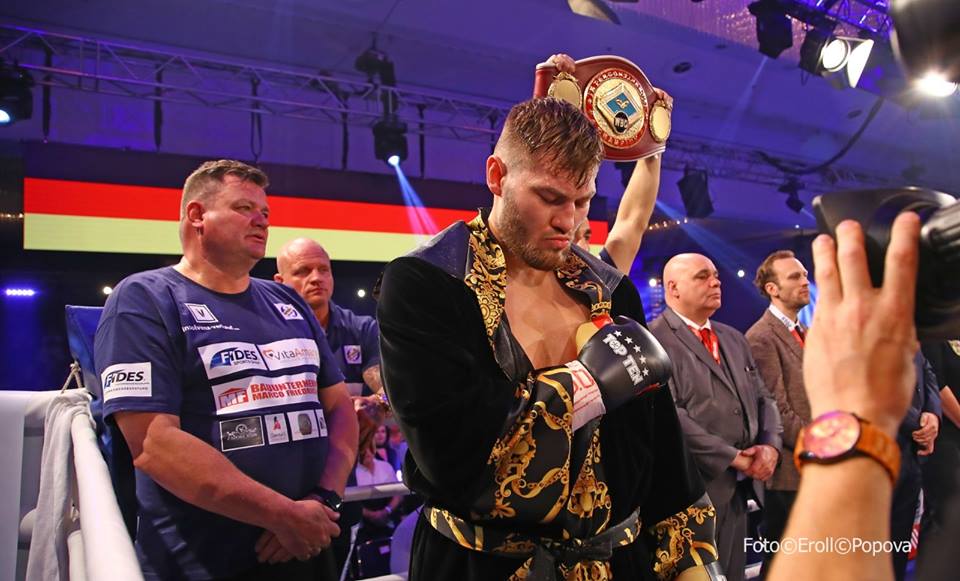 Someone can't keep a secret.
Top Rank honcho Bob Arum said he would not reveal Tyson Fury's next opponent until tomorrow (Saturday, March 23) when he would "unseal the envelope" during the ESPN telecast of his show from the Orange County Fairgrounds in Costa Mesa, CA. But, as the saying goes, the cat is out of the bag. Multiple sources, including ESPN's Dan Rafael, are reporting that Fury will fight Tom Schwarz in Las Vegas on June 15, likely at the MGM Grand although other Las Vegas venues are in the running.
The reaction has been overwhelmingly negative. By choosing Schwarz over a rematch with Deontay Wilder, Tyson Fury's reputation in the court of public opinion has taken a big tumble. "Tyson Fury fight with bum Tom Schwarz makes mockery of Gypsy King's big claims and is bad news for fans," reads the headline in the online edition of the infamous (but widely read) London Sun. "It's yet another blow for boxing fans; the paying public is being shortchanged due to a current TV bidding war," reads the article by the un-bylined author.
Bob Arum and his comrades at ESPN are facing a lot of damage control. We'll give them a booster shot by saying that Tom Schwarz, a 24-year-old German who customarily carries 240 pounds on a six-foot-five-and-a-half frame, isn't too shabby.
Here's the negatives; let's get them out of the way.
Although undefeated in 24 fights with 16 knockouts, Schwarz has defeated no one of note. The folks at BoxRec are so unimpressed with his strength of schedule that they rate him 41st among heavyweights which, for reference purposes, is 35 slots below Anthony Joshua's next opponent Jarrell Miller and 31 places below Deontay Wilder's next opponent, Dominic Breazeale.
Schwarz has had the home field advantage in most of his fights. He's fought only twice outside Germany and he didn't venture very far. Six of his fights, including his match with Kristijan Krstacic earlier this month, were in Magdeburg, his hometown.
But there are some plusses that a PR man can seize upon. Although records in professional boxing are notoriously deceiving, it seems relevant that Schwarz's last six opponents are a combined 84-5-1. He hasn't fought a real tomato can since October of 2014 when he met Tomas Mrazek, a fellow whose current record shows only 10 wins in 86 fights.
Schwarz's fight with Krstacic can be found on YouTube. One can't learn much from it as Krystacic, a 38-year-old Croatian, was outweighed by 31 pounds, but one could see that Schwarz has good fundamentals. He landed some good body shots in the opening round and then clubbed his man into submission in the next stanza, scoring three knockdowns.
German heavyweights, in the main, have performed poorly on American soil although it's worth noting that many ringsiders thought Axel Schulz deserved the nod when he fought George Foreman at the MGM Grand in April of 1995. Foreman won a majority decision and then relinquished his IBF belt rather than give Schulz a rematch.
If Tom Schwarz is looking for inspiration, he should summon the 1936 ghost of Max Schmeling who was a big underdog when he knocked out the seemingly indestructible Joe Louis. That was a non-title fight, by the way, as will be true of Schwarz's fight with Tyson Fury unless one of the four major sanctioning bodies creates a hole for it by declaring their title vacant. And as for that possibility, don't bet against it.
Check out more boxing news on video at The Boxing Channel
To comment on this story in The Fight Forum CLICK HERE
A Night of Upsets on the Golden Boy Card in Hollywood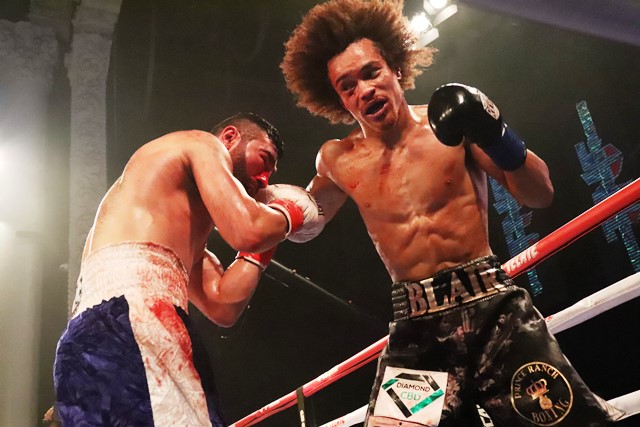 HOLLYWOOD-A night of upsets awaited those driving to Hollywood in the angry storm on Thursday night. No one survived unscathed in the film and music capital of the world.
Mercito Gesta (32-3-2) tasted defeat against Juan Antonio Rodriguez (30-7, 26 KOs) by technical knockout in their lightweight clash that was the main event at the Avalon Theater. The likeable Filipino southpaw was world ranked in the top position by one organization.
Few expected Rodriguez to battle Gesta on even terms, especially with his multiple losses, but those who had seen him perform before knew he could punch and knew he could take a punch.
It was a battle of chins and a battle between southpaws.
Rodriguez absorbed heavy blows from Gesta and at times seemed ready to surrender. But somehow he would return fire and the heavy blows continued to rain from both lefthanders.
Gesta had the speed advantage but was unable to use it effectively. For eight rounds the two blasted each other with impunity but never reckless.
Finally, in the ninth round, as Gesta decided to hit and move, Rodriguez timed one of the blows coming in and delivered an overhand left cross that staggered the former world title challenger. Rodriguez immediately sensed the moment was ripe and unloaded strategic blows on Gesta who was out-punched 20 to 2 in the last 15 seconds. Referee Zachary Young stopped the fight at 2:55 of the ninth round.
A shaky Gesta walked back to his corner.
"He was there all the time so I went to the body," said Rodriguez. "He just stopped punching."
The classy Gesta was generous even in defeat.
"It was a good fight," said Gesta who is trained by Freddie Roach. "The guy was tough. He fought hard. No excuses from me…I'm a fighter, and I love challenges."
Undefeated Welterweights
Las Vegas fighter Blair Cobb (10-0-1, 6 KOs) won the battle of undefeated welterweights by unanimous decision after eight bloody rounds with local hero Ferdinand Kerobyan (11-1, 6 KOs). The win gave Cobb (pictured) the Junior NABA title.
Kerobyan, a North Hollywood native, brought hundreds of fans to the historic Avalon Theater and cheers went up when he first arrived to the boxing ring.
Cobb, who fights out of Las Vegas but is originally from Philadelphia, arrived with his small contingent including former world champion Clarence "Bones" Adams in his corner and used his reach and speed to deliver some heavy blows early in the fight. During one of the exchanges in the first round a gash emerged above the right eye of Kerobyan. From that point on it was an uphill battle for the Armenian-American fighter. But he never quit.
After eight back and forth rounds the judges scored the fight 77-75 twice and 79-73 for Cobb.
"I give him a lot of credit for hanging in there. He was very tough, but I showed I was the superior fighter," said Cobb. "He was a phenomenal fighter. I expected the fight to be easy."
Featherweights
A featherweight clash between Manuel "Tito" Avila (23-1-1) and Mexico's Jose Gonzalez (23-7-1) ended in a split draw after eight rounds of clinching. It was Northern California's Avila's second fight since losing to Jojo Diaz last year in Las Vegas. The bullish rushes by Gonzalez especially with his head seemed to bother Avila. After eight rounds all three judges saw it differently 77-75 for Avila, 77-75 for Gonzalez and 76-76 a split draw.
Other Bouts
You can never tell by someone's physique who's going to win. Muscular heavyweight James "The Beast" Wilson (7-0-1, 6 KOs) met blown up doughboy Miguel Cubos (13-20-1, 10 KOs) in what looked to be a mismatch. Even to Wilson it must have seem like easy pickings, but when he unloaded his barrage of heavy blows and could not land a damaging blow in the first round it became apparent the flabby Mexican foe from San Luis Potosi could apparently box. And he did it very well.
Wilson was determined to get the knockout especially after Cubos began taunting him with raised arms after landing his own blows. But it became apparent it was not going to happen and Wilson's corner must have warned him not to blow his gas tank. From the third round on it was a strategic battle of wits and big blows that missed. And each time Cubos would raise his both arms a la Manny Pacquiao. The crowd cheered every time.
After six back and forth rounds of action from the two physically different heavyweights the judges scored it a majority draw with tallies of 58-56 for Wilson and two others 57-57 even.
Super lightweight David Mijares (7-0, 3 KOs) won by unanimous decision over Puerto Rico's Antonio Sanchez (6-6-2, 3 KOs) after six rounds. Mijares was the more technically adept fighter and used his southpaw stance effectively against Sanchez. The Puerto Rican fighter had his moments especially with the right cross down the pipe. Neither fighter was ever hurt and Mijares won by scores 60-54 three times.
Oscar Acevedo (5-0) defeated tough Daniel Bastien (6-6-2) by decision after four rounds in a lightweight contest. Acevedo used his jabs and sharp combinations to keep the always aggressive Bastien from over running him. Both traded evenly especially in the last two rounds with Acevedo losing ground to Bastien. But not enough to convince the judges. The scores were 40-38, and 39-37 twice for Acevedo.
In a fight featuring a huge height disparity Chicago's Chris Ousley (10-0, 9 KOs) took care of business against the much smaller Jorge Munguia(13-15, 5 KOs) in the first round by knockout in a super middleweight match. The first stiff jab by Ousley rocked Munguia who tried to hide behind a peek-a-boo defense to no avail. Ousley tore that defense apart with ease. A three-punch combination capped by a right uppercut sent the Honduran fighter to one knee. He beat the count but was battered by Ousley until referee Zachary Young ended it at 1:54 of the first round.
Photo credit: Alonzo Coston
Check out more boxing news on video at The Boxing Channel
To comment on this story in The Fight Forum CLICK HERE