Tyson Fury Must Hope to Avoid Same Pitfalls That Bedeviled His Namesake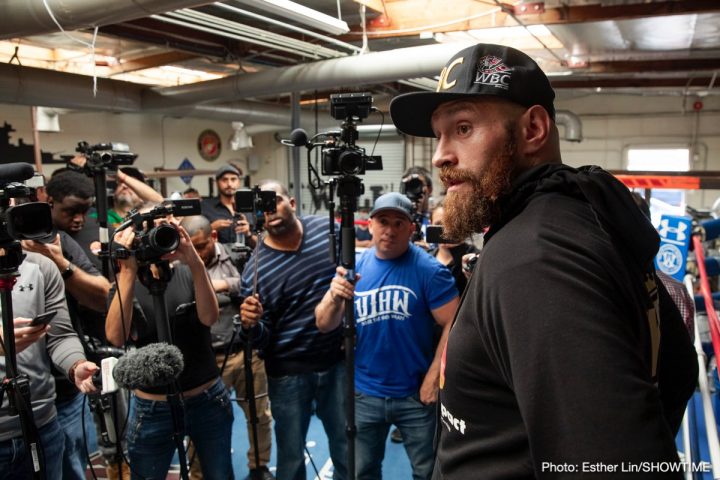 It is eerily prophetic that when former boxer John Fury's tiny son came into the world on Aug. 12, 1988, in Manchester, England, three months prematurely and weighing just one pound, the father nonetheless determined that he should be named Tyson Luke Fury, after then-heavyweight champion Mike Tyson.
The baby, who was hardly assured of surviving an expectedly difficult infancy, not only made it to adulthood, he sprouted into a veritable giant of a man at 6-foot-9 and 260-plus pounds. Even more stunning is the fact that Tyson "The Gypsy King" Fury became, like his famous namesake, heavyweight champion of the world, completing a circle of improbability the odds of which had to be Powerball Lottery-winning long.
His immense size alone separates Tyson Fury from that other Tyson, a much more compact fighter who topped out at 5-foot-10 and was at his best at an optimum fighting weight of 217 or so pounds. In terms of their boxing styles, the two Tysons are just as dissimilar, the hulking Fury a dancing bear of a man with decent but not particularly devastating punching power, in stark contrast to the magnificently muscled "Iron Mike," who in his prime was arguably the hardest hitter in the history of the heavyweight division.
But it is other, less laudatory links between the two Tysons that have raised questions about whether the now-30-year-old Fury (27-0, 19 KOs) can survive a potential crisis of another sort when he challenges WBC heavyweight titlist Deontay Wilder (40-0, 39 KOs) in the Showtime Pay Per View main event Saturday night at the Staples Center in Los Angeles. Like that other Tyson, whose spectacular rise to the top of his profession was derailed by a host of physical, emotional, legal and societal issues, the comebacking Briton of Irish descent must demonstrate – if he can – that he has moved past the litany of problems that took down Mike Tyson, the youngest heavyweight champion ever at 20, well before the onetime Brooklyn bad boy's mesmerizing promise should have reached its expiration date. Just as the baby Fury had a premature beginning, so too did the mid-30s Mike Tyson have a premature and disappointing ending to a career that was as spectacular in its flameout as was his too-brief reign as a regal successor to the legendary likes of Joe Louis and Muhammad Ali.
As of now, Mike Tyson, now 52, is not among the celebrities who have confirmed they will be at the Staples Center to witness what many are calling the most important heavyweight matchup since Lennox Lewis knocked out, yes, a severely diminished Tyson in eight one-sided rounds on June 8, 2002, in Memphis.
Tyson lost two of his final three bouts, shocking stoppages at the hands of Danny Williams and Kevin McBride, after the last vestiges of his former aura of invincibility were smashed to smithereens by Lewis. Quitting on his stool before the start of the seventh round against the relatively pedestrian McBride on June 8, 2005, Tyson wearily said, "I don't have the stomach for this. I don't have that ferocity. I'm not an animal anymore."
An acknowledgment of depleted commitment to a sport that demands total dedication was particularly noteworthy coming as it did from Tyson, the snarling beast of yore who, before his watershed, one-round destruction of Michael Spinks on June 27, 1988, in Atlantic City had boasted, "I'll break Spinks. I'll break them all. When I fight someone, I want to break his will. I want to take his manhood. I want to rip out his heart and show it to him."
Such pronouncements of savage, violent domination are more common to knockout artist Wilder, too long and lean to be a physical prototype to Tyson, than to Fury, but the expressions of supreme confidence are more or less the same. Fury has had only two fights over the last three years, a fourth-round stoppage of the relatively unknown and much smaller Sefer Sefari on June 9 of this year and a 10-round decision over the somewhat more formidable Francesco Pianeta on Aug. 18, but to hear him tell it he is as good if not better than he was in his career-defining victory, a unanimous-decision dethronement of long-reigning champion Wladimir Klitschko on Nov. 28, 2015.
"I will stand and prove what I'm going to do to this idiot (Wilder)," Fury said at the London stop of a three-city, two-country media tour to hype the event. "I will punch his face right in for him. Not a problem. Seven days a week and twice on Sunday. If we fought 30 times, I'd win 30 times. That's how confident I am of beating Deontay Wilder."
And this, in New York: "He's a big swinger. OK, he's knocked a few bums out. He's had 40 fights and 35 of them have been against total tomato cans who can't fight back. If he thinks he can land one of those big swinging windmills on my chin, he should think again. After he feels a bit of power and a few stiff jabs in the face, his ass is going to fall out. Around (rounds) eight, nine, 10, welcome to my world. How am I going to let this little, skinny spaghetti hoot beat me?"
There are those who are convinced that Fury's impressive mobility for such a large man, coupled with the height and heft that has enabled him to wear down opponents by putting his weight on them in strength-sapping clinches, will enable him to flummox the favored Wilder, as he had Klitschko. After that fight in Dusseldorf, Germany, future Hall of Famer Klitschko – who landed just 52 of 231 punches, a puny average of 4.3 per round (and an incredibly low 1.5 power shots), was almost sheepish in saying that "I couldn't find the right distance to land those shots. Tyson was quick with his hands and his body movement and his head movement. I couldn't land the right punches."
But instead of capitalizing on his sudden notoriety and acclaim, Fury appeared to have a mental meltdown that very publicly dragged on for over two years. Not only did he go on an epic cocaine binge and ballooned to nearly 400 pounds ("I got fat as a pig," he admitted), but he rattled off a series of politically incorrect statements that smacked of sexism ("I believe a woman's best place is in the kitchen and on her back"), LGBT bias ("It's like you're a freak of nature if you're normal") and anti-Semitism ("I won't be brainwashed by all the Zionist, Jewish people who own all the banks, all the papers, all the TV stations").
All those missteps were reminiscent of the Mike Tyson who, after having amassed the kind of fortune and fame most fighters can only dream of, lost everything, or close to it, in a downward spiral of self-destruction. That Tyson did two prison stretches, one for rape, consumed copious amounts of cocaine and alcohol, and gorged his way to nearly 300 pounds, which is as unsightly on a 5-foot-10 guy as 400 pounds are on a 6-9 guy. He was fined and suspended by various commissions and sanctioning bodies, and left without a title after the second of his two heavyweight championship reigns ended on an 11th-round stoppage by Evander Holyfield on Nov. 9, 1996. The Mike Tyson of our memories was terrific for a time, but not as terrific as he could have been, and maybe should have been.
It remains to be seen if a victorious Wilder, as a heavyweight with aspirations of greatness, is a reasonable replication of the vintage Tyson – or of Holyfield or Lewis, for that matter – but it's highly likely that Fury can at least temporarily reclaim much of what he frittered away should he pull off the upset against the Tuscaloosa, Ala., resident with the crushing overhand right that thus far has paid such major dividends. While lost in a stupor of drugs and gluttony, he was first stripped of his IBF title for agreeing to a rematch with Klitschko instead of facing IBF mandatory challenger Vyacheslav Glazkov. A bit further down the line he twice tested positive for cocaine, leading to a pair of postponements for the second Klitscho fight that never came off, resulting in his voluntary relinquishment of his WBA, WBO and IBO titles before those organizations could also strip him. His long period of inactivity also led to his being stripped of his lineal and The Ring magazine championships.
To his credit, Fury has sought and received treatment, as did Mike Tyson, from mental health professionals who understand that the line separating preening egomaniacs and manic depressives is thin and easily crossed, depending on circumstances. Although they come from decidedly different worlds, the prejudices and rejection both men faced while growing up shaped them in ways that no amount of success inside the ropes could permanently alter.
For Mike Tyson, much of who he was, is and forever shall be is the result of his upbringing in the blighted Brownsville section of Brooklyn, N.Y., where the poor black child with the lisp found himself an object of derision, finding a measure of solace only in his membership with a street gang, the Jolly Stompers, that hewed to the proposition that if its members couldn't afford to get what they wanted, it was better to take it by force than to do without. It was a lifestyle that frequently landed Tyson in juvenile hall until boxing offered him a reprieve that never fully removed him from his roots.
Fury's Jolly Stompers equivalent is his heritage as an Irish Traveller, some 40,000 nomadic people in the United Kingdom and Ireland who never stay long in any one place, moving about as tightly knit caravan communities. But wherever they go, the Travellers are apt to find hostility and hatred. Even after his defeat of Klitschko, Fury was reminded of the taint he presumably bears and might never be able to completely erase. Denied service at a UK restaurant for himself, wife Paris and their three children, Fury complained that "I'm the heavyweight champion of the world and I've been told, `Sorry, mate, you can't come in. No Travellers allowed."
Whether Mike Tyson is in the Staples Center audience on Saturday night remains to be seen, but he has weighed in on the bout and seemingly is leaning toward the "Gypsy King."
"Although Wilder's punch is strong, nothing can compare to the mental strength Fury has shown both in and out of the ring," Tyson said. "It'll be a close call, but I think Fury's got a true fighting chance."
Check out more boxing news on video at The Boxing Channel
Allen (KO 3) and Chisora (UD 10) Victorious in Heavyweight Action in London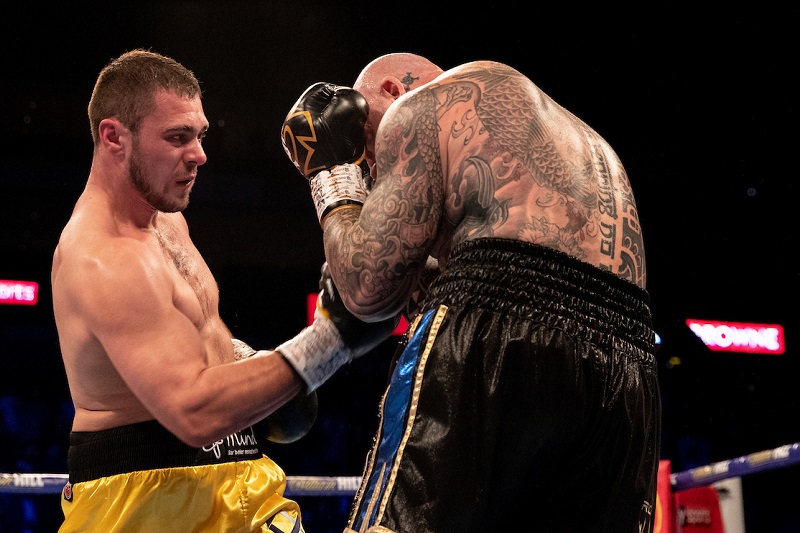 A pair of heavyweight battles topped the card at London's 02 Arena. Both favorites won, but neither bout played out as expected.
Fan favorite David Allen, a 27-year-old Yorkshireman, continued his ascent from the lower depths of the boxing firmament with a one-punch knockout of Australia's  heavily-tattooed Lucas Browne. Allen caved in Browne with a body punch in the third round that brought a sudden end to a bout that the Aussie appeared to be winning.
Browne, who turned 40 this month, made history when he became the first Australian to win a world heavyweight title (WBA version) when he scored a 10th round stoppage of Ruslan Chagaev in Russia. But, in hindsight, that win was a fluke. A gassed-out Chagaev was widely ahead on the cards when his roof fell in. Browne's tenure was brief. He was stripped of the belt after testing positive for clenbuterol.
Allen, nicknamed the White Rhino, has now won four straight beginning with an upset of previously undefeated Nick Webb. His reputation is that of a common brawler, a fighter willing to take two punches to land one, but, regardless, he positioned himself for a nice payday or two going forward. Browne lost his second straight after opening his career 28-0.
The maddeningly inconsistent Dereck Chisora, who engaged in two barnburners with Dillian Whyte, snoozed his way to a 10-round unanimous decision over milquetoast Senad Gashi. The 35-year-old Chisora, a Zinbabwe-born Londoner, improved to 30-9 but did nothing to improve his stock. The well-traveled Gashi, born in Kosovo and now residing in Spain, declined to 17-3 while acquiring the patina of a trial horse.
Other Bouts
Welterweight Josh Kelly, a 2016 Olympian, won a lopsided 10-round decision over stubborn Przemysla Runowski. Kelly (9-0, 6 KOs) had Runowski on the canvas in rounds two, nine, and 10, but the previously undefeated Pole (now 17-1, 3 KOs) stayed the course. Kelly appeared to hurt his hand early in the fight. That may knock him off the Joshua-TBA card on June 1 at Madison Square Garden.
Joe Cordina, a Welshman, now holds the British and Commonwealth lightweight titles after scoring a 6th round stoppage of Yorkshireman Andy Townend (22-5). Cordina started slowly but gradually picked up the pace and scored three knockdowns before the referee waived it off. A 2016 Olympian, Cordina (9-0, 7 KOs) was a heavy favorite despite a dearth of pro experience.
Conor Benn the 22-year-old son of Nigel Benn, was extended the distance for the third time in his last four fights but had little difficulty advancing his record to 14-0 (9) at the expense of Josef Zahradnik (10-3) of the Czech Republic. The referee awarded Benn every round in this 8-round welterweight affair.
Middleweight Nikita Ababiy, a hot prospect with a big upside, was extended into the second round for the first time in his young pro career but eliminated Dmitri Faltin after only 26 seconds of round two. A 20-year-old Brooklynite of Russian extraction, nicknamed White Chocolate, Ababiy (4-0) excelled in all manner of combat sports as teenager. In the ring he doesn't pussyfoot around. He won his pro debut in 28 seconds. Faltin, a 37-year-old Finn, fell to 2-4-1.
John Harding Jr., a 34-year-old middleweight, improved to 7-0-1 with a one-sided 6-round decision over Miroslav Juna (1-2). A protégé of Dillian Whyte, Harding started his pro career late after serving several stints in prison.
Cruiserweight Sam Hyde (14-1-1, 7 KOs) rebounded from his first defeat in fine fashion, blowing out Slovakia's Josef Jurko (5-2) in the opening round.
Super bantamweight Sam Cox (4-0) won a 4-round decision over Bulgaria's Georgi Georgiev.
In a woman's fight, British bantamweight Shannon Courtenay (2-0) outpointed Bulgaria's Roz Mari Silyanova (1-5-1). The ref gave Courtenay all four rounds.
Check out more boxing news on video at The Boxing Channel
To comment on this article in The Fight Forum CLICK HERE
BWAA Writing Awards Announced: The Sweet Science Earns Multiple Citations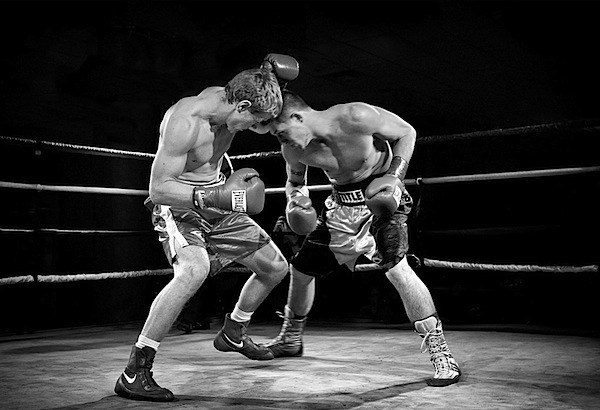 The Boxing Writers Association of America has announced their annual Bernie Awards which recognize excellence in boxing journalism. Five stories that ran on this web site earned commendations.
TSS editor-in-chief Arne K. Lang copped first place in the category "Boxing Feature Under 1,500 Words." Springs Toledo and Thomas Hauser earned third place ribbons, Toledo in the category "Best Column" and Hauser in "Boxing Investigative Reporting," a category in which he has excelled. In addition, TSS New England correspondent Jeffrey Freeman and Sean Nam earned Honorable Mentions, Freeman in "Boxing Feature Under 1,500 Words" and Nam for an investigative reporting piece.
Four TSS correspondents – Toledo, Hauser, Kelsey McCarson, and Nam – were honored for stories that appeared on other web sites.
Springs Toledo, who has had the most abundant haul of BWAA writing awards since 2010 was omnipresent once again, earning five citations overall including a first place finish for "Boxing Feature Over 1,500 Words." The multi-decorated Thomas Hauser also achieved a first place finish, this in the category "Boxing News Story." Kelsey McCarson tied for first in "Boxing Column" and Sean Nam came in third in "Boxing Feature Under 1500 Words."
What follows is the full press release authored by Awards Chairman BERNARD FERNANDEZ. A TSS mainstay, Fernandez is a former five-term president of the Boxing Writers Association of America.
PRESS RELEASE: Toledo, Kriegel, Boxing News Top BWAA Writing Contest
Springs Toledo and Mark Kriegel scored highest among individual entrants, while Boxing News/BoxingNewsOnline.com topped the overall sweepstakes in the 18th annual Boxing Writers Association of America writing contest. Those who placed in the contest, which drew a record 147 submissions from a record 49 media representatives who cover the sport, will be recognized at the 94th annual BWAA Awards Ceremony, to be held May 31 at the Copacabana in New York City.
 Toledo, a Boston native and frequent honoree in the BWAA writing contest, led all entrants with 14 points on a scoring system of five points for a first place, three for second, two for third and one for an honorable mention. In the blind judging, in which all bylines and other identifying marks were removed beforehand before being forwarded to a distinguished panel of sports journalists and academics, Toledo took a first in Feature (Over 1,500 words), seconds in Investigative Reporting and a tie for Feature (Under 1,500 Words), a tie for third in Event Coverage and an honorable mention in Column. He spread the wealth around, too, with submissions for Boxing News, thesweetscience.com and City Journal.
 Kriegel, who took first places in both Feature categories in the 2017 contest, was again a major factor in multiple categories, totaling 12 points. He took first place in Investigative Reporting, seconds in Feature (Under 1,500 Words) and Feature (Over 1,500 Words) and an HM in Column, all for ESPN.com.
Other first places went to Arne K. Lang, editor of thesweetscience.com in Feature (Under 1,500 Words); Paul Wheeler of Boxing News in Event Coverage and Kelsey McCarson of NYFights.com (tie) in Column.
Boxing News and BoxingNewsOnline.com, based in the United Kingdom, stormed the BWAA contest like the Beatles coming to America in 1964, totaling 27 points on two firsts, three seconds, a third and five HMs. ESPN.com was next with 16 points, followed by thesweetscience.com and BoxingScene.com with 11 apiece.
 The entire list of placing entrants:
2018 BERNIE WINNERS
BOXING EVENT COVERAGE
First Place
PAUL WHEELER, "Win-Win for Usyk and Bellew," Boxing News, November 11, 2018
Second Place
MATTHEW AGUILAR, "Vargas, Dulorme Draw is WBC Silver Welterweight," The Associated Press, October 7, 2018
Third Place (Tie)
LANCE PUGMIRE, "Wilder – Fury Embodied the Greatness of Heavyweight Boxing of Yesteryear," Los Angeles Times, December 2, 2018,
SPRINGS TOLEDO, "Art and Heroism in a Corrupted Sport," thesweetscience.com, December 3, 2018
Honorable Mention: Tris Dixon, BoxingScene.com; Lee Groves,CompuBoxTV.com; Gordon Marino, TheDailyBeast.com; Kieran Mulvaney, InsideHBOBoxing.com; Cliff Rold, BoxingScene.com; Don Stradley, Ringside Seat; Chris Walker, BoxingNewsOnline.net.
BOXING COLUMN
First Place (Tie)
THOMAS GERBASI, "Beyond the Ring, The Next Fight," BoxingScene.com, December 26, 2018
KELSEY McCARSON, "Tyson Fury, Mental Health and Vunerability," NYFights.com, June 8, 2018
Second Place (Tie)
DON STRADLEY, "Goodbye to All That," donstradley.blogspot.com, December 29, 2018
ELLIOT WORSELL, "Joe Fournier is the 11th Best Light-Heavyweight in the World – Apparently," Boxing News, March 29, 2018
Third  Place
GREG BISHOP, "In Search of a Happy Ending to Boxing Career, Manny Pacquiao is Following a Familiar, Sad Trajectory Instead," Sports Illustrated, January 12, 2018
Honorable Mention: Tris Dixon, Boxingscene.com; Mark Kriegel, ESPN.com; Kieran Mulvaney, Boxing News; Springs Toledo, Boxing News
BOXING NEWS STORY
First Place
THOMAS HAUSER, "Curtis Harper Goes Viral," The Sporting News, August 29, 2018
Second Place
NORM FRAUENHEIM, "Bob Arum on the Passing of 'The Boxing Senator' John McCain: 'He Was a Great American,'" RingTV.net, August 25, 2018
Third Place (Tie)
DON STRADLEY, "DeMarco is In!," donstradley.blogspot.com; December 31, 2018
LEE GROVES, "Farewell to a Boxing Lifer, Don Chargin, the Last Gentleman Promoter," CompuBoxTV.com, September 29, 2018
Honorable Mention: Lance Pugmire, Los Angeles Times; Dan Rafael, ESPN.com.
BOXING FEATURE (Under 1,500 words)
First Place
ARNE K. LANG, "Christmas Day in Germany with Sugar Ray Robinson," thesweetscience.com, December 24, 2018
Second Place (Tie)
JOHN DENNEN, "Thank God I'm Not a World Champion," Boxing News, September 16, 20128
MARK KRIEGEL, "The Old Man and the Kid: Alex Saucedo Fighting for a Title and His Mentor's Legacy," ESPN.com, November 13, 2018
CLIFF ROLD, "Golovkin, Hopkins, Monzon: The Record at Middleweight," BoxingScene.com, May 2, 2018
SPRINGS TOLEDO, "The Quiet Man," Boxing News, October 25, 2018
Third Place
SEAN NAM, "Eleider Alvarez Stuns Sergey Kovalev," UCNLive.com, August 10, 2018
Honorable Mention: Ron Borges, Boxing Monthly; Thomas Gerbasi, The Ring; David Weinberg, Press of Atlantic City; Jeffrey Freeman, thesweetscience.com; Lance Pugmire, Los Angeles Times
BOXING FEATURE (Over 1,500 words)
First Place
SPRINGS TOLEDO, "The Historian: Mike Tyson and the Ghost of Boxing's Past," Boxing News, March 22, 2018
Second Place
MARK KRIEGEL, "The Education of Terence Crawford," ESPN.com, June 9, 2018
Third Place
TRIS DIXON, "A Warrior's Brain," Boxing News, August 2, 2018
Honorable Mention: Matthew Aguilar, El Paso Times; Thomas Gerbasi, Boxing News; Lance Pugmire, Los Angeles Times; Dan Rafael, ESPN.com; Don Stradley, The Ring
BOXING INVESTIGATIVE REPORTING
First Place
MARK KRIEGEL, "A Unique Family Dynamic and the Shooting Nobody Wants to Talk About: The Jose Benavidez Jr. Story," ESPN.com, October 13, 2018
Second Place
SPRINGS TOLEDO, "191 Edgecombe," City Journal, Summer 2018
Third Place
THOMAS HAUSER, "1,501 Tests, One Reported Positive? What's Going on with the USADA and Boxing?," thesweetscience.com, September 7, 2018 and December 7, 2018
Honorable Mention: Ron Borges, Boxing Monthly; Matt Christie, Boxing News; Jack Hirsch, Boxing News; Sean Nam, thesweetscience.com; Adam Pollack,Boxinginsider.com; Lance Pugmire, Los Angeles Times; Joseph Santoliquito, PremierBoxingChampions.com
 News Outlets
Boxing News/BoxingNewsOnline.net (27 points) 
ESPN.com (16)
THESWEETSCIENCE.COM(11); BoxingScene.com (11)
NYFights.com (7)
Los Angeles Times (6)
The Ring/RingTV.com (5)
The Sporting News (5)
The Associated Press (3); CompuBox.com (3); City Journal (3); DonStradley.blogspot.com (3)
Sports Illustrated (2); Boxing Monthly (2); UCNLLive.com (2)
El Paso Times (1); PremierBoxingChampions.com (1); Ringside Seat (1); The Press of Atlantic City (1); Boxinginsider.com (1); The Daily Beast (1); InsideHBOBoxing.com (1); BoxingNews (1)
2018 BERNIES JUDGES:
MICHAEL HIRSLEY, Chicago Tribune (Retired)
FRANZ LIDZ, Sports Illustrated (Retired)
THOMAS MACDONALD, Novelist and Boston College Writing Instructor
JOHN SCHULIAN, Chicago Sun-Times (Retired)
JOHN WHISLER, San Antonio Express News (Retired)
Check out more boxing news on video at The Boxing Channel
To comment on this story on The Fight Forum CLICK HERE
Erick Ituarte Wins Featherweight Battle in Ontario, CA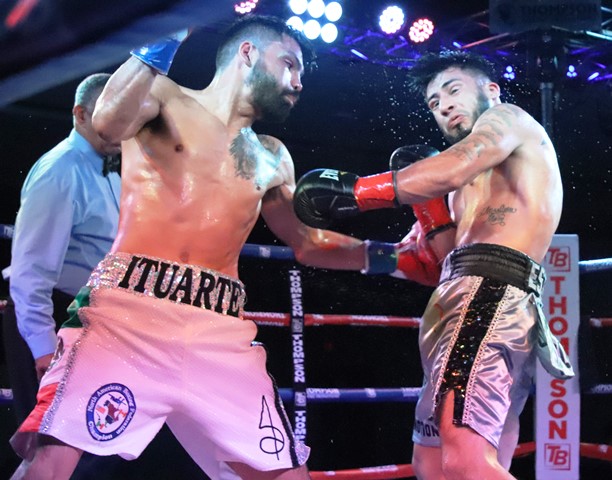 ONTARIO, CA.-Looking to make waves as a featherweight, Santa Ana's Erick Ituarte battled Tijuana's Jose Estrella evenly before pulling away in the last third of the fight to win by decision on Friday.
Ituarte (21-1-1, 3 KOs) lacks the big punch but has the long arms that enabled him to keep distance and out-point the shorter Estrella (20-16-1, 14 KOs) in their 10-round bout at the Doubletree Hotel. Thompson Boxing Promotions staged the fight card that saw about 500 fans at the event.
Estrella used his guts and guile to keep the fight close in the first four rounds of the fight. Back and forth they went trading momentum, Ituarte was effective attacking the body and Estrella was good at connecting with big blows to the head.
It wasn't until the seventh round that Ituarte began utilizing his reach and mobility to make Estrella chase and run into pot shots. From that moment on Ituarte was in control of the fight. No knockdowns were scored with one judge scoring it 98-92 and two others 100-89 for Ituarte. Each round was very competitive.
Other bouts
Corona's Luis Lopez (5-0, 3 KOs) powered his way to victory by unanimous decision over Mexico's Daniel Perales (10-17-2, 5 KOs) after four rounds in a welterweight match. Though Lopez won every round with sharper punches he was never able to hurt the super tough Mexican fighter from Monterrey. He recognized that early and used crisp combinations to win each round though Perales had his moments too. All three judges scored it 40-36 for Lopez.
A heavyweight fight saw local fighter Oscar Torres (5-0, 2 KOs) run his record to five wins with a fourth round stoppage over Houston's Thomas Hawkins (4-4) after a barrage of punches. The fight was stopped twice in the fourth round and a final barrage of blows prompted referee Tony Crebs to halt the fight at 1:20 of the round. Torres fights out of Rialto, California and is trained by Henry Ramirez.
Lightweights Davonte McCowen (0-0-1) and Chris Crowley (0-0-1) fought to a majority draw after four torrid rounds. Both were making their pro debuts. McCowen started faster and slowed in the last two rounds that allowed Britain's Crowley to mount a rally in the last two rounds. It was a spirited fight between the two newcomers.
Photo credit: Alonzo Coston
Check out more boxing news on video at The Boxing Channel
To comment on this story in The Fight Forum CLICK HERE