Likely No Landslides in IBHOF Class of 2019, But Honorees Happy to Make the Cut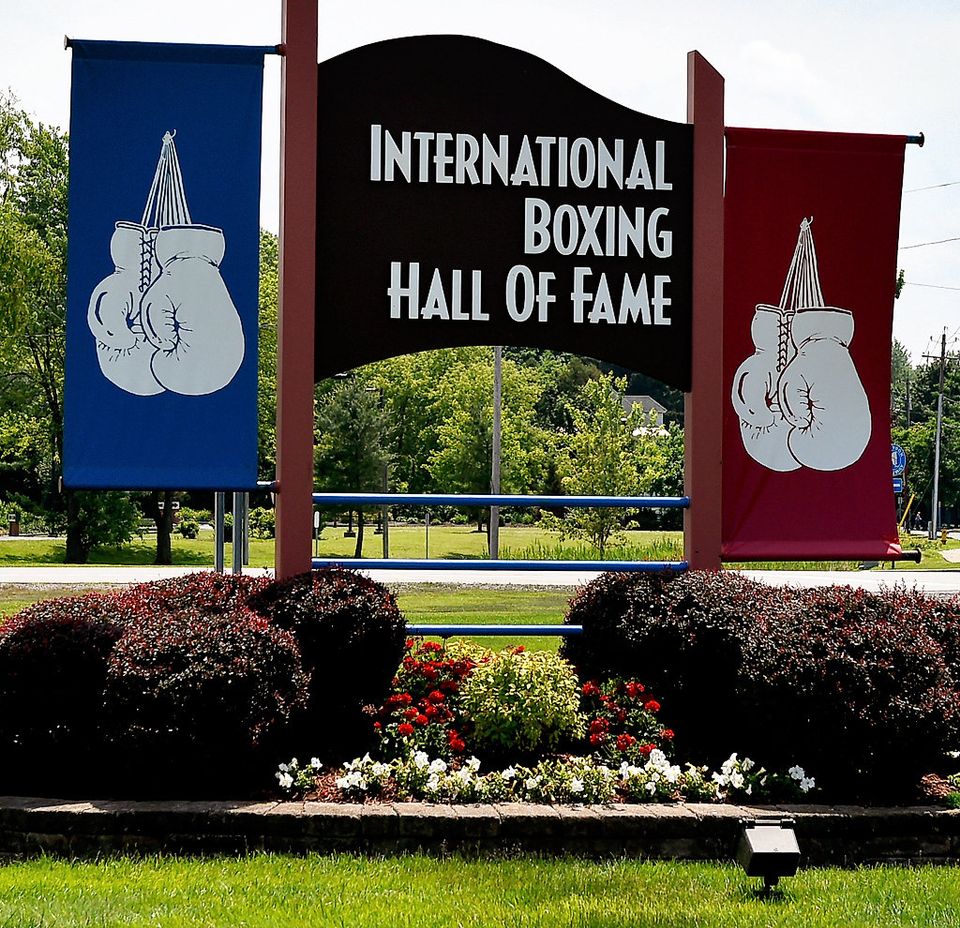 Halls of Fame ostensibly exist to honor exceptionally high achievers, but some would say their secondary purpose is to at least occasionally generate debate. And the International Boxing Hall of Fame in Canastota, N.Y., is no different.
Given the IBHOF's requirement that three new inductees be enshrined every year, there is no guarantee that there are three annual slam-dunks in the most prestigious Modern category for fighters. Sometimes the field of candidates in a given year appears to offer no sure things. When someone who has been on the ballot for several years finally makes the cut, and even if a certain candidate's election – the voting pool consists of full members of the Boxing Writers Association of America and an international panel of boxing historians — comes in his first year of eligibility (fighters must not have fought for five years to be considered for induction), there is apt to be some grumbling from naysayers who say a hall of fame should be the exclusive preserve of the indisputably great, not merely the very good. Among the Hall of Famers whose election met with some resistance are Ingemar Johansson, Arturo Gatti and Ray Mancini.
But as is the case with politics and, really, boxing matches that go to the scorecards as well, it really doesn't matter if a winner is swept into office by landslide or the thinnest of margins. The difference with halls of fame is that once you're in, you're in forever; you can't ever be voted out of office. How close, or not, the latest tabulations were in a crowded field of 32 Modern candidates was not revealed as the IBHOF, as is its policy, does not announce vote totals.
So all hail to the Class of 2019, the headliners, announced on Dec. 5, being Donald Curry, Julian Jackson and James "Buddy" McGirt. All of the former world champions had been bypassed in previous elections, snubs that didn't seem to matter to any of them once they received word of their call to the hall from the IBHOF's executive director, Ed Brophy. Sometimes all good things really do come to those who wait.
In addition to the Big Three, other members of the nine-member induction class include Old-Timer Tony DeMarco, Non-Participants Don Elbaum, Lee Samuels and Guy Jutras, and Observers Teddy Atlas and the late Mario Rivera Martino.
The 57-year-old Curry (34-6, 25 KOs), a native of Fort Worth, Texas, known as "The Lone Star Cobra," arguably is the most talented of the Modern inductees. At his peak, he was a classic boxer-puncher who did not so much defeat his opponents as to overwhelm them with a compendium of ring skills that seemingly preordained him for all-time great status. The puzzle pieces fit perfectly for Curry on Dec. 6, 1985, in a welterweight unification showdown with Milton McCrory at the Las Vegas Hilton. Before Curry, who went in as the WBA and IBF champion, snatched McCrory's WBC title in two one-sided rounds, HBO analyst Larry Merchant foresaw the outcome. "McCrory is regarded as a good fighter," Merchant opined. "Curry is regarded as possibly a great fighter."
Curry was then 24, and there were those who were ready to proclaim him as the finest pound-for-pound fighter on the planet. He was 26-0-1 with 21 KOs at the time, and while he did not know it then, his prime would soon be shortened by the kind of arrogance that comes when a fighter – really, any inordinately gifted athlete – begins to believe in the myth of his own invincibility and thus takes shortcuts. The first crack in that glittering veneer appeared on Sept. 27, 1986, when the heavily favored Curry did not come out for the seventh round for his title defense against England's Lloyd Honeyghan.
"All I know is that he was named Honey something," Curry – who was so dismissive of the challenger that he had to lose 11 pounds in three days just to make weight — told me for a TSS story that appeared in February of this year. "I didn't really know who he was. I wasn't mentally prepared that night. If I had been, beating that Honey guy would have been no problem."
Although Curry regrouped enough to take the WBC super welterweight belt from Italy's Gianfranco Rosi, he relinquished that title on an even bigger upset than had come against Honeyghan when he traveled to France and dropped a listless unanimous decision to Rene Jacquot.
But memories of the Curry that once had been compared to the likes of Sugar Ray Leonard, Thomas Hearns and Aaron Pryor apparently were enough to convince enough IBHOF voters to finally reward him for his abbreviated prime, which was clearly Hall of Fame-worthy if lacking the sort of longevity that would have made him a no-brainer.
"All right! Now we're talking!" an ecstatic Curry said upon getting the call he had begun to think he might never receive from Brophy. "What an honor. This is the greatest day of my life. I'm overwhelmed to get the call from the Hall of Fame. It's a dream come true."
Jackson (55-6, 49 KOs) was known as "The Hawk," and the former junior middleweight and middleweight champion from the U.S. Virgin Islands, now 58, was certainly a bird of prey inside the ropes. He was a consummate knockout artist, capable of getting his man out of there with a single shot. In 2003 The Ring magazine had him at No. 25 on its list of the "100 Greatest Punchers of All time," but that formidable power came with a caveat. He was nearly as susceptible of being the starchee as the starcher, as evidenced by the fact that all six of his losses also came inside the distance.
"He's got to be one of the top 10 punchers ever, at least in his weight class," said former IBF super welterweight champ Buster Drayton, who didn't make it out of the second round against Jackson in their July 30, 1988, title bout in Atlantic City, adding that Jackson's fragile chin was no secret to those bold enough to stand in there and trade haymakers with him. "I knew (he could be knocked out). He knew it, too."
"I tell you, I'm speechless," Jackson said upon being informed of that he would enshrined by the IBHOF. "This is a tremendous honor. Thank God for His grace and mercy. Wow! It's amazing! I really don't have words for this, but eventually they will come."
McGirt (73-6-1, 48), from Brentwood, N.Y., is the youngster of the group at 54, a former junior welterweight and welterweight titlist who fashioned a long and distinguished career despite being hampered by chronic shoulder injuries. After stepping away from the ring as an active fighter in 1997, he fashioned an exemplary second career as a trainer, and was the winner of the 2002 Eddie Futch Trainer of the Year Award from the Boxing Writers Association of America, primarily for his work in transforming Arturo Gatti from a one-dimensional brawler into a somewhat more well-rounded version of his former self. He also worked the corner for, among others, Vernon Forrest, Antonio Tarver and Laila Ali, and has recently taken on the assignment of preparing two-time former light heavyweight champion Sergey Kovalev for his rematch against Eleider Alvarez.
"To be honest, I can't even talk right now," McGirt said when informed of his selection by the IBHOF electorate. "This shows you're appreciated by the boxing world and that all the hard work and dedication pay off."
DeMarco (58-12-1, 33 KOs) is 86 and the former welterweight champ, a Boston resident, can be excused for believing that call from the hall would never come. Maybe that's because DeMarco, for all his successes, is best known for his two classic but losing wars with Carmen Basilio, the second of which, a 12th-round knockout in 1955, was named Fight of the Year by The Ring.
With no mortal locks slated to make first appearances on the IBHOF ballot for the Class of 2020, several holdovers whose credentials for ring immortality, or what passes for it, were vying for the three available slots that were just filled by Curry, Jackson and McGirt. Presumably at or near that magic threshold are Michael Moorer, Nigel Benn, Ivan Calderon, Vinny Pazienza, Ricky Hatton, Meldrick Taylor, Fernando Vargas, Darius Michalczewski, Sven Ottke and the late Genaro Hernandez, among others. Taylor, another special fighter who did not enjoy the benefit of longevity, might be move up in the pecking order in light of the consideration given to Curry for being truly exceptional for even a relatively short period.
But whoever does not get the nod in 2020 will face even stiffer competition in succeeding years, with gimmes like Bernard Hopkins (2021), Wladimir Klitschko, Shane Mosley, James Toney, Miguel Cotto and Juan Manuel Marquez (2022) and Roy Jones Jr., Floyd Mayweather Jr. and Andre Ward (2023) all edging closer to their first appearances on the ballot.
While the Moderns always command the most attention during the four-day induction festivities, other honorees will be celebrated for their long and meritorious service to the sport. It immensely pleases me to be a friend of three of them.
Atlas, 62, will be inducted in the Observer category, a nod toward his long tenure as an analyst for ESPN and for NBC, for whom he worked four Olympiads . But Atlas, whose distinctive Staten Island inflections are as familiar to viewers as the late Howard Cosell's nasal pomposity, always thought he would be recognized for his work as a trainer, which he considers his first calling. He added another world champion to the list of upper-tier fighters he has worked with when, on Dec. 1 in Quebec City, he was the chief second for Ukraine's Oleksandr Gvozdyk, who dethroned WBC titlist Adonis Stevenson on an 11th-round knockout.
"I thought I'd go in as a trainer, to be honest," Atlas said. "But that wasn't my decision. I'm grateful and appreciative to be considered either way by the Hall of Fame. It's definitely a privilege."
As a trainer, Atlas has always been a my-way-or-the-highway kind of guy and he has walked away from more than a few successful fighters who did not hew to his dictums. One was Michael Moorer, whom an exasperated Atlas did not feel was giving his all in what proved to be his majority-decision victory over WBA/IBF heavyweight champion Evander Holyfield on April 22, 1994, in Las Vegas. After the eighth round, Atlas told Moorer, "If you don't want to do what it takes to become champion, let me go out there. We could trade places." I made him answer me. I said, `Do you want to do that?' And he said, `No, I don't.'
"The thing that bothered me is that there were times when it seemed like he was letting Evander back into the fight. That's why I stayed on him and I didn't want him to be satisfied that he was doing well." A reinvigorated Moorer won the 12th round to become the first southpaw to win a heavyweight title; had he lost that round he would have also lost a split decision.
Of Gvozdyk, with whom he was working for the first time, Atlas said, "It feels good to have another world champion. You feel like you're still able to accomplish your goals and to help somebody get to the next level. I feel like I lived up to his trust and took care of my responsibility."
Elbaum, whose age is a carefully guarded secret, is affectionately known as "The Bum" to those who know and like him. He jokes that he was the matchmaker for Cain vs. Abel, which might be a slight exaggeration. He also notes that he is the person who introduced another Don, last name King, to the fight game, something for which he is uncertain whether he should take credit or blame.
But Elbaum, who has worked the sport's trenches in nearly every capacity, including as a fill-in fighter a couple of times in his younger days, takes only credit for being involved in a fight card he promoted that took place on Oct. 1, 1965, in Johnstown, Pa., and featured aging all-time greats Sugar Ray Robinson and Willie Pep in separate bouts.
"Ray Robinson was my idol," Elbaum said. "He was the greatest fighter that ever lived, in my opinion. And he fought his last three fights for me, which is something no one can ever take away from me. I was operating out of Pittsburgh when Ray called me to come to New York. He asked me, `Don, who can you get me who you think I can beat to get another crack at a world title?' I immediately said, `Joey Archer.' He asked me if I could make that fight. I said, `Absolutely.'
I made the fight for Pittsburgh. I told him I really wanted to build it up by first putting him in Johnstown, two months before the fight in Pittsburgh and then in Steubenville, Ohio, one month before. I was promoting the Johnstown fight as the biggest event in that town since the flood, and I was getting great press. About 10 days before the fight I got a call from Willie Pep. Willie said, `Don, I need a fight. I need money desperately.' I said, `Willie, why?' And – this is one of the great lines of all time – Willie said, `Don I got five ex-wives.'
"So now I got Ray Robinson (then 45) and Willie Pep (42), two of the greatest fighters ever, on the same card. That always stuck with me."
Alas, the grand scheme hatched by Elbaum came a cropper when Robinson lost a 10-round unanimous decision to Archer on Nov. 10, 1965, and immediately retired.
Samuels, 71, came to boxing first as a sports writer, covering a couple of Muhammad Ali fights for the now-defunct Philadelphia Bulletin, which shut down in 1983. It was a relatively easy transition into the next phase of his journey, as a publicist for Bob Arum's Top Rank, a three-decade association that is ongoing. Samuels is known for his unflappability and inexhaustible patience under pressurized conditions that would drive many sane individuals bonkers. He insists that he has never met anyone in the sport he hasn't liked, which for most people would be a stretch but fits the personable nature of someone widely considered to be the nicest person not only in boxing, but maybe anywhere.
"It's great to be reunited with Irving Rudd," Samuels said of his becoming a Hall of Famer alongside his legendary mentor at Top Rank, who was 82 when he passed away on June 2, 2000. And it was Rudd, Samuels said, who taught him the value of getting writers what they need, which is a little one-on-one face time with fighters whenever possible instead of group scrums where  harried reporters shout questions in the hope of getting a usable quote or two.
"When you work for a newspaper, you have to get a story that day," Samuels said. "I remember getting off a plane (when he was at The Bulletin) and telling Irving, "I have to speak to Ali. I'm on deadline.' He said, `He wants to speak to you, too. He knows you're here. Oh, and Angelo (Dundee) is with him.'"
Jutras is a Canadian judge and referee who has been involved in boxing for 30 years, and the late Rivera Martino, a Puerto Rican journalist who covered boxing for a number of publications, including The Ring, for nearly 60 years, beginning in the 1940s.
Bernard Fernandez is the retired boxing writer for the Philadelphia Daily News. He is a five-term former president of the Boxing Writers Association of America, an inductee into the Pennsylvania, New Jersey and Atlantic City Boxing Halls of Fame and the recipient of the Nat Fleischer Award for Excellence in Boxing Journalism and the Barney Nagler Award for Long and Meritorious Service to Boxing.
Check out more boxing news on video at The Boxing Channel
To comment on this article at The Fight Forum, CLICK HERE
Three Punch Combo: An Early Look at Inoue-Donaire and Under the Radar Fights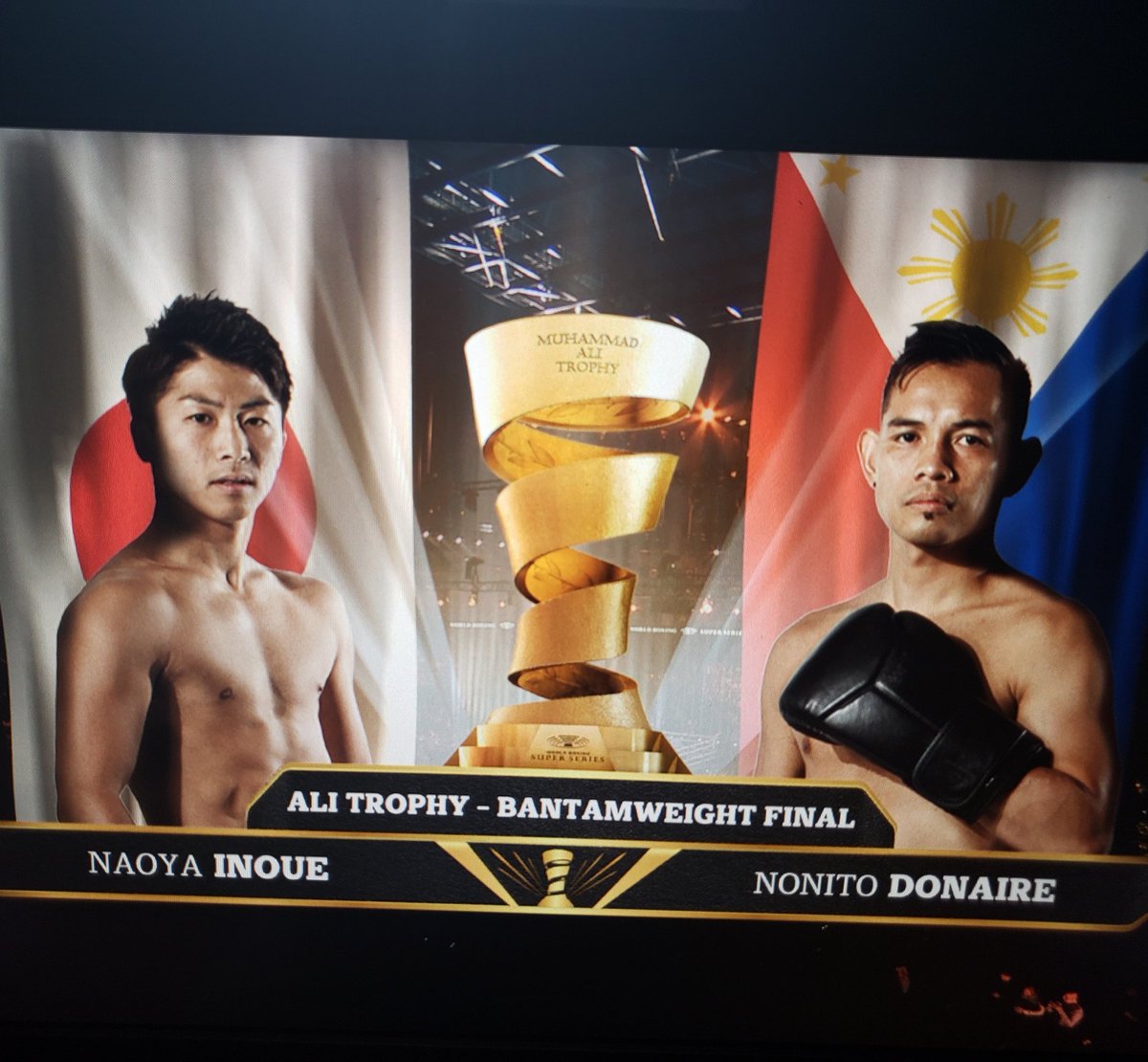 THREE PUNCH COMBO — This past Saturday, Naoya Inoue (18-0, 16 KO's) punched his ticket to the bantamweight final in the World Boxing Super Series when he impressively knocked out Emmanuel Rodriguez in the second round of their scheduled 12-round fight. The win sets up a showdown with veteran Nonito Donaire (40-5, 26 KO's) who punched his ticket to the final with an impressive knockout of Stephon Young last month.
As expected, Inoue has opened as a monstrous favorite in the betting markets. While this suggests a one-sided wipeout, I have some other thoughts.
Inoue is pound for pound one of, if not the, hardest puncher in the sport today and put that power on full display in his destruction of Rodriguez in the semi-finals. But having enormous power does not make him indestructible.
In watching that fight against Rodriguez, there were clearly flaws on display on the defensive side of Inoue's game. For one, Inoue does not move his head at all and as such can be hit. Rodriguez landed several clean punches on Inoue in the first round. And Inoue frequently keeps his hands low looking to bait opponents into throwing to set up counter opportunities. It has worked so far but could be something he pays for down the road.
Donaire is a smart and skilled fighter and though he is 36, his last few fights have shown that he still has plenty left in the tank. Moreover, he possesses one thunderous left hook and has always been at his best when fighting below 122. He has all the capabilities to expose Inoue's flaws and a left hook that can alter the course of a fight as we have seen him doing plenty of times in the past.
Unlike a lot of people, I do not consider Donaire to be another layup for Inoue. There is real danger in this fight for Inoue if he does not make changes to his game. Donaire has starched big punching rising stars before and I would not discount his chances to expose the significant defensive flaws in Inoue's game.
 Under The Radar Fight
Boxing returns to ESPN on Saturday with a card from Kissimmee, FL headlined by 130- pound champion Masayuki Ito (25-1-1, 13 KO's) who is making the second defense of his title against former US Olympian Jamel Herring (19-2, 10 KO's). While I think this should be an excellent fight, the co-feature, which is flying deep under the radar, should be even better.
In this fight, former two division world champion Jose Pedraza (25-2, 12 KO's) makes his return to the ring after losing his lightweight title to Vasiliy Lomachenko in December to face Antonio Lozada (40-2-1, 34 KO's). Given their respective styles, this fight at the very least will provide plenty of sustained action.
Appropriately nicknamed "The Sniper," Pedraza at his best is a precision puncher. A boxer-puncher by trade, he uses subtle movement inside the ring to create angles that are used to land sharp power shots on his opposition. He is also a very good inside fighter and will shift around on the inside to once again set up just the right angle to land his power shots with maximum efficiency. But despite being a good inside fighter, Pedraza has a tendency to stay in the pocket a bit too long which leaves him open to getting hit.
Lozada is best known for his upset TKO win against one-time blue-chip prospect Felix Verdejo in March of 2018. However, he failed to build momentum off that win and is coming off a lackluster split draw his last time out to 12-7-1 journeyman Hector Ruben Ambriz Suarez.
Lozada certainly does not have the technical proficiency of Pedraza. He is slow and plodding. But what he does bring to the table is relentless pressure combined with a high volume of punches. He will press forward, recklessly at times, winging punches consistently hoping to wear down his opposition through attrition.  As such, he tends to get hit a lot and can be involved in shootouts.
Cleary, Pedraza is the more skilled fighter, but given Lozada's all-offensive mindset as well as Pedraza's willingness to stay in the pocket, the leather is all but guaranteed to be flying from the opening bell. Neither are big punchers either so I suspect we see a fight that goes rounds providing many exciting exchanges and one that could certainly steal the show on Saturday.
Another Under The Radar Fight
Also on Saturday, Fox Sports 1 will televise a card from Biloxi, MS featuring a crossroads fight between former 154-pound champion Austin Trout (31-5, 17 KO's) and former US Olympian Terrell Gausha (21-1, 10 KO's). But it is another 154-pound fight on the undercard that is receiving almost no coverage that I want to highlight. It pits Chordale Booker (14-0, 7 KO's) against Wale Omotoso (27-3, 21 KO's).
Booker turned pro in 2016 after a successful amateur career and has kept up a fairly busy schedule. He is coming off a dominating 8-round unanimous decision over veteran Juan De Angel in January and now is taking a big jump up in his caliber of opposition in facing Omotoso.
Booker, a southpaw, likes to press forward behind a stinging right jab. He possesses elite level hand speed and likes to use that jab to set up quick power punching combinations. Booker is also an excellent counter puncher and possesses a very potent right hook coming from that southpaw stance. He will often hold his left low to bait his opponents into opening up to set up counter opportunities. However, he has also been clipped by his share of left hooks fighting in this manner and this is something he will need to tighten up against Omotoso. So just how will Booker respond to Omotoso's pressure and heavy handed body attack? Depending on the answer, we will either see Booker step up to the next level or get exposed. And that's what makes this fight so intriguing to me
Check out more boxing news on video at The Boxing Channel
To comment on this story in The Fight Forum CLICK HERE
Serhii Bohachuk KOs Mexico's Freddy Hernandez in Hollywood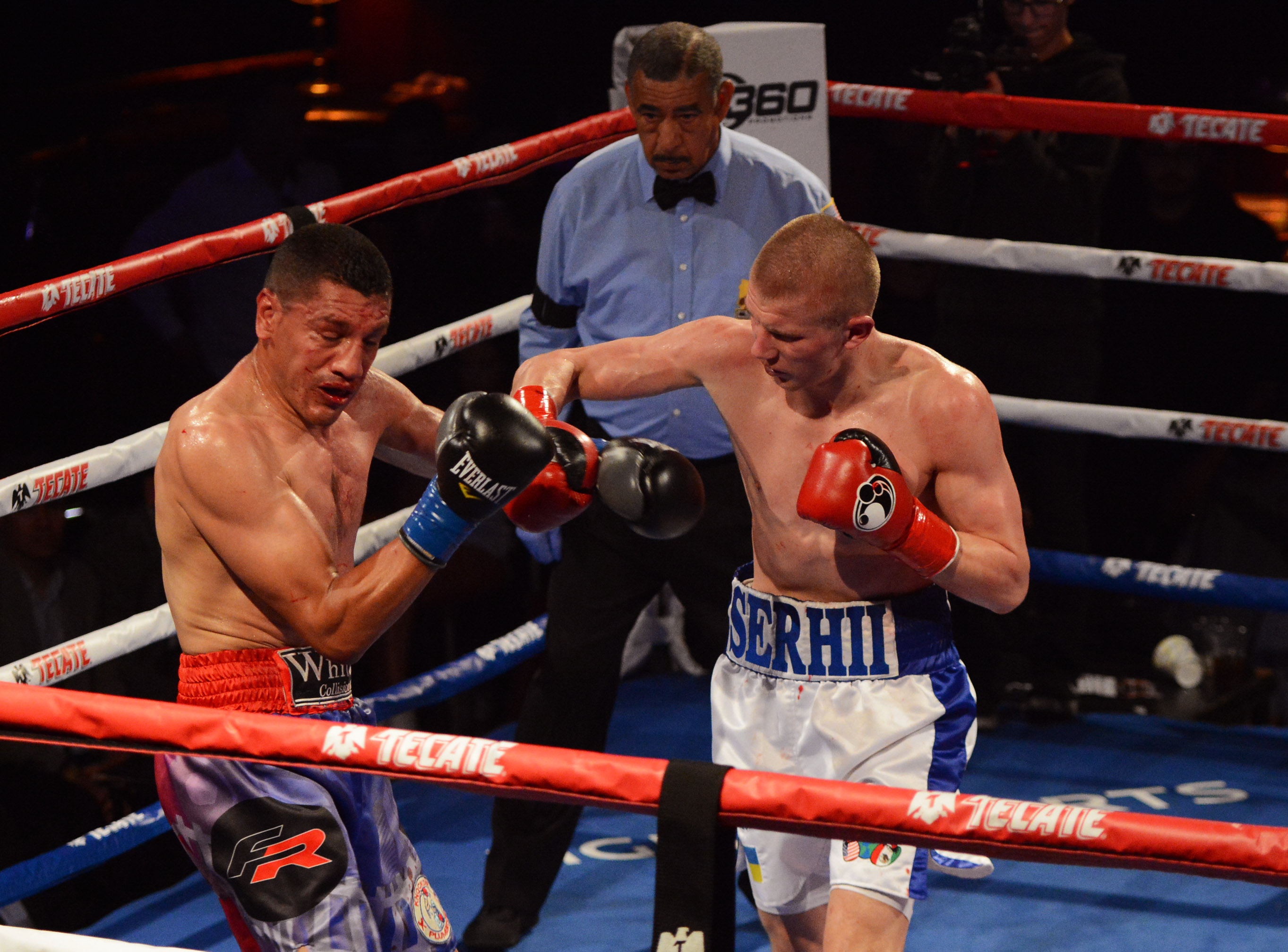 HOLLYWOOD, Calif.-Super welterweight prospect Serhii Bohachuk got his first taste of upper tier boxing from Mexico's Freddy Hernandez and gave him his best Sunday punch to win by knockout.
Bohachuk (14-0, 14 KOs) showed the excited Hollywood crowd he's more than ready for former world title challengers like Hernandez (34-11, 22 KOs) or maybe even the current contenders with an exuberant display of pressure fighting at the Avalon Theater.
The smiling Ukrainian fighter has been steadily attracting fans to the 360 Promotions fight cards.
Trained by Abel Sanchez, the lanky and pale Bohachuk – whose nickname "El Flaco" fits perfectly – always moved forward against Mexico City's Hernandez who has made a reputation of being crafty despite the strength of competition. With Bohachuk constantly applying pressure the Mexican fighter used the first round to touch and feel his way around the Ukrainian bomber.
In the second round a sharp counter right floored Hernandez who quickly got up and resumed the contest. It looked like the end was near until Hernandez caught Bohachuk with a solid right cross. It was a warning shot well heeded by Bohachuk.
Both fighters exchanged vigorously in the third round with the Ukrainian fighter's youth a definite advantage. Hernandez was able to display his fighting tools more effectively in the third round but could it be enough?
Bohachuk was clearly the heavier-handed fighter but was finding it difficult to connect solidly against the Mexican veteran. But in the fifth round Bohachuk lowered his gun sights and targeted the body with a left hook that dropped Hernandez.  The fight was stopped by referee Wayne Hedgepeth at 1:40 of the fifth round.
Other Bouts
A battle of super featherweights saw Rialto, California's Adrian Corona (5-0) rally from behind to defeat Florida's Canton Miller (3-3-1) by split decision after six rounds.
Corona had problems with Miller's speed in the first two rounds and was unable to track the moving fighter's direction. But in the third round Corona began to apply more aggressive measures against Miller and was especially effective with lead rights. The momentum changed quickly.
Miller switched from orthodox to southpaw and it served to pause Corona's momentum, but he seldom scored with solid blows. Though Miller landed quick soft blows, Corona was landing with strong shots and convinced two of the three judges that he was the winner by 58-56 twice. A third judge saw Miller the victor by the same score 58-56.
"It's not my job to judge the judges," said Miller. "It's my job to just fight."
Corona was happy with the victory.
"I could have put the pressure on him a little more," said Corona. "It was a very technical fight and he put on a great fight."
Other Bouts
George Navarro (6-0-1, 2 KOs) knocked out Cesar Sustaita (3-5) with a perfect overhand right that disabled the senses and forced referee Raul Caiz Jr. to halt the fight at 1:37 of the first round.
"I worked hard to prepare for this fight," said Navarro.
A super bantamweight clash saw Humberto Rubalcava (10-1, 7 KOs) knock out Daniel Constantino (3-3-2) and win by knockout after a flurry of a dozen blows went unanswered. Referee Angel Mendez stopped the battering at 1:39 of the first round.
Photo credit: Al Applerose
Check out more boxing news on video at The Boxing Channel
To comment on this story in The Fight Forum CLICK HERE
Sugar Ray Leonard and Marvin Hagler Stood Tall in an Era of Epic Battles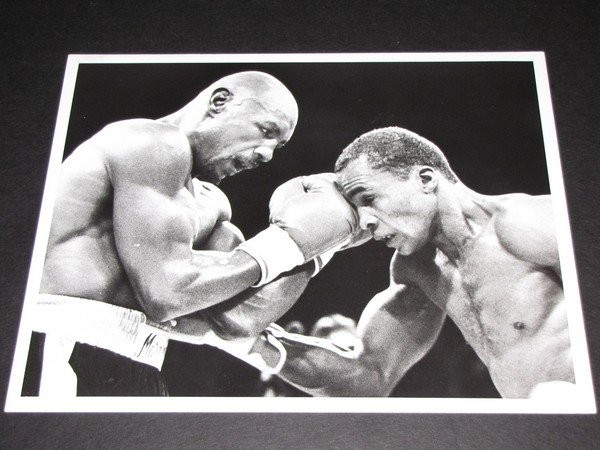 It's been said — and it applies to all sports, but especially boxing — that in order to be great, one has to face great competition.
During the 1980s, in what many consider boxing's "Golden Age," several epic battles were waged between Roberto Duran, Thomas Hearns, Marvin Hagler and Ray Leonard, which helped drive the sport's appeal after Muhammad Ali's retirement in 1981.
All four are enshrined in the International Boxing Hall of Fame, but Leonard and Hagler stood the tallest.
With each celebrating birthdays this month – Leonard turned 63 on Friday, May 17,   and Hagler turns 65 on Thursday, May 23 –  this seems like the perfect opportunity to reflect on their legendary careers.
Leonard, who would become a world champion in five weight classes, was a nonpareil ring craftsman who could box with absolute ease and also unload the heavy artillery.
Some said slick marketing after claiming the Gold Medal at the 1976 Montreal Olympics as a junior welterweight helped Leonard vault to fame. Sugar Ray had the look, personality and charm to attract a large fan base, but did he have what it takes to hold his own against the top welterweights?
The answer was yes, but it wasn't until Leonard stopped Wilfred Benitez in the 15th round for the World Boxing Council and lineal welterweight title in November 1979 at Caesars Palace, that he would be given his due.
Entering the fight, Benitez had a 38-0-1 record and was a two-division world champion.
In the opening frame, Leonard drilled Benitez with a left hook after tossing a jab and a right cross.
Two rounds later, Leonard knocked Benitez on his backside with a rattling jab. "I wasn't aware I was in a championship fight early because I hit him so easy," said Leonard, who was named Fighter of the Year by The Ring magazine in 1979 and 1981, but then he adjusted to my style. It was like looking in a mirror."
Leonard knocked Benitez down with a thunderous left in the 15th, but couldn't put him away until the referee called it off with six seconds left.
"No one, I mean no one, can make me miss punches like that," said Leonard of Benitez, who is also in the IBHOF.
In June 1980, Leonard, who went 36-3-1 with 25 knockouts, returned to the Canadian city where he first gained fame and faced the indestructible Duran, the former lightweight king, who came into the bout with a 71-1 record and was regarded as the best pound-for-pound boxer in the world.
The fight drew international attention and although Leonard lost, his showing removed any and all doubts about his greatness.
With 46,317 inside Olympic Stadium, Duran dictated the early pace by cutting off the ring and not allowing Leonard to extend his arms.
For four rounds, Duran didn't give Leonard enough room to move and unload any significant blows.
Leonard finally came alive in the fifth and unleashed numerous combinations. The remainder of the fight saw Leonard score, but it was Duran who looked stronger and sharper.
William Nack, writing in Sports Illustrated described it thusly: "It was, from almost the opening salvo, a fight that belonged to Duran. The Panamanian seized the evening and gave it what shape and momentum it had. He took control, attacking and driving Leonard against the ropes, bulling him back, hitting him with lefts and rights to the body as he maneuvered the champion against the ropes from corner to corner. Always moving forward, he mauled and wrestled Leonard, scoring inside with hooks and rights."
After 15 rounds, Duran won a very narrow but unanimous decision, handing Leonard his first setback after opening his pro career with 27 wins.
Angelo Dundee, Leonard's trainer, had advised him to stick and move against Duran who wanted to brawl. But Duran was able to get inside Leonard's head and Leonard, wanting to prove his toughness, did not follow Dundee's advice.
Leonard realized his error and vowed not to make the same mistake if he met Duran again. And they did meet again, five months later, before a national television audience with 25,038 looking on at the New Orleans Superdome.
This time Leonard would fight his fight and not Duran's. "The whole fight, I was moving, I was moving," he said, "and voom! I snapped his head back with a jab. Voom! I snapped it back again. He tried to get me against the ropes, I'd pivot, spin off and pow! Come under with a punch."
Late in a memorable seventh round, Leonard wound up his right hand as if to throw a bolo punch but instead tagged Duran's face with a sharp jab.
Leonard then taunted him, sticking out his chin and daring Duran to hit it. The taunting continued as Leonard moved around the ring.
It was clear Leonard was ahead on all three scorecards, but it was still close, and Duran, though not hurt, seemed to lack real punching power and probably felt humiliated.
Toward the end of the eighth round, Duran turned his back to Leonard and uttered the now famous line "no mas" (no more).
It was over with 16 seconds left as Leonard regained the WBC and lineal welterweight belts.
Duran said he quit because of stomach cramps after overeating following the weigh-in. To which Leonard replied, "I made him quit…to make Roberto Duran quit was better than knocking him out."
Leonard then agreed to meet Hearns in order to unify the welterweight title. They met on September 16, 1981, a sweltering night in Las Vegas, at an outdoor arena at Caesars Palace before 23,618. Hearns walked into the ring with a 32-0 mark and 30 knockouts, while Leonard had a 31-1 record with 22 knockouts.
In the early stages, Leonard stayed away and boxed while Hearns tried to find a hole in Leonard's defense.
After five rounds, Leonard was trailing on the cards and had a swelling under his left eye. In the sixth, Leonard found his range and landed a left hook to the face and he was again the aggressor in the seventh.
Hearns decided to box and piled up points while Leonard wanted to unload the heavy guns.
Hearns dominated rounds nine through 12. But just before round 13, Dundee said to Leonard, "you're blowing it, son! You're blowing it!"
For the 13th, Leonard, who now had a badly swollen left eye, caught Hearns with a stunning right and then landed a clean combination as Hearns was on wobbly legs.
Hearns went through the ropes, but it wasn't ruled a knockdown by referee Davey Pearl because it wasn't a punch that sent him there.
Late in the same round, Hearns was decked after Leonard connected with multiple blows.
In round 14, with Hearns leading on all three cards but clearly out of gas, Leonard seized control with a sizzling overhand right and a combination that saw Pearl call a stop to the action.
A third round TKO over Bruce Finch in February 1982 with the WBA, WBC, and lineal welterweight titles on the table, was followed by a scheduled fight with Roger Stafford.
While in training, Leonard had problems with his vision. He was diagnosed with a detached retina which was repaired in May of that year.
In November 1982, at a charity event in Maryland, Leonard announced he was retiring from boxing.
Twenty-seven months passed before Leonard returned to the ring in May 1984, when he faced Kevin Howard in a non-title match.
In the fourth round, Leonard was knocked down for the first time in his career. He went on to win, TKOing Howard in the ninth, but then shocked everyone at the post-fight press conference by announcing he was calling it a career once again.
Leonard sat ringside for the Hagler-John Mugabi fight in Las Vegas in March 1986 and was surprised to see Mugabi actually outbox Hagler for much of the contest before succumbing in the 11th round.
Leonard had seen enough and announced two months later he was coming back and that his next opponent would be none other than the great Hagler who would be making the 13th defense of his middleweight title.
The fight was set for April 6, 1987 at Caesars Palace. Hagler opened a 4-to-1 favorite.
Leonard won the first two rounds on all three judges' scorecards as Hagler, a natural left-hander, fought in an orthodox stance.
In the third round, Hagler switched to southpaw and fared much better, but Leonard remained in control with the help of superior hand and foot speed.
Leonard started to tire by the fifth as Hagler buckled his knees with an uppercut toward the close of the frame.
Hagler scored well in the sixth round, but Leonard also had effective moments.
Hagler did well in the seventh and eighth as he landed his jab while Leonard wasn't able to counter.
The ninth round was the most exciting with Hagler stunning Leonard with a left cross and had him pinned in the corner.
Leonard was able to escape and though each looked sharp, Hagler's punches were crisper and more resounding.
The 10th round wasn't as dramatic, but Hagler took that stanza, while Leonard boxed sharply in the 11th.
In the fight's final round, the 12th, Hagler landed a tremendous left hand that backed Leonard into the corner.
Leonard threw a flurry of punches and the round concluded with each fighter exchanging blows along the ropes.
The final CompuBox stats had Leonard landing 306 of 629 punches for 48.6 percent and Hagler connecting on 291 of 792 for 36.7 percent.
The fight was very close. Lou Filippo had it 115-113 for Hagler but was out-voted by Dave Moretti and Jose Guerra who had it for Leonard by scores of 115-113 and 118-110 respectively.
Hagler, who closed his career with a 62-3-2 mark and 52 knockouts, insisted he won the fight.
This was Hagler's final time inside the ring and he would eventually move to Italy.
Prior to his famous battle with Sugar Ray, Hagler scored two of the biggest wins of his career, scoring a unanimous decision over Roberto Duran in November 1983 and stopping Thomas Hearns in the third round in April 1985. Both bouts were at Caesars Palace.
Here is Pat Putnam's lead graph of the classic Hagler-Hearns fight as it appeared in Sports Illustrated: "There was a strong wind blowing through Las Vegas Monday night, but it could not sweep away the smell of raw violence as Marvelous Marvin Hagler and Thomas Hearns hammered at each other with a fury that spent itself only after Hearns had been saved by the protecting arms of referee Richard Steele. The fight in a ring set upon the tennis courts at Caesars Palace lasted only one second longer than eight minutes, but for those who saw it, the memory of its nonstop savagery will remain forever."
After upsetting Hagler, Leonard waited 19 months before getting back in the ring. In November 1988, he defeated WBC light heavyweight title-holder Donny Lalonde via a ninth round TKO. The WBC also sanctioned this fight for their inaugural super middleweight title.
Leonard then faced Hearns in a rematch in June 1989 at Caesars Palace and though it was ruled a draw, many at ringside thought that Hearns, who knocked Leonard down twice, deserved the decision.
Six months later, at the Mirage in Las Vegas, Leonard met Roberto Duran in a rubber match. Leonard prevailed over Duran by unanimous decision.
There would be two more fights for Leonard before he retired from boxing for good. In February 1991 at Madison Square Garden he lost a unanimous decision to Terry Norris in a clash for the WBC junior middleweight crown.
Another retirement followed, but his career wouldn't officially be over until March 1997 at Convention Hall in Atlantic City, New Jersey, when Leonard, now 40 years old, was stopped in the fifth round by Hector Camacho with a fringe middleweight title at stake.
These last two fights were aberrations compared to Leonard's glory days when he was the undisputed ruler of the welterweight division.
Few who watched Sugar Ray Leonard and Marvelous Marvin Hagler at their peaks will ever forget what they brought into the ring. No, they didn't do it alone, but it's unlikely anyone better than these two titans will appear any time soon.
Check out more boxing news on video at The Boxing Channel
To comment on this story in The Fight Forum CLICK HERE