25 Years Gone, This Old Welterweight is Still a Champion in My Eyes
I never saw my favorite fighter in action. His last professional fight took place before I was born. There are no videotapes of him boring in, springing from a crouch and landing his trademark left hook. All that remains of his boxing legacy are a few yellowed newspaper clippings, the memories of a diminishing number of elderly friends and family members and, oh, yes, a framed poster from Aug. 18, 1944, that lists his name as an undercard performer for a show headlined by the great Archie Moore. The Mongoose fought Jimmie Hayden; my favorite fighter fought Jimmy Hatmaker.
By all accounts, Bernard "Jack" Fernandez Sr. – whose nickname was conferred by someone long, long ago because his boxing style supposedly was reminiscent of Jack Dempsey's – was no one's idea of a great fighter. Boxing did not bring him wealth and fame, only a few trophies from his amateur days in New Orleans and a love of the sport he passed on to his only son. But the old clippings, and the enthusiastic recollections of those who saw him fight, are enough to make me think that he must have been entertaining to watch. The word – confirmed by the somewhat unnatural configuration of his nose and ears – is that my favorite fighter, a scrappy welterweight, always gave as good as he got. Those who knew him then enthusiastically told me of his willingness to take one – or two, or three – to connect with one of his own.
One clipping, previewing Archie Moore's 10-round main event with Amado Rodriguez in San Diego, described my favorite fighter thusly: "The opener matches Jack Fernandez, a wild-hooking slugger, against a good shock absorber, Mike Pacheco."
Another, in the New Orleans States-Item, was a personal note from Art Burke, a fellow New Orleanian who later served as the newspaper's executive sports editor, to then-sports editor Harry Martinez, who reprinted the letter in his column.
"We had a monthly `smoker' here at the gymnasium Wednesday night (which opened with the returns of the Joe Louis-Billy Conn fight) and one of our New Orleans Reservists, Jack Fernandez, fought on the eight-bout boxing program and scored the only clear-cut knockout of the night," Burke, a member of the U.S. Naval Reserves then serving in San Diego as was my father, wrote to Martinez. "You may remember this boy since he reached the semifinals of the Sugar Bowl boxing tournament in 1940. His victory was all the more thrilling by the fact that the boy he kayoed in the second round was Utah state 145-pound boxing champion for three straight years and had not been knocked out in 75 fights."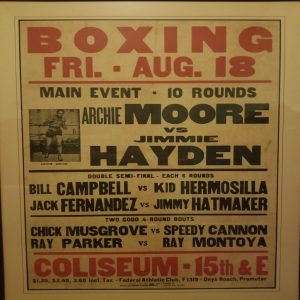 It was my dad who taught me how to defend myself – and was called to the principal's office at St. Stephen School when, as a second-grader, I dispatched a would-be bully with, you guessed it, a left hook. Obviously, the nuns there had not seen Ingrid Bergman's reel-life portrayal of Sister Benedict in The Bells of St. Mary's. The real-life Sister Marie's preferred remedy for left-hooking second-graders: detention for life, and lots of knuckle-rapping with rulers.
It was my dad who, when he wasn't pulling a night shift, sat with me and explained what was going on during telecasts of the Gillette Cavalcade of Sports. The only fifth-grader at St. Stephen who idolized Carmen Basilio as my classmates did, say, Mickey Mantle, there were many nights when I went to sleep with Don Dunphy's voice in my head.
It was my dad who took me to amateur cards at St. Mary's Italian gym, where world champions Ralph Dupas and Willie Pastrano (later trained by Angelo Dundee) first learned boxing from the venerable Whitey Esneault.
It was my dad who took me to pro shows at Municipal Auditorium to see the likes of New Orleans-born lightweight champion Joe "Old Bones" Brown and "Hammerin'" Henry Hank, a middleweight from Detroit who fought so often for promoter Louie Messina I believed he, too, was local.
It was my dad who was buttons-popping proud when I succeeded Elmer Smith on the Daily News boxing beat in October 1987.
For nearly seven years, my dad was my primary sounding board. He saw on TV most of the fights I covered and, those few he didn't, I sent tapes for his review. He'd make observations, again giving me the benefit of his wisdom and insight. We'd speak at least once a week, and the conversation often turned to boxing. It was not nearly our only common bond, but it was a shared passion.
Once, when my dad was in town for a visit, I took him to the Blue Horizon, where he was introduced to America's most knowledgable boxing crowd by ring announcer Ed Derian. I also took him to Las Vegas, for the rematch between Mike Tyson and Razor Ruddock, and to London, where his most lasting memory was not of the fight he had come to see, in which Lennox Lewis knocked out Ruddock, but of a one-hour coffee-shop sitdown with Dundee, with whom he spent more time discussing Dupas and Pastrano than Angelo's more famous pupils, Muhammad Ali and Sugar Ray Leonard.
Dad always thanked me for providing him a re-entry of sorts into a long-closed chapter of his life, but no trips I arranged to glitzy arenas could ever repay the debt I owed. It wasn't just boxing he taught me; it is said that that an honest man's pillow is his peace of mind, and my father, who retired as a much-decorated New Orleans police captain in 1972, never spent a conflicted night.
My dad passed away on March 4, 1994, after suffering a heart attack. He was 74. I flew to New Orleans and made it in time to be with him in what proved to be the final hour of his life. The fighter in him, I'm convinced, wouldn't allow him to take the 10-count until I arrived.
When I came onto this beat, I hoped that someday I would be fortunate enough to win the Nat Fleischer Memorial Award, a lifetime achievement award conferred by the Boxing Writers Association of America. I could envision my dad sitting at my table, smiling, living a championship of sorts through me.
On Friday night, I will receive the Fleischer in New York. My wife, mother and three of my four children will be there for the high point of my newspaper career.  So, too, will several of my friends.
My favorite fighter also will be there. Oh, it's not quite in the manner in which I had envisioned, but he'll be there. The empty seat at our table won't really be empty. Those who love you never really leave, and the old left hooker has never left me. Not then, not now, not ever.
Yo, Dad, we did it.
Postscript: There have been other moments in my life, and in the lives of those who were fortunate enough to know my father, for which I wish he could have been there. Although all my adult children are old enough to have known and loved him, the same can't be said of his six great-grandchildren who can't truly relate to the verbal history of our family as it pertains to a patriarch who left this world before they arrived in it. But it is not only the lives of the rich, famous or much-accomplished that deserve to be remembered and commemorated. A recent obituary in my former newspaper, the Philadelphia Daily News, paid tribute to an unsung hero who had just passed away at 76, Jim Nicholson, who for many years wrote touching, informative and surprisingly personal obituaries about regular people who at first glance might seem to have led ordinary, mundane existences. But everyone has a story to tell, Jim reasoned, and everyone has something about them that is special and worthy of recognition. Jim made an art form of obituary writing. I wish he could have authored a piece about the old left-hooker which would have allowed readers to know him as I did. Jack Fernandez might not have been a world champion boxer, but he was a world champion human being and role model. I thank TSS readers for allowing me this opportunity to let you know a little about who and what he was, and the legacy he created that I strive every day, not always successfully, to live up to.
Editor's Note: The original version of this story appeared 20 years ago this week in the April 6, 1999, editions of the Philadelphia Daily News.
Bernard Fernandez is the retired boxing writer for the Philadelphia Daily News. He is a five-term former president of the Boxing Writers Association of America, an inductee into the Pennsylvania, New Jersey and Atlantic City Boxing Halls of Fame and the recipient of the Nat Fleischer Award for Excellence in Boxing Journalism and the Barney Nagler Award for Long and Meritorious Service to Boxing.
Check out more boxing news on video at The Boxing Channel
To comment on this article in The Fight Forum CLICK HERE
Three Punch Combo: An Early Look at Inoue-Donaire and Under the Radar Fights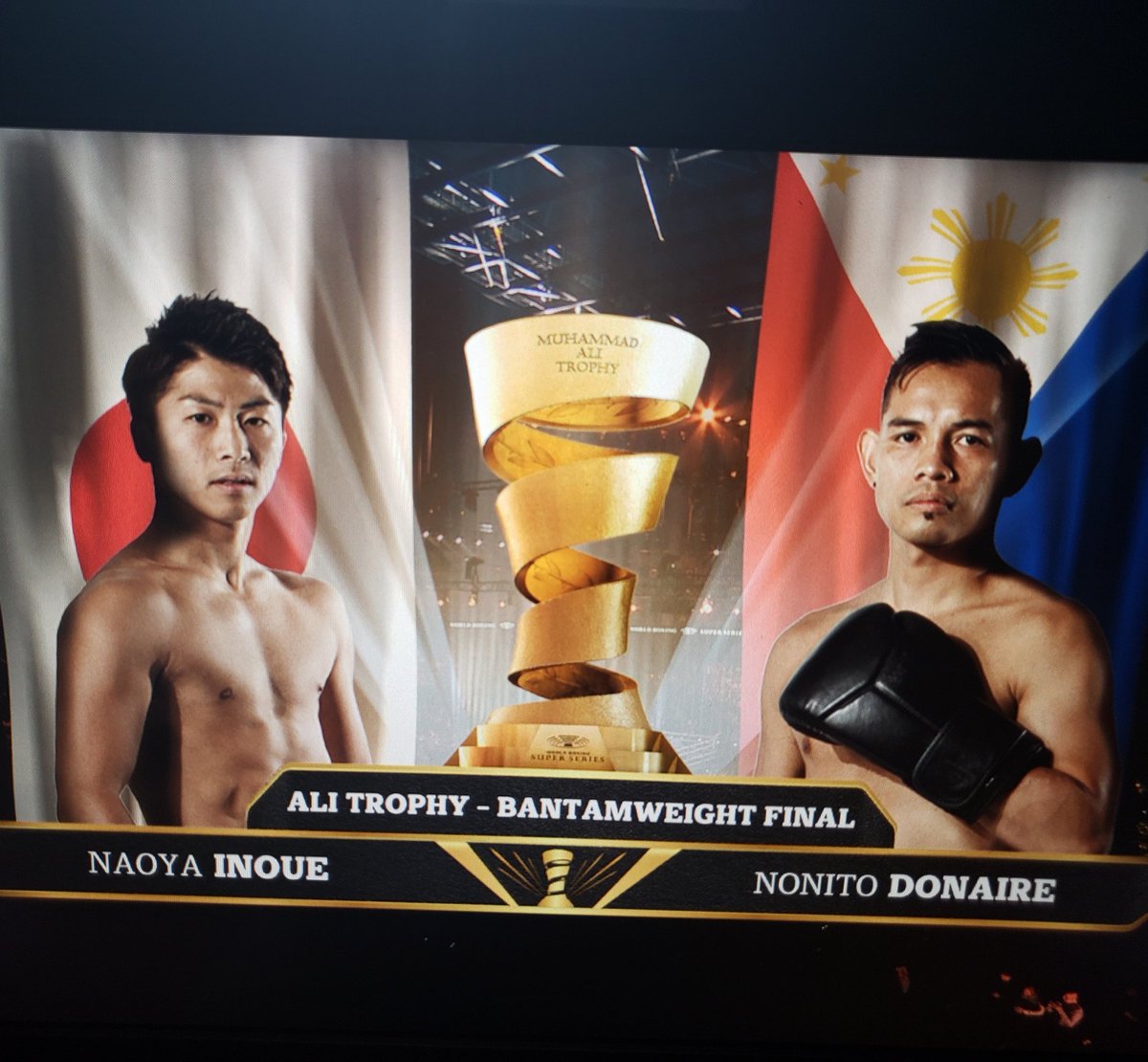 THREE PUNCH COMBO — This past Saturday, Naoya Inoue (18-0, 16 KO's) punched his ticket to the bantamweight final in the World Boxing Super Series when he impressively knocked out Emmanuel Rodriguez in the second round of their scheduled 12-round fight. The win sets up a showdown with veteran Nonito Donaire (40-5, 26 KO's) who punched his ticket to the final with an impressive knockout of Stephon Young last month.
As expected, Inoue has opened as a monstrous favorite in the betting markets. While this suggests a one-sided wipeout, I have some other thoughts.
Inoue is pound for pound one of, if not the, hardest puncher in the sport today and put that power on full display in his destruction of Rodriguez in the semi-finals. But having enormous power does not make him indestructible.
In watching that fight against Rodriguez, there were clearly flaws on display on the defensive side of Inoue's game. For one, Inoue does not move his head at all and as such can be hit. Rodriguez landed several clean punches on Inoue in the first round. And Inoue frequently keeps his hands low looking to bait opponents into throwing to set up counter opportunities. It has worked so far but could be something he pays for down the road.
Donaire is a smart and skilled fighter and though he is 36, his last few fights have shown that he still has plenty left in the tank. Moreover, he possesses one thunderous left hook and has always been at his best when fighting below 122. He has all the capabilities to expose Inoue's flaws and a left hook that can alter the course of a fight as we have seen him doing plenty of times in the past.
Unlike a lot of people, I do not consider Donaire to be another layup for Inoue. There is real danger in this fight for Inoue if he does not make changes to his game. Donaire has starched big punching rising stars before and I would not discount his chances to expose the significant defensive flaws in Inoue's game.
 Under The Radar Fight
Boxing returns to ESPN on Saturday with a card from Kissimmee, FL headlined by 130- pound champion Masayuki Ito (25-1-1, 13 KO's) who is making the second defense of his title against former US Olympian Jamel Herring (19-2, 10 KO's). While I think this should be an excellent fight, the co-feature, which is flying deep under the radar, should be even better.
In this fight, former two division world champion Jose Pedraza (25-2, 12 KO's) makes his return to the ring after losing his lightweight title to Vasiliy Lomachenko in December to face Antonio Lozada (40-2-1, 34 KO's). Given their respective styles, this fight at the very least will provide plenty of sustained action.
Appropriately nicknamed "The Sniper," Pedraza at his best is a precision puncher. A boxer-puncher by trade, he uses subtle movement inside the ring to create angles that are used to land sharp power shots on his opposition. He is also a very good inside fighter and will shift around on the inside to once again set up just the right angle to land his power shots with maximum efficiency. But despite being a good inside fighter, Pedraza has a tendency to stay in the pocket a bit too long which leaves him open to getting hit.
Lozada is best known for his upset TKO win against one-time blue-chip prospect Felix Verdejo in March of 2018. However, he failed to build momentum off that win and is coming off a lackluster split draw his last time out to 12-7-1 journeyman Hector Ruben Ambriz Suarez.
Lozada certainly does not have the technical proficiency of Pedraza. He is slow and plodding. But what he does bring to the table is relentless pressure combined with a high volume of punches. He will press forward, recklessly at times, winging punches consistently hoping to wear down his opposition through attrition.  As such, he tends to get hit a lot and can be involved in shootouts.
Cleary, Pedraza is the more skilled fighter, but given Lozada's all-offensive mindset as well as Pedraza's willingness to stay in the pocket, the leather is all but guaranteed to be flying from the opening bell. Neither are big punchers either so I suspect we see a fight that goes rounds providing many exciting exchanges and one that could certainly steal the show on Saturday.
Another Under The Radar Fight
Also on Saturday, Fox Sports 1 will televise a card from Biloxi, MS featuring a crossroads fight between former 154-pound champion Austin Trout (31-5, 17 KO's) and former US Olympian Terrell Gausha (21-1, 10 KO's). But it is another 154-pound fight on the undercard that is receiving almost no coverage that I want to highlight. It pits Chordale Booker (14-0, 7 KO's) against Wale Omotoso (27-3, 21 KO's).
Booker turned pro in 2016 after a successful amateur career and has kept up a fairly busy schedule. He is coming off a dominating 8-round unanimous decision over veteran Juan De Angel in January and now is taking a big jump up in his caliber of opposition in facing Omotoso.
Booker, a southpaw, likes to press forward behind a stinging right jab. He possesses elite level hand speed and likes to use that jab to set up quick power punching combinations. Booker is also an excellent counter puncher and possesses a very potent right hook coming from that southpaw stance. He will often hold his left low to bait his opponents into opening up to set up counter opportunities. However, he has also been clipped by his share of left hooks fighting in this manner and this is something he will need to tighten up against Omotoso. So just how will Booker respond to Omotoso's pressure and heavy handed body attack? Depending on the answer, we will either see Booker step up to the next level or get exposed. And that's what makes this fight so intriguing to me
Check out more boxing news on video at The Boxing Channel
To comment on this story in The Fight Forum CLICK HERE
Serhii Bohachuk KOs Mexico's Freddy Hernandez in Hollywood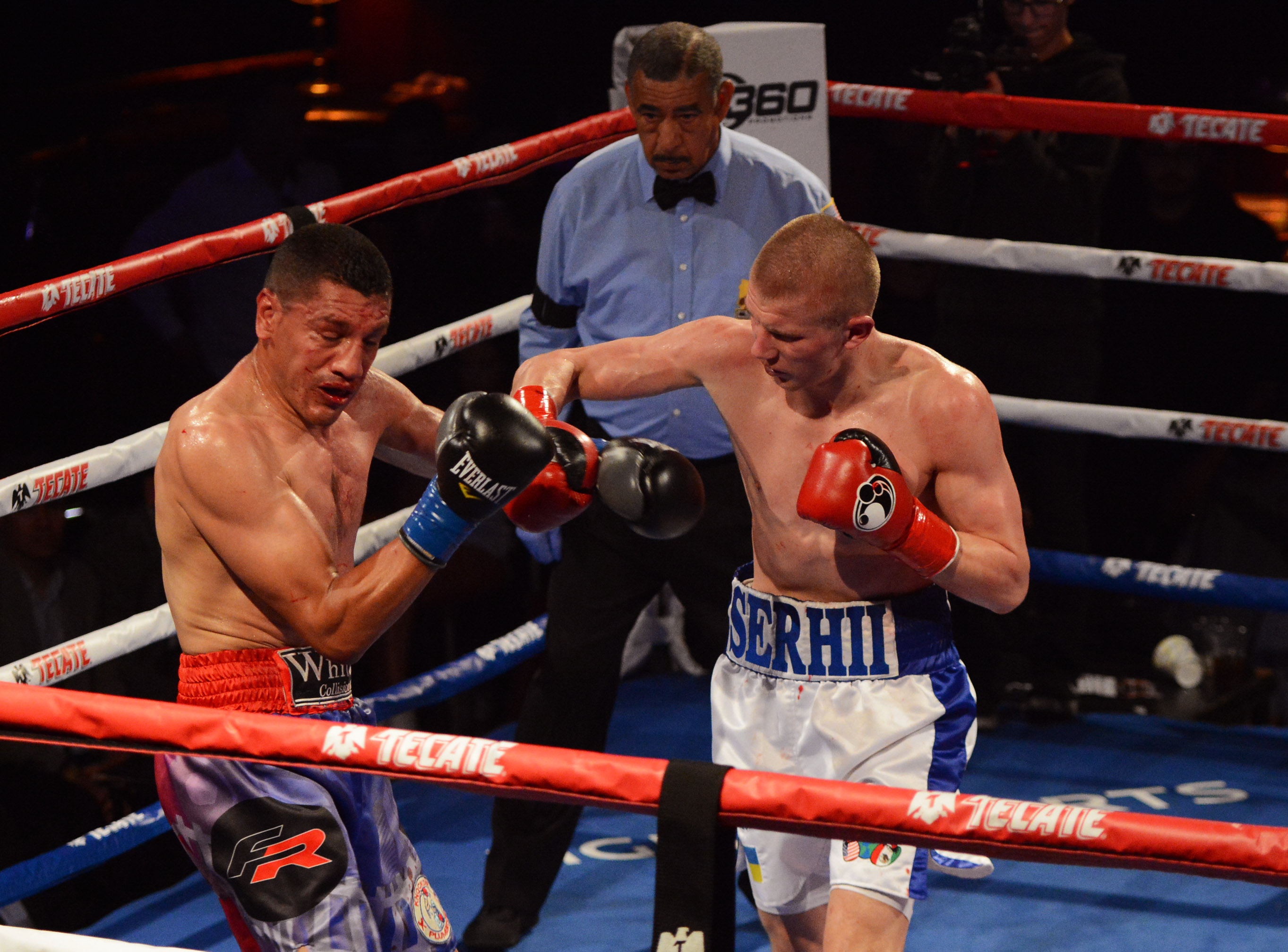 HOLLYWOOD, Calif.-Super welterweight prospect Serhii Bohachuk got his first taste of upper tier boxing from Mexico's Freddy Hernandez and gave him his best Sunday punch to win by knockout.
Bohachuk (14-0, 14 KOs) showed the excited Hollywood crowd he's more than ready for former world title challengers like Hernandez (34-11, 22 KOs) or maybe even the current contenders with an exuberant display of pressure fighting at the Avalon Theater.
The smiling Ukrainian fighter has been steadily attracting fans to the 360 Promotions fight cards.
Trained by Abel Sanchez, the lanky and pale Bohachuk – whose nickname "El Flaco" fits perfectly – always moved forward against Mexico City's Hernandez who has made a reputation of being crafty despite the strength of competition. With Bohachuk constantly applying pressure the Mexican fighter used the first round to touch and feel his way around the Ukrainian bomber.
In the second round a sharp counter right floored Hernandez who quickly got up and resumed the contest. It looked like the end was near until Hernandez caught Bohachuk with a solid right cross. It was a warning shot well heeded by Bohachuk.
Both fighters exchanged vigorously in the third round with the Ukrainian fighter's youth a definite advantage. Hernandez was able to display his fighting tools more effectively in the third round but could it be enough?
Bohachuk was clearly the heavier-handed fighter but was finding it difficult to connect solidly against the Mexican veteran. But in the fifth round Bohachuk lowered his gun sights and targeted the body with a left hook that dropped Hernandez.  The fight was stopped by referee Wayne Hedgepeth at 1:40 of the fifth round.
Other Bouts
A battle of super featherweights saw Rialto, California's Adrian Corona (5-0) rally from behind to defeat Florida's Canton Miller (3-3-1) by split decision after six rounds.
Corona had problems with Miller's speed in the first two rounds and was unable to track the moving fighter's direction. But in the third round Corona began to apply more aggressive measures against Miller and was especially effective with lead rights. The momentum changed quickly.
Miller switched from orthodox to southpaw and it served to pause Corona's momentum, but he seldom scored with solid blows. Though Miller landed quick soft blows, Corona was landing with strong shots and convinced two of the three judges that he was the winner by 58-56 twice. A third judge saw Miller the victor by the same score 58-56.
"It's not my job to judge the judges," said Miller. "It's my job to just fight."
Corona was happy with the victory.
"I could have put the pressure on him a little more," said Corona. "It was a very technical fight and he put on a great fight."
Other Bouts
George Navarro (6-0-1, 2 KOs) knocked out Cesar Sustaita (3-5) with a perfect overhand right that disabled the senses and forced referee Raul Caiz Jr. to halt the fight at 1:37 of the first round.
"I worked hard to prepare for this fight," said Navarro.
A super bantamweight clash saw Humberto Rubalcava (10-1, 7 KOs) knock out Daniel Constantino (3-3-2) and win by knockout after a flurry of a dozen blows went unanswered. Referee Angel Mendez stopped the battering at 1:39 of the first round.
Photo credit: Al Applerose
Check out more boxing news on video at The Boxing Channel
To comment on this story in The Fight Forum CLICK HERE
Sugar Ray Leonard and Marvin Hagler Stood Tall in an Era of Epic Battles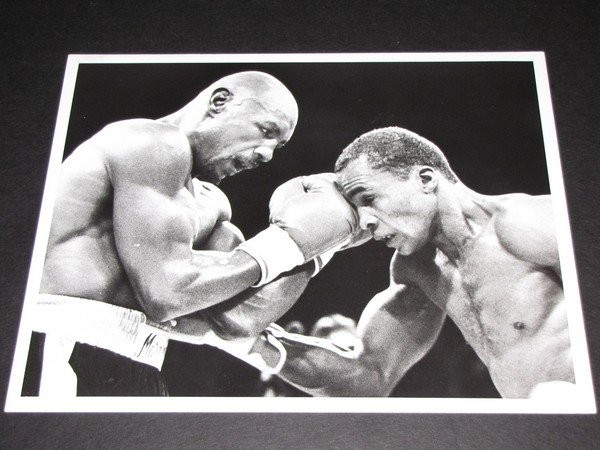 It's been said — and it applies to all sports, but especially boxing — that in order to be great, one has to face great competition.
During the 1980s, in what many consider boxing's "Golden Age," several epic battles were waged between Roberto Duran, Thomas Hearns, Marvin Hagler and Ray Leonard, which helped drive the sport's appeal after Muhammad Ali's retirement in 1981.
All four are enshrined in the International Boxing Hall of Fame, but Leonard and Hagler stood the tallest.
With each celebrating birthdays this month – Leonard turned 63 on Friday, May 17,   and Hagler turns 65 on Thursday, May 23 –  this seems like the perfect opportunity to reflect on their legendary careers.
Leonard, who would become a world champion in five weight classes, was a nonpareil ring craftsman who could box with absolute ease and also unload the heavy artillery.
Some said slick marketing after claiming the Gold Medal at the 1976 Montreal Olympics as a junior welterweight helped Leonard vault to fame. Sugar Ray had the look, personality and charm to attract a large fan base, but did he have what it takes to hold his own against the top welterweights?
The answer was yes, but it wasn't until Leonard stopped Wilfred Benitez in the 15th round for the World Boxing Council and lineal welterweight title in November 1979 at Caesars Palace, that he would be given his due.
Entering the fight, Benitez had a 38-0-1 record and was a two-division world champion.
In the opening frame, Leonard drilled Benitez with a left hook after tossing a jab and a right cross.
Two rounds later, Leonard knocked Benitez on his backside with a rattling jab. "I wasn't aware I was in a championship fight early because I hit him so easy," said Leonard, who was named Fighter of the Year by The Ring magazine in 1979 and 1981, but then he adjusted to my style. It was like looking in a mirror."
Leonard knocked Benitez down with a thunderous left in the 15th, but couldn't put him away until the referee called it off with six seconds left.
"No one, I mean no one, can make me miss punches like that," said Leonard of Benitez, who is also in the IBHOF.
In June 1980, Leonard, who went 36-3-1 with 25 knockouts, returned to the Canadian city where he first gained fame and faced the indestructible Duran, the former lightweight king, who came into the bout with a 71-1 record and was regarded as the best pound-for-pound boxer in the world.
The fight drew international attention and although Leonard lost, his showing removed any and all doubts about his greatness.
With 46,317 inside Olympic Stadium, Duran dictated the early pace by cutting off the ring and not allowing Leonard to extend his arms.
For four rounds, Duran didn't give Leonard enough room to move and unload any significant blows.
Leonard finally came alive in the fifth and unleashed numerous combinations. The remainder of the fight saw Leonard score, but it was Duran who looked stronger and sharper.
William Nack, writing in Sports Illustrated described it thusly: "It was, from almost the opening salvo, a fight that belonged to Duran. The Panamanian seized the evening and gave it what shape and momentum it had. He took control, attacking and driving Leonard against the ropes, bulling him back, hitting him with lefts and rights to the body as he maneuvered the champion against the ropes from corner to corner. Always moving forward, he mauled and wrestled Leonard, scoring inside with hooks and rights."
After 15 rounds, Duran won a very narrow but unanimous decision, handing Leonard his first setback after opening his pro career with 27 wins.
Angelo Dundee, Leonard's trainer, had advised him to stick and move against Duran who wanted to brawl. But Duran was able to get inside Leonard's head and Leonard, wanting to prove his toughness, did not follow Dundee's advice.
Leonard realized his error and vowed not to make the same mistake if he met Duran again. And they did meet again, five months later, before a national television audience with 25,038 looking on at the New Orleans Superdome.
This time Leonard would fight his fight and not Duran's. "The whole fight, I was moving, I was moving," he said, "and voom! I snapped his head back with a jab. Voom! I snapped it back again. He tried to get me against the ropes, I'd pivot, spin off and pow! Come under with a punch."
Late in a memorable seventh round, Leonard wound up his right hand as if to throw a bolo punch but instead tagged Duran's face with a sharp jab.
Leonard then taunted him, sticking out his chin and daring Duran to hit it. The taunting continued as Leonard moved around the ring.
It was clear Leonard was ahead on all three scorecards, but it was still close, and Duran, though not hurt, seemed to lack real punching power and probably felt humiliated.
Toward the end of the eighth round, Duran turned his back to Leonard and uttered the now famous line "no mas" (no more).
It was over with 16 seconds left as Leonard regained the WBC and lineal welterweight belts.
Duran said he quit because of stomach cramps after overeating following the weigh-in. To which Leonard replied, "I made him quit…to make Roberto Duran quit was better than knocking him out."
Leonard then agreed to meet Hearns in order to unify the welterweight title. They met on September 16, 1981, a sweltering night in Las Vegas, at an outdoor arena at Caesars Palace before 23,618. Hearns walked into the ring with a 32-0 mark and 30 knockouts, while Leonard had a 31-1 record with 22 knockouts.
In the early stages, Leonard stayed away and boxed while Hearns tried to find a hole in Leonard's defense.
After five rounds, Leonard was trailing on the cards and had a swelling under his left eye. In the sixth, Leonard found his range and landed a left hook to the face and he was again the aggressor in the seventh.
Hearns decided to box and piled up points while Leonard wanted to unload the heavy guns.
Hearns dominated rounds nine through 12. But just before round 13, Dundee said to Leonard, "you're blowing it, son! You're blowing it!"
For the 13th, Leonard, who now had a badly swollen left eye, caught Hearns with a stunning right and then landed a clean combination as Hearns was on wobbly legs.
Hearns went through the ropes, but it wasn't ruled a knockdown by referee Davey Pearl because it wasn't a punch that sent him there.
Late in the same round, Hearns was decked after Leonard connected with multiple blows.
In round 14, with Hearns leading on all three cards but clearly out of gas, Leonard seized control with a sizzling overhand right and a combination that saw Pearl call a stop to the action.
A third round TKO over Bruce Finch in February 1982 with the WBA, WBC, and lineal welterweight titles on the table, was followed by a scheduled fight with Roger Stafford.
While in training, Leonard had problems with his vision. He was diagnosed with a detached retina which was repaired in May of that year.
In November 1982, at a charity event in Maryland, Leonard announced he was retiring from boxing.
Twenty-seven months passed before Leonard returned to the ring in May 1984, when he faced Kevin Howard in a non-title match.
In the fourth round, Leonard was knocked down for the first time in his career. He went on to win, TKOing Howard in the ninth, but then shocked everyone at the post-fight press conference by announcing he was calling it a career once again.
Leonard sat ringside for the Hagler-John Mugabi fight in Las Vegas in March 1986 and was surprised to see Mugabi actually outbox Hagler for much of the contest before succumbing in the 11th round.
Leonard had seen enough and announced two months later he was coming back and that his next opponent would be none other than the great Hagler who would be making the 13th defense of his middleweight title.
The fight was set for April 6, 1987 at Caesars Palace. Hagler opened a 4-to-1 favorite.
Leonard won the first two rounds on all three judges' scorecards as Hagler, a natural left-hander, fought in an orthodox stance.
In the third round, Hagler switched to southpaw and fared much better, but Leonard remained in control with the help of superior hand and foot speed.
Leonard started to tire by the fifth as Hagler buckled his knees with an uppercut toward the close of the frame.
Hagler scored well in the sixth round, but Leonard also had effective moments.
Hagler did well in the seventh and eighth as he landed his jab while Leonard wasn't able to counter.
The ninth round was the most exciting with Hagler stunning Leonard with a left cross and had him pinned in the corner.
Leonard was able to escape and though each looked sharp, Hagler's punches were crisper and more resounding.
The 10th round wasn't as dramatic, but Hagler took that stanza, while Leonard boxed sharply in the 11th.
In the fight's final round, the 12th, Hagler landed a tremendous left hand that backed Leonard into the corner.
Leonard threw a flurry of punches and the round concluded with each fighter exchanging blows along the ropes.
The final CompuBox stats had Leonard landing 306 of 629 punches for 48.6 percent and Hagler connecting on 291 of 792 for 36.7 percent.
The fight was very close. Lou Filippo had it 115-113 for Hagler but was out-voted by Dave Moretti and Jose Guerra who had it for Leonard by scores of 115-113 and 118-110 respectively.
Hagler, who closed his career with a 62-3-2 mark and 52 knockouts, insisted he won the fight.
This was Hagler's final time inside the ring and he would eventually move to Italy.
Prior to his famous battle with Sugar Ray, Hagler scored two of the biggest wins of his career, scoring a unanimous decision over Roberto Duran in November 1983 and stopping Thomas Hearns in the third round in April 1985. Both bouts were at Caesars Palace.
Here is Pat Putnam's lead graph of the classic Hagler-Hearns fight as it appeared in Sports Illustrated: "There was a strong wind blowing through Las Vegas Monday night, but it could not sweep away the smell of raw violence as Marvelous Marvin Hagler and Thomas Hearns hammered at each other with a fury that spent itself only after Hearns had been saved by the protecting arms of referee Richard Steele. The fight in a ring set upon the tennis courts at Caesars Palace lasted only one second longer than eight minutes, but for those who saw it, the memory of its nonstop savagery will remain forever."
After upsetting Hagler, Leonard waited 19 months before getting back in the ring. In November 1988, he defeated WBC light heavyweight title-holder Donny Lalonde via a ninth round TKO. The WBC also sanctioned this fight for their inaugural super middleweight title.
Leonard then faced Hearns in a rematch in June 1989 at Caesars Palace and though it was ruled a draw, many at ringside thought that Hearns, who knocked Leonard down twice, deserved the decision.
Six months later, at the Mirage in Las Vegas, Leonard met Roberto Duran in a rubber match. Leonard prevailed over Duran by unanimous decision.
There would be two more fights for Leonard before he retired from boxing for good. In February 1991 at Madison Square Garden he lost a unanimous decision to Terry Norris in a clash for the WBC junior middleweight crown.
Another retirement followed, but his career wouldn't officially be over until March 1997 at Convention Hall in Atlantic City, New Jersey, when Leonard, now 40 years old, was stopped in the fifth round by Hector Camacho with a fringe middleweight title at stake.
These last two fights were aberrations compared to Leonard's glory days when he was the undisputed ruler of the welterweight division.
Few who watched Sugar Ray Leonard and Marvelous Marvin Hagler at their peaks will ever forget what they brought into the ring. No, they didn't do it alone, but it's unlikely anyone better than these two titans will appear any time soon.
Check out more boxing news on video at The Boxing Channel
To comment on this story in The Fight Forum CLICK HERE