It Was TV Mogul Michael King, Not Don King, Who `Discovered' Dominic Breazeale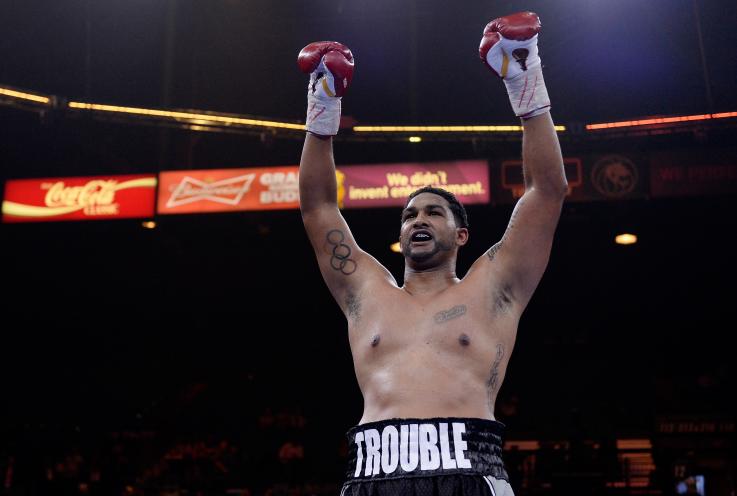 The late Michael King obviously had an eye for talent. One of six siblings who inherited a failing television syndication company, King World, from their father Charles King in the early 1980s, Michael and his similarly prescient older brother Roger believed they could go international with a Chicago talk-show host with a strictly local audience. Oprah Winfrey is now arguably the most powerful woman in the entertainment industry, and a billionaire. But Oprah wasn't the only beneficiary of Michael King's vision of what American viewers might like to see; he also shepherded such modest little game shows as Wheel of Fortune and Jeopardy! to iconic status, making Pat Sajak, Vanna White and Alex Trebek, among others, hugely popular and highly compensated celebrities.
Not that Michael King, whose income from his deceased father's company at the time he and Roger took over was $150 a week from Little Rascals reruns, was satisfied with being a king- (and queen-) maker for daytime TV. After he made his vast fortune, Michael, a rabid sports fan and New Jersey native, became a minority stakeholder in the New York Yankees, New Jersey (now Brooklyn) Nets and New Jersey Devils. Still, it troubled him that the United States had ceased, or was in the process of doing so, to be the world's foremost power in Olympic boxing, particularly a heavyweight division that once was dominated by the likes of American gold medalists and future pro superstars Cassius Clay/Muhammad Ali, Joe Frazier and George Foreman.
King, who was 67 when he died on May 27, 2015, from complications arising from pneumonia (Roger, then 63, had passed away on Dec. 8, 2007), decided he had the determination and deep pockets necessary to restore his country's ebbing place in that particular global world order. He founded All American Heavyweights in 1986 in Carson, Calif., with the idea of recruiting large and talented athletes from other sports, primarily football and basketball, if their dreams of making it in the NFL or NBA were not fulfilled.
"A great athlete in any sport can pick up another sport faster than most people," King – who sold King World to CBS in 1999 for $2.5 billion in stock – said of his grand scheme to produce a pugilistic version of Oprah, and maybe even several of them. "It (America's receding place at the heavyweight table) really all stems from a lack of talent and lack of apprenticeship for trainers. The pipeline is dead … It's not an NCAA sport, so it's totally dependent on the Olympic program, and that NGB (USA Boxing is its national governing board) does not have a lot of resources.
"Instead of getting some thug off the street, why not tap into the greatest talent pool in the United States? You're talking about elite athletes who are in great shape, who are really big, who are unbelievably coordinated, and they are articulate college graduates."
About 3,000 recruited candidates eventually bought into King's sales pitch, or at least those made on his behalf by talent scouts who fanned across the nation in search of diamonds in the rough. With one exception, all were found wanting in one way or another. The sole survivor of the now-defunct All American Heavyweights, Dominic Breazeale (20-1, 18 KOs), gets his second crack at his sport's most prestigious prize when he takes on WBC champion Deontay Wilder (40-0-1, 39 KOs) in the Showtime-televised main event Saturday night at the Barclays Center in Brooklyn, N.Y.
The 6-foot-7, 255-pound Breazeale, now 33, previously challenged IBF heavyweight champ Anthony Joshua on June 25, 2016, before a sellout crowd in Joshua's hometown of London. Although Breazeale became only the second of Joshua's 17 opponents to that point to last more than three rounds, his relative inexperience at the elite level – not surprising for someone who didn't even take up boxing until he was 23 – was evident and he was dropped twice in the seventh round, at which point the fight was stopped by referee Howard John Foster.
Since then Breazeale, the U.S.'s super heavyweight representative at the 2012 London Olympics, has put together three straight victories, all inside the distance. He said he is a much improved version of himself than the one who gamely took a licking from Joshua. Not only that, but he opined that Wilder, his -900 favoritism (a bettor would have to wager $900 on him to win $100) notwithstanding, isn't nearly as polished as Joshua, who has added the WBA and WBO titles to his now three-belt collection. Breazeale is convinced he will delay or even end speculation about a Joshua-Wilder unification showdown by upsetting Wilder, preferably by knockout, and thus earn the do-over with the big Briton he has wanted since he suffered his first and only pro defeat.
"I don't see any fundamental skills," Breazeale, who will be making his first ring appearance with new trainer Virgil Hunter, said of Wilder, the Tuscaloosa, Ala., native who took a bronze medal at the 2008 Beijing Olympics. "He hasn't grown. He hasn't changed. Yeah, he's got a big right hand, but don't we all in the heavyweight division? We all have knockout power.
"It's going to be an explosive night. You've got two 6-7 guys. I'm super-excited to be involved in the event, and I'm super-excited to get a big KO win. I think I'm walking into a fight where I'm the more-skilled, more-athletic fighter."
Trash talk is the coin of the verbal realm when it comes to hyping high-visibility boxing matches, but the animosity between Breazeale and Wilder, despite their commonality as American Olympians, gives no hint of being manufactured. The bad blood between them dates back to Feb. 25, 2017, when they both appeared on the same card at the Legacy Arena in Birmingham, Ala. Wilder defended his IBF title with a fifth-round stoppage of Gerald Washington in one of his periodic return bouts in his home state, with Breazeale knocking out Izuagbe Ugonoh in the fifth round as the lead-in. There was a later confrontation at the hotel where both fighters and their entourages were staying, the blame for which depends on who's telling the story.
"He insulted my wife in a situation that was not boxing-related," Breazeale said. "The gratification of getting my personal revenge, knocking out Deontay Wilder, is a lot bigger than a win or a KO on any other given night."
Not surprisingly, Wilder claims it was he who was the aggrieved party. He said Breazeale's brash prediction is just so much hot air.
"I'm going to smash this fly," vowed Wilder, who will be making his ninth title defense. "This is a personal fight for me. When I take a fight personal, something magical is going to happen. I haven't been this excited about destroying an opponent since Bermane Stiverne (in their first fight, in 2015).
"I've already stated what I want to do, and I'm gonna do what I say I'm gonna do, just like I do all the time. But with this particular opponent I'm gonna make sure I do it in the most painful way possible."
If it is Breazeale whose hand is raised, however, it is fairly certain he will acknowledge someone who is no longer around, a would-be maker of miracles who lost, by his estimation, "tens of millions of dollars" on All American Heavyweights but still somehow might hit it big from beyond the grave.
Michael King.
"The idea (of Brezeale trying his hand at boxing) first came across in a phone call," Breazeale recalled. "I told the gentleman that called, Joe Onowar, who was the recruiter, that he was crazy. There was no way in hell I was going to pick up boxing at 23 after I'd done football, basketball, track, baseball, hockey, wrestling, all that as a kid. I had never set foot in a boxing gym. Besides, I thought I was at the end of my athletic career. Honestly, at the time I thought it was a dumb, dumb idea.
"Three months later I had my first amateur fight. Eighteen months after that I was a U.S. Olympian (losing in the first round, 19-8, to Russia's Magomed Omarov). Now, 10 years later, I'm fighting for the WBC world title.
"I think Michael King was the smartest man on the planet. For me to be the one to come out on top from 3,100 athletes who went through that the door … I thought Mr. King trying to turn Division I athletes into professional boxers was crazy then, but now I think it was a phenomenal idea."
Breazeale, from Glendale, Calif., almost certainly wouldn't have given boxing a try had he been a better NFL prospect. He had some good moments during his two seasons as Northern Colorado's quarterback, and he admits having entertained thoughts of latching on with an NFL team. But he went undrafted and came to realize that dream was never going to be realized. That's when another dream, Michael King's, became his dream as well.
Asked if he would ever have considered boxing had he been a good enough pro football prospect to be drafted in, say, the first three rounds in 2008, Breazeale said, "No way. I was pursuing the NFL. Things didn't pan out the way I wanted, but Michael King was still there when the NFL door closed. I thought, `I'm a big man, I'm powerful, I'm aggressive.' That type of thing.  So why not?"
What Breazeale did not realize – not then, anyway – is that he had a genetic connection to boxing that had nothing at all to do with Michael King. It was New Year's Eve, the last day of 2015, and Breazeale was training for a Jan. 23 fight with Amir Mansour at the Staples Center in Los Angeles when he was told that his mother, Christina "Tina" Breazeale, 56, had suffered a massive heart attack. Shortly after her son arrived at the hospital, she died.
As Breazeale and his three siblings went through his mother's possessions, he found boxes containing boxing items from the biological father, Harold Lee Breazeale, he barely knew, including a Golden Gloves state championship belt, boxing shoes, a mouth guard and some news stories.
"I can't believe she didn't tell you," a family member told Dominic.
"I have the pedigree, and I didn't even know it," Breazeale said in describing the moment to the Los Angeles Times. "I guess it's natural to me. It's in blood."
Another thing: when a much younger Dominic, who had tried his hand at just about every sport and was good at all of them, asked his mom if it would be all right for him to go to a boxing gym with some of his friends to see if he'd like it, she put her foot down. She told him to "stick to football and basketball."
"It makes sense now," said Breazeale, who considers his stepfather, Terry, to be his dad of choice. "There was no explanation, just a `No, you're not doing it.' She was a huge supporter of what I do, but she wanted to keep me away from boxing."
It's funny how things work out sometimes. It might even be the perfect scenario, should Breazeale, the ex-quarterback, wind up shocking Wilder, the former star wide receiver for his high school football team. Breazeale would necessarily have to be the guy pitching most of the leather, with Wilder the target for all those bombs.
Might even be good enough for Breazeale to wangle a guest shot on the Oprah Winfrey Network. Somewhere, somehow, you'd have to think Michael King would approve.
Bernard Fernandez is the retired boxing writer for the Philadelphia Daily News. He is a five-term former president of the Boxing Writers Association of America, an inductee into the Pennsylvania, New Jersey and Atlantic City Boxing Halls of Fame and the recipient of the Nat Fleischer Award for Excellence in Boxing Journalism and the Barney Nagler Award for Long and Meritorious Service to Boxing.
Check out more boxing news on video at The Boxing Channel
To comment on this story in The Fight Forum CLICK HERE
Looking at the Heavyweight Calendar (Odds Review)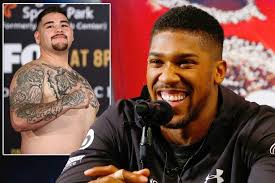 This past Saturday night saw Deontay Wilder's WBC world heavyweight title defense against Dominic Breazeale go down on Showtime. The fight lasted just 137 seconds as Wilder floored Breazeale with a cannonball of a right hand to end the night early.
With Wilder out of the way, Anthony Joshua vs Andy Ruiz Jr is up next. They meet June 1st at Madison Square Garden. Two weeks later, on the 15th of June, ESPN+ will deliver Tyson Fury vs Tom Schwarz, so fight fans will get a look at all three members of the "Big Three" all in a month's time.
Wilder's erasure of Breazeale this past weekend sent a message to the rest of the division as well as giving him a highlight reel to show during upcoming negotiations. Wilder entered a strong -1000 favorite at the sportsbooks for this fight.
Check out our pre-fight review of the Wilder vs Breazeale odds right here at TSS –
http://tss.ib.tv/boxing/featured-articles/57588-wilder-vs-breazeale-odds-review
Looking forward, the odds posted for Joshua and Fury's upcoming tussles are even less competitive. Let's take a look at what the books are giving us as we await the two big Brits fighting in the USA.
Madison Square Garden – New York City – Saturday, June 1, 2019
Heavyweight 12 rounds –
Andy Ruiz Jr +1500 Over 6½ +100
Anthony Joshua -3000 Under 6½ -130
Ruiz Jr is 32-1 overall with his lone loss coming at the hands of Joseph Parker in a failed WBO world title bid. That same WBO belt is now in the hands of Joshua as are the WBA and IBF belts.
Joshua was a big favorite over Jarrell Miller, his original opponent, who was denied a license in New York after testing positive for a buffet of steroids. Ruiz Jr took the fight with less than a full training camp, but you have to believe that he is going to come in highly motivated. Ruiz Jr has been caught at a different type of buffet, the all-you-can-eat kind, but even when in the best of shape his body type isn't "poster boy material." Miller was big and bulky as well, but he was a near 300 pounder whereas Ruiz Jr will come in between 250 and 260 pounds, which is right around Joshua's size. Rather than slaying a 300-pound giant, he is facing a guy who is shorter and fatter than him, making it very hard for Joshua to look great on paper.
At +1500 will people bite on Ruiz Jr? He is more experienced than Miller and he is probably a better fighter overall and though he is facing a formidable champion, Joshua is not a finished product. Perhaps Joshua will be chasing an early finish, feeling the pressure of Wilder's performance, and if so will he make a mistake that Ruiz can exploit? We are roughly 10 days from finding out.
MGM Grand Garden – Las Vegas, Nevada – Saturday, June 15, 2019
Heavyweight 12 rounds –
Tom Schwarz +1800 Over 9½ -105
Tyson Fury -3600 Under 9½ -125
Tyson Fury closes out the run of top heavyweights with a very deliberately chosen showcase fight against Tom Schwarz. Schwarz is 24 years old and 24-0 but he is a fighter who has come up on the regional German scene and as the old boxing cliche goes, there are levels to this game.
Former contender David Haye mounted a 2016 comeback, booking fights against Mark De Mori (30-1-2) and Arnold Gjergjaj (29-0). It took Haye precisely 6:42 to dispose of both of them, and though Fury is a completely different beast than Haye, the level difference between he and Schwarz may be even as striking.
Wilder has gotten through his "challenge" and if Fury and Joshua also emerge as winners as expected, it will leave several open questions –
– Will Fury vs Wilder 2 happen first, or will Wilder vs Joshua go down first? Could Joshua and Fury meet and freeze Wilder out?
And….
– Will we see any of these fights take place in 2019?
If Joshua or Fury stumble, it will only add to the chaos in the heavyweight division. But if the professional oddsmakers know anything, it isn't likely to happen.
Check out more boxing news on video at The Boxing Channel
To comment on this story in The Fight Forum CLICK HERE
Three Punch Combo: An Early Look at Inoue-Donaire and Under the Radar Fights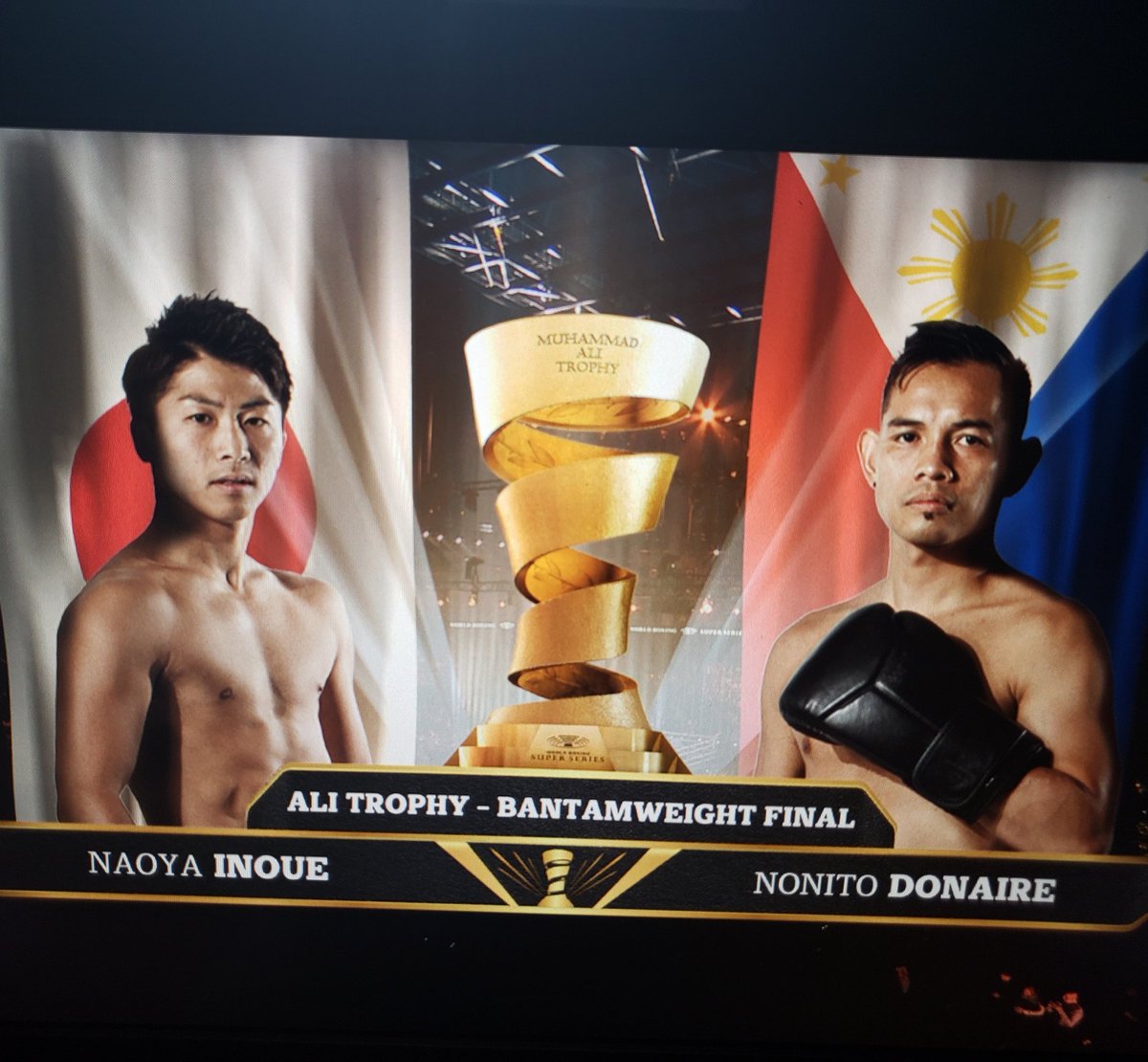 THREE PUNCH COMBO — This past Saturday, Naoya Inoue (18-0, 16 KO's) punched his ticket to the bantamweight final in the World Boxing Super Series when he impressively knocked out Emmanuel Rodriguez in the second round of their scheduled 12-round fight. The win sets up a showdown with veteran Nonito Donaire (40-5, 26 KO's) who punched his ticket to the final with an impressive knockout of Stephon Young last month.
As expected, Inoue has opened as a monstrous favorite in the betting markets. While this suggests a one-sided wipeout, I have some other thoughts.
Inoue is pound for pound one of, if not the, hardest puncher in the sport today and put that power on full display in his destruction of Rodriguez in the semi-finals. But having enormous power does not make him indestructible.
In watching that fight against Rodriguez, there were clearly flaws on display on the defensive side of Inoue's game. For one, Inoue does not move his head at all and as such can be hit. Rodriguez landed several clean punches on Inoue in the first round. And Inoue frequently keeps his hands low looking to bait opponents into throwing to set up counter opportunities. It has worked so far but could be something he pays for down the road.
Donaire is a smart and skilled fighter and though he is 36, his last few fights have shown that he still has plenty left in the tank. Moreover, he possesses one thunderous left hook and has always been at his best when fighting below 122. He has all the capabilities to expose Inoue's flaws and a left hook that can alter the course of a fight as we have seen him doing plenty of times in the past.
Unlike a lot of people, I do not consider Donaire to be another layup for Inoue. There is real danger in this fight for Inoue if he does not make changes to his game. Donaire has starched big punching rising stars before and I would not discount his chances to expose the significant defensive flaws in Inoue's game.
 Under The Radar Fight
Boxing returns to ESPN on Saturday with a card from Kissimmee, FL headlined by 130- pound champion Masayuki Ito (25-1-1, 13 KO's) who is making the second defense of his title against former US Olympian Jamel Herring (19-2, 10 KO's). While I think this should be an excellent fight, the co-feature, which is flying deep under the radar, should be even better.
In this fight, former two division world champion Jose Pedraza (25-2, 12 KO's) makes his return to the ring after losing his lightweight title to Vasiliy Lomachenko in December to face Antonio Lozada (40-2-1, 34 KO's). Given their respective styles, this fight at the very least will provide plenty of sustained action.
Appropriately nicknamed "The Sniper," Pedraza at his best is a precision puncher. A boxer-puncher by trade, he uses subtle movement inside the ring to create angles that are used to land sharp power shots on his opposition. He is also a very good inside fighter and will shift around on the inside to once again set up just the right angle to land his power shots with maximum efficiency. But despite being a good inside fighter, Pedraza has a tendency to stay in the pocket a bit too long which leaves him open to getting hit.
Lozada is best known for his upset TKO win against one-time blue-chip prospect Felix Verdejo in March of 2018. However, he failed to build momentum off that win and is coming off a lackluster split draw his last time out to 12-7-1 journeyman Hector Ruben Ambriz Suarez.
Lozada certainly does not have the technical proficiency of Pedraza. He is slow and plodding. But what he does bring to the table is relentless pressure combined with a high volume of punches. He will press forward, recklessly at times, winging punches consistently hoping to wear down his opposition through attrition.  As such, he tends to get hit a lot and can be involved in shootouts.
Cleary, Pedraza is the more skilled fighter, but given Lozada's all-offensive mindset as well as Pedraza's willingness to stay in the pocket, the leather is all but guaranteed to be flying from the opening bell. Neither are big punchers either so I suspect we see a fight that goes rounds providing many exciting exchanges and one that could certainly steal the show on Saturday.
Another Under The Radar Fight
Also on Saturday, Fox Sports 1 will televise a card from Biloxi, MS featuring a crossroads fight between former 154-pound champion Austin Trout (31-5, 17 KO's) and former US Olympian Terrell Gausha (21-1, 10 KO's). But it is another 154-pound fight on the undercard that is receiving almost no coverage that I want to highlight. It pits Chordale Booker (14-0, 7 KO's) against Wale Omotoso (27-3, 21 KO's).
Booker turned pro in 2016 after a successful amateur career and has kept up a fairly busy schedule. He is coming off a dominating 8-round unanimous decision over veteran Juan De Angel in January and now is taking a big jump up in his caliber of opposition in facing Omotoso.
Booker, a southpaw, likes to press forward behind a stinging right jab. He possesses elite level hand speed and likes to use that jab to set up quick power punching combinations. Booker is also an excellent counter puncher and possesses a very potent right hook coming from that southpaw stance. He will often hold his left low to bait his opponents into opening up to set up counter opportunities. However, he has also been clipped by his share of left hooks fighting in this manner and this is something he will need to tighten up against Omotoso. So just how will Booker respond to Omotoso's pressure and heavy handed body attack? Depending on the answer, we will either see Booker step up to the next level or get exposed. And that's what makes this fight so intriguing to me
Check out more boxing news on video at The Boxing Channel
To comment on this story in The Fight Forum CLICK HERE
Serhii Bohachuk KOs Mexico's Freddy Hernandez in Hollywood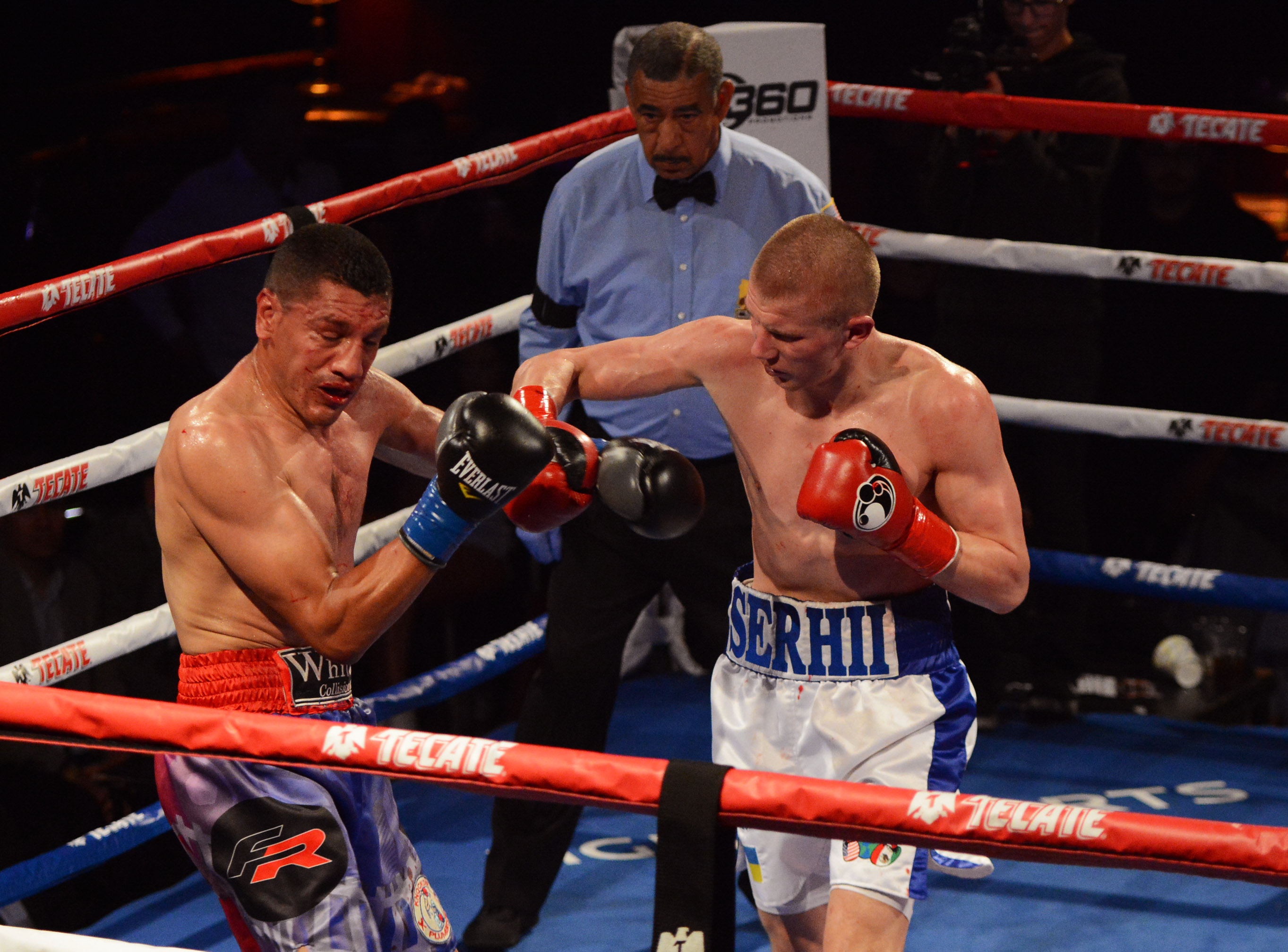 HOLLYWOOD, Calif.-Super welterweight prospect Serhii Bohachuk got his first taste of upper tier boxing from Mexico's Freddy Hernandez and gave him his best Sunday punch to win by knockout.
Bohachuk (14-0, 14 KOs) showed the excited Hollywood crowd he's more than ready for former world title challengers like Hernandez (34-11, 22 KOs) or maybe even the current contenders with an exuberant display of pressure fighting at the Avalon Theater.
The smiling Ukrainian fighter has been steadily attracting fans to the 360 Promotions fight cards.
Trained by Abel Sanchez, the lanky and pale Bohachuk – whose nickname "El Flaco" fits perfectly – always moved forward against Mexico City's Hernandez who has made a reputation of being crafty despite the strength of competition. With Bohachuk constantly applying pressure the Mexican fighter used the first round to touch and feel his way around the Ukrainian bomber.
In the second round a sharp counter right floored Hernandez who quickly got up and resumed the contest. It looked like the end was near until Hernandez caught Bohachuk with a solid right cross. It was a warning shot well heeded by Bohachuk.
Both fighters exchanged vigorously in the third round with the Ukrainian fighter's youth a definite advantage. Hernandez was able to display his fighting tools more effectively in the third round but could it be enough?
Bohachuk was clearly the heavier-handed fighter but was finding it difficult to connect solidly against the Mexican veteran. But in the fifth round Bohachuk lowered his gun sights and targeted the body with a left hook that dropped Hernandez.  The fight was stopped by referee Wayne Hedgepeth at 1:40 of the fifth round.
Other Bouts
A battle of super featherweights saw Rialto, California's Adrian Corona (5-0) rally from behind to defeat Florida's Canton Miller (3-3-1) by split decision after six rounds.
Corona had problems with Miller's speed in the first two rounds and was unable to track the moving fighter's direction. But in the third round Corona began to apply more aggressive measures against Miller and was especially effective with lead rights. The momentum changed quickly.
Miller switched from orthodox to southpaw and it served to pause Corona's momentum, but he seldom scored with solid blows. Though Miller landed quick soft blows, Corona was landing with strong shots and convinced two of the three judges that he was the winner by 58-56 twice. A third judge saw Miller the victor by the same score 58-56.
"It's not my job to judge the judges," said Miller. "It's my job to just fight."
Corona was happy with the victory.
"I could have put the pressure on him a little more," said Corona. "It was a very technical fight and he put on a great fight."
Other Bouts
George Navarro (6-0-1, 2 KOs) knocked out Cesar Sustaita (3-5) with a perfect overhand right that disabled the senses and forced referee Raul Caiz Jr. to halt the fight at 1:37 of the first round.
"I worked hard to prepare for this fight," said Navarro.
A super bantamweight clash saw Humberto Rubalcava (10-1, 7 KOs) knock out Daniel Constantino (3-3-2) and win by knockout after a flurry of a dozen blows went unanswered. Referee Angel Mendez stopped the battering at 1:39 of the first round.
Photo credit: Al Applerose
Check out more boxing news on video at The Boxing Channel
To comment on this story in The Fight Forum CLICK HERE