'Pacman' vs. 'The Problem' Will Sort Out Perception From Reality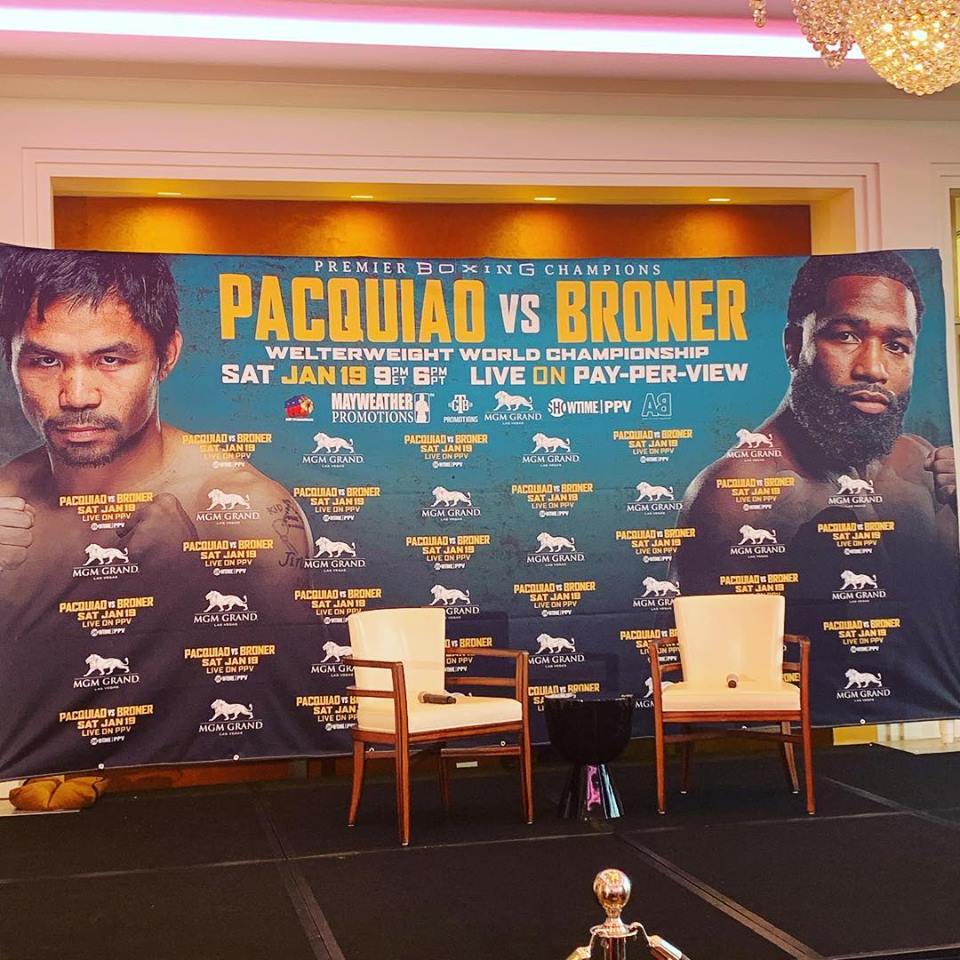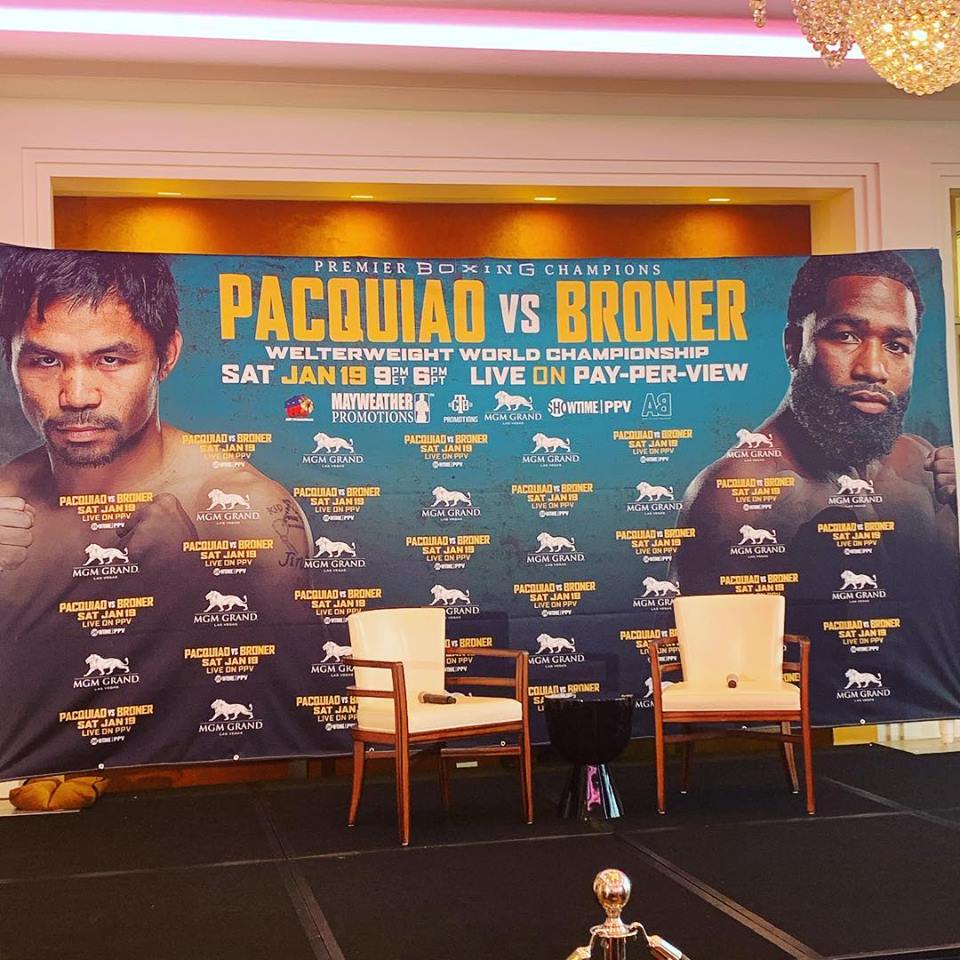 Sometimes it is the fighters' real or perceived flaws, as much as their strengths, that make for a compelling if not necessarily great fight.  Such would appear to be the case when 40-year-old Manny Pacquiao (60-7-2, 39 KOs), the only man ever to win world championships in eight weight classes, defends his "regular" WBA welterweight title against 29-year-old former four-division champ Adrien Broner (33-3-1, 24 KOs) on Jan. 19 at Las Vegas' MGM Grand Garden.
The bout – marking "Pac-Man's" first ring appearance on American soil in 26½ months, since he retained his WBO 147-pound crown on a unanimous decision over Jessie Vargas at Vegas' Thomas & Mack Center – is being heralded as a Really Big Deal, a precursor to more and better things for the living legend and sitting senator from the Philippines.
"I have to pass through him before fighting Floyd Mayweather," Pacquiao said of what hinges on the outcome of his scrap with Broner, hinting at a rematch with his fellow fortysomething that resulted in a wide unanimous decision for Mayweather on  May 2, 2015, a fight that even then was several years past its optimum expiration date. "I want to prove to the boxing fans that Manny Pacquiao is still in the pack. You will see more fights with Manny Pacquiao in the United States."
Everyone involved in the promotion is making it sound like this bout, which hopefully will prove to be entertaining enough inside the ropes to warrant all the optimistic chatter, is on more or less the same level as 33-year-old, black-leather-encased Elvis Presley reminding everyone of just how huge he used to be with his globally televised, ratings-smashing "Aloha From Hawaii" comeback special on Jan. 14, 1973.
Pacquiao-Broner, presented by Premier Boxing Champions, will be televised via Showtime Pay Per View and Stephen Espinoza, the premium-cable outfit's president of Sports and Event Programming, is among those dropping broad hints that the fight just might be as much can't-miss TV as was the slimmed-down Elvis going back to his roots to belt out "Jailhouse Rock," which considering the oft-arrested Broner's participation might not be wholly inaccurate.
"Manny Pacquiao and Adrien Broner are two of the most gifted athletes in boxing today," Espinoza gushed. "Both men throw punches with eye-opening speed and carry significant power in both hands. These attributes have made them two of the biggest draws in the sport. Pacquiao is a proven pay-per-view attraction, while Broner has consistently delivered many of the highest-rated boxing events on television. This matchup promises explosive action from bell to bell."
Well, maybe. Then again….
It is axiomatic in the area of boxing promotion to never let any scintilla of negativity interfere with the obligatory cascade of breathless hype. For those at least willing to concede that all might not be as well as advertised, it should be noted that Pacquiao – a legitimate all-time great, future first-ballot Hall of Famer and three-time Fighter of the Year – has lost four of his last 10 fights and his seventh-round TKO of faded Argentine slugger Lucas Matthysse (who immediately announced his retirement) on July 15, might not have been as impressive as it appeared at first blush.
Although Pacquiao came away with Matthysse's secondary welterweight title and ended a 13-bout non-KO streak dating back to his 12th-round stoppage of Miguel Cotto on Nov. 14, 2009, the fight had to be promoted by Pacquiao himself in Kuala Lumpur because his longtime promotional company, Top Rank, had determined that the Manny Express no longer was capable of making regular stops to pick up sacks of box-office and TV profits. It also was for a belt handed out by the shameless WBA, which gleefully acknowledges "super," "regular," "interim" and all manner of other championships in the same weight classifications, the better to scoop up as many sanctioning fees as possible. The real WBA welterweight champion is Keith Thurman, who ends nearly two years of injury-prolonged inactivity when he takes on Joselito Lopez on Jan. 26 at the Barclays Center in Brooklyn, N.Y.
Pacquiao found a new promotional partner in Al Haymon's PBC because PBC signs fighters by the gross and, well, because "Pac-Man" still has the kind of transcendent name value that can be milked further. Manny fans always will be Manny fans, just as Elvis devotees never were going to stop getting weak in the knees whenever the King of Rock 'n' Roll wiggled his hips on stage. But it will be up to the Fab Filipino to demonstrate that he still has more than fumes in the gas tank. The best-case scenario for him is that he justifies his significant -280 favoritism (bettors would have to wager $280 to come out a hundred bucks ahead) against Broner, who has an entirely different set of issues he needs to sort out both in the ring and in his train-wreck personal life.
No one has ever disputed Broner's talent, which he has flashed often enough to seduce his backers into thinking it can yet be an ongoing thing. But the man aptly nicknamed "The Problem" also will enter the ring shrouded in a haze of question marks. Once hailed as someone who might embellish Cincinnati's proud pugilistic heritage that was crafted in large part by the far more accomplished Ezzard Charles and Aaron Pryor, both of whom have been enshrined in the International Boxing Hall of Fame, Broner as presently constituted is at best a fringe candidate for IBHOF immortalization. He is just 3-2-1 in his last six outings and, although still young enough to be considered in his prime, his litany of brushes with the law suggests that he should consider going plural with his nome de guerre and start calling himself "Problems." Snarky detractors sometimes refer to him as "Mayweather Lite," which, all things considered, is still more complimentary than he deserves.
In a Showtime episode of "All Access" meant to whet fan interest in the fight, Broner spoke of one of the first times he found himself incarcerated, facing a 57-year sentence, at which point the youthful miscreant vowed to himself that he would funnel his energy into boxing should he be fortunate to gain his freedom. He did, and he did. Except that he has spent so much time dealing with police that he could be the star of his own reality show, "Cops: On the Street With Adrien Broner." In February 2018 he was arrested in an Atlanta mall on a charge of misdemeanor sexual battery for allegedly groping a woman, and he found himself in cuffs again just before Christmas, in Broward County, Fla., after a warrant was issued for his failure to appear in court earlier in the month. He was booked in county jail and then released, the case stemming to a December 2017 arrest when he was stopped for speeding and found to have no driver's license, registration or proof of insurance.
But a lot of the legal lint that has stuck to Broner's Velcro suit could be brushed at least temporarily clean should the +240 underdog demonstrate that the Pacquiao of our fondest memories, the force of nature who defeated, among others, Marco Antonio Barrera, Erik Morales, Juan Manuel Marquez, Oscar De La Hoya, Ricky Hatton, Shane Mosley and Cotto, is incapable of solving one more Problem.
Until the first punch is thrown, much of the prefight drama will center on matters that are somewhat peripheral to whatever takes place inside the ropes. After briefly parting, Pacquiao and his longtime trainer, Freddie Roach, are reuniting for another grab for some of that old glory, and they're both making it sound like there is more magic to be made.
"I am not making a prediction, but my goal is to knock out Broner," Pacquiao said. "I forgot how much fun winning a fight by knockout was until I stopped Lucas Matthysse last summer. It felt great to win that way and the fans loved it too, so why not try for it again?"
Said Roach, perhaps oblivious to diminishment of any fighter's skills by the relentless march of time: "I think experience has made Manny a better fighter. He still trains harder than anyone. I like Broner as a fighter. I think he has excellent boxing skills. But Broner has never faced anyone like Manny. Broner will be mentally exhausted within four rounds and physically spent within six. It will be impossible for Broner to keep pace with the Manny Pacquiao of this training camp."
We shall see.
Bernard Fernandez is the retired boxing writer for the Philadelphia Daily News. He is a five-term former president of the Boxing Writers Association of America, an inductee into the Pennsylvania, New Jersey and Atlantic City Boxing Halls of Fame and the recipient of the Nat Fleischer Award for Excellence in Boxing Journalism and the Barney Nagler Award for Long and Meritorious Service to Boxing.
Check out more boxing news on video at The Boxing Channel
To comment on this article in The Fight Forum CLICK HERE
Tyson Fury Blasts Out Germany's Tom Schwarz in Las Vegas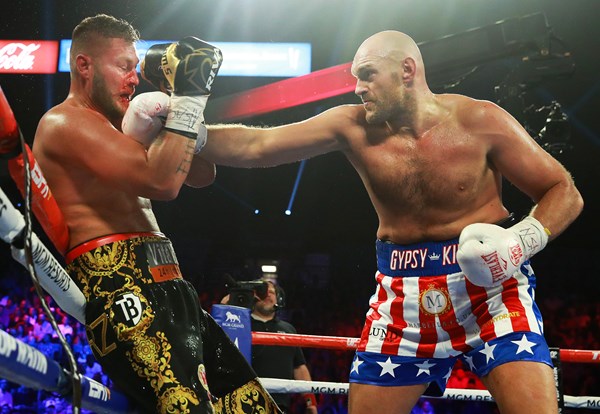 LAS VEGAS-In his first Las Vegas show Great Britain's Tyson Fury showcased a neon light kind of performance with a second round knockout over Germany's Tom Schwarz to retain the lineal heavyweight world championship on Saturday.
"I came to put on a show for Las Vegas and I hoped everyone enjoyed it," Fury said.
Though facing an undefeated fighter like himself, Fury (28-0-1, 20 KOs) proved to Schwarz (24-1, 16 KOs) and the more than 9,000 fans at the MGM Grand there are elite levels in the prizefighting world with a quick, decisive knockout victory.
The heavyweight known as the "Gypsy King" had recently signed with Top Rank after giving a riveting and inspiring performance last December against WBC heavyweight titlist Deontay Wilder. Both electrified the crowd in Los Angeles and around the world proving the heavyweight division is alive and well.
It had been decades since heavyweights had sparked interest outside of Europe. But Fury and Wilder's performance proved exciting despite ending in a majority draw after 12 rounds.
On Saturday, Fury met Schwarz and in his first fight in Las Vegas and easily out-classed Schwarz with his ability to use distance, slip punches and basically hit the German fighter with ease, even as a southpaw.
"Key tonight was telling myself to use the jab, and slip to the side," said Fury.
After a rather tepid first round Fury changed to a southpaw stance and invited Schwarz to try and hit him. In one flurry the German fired a six-punch combination and every blow was slipped by the smiling Fury. He then smoothly slipped around Schwarz and fired his own six punch combination and capped it with a right to the chin that dropped the German to his knees. Schwarz got up and was met with another dozen blows that forced referee Kenny Bayless to end the bludgeoning at 2:54 of the second round. Fury was declared the winner by technical knockout.
"I put on an extra 12 pounds. This time it was only a few months out of the ring and I'm back," said Fury. "I came here a southpaw and I hoped everybody enjoyed it."
When asked if a Wilder rematch was on tap Fury was effusive and declared that promoter Bob Arum of Top Rank assured it would be in September or October.
"I've never seen promoting like this," said Fury. "God bless America."
Once again the heavyweights seem to be the darling division with Fury, Wilder, Andy Ruiz and Anthony Joshua the leading heavyweights.
Mikaela
Mikaela Mayer (11-0, 4 KOs) started slowly but once she figured out the awkward aggressiveness of Lizbeth Crespo (13-4, 3 KOs) she slipped into overdrive with the right cross and right uppercuts and rolled to victory by unanimous decision after 10 rounds. The former American Olympian retains the NABF super featherweight title.
For the first two rounds Crespo scored well with overhand rights and constant punching. Though Mayer scored with solid left jabs, she was countered by looping rights and lefts that caught the taller American fighter pulling out.
Adjustments were made and by the third round Mayer was staying close and using lethal right hands that boomed off Crespo's head and body. After charging hard for two rounds those blows suddenly slowed down the Argentine's attack.
Mayer took over after the third round and kept the momentum going with that lethal right and check left hook. Crespo tried but couldn't solve the right of Mayer.
After 10 rounds the judges scored it 100-90, 99-91, and 98-92 for Mayer.
"Crespo was a tough challenge, but I got through it and I'm ready to move on to bigger things," said Mayer. "I am ready for a world title fight next. It's time for the champions to step up and get in the ring with me."
Other Bouts
Albert Bell (15-0, 5 KOs) proved a little too slick for Northern California's Andy Vences (22-1-1, 12 KOs) and won the WBC Continental America's super featherweight title by unanimous decision after 10 rounds. The scores were all 97-93 for Bell.
WBC International featherweight titlist Isaac Lowe (17-1-3, 6 KOs) won a boring unanimous decision over Wisconsin's Duarn Vue (14-2-2, 4 KOs) after 10 rounds. Lowe ran and ran some more with occasional pot shots but there were long stretches where it was more a track meet than a prize fight. It was like amateur boxing for 10 rounds. The scores were 98-92, 97-93 and 99-91 for Lowe.
Italian heavyweight Guido "The Gladiator" Vianello (4-0, 4 KOs) showed off agility and power before knocking out Louisiana's Keenan Hickman (6-4-1, 2 KOs). Vianello, who is trained by Abel Sanchez in Big Bear, floored Hickman three times before the fight was stopped at 2:22 of the second round.
Germany's Peter Kadiriv (4-0) had no problems with Houston's southpaw heavyweight Juan Torres (3-2-1) and won every round with a steady lead right and occasional combinations. All three judges scored it 40-36 for Kadiriv.
Philadelphia's Sonny Conto (3-0, 3 KOs) knocked out Youngstown, Ohio's Daniel Infante (1-2) with an overhand right at 2:08 of the second round of their heavyweight confrontation. Conto had floored Infante earlier in the round with a seven-punch flurry.
Fight of the Night
In the final fight of the night super middleweights Cem Kelic (14-0, 9 KOs) and Martez McGregor (8-2, 6 KOs) electrified the small audience remaining in the crowd with a memorable slugfest.
Chicago's McGregor started quick and floored Los Angeles-based Kelic in the first round with a right cross. That was only the beginning.
For the next seven rounds the two 168-pounders blasted each other with blows that would have taken out normal human beings. Both gave super human performances until Kelic connected with a left hook that staggered McGregor forcing referee Tony Weeks to halt the fight at 1:45 of the eighth and final round.
It was truly the best fight of the night.
Photo credit: Mikey Williams / Top Rank
Check out more boxing news on video at The Boxing Channel
To comment on this story in The Fight Forum CLICK HERE
Fast Results From Latvia: Mairis Briedis and the KO Doctor advance in the WBSS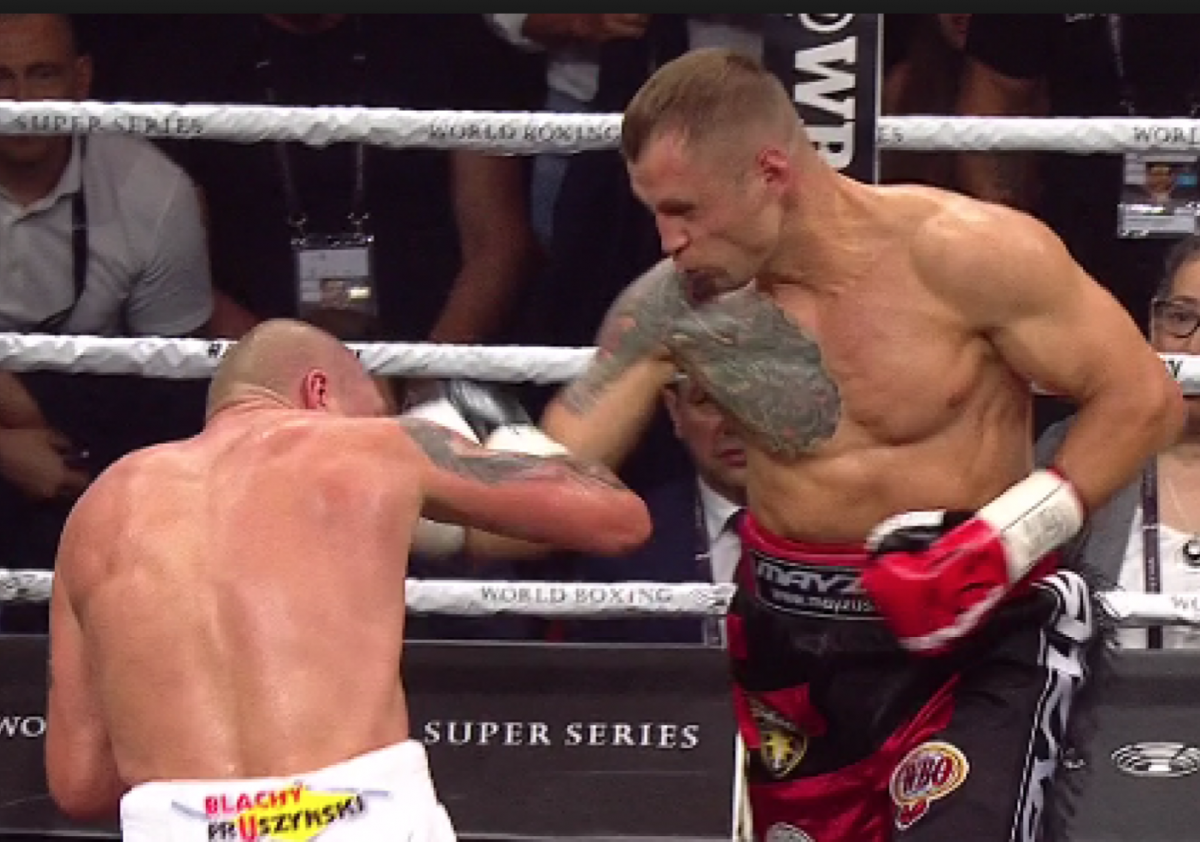 The semifinal round of the Wold Boxing Super Series cruiserweight tournament played out today in Riga, Latvia, the hometown of Mairis Briedis who was matched against Poland's Krzysztof Glowacki. Both fighters had only one blemish on their ledger and in both cases their lone defeat came at the hands of Oleksandr Usyk.
The fans left happily after Briedis (26-1, 19 KOs) knocked out Glowacki (34-2) in the third frame. But it was messy fight that invites a lot of second-guessing and likely a challenge from the Glowacki camp.
After a feeling-out first round, Briedis cranked up the juice. An errant elbow landed behind Glowacki's head, putting him on the canvas. For this discretion, Briedis was docked a point. A legitimate knockdown followed — Glowacki was hurt — and then another knockdown after the bell had sounded. The referee could not hear the bell in the din. It was a wild scene.
The fight was allowed to continue, but didn't last much longer. Coming out for round three, Glowacki wasn't right and Briedis pounced on him, scoring another knockdown, leading referee Robert Byrd to waive the fight off at the 27 second mark. It wasn't Byrd's finest hour.
The tournament organizers anticipated the complication of a draw and assigned extra judges to eliminate this possibility. They did not anticipate the complication of a "no-contest." If the outcome isn't overturned, Briedis, a former WBC cruiserweight champ, is the new WBO title-holder.
Dorticos-Tabiti
In the co-feature, Miami-based Cuban defector Yunier Dorticos, nicknamed the KO Doctor, lived up to his nickname with a smashing one punch knockout of previously undefeated Andrew Tabiti. The end for Tabiti came with no warning in round 10. An overhand right left him flat on his back, unconscious. Referee Eddie Claudio didn't bother to count. The official time was 2:33.
It was easy to build case for Dorticos (24-1, 22 KOs). He was three inches taller than Tabiti, packed a harder punch, and had fought stronger opposition. But it was understood that Tabiti, now 17-1, had a more well-rounded game. Moreover, there were concerns about Dorticos' defense and stamina.
Dorticos was ahead on the scorecards after nine frames. He rarely took a backward step and let his hands go more freely. And it didn't help Tabiti's cause that he was docked a point for holding in the sixth frame. Earlier in that round, an accidental clash of heads left Dorticos with a cut over his right eye. The ringside physician was called into the ring to examine it and let the bout continue.
With the victory, Dorticos became the IBF world cruiserweight champion and moved one step closer to acquiring the coveted Muhammad Ali trophy in what will be, win or lose, the most lucrative fight of his career.
To comment on this story in The Fight Forum CLICK HERE
Angel Ruiz Scores 93 Second KO in Ontario, CA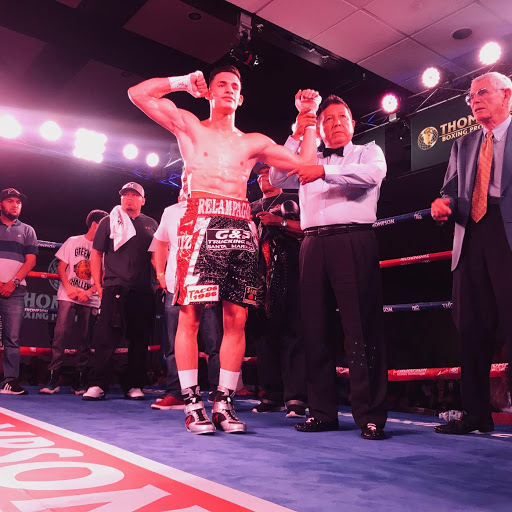 (Ringside Report by Special Correspondent Tarrah Zeal) ONTARIO, CA – "Path to Glory" featured some of Southern California's hottest prospects carving their image into the boxing world through the Thompson Boxing Promotions platform at the Doubletree Hotel in Ontario, CA Friday night.
Undefeated welterweight prospect Angel Ruiz (14-0, 11 KO) of Maywood, CA finished veteran Miguel Zamudio (43-13-1, 27 KO) from Los Mochis, Mexico with an impressive stoppage at 1:33 in the first round scheduled for eight.
At 21 years young, Ruiz (pictured) came into the night with four KO wins in his last four bouts and looking to continue his streak. A second-round body shot win over Gerald Avila (8-17-3) on May 10th and first round KO win against Roberto Almazan (8-9) just this year.
Ruiz was just getting started in the ring using his long distance and power punches to punish Zamudio.
Twenty seconds into the opening round, Ruiz' mouthpiece went flying out and a timeout was called. Once the mouthpiece was placed back in, Ruiz administered a quick flurry of punches but with no exchange from Zamudio, referee Raul Caiz stepped in and stopped the main event fight.
After the fight interview Ruiz was asked about what he saw in the fight, "I see this guy. He wants to fight. He was trying to fight but I'm too hard. I got you." Ruiz said. "I feel ready. I want to fight with the best."
With 89 amateur bouts under his belt, although not signed with any promoters, Ruiz is verbally challenging Vergil Ortiz, "Vergil if you see this video, remember me".
Brewart
In he co-main event, a six round junior middleweight bout, Richard "Cool Breeze" Brewart (6-0, 2 KO) of Rancho Cucamonga, CA won a unanimous decision over Antonio "El Tigre" Duarte (2-1) of Tijuana, Mexico.
Brewart was coming into the fight looking like the faster, more technical fighter of the two. Duarte over-telegraphed all of his punches, allowing Brewart to use his overhand right and awesome agility to angle out of reach.
Even after Duarte checked Brewart on the chin with a strong punch, Brewart's power punches always ended the rounds. The judges scored the bout 60-54 twice and 59-55 for Brewart.
Other Bouts
A victorious unanimous decision at the end of a six-round toe-to- toe bantamweight fight was given to Mario "Mighty" Hernandez, (8-1-1, 3 KO) of Santa Cruz, CA over lefty Victor "Lobo" Trejo Garcia (16-11-1, 8 KO) from Mexico City, Mexico.
Continuous hard punches were exchanged from both brawlers starting at the bell of round one. Fans were excited after a flurry of punches and then a clear push from Hernandez sent Trejo to the floor at the end of round three, giving the crowd excitement for the coming rounds.
It deemed to be a bit of a challenge for both, as orthodox Hernandez managed to match southpaw Trejo's overhand right punches with his own in response. After six rounds of continuous action two judges scored the bout 57-56 and one 59-54 for Hernandez.
In what would be an exciting and entertaining four-round heavyweight bout, Oscar Torrez (6-0, 3 KO) from Riverside, CA took on Allen Ruiz (0-2) of Ensenada, Mexico.
A surprising uppercut from Ruiz, in the beginning of round one, put Torrez on the canvas and every eye in the room were all fixated on both brawlers. The look in Torrez' eyes were more calculated, as he was careful from then on.
Wild punches were being thrown from Ruiz without fear of repercussion, but then a quick liver shot from Torrez sent him to his knees. After a couple of seconds to adjust back into the bout, Ruiz was then checked again by left hook to the chin knocking out his mouthpiece. There were 20 seconds left in round two and the round ended with no mouthpiece.
Torrez showed he was stronger and the more technical fighter and finally ended the bout by KO with a right hook to Ruiz's body at 1:08 in the third round.
Jose "Tito" Sanchez, a rising featherweight prospect with two knockouts in his first two fights and training under star trainer Joel Diaz, out of Indio, CA, took on veteran Pedro "Pedroito" Melo (17-20-2, 8 KO). Even with his low experience in the professional boxing world, Sanchez showed his maturity in the ring by controlling the fight when following Melo around the ring and landing clean left hooks and powerful body shots. After four rounds Sanchez won by 40-36 on all three cards.
Check out more boxing news on video at The Boxing Channel
To comment on this story in The Fight Forum CLICK HERE