When Life Imitated Art: The Birth of the Legend of Arturo Gatti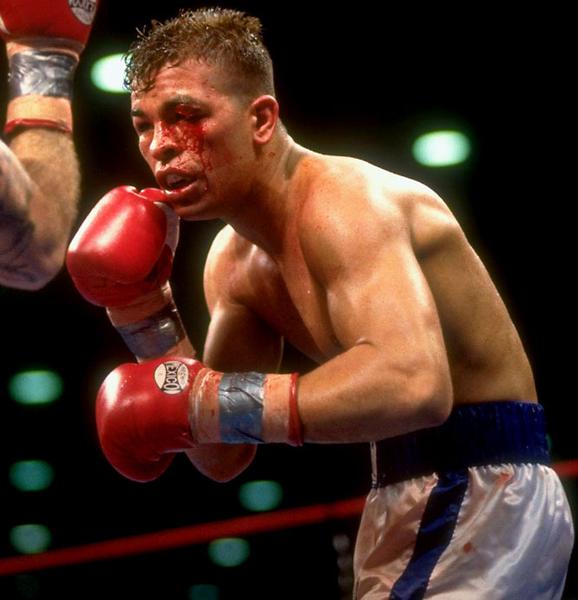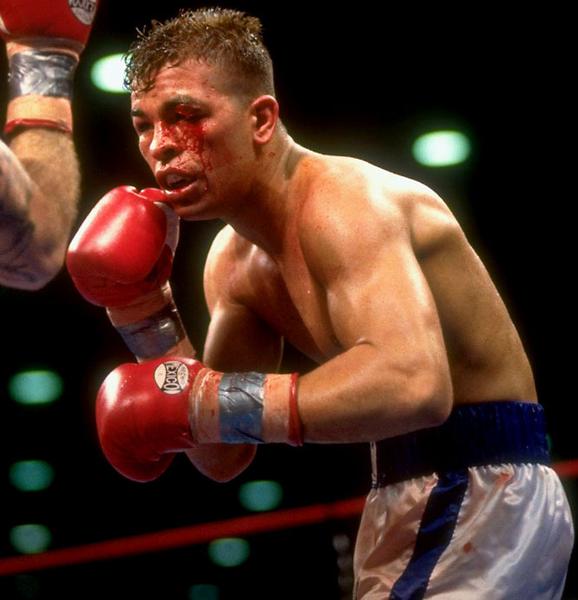 In retrospect, the timing was eerily appropriate. Less than 24 hours after Arturo "Thunder" Gatti announced himself as his generation's most compelling action fighter, Braveheart, a film about William Wallace, the legendary, late 13th century Scottish warrior, took the Best Picture Oscar at the 68th annual Academy Awards.
Nor was that the only applicable movie analogy after the nearly blinded Gatti's epic sixth-round knockout of Wilson Rodriguez on March 23, 1996 – to be technically accurate, very early on March 24, considering that the fight, the second installment of HBO's recently launched Boxing After Dark series, ended at 12:40 a.m. in the Eastern time zone. Upon entering his dressing room at Madison Square Garden, Gatti, his face a lumpy mess, turned around and shouted, to no one in particular, a familiar catch-phrase from Rocky, the fictional tale of a never-say-die boxer which was named Best Picture of 1977.
"Yo, Adrian, I did it!" screamed an exuberant Gatti, just 22 days shy of his 24th birthday and possibly unaware that his promising ring career had just crossed over into a different dimension.
"That was the transitional fight that took Gatti from being a budding attraction and a champion (the back-from-the-brink conquest of Rodriguez was his first defense of his IBF junior lightweight title) to being a cult figure," Lou DiBella, now a promoter but then the senior vice president of HBO Sports, said when contacted for his thoughts on a slugfest that became an instant classic, one of many authored by a fighter who demonstrated time and again he was always ready, even eager, to go down into the trenches.
"There's no question that fight changed everything. It was a Rocky movie, the most dramatic fight I've ever seen to this day. I'm not going to say it's the best fight I've ever seen, but it certainly was the most dramatic. The myth and legend of Arturo Gatti was born that night."
Pat Lynch, Gatti's manager, agrees with DiBella that the Rodriguez bout represented a sea change for his Italian-born, Montreal-reared, Jersey City-based fighter.
"There were a few people who knew how entertaining and exciting Arturo could be, but that's the one that really put him on the map because it was televised by HBO and a lot of people got to see it," Lynch recalled. "He had shown signs of being that guy early on, in a fight against Leon Bostic (winning an eight-round majority decision on Jan. 8, 1994, in Catskill, N.Y.). I remember that fight vividly. I was walking back to the dressing room when Al Gavin (a veteran cutman) made a sign with his hands as if to say, 'That kid's got 'em (cojones) this big.' That was the kind of throw-down war that Arturo came to be known for, but his coming-out party was definitely the Wilson Rodriguez fight."
It is curious then that Gatti-Rodriguez has become, if not exactly forgotten, a somewhat lesser entry in Gatti's thick file of unforgettable trials by combat. Ask fight fans what they most remember about Gatti – who was just 37 when he died under mysterious circumstances in Brazil on July 11, 2009 — and they're apt to cite his three bouts with Micky Ward, two of which were won by Gatti. Although Gatti was a participant in three Fights of the Year as selected by The Ring magazine (1997, KO5 of Gabriel Ruelas; 1998, L, SD10 to Ivan Robinson and 2002, L, MD10 to Micky Ward), his demolition derby with Rodriguez was aced out for 1996 Fight of the Year, understandably given its more consequential nature, by Evander Holyfield's 11th round stoppage of Mike Tyson.
"I think it's fair to say the trilogy with Micky Ward is the defining memory of Gatti in the ring," said Larry Merchant, the longtime color commentator for HBO boxing telecasts who was at ringside for Gatti-Rodriguez. "At the time Gatti fought Rodriguez we knew he was an exciting brawler, but given the circumstances – it was just the second Boxing After Dark show – and the theatrical drama of that fight, it's a part of his legacy, although maybe not as much as his fights with Ward."
It's also fair to say that Gatti was not exactly an unknown commodity when he squared off against Rodriguez. Even before he wrested the IBF 130-pound title from Tracy Harris Patterson on a 12-round unanimous decision on Dec. 15, 1995, the ruggedly handsome, tri-lingual Gatti had been identified as a potential superstar with the kind of crossover appeal that would find favor with fringe and even non-boxing fans. Integrated Sports International, a sports management company that represented, among others, Oscar De La Hoya, the NBA's Hakeem Olajuwon and NFL's Steve Young and Drew Bledsoe, envisioned Gatti as a key addition to its lineup of athletes who could also serve as commercial spokesmen.
DiBella's first Boxing After Dark telecast, the main event of which had been WBO super bantamweight champion Marco Antonio Barrera's 12th-round stoppage of Kennedy McKinney, had been an aesthetic and ratings smash, with Barrera going down once and McKinney four times. Hoping to build on that momentum, DiBella wanted to pair Gatti with Wilfredo Vazquez, a former WBA super bantamweight and featherweight champion who had more name recognition than Rodriguez, a 30-year-old native of the Dominican Republic based in Spain who was the IBF's No. 2-ranked junior lightweight but had never fought in the United States. Lynch lobbied for Rodriguez, whom he incorrectly believed would pose a somewhat easier test for Gatti after he had gone 12 grueling rounds with Patterson only three months earlier.
"I wanted Vazquez because he was the bigger name," DiBella reasoned. "I had no problem with Rodriguez. I thought it was a good fight. But I was trying to build a series. We did incredibly well with the ratings for Barrera-McKinney and I wanted to make sure we had a follow-up show that was attractive, so we doubled down with Junior Jones-Orlando Canizales as the lead-in. We had three of the best lower weight-class fighters in the world, and two of them were fighting each other."
Jones and Canizales held up their end with Jones, a Brooklyn native, winning a minor super bantamweight title on a unanimous, 12-round decision to the delight of the announced attendance of 3,698 (about 800 below capacity) in the Theater at Madison Square Garden. It might have been a tough act to follow, considering that one well-regarded boxing writer had labeled Gatti-Rodriguez as a "gimme" for Gatti, who went in with a 24-1 record and 20 KOs, including 14 in the first round.
Some gimme. Tagged with laser-like accuracy by Rodriguez's stiff jabs and overhand rights, Gatti returned to his corner after the first round with a puffy left eye and a mouse beginning to form under his right. It got worse for him in the second round, when he was floored with a three-punch combination. He was up at the count of three and, as was his custom, fought back gamely, refusing to clinch, but the condition of both of his eyes was rapidly deteriorating.
Fortunately for Gatti, one of the best cutmen in the business, Joe Souza, had just joined his support crew and was proving to be a valuable addition as he feverishly worked his magic. Souza's handiwork was evident when the ring physician examined Gatti after both the third and fourth rounds, with Gatti five times correctly answering how many fingers the doctor was holding up. But Gatti knew, as did trainer Hector Roca, that his field of vision would soon be too impaired for him to be allowed to fight on.
In typical Gatti fashion, each time he appeared to inch close to a loss by stoppage, he would launch a counterattack that bought him precious seconds. Despite being docked a penalty point by referee Wayne Kelly in the fifth round for repeated low blows, Gatti ripped a left hook to the liver that put Rodriguez down for a six count in the fifth round. It was a harbinger of what was to follow in the sixth, when, with Rodriguez's right hand held low to protect his injured side, Gatti went upstairs with another hook that landed flush on the jaw, the challenger collapsing onto his back where he was counted out at the 2:16 mark. He would remain prone, unable to rise, for over a minute.
"We've been billing Arturo Gatti as one of the most exciting fighters in the world," said his promoter, Dino Duva. "I just wish he wouldn't make it this exciting."
Kelly was asked how close he had come to awarding a TKO victory to Rodriguez, who was ahead by three points on two of the official scorecards and was behind by one point on the other. "I was close to stopping it in the third," he said. "But I've worked with Gatti before and know he's very resilient."
Gatti, of course, went on to become the franchise fighter in Atlantic City, so much so that Lynch observed that "People planned their vacations around going there for the full weekend when Arturo fought there. His fights were that kind of must-see event.
"I pulled up to Bally's one time and the bell kid came out to get all our stuff. He saw the corner jackets and the robe that were in my car and he asked, `You're with Team Gatti?' I said yeah. He goes, `We love it when Gatti comes to town. Everybody makes money.' And it was true. The taxi drivers made money, there were more restaurant reservations made. His following in Atlantic City just grew and grew. He had a cult following like you'd see anywhere the Grateful Dead played."
Rodriguez wasn't so fortunate. He did not get a rematch with Gatti and had only one more meaningful fight, a unanimous decision loss to Angel Manfredy, before retiring in 1999 with a 48-11-3 record and 37 KOs. Perhaps Gatti-Rodriguez has lost some of its original luster because Rodriguez did not rise in prominence as did Ward, whose three-bout passion play with Gatti has made him a more or less equal partner for posterity's sake.
Gatti was posthumously inducted into the International Boxing Hall of Fame in 2013, an honor more than a few pundits believe is undeserved because he never quite made it to the top tier of superstardom that owes in equal parts to popularity and success inside the ropes. DiBella would argue that Gatti did deserve enshrinement for the excitement he so frequently generated, even if his skills never approached those of De La Hoya and Floyd Mayweather Jr., both of whom defeated him with relative ease.
"Gatti was never a pound-for-pound guy," DiBella acknowledged. "If you were a warrior and had a good night, you could rumble with Gatti. But he was an incredible fighter, and you can't rewrite him into Floyd Mayweather. He was just a blood-and-guts warrior. Gatti wasn't really happy if he didn't get into a war."
Bernard Fernandez is the retired boxing writer for the Philadelphia Daily News. He is a five-term former president of the Boxing Writers Association of America, an inductee into the Pennsylvania, New Jersey and Atlantic City Boxing Halls of Fame and the recipient of the Nat Fleischer Award for Excellence in Boxing Journalism and the Barney Nagler Award for Long and Meritorious Service to Boxing.
Check out more boxing news on video at The Boxing Channel
To comment on this story in The Fight Forum CLICK HERE
Angel Ruiz Scores 93 Second KO in Ontario, Calif.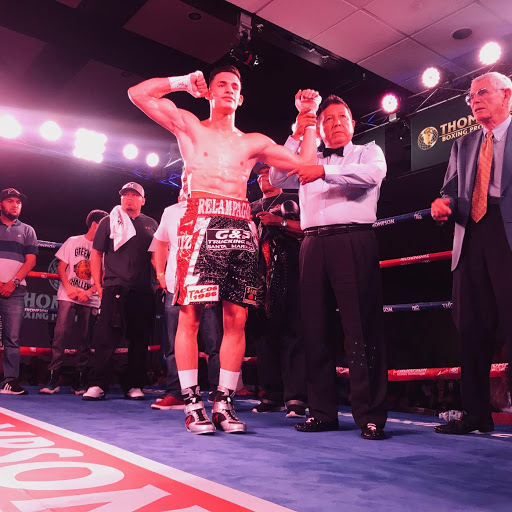 (Ringside Report by Special Correspondent Tarrah Zeal) ONTARIO, Calif.- "Path to Glory" featured some of Southern California's hottest prospects carving their image into the boxing world through the Thompson Boxing Promotions platform at the Doubletree Hotel in Ontario, CA Friday night.
Undefeated welterweight prospect Angel Ruiz (14-0, 11 KO) of Maywood, CA finished veteran Miguel Zamudio (43-13-1, 27 KO) from Los Mochis, Mexico with an impressive stoppage at 1:33 in the first round scheduled for eight.
At 21 years young, Ruiz (pictured) came into the night with four KO wins in his last four bouts and looking to continue his streak. A second-round body shot win over Gerald Avila (8-17-3) on May 10th and first round KO win against Roberto Almazan (8-9) just this year.
Ruiz was just getting started in the ring using his long distance and power punches to punish Zamudio.
Twenty seconds into the opening round, Ruiz' mouthpiece went flying out and a timeout was called. Once the mouthpiece was placed back in, Ruiz administered a quick flurry of punches but with no exchange from Zamudio, referee Raul Caiz stepped in and stopped the main event fight.
After the fight interview Ruiz was asked about what he saw in the fight, "I see this guy. He wants to fight. He was trying to fight but I'm too hard. I got you." Ruiz said. "I feel ready. I want to fight with the best."
With 89 amateur bouts under his belt, although not signed with any promoters, Ruiz is verbally challenging Vergil Ortiz, "Vergil if you see this video, remember me".
Brewart
In he co-main event, a six round junior middleweight bout, Richard "Cool Breeze" Brewart (6-0, 2 KO) of Rancho Cucamonga, CA won a unanimous decision over Antonio "El Tigre" Duarte (2-1) of Tijuana, Mexico.
Brewart was coming into the fight looking like the faster, more technical fighter of the two. Duarte over-telegraphed all of his punches, allowing Brewart to use his overhand right and awesome agility to angle out of reach.
Even after Duarte checked Brewart on the chin with a strong punch, Brewart's power punches always ended the rounds. The judges scored the bout 60-54 twice and 59-55 for Brewart.
Other Bouts
A victorious unanimous decision at the end of a six-round toe-to- toe bantamweight fight was given to Mario "Mighty" Hernandez, (8-1-1, 3 KO) of Santa Cruz, CA over lefty Victor "Lobo" Trejo Garcia (16-11-1, 8 KO) from Mexico City, Mexico.
Continuous hard punches were exchanged from both brawlers starting at the bell of round one. Fans were excited after a flurry of punches and then a clear push from Hernandez sent Trejo to the floor at the end of round three, giving the crowd excitement for the coming rounds.
It deemed to be a bit of a challenge for both, as orthodox Hernandez managed to match southpaw Trejo's overhand right punches with his own in response. After six rounds of continuous action two judges scored the bout 57-56 and one 59-54 for Hernandez.
In what would be an exciting and entertaining four-round heavyweight bout, Oscar Torrez (6-0, 3 KO) from Riverside, CA took on Allen Ruiz (0-2) of Ensenada, Mexico.
A surprising uppercut from Ruiz, in the beginning of round one, put Torrez on the canvas and every eye in the room were all fixated on both brawlers. The look in Torrez' eyes were more calculated, as he was careful from then on.
Wild punches were being thrown from Ruiz without fear of repercussion, but then a quick liver shot from Torrez sent him to his knees. After a couple of seconds to adjust back into the bout, Ruiz was then checked again by left hook to the chin knocking out his mouthpiece. There were 20 seconds left in round two and the round ended with no mouthpiece.
Torrez showed he was stronger and the more technical fighter and finally ended the bout by KO with a right hook to Ruiz's body at 1:08 in the third round.
Jose "Tito" Sanchez, a rising featherweight prospect with two knockouts in his first two fights and training under star trainer Joel Diaz, out of Indio, CA, took on veteran Pedro "Pedroito" Melo (17-20-2, 8 KO). Even with his low experience in the professional boxing world, Sanchez showed his maturity in the ring by controlling the fight when following Melo around the ring and landing clean left hooks and powerful body shots. After four rounds Sanchez won by 40-36 on all three cards.
Check out more boxing news on video at The Boxing Channel
To comment on this story in The Fight Forum CLICK HERE
Is the UFC Purchasing Premier Boxing Champions?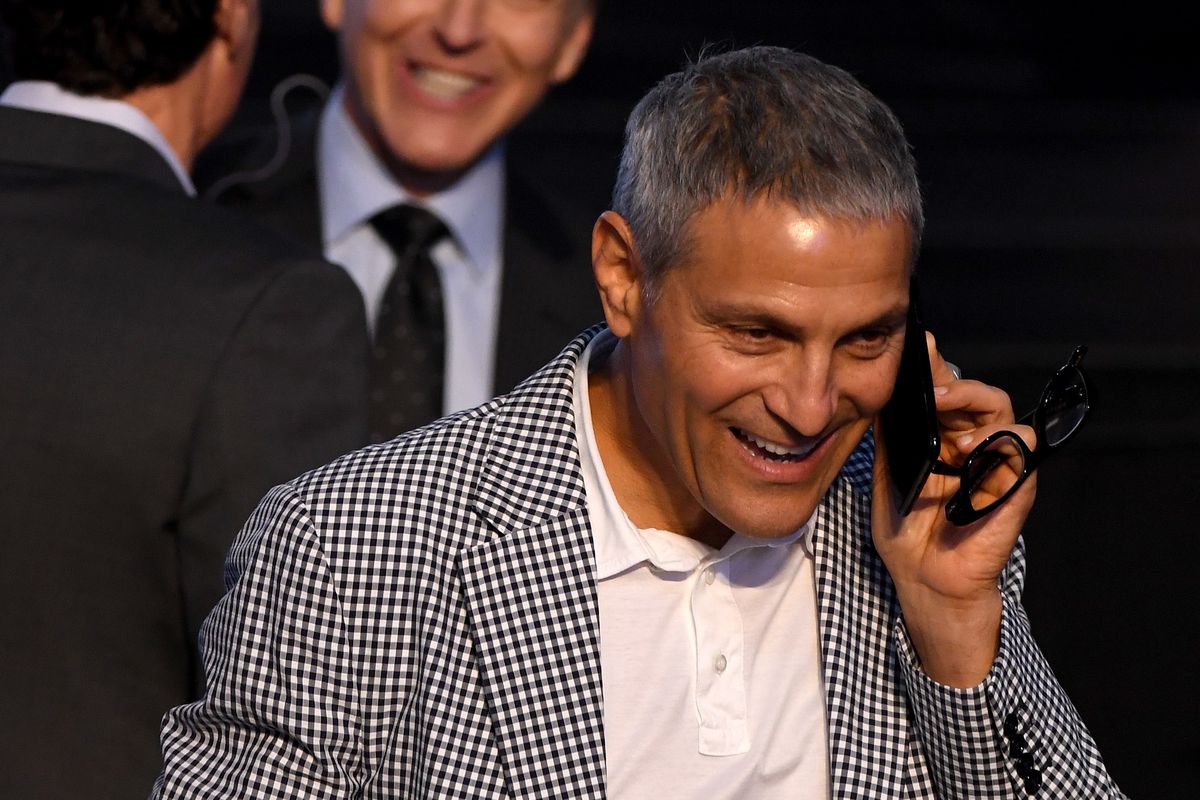 Several news outlets are reporting that the Ultimate Fighting Championship's parent company Endeavor is in talks with Al Haymon to purchase the Premier Boxing Champions. The deal is far from happening and will be complicated if it is completed. Let's look at some of the details.
Dana White has been the face of the UFC since the brand was purchased by Zuffa in 2001 and over the years he has repeatedly hinted about invading the world of boxing. In his early days as the UFC's head honcho, White even challenged his biggest star, Tito Ortiz, to a boxing match. The match never happened but to this day White will tell you he would have beaten Ortiz in a fight under Queensberry rules.
In more recent years the UFC co-promoted the Conor McGregor versus Floyd Mayweather Jr match and White, although he would vehemently deny it, also had to have at least tacitly approved of Oscar De LaHoya's promotion of the third bout between Ortiz and his rival Chuck Liddell. That match-up was likely assessed by White this way: "If Oscar wants to promote MMA let him lose his money," but he didn't stand in the way of De La Hoya and his Golden Boy Promotions.
White's name has also come up in connection with Anthony Joshua. White is said to have had a huge offer ready for the then heavyweight champion, but he backed off when the realization hit that he could not make matches for Joshua in the way he is accustomed because he had no roster of potential opponents. However, White has been insistent that the UFC will "100 percent get into boxing."
Under new owners Endeavor, White cannot operate like he did under old owners Zuffa, but if the deal goes down it is likely because White crafted some type of long term vision that he sold to Endeavor co-founder and CEO Ari Emanuel (pictured).
When Endeavor purchased the UFC in July of 2016 for a reported $4.05 billion, White agreed to guide the company for at least five more years, of which roughly two are up.
On the flipside, it is difficult to see Al Haymon relinquishing control of PBC. More than likely Haymon would stay in charge of the PBC wing and Endeavor would serve as a cash cow to keep what he has built going.
Haymon must stay aboard for another reason, though few will say it. The reason is ethnicity. If Haymon is left out, that would basically leave Leonard Ellerbe and his boss Floyd Mayweather Jr as the only prominent African-American promoters in boxing and that would not be a healthy situation.
Premier Boxing Champions has a diverse group of fighters among the over 200 pugilists under contract. Some are African-American as are many of Haymon's key employees and associates. Frankly, at least a portion of those fighters and employees would not feel the same comfort level they have with Haymon if Emanuel, a member of an influential Jewish family (his brother is former Chicago mayor Rahm Emanuel) and Vegas power broker White were abruptly substituted.
Another effect on the PBC model is on the promotional end. Haymon has cobbled together a group of promoters that operate regionally under his PBC umbrella. The model that Endeavor brings with the UFC will have a more centralized approach to promotion. How will the new owners deal with Lou DiBella in NY, James Leija and Mike Battah in Texas, and Tom Brown in California? Throw in the aforementioned Ellerbe and Mayweather, who operate primarily in Vegas but also in the Washington DC and Baltimore area. How will the promoters who work with the PBC see their relationship change if Haymon left and Dana White was in charge?
Haymon has built the PBC over the years into a big business. He has the PBC on FOX and Showtime whereas the UFC, which previously partnered with FOX, now has a long-term deal with ESPN. This suggests that if a deal is made, PBC and the UFC will have to operate as completely separate entities under the same umbrella, at least for the foreseeable future. And even that might be further away from happening than most people realize.
Check out more boxing news on video at The Boxing Channel
To comment on this story in The Fight Forum CLICK HERE
Seniesa Estrada Scores Fifth Consecutive KO and "Crazy A" Wins Too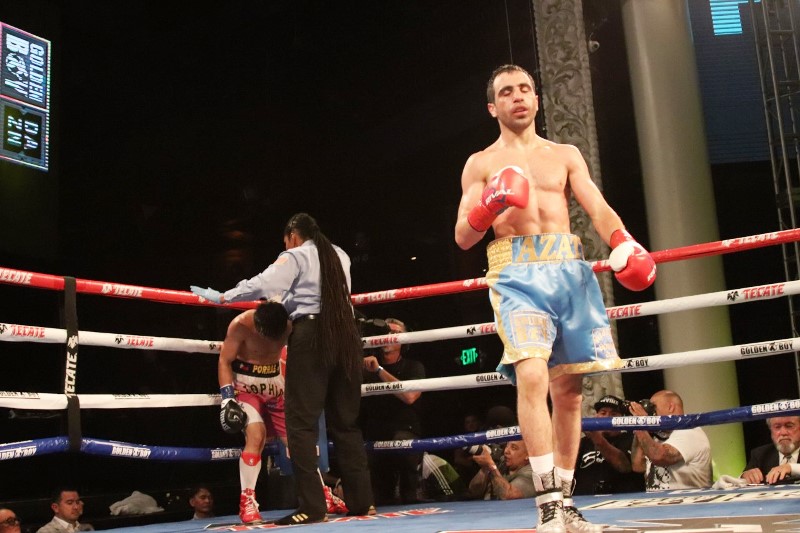 HOLLYWOOD, Ca.-After a turbulent first round Seniesa Estrada turned on the after burners and delivered a savage body attack to defeat Philippines Gretchen Abaniel and score her fifth consecutive knockout on Thursday evening.
It was the first time a Golden Boy Promotions female fight was featured as the main event on a DAZN streamed boxing card.
WBC Silver light flyweight titlist "Super Bad" Estrada (17-0, 7 KOs) was making her second defense of the title and clashed heads with the veteran Abaniel (18-11, 6 KOs) in front of a sold out audience at the Avalon Theater.
"It didn't bother me at all. Blood doesn't faze me," said Estrada who was cut on the side of her head from a supposed head butt.
In the opening round both clashed with a flash of blows inside and perhaps heads clashed. The exchange was furious as both found themselves tangled with each other and unable to find distance or a rhythm.
That would end soon.
The next round saw Estrada switch to southpaw. That seemed to stall Abaniel's attack and then the East L.A. fighter began establishing a left hook as an attacking blow and a countering measure. Abaniel seemed stymied and confused. The quickness of the East L.A. fighter and her ability to hit and get out of range left the Filipina slugger waiting instead of fighting.
It would only get worse.
Abaniel's corner admonished her to attack and forget about trying to out-think Estrada. She almost ran toward Estrada swinging with abandon until the East L.A. fighter hit her with a quick one-two. Then Estrada began targeting the body with punishing blows that drew winces from the crowd at the sound of the blows. Abaniel fought back and launched a five-punch combination. Estrada returned fire with a four-punch combination that saw Abaniel try and counter. Estrada slipped the blow and returned with a lightning quick four-punch combination at the bell.
Estrada had established her distance and rhythm and was now in full control. After several counter left hooks and counter rights, Estrada zeroed in toward Abaniel's body and pummeled her abdomen with resounding shots. Body shot after body shot was sent to Abaniel's body and it was apparent that she was slowing from the punishment. At the end of round four she went to her corner stool and was asked if she wanted to continue. Abaniel's corner halted the fight. Estrada was declared the winner by knockout at the end of round four.
It was Estrada's fifth consecutive knockout win.
"I was landing some really hard shots I had to be careful because her style makes for a really sloppy fight," said Estrada after the fight.
Now the East L.A. light flyweight champion knows exactly what road she intends to take.
"Of course everybody knows the rivalry between Marlen Esparza and me," said Estrada. "The fight I want is Yesenia Gomez the WBC champion. Let's make it happen."
Estrada has no doubt its world title or bust.
 Azat
Super bantamweight contender Azat Hovhannisyan (17-3, 14 KOs) battered Philippines gladiator Glen Porras (32-9, 20 KOs) relentlessly for four rounds until the fight was stopped.
"Crazy A" Hovhannisyan has previously fought for a world title and lost to WBC titlist Rey Vargas and was eager to prove he belongs on the big stage again. Porras, a contender also, just could not match Hovhannisyan's speed or stamina though he did try.
After a 15-punch barrage followed by a 13-punch barrage by Hovhannisyan, the referee Sharon Sands decided she had seen enough and stopped the one-sided match up at 2:08 of the fourth round. Hovhannisyan was given the win by knockout.
"Everything is good, it was a good fight," said Hovhannisyan who arrived with a large crowd and told everyone he wants to the champions and ex-champions. "I want TJ (Doheny) and Danny Roman and Rey Vargas. First, maybe TJ."
A battle between two island fighters saw Puerto Rico's Carlos Caraballo (12-0, 12 KOs) gain his 12th knockout in 12 fights with a second round ending over Dominican Esteban Aquino (12-7, 7 KOs) in a super bantamweight clash.
From the opening bell Aquino showed no fear in opening up aggressively against the left-hand slugger. Both exchanged blows but nothing much in the first round.
Aquino was even more aggressive in the second round and during an exchange ran into a left counter by Caraballo. Aquino resumed the attack and ran into another counter left cross and down he went for the count. Referee Zachary Young ended the fight at 1:52 of the second round.
Arizona's Cesar Valenzuela (15-6-1, 5 KOs) used a stiff jab and right cross to upset L.A's Christian "Chimpa" Gonzalez (19-4, 15 KOs) and win by unanimous decision after eight rounds in a lightweight contest. Valenzuela was the busier fighter throughout as Gonzalez could not pull the trigger. Round after round Valenzuela connected with solid jabs and rights to the body.
Gonzalez seemed listless and unable to mount an offense despite the urgings from his corner. A Valenzuela left hook in the seventh round connected solidly and Gonzalez seemed unable to retaliate. All three judges scored the fight 79-73 for Valenzuela who fights out of Phoenix.
Two-time Olympian Bektemir Melikuziev (1-0) won his pro debut with a single power shot to knock out Argentina's veteran Martin Rios (23-20-4, 13 KOs) in the first round of their light heavyweight match up. Melikuziev, 23, a southpaw from Uzbekistan who is trained by brothers Joel and Antonio Diaz in Indio, used a single left cross to the belly to end the night for Rios at 1:39 of the round. The taller Argentine could not beat the count.
"I wanted the toughest challenge out there," said Melikuziev. "I went in there and took care of business."
Photo credit: Al Applerose
Check out more boxing news on video at The Boxing Channel
To comment on this story in The Fight Forum CLICK HERE