38 Knockdowns! Jeannette-McVey III in 1909 Was One For The Ages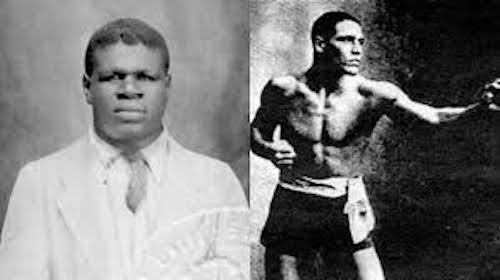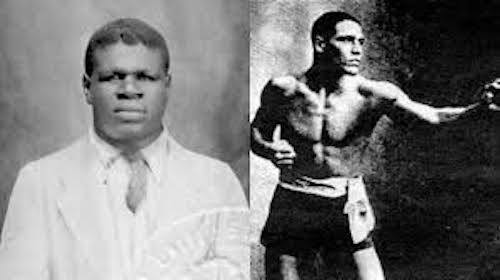 A few weeks ago, my TSS colleague Ted Sares polled a number of boxing notables as to which fight they would most like to have seen in person. My snap judgment was to go with the epic first clash of Muhammad Ali and Joe Frazier, which seemed an easy and logical choice at the time. Upon further reflection I still would stick with my original selection.
But with the 110th anniversary of a mostly forgotten classic, heavyweight Joe Jeannette's last-man-standing slugfest with Sam McVey, fast approaching on April 17, I have some cause for reconsideration. In the entire history of boxing there might never have been anything like the third of the five matchups of future Hall of Famers Jeannette (pictured on the right) and McVey, a demonstration of heart, will and endurance that went an almost-incomprehensible 49 rounds, lasted 3½ hours and featured a widely accepted total of 38 knockdowns.
"It was amazing either man was still alive," boxing historian Gerald Early said of a prolonged torture test that had no judges and no scorecards to be tallied (there was a referee, Emile Maitrot), a real fight to the finish not all that dissimilar to gladiatorial contests in the Colosseum in ancient Rome that literally were to the death.
Jeannette, the eventual victor, nearly was knocked out in the first round of the unique bout, which was billed as being for the "Colored Heavyweight Championship of the World" and staged before 2,500 spectators in the Cirque de Paris in France's largest city. But Jeannette, spurred on by pride, ambition and a burning desire to come away with some sort of title, even if it wasn't the one he most wanted, arose in a dazed condition from that first flooring and continued to plug away on instinct and muscle memory. Through 17 rounds he went down 21 times, and 27 in all before his dogged refusal to yield began to turn the tide. Exhausted and thoroughly battered himself, Jeannette was declared the winner when McVey, both of his eyes swollen shut, indicated to his corner that he'd had enough. It is one thing to fight on through incredible pain and fatigue, quite another to try to do so while literally blinded.
In another remarkable exhibition of two-way determination, the "Thrilla in Manila," Ali said that his 14-round trial by combat with the wounded but relentless beast that was Frazier was "the closest thing to death" he'd ever experienced. And it very likely was just that. But, still, you have to wonder: what if "The Greatest" and "Smokin'" Joe were asked to dig even deeper within themselves for whatever it takes to keep on keeping on to the extent that Jeannette and McVey exhibited in an era when a black fighter's courage and resiliency were not nearly as admired, appreciated and rewarded as they should have been?
"Most doors were closed to them," another boxing historian, the late Bert Sugar, once said of the late 19th– and early-20th century America in which poor blacks such as Jeannette, from Union City, N.J., and McVey, from Oxnard, Calif., by way of his native Waeider, Texas, came up. "There weren't even Negro baseball league teams then. The only door open to an athletic black youth was boxing."
Even for the more skilled practitioners of the pugilistic arts with dark skin, the pay was lousy and working conditions sometimes perilous, but it could have been worse. In a profile of Jeannette that appeared on the Fox Sports Network's Amazing Sports Stories, Early, who also is black, said that boxing back then held an undeniable appeal to male members of his race because "if someone paid you $25 for a fight, even some kind of pickup fight, that was incredible. That was more money than the average black farm worker or sharecropper was going to make. He'd be lucky if he made $25 in a year."
As the unseen narrator of the FSN documentary noted, "liberated by law but chained by prejudice, black Americans lived under a violent and oppressive regime: lynchings in the South, race riots in the North." Few white fighters would even consent to test themselves against their black counterparts in such an emotionally charged climate, and when those bouts did occur the black fighter often received death threats that might or might not have been legitimate. In any case, there were always suggestions, direct or veiled, that the black fighter, in order to get more such better-paying gigs, would be well-advised to either lose or not look too good in winning.
The high and seemingly impenetrable walls of prejudice in effect obliged such gifted black heavyweights as Jeannette, McVey, Sam Langford, Harry Wills and Peter Jackson to keep beating up on one another while the heavyweight championship of the world was locked away by white fighters they believed, with some justification, to be less capable then themselves. But then one of their own, Jack Johnson, broke through to become the first black heavyweight champion when he outpointed Canada's Tommy Burns on Dec. 20, 1908, in Sydney, Australia. Fighters such as Jeannette, who had already fought Johnson six times in non-title bouts, going 1-5 (his lone victory by disqualification) but giving a good account of himself on each occasion, now saw a clearer path to a shot at his sport's most prestigious prize.
But Johnson, whose flamboyant personality and dalliances with white women had the effect of antagonizing the white establishment like a matador waving a red cape at a bull, was not disposed to open the door to the throne room to others of his race.
"What really could have been the Jackie Robinson of boxing turned out to be a far worse chapter in America's history," offered still another boxing historian, Kevin Smith, who said Johnson was more disposed to make societal waves than to calm the waters. "America's racism was like the scab and Jack Johnson kept picking it. Every time it healed a little bit he'd pick it a little more. You know, just saying, `Hey, white America, I'm the best there is and you can't beat me. Come and try.' And when they sent their men at him he basically slapped them around and laughed at them while he was doing it."
Sugar's take on the "Galveston Giant's" intransigence may have owed to his enjoyment of the singularity of his accomplishment, something he did not want to possibly share with the men of color whose dreams were the same as his had been, and he knew to be dangerous enough to possibly knock him off.
"Jack Johnson did everything he could to flaunt – not just being the heavyweight champion, but being the black heavyweight champion," Sugar said. "He not only cavorted with white women, he married 'em. He would race cars 100 miles an hour down the wrong-way streets. He thumbed his nose at white society as much as he could. It was probably the worst thing that had happened to white America and they had to get their crown back.
"After he became champion he didn't want to defend his championship against another black man. He was so proud of being the first black champion that he wanted to be the only black champion."
To an honest workman like Jeannette – who, ironically, also was married to a white woman – Johnson's refusal to advocate equal opportunities for all was a bitter betrayal. "Jack forgot about his old friends after he became champion and drew the color line against his own people," Jeannette groused.
But there were fewer restrictions of movement and more money to be made in Europe, where fighters such as Jeannette and McVey were viewed more with fascination than hostility by white boxing buffs. So when French promoters dangled a purse of 30,000 francs, the equivalent of about $6,000 in the U.S., the offer was too enticing for either to decline, even given the prospect of their having to fight an unspecified number of rounds. Adjusted for inflation, that $6,000 purse would be worth $162,000-plus today, chump change to the Canelo Alvarezes and Anthony Joshuas at the top of the food chain but a king's ransom in 1909.
"The Europeans seemed to be rather taken with African-Americans generally, with African-American culture," Early opined. "It seemed exotic, different, primitive. They were able to better make a living over there than over here."
So two gallant warriors – Jeannette the skilled craftsman, McVey the pure power-puncher – gave every bit of themselves until there was absolutely nothing left to squeeze out of their depleted bodies. "Whatever you make of it, it was one of the great, great fights of all time," said Sugar, who acknowledged that no boxing commission in today's safety-conscious times would ever consent to allow two human beings to subject themselves to what was asked of and delivered by the men who participated in the greatest fight that no living person in 2019 can claim to have seen. Nor is the abuse they heaped upon one another 110 years ago available for viewing on tape; no footage of that fight is known to exist. But it did happen, and maybe that is enough for historical purposes. Just because there is no film, tape or television coverage of Julius Caesar conquering Celtic Gauls at the Battle of Alesia in 52 BC doesn't mean it did not happen.
"I don't know that Joe Jeannette is overlooked, (but) he's almost obscure," Sugar said. "He happened before there was film; there's none found of him. But Joe Jeannette should be remembered, and he doesn't need film to remember him."
Maybe so, maybe not. The passage of time, if enough of it goes by, wipes clean not only eyewitness accounts, but what happened in the distant past always loses some relevancy as more recent developments tend to relegate the old stuff to footnote status. But that doesn't make it right. So take a moment to salute McVey (63-12-7, 48 KOs, according to Boxrec.com), who was just 37 when he died on Dec. 23, 1921, and was inducted into the International Boxing Hall of Fame in 1999, and Jeannette (birth name: Jeremiah Jennette), who lived a full and prosperous life until his death, at the age of 78, on July 2, 1958. Considering what Jeannette, who was enshrined in the IBHOF in 1997, went through during his boxing career, with an official record of 82-10-10 (69), and another 62 no-contests, it's a shame his body and brain weren't left to science. For those who'd like to learn more about him, there's a 448-page book authored by Joe Botti, Joe Jennette: Boxing's Ironman, that offers so much more than can be culled from an 1,800-word boxing web site piece.
"It's not just a book about boxing, it's a book about a great man who lived a great life," said Botti. "If you're into boxing, there are some terrific stories in the book about some great fighters. But even if you're not, it's a story about life and love, and, unfortunately, the racism Jennette and his family dealt with."
Bernard Fernandez is the retired boxing writer for the Philadelphia Daily News. He is a five-term former president of the Boxing Writers Association of America, an inductee into the Pennsylvania, New Jersey and Atlantic City Boxing Halls of Fame and the recipient of the Nat Fleischer Award for Excellence in Boxing Journalism and the Barney Nagler Award for Long and Meritorious Service to Boxing.
Check out more boxing news on video at The Boxing Channel
To comment on this story in The Fight Forum CLICK HERE
Fast Results From Latvia: Mairis Briedis and the KO Doctor advance in the WBSS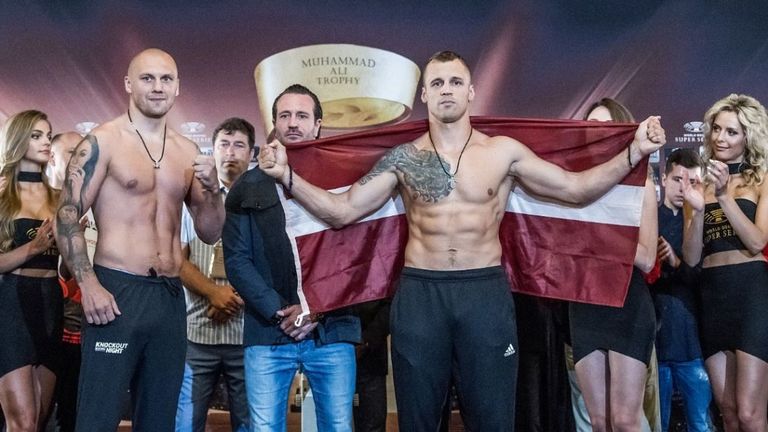 The semifinal round of the Wold Boxing Super Series cruiserweight tournament played out today in Riga, Latvia, the hometown of Mairis Briedis who was matched against Poland's Krzysztof Glowacki. Both fighters had only one blemish on their ledger and in both cases their lone defeat came at the hands of Oleksandr Usyk.
The fans left happily after Briedis (26-1, 19 KOs) knocked out Glowacki (34-2) in the third frame. But it was messy fight that invites a lot of second-guessing and likely a challenge from the Glowacki camp.
After a feeling-out first round, Briedis cranked up the juice. An errant elbow landed behind Glowacki's head, putting him on the canvas. For this discretion, Briedis was docked a point. A legitimate knockdown followed — Glowacki was hurt — and then another knockdown after the bell had sounded. The referee could not hear the bell in the din. It was a wild scene.
The fight was allowed to continue, but didn't last much longer. Coming out for round three, Glowacki wasn't right and Briedis pounced on him, scoring another knockdown, leading referee Robert Byrd to waive the fight off at the 27 second mark. It wasn't Byrd's finest hour.
The tournament organizers anticipated the complication of a draw and assigned extra judges to eliminate this possibility. They did not anticipate the complication of a "no-contest." If the outcome isn't overturned, Briedis, a former WBC cruiserweight champ, is the new WBO title-holder.
Dorticos-Tabiti
In the co-feature, Miami-based Cuban defector Yunier Dorticos, nicknamed the KO Doctor, lived up to his nickname with a smashing one punch knockout of previously undefeated Andrew Tabiti. The end for Tabiti came with no warning in round 10. An overhand right left him flat on his back, unconscious. Referee Eddie Claudio didn't bother to count. The official time was 2:33.
It was easy to build case for Dorticos (24-1, 22 KOs). He was three inches taller than Tabiti, packed a harder punch, and had fought stronger opposition. But it was understood that Tabiti, now 17-1, had a more well-rounded game. Moreover, there were concerns about Dorticos' defense and stamina.
Dorticos was ahead on the scorecards after nine frames. He rarely took a backward step and let his hands go more freely. And it didn't help Tabiti's cause that he was docked a point for holding in the sixth frame. Earlier in that round, an accidental clash of heads left Dorticos with a cut over his right eye. The ringside physician was called into the ring to examine it and let the bout continue.
With the victory, Dorticos became the IBF world cruiserweight champion and moved one step closer to acquiring the coveted Muhammad Ali trophy in what will be, win or lose, the most lucrative fight of his career.
To comment on this story in The Fight Forum CLICK HERE
Angel Ruiz Scores 93 Second KO in Ontario, CA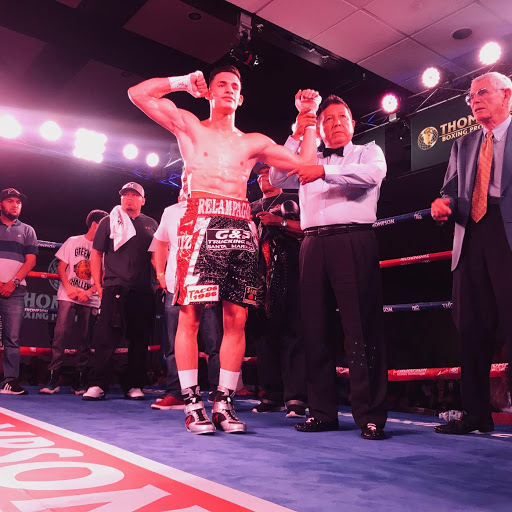 (Ringside Report by Special Correspondent Tarrah Zeal) ONTARIO, CA – "Path to Glory" featured some of Southern California's hottest prospects carving their image into the boxing world through the Thompson Boxing Promotions platform at the Doubletree Hotel in Ontario, CA Friday night.
Undefeated welterweight prospect Angel Ruiz (14-0, 11 KO) of Maywood, CA finished veteran Miguel Zamudio (43-13-1, 27 KO) from Los Mochis, Mexico with an impressive stoppage at 1:33 in the first round scheduled for eight.
At 21 years young, Ruiz (pictured) came into the night with four KO wins in his last four bouts and looking to continue his streak. A second-round body shot win over Gerald Avila (8-17-3) on May 10th and first round KO win against Roberto Almazan (8-9) just this year.
Ruiz was just getting started in the ring using his long distance and power punches to punish Zamudio.
Twenty seconds into the opening round, Ruiz' mouthpiece went flying out and a timeout was called. Once the mouthpiece was placed back in, Ruiz administered a quick flurry of punches but with no exchange from Zamudio, referee Raul Caiz stepped in and stopped the main event fight.
After the fight interview Ruiz was asked about what he saw in the fight, "I see this guy. He wants to fight. He was trying to fight but I'm too hard. I got you." Ruiz said. "I feel ready. I want to fight with the best."
With 89 amateur bouts under his belt, although not signed with any promoters, Ruiz is verbally challenging Vergil Ortiz, "Vergil if you see this video, remember me".
Brewart
In he co-main event, a six round junior middleweight bout, Richard "Cool Breeze" Brewart (6-0, 2 KO) of Rancho Cucamonga, CA won a unanimous decision over Antonio "El Tigre" Duarte (2-1) of Tijuana, Mexico.
Brewart was coming into the fight looking like the faster, more technical fighter of the two. Duarte over-telegraphed all of his punches, allowing Brewart to use his overhand right and awesome agility to angle out of reach.
Even after Duarte checked Brewart on the chin with a strong punch, Brewart's power punches always ended the rounds. The judges scored the bout 60-54 twice and 59-55 for Brewart.
Other Bouts
A victorious unanimous decision at the end of a six-round toe-to- toe bantamweight fight was given to Mario "Mighty" Hernandez, (8-1-1, 3 KO) of Santa Cruz, CA over lefty Victor "Lobo" Trejo Garcia (16-11-1, 8 KO) from Mexico City, Mexico.
Continuous hard punches were exchanged from both brawlers starting at the bell of round one. Fans were excited after a flurry of punches and then a clear push from Hernandez sent Trejo to the floor at the end of round three, giving the crowd excitement for the coming rounds.
It deemed to be a bit of a challenge for both, as orthodox Hernandez managed to match southpaw Trejo's overhand right punches with his own in response. After six rounds of continuous action two judges scored the bout 57-56 and one 59-54 for Hernandez.
In what would be an exciting and entertaining four-round heavyweight bout, Oscar Torrez (6-0, 3 KO) from Riverside, CA took on Allen Ruiz (0-2) of Ensenada, Mexico.
A surprising uppercut from Ruiz, in the beginning of round one, put Torrez on the canvas and every eye in the room were all fixated on both brawlers. The look in Torrez' eyes were more calculated, as he was careful from then on.
Wild punches were being thrown from Ruiz without fear of repercussion, but then a quick liver shot from Torrez sent him to his knees. After a couple of seconds to adjust back into the bout, Ruiz was then checked again by left hook to the chin knocking out his mouthpiece. There were 20 seconds left in round two and the round ended with no mouthpiece.
Torrez showed he was stronger and the more technical fighter and finally ended the bout by KO with a right hook to Ruiz's body at 1:08 in the third round.
Jose "Tito" Sanchez, a rising featherweight prospect with two knockouts in his first two fights and training under star trainer Joel Diaz, out of Indio, CA, took on veteran Pedro "Pedroito" Melo (17-20-2, 8 KO). Even with his low experience in the professional boxing world, Sanchez showed his maturity in the ring by controlling the fight when following Melo around the ring and landing clean left hooks and powerful body shots. After four rounds Sanchez won by 40-36 on all three cards.
Check out more boxing news on video at The Boxing Channel
To comment on this story in The Fight Forum CLICK HERE
Is the UFC Purchasing Premier Boxing Champions?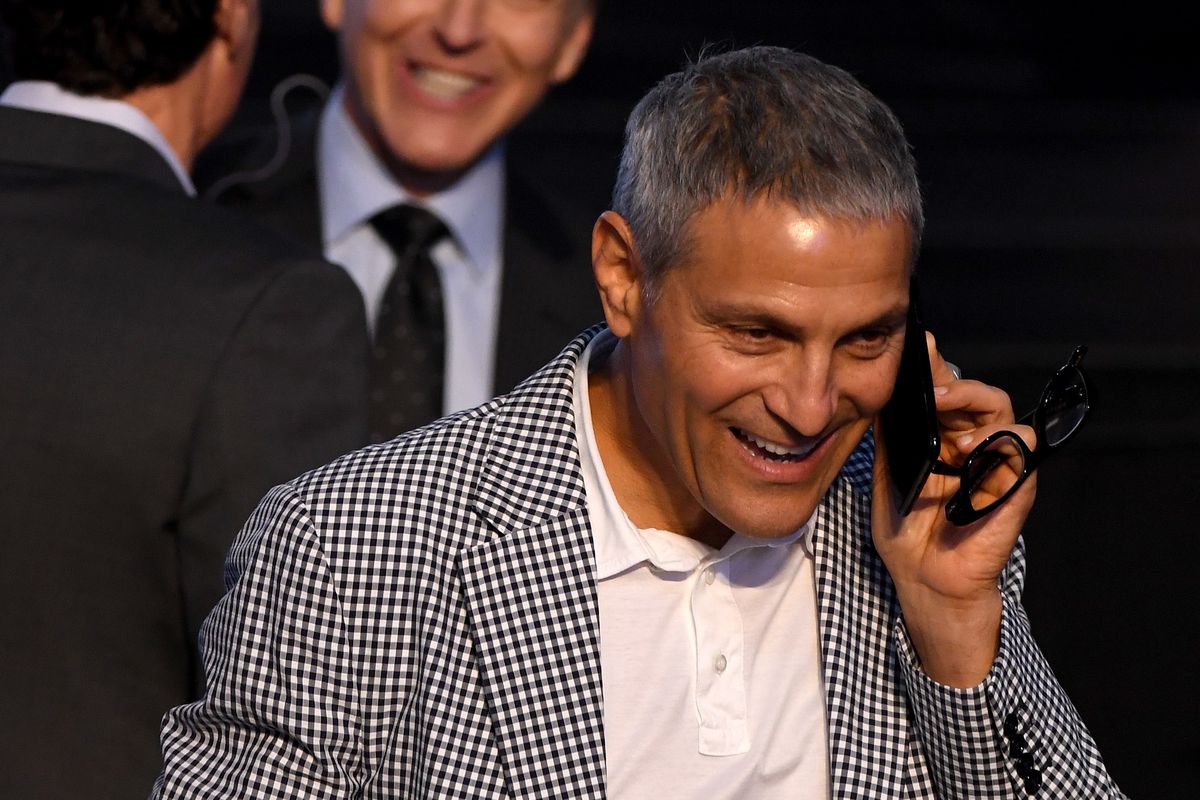 Several news outlets are reporting that the Ultimate Fighting Championship's parent company Endeavor is in talks with Al Haymon to purchase the Premier Boxing Champions. The deal is far from happening and will be complicated if it is completed. Let's look at some of the details.
Dana White has been the face of the UFC since the brand was purchased by Zuffa in 2001 and over the years he has repeatedly hinted about invading the world of boxing. In his early days as the UFC's head honcho, White even challenged his biggest star, Tito Ortiz, to a boxing match. The match never happened but to this day White will tell you he would have beaten Ortiz in a fight under Queensberry rules.
In more recent years the UFC co-promoted the Conor McGregor versus Floyd Mayweather Jr match and White, although he would vehemently deny it, also had to have at least tacitly approved of Oscar De LaHoya's promotion of the third bout between Ortiz and his rival Chuck Liddell. That match-up was likely assessed by White this way: "If Oscar wants to promote MMA let him lose his money," but he didn't stand in the way of De La Hoya and his Golden Boy Promotions.
White's name has also come up in connection with Anthony Joshua. White is said to have had a huge offer ready for the then heavyweight champion, but he backed off when the realization hit that he could not make matches for Joshua in the way he is accustomed because he had no roster of potential opponents. However, White has been insistent that the UFC will "100 percent get into boxing."
Under new owners Endeavor, White cannot operate like he did under old owners Zuffa, but if the deal goes down it is likely because White crafted some type of long term vision that he sold to Endeavor co-founder and CEO Ari Emanuel (pictured).
When Endeavor purchased the UFC in July of 2016 for a reported $4.05 billion, White agreed to guide the company for at least five more years, of which roughly two are up.
On the flipside, it is difficult to see Al Haymon relinquishing control of PBC. More than likely Haymon would stay in charge of the PBC wing and Endeavor would serve as a cash cow to keep what he has built going.
Haymon must stay aboard for another reason, though few will say it. The reason is ethnicity. If Haymon is left out, that would basically leave Leonard Ellerbe and his boss Floyd Mayweather Jr as the only prominent African-American promoters in boxing and that would not be a healthy situation.
Premier Boxing Champions has a diverse group of fighters among the over 200 pugilists under contract. Some are African-American as are many of Haymon's key employees and associates. Frankly, at least a portion of those fighters and employees would not feel the same comfort level they have with Haymon if Emanuel, a member of an influential Jewish family (his brother is former Chicago mayor Rahm Emanuel) and Vegas power broker White were abruptly substituted.
Another effect on the PBC model is on the promotional end. Haymon has cobbled together a group of promoters that operate regionally under his PBC umbrella. The model that Endeavor brings with the UFC will have a more centralized approach to promotion. How will the new owners deal with Lou DiBella in NY, James Leija and Mike Battah in Texas, and Tom Brown in California? Throw in the aforementioned Ellerbe and Mayweather, who operate primarily in Vegas but also in the Washington DC and Baltimore area. How will the promoters who work with the PBC see their relationship change if Haymon left and Dana White was in charge?
Haymon has built the PBC over the years into a big business. He has the PBC on FOX and Showtime whereas the UFC, which previously partnered with FOX, now has a long-term deal with ESPN. This suggests that if a deal is made, PBC and the UFC will have to operate as completely separate entities under the same umbrella, at least for the foreseeable future. And even that might be further away from happening than most people realize.
Check out more boxing news on video at The Boxing Channel
To comment on this story in The Fight Forum CLICK HERE