The Force is With Anthony Joshua as `The (British) Empire Strikes Back'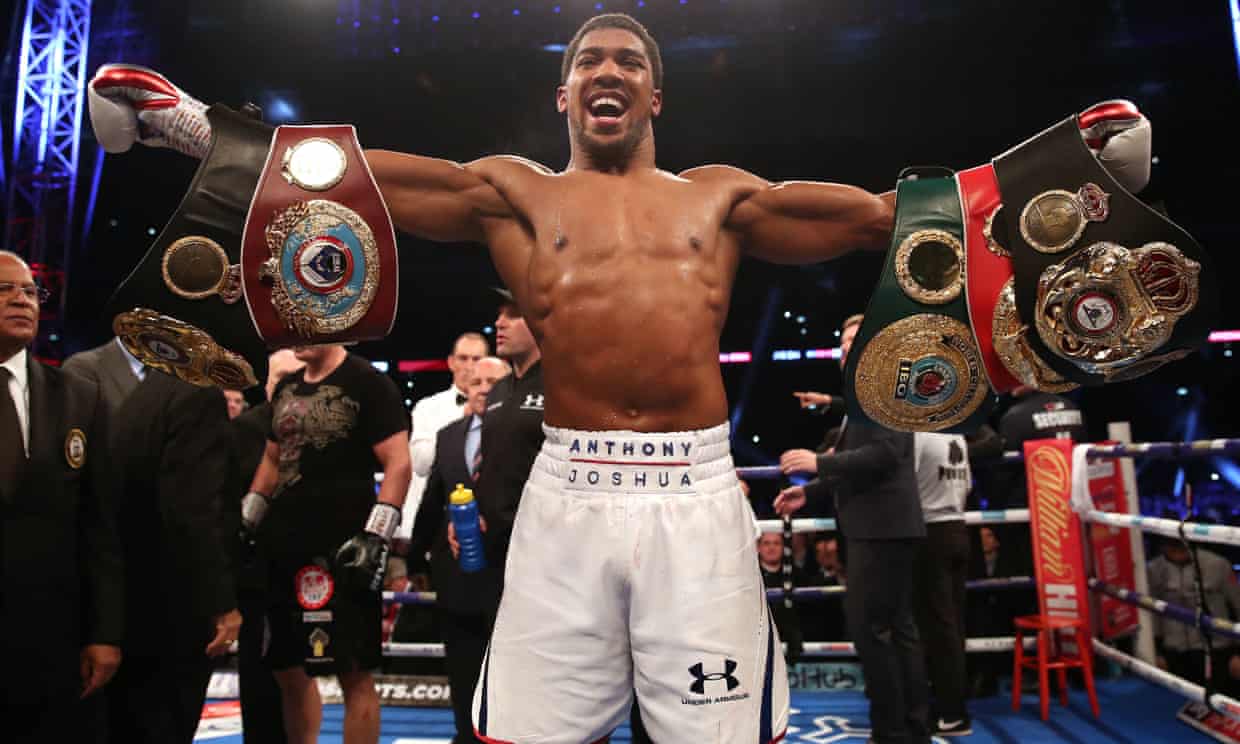 The date was Dec. 8, 2007, and WBC welterweight champion Floyd Mayweather Jr., who had just doused the hopes, if not the enthusiasm, of thousands of British boxing fans who had traveled to Las Vegas from the United Kingdom to cheer countryman Ricky Hatton in his bid to dethrone the favored American, spoke of a trans-oceanic trip he hadn't made, and never would have to.
"I always wanted to fight in the UK," Mayweather mused after he had dominated and then stopped the previously undefeated Hatton in the 10th round. "But because I couldn't, I had the best fighter in the UK come to me."
Mayweather never made it across the pond because he had the power and leverage to make all challengers travel to a place of his choosing, which frequently was the MGM Grand on the Vegas Strip. When you are the perpetual side `A' and highest-grossing prizefighter of all time, it's not difficult to make side `B' dance to your tune when it comes to negotiating contractual terms.
Times have changed, and the first working assignment in America for British's vastly popular world heavyweight champion Anthony Joshua (22-0, 21 KOs), who takes on blubbery Mexican-American Andy Ruiz Jr. (32-1, 21 KOs) in the DAZN-streamed main event Saturday night at Madison Square Garden, bears little to no resemblance to the trip made by Hatton nearly 12 years ago. It most definitely is not reminiscent of the seemingly endless decades of failure by British big men, who without exception were required to journey to the United States and take regularly scheduled beatdowns from clearly superior American champions. That happened so often and over so long a period that it resulted in the coining of the term "horizontal heavyweights" to describe the manner in which most of the Brits' longshot challenges were so emphatically squashed.
The non-boxing British Empire – which once was called "the empire on which the sun never sets" – officially became a thing of the past in 1997 when the UK ceded control of Hong Kong to the People's Republic of China. It must have been a bitter pill to swallow for a relatively small island nation that, in 1913, held sway over 23 percent of the world's population and 24 percent of the land mass. The ebbing of British influence in a general sense more or less correlates to the lengthy gap between the heavyweight title reigns of Bob Fitzsimmons, who held the title from March 17, 1897, to June 9, 1899, and the first of three separate title ascendances for Lennox Lewis, achieved when he was arbitrarily declared the WBC champion on Dec. 14, 1992, in place of American Riddick Bowe, who had publicly renounced that sanctioning body's recognition by dumping its bejeweled green belt into a trash can.
Thus did Lewis, born in London to Jamaican immigrant parents, become the first British world heavyweight champion of the 20th century. And when he made the first defense of that title on May 8, 1993, with a 12-round unanimous decision over former IBF titlist Tony Tucker in Las Vegas, it ended an ignominious streak of 13 consecutive championship-bout defeats by British heavyweights to American titlists, all of which occurred on U.S. soil.
But Lewis did not so much take his various titles back to the UK as to keep them on semi-permanent loan to the U.S. Of the 18 world championship bouts in which he participated, 14 were in America, three in the UK and one in Africa. That, he has consistently stated, was by his choice and in recognition of the United States as the epicenter of all boxing and especially championship-level heavyweight boxing.
"In the beginning when I started boxing in America, I used to get booed because I was the Brit coming over to their country," said Lewis, now 53 and retired since June 2003. "But when I won over there, they said, `Fine, he's an OK Brit. He boxes well.' They accepted me as a good fighter.
"In any case, you really had to go to America in those days for the big fights with Tyson, Holyfield and those guys."
Similar sentiments were echoed by long-reigning super middleweight champion Joe Calzaghe, the undefeated Welsh southpaw who logged 42 of his 46 career victories in the UK, one each in Germany and Denmark and two – the last two of his storied career – in the U.S., one in Vegas and one in New York.
"Brits, in order to prove themselves, always have to go over to America," Calzaghe remarked a few days prior to his lifting of The Ring magazine's light heavyweight championship belt on a 12-round  split decision over Bernard Hopkins on April 19, 2008, in Las Vegas' Thomas & Mack Center.
Ah, but that was then and this is now, most pointedly in a heavyweight division in which America's stranglehold of all or most of the undisputed and alphabet championships has devolved into a significantly loosened grip. Although the United States, with 54, remains far and away the leader in world heavyweight titles once or now held by representatives of a particular nation, the United Kingdom, a distant second with eight, is doing its best to paint over any lingering vestiges of the dark days of its "horizontal heavyweights," an era in which defeat not only was anticipated, but accepted without complaint if the occasionally valiant loser exhibited what the British like to call a stiff upper lip.
"They love a loser in this country," a perplexed Calzaghe said in Wales while preparing for his date with Hopkins. "It's ridiculous."
Four of the six Brits to have held some version of the heavyweight crown have done so since Lewis:  Herbie Hide (WBO, two reigns), Frank Bruno (WBC), Henry Akinwande (WBC) and, of course, Joshua. But the WBO was not regarded as a "major" organization when it was presenting championship straps to Hide and Akinwande, and even the thickly muscled and beloved Bruno was generally dismissed as a minor player during a time ruled by such renowned U.S. heavyweights as Tyson, Holyfield, Bowe, Larry Holmes, George Foreman and Michael Spinks.
All of which is reason enough to believe that Joshua, an overwhelming favorite over a game but seemingly overmatched Ruiz, will be at the Garden only to better introduce himself to American fight fans before returning to his comfort zone in the UK, where he is far and away the most popular and marketable fighter in Europe. No American fighter – and the only one who can even be mentioned in the same breath at this point is WBC champ Deontay Wilder (41-0-1, 40 KOs) – can pack arenas and even massive stadiums as does Anthony Oluwafemi Olaseni Joshua, the super heavyweight champion at the 2012 London Olympics and son of a Nigerian mother and Nigerian-Irish father. Joshua fought before crowds of 90,000 and 80,000, respectively, for defenses against Wladimir Klitschko and Alexander Povetkin in London's Wembley Stadium, sandwiched around capacity turnouts of 78,000 in Cardiff, Wales' Principality Stadium against Joseph Parker and Carlos Takam. If and when Joshua and Wilder agree to a much-anticipated full unification showdown, if AJ wants it on home turf, it will be so, and most likely not for the 50-50 revenue split that Wilder insists should be his because he ostensibly is in possession of the scepter once held by the regal likes of such American heavyweight legends as Jack Johnson, Jack Dempsey, Joe Louis, Muhammad Ali, Foreman, Holmes, Mike Tyson,  Evander Holyfield and Riddick Bowe.
Those days, at least for now, are past, and Joshua is a British big man who does not have to go America to stake his claim to what already is demonstrably his.  He holds three titles (four, if you include the IBO's) to Wilder's one and is the more established drawing card. Unlike other UK heavyweight wannabes, and even champions, including Lewis, he almost always gets to set terms favorable to himself.  In a very real sense, until further notice, he is what Mayweather used to be, big enough and important enough to get the world to come to him.
For now, though, he is in America for what could ultimately prove to be a one-and-done. It will be interesting to see if his fans, like those who followed Hatton to Vegas for the likely come-uppance from Mayweather, are as supportive of and passionate about a major favorite as they were of an underdog with a puncher's chance to defy the odds. Will they again show up by the thousands, screaming themselves hoarse singing "Rule, Brittania" and "God Save the Queen"? Or have they become too comfortably familiar with success, now that it's Americans, and likely soon a Mexican-American, who is left horizontal on the canvas?
Check out more boxing news on video at The Boxing Channel
To comment on this story in The Fight Forum CLICK HERE
Abel Sanchez Candidly Shares His Feelings About GGG and Andy Ruiz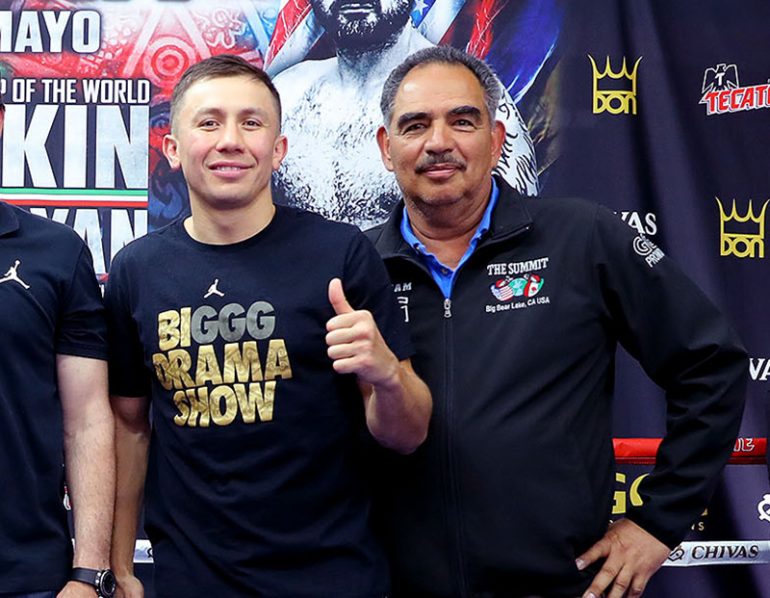 The noted trainer Abel Sanchez has taken his lumps lately, but he was as congenial as ever as he conversed with this reporter during a lull in the action on last Saturday's show at the MGM Grand Garden. Earlier in the evening, one of Sanchez's newest proteges, Guido Vianello, had advanced his record to 4-0 with a second round stoppage of sacrificial lamb Keenan Hickmon. A six-foot-six heavyweight from Italy, Vianello was "awarded a scholarship" to Sanchez's boxing academy by Bob Arum after signing with Arum's Top Rank organization in November of last year.
Our talk inevitably turned to his fractured relationship with Gennady Golovkin. When we visited "The Summit," the name of Sanchez's training facility in Big Bear, California, in March of 2016, the fighter from Kazakhstan and his Mexican-American coach appeared to have an unbreakable bond. When in training, GGG resided in the compound that Sanchez built as a combination dormitory and training facility, a 5,200 square foot complex with a gym in the lower level. Sanchez spoke highly of GGG back then, not just as a boxer but as a person. Despite his growing fame, said Sanchez, GGG was as unspoiled as the day they first met in March of 2010.
In his first fight under Sanchez's tutelage, Golovkin went to Panama City and won the WBA middleweight title with a 58-second blowout of Milton Nunez. He would go on to unify the title while tying Bernard Hopkins' record for successful middleweight title defenses (20).
In April, GGG severed the relationship. This came shortly after he signed a three-year, six-fight deal with DAZN worth a reported $100 million. He subsequently hooked up with Johnathon Banks, a protégé of Emanuel Steward. Banks was in GGG's corner not quite two weeks ago when GGG bombed out overmatched Steve Rolls.
The break-up was over money. When GGG signed his lucrative deal with DAZN, his German advisors decided that henceforth Sanchez would receive a flat rate instead of his customary percentage. "Take it or leave it," they told Abel. He left it.
"Money (often) corrupts character and values," said Sanchez, who was deeply wounded when GGG turned his back on him. And although we didn't delve into it, he likely had flashbacks to 1992 when the very same thing had happened to him with Terry Norris.
Terry Norris was Abel's first prominent fighter. He trained Terry and his older brother Orlin Norris, a budding word cruiserweight champion, for the late Joe Sayatovich at Sayatovich's training facility on a 30-acre ranch in the high desert community of Campo, California, five miles from the Mexican border. Sayatovich owned a construction company, as did Sanchez, a second generation California home builder.
In July of 1989, Terry Norris was bombed out in two rounds by Julian Jackson in Atlantic City in a bid for Jackson's WBA 154-pound title. But Sanchez orchestrated a rebound and Norris went on to carve out a Hall of Fame career, preceding Julian Jackson into the International Boxing Hall of Fame by 14 years.
Norris was a world champion, but yet one of the lesser known champions until winning a lopsided 12-round decision over Sugar Ray Leonard on Feb. 9, 1991, at Madison Square Garden, plunging Sugar Ray into a six-year retirement. That increased Norris's marketability enormously and spelled the beginning of the end of the Norris-Sanchez partnership. In November of the following year, Sanchez received a letter co-signed by Sayatovich and Norris (whose signature was apparently forged) telling him that he had been dismissed.
A story in the San Diego Union-Tribune quoted Sayatovich as saying that Abel had to go because he had become "too greedy," balking at taking a smaller percentage of Terry Norris's purses now that the fighter had punched his way into the upper echelon of wage earners. But the break-up did not disturb Sanchez's relationship with Orlin Norris, or with the father and official co-trainer of the Norris brothers, both of whom jumped to Abel's defense, saying he had remained loyal to Sayatovich and that Sayatovich ought to have reciprocated that loyalty.
There's an old saying in boxing that a trainer or manager should never become too emotionally attached to a fighter as that fighter will break his heart someday. Abel Sanchez knows the feeling.
Terry Norris, detached from Sanchez, lost his WBC diadem in his 11th title defense when he suffered a fourth round stoppage at the hands of Simon Brown in Puebla, Mexico. A win over Brown would have propelled Norris into a match with Pernell Whitaker, and had he succeeded in beating Whitaker, he would have been the runaway pick for the top spot on the pound-for-pound lists.
Abel Sanchez wasn't surprised that Norris was upended by Simon Brown, a huge underdog. "We watch him in the gym and he's gotten away from basic fundamentals," he told LA Times writer Tim Kawakami. "He's going out there winging and trying to bomb everyone out. And when you do that you're going to get it."
We mean no disrespect to Johnathan Banks, a fine trainer, but we can't help but wonder if Gennady Golovkin's career will take the same turn.
ANDY RUIZ
Abel Sanchez first met Andy Ruiz when Ruiz, an aspiring Olympian, was 17 years old. Ruiz's father brought Andy to Abel's gym. When they put the boy on the scale, he weighed 307 pounds. Ten years later, Sanchez would train Ruiz for Ruiz's match with Joseph Parker in Auckland, New Zealand. Several fights later, Ruiz bought out his contract with Top Rank, signed with Premier Boxing Champions, and acquired a new trainer, Manny Robles.
We wondered what went through Abel's mind as Andy Ruiz was chewing up Anthony Joshua and then rapturously celebrating with his cornermen in an unforgettable scene at Madison Square Garden. Did Abel think to himself, "well, darn, if I had played my cards right, that could have been me."
To the contrary, Sanchez thought it was wonderful. "It was good for boxing," he said, "I'm so happy for Andy and Manny."
Sanchez agreed with our assessment that the quick turnaround after his bout with six-foot-seven, 260-pound behemoth Alexander Dimitrenko was actually a blessing in disguise. "On paper," said Sanchez, "he had only five weeks to prepare but it was more like 14 weeks. Andy didn't have time to go out and party."
"Andy would not be denied," said Sanchez who hopes that Ruiz brings the same mindset to the rematch. "I hope that his victory over Joshua doesn't come to be seen as a fluke," he said, "because Andy can really fight." He doesn't pack the biggest punch, noted Sanchez, but he can stop an opponent in his tracks with four- and five-punch combinations, a rare attribute in a heavyweight.
As what to expect in the rematch, Sanchez said, "Andy Ruiz will have to be even better than the first time around."
Photo credit: Tom Hogan / Hogan photos / Golden Boy Promotions
Check out more boxing news on video at The Boxing Channel
The Gypsy King: Enjoy Him While You Can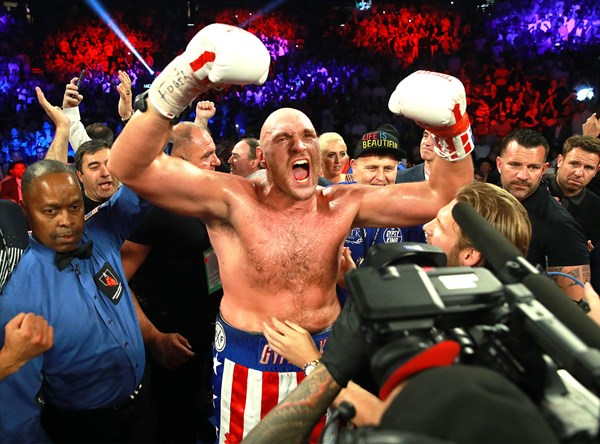 Tyson Fury —The Gypsy King– possesses a sharp Irish wit. True, he's putting everybody on half the time, but that's what blarney is all about. He's a born showman and is rarely at a loss for words or afraid to throw stuff out there. Heavyweight boxing hasn't had this type in a long time—maybe not since Ali.
Curiously, the forgoing was written before he went into the deep depths of hell brought about by depression and substance abuse. He was pretty much written off as a one-off phenom. In fact, things got so bad that David Haye once said, in response to Fury's homophobic tweets,: "It seems @Tyson_Fury needs to ease up on his 'Medication' or seek an Exorcist, or he'll get sectioned at this rate #StraightJacketRequired"
Fast Forward
But lo and behold, that was then and this is now and he has made one of the greatest comebacks in sports history (with a nod to George Foreman and Tiger Woods) showing a will and determination rarely seen anywhere. This should not be downplayed. When combined with his ability to get up from Deontay Wilder's best shot in the final round of their fight, that determination—that will, borders on the surreal.
And he is an entirely different person. This is not the same person who told reporters they can s**k his balls. No, this Fury donated his entire purse from the Wilder fight to several UK charities that specialize in providing housing for recovering addicts and alcoholics. Said Fury, "I did give away my last purse, but I don't do charity work for a pat on the back…I do it to help people, but I do not want praise for it, I don't want to be called a do-gooder."
This is not a Nikolai Valuev or a Primo Canera. The new Fury is fast, fights backwards, forwards, orthodox, southpaw, and has great upper body movement. He fights in a relaxed and fluid manner, but is a ruthless closer. This Fury enjoys what he does unlike fellow-Brit Anthony Joshua who seemed visibly uncomfortable in New York City recently. Heck, Fury is made for The Big Apple.
Anyone who is 6'9" and can switch stances and slip seven punches in a row much like Pernell Whitaker was able to do and then immediately come back with a deadly volley to initiate the beginning of a ruthless end (with Schwarz bloodied and under brutal attack, the bout was waved off), warrants the attention of every serious boxing fan.
After referee Kenny Bayless finished his count, Fury came across the ring after the poor German like something out of a horror movie as he closed the show. It bears a second and third look.
"I got a big man out of there by switching it up. He caught me with a couple but you can't go swimming and not get wet." said Fury (now 28-0-1). As an aside, the Gypsy King went to Schwarz's locker room to console him after the fight.
"He needed to make a statement tonight. When he walks to that ring, he becomes someone else. All that he has in the back of his head, is Deontay Wilder. He wants that revenge. He showed strength, power, determination and that killer instinct." — Tyson's father John Fury.
He made that statement.
The Future
Now attention turns to his next fight with Kubrat Pulev, his IBF mandatory, his most like likely opponent. (Of course, Pulev must refrain from kissing his female interviewers.) Such a matchup would be more competitive and even risky. As Caryn Tate of Boxing.com says, "The sooner Fury and the rest of the heavyweights at the top of the division fight each other, the better. The plethora of tune-ups in this sport have got to stop."
In a sport/business that overwhelms us with nonstop legal bickering and suspected/real use of PEDs, this affable and candid giant is a breath of badly needed fresh air.
"I was in the car on the way with my wife and I said 'I think we've made it Paris'. She said why and I said 'We're headlining in Vegas! This is it!'" — Tyson Fury
Later, he said, "I came here to have fun and enjoy myself. I don't take it too seriously. I thought I put on a good show and the fans got what they paid for."
Ted Sares is a member of Ring 8, a lifetime member of Ring 10, and a member of Ring 4 and its Boxing Hall of Fame. He also is an Auxiliary Member of the Boxing Writers Association of America (BWAA). He is an active power lifter and Strongman competitor in the Grand Master class.
Photo credit: Mikey Williams / Top Rank
Check out more boxing news on video at The Boxing Channel
To comment on this story in The Fight Forum CLICK HERE
Three Punch Combo: Looking Ahead to the 2020 IBHOF Class and More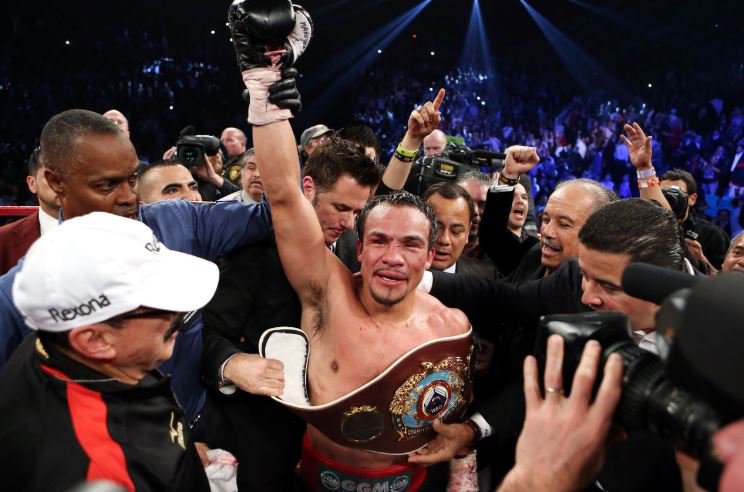 THREE PUNCH COMBO — Last weekend, the International Boxing Hall of Fame in Canastota, NY, held its annual induction ceremony. Julian Jackson, Donald Curry and James "Buddy" McGirt were enshrined in the modern category. With the 2019 induction weekend now complete, it is now time to look forward to the 2020 class in the modern category.
For those not familiar with the process, each year three boxers are elected in the modern category. No more and no less. The modern category is comprised of fighters who had their last bout no earlier than 1989 and have been retired from the sport for five years. So to be considered for the 2020 ballot, the boxer's last fight would need to be no later than 2014.
Last year's class was dominated by holdovers who weren't elected to the IBHOF the first time they were eligible and appeared on the ballot multiple times before finally getting inducted. We also saw something similar in 2016. But for the class of 2020, we have a strong list of first time eligible candidates and given the current voting criteria it is probable that the class of 2020 will be comprised of fighters from this list.
The five notable first time eligible candidates are Juan Manuel Marquez (56-7-1, 40 KO's), Sergio Martinez (51-3-2, 28 KO's), Carl Froch (33-2, 24 KO's), Jorge Arce (64-8-2, 49 KO's) and Marcos Maidana (35-5, 31 KO's).
Of the five, I think Arce and Maidana can safely be eliminated from serious consideration for the class of 2020. They don't have near the resumes of the other three.
Juan Manuel Marquez (pictured) would seem to be a lock. He is a former multi-division champion who fought in some of the most prominent fights of his era and holds wins against some of the best fighters of his generation. This includes wins over Hall of Famer Marco Antonio Barrera and future Hall of Famer Manny Pacquiao.
Sergio Martinez is also a lock. The Argentine may have been a late bloomer but he had a dominant four-year middleweight title reign after defeating Kelly Pavlik in 2010 for the title. During this reign he scored an emphatic second round knockout of Paul Williams which avenged a previous loss and won a decisive 12-round decision over Julio Cesar Chavez Jr.
I sense there will be some debate regarding Froch but I think he will get the nod his first time around. He is a former 168-pound champion and has an incredibly deep resume that includes wins against many of the best in the division of his era. Of his two losses, one was avenged to Mikkel Kessler and the other was to future first ballot Hall of Famer Andre Ward. The resume just speaks for itself and should be more than enough to earn Froch enshrinement on his first go-around.
Of the holdovers, the two most likely to push Froch for the third and final spot are Rafael Marquez (41-9, 37 KO's) and Vinny Paz (50-10, 30 KO's). Marquez garnered a lot of support in his first year of eligibility last year and a lot were surprised when he did not make the final cut. With his brother likely getting inducted this coming year, there could be a push to put the brothers in together. As for Paz, he also picked up some steam last year and seemed to sway more voters to his side.
The Case For Yaqui Lopez
Every year I like to touch upon some fighters who I feel have gone overlooked by IBHOF voters. In past years for example, I have made cases for both Kevin Kelley and Junior Jones. This year, I wanted to go back a little further to a different era and point out a fighter who I think deserves serious consideration in Yaqui Lopez (61-15, 39 KO's).
Lopez never won a world title and I am quickly reminded of that whenever I bring up his candidacy. He fought in an era that not only did not have an abundance of title belts but also featured some of the all-time greats of the light heavyweight division. Lopez lost two close decisions in world title bids to Hall of Famer Victor Galindez. Lopez also was competitive on two occasions in challenging Matthew Saad Muhammad for his light heavyweight title. Their second fight in 1980 was the Ring Magazine Fight of the Year. And Lopez also gave future Hall of Famer Michael Spinks a test before being stopped in the seventh round.
The losses were competitive to these all-time greats. In any other era Lopez would have been a world champion. But there are yet many good wins on his resume, most notably a sixth round stoppage of Mike Rossman in March of 1978. Six months later, Rossman would knock out the aforementioned Galindez to become the light heavyweight champion.
There is another side to the argument for Lopez. Some people hate when I mention this but entertainment matters when considering candidates qualifications. The floodgates were opened by voters in this regard with the elections of Arturo Gatti and Ray "Boom Boom" Mancini and there is no going back. Lopez was not only a very accomplished fighter but one of the most exciting fighters of his era, he was involved in many memorable wars. Add this fact to his resume and Lopez more than meets all the criteria to be inducted into the IBHOF.
Under The Radar Fight
 ShoBox returns on Friday from the WinnaVegas Casino & Resort in Sloan, Iowa with a tripleheader featuring six fighters with a combined record of 91-1. Though I am very interested in all the fights, I am especially interested in the main event, a 154-pound contest between fast rising prospect Sebastian Fundora (12-0, 8 KO's) and Hector Manuel Zepeda (17-0, 4 KO's).
Fundora stands 6'7" tall and is appropriately nicknamed "The Towering Inferno." For a man who stands that tall, he is incredibly athletic and fluid inside the ring. Working from a southpaw stance, Fundora likes to use his height to pepper his opponents from the outside with a sharp right jab. He will work very fluid, heavy handed combinations behind that jab and makes his opposition pay a heavy toll when they attempt to close the distance. And if opponents do manage to get inside, Fundora has shown himself to be a very accomplished fighter at close range.
Defensively, Fundora has some things to clean up. He tends to get involved in exchanges and when he does so will stand straight up with his chin exposed. He's been clipped clean on a few occasions and that will need to be corrected as he moves up in caliber of competition.
There is not a lot of video available on Zepeda but from what I have seen he is a technically astute fighter. He is a boxer puncher by trade who will use frequent lateral movement working behind the left jab from the orthodox stance. Zepeda likes to be first instead of looking for counters and from the fights I have seen has shown to be a volume puncher. As the record indicates, however, he is not a big puncher.
If Zepeda fights the way that I have seen on video, I think we are going to get a fast paced, good action fight. Fundora is clearly the "A" side here and is supposed to win. But make no mistake, Zepeda can fight and this is a step up in class for Fundora.
This is a classic ShoBox fight in which the "A" side could get pushed and I am very interested to see this one on Friday.
Check out more boxing news on video at The Boxing Channel
To comment on this story in The Fight Forum CLICK HERE