Heavyweight Division: The Good, the Bad and the Ugly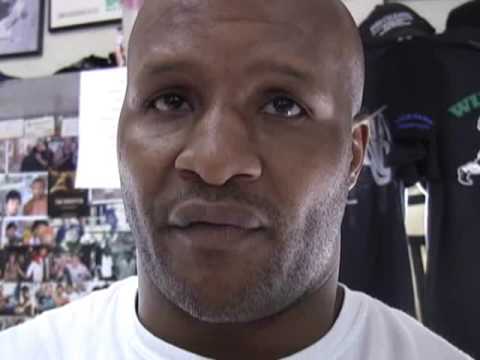 They say as the heavyweight division goes, so goes boxing. Based on what we'll see this upcoming weekend, I hope that no longer holds true. No, I'm not saying that the heavyweights aren't important- because it is still the flagship division of this sport. But what we have this Saturday ranges from the the good, the bad and the ugly.
THE GOOD
Down in New Orleans, 'the White Buffalo' takes on 'the Black Rhino', no this isn't a matchup of endangered species but Frans Botha and Clifford Etienne. And the winner of this bout goes onto bigger and better things while the loser, well, as a bona-fide contender does become extinct. No title is on the line, but this is the best matchup of the weekend.
Not that Botha or Etienne are in the upper echelon of the division but what they have both proven in the past is that aren't averse to getting into good scraps. Botha, has been in with the games biggest names ranging from Michael Moorer, Mike Tyson, Wladimir Klitschko and Lennox Lewis.  No, he has't beaten any of these guys but he's proven that he can defeat anyone below that level. Which is exactly the level that Etienne is at currently.
It only seemed like yesterday that Etienne was a rising star and had signed a new deal with Showtime. Well, after being sent to the canvas seven times- face first, no less- by the seemingly non-threatening Fres Oquendo, Etienne was exposed as a raw fighter who has a suspect chin. Which is exactly what makes this an appealing matchup. Botha, is a gritty overachiever that can throw fast combinations but doesn't have great punching power. Etienne, is a pressure fighter that throws a high volume of punches himself.
I see a high-action bout with plenty of fierce exchanges and back and forth volleys. Fights that involved guys who are flawed in some way, whether it's lack of a solid defense, sturdy chin or average pop, are usually the fights that end up being the one's we remember.  Like the legendary matchmaker Teddy Brenner once said of light heavyweight Harold Johnson, who had problems getting fights and was rarely in an entertaining one, " Harold Johnson is perfection and there is no room for perfection in boxing."
These guys are imperfect, which makes them a perfect match. I'll take Botha's big fight experience and over-hand right to tame the 'Rhino'.
THE BAD
The battle for the WBA heavyweight title between John Ruiz and Kirk Johnson isn't necessarily a bad fight. Afterall, both Ruiz and Johnson are both universally considered among the top 10 heavyweights in the sport.
But what does it say about how badly the WBA title has been devalued when it's being shown tape delayed on HBO( to at least the west coast) on 'Boxing After Dark'? It probably means that this belts stock has plunged further than Worldcom stock. Yeah, yeah, I know when Lennox Lewis abdicated this crown in 1999 that he made this title worthless- and perhaps that's the way it should be- but still, winning the title is economically important with the way boxing's economics are structured.
What's really on the line here is a placement of just who should be the true number one contender to Lewis- who is recognized as THE true heavyweight king. While  some are lavishing praise on Wladimir Klitschko, the reality is that the big Ukrainian has been a product of some careful matchmaking by his promotional company, Universum and his biggest victory to date is over a faded Ray Mercer. Looking at the latest Ring Magazine ratings, which are supposed to be an unbiased
ranking of todays fighters, Johnson is rated fourth, with Ruiz right behind him at five. Evander Holyfield, Chris Byrd and Klitschko are rated ahead of these two
with Lewis being the champion.
The winner of Ruiz-Johnson could make a strong case for being number one.
Why?
Well, with Klitschko we already stated our case. Holyfield, had all kinds of problems with Ruiz in their three fight series.
And Byrd?
Well, he's taken on all comers and this 'David' has held his own against the 'Goliaths', he does makes a strong case for the top spot.
A win by either man and they could legitimately make the case that they should be the one's challenging for Lewis' heavyweight championship. But this fight is dying at the box office like a Spike Lee movie and you can expect to see a lot of empty seats at the Mandalay Bay in Las Vegas. And it's easy to understand why that might be the case, Ruiz, is still best known for his 19-second loss at the hands of David Tua and Johnson, despite his 32-0-1, is still a virtually unknown fighter.
Why this fight wasn't put at the Foxwoods or the Mohegan Sun in New England near the fan-base of Ruiz( who is out of Chelsea, Massachusetts) is beyond me.
Also, while both camps and promoter Don King have been accommodating as can be in pushing this event, both Ruiz and Johnson don't exactly have the kind of personalities that will capture the imagination of the public. Ruiz is about a nice a guy as you can ask for and he embodies an 'everyman' quality that is easy to like, but there is a reason he is nicknamed 'the Quiet Man- because that's generally what he is. Johnson, himself is a friendly sort and tries his best with the media but if he was a flavor at Baskin-Robbins, he'd be, you guessed it, vanilla.
But hey, you never know, a good fight can break out making all this other stuff pointless. Johnson, despite coming in as the challenger is a 3-1 favorite based on his advantage in God-given physical tools. But remember this, Ruiz has gone 36 rounds with the still dangerous and lively Holyfield and Johnson struggled twice with a blown up Al Cole and was a bit passive against Larry Donald. Sorry, but this just doesn't look like a 3-1 fight to me.
Unless, Johnson can really get out quickly, I see this becoming a nip-and-tuck bout with plenty of jabs on both sides. My head tells me Johnson, but my gut tells me not to count out Ruiz.
THE UGLY
Ok, where do I start when it comes to Eric Esch vs. Larry Holmes? Butterbean against a Has-Bean. Carnival Act vs. Canastota. And get this, it's on pay-per-view.
Holmes, one of the greatest heavyweights that ever lived in my book, was never one of the most embraced fighters in his day- even though respect for him and his accomplishments have grown throughout the years. But on this night, I'm pretty sure Holmes will have the full, unadulterated backing of the whole boxing community when it takes on Butterbean.  Holmes, isn't just fighting for himself here, he's fighting for all the real prizefighters who embody the sacrifice and toughness of this game. Holmes' mission is to prove that boxing isn't a novelty act but a noble endeavor that takes a certain type of skill and craftmanship to succeed at.
So what if he has to lower himself to do this, hey, he's getting paid pretty well from what I hear and besides, Holmes has always been honest in saying that he is about the money. So if he has to trash his self-respect to get one last payday and save the honor this sport, then so be it. I'd say this bout is almost( I said almost) as important as his quest to break Rocky Marciano's mark of 49-0. Except, only this time, we're behind you all the way Larry. See, how far he's come. Who would have thought when he beat Gerry Cooney many moons ago, that the boxing establishment would be rooting for him against a white guy?
I like Holmes big in this fight, regardless of his age. Because till the day he dies, the 'Easton Assasin' will always bring with him a first rate jab and I don't see how 'Bean can get inside that stick. And don't forget, this is the same guy who get stopped by Mitchell Rose- which by the way, makes Rose the linear 'King of Four Rounders'- and Rose in his best day couldn't be a sparring partner for Holmes on his worst.
Larry, the eye's of the boxing world are upon you. Restore our faith in this game.
Heavyweight Division: The Good, the Bad and the Ugly / Check out more boxing news on video at The Boxing Channel.
2015 Fight of the Year – Francisco Vargas vs Takashi Miura
The WBC World Super Featherweight title bout between Francisco Vargas and Takashi Miura came on one of the biggest boxing stages of 2015, as the bout served as the HBO pay-per-view's co-main event on November 21st, in support of Miguel Cotto vs Saul Alvarez.
Miura entered the fight with a (29-2-2) record and he was making the fifth defense of his world title, while Vargas entered the fight with an undefeated mark of (22-0-1) in what was his first world title fight. Both men had a reputation for all-out fighting, with Miura especially earning high praise for his title defense in Mexico where he defeated Sergio Thompson in a fiercely contested battle.
The fight started out hotly contested, and the intensity never let up. Vargas seemed to win the first two rounds, but by the fourth round, Miura seemed to pull ahead, scoring a knock-down and fighting with a lot of confidence. After brawling the first four rounds, Miura appeared to settle into a more technical approach. Rounds 5 and 6 saw the pendulum swing back towards Vargas, as he withstood Miura's rush to open the fifth round and the sixth round saw both men exchanging hard punches.
The big swinging continued, and though Vargas likely edged Miura in rounds 5 and 6, Vargas' face was cut in at least two spots and Miura started to assert himself again in rounds 7 and 8. Miura was beginning to grow in confidence while it appeared that Vargas was beginning to slow down, and Miura appeared to hurt Vargas at the end of the 8th round.
Vargas turned the tide again at the start of the ninth round, scoring a knock down with an uppercut and a straight right hand that took Miura's legs and sent him to the canvas. Purely on instinct, Miura got back up and continued to fight, but Vargas was landing frequently and with force. Referee Tony Weeks stepped in to stop the fight at the halfway point of round 9 as Miura was sustaining a barrage of punches.
Miura still had a minute and a half to survive if he was going to get out of the round, and it was clear that he was not going to stop fighting.
A back and forth battle of wills between two world championship level fighters, Takashi Miura versus "El Bandido" Vargas wins the 2015 Fight of the Year.
WATCH RELATED VIDEOS ON BOXINGCHANNEL.TV
Jan 9 in Germany – Feigenbutz and De Carolis To Settle Score
This coming Saturday, January 9th, the stage is set at the Baden Arena in Offenburg, Germany for a re-match between Vincent Feigenbutz and Giovanni De Carolis. The highly anticipated re-match is set to air on SAT.1 in Germany, and Feigenbutz will once again be defending his GBU and interim WBA World titles at Super Middleweight.
The first meeting between the two was less than three months ago, on October 17th and that meeting saw Feigenbutz controversially edge De Carolis on the judge's cards by scores of (115-113, 114-113 and 115-113). De Carolis scored a flash knock down in the opening round, and he appeared to outbox Feigenbutz in the early going, but the 20 year old German champion came on in the later rounds.
The first bout is described as one of the most crowd-pleasing bouts of the year in Germany, and De Carolis and many observers felt that the Italian had done enough to win.
De Carolis told German language website RAN.DE that he was more prepared for the re-match, and that due to the arrogance Feigenbutz displayed in the aftermath of the first fight, he was confident that he had won over some of the audience. Though De Carolis fell short of predicting victory, he promised a re-vamped strategy tailored to what he has learned about Feigenbutz, whom he termed immature and inexperienced.
The stage is set for Feigenbutz vs De Carolis 2, this Saturday January 9th in Offenburg, Germany. If you can get to the live event do it, if not you have SAT.1 in Germany airing the fights, and The Boxing Channel right back here for full results.
2015 Knock Out of the Year – Saul Alvarez KO's James Kirkland
On May 9th of 2015, Saul "Canelo" Alvarez delivered a resonant knock-out of James Kirkland on HBO that wins the 2015 KO of the Year.
The knock-out itself came in the third round, after slightly more than two minutes of action. The end came when Alvarez delivered a single, big right hand that caught Kirkland on the jaw and left him flat on his back after spinning to the canvas.Alvarez was clearly the big star heading into the fight. The fight was telecast by HBO for free just one week after the controversial and disappointing Floyd Mayweather Jr. and Manny Pacquiao fight, and Alvarez was under pressure to deliver the type of finish that people were going to talk about. Kirkland was happy to oblige Alvarez, taking it right to Alvarez from the start. Kirkland's aggression saw him appear to land blows that troubled the young Mexican in the early going. Alvarez played good defense, and he floored Kirkland in the first round, displaying his power and his technique in knocking down an aggressive opponent.
However, Kirkland kept coming at Alvarez and the fight entered the third round with both men working hard and the feeling that the fight would not go the distance. Kirkland continued to move forward, keeping "Canelo" against the ropes and scoring points with a barrage of punches while looking for an opening.
At around the two minute mark, Alvarez landed an uppercut that sent Kirkland to the canvas again. Kirkland got up, but it was clear that he did not have his legs under him. Kirkland was going to try to survive the round, but Alvarez had an opportunity to close out the fight. The question was would he take it?
Alvarez closed in on Kirkland, putting his opponent's back to the ropes. Kirkland was hurt, but he was still dangerous, pawing with punches and loading up for one big shot.
But it was the big shot "Canelo" threw that ended the night. Kirkland never saw it coming, as he was loading up with a huge right hand of his own. The right Alvarez threw cracked Kirkland in the jaw, and his eyes went blank. His big right hand whizzed harmlessly over the head of a ducking Alvarez, providing the momentum for the spin that left Kirkland prone on the canvas.
Saul "Canelo" Alvarez went on to defeat Miguel Cotto in his second fight of 2015 and he is clearly one of boxing's biggest stars heading into 2016. On May 9th Alvarez added another reel to his highlight film when he knocked out James Kirkland with the 2015 "Knock Out of the Year".
Photo by naoki fukuda