"Muhammad Ali's Greatest Fight" Is Oct. 5 on HBO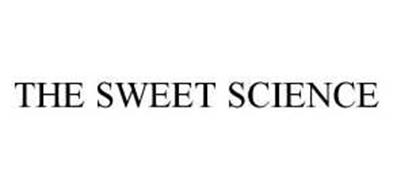 CHRISTOPHER PLUMMER, FRANK LANGELLA AND
BENJAMIN WALKER STAR IN THE HBO FILMS PRESENTATION, MUHAMMAD ALI'S GREATEST FIGHT, DIRECTED BY STEPHEN FREARS, DEBUTING OCT. 5
Famous for both his signature shuffle and verbal sparring, boxer Cassius Clay quickly rose to fame in the '60s, becoming the world's best-known athlete – and eventually its most controversial. After joining the Nation of Islam and adopting the name Muhammad Ali, he was widely denounced for refusing to be drafted into the U.S. military, based on his religious opposition to the Vietnam War. Stripped of his title and banned from the sport, the self-proclaimed "Greatest" lost nearly four years of his boxing prime to legal battles. In 1971, his case for being a conscientious objector eventually reached the United States Supreme Court, rooted by tradition and conservative ideals with Nixon-appointed Chief Justice Warren E. Burger at its helm.
HBO Films presents in association with SAF Films West MUHAMMAD ALI'S GREATEST FIGHT, starring Academy Award® winner Christopher Plummer ("Beginners"), Academy Award® nominee Frank Langella ("Frost/Nixon") and Benjamin Walker ("Abraham Lincoln: Vampire Hunter"); directed by Academy Award® nominee Stephen Frears ("The Queen") from a script by Shawn Slovo ("A World Apart"); and executive produced by Emmy® winner Frank Doelger (HBO's "Game of Thrones" and "The Gathering Storm"), Emmy® winner Tracey Scoffield (HBO's "The Gathering Storm"), Jonathan Cameron and Stephen Frears.
Debuting SATURDAY, OCT. 5 (8:00-9:40 p.m. ET/PT), exclusively on HBO, the film goes behind the closed doors of the United States Supreme Court as its nine justices – Chief Justice Warren E. Burger (Frank Langella), Hugo Black (Fritz Weaver), William O. Douglas (Harris Yulin), John Harlan II (Christopher Plummer), William Brennan, Jr. (Peter Gerety), Potter Stewart (Barry Levinson), Byron "Whizzer" White (John Bedford Lloyd), Thurgood Marshall (Danny Glover) and Harry Blackmun (Ed Begley, Jr.) – decide the outcome of Muhammad Ali's landmark appeal. Justice Harlan, a respected jurist with 15 years on the court, finds himself at odds with the status quo after his perspective is challenged by the contemporary ideals of his new clerk, Kevin Connolly (Benjamin Walker). The film explores the intricate politics behind these historic decisions in a time of rapid social and cultural transformation in the American landscape.
ABOUT THE FILM
When executive producer Frank Doelger at Rainmark Films asked writer Shawn Slovo to develop a film version of some of the events portrayed in the book of the same name by Howard Bingham and Max Wallace, she was immediately attracted to the volatile time period in which the film is set.
"The late '60s, early '70s in American history is the most fascinating period," Slovo says. "It wasn't only that you had the cast of great characters and the great story, but also the context of the times. I seized on this opportunity when Frank gave it to me."
To bring the script to life, Slovo was paired with celebrated director Stephen Frears, whom she credits for attracting such top actors as Christopher Plummer and Frank Langella to the film. She notes, "People want to work with Stephen and for the obvious reasons. And that's a huge asset to this."
Slovo's script called for archival footage to portray Ali. Frears and the other filmmakers agreed with the decision not to cast an actor for the scenes showing the inimitable boxer, who was as bold and outspoken outside the ring as he was inside.
Slovo explains, "Any chance he got, Ali was talking about why he believed in what he believed, why he refused to fight. So we have this brilliant archive footage, and once you see it, you think, 'There is absolutely no point in trying to find an actor to play this man.'"
Despite the extensive amount of information gathered on the justices, the actors were also encouraged by Frears to trust the script and shape their parts from their insights. "The production sent me four books, and out of the four books, I got a paragraph of information on Warren Burger as a person," says Frank Langella. "There is very little personal information about these guys, and I think that's probably something the justices develop, which is not to have them be shining examples of personality, but to be men who stand for justice."
The clerks, as an ensemble, provide an emotional and youthful perspective to the justices, who strive to practice strictly by the law. Justice Harlan's fledgling clerk, Kevin Connolly (Benjamin Walker), struggles not only with his tradition-minded employers, but also with the established clerk system that favors Ivy League students. In the historical appeal of Ali's case, the clerks played an integral role in influencing the reversal of the justices' decision.
Shot in New York City, with additional locations in New York State, MUHAMMAD ALI'S GREATEST FIGHT went to great lengths to evoke Washington, D.C. in the 1970s.
"We had a difficult time finding neighborhoods in New York City that looked like, felt like, Georgetown, which is a lot older than most of the locations in New York," says production designer Dan Davis. "We stumbled across Schenectady and found this fantastic neighborhood that looked almost identical to Georgetown."
After extensive behind-the-scenes tours of the Supreme Court, the production meticulously built a central courtroom on a stage in Brooklyn, in addition to filming elsewhere in New York City for scenes of the justices' chambers and clerks' offices. Seasoned costume designer Molly Maginnis also came on board to recreate the fashions of the early '70s, working with robe manufacturer Bentley & Simon, which has outfitted many of the Supreme Court justices since 1918.
ABOUT THE CAST
Christopher Plummer (John Harlan II) is a Best Supporting Actor Oscar® winner for "Beginners" and a Tony Award winner for the musicals "Cyrano" and "Barrymore." His other film credits include "The Man Who Would Be King," "Battle of Britain," "Waterloo," "The Fall of The Roman Empire," "Star Trek VI: The Undiscovered Country," "Twelve Monkeys," the Oscar®-winning "The Sound of Music," the Oscar®-nominated "The Insider," the Oscar®-winning "A Beautiful Mind," "Man in the Chair," "Must Love Dogs," "National Treasure," "Syriana" and "Inside Man." Plummer's TV appearances include the Emmy®-winning BBC presentation "Hamlet at Elsinore" and the Emmy®-winning productions "The Thornbirds," "Nuremberg" and "Little Moon of Alban." Plummer has won two Emmys® and received six other Emmy® nominations.
Frank Langella (Chief Justice Warren E. Burger) is a three-time Tony Award-winning, Oscar®-nominated actor for his role as Richard Nixon in the play and film "Frost/Nixon." His impressive list of more than 65 films includes "Good Night, and Good Luck," "Starting Out in the Evening," "Wall Street: Money Never Sleeps," "Dave," "Dracula," and, most recently, the highly acclaimed independent film "Robot and Frank." He will next be seen opposite Nicole Kidman in "Grace of Monaco" and opposite Kevin Costner in "Draft Day." Langella has been nominated for Golden Globes, Emmys®, SAG Awards and Independent Spirit Awards. In addition to his Tony wins, he has been nominated for Tonys six other times and has won five Drama Desk Awards, three Outer Critics Circle Awards and the distinguished Drama League Award, and has been inducted into the Theatre Hall of Fame.
Benjamin Walker (Kevin Connolly) starred in the title role of Timur Bekmambetov's "Abraham Lincoln: Vampire Hunter," produced by Tim Burton and based on the novel of the same name. His other film credits include the Clint Eastwood-directed "Flags of Our Fathers" and the Bill Condon-directed "Kinsey." He performed in the Broadway revival of "Inherit the Wind" and in Roundabout Theatre's production of "Les Liasons Dangereuses," which was nominated for six Tony Awards. Walker played the title role in the Alex Timbers musical "Bloody Bloody Andrew Jackson." Most recently, he appeared on Broadway in "Cat on a Hot Tin Roof," playing Brick.
Harris Yulin (William O. Douglas) has appeared on stage in "King John," "Hedda Gabler," "A Lesson from Aloes," "Finishing the Picture," "Mrs. Warren's Profession" and "Hamlet." His film credits include "Looking for Richard," "The Hurricane," "Cradle Will Rock," "Training Day," "Fur" and "The Place Beyond the Pines." On TV, Yulin has appeared in "The FBI Story: FBI Versus Alvin Karpas, Public Enemy Number One," "Third Watch," "24," "Buffy the Vampire Slayer" and "Mister Sterling." His guest appearance on an episode of "Frasier" garnered him an Emmy® nomination.
Ed Begley, Jr. (Harry Blackmun) received six Emmy® nominations for playing Dr. Victor Ehrlich on "St. Elsewhere." His film credits include "Whatever Works," "Pineapple Express," "Batman Forever," "The Accidental Tourist," "The In-Laws" and a number of Christopher Guest films, such as "A Mighty Wind," "Best in Show" and "For Your Consideration." On TV, he has also appeared on HBO's "Family Tree," "Recount" and "Six Feet Under," as well as "Arrested Development" and "Boston Legal."
Fritz Weaver (Hugo Black) won a Tony Award for "Child's Play" and received a Tony nomination and Theatre World Award for "The Chalk Garden." His Broadway credits also include "A Shot in the Dark," "A Tale Told," "Angels Fall," "Protective Custody," "Miss Lonelyhearts," "All American," "Lorenzo," "The White House," "Baker Street," "My Fair Lady," "Absurd Person Singular," "The Price," "The Crucible" and "Ring Round the Moon." He received Emmy® nominations for "The Legend of Lizzie Borden" and the miniseries "Holocaust." His other TV credits include "The Martian Chronicles" and "The Twilight Zone." Weaver's film credits include "Fail-Safe," "Black Sunday," "Marathon Man," "Creep Show," "A Walk in the Spring Rain," "The Day of the Dolphin," "Power," "Demon Seed" and "The Thomas Crown Affair." He has been inducted into the Theater Hall Of Fame and the Players' Hall Of Fame.
Barry Levinson (Potter Stewart) is an Academy Award®-winning director, screenwriter and producer who was awarded the 1988 Best Director Oscar® for the multiple Academy Award®-winning "Rain Man," starring Dustin Hoffman and Tom Cruise. In 1991, "Bugsy," directed and produced by Levinson, was nominated for ten Academy Awards®, including Best Picture and Best Director. As a screenwriter, Levinson has received three Oscar® nominations, for "…And Justice for All," "Diner" and "Avalon." More recently, he executive produced and directed the HBO Films drama "You Don't Know Jack," which received 15 Emmy® nominations, including Outstanding Made for Television Movie and Best Director. His other iconic films include "The Natural," "Good Morning, Vietnam," "Wag the Dog" and "Sleepers."
John Bedford Lloyd (Byron "Whizzer" White) has appeared on Broadway in "Some Americans Abroad," "The Rainmaker" and "Tartuffe." His other theatre credits include Ethan Coen's "Offices" at the Atlantic Theatre Company, "Williamstown," the world premiere of Arthur Miller's "Resurrection Blues," "The Drawer Boy" and "The Best of Enemies." On TV, he has appeared in HBO's "John Adams," "The Bronx Is Burning" and "Remember WENN," for which he received a SAG Award nomination. His film credits include "Super Troopers," "Crossing Delancey," "Tough Guys Don't Dance," "Nixon," "The Abyss," "The Bourne Supremacy," "Philadelphia," "The Manchurian Candidate," "The Hoax" and "Wall Street : Money Never Sleeps."
Peter Gerety (William Brennan, Jr.) has appeared on film in "Get the Gringo," "How I Spent My Summer Vacation," "Paul Blart: Mall Cop," "Public Enemies," "The Changeling," "Leatherheads," "Charlie Wilson's War," "Inside Man," "Things That Hang From Trees," "Syriana," "War of the Worlds," "K-Pax," "People I Know," "Magic Hour," "Montana," "The Legend of Bagger Vance," "Mrs. Winterborne," "Surviving Picasso," "Hollywood Ending" and "The Curse of the Jade Scorpion." On TV, he has appeared in "Brothers and Sisters," "The Bedford Diaries," HBO's "The Wire," "Conviction," "Homicide," "Law & Order," "Ed," "Central Park West," "Third Watch" and "The Return to Lonesome Dove." He is currently appearing in the late Nora Ephron's play "Lucky Guy" on Broadway opposite Tom Hanks.
Danny Glover (Thurgood Marshall) debuted on Broadway in "Master Harold…and the Boys" and starred in the blockbuster "Lethal Weapon" franchise. His other film credits include the Academy Award® winners "Places in the Heart" and "Witness." He also starred in Steven Spielberg's "The Color Purple," "The Royal Tenenbaums," "Saw," "Shooter," "Dreamgirls," "Death at a Funeral" and "2012." On TV, Glover won an Image Award and a CableACE Award, and also earned an Emmy® nomination, for the title role of the HBO original movie "Mandela." He has also received Emmy® nominations for the acclaimed miniseries "Lonesome Dove" and the TV movie "Freedom Song," and as a director earned a Daytime Emmy® nomination for "Just a Dream."
Pablo Schreiber (Covert Becker) was nominated for a Tony Award for his Broadway debut in the revival of Clifford Odets' classic "Awake and Sing!," directed by Bartlett Sher. Schreiber's films include "Happythankyoumoreplease," which won the Audience Award at Sundance, "Vicky Cristina Barcelona," "The Lords of Dogtown," "Tell Tale," "Nights in Rodanthe," "The Manchurian Candidate," "Allegiance," "Breaking Upwards," "Into the Fire," "The Mudge Boy," "Invitation to a Suicide," "The Call" and "Fort Bliss." His TV credits include HBO's "The Wire," "Weeds," "A Gifted Man," "Light's Out," "The Good Wife," "White Collar," "The Beast," "Life on Mars," "It's Always Sunny in Philadelphia," "Fear Itself," "Dirt," John Grisham's "A Painted House," "Law & Order," "Law & Order: Criminal Intent," "Law & Order: Special Victims Unit" and "The Black Donnellys." He can currently be seen in the series "Orange Is the New Black."
Ben Steinfeld (Sam Edelstein) is an actor, director, teacher and musician. He has been seen on Broadway in "Cyrano de Bergerac" and "Bloody Bloody Andrew Jackson." Steinfeld has co-directed and acted in all Fiasco Theater productions, including "Cymbeline," which won the 2012 Off Broadway Alliance Award for Best Revival, "Into the Woods" and "Twelfth Night." His regional acting credits include Center Theatre Group, Portland Center Stage, Williamstown Theatre Festival and ten plays with Trinity Repertory Company. Steinfeld's TV credits include "The Good Wife," "Law & Order: Criminal Intent" and "Late Night with Jimmy Fallon."
Kathleen Chalfant (Ethel Harlan) is a Tony-nominated actress for "Angels in America on Broadway." Her feature film credits include "Isn't It Delicious?," "R.I.P.D.," "Duplicity," "A Perfect Stranger," "The Last New Yorker," "Kinsey," "Lackawanna Blues," "Dark Water," "Random Hearts," "A Price Below Rubies," Whit Stillman's "The Last Days of Disco," "Side Streets," "Company Men" and "The Pornographer." She has appeared on TV in "The Book of Daniel," "The Guardian," HBO's "The Laramie Project" and "Lackawanna Blues," the Stephen King miniseries "Storm of the Century," "Voices from the White House" and "A Death in the Family." She had recurring roles on "House of Cards," "Rescue Me," "Prince Street" and "One Life to Live," and guest spots on "Mercy," "Law & Order," "Law & Order: Special Victims Unit," "Law & Order: Criminal Intent," "Spin City" and "New York Undercover."
ABOUT THE FILMMAKERS
Stephen Frears (director, executive producer) made his Hollywood debut with "Dangerous Liaisons" in 1989, which received six Oscar® nominations, followed by "The Grifters," produced by Martin Scorsese, which gained him an Oscar® nomination for Best Director. His other credits include "My Beautiful Laundrette," "High Fidelity," "Dirty Pretty Things," the BAFTA Award-winning "The Deal," "Mrs. Henderson Presents" and "The Queen," which also earned him an Oscar® nomination for Best Director.
Shawn Slovo (writer) wrote her first screenplay, "A World Apart," in 1987. The film won the Jury Prize and the Ecumenical and Best Actress Awards at the 1987 Cannes Film Festival and the 1988 BAFTA Best Original Screenplay Award. Her adaptation of "Captain Corelli's Mandolin" for Working Title/Universal was directed by John Madden in 2000. "Catch a Fire," an original screenplay for Working Title Films, directed by Phillip Noyce, was released by Focus Features in 2007.
Frank Doelger (executive producer) was a producer on the Emmy®-winning HBO presentations "John Adams" and "Rome." His other HBO credits include the Emmy® winners "My House in Umbria," "The Gathering Storm," "A Child Betrayed: The Calvin Mire Story," "Dead Drunk" and "Conspiracy," which also won a BAFTA, as well as the Emmy®-nominated "Dead Ahead: The Exxon Valdez Disaster" and "Public Law 106: The Becky Bell Story." He is currently executive producing the hit HBO series "Game of Thrones" and is a director of Rainmark Films.
Tracey Scoffield (executive producer) has produced several features for HBO, including "My Zinc Bed," by David Hare, the Emmy® winner "Into the Storm," by Hugh Whitemore and "The Special Relationship," by Peter Morgan, in which Michael Sheen reprises his role as Tony Blair. Her other credits include "Dirty Pretty Things," "Sylvia," HBO's "The Gathering Storm," "Mrs. Henderson Presents" and "Tristram Shandy: A Cock and Bull Story." She is a director of Rainmark Films.
Jonathan Cameron (executive producer) is principal of Sakura Films, whose core activity is the development of theatrical films and TV series with partners in the UK and U.S. He is also engaged in structuring finance for the production of high-quality, low-budget feature films made for distribution exclusively via the Internet. Previously, Cameron forged a law career as a specialist in media and copyright before producing films beginning in 2009.
Three Punch Combo: What's in the Cards for Spence, Kell Brook, and Cotto?
 THREE PUNCH COMBO: Errol Spence Jr. scored an impressive knockout victory against Kell Brook on Saturday to take Brook's IBF welterweight title. Both fighters now face interesting possibilities as they move forward in their respective careers.
Spence, who entered the fight with a lot of questions, not only showcased his tremendous skills but proved he has a very good chin as well as the willingness to dig deep when needed. He is without a doubt a future superstar in this sport. With momentum strong right now, he would be wise to be as active as possible even if not landing one of the big names his next time out.
I sense that Spence's advisor, Al Haymon, will in fact get him back in the ring this summer. One name I would speculate as an opponent is Adrian Granados. Coming off a debatable loss to Adrien Broner, Granados has earned another shot at a top fighter. Granados is not a big puncher, but will put forth a good effort. The translation here is that he is someone that can be sold to the public as an opponent for Spence while bigger names are lined up, and also someone against whom Spence can in all likelihood look impressive once again.
After a summer tilt, I would expect to see Spence back in action towards the end of the year in a more substantial fight. Keith Thurman will still be on the mend at this point, recovering from elbow surgery, so that fight is out until next year. But Haymon has plenty of other welterweights and one that I suspect he steers toward Spence will be Lamont Peterson. Peterson is a name and has a belt. He also has a stated desire to want one of the big names next along with the payday that it would command. With Thurman out, this would seem the likely immediate path for Spence as such a fight would draw plenty of attention and be easy to sell.
As for Brook, he is going to need an extensive rest before restarting his career. He suffered a beating as well as an eye injury in September against Gennady Golovkin and then suffered another beating as well as injuring his other eye against Spence. After a rest, expect to see a tune- up bout followed by a massive fight in the UK against Amir Khan. The Khan fight has always been big and one of the reasons it has not been made is that it could frankly be made anytime with it still being a very significant event. Considering where both fighters are presently in their respective careers, the timing seems right for it to happen sooner rather than later. They both get a big payday and the winner gets well positioned for another big payday in what is a loaded territory at welterweight and junior middleweight.
Errol Spence Jr. and Kell Brook gave us a great fight on Saturday. While their career paths will head in different directions, expect to see both involved in big events once again down the road.
 Miguel Cotto's Future
 Miguel Cotto announced this week that he would be returning to the ring on August 26th to face Japanese brawler Yoshihiro Kamegai for the vacant WBO junior middleweight championship. Cotto, who split from his promoter Roc Nation last week, will work with Golden Boy Promotions for this fight which will be televised by HBO.
This is an interesting development in the career of Cotto. Reportedly HBO had not been interested in televising the proposed Kamegai fight unless it received assurances from Cotto that it would lead to a bigger fight to be televised by the network. Also, Golden Boy's involvement in the promotion signals that they could be involved in Cotto's future. Obviously, this would mean the opponent for a big fight for Cotto would come from under the Golden Boy banner.
The obvious choice for Cotto's big fight opponent is David Lemieux. Lemieux has been chasing a fight with Canelo Alvarez. However, with Alvarez deciding to go after Gennady Golovkin, Lemieux gets left on the outside looking in. In need of a big fight for Lemieux, Golden Boy saw an opportunity with Cotto having been previously negotiating the Kamegai fight with Roc Nation. A fight between Cotto and Lemieux makes sense for both as Cotto wants a name who isn't a slick boxer and Lemieux wants a big fight with the payday it commands as well as the opportunity to put a signature win on his resume to bolster his future ambitions.
But I also think Golden Boy has another potential plan for Cotto. Golden Boy's main cash cow, Canelo Alvarez, is in a high risk, high reward fight with Golovkin in September. There is no rematch clause if Alvarez wins and, of course, a win by Alvarez cements him as a mega star in the sport. He will be eyeing a return in May 2018 during Cinco de Mayo weekend. With momentum behind him, Alvarez would be wise to seek a name opponent to further boost the event. A rematch with Cotto would not only do huge business but keep the momentum going. For Cotto, it would be a chance to avenge the loss from 2015 to Alvarez and give him one massive payday as his career nears a conclusion.
Miguel Cotto is determined to close his career out with something big and it appears likely he will get his wish.
Kudos to Golden Boy
 When Golden Boy announced its new series on ESPN this winter, I was cautiously optimistic in the fights they would produce. I must say that the matchmaking thus far on this series has been superb and is getting even better with some recently announced cards. These are the types of televised shows the sport needs to generate some badly needed positive buzz.
On June 17th, Pablo Cesar Cano takes on Fidel Maldonado in a junior welterweight contest. This fight is not only very evenly matched but can't be anything except a slugfest given the styles of the two fighters. Cano is a high pressure fighter who is willing to exchange to get his own punches home. Maldonado has the ability to box, but often gets drawn willingly into wars. In 2015, he had a back and forth shootout with Amir Iman in a fight that got some talk in fight of the year chatter. As a matter of fact, round three was probably round of the year that year. Maldonado has a tendency to fire back when he gets hit and with Cano's style Maldonado is going to get hit a lot. This one is guaranteed action and a perfect fight for television.
About two weeks later, Golden Boy returns with another ESPN card featuring a high stakes junior featherweight contest between Randy Caballero and Oscar Negrete. Caballero is an undefeated former bantamweight belt holder and is a very skilled boxer puncher. Negrete, also undefeated, has shown much improvement inside the ring in his last few contests. The styles of these two should mix well to provide an entertaining fight. It is also evenly matched, and with so much at stake we should see the best of both men inside the ring.
One point I harp on a lot is the importance of good matchmaking, especially in televised fights. Golden Boy is doing an excellent job so far with their new ESPN series providing high quality, well-matched fights. The boxing public is taking notice and Golden Boy deserves much praise in delivering excellent events for the fans.
Check out more boxing news on video at The Boxing Channel.
George Foreman Youth Center in Houston Hosts Amateur Event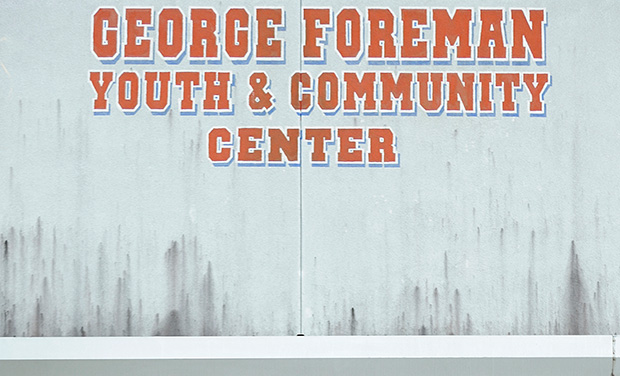 George Foreman Youth Center –  -Starting with the ring of the bell on October 22nd, local area boxers will be fighting for a spot to represent the Gulf Coast Region at the USA Boxing National Championships & in International Travel.
Weight categories will include: Pee Wee 8-9, Bantam 10-11, Intermediate 12-13, Juniors 14-15, Youth 15-16, & Elite 18-40 in both Open and Novice divisions. Winners will represent the Gulf area at the 2016 USA Boxing Elite, Youth and Junior National Championships to be held in Kansas City Missouri December 4-10, 2016. This tournament is a sanctioned event through USA Boxing the National Governing Body of Amateur Boxing and is a feeder to National and Olympic recognition.
The George Foreman Youth and Community Center was founded 32 years ago in 1984 by Olympic Gold Medalist and 2-time heavy weight champion George Foreman. The GFYCC is dedicated to providing a safe and secure location for youth to participate in sports and after school activities.
"This year for the first time in Houston boxing history, we are developing an elite international youth boxing team," said George Foreman, IV. "The team will be selected for the sole purpose of training and traveling to other countries to gain experience on an international platform and promote cultural diplomacy! Utilizing grant and donor funding this team will be representing the George Foreman Youth and Community Center and will be announced Saturday October 22, at the Gulf Region's Boxing Championship. The team will be reviewed by my father, 1968 Olympic Gold Medalist and 2-Time Heavyweight Champion, George Foreman Sr. The first international trip for this new Houston team is scheduled for Jan. 2017."
Doors open for the Gulf Gloves Championships on Saturday October 22nd at 11:00 am with announcements and the presentation of the colors by the United States Army Houston Recruiting Command Baytown Beaumont Company at 12:45 pm. The national anthem will be performed by the internationally acclaimed Houston Brass Quintet! Boxing will begin at 1:00 pm. Championship finals will begin at 1:00 pm on Sunday October 23rd.
Media open workouts for Houston amateur standout boxers will be held Wednesday October 19th at the George Foreman Youth and Community Center at 2202 Lone Oak Road Houston, Texas 77093 at 4:00 pm.
Confirmed attendees for interviews will be:
George Edward Foreman IV: Son of 2 Time Heavy Weight Champion, President of Foreman Public Relations
Marlen Esparza: 2012 Olympic Games Bronze Medalist, 2014 Amateur World Champion, 2006 & 2016 Amateur World Championships Bronze Medalist, Nine-Time USA Boxing National Champion.
Rocky Juarez: 2000 Olympic Games Silver Medalist, 1999 Amateur World Champion, WBC Silver Featherweight World Champion.
Raul Marquez: 1988 Amateur World Championships Bronze Medalist, 1992 Olympic Games Quarter-finalist, IBF Light Middleweight World Champion.
Frank Tate: 1984 Olympic Games Gold Medalist, IBF Middleweight World Champion, NABF Light Heavyweight Champion.
Juan "Baby Bull" Diaz: WBA Lightweight World Champion, WBO Lightweight World Champion, WBA Super-Lightweight World Champion, IBF Lightweight World Champion.
"Sweet" Reggie Johnson: WBA Middleweight World Champion, IBF Light Heavyweight World Champion.
In addition to many Houston area professional boxers and Gulf Boxing Association alumni. Event is sanctioned by USA Boxing – Gulf LBC: 16-25-14268
George Foreman Youth Center / Check out more boxing news and videos at The Boxing Channel.
Michelle Corrales-Lewis Named New CEO of NV Boxing Hall of Fame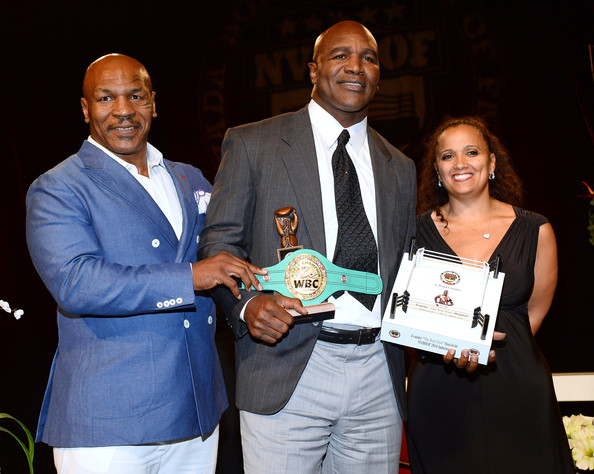 LAS VEGAS, NV (October 5, 2016) – The Nevada Boxing Hall of Fame (NVBHOF) a non-profit charitable organization which donates to boxing-related causes, is happy to announce Michelle Corrales-Lewis as its new CEO/President. Respected boxing announcer, Rich Marotta, who founded the NVBHOF in 2012, steps down after devoting years of his life to get the organization off the ground.
With a number of boxing greats already inducted, which include world champion fighters, judges, coaches and promoters, the NVBHOF has rapidly established itself as prestigious group not only here in Las Vegas, but around the world. The NVBHOF has multiple fundraising events throughout the year, helping local boxing organizations fulfill their goals to keep boxing alive within the community.
"I took this organization as far as I could and I'm very comfortable where it is at today," said Rich Marotta. "Michelle is on the scene in Las Vegas, has a myriad of contacts, both in business and with the boxing community, especially the fighters, and is more than ready to completely run the company. She is incredibly capable and has been an indefatigable agent for growth of the NVBHOF the past three years, taking on additional responsibilities each and every year. It brings me great pleasure to announce her as the new CEO of the Nevada Boxing Hall of Fame."
After serving as the NVBHOF Chief Operating Officer for many years, Michelle Corrales-Lewis, is thrilled at her new position within the organization.
"It's an honor to be chosen as the new CEO of the Nevada Boxing Hall of Fame," said Michelle Corrales-Lewis, widow of former multiple world champion and 2013 NVBHOF inductee, Diego Corrales. "Rich Marotta did a fantastic job building the organization from ground up. His immense work ethic is a great example of how I plan to continue the vision he set forth. My goal is to find a home for the Nevada Boxing Hall of Fame, one where fans from all around the world can visit on regular basis. The boxing community is filled with wonderful people that we will honor as inductees each year. I'm truly grateful for the wonderful opportunity that has been presented to me by my dear friend Rich Marotta."