NEWS ON: Hank Lundy, Thabiso Mchunu, FNF n ShoBox Weigh-In
CES photo by Jerry Coli
LIGHTWEIGHT HANK LUNDY of Philadelphia, Pa., will return to the ring Saturday, May 31st, 2014 against Pipino Cuevas Jr. in the main event of Classic Entertainment & Sports' pro-am boxing event at Mohegan Sun Casino in Uncasville, Conn. Lundy is coming off a televised win over Angelo Santana in February.
FOR IMMEDIATE RELEASE
Thursday, May 15th, 2014
CES MEDIA ALERT
With one eye on a world title bout, Philadelphia's Lundy returns to the ring May 31st
PROVIDENCE, R.I. (May 15th, 2014) — If none of the world champions with the coveted hardware are willing to bring the fight to top-ranked challenger Hank Lundy,then the flashy Philadelphia slugger will continue to force the issue.
No one in the 135- or 140-pound division has answered the call yet, but Lundy (24-3-1, 11 KOs) remains one of the busiest fighters in boxing. The 5-foot-7 lightweight, more commonly known as "Hammerin'" Hank, will return to the ring Saturday, May 31st, 2014 when he battles Mexican veteran Pipino Cuevas Jr. in the main event of Classic Entertainment & Sports' star-studded pro-am boxing event at Mohegan Sun.
"The whole idea is to stay busy, and stay sharp," said Lundy, who is only three months removed from a huge win over Angelo Santana in front of a worldwide audience on Showtime's ShoBox: The Next Generation. "That way, when I get the call to fight for a world title, I'll be ready to fight right then and there."
Lundy's 10-round fight against Cuevas Jr. headlines a dynamic card that also features the return of female bantamweight sensation Shelito Vincent and light heavyweight slugger Kevin Cobbs, plus the addition of an exciting amateur undercard replete with the region's most sought-after talent, including Gary Balletto Jr. and Ray Oliveira Jr., sons of two well-respected sluggers who dominated the regional circuit at the turn of the 21st century.
Tickets for the event are priced at $40, $65 and $125 (VIP) and can be purchased by calling 401-724-2253/2254, online at www.cesboxing.com or www.ticketmaster.com, or at the Mohegan Sun Box Office. All fights and fighters are subject to change.
"We are excited to be hosting a fight card that has a future world champion in the house," Mohegan Sun's Senior Vice President of Sports & Entertainment Tom Cantone said.
A win on May 31st against the dangerous Cuevas Jr. will move Lundy one step closer to his dream of fighting for a world title. With back-to-back wins over Olusegun Ajose and Santana, the former two-time regional champion is ranked No. 9 among lightweights in the World Boxing Council (WBC).
The combined record of Lundy's last 11 opponents dating back to 2010 is a staggering 232-18-3, including a win over current World Boxing Association (WBA) lightweight champion Richar Abril. Know as one of boxing's most prolific road warriors, Lundy has fought everywhere from the Ukraine to Montreal, beating hometown favorites, unbeaten prospects and former world champions on their own turf.
The son of former welterweight world champion Pipino Cuevas, who defended his WBA title 11 times in a four-year span from the mid-1970s to early '80s, Cuevas Jr. has scored knockouts in 15 of his 17 professional wins and is a veteran of 28 fights, the same number of fights as Lundy. The 34-year-old has fought for the World Boxing Organization (WBO) Latino lightweight title and the WBC Youth lightweight championship.
"I'm dying to fight for a world title," Lundy said. "I hope my time comes soon."
The May 31st undercard is stacked with the biggest names in the region, including Vincent (10-0, 1 KO), the unbeaten New London, Conn., star who scored her first career knockout win in November, and Cobbs (7-1, 2 KOs), a veteran from Willimantic, Conn., who will face Willis Lockett (13-13-5, 5 KOs) of Maryland in a four-round bout in Cobbs' first fight in more than a year.
Also on the undercard, New Haven, Conn., junior middleweights Jimmy Williams (5-0-1, 2 KOs) and Christian Lao (5-2-1, 2 KOs) will battle for state bragging rights in a six-round bout; and female welterweight Aleksandra Magdziak-Lopes (10-2-1, 1 KO), a former world-title challenger, will face Althea Saunders (3-0-1) of Atlantic City in a six-round bout. In other regional action, Hartford, Conn., light middleweight Joe Wilson Jr. (1-1) faces Ethan Pena (2-1, 1 KO) of Providence, R.I., in a four-round bout.
The amateur portion of the show features Balletto Jr. of Cranston, R.I., battling middleweight Franklin Gonzalez of Lawrence, Mass. Oliveira Jr., also a 165-pounder who trains out of On Point Boxing in New Bedford, Mass., will face Adam Paolino of Warwick, R.I. New Haven, Conn., middleweight Godfrey Campbell faces Miguel Teo of Marlboro, Mass.; and Smithfield, R.I., light welterweight Anthony Marsella Jr. battles New Bedford's Scott Sullivan. All amateur bouts are three rounds, unless otherwise noted.
For Immediate Release
Contact:
Ellen Haley
Main Events
"The Rock" Will Take on Brazilian Julio Cesar Dos Santos in South Africa
"The Rock"
Photo Credits:
Rich Graessle/Main Events
Pretoria, South Africa: Thabiso "The Rock" Mchunu (16-1, 11 KOs), the southpaw from South Africa, will fight for the vacant IBF International Cruiserweight Title against Julio "Gaspar" Cesar Dos Santos (26-2, 23 KOs), the veteran from Sao Paulo, Brazil, on June 6th at Rembrandt Hall at the University of Pretoria in Pretoria, South Africa. The fight is scheduled for ten rounds.
Mchunu vs. Chambers
Photo Credits:
Rich Graessle/Main Events
The young Mchunu, 26, of KwaZulu-Natal, South Africa, made his US debut Aug. 3, 2013 at Mohegan Sun in Uncasville, CT with a stunning unanimous decision upset of former heavyweight contender "Fast" Eddie Chambers. He then went on to defeat Olanrewaju "God's Power" Durodola on Jan. 24, 2014 on NBCSN Fight Night in Atlantic City, NJ. This will be his first fight back in his home country since signing with Main Events last year.
Dos Santos, 36, will make his South African debut against Mchunu. "Gaspar" has won his last four fights in a row, all in his hometown of Sao Paulo. Julio has an impressive 88% (23 of 26) knockout-to-win ratio and has never been stopped.
Durodola and Mchunu
Photo Credits: Rich Graessle/Main Events
A confident Mchunu said, "I am going to traumatize my Brazilian opponent, Julio Cesar Dos Santos, from beginning to end. He'll take up soccer when I'm finished with him." To which his trainer, Sean Smith, replied, "It's a bold statement but I think Thabiso can give the world another superstar, this time in a 200 pound frame."
Main Events CEO Kathy Duva said, "Our plan for Thabiso is to keep him active to build a following for him here in the United States and continue to build on the following he has in South Africa with our partner, Showpony Promotions. Dos Santos is a tough opponent who will present a good test for Mchunu and the bout is sure to entertain his fans in South Africa. A win will also move him up in the ratings, which brings us all closer to the goal of capturing a world cruiserweight title."
WEIGH IN RESULTS FROM
STAR BOXING'S
WEEK ON ESPN'S FRIDAY NIGHT FIGHTS
Montreal, Canada (May 15, 2014)
The fighter weighed in today for tomorrow nights ESPN's Friday Night Fights from the famed Olympic Stadium in Montreal, Canada. Former world title challenger DELVIN "EL Peligro" RODRIGUEZ takes on JOACHIM Alcine and heavyweight contender JOE "The Future" HANKS faces DERRIC "The Shaolin Fist" ROSSY. Pictures and weights below.
10 Round Jr. Middleweight
Delvin Rodriguez 153.8
Joachim Alcine 153.
10 Round Hvy Weight
Derric Rossey 234.7
Joe Hanks 232.8
6 Round LtWeight
Christian Uruzquiea 134.5
Mario Perez 135.
6 Round Super Middleweight
Frank Miville 169.6
Walid Smichet 172.5
6 Round Jr. Lightweight
Kevin Lavalee 130.8
James Owens 131
SHOBOX: THE NEW GENERATION COMPLETE CARD WEIGH-IN RESULTS
FRIDAY, MAY 16, AT FOXWOODS RESORT CASINO MASHANTUCKET, CONNECTICUT
Mashantucket, Conn. (May 15, 2014)- Earlier today, all of the fighters for the DiBella Entertainment (DBE) and Jean Pascal Promotions card weighed in ahead of their bouts tomorrow night at the beautiful Foxwoods Resort Casino, in Mashantucket, Conn., The exciting ShoBox: The New Generation doubleheader card is headlined by highly regarded undefeated junior lightweight prospect Joel Diaz Jr. taking on Tyler Asselstine and will air live on SHOWTIME® beginning at 10 p.m. ET/PT, delayed on the West Coast.
Below is the complete bout sheet for tomorrow night, with the official weights included. Photos and quotes from the two televised fights to follow.
10 ROUNDS – LIGHTWEIGHTS
MAIN EVENT
Joel Diaz vs. Tyler Asselstine
Palmdale, CA Toronto, Canada
15-0, 12 KO's 14-1, 7KO's
130 lbs. 130 lbs.
8 ROUNDS – JUNIOR MIDDLEWEIGHTS
CO-FEATURE
Frank Galarza vs. Sebastien Bouchard
Brooklyn, NY Quebec, Canada
13-0-2, 9 KO's 8-0, 2 KO's
153 lbs. 154 lbs.
6 ROUNDS – JUNIOR LIGHTWEIGHTS
Bryant Cruz vs. Osnell Charles
Port Chester, NY Atlantic City, NJ
10-0, 6 KO's 10-8-1, 1 KO
132 lbs. 131 lbs.
4 ROUNDS – FEATHERWEIGHTS
Gervonta Davis vs. Joshua Arocho
Baltimore, MD Vineland, NJ
6-0, 6 KO's 3-9-4, 2 KO's
127 lbs. 127 lbs.
4 ROUNDS – SUPER MIDDLEWEIGHTS
John Magda vs. David Courchaine
Rutherford, NJ Spokane, WA
5-0, 4 KO's 2-3, 2 KO's
167 lbs. 163 lbs.
4 ROUNDS – JUNIOR MIDDLEWEIGHT
Kareem Martin vs. Azamat Umarzoda
Washington, D.C. Las Vegas, NV
1-0, 1 KO 0-3
150 lbs. 152 lbs.
Here is a quotes release from Showtime:
MASHANTUCKET, Conn. (May 15, 2014) – Undefeated super featherweight prospect Joel Diaz Jr. and once-beaten Tyler Asselstine both measured at the 130-pound limit during Thursday's official weigh-in for their 10-round main event showdown tomorrow/Friday, May 16 on ShoBox: The New Generation, live on SHOWTIME® at 10 p.m. ET/PT (delayed on the West Coast).
Streaking junior middleweight prospect Frank Galarza weighed in at 153 pounds and fellow undefeated prospect Sebastien Bouchard tipped the scale at 154 pounds for their eight-round co-feature bout on ShoBox.
Co-promoter and former world champion Jean Pascal presided over Thursday's weigh-in at Fox Theatre at Foxwoods Resort Casino in Mashantucket, Conn., the site of Friday's ShoBox doubleheader. The event is promoted by DiBella Entertainment in association with Jean Pascal Promotions. Galarza-Bouchard is also promoted in association with New Legend Boxing.
Eight of Diaz's (15-0, 12 KOs) 12 career knockouts have come in two rounds or less, with six coming in the first round. The Glendale, Calif., resident, who is guided by renowned trainer Abel Sanchez, is looking to make a move in the lightweight division but faces his toughest opponent to date in Asselstine (14-1, 7 KOs), a former Canadian amateur standout.
Brooklyn's Galarza, who is returning to ShoBox for the second time in 2014, has knocked out four consecutive opponents, including a career-best KO of previously undefeated prospect John Thompson this past January on the series. Bouchard, a former two-time Canadian amateur champion, is an up-and-coming boxer in his native Quebec.
Here's what the fighters had to say during Thursday's weigh-in:
JULIO DIAZ JR.:
"I can't wait, especially because it's the main event. I've been dreaming about this since I was a little kid to fight in the main event and now my dream is becoming a reality. I'm on SHOWTIME once again, main event, 10 rounds, I'm ready to rock and roll.
"This is a great opportunity for me to show my fans how I've developed since I last fought on SHOWTIME. I want to show them what I've worked on and I think I'll win over some new fans tomorrow.
"Working with Abel has done a lot for my career. He's a very good guy, outside the ring and inside the ring. He's improved my boxing skills and I can't wait to show them off.
"This might be the toughest opponent of my career. We'll find out the first round. But we're not going to get too big-headed. We're just going to go in there, follow our plan and hopefully our plan gets us the victory.
"Style-wise, this is a good matchup for me. He's a southpaw. I've actually been sparring with a lot of southpaws, from (Daniel) Ponce de Leon to Ivan Redkach. This training camp was full of southpaws. So whatever the guy brings to the table I'm ready for it.
"If I can get a knockout I'm going for it. But, if we can't, we're ready to go the distance. We had a good six- week training camp, good sparring partners and hopefully everything goes as planned."
TYLER ASSELSTINE:
"I would say he's the toughest opponent I've faced. He definitely has the most power of anyone I've been in there with. He had a decent amateur career and he's strong. But I've seen a lot of things I can capitalize on in the ring.
"At times his style and aggression will be a challenge. At the same time, he leaves himself open and I can sneak in there. The more he throws the more I can sneak in and do my work.
"This is my first fight at 130. I think 126 is definitely a better class for me – I only had to cut two pounds for this fight. I know I'll be the smaller guy in there, but I'll be fine. This fight is a huge opportunity for me so I had to take it. It's not like me to turn down an opportunity, especially one like this. After the fight I'll move back down to 126 or even 122.
"My focus is just on this fight. After that, we'll see what happens and go from there. But I have a huge chance here and I need to take advantage of it."
FRANK GALARZA:
"I think every time I step into the ring I'm always looking to put on a show, to entertain the fans and give them what they want. They like to see people fight and dish it out, so that's what I'm going to do.
"This is going to be the fourth undefeated fighter we've faced. And I don't mind that. I actually look forward to facing top prospects that are undefeated. It gives me more confidence as far as my boxing ability and what I feel capable of.
"If he wants a war we'll give him a war. Sometimes you have to be careful what you ask for. The fans are going to see an exciting fight. I'm always going to put on a show, that's my thing.
"I just want to stay active and stay busy. We're looking for a few more fights in before the year is up."
SEBASTIEN BOUCHARD:
"It's not the television that makes me nervous. The only thing that makes me nervous is the guy that I'm fighting.
"I think it will be a war. I know that's his style, but that's my style as well. I want to make it a war.
"With this opportunity, my foot is now in the door. I'm going to kick out the door and open it. This is only the start for me."
Three Punch Combo: What's in the Cards for Spence, Kell Brook, and Cotto?
 THREE PUNCH COMBO: Errol Spence Jr. scored an impressive knockout victory against Kell Brook on Saturday to take Brook's IBF welterweight title. Both fighters now face interesting possibilities as they move forward in their respective careers.
Spence, who entered the fight with a lot of questions, not only showcased his tremendous skills but proved he has a very good chin as well as the willingness to dig deep when needed. He is without a doubt a future superstar in this sport. With momentum strong right now, he would be wise to be as active as possible even if not landing one of the big names his next time out.
I sense that Spence's advisor, Al Haymon, will in fact get him back in the ring this summer. One name I would speculate as an opponent is Adrian Granados. Coming off a debatable loss to Adrien Broner, Granados has earned another shot at a top fighter. Granados is not a big puncher, but will put forth a good effort. The translation here is that he is someone that can be sold to the public as an opponent for Spence while bigger names are lined up, and also someone against whom Spence can in all likelihood look impressive once again.
After a summer tilt, I would expect to see Spence back in action towards the end of the year in a more substantial fight. Keith Thurman will still be on the mend at this point, recovering from elbow surgery, so that fight is out until next year. But Haymon has plenty of other welterweights and one that I suspect he steers toward Spence will be Lamont Peterson. Peterson is a name and has a belt. He also has a stated desire to want one of the big names next along with the payday that it would command. With Thurman out, this would seem the likely immediate path for Spence as such a fight would draw plenty of attention and be easy to sell.
As for Brook, he is going to need an extensive rest before restarting his career. He suffered a beating as well as an eye injury in September against Gennady Golovkin and then suffered another beating as well as injuring his other eye against Spence. After a rest, expect to see a tune- up bout followed by a massive fight in the UK against Amir Khan. The Khan fight has always been big and one of the reasons it has not been made is that it could frankly be made anytime with it still being a very significant event. Considering where both fighters are presently in their respective careers, the timing seems right for it to happen sooner rather than later. They both get a big payday and the winner gets well positioned for another big payday in what is a loaded territory at welterweight and junior middleweight.
Errol Spence Jr. and Kell Brook gave us a great fight on Saturday. While their career paths will head in different directions, expect to see both involved in big events once again down the road.
 Miguel Cotto's Future
 Miguel Cotto announced this week that he would be returning to the ring on August 26th to face Japanese brawler Yoshihiro Kamegai for the vacant WBO junior middleweight championship. Cotto, who split from his promoter Roc Nation last week, will work with Golden Boy Promotions for this fight which will be televised by HBO.
This is an interesting development in the career of Cotto. Reportedly HBO had not been interested in televising the proposed Kamegai fight unless it received assurances from Cotto that it would lead to a bigger fight to be televised by the network. Also, Golden Boy's involvement in the promotion signals that they could be involved in Cotto's future. Obviously, this would mean the opponent for a big fight for Cotto would come from under the Golden Boy banner.
The obvious choice for Cotto's big fight opponent is David Lemieux. Lemieux has been chasing a fight with Canelo Alvarez. However, with Alvarez deciding to go after Gennady Golovkin, Lemieux gets left on the outside looking in. In need of a big fight for Lemieux, Golden Boy saw an opportunity with Cotto having been previously negotiating the Kamegai fight with Roc Nation. A fight between Cotto and Lemieux makes sense for both as Cotto wants a name who isn't a slick boxer and Lemieux wants a big fight with the payday it commands as well as the opportunity to put a signature win on his resume to bolster his future ambitions.
But I also think Golden Boy has another potential plan for Cotto. Golden Boy's main cash cow, Canelo Alvarez, is in a high risk, high reward fight with Golovkin in September. There is no rematch clause if Alvarez wins and, of course, a win by Alvarez cements him as a mega star in the sport. He will be eyeing a return in May 2018 during Cinco de Mayo weekend. With momentum behind him, Alvarez would be wise to seek a name opponent to further boost the event. A rematch with Cotto would not only do huge business but keep the momentum going. For Cotto, it would be a chance to avenge the loss from 2015 to Alvarez and give him one massive payday as his career nears a conclusion.
Miguel Cotto is determined to close his career out with something big and it appears likely he will get his wish.
Kudos to Golden Boy
 When Golden Boy announced its new series on ESPN this winter, I was cautiously optimistic in the fights they would produce. I must say that the matchmaking thus far on this series has been superb and is getting even better with some recently announced cards. These are the types of televised shows the sport needs to generate some badly needed positive buzz.
On June 17th, Pablo Cesar Cano takes on Fidel Maldonado in a junior welterweight contest. This fight is not only very evenly matched but can't be anything except a slugfest given the styles of the two fighters. Cano is a high pressure fighter who is willing to exchange to get his own punches home. Maldonado has the ability to box, but often gets drawn willingly into wars. In 2015, he had a back and forth shootout with Amir Iman in a fight that got some talk in fight of the year chatter. As a matter of fact, round three was probably round of the year that year. Maldonado has a tendency to fire back when he gets hit and with Cano's style Maldonado is going to get hit a lot. This one is guaranteed action and a perfect fight for television.
About two weeks later, Golden Boy returns with another ESPN card featuring a high stakes junior featherweight contest between Randy Caballero and Oscar Negrete. Caballero is an undefeated former bantamweight belt holder and is a very skilled boxer puncher. Negrete, also undefeated, has shown much improvement inside the ring in his last few contests. The styles of these two should mix well to provide an entertaining fight. It is also evenly matched, and with so much at stake we should see the best of both men inside the ring.
One point I harp on a lot is the importance of good matchmaking, especially in televised fights. Golden Boy is doing an excellent job so far with their new ESPN series providing high quality, well-matched fights. The boxing public is taking notice and Golden Boy deserves much praise in delivering excellent events for the fans.
Check out more boxing news on video at The Boxing Channel.
George Foreman Youth Center in Houston Hosts Amateur Event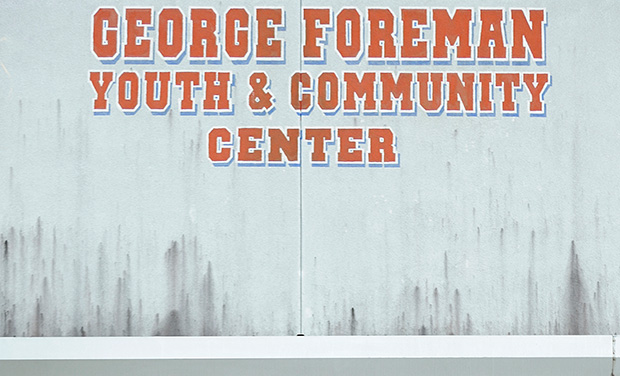 George Foreman Youth Center –  -Starting with the ring of the bell on October 22nd, local area boxers will be fighting for a spot to represent the Gulf Coast Region at the USA Boxing National Championships & in International Travel.
Weight categories will include: Pee Wee 8-9, Bantam 10-11, Intermediate 12-13, Juniors 14-15, Youth 15-16, & Elite 18-40 in both Open and Novice divisions. Winners will represent the Gulf area at the 2016 USA Boxing Elite, Youth and Junior National Championships to be held in Kansas City Missouri December 4-10, 2016. This tournament is a sanctioned event through USA Boxing the National Governing Body of Amateur Boxing and is a feeder to National and Olympic recognition.
The George Foreman Youth and Community Center was founded 32 years ago in 1984 by Olympic Gold Medalist and 2-time heavy weight champion George Foreman. The GFYCC is dedicated to providing a safe and secure location for youth to participate in sports and after school activities.
"This year for the first time in Houston boxing history, we are developing an elite international youth boxing team," said George Foreman, IV. "The team will be selected for the sole purpose of training and traveling to other countries to gain experience on an international platform and promote cultural diplomacy! Utilizing grant and donor funding this team will be representing the George Foreman Youth and Community Center and will be announced Saturday October 22, at the Gulf Region's Boxing Championship. The team will be reviewed by my father, 1968 Olympic Gold Medalist and 2-Time Heavyweight Champion, George Foreman Sr. The first international trip for this new Houston team is scheduled for Jan. 2017."
Doors open for the Gulf Gloves Championships on Saturday October 22nd at 11:00 am with announcements and the presentation of the colors by the United States Army Houston Recruiting Command Baytown Beaumont Company at 12:45 pm. The national anthem will be performed by the internationally acclaimed Houston Brass Quintet! Boxing will begin at 1:00 pm. Championship finals will begin at 1:00 pm on Sunday October 23rd.
Media open workouts for Houston amateur standout boxers will be held Wednesday October 19th at the George Foreman Youth and Community Center at 2202 Lone Oak Road Houston, Texas 77093 at 4:00 pm.
Confirmed attendees for interviews will be:
George Edward Foreman IV: Son of 2 Time Heavy Weight Champion, President of Foreman Public Relations
Marlen Esparza: 2012 Olympic Games Bronze Medalist, 2014 Amateur World Champion, 2006 & 2016 Amateur World Championships Bronze Medalist, Nine-Time USA Boxing National Champion.
Rocky Juarez: 2000 Olympic Games Silver Medalist, 1999 Amateur World Champion, WBC Silver Featherweight World Champion.
Raul Marquez: 1988 Amateur World Championships Bronze Medalist, 1992 Olympic Games Quarter-finalist, IBF Light Middleweight World Champion.
Frank Tate: 1984 Olympic Games Gold Medalist, IBF Middleweight World Champion, NABF Light Heavyweight Champion.
Juan "Baby Bull" Diaz: WBA Lightweight World Champion, WBO Lightweight World Champion, WBA Super-Lightweight World Champion, IBF Lightweight World Champion.
"Sweet" Reggie Johnson: WBA Middleweight World Champion, IBF Light Heavyweight World Champion.
In addition to many Houston area professional boxers and Gulf Boxing Association alumni. Event is sanctioned by USA Boxing – Gulf LBC: 16-25-14268
George Foreman Youth Center / Check out more boxing news and videos at The Boxing Channel.
Michelle Corrales-Lewis Named New CEO of NV Boxing Hall of Fame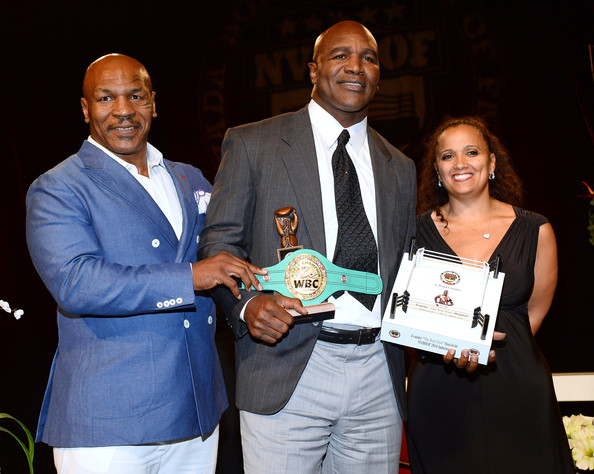 LAS VEGAS, NV (October 5, 2016) – The Nevada Boxing Hall of Fame (NVBHOF) a non-profit charitable organization which donates to boxing-related causes, is happy to announce Michelle Corrales-Lewis as its new CEO/President. Respected boxing announcer, Rich Marotta, who founded the NVBHOF in 2012, steps down after devoting years of his life to get the organization off the ground.
With a number of boxing greats already inducted, which include world champion fighters, judges, coaches and promoters, the NVBHOF has rapidly established itself as prestigious group not only here in Las Vegas, but around the world. The NVBHOF has multiple fundraising events throughout the year, helping local boxing organizations fulfill their goals to keep boxing alive within the community.
"I took this organization as far as I could and I'm very comfortable where it is at today," said Rich Marotta. "Michelle is on the scene in Las Vegas, has a myriad of contacts, both in business and with the boxing community, especially the fighters, and is more than ready to completely run the company. She is incredibly capable and has been an indefatigable agent for growth of the NVBHOF the past three years, taking on additional responsibilities each and every year. It brings me great pleasure to announce her as the new CEO of the Nevada Boxing Hall of Fame."
After serving as the NVBHOF Chief Operating Officer for many years, Michelle Corrales-Lewis, is thrilled at her new position within the organization.
"It's an honor to be chosen as the new CEO of the Nevada Boxing Hall of Fame," said Michelle Corrales-Lewis, widow of former multiple world champion and 2013 NVBHOF inductee, Diego Corrales. "Rich Marotta did a fantastic job building the organization from ground up. His immense work ethic is a great example of how I plan to continue the vision he set forth. My goal is to find a home for the Nevada Boxing Hall of Fame, one where fans from all around the world can visit on regular basis. The boxing community is filled with wonderful people that we will honor as inductees each year. I'm truly grateful for the wonderful opportunity that has been presented to me by my dear friend Rich Marotta."