RASKIN'S RANTS: Goodbye Friday Night Fights, Hello Alfredo Angulo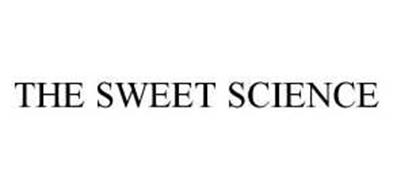 By Eric Raskin:
As this wasn't the most eventful weekend in boxing (televised main events were limited to a rare dull Friday Night Fights bout and a Saturday midnight ESPN Deportes fight that was over by about 12:02), this week's one-email mailbag harkens back to the highly eventful Abner Mares-Joseph Agbeko fight from two Saturdays ago:
Hey Eric,
I just read your piece from this past Monday and I'm gonna have to go ahead and disagree with you about the judging of the Mares-Agbeko fight. 115-111 in favor of Mares is, as I'm sure you well know, 7-5 in rounds, which seems to me reasonable. You said yourself you gave Agbeko but one of the first six rounds, is it that farfetched to believe Abner won two more? Personally, I thought he did. How did you score the fight? I thought the third card, can't remember the judge's name, at 113-113 was too far in favor of Agbeko (7-5 for him). The oddest part of all of this is that despite probably four to five really close rounds in the second half of the fight, we didn't get one truly wacky scorecard. I've come to expect decisions that somehow manage to be 115-113, 113-115, 117-111.
Best,
Robb
Hey Robb,
You make some valid points, and after thinking it through more carefully than I did before banging away impulsively on my keyboard last week, I have (almost) no problem with your 115-111 card. Still, I don't have any regrets over what I wrote because the wording I used was "slightly too wide" and "questionable." Had I used the word "unreasonable," I would want to retract that.
My scorecard looked different than the 115-111 cards of Oren Shellenberger and Adalaide Byrd. I had it just 114-113 for Mares. But you're right, 115-111 was reasonable—or at least just one point away from being reasonable. The only thing about the 115-111 card that I vehemently disagree with is that those judges gave Mares a 10-8 round in the 11th. The knockdown was so obviously a horrible call by ref Russell Mora, and Agbeko was doing just fine in the round otherwise, so to me, that was an obvious 10-9 knockdown round. Official judges at ringside and unofficial scorers at home alike need to use a little personal judgment and not just automatically make a round 10-8 because the ref says there was a knockdown. I didn't have a problem with scoring the opening round 10-8 despite the shaky knockdown call, because Mares dominated the round so completely that it could almost have been 10-8 without a knockdown. But the 11th round was a different story. It was unfair enough to Agbeko just to make it 10-9 in the other guy's favor.
In any case, while I had the fight six rounds apiece, with one 10-8 round, giving Mares a one-point win, I'm okay with a 7-5 scorecard and a 115-112 victory for Mares. I also think you could have given Agbeko one more early round than I did (the second was close) and had "King Kong" ahead 114-113. Bottom line: While I don't quite agree with 115-111 (and I think Byrd's scorecards are frequently off-base), maybe I was a tad harsh to rank the two judges who scored it that way among the "losers" of the evening. You're right, Robb, there were no wacky scorecards here. Just a wacky ref who caused scorecards that didn't reflect what really happened in the fight. With correct knockdown non-calls and reasonable low-blow deductions (conservatively, there should have been one deduction prior to the 11th round and a second one on the "knockdown" punch), Agbeko should have been at least a one-point winner.
And now let's get the weekly Rants rolling, segueing seamlessly by starting with a note on the Mares-Agbeko rematch in the offing:
• Yes, the alphabet body involved in the Mares-Agbeko fight made a good decision in ordering an immediate rematch. But all of the alphabet embracers in the media, who are so very content with the status quo, shouldn't rush to press with their "See, we need the alphabets!" columns. This is a rematch that the marketplace was going to dictate happen anyway, and Mares is a real fighter who wasn't going to run away from it.
• You'll notice in my Alexander Povetkin-Ruslan Chagaev article that will run later this week on TSS that I don't write one single word about the silly alphabet title involved, and the story doesn't suffer for it. Ignore, ignore, ignore. It's not that hard, people.
• I spoke last week to Doug Loughrey, ESPN boxing's director of programming and acquisitions, and he informed me that preliminary discussions have begun to get some extra boxing cards on the air late in the year if NBA games are missed. "If there's not a positive end to the NBA lockout, some dates might open up toward November or December," Loughrey said. "A lot of the college football games that would have been on ESPN2 would move over to ESPN to fill the NBA slot, and leave a hole on ESPN2 and a need for live programming. If the lockout happens, we're prepared to step in." I know most of the folks at ESPN, including Loughrey, aren't actively rooting for a lockout. But as a boxing fan—and, importantly, as a 76ers fan—I sure am.
• I asked Amir Khan over the weekend if he regretted his conspiracy-theory tweets regarding the Robert Guerrero-Marcos Maidana cancellation. Khan said he wasn't the one who sent those tweets; they were typed by a second tweeter on the grassy knoll.
• Glen Johnson is clearly the most credible opponent that was available for Lucian Bute to fight, and with Johnson having just fought Carl Froch, this bout will give us some indication of where Bute stands in relation to the Super Six finalists. So I'm fully in favor of Bute-Johnson happening. But at the same time, it's getting hard to believe Johnson, at age 42 and with close losses in the past 24 months to Froch, Tavoris Cloud, and Chad Dawson is actually going to win a fight against an elite opponent. This fits the description of a quality bout that somehow is hard to get pumped for.
• I will say this, in terms of finding a reason to get pumped for Bute-Johnson: Johnson's insistence on taking this fight for short money makes you wonder if he knows something the rest of us don't.
• Is there any reason to think Oliver McCall won't still be beating fourth-rate heavyweights when he's in his sixties?
• Alfredo Angulo is back, and on Saturday night, "El Perro" proved he can defeat a chew toy. Instead of the stick-and-move, Joseph Gomez used the move-and-suck, which involves running for one minute, then taking a couple of clean punches and folding immediately. It wasn't a very entertaining return for Alfredo Angulo, but at least he followed that old show-biz maxim about leaving us wanting more.
• I thought Andre Ward was solid overall providing color commentary on the season finale of Friday Night Fights, and he got off one outstanding line in defense of Demetrius Andrade as the unbeaten prospect started stinking it out in the main event: "This is not pride fighting. This is prize fighting." I don't know if it was an original line or not, but it was a fine turn of phrase just the same.
• Credit for another excellent line to fellow fight scribe David Greisman, who tweeted, "Is this Demetrius Andrade Dirrell?" There was an unmistakable Dirrell vs. Curtis Stevens vibe to the fight, though Andrade's performance wasn't as boring and maddening. I give Andrade a bit of a pass for the way he fought because Grady Brewer represented such an enormous step up in competition and because Brewer is a dangerous puncher.
• Maybe Andrade-Brewer wasn't the ideal capper to the FNF season, but at least we got the super-slo-mo in the co-feature that offered blood splashing off of David Diaz's face, followed by the magnificent undulating ear shot. For what it's worth, I doubt that left hand from Hank Lundy lands so cleanly if Diaz isn't busy trying to blink the blood out of his right eye.
• What's less surprising: that Octomom is hitting the celebrity-boxing circuit, or that Damon Feldman is promoting it?
• It's not tooting your own horn if you're quoting someone else tooting it, right? In reference to last week's episode of Ring Theory (http://ringtheory.podbean.com), one listener with impeccable taste emailed me to say "the Morales-Marquez-Barrera discussion was maybe the best boxing conversation I've ever heard." If you want to discover for yourself what that listener was talking about, well, it's not too late to subscribe and join our club of true fight fans.
Eric Raskin can be contacted at RaskinBoxing@yahoo.com. You can follow him on Twitter @EricRaskin and listen to new episodes of his podcast, Ring Theory, at http://ringtheory.podbean.com.
Boxing Odds and Ends: The WBA's 50-Year-Old Cruiserweight Contender and More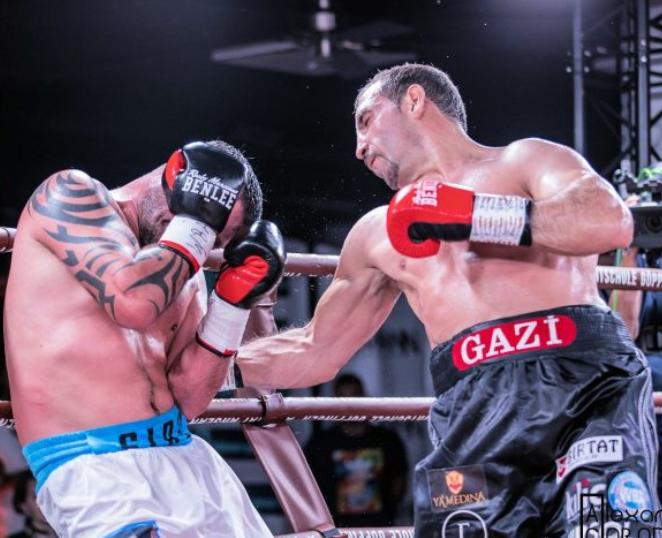 Boxing's seniors tour continues on Sept. 11 when Oscar De La Hoya returns to the ring after an absence of almost 13 years to fight former MMA star Vitor Belfort. The bout is scheduled for eight two-minute rounds and will count against De La Hoya's professional boxing record which currently stands at 39-6 (30). More details will be revealed tomorrow at a Los Angeles press conference.
De La Hoya turned 48 in February. If he is looking for inspiration, he need look no further back than this past Saturday where cruiserweight Firat Arslan continued his ascent toward yet another world title shot with a fourth-round stoppage of Argentina's Ruben Eduardo Acosta. Arslan is older than Oscar, he's 50!
The match took place in Goeppingen, Germany, before a small gathering in Firat Arslan's gym. It was sanctioned by the WBA for an "international" belt. A southpaw of Turkish descent, Arslan (pictured on the right) entered the contest ranked #5 by the repugnant organization and will presumably move up a notch.
Arslan is in his 24th year as a pro. His signature win was a 12-round decision over Virgil Hill in 2007. Hill was then 43 years old. Coincidentally, the man that Arslan just defeated was also 43.
The victory over Hill, a future Hall of Famer, earned Arslan a world cruiserweight title. He lost it to Guillermo Jones after one successful defense and would come up short in three other stabs at a world cruiserweight title, losing to Marco Huck twice and to Yoan Pablo Hernandez.
One doesn't know if Ruben Eduardo Acosta turned up in Germany intent on rendering an honest effort. He went down three times from body shots and was counted out on his last trip to the mat. But the Argentine sported a decent record (38-17-5) and had gone seven years without being stopped, a pocket of 17 fights.
There's an obvious difference between Arslan and De La Hoya. Arslan was out of the ring for 21 months after losing his title to Jones, but has otherwise maintained a steady schedule. His weight has never ballooned between fights and he has the physique of a man twenty years younger. De La Hoya has led a sedentary life since leaving the ring and is effectively starting over. He figures to weigh about 170 for Vitor Belfort which would be 25 pounds more than he carried for his last fight against Manny Pacquiao.
—
De La Hoya vs. Belfort is being promoted by Triller and will air on FITE. Triller and FITE are also collaborating on the Aug. 3 event at the Hulu Theater in Madison Square Garden. The headline attraction of what will supposedly be a 10-fight card finds heavyweight contender Michael "The Bounty" Hunter taking on former amateur rival Mike "White Delight" Wilson.
Those attending the event who are over the age of 15 must provide proof of full vaccination or a negative test result within the previous 72 hours. Despite this potential deal-breaker, tickets purportedly disappeared fast, portending a complete sell-out.
Of course, there's more to the event than boxing. Local rap groups DIPSET and THE LOX will battle it out in a competition ballyhooed as iconic in the promotional literature.
—-
A more compelling fight takes place in North London on Sept. 25 when IBF/WBO/WBA heavyweight champion Anthony Joshua defends his belts against former unified cruiserweight champion Oleksandr Usyk. It will be the first boxing event at Tottenham Hotspur Stadium which opened in April of 2019. Built for the Tottenham Hotspurs, a Premier League soccer club, the stadium was also conceptualized with an eye toward housing an NFL team.
The soccer pitch is retractable. Underneath is an artificial turf for American football. Having the football field at a lower level than the soccer pitch will allow spectators in the first row to see over the heads of football players and coaches standing on the sideline. In soccer, the front row can be closer to the playing field because soccer players sit on chairs when they are not in the game. Moreover, the stadium has a separate entrance dedicated to NFL events and the press sections for American football and for soccer are configured differently.
Pro football fans in the U.S. tuning in on television will be get a bird's eye view of the new stadium on Oct. 10 and again Oct. 17 when the NFL plays games in London, renewing a tradition that was interrupted last year by Covid-19. The NFL recently signed a 10-year deal with the landlord of Tottenham Hotspur Stadium.
For the record, the Oct. 10 game features the Falcons against the Jets. On Oct. 17, it's the Jaguars against the Dolphins. Both games will start at 9:30 am ET, 6:30 am PT. Football fans on the West Coast are advised to set their alarm clocks.
Check out more boxing news on video at the Boxing Channel
To comment on this story in the Fight Forum CLICK HERE
Fast Results from London: Massive Heavyweight Joe Joyce Keeps on Rolling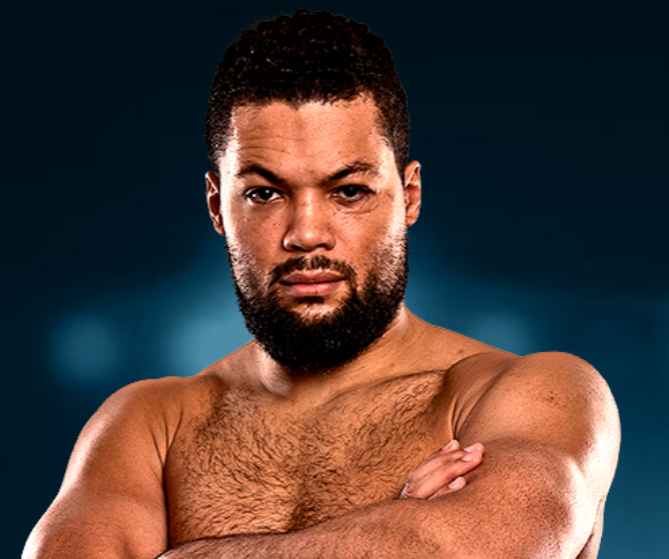 Ponderous but formidable Joe Joyce moved one step closer to a title fight tonight at the Wembley Arena with a sixth-round stoppage of Carlos Takam. Carrying 264 pounds on a six-foot-six frame, the 2014 Olympic silver medalist was simply too big for his 40-year-old French-Cameroonian adversary.
In his previous bout, Joyce methodically dismantled favored Daniel Dubois with a steady dose of his thudding right jab. Dubois quit in the 10th round with a busted eye socket. Tonight's fight followed a somewhat similar pattern.
Takam landed some good shots in the first two rounds as Joyce was slow to find his rhythm, but Joyce stuck to his game plan which was to wear him down and Takam's punches gradually lost steam in the face of Joyce's constant pressure.
Early in round six, Joyce rocked Takam with a big right hand and didn't let him off the hook. Takam protested when the referee indicated that he had seen enough and the stoppage did strike many as premature, but the handwriting was on the wall for the veteran who declined to 39-6-1. The official time was 0:49.
Joyce is of Scotch-Irish and Nigerian descent. College educated with a degree in fine arts, he acknowledges that he has no great passion for the sport of boxing and is in it for the financial rewards, not the glory. At age 35, he isn't going to get any better, but he appears to have a rock-solid chin and his nickname, Juggernaut, is quite fitting.
Joyce entered the bout ranked #2 by the WBO, a notch below Oleksandr Usyk who challenges title-holder Anthony Joshua on Sept. 25.
Other Bouts of Note
Ekow Essuman, a 32-year-old Nottingham man, born in Botswana, unseated British and Commonwealth welterweight champion Chris Jenkins, winning on an eighth-round stoppage. A hard right hook followed by a flurry of punches forced the referee to waive it off. The official time was 0:53.
Essuman, who was favored in the 3/1 range, improved to 15-0 with his sixth win inside the distance. A Welshman, Jenkins (22-4-3) was making the fourth defense of his domestic title.
London super welterweight Hamzah Sheeraz, who has been training at the Ten Goose Gym in Van Nuys, California, improved to 13-0 (9 KOs) with a fifth-round stoppage of Spain's Ezequiel Gurria (15-2). Gurria was down twice in the fifth round before the bout was halted at the 2:23 mark.
Check out more boxing news on video at the Boxing Channel
To comment on this story in the Fight Forum CLICK HERE
Steen, Bocachica, and Martino Jules Stay Unbeaten in Cornhuskerland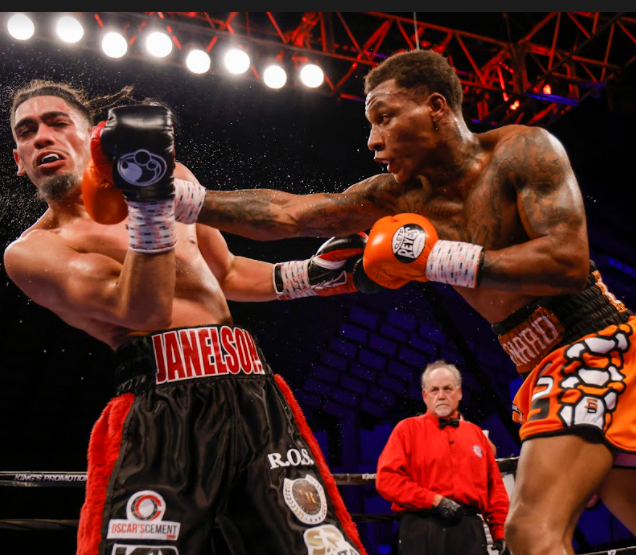 The long-running Showtime series ShoBox:The New Generation was at the Heartland Events Center in Grand Island, Nebraska last night. Super middleweight Isaiah Steen and welterweight Janelson Figueroa Bocachica, both of whom are managed by 2020 BWAA Manager of the Year David McWater, were featured in the main bouts.
Cleveland's Steen, the half-brother of 2016 U.S. Olympian Charles Conwell, improved to 16-0 (12) with a 10-round unanimous decision over previously undefeated Kalvin Henderson (14-1-1). Steen started slow and slowed down again in the final two rounds, but dominated the middle rounds and won by scores of 96-94 and 97-93 twice. Henderson, a part-time schoolteacher in Fayetteville, Arkansas who earned a degree in music from the University of Arkansas, was hampered by a pulled muscle in his right shoulder which he believes happened in the fourth round.
Steen hopes to land a spot on the big show coming up in Cleveland in five weeks. Charles Conwell is already booked. He will oppose Massachusetts veteran Mark DeLuca in a supporting bout to the freak fight between Jake Paul and Tyrone Woodley.
Janelson Figueroa Bocachica, a Detroit native of Puerto Rican ancestry, kept his undefeated record intact, but just barely. He was held to a draw by Shinard Bunch who appeared to have done enough to edge it.
Bunch, whose middle name is Showtime (no fooling) fights out of Trenton, New Jersey and is trained by Chino Reyes who guided Jason Sosa and Tevin Farmer to world titles. He entered the bout with a 15-1 (13) record but was moving up in class in his first scheduled 10-rounder. Only six of his wins had come against opponents with winning records.
Bocachica (17-0-1) performed below expectations for the second straight fight, having been hard-pressed to turn away Mark Reyes Jr. in his previous go. One of the judges scored it for him (96-94) but the others had it 97-93 Bunch and 95-95.
The TV opener was an 8-round featherweight contest between Martino Jules, a 24-year-old southpaw from Allentown, Pennsylvania, and Aram Avagyan, a 30-year-old Armenian who began his pro career in Russia and is currently domiciled in California.
Although neither were big punchers, the Armenian had the odds in his favor. A 2016 Olympian, he had fought the tougher schedule and was the bigger man, coming in two pounds over the featherweight limit (which reportedly cost him $2000). But his performance was sloppy – he was repeatedly warned for leading with his head – and the decision was a foregone conclusion when Jules was credited with scoring a knockdown late in the final round.
In his biggest win to date, Martino Jules improved to 11-0. It was the first pro loss for the 30-year-old Avagyan who declined to 10-1-2.
Photo credit: Esther Lin / SHOWTIME
Check out more boxing news on video at the Boxing Channel
To comment on this story in the Fight Forum CLICK HERE