The Raskin PPV Running Diary: Hopkins vs. Dawson (Part I)
To a man, everyone in the boxing community agreed from the start: Bernard Hopkins vs. Chad Dawson shouldn't have been on pay-per-view. But it was. There's no undoing it. There's no getting your $60 back (though surely some of you will write angry letters to Golden Boy and Gary Shaw and try). The damage is done, so let's try to look for silver linings. Here's one: If it hadn't been on pay-per-view, you wouldn't have the pleasure right now of reading one of my world-famous pay-per-view running diary columns! And these things are basically a $60 value that you're getting for free, right? (Okay, maybe that's a stretch. Do I hear five dollars? Two bucks? A nickel?)
In any case, I watched Saturday's PPV with my usual cohorts. We had a small crew, but it was an all-star, no-fat collection of boxing writers: me, former Ring magazine editor-in-chief and future Boxing Hall of Famer Nigel Collins, the host with the most (and podcast co-host with the co-most) Bill Dettloff, and Bill's dog, Duva. At 91 years of age in dog years, Duva is officially the oldest Duva in boxing, beating out Lou by two years. However, if it turns out Lou Duva is actually a shar pei, as many boxing insiders have long suspected, then he's 623 in dog years and still can claim seniority.
But enough talk about canines. When they make a mess, all you need is a plastic bag to clean it up. The mess made by the Hopkins-Dawson PPV will be considerably more complicated to dispose of. Let the healing process begin with a two-part running diary (we'll go up through the end of the undercard today, then deal with the main event and the post-main-event extracurriculars tomorrow):
9:05 p.m. EST: Usually in these running diaries I mock Dettloff for his late arrivals, but since he's hosting, I steal his trademark move and knock on the door five minutes after the start of the broadcast. I hate to deprive running-diary readers of a description of those first five minutes, so let's assume I missed Jim Lampley using the words "cogitative" and "superannuated" and Emanuel Steward busting out the phrase "the best I've ever saw" twice.
9:09: The big favorite in the opening bout, Paulie Malignaggi, gets wobbled by a right hand from unknown Orlando Lora in the first round. Gale Van Hoy makes it a 10-3 round in Lora's favor.
9:31: One of Lora's cornermen has thick wads of what appears to be gauze and tape wrapped around his first two fingers, making them look somewhat like white corndogs. Bill comments, "I thought that was something out of Bernard Hopkins' wife's bedroom drawer." (If you don't get that joke, it must mean you're wasting your life away not listening to Ring Theory. But you can enjoy a three-minute free preview of the October 4 episode at the following link, then that joke will make sense: http://tinyurl.com/3rdrwt4.)
9:32: Harold Lederman delivers his first, "I gotta tell you something, Jim" of the evening. Now it's officially an HBO Pay-Per-View event. For what it's worth, Harold has Malignaggi up 5-1 through six rounds.
9:39: CompuBox stats show that Lora has landed in single digits in seven of the first eight rounds, while Malignaggi has landed more than 20 punches in seven of eight rounds. Moments later, Lampley calls out, "hard right hand by Malignaggi," leading me to wonder: Should anyone ever call any punch Malignaggi lands "hard"?
9:41: An interesting conversation develops between Steward and Max Kellerman about whether punching to the body does more damage to fragile hands than punching to the head, and the gentlemen in the Dettloff living room all agree, Max is off-base on this one with his assessment that it's safer to go downstairs. Lampley weighs in by comparing hitting a man's elbow to punching a doorknob. Interestingly, Antonio Margarito once loaded his elbows with actual doorknobs for a fight.
9:46: Bill is talking about how much bigger Malignaggi is looking these days as a welterweight and shares his theory that "every boxer is on steroids." (Note: The opinions of Mr. Dettloff do not reflect those of the author of this article or of anyone else associated with TheSweetScience.com. In fact, we suspect Mr. Dettloff made this statement while roid raging himself.)
9:48: After a reasonably entertaining 10th round that features the first real two-way slugging of the otherwise forgettable fight, Lederman announces his final scorecard, pausing momentarily to sneeze. I've often wondered why we don't witness more live on-air sneezing. I feel like by the law of averages, at least once a week a SportsCenter anchor should sneeze while reading the teleprompter. It never seems to happen, though. There must be some sort of physiological explanation for how the human body repels the urge to sneeze in high-pressure situations.
9:49: Michael Buffer announces Malignaggi as the unanimous decision winner. I'm as excited for the prospect of Malignaggi vs. Devon Alexander as I was before the fight—which is to say, not at all. Ken Hershman's first order of business at HBO: Just say no to Malignaggi vs. Alexander.
9:54: With Danny Garcia and Kendall Holt making their way to the ring, the conversation turns to the Ring Theory "Quick Picks" points at stake. My once-imposing lead of eight points over Dettloff has been whittled to just two, and I picked Holt to win this one by knockout (I let an actual coin flip make that decision for me), whereas Bill needs Garcia by decision. If indeed Garcia wins by decision, the Quick Picks score will be tied. High drama in suburban Allentown, Pennsylvania.
9:55: Buffer announces that this fight card is "presented by Ripley's Believe It Or Not, proudly freaking out families for 90 years." Resisting … urge … to … make … plastic … surgery … joke …
9:59: The Staples Center crowd gives us our first loud "ooooh" of the evening after Holt lands a short right hand to the chin in the opening round. Little do I realize this will be about as close as I'm going to come to any Quick Picks points.
10:00: I notice that Manny Pacquiao is seated directly behind Richard Schaefer at ringside. My source seated nearby texts me a transcript of the conversation. Pacquiao: "My English is really coming along, I wrote an entire three-sentence email in English yesterday and there were only two grammatical mistakes." Schaefer: "Impressive. Would you like a job as editor of The Ring magazine?"
10:02: We get our first Emanuel Steward "crispier" declaration of the show. If it wasn't officially an HBO Pay-Per-View before, it definitely is now.
10:06: Garcia is really beginning to do some damage against Holt in round three. He's also doing damage to my Quick Picks hopes. That's what I get for picking against the Philly fighter. I should know by now that bad things NEVER happen in Philadelphia sports.
10:14: Duva the dog assumes a suggestive position on the floor, flat on his back, all four legs pointing toward the sky, nether regions exposed. "He looks like he's been KO'd," Nigel offers. It could be worse. We could be looking at Lou Duva in this position.
10:24: Ref Jack Reiss asks Holt and Garcia to punch their way out of a clinch, rather than officiously breaking them up the instant they draw close to one another. I like this Reiss fella.
10:26: Holt enjoys a very strong seventh round, but Lederman gives it to Garcia anyway, seemingly a case of Harold being in cruise-control mode. Bill's expert analysis as a biased observer rooting for Garcia: "I love Harold Lederman. Impeccable."
10:28: We have ourselves a little Mayweather Moment, as Garcia throws a punch when Holt isn't ready; fortunately, Holt isn't hurt. Reiss stops the action to warn the fighters to keep it clean, and Dettloff goes nuts, yelling that the ref should stay out of it and let the fighters display a little anger and throw punches if they feel like it. Oh well, I still like ya, Jack.
10:32: Holt lands a half-decent punch. I overreact, startling Duva out of his rigor mortis pose.
10:40: Garcia has Holt wobbling all over the place in the 11th round, and I'm now resigned to rooting for Garcia to knock Holt out so that Bill only gets one point in our picks competition. I'm rooting for anything, really, that will prevent the official result from being a Garcia decision win. I'm not above rooting for a Fan Man incident.
10:46: In his new segment in which he profiles the ringside judges, Lederman tells us that Wayne Hedgpeth, usually a referee (you may remember him recently stopping the Saul Alvarez-Alfonso Gomez fight a couple of punches early), has been called into judging action as a last-minute sub. This information proves meaningful when we learn that Hedgpeth scored the fight 115-113 for Holt in a bout in which it seemed fairly obvious that Garcia won at least eight rounds. If Ivan Goldman was still a boxing writer, Hedgpeth would definitely be getting a Magoo Award.
10:57: Jorge Linares and Antonio DeMarco are in the ring for the final undercard bout, and with Linares wearing pink gloves, Lampley speaks about breast-cancer awareness and how both Golden Boy and Shaw are supporting the cause. Everyone in the room makes their own Shaw/mammogram joke.
11:00: Nigel begins sharing stories about former Ring editor Nat Loubet (one of the guys behind the 1970s ratings scandal), including one that saw Loubet shoot a prisoner of war in the stomach and another that explains how Nat nearly lost an ear playing football. Loubet also met Presidents Kennedy and Nixon, ran all the way across the country, and impregnated Jenny Gump.
11:06: Linares lands a ridiculously fast uppercut from about two feet farther away than you should ever throw an uppercut, prompting Lamps to declare, "That was sick!" With Linares in total control early, this is threatening to be one of the least compelling PPV undercards in history.
11:11: It's Dettloff's favorite part of every PPV broadcast, the ref giving prefight instructions in the dressing room! Currently, Pat Russell is in Dawson's dressing room. I'm not quite sure how this developed, but we all soon end up engaged in a discussion about the fact that boxing writer Tom Hauser wears his coat like a cape.
11:18: Linares-DeMarco is turning into a hell of a fight in the sixth round, with DeMarco coming on and Linares bleeding profusely from a cut on the bridge of his nose. I love how DeMarco yells, "Woo!" every time he gets hit. He's behind in the fight, but starting to win the mental war.
11:19: Ref Russell is in Hopkins' dressing room, explaining the rules. I'm going to go out on a limb and say Bernard knows the rules of boxing by now. (Unless there's a rule about losing by TKO when you get thrown to the canvas and separate your shoulder. Oops, am I getting ahead of myself?)
11:27: Linares sustains a second bad cut, this one over the right eye. Soon thereafter, Kellerman comments, "The fight would feel a lot different had Linares' face not fallen apart." The once-handsome Venezuelan is about 75 percent of the way to looking like Gus Fring.
11:32: Nigel observes how when Linares' cutman applies pressure to the eye, blood spurts from the cut on his nose. I'm not a doctor, but I think this sequence of events is coincidental.
11:38: In a thrilling, high-drama 11th round, DeMarco is landing one flush shot after another, and the ghoulishly bloody Linares is starting to look like he wants out. Ref Raul Caiz Sr. obliges and stops it with 28 seconds remaining in the round. I honestly can't remember ever seeing that much blood pouring off a fighter's face.
11:42: Buffer does one of my least favorite Buffer things, editorializing as he announces the result: "We've just seen one of the greatest displays of courage in the ring." I'm not even sure if he's talking about DeMarco or Linares. In any case, it was a stirring victory for DeMarco, the kind of fight that makes the price of the show worthwhile no matter what happens in the main event. (Or so I think at the time.)
11:47: With Hopkins-Dawson moments away, we're shown highlights of Dewey Bozella's undercard fight. I mention this strictly so that I can link to my Grantland feature from last week about Bozella and Hopkins (http://tinyurl.com/3cjgxne). Enjoy.
11:50: Amir Khan, tweeting about his stablemate Linares, uses the word "wiv" instead of "with." And wiv that, I conclude Part I of the PPV running diary. Check back tomorrow for Part II—or as I like to think of it, "the part every boxing fan on the planet wishes never happened."
Eric Raskin can be contacted at RaskinBoxing@yahoo.com. You can follow him on Twitter @EricRaskin and listen to new episodes of his podcast, Ring Theory, at http://ringtheory.podbean.com.
Tank Davis and the Charlo Twins Featured on the Loaded Showtime/PBC Schedule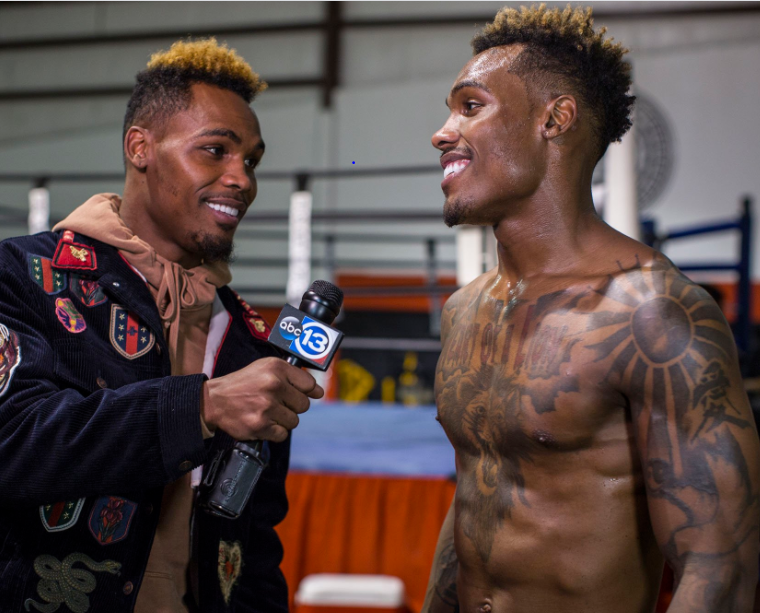 Tank Davis and the Charlo Twins Featured on the Loaded Showtime/PBC Schedule
PRESS RELEASE — SHOWTIME Sports and Premier Boxing Champions today unveiled a loaded five-month boxing schedule of nine high-stakes world championship events beginning Saturday, May 15, live on SHOWTIME. The schedule delivers two events per month through August. Thirteen matchups have been announced thus far with no less than seven world title fights, and 12 fighters defending undefeated records. The lineup features many of boxing's best young fighters taking on career-defining challenges in their primes. All fights on the schedule will take place before a live audience, keeping with applicable local COVID-19 safety protocols.
The sizzling summer run features the dynamic Charlo twins as undefeated electrifying champion Jermall Charlo defends his WBC middleweight world title against Juan Macias Montiel in a special Juneteenth homecoming in Houston on Saturday, June 19, live on SHOWTIME.
The following Saturday, June 26, unbeaten Mayweather Promotions star Gervonta "Tank" Davis moves up two weight classes for a chance to become a three-division world champion when he takes on fellow undefeated champion Mario Barrios for his super lightweight world title in what will be Davis' second pay-per-view showdown.
The next month, WBC, WBA and IBF 154-pound charismatic world champion Jermell Charlo looks to make boxing history when he takes on WBO junior middleweight world champion Brian Castaño in a mega-fight to crown the first four-belt 154-pound world champion.
The SHOWTIME boxing schedule features eight editions of SHOWTIME CHAMPIONSHIP BOXING and one premier SHOWTIME PPV event, all presented by Premier Boxing Champions:
MAY 15 – SHOWTIME CHAMPIONSHIP BOXING

Luis Nery vs. Brandon Figueroa, WBC Super Bantamweight World Title Fight
Danny Roman vs. Ricardo Espinoza Franco, Super Bantamweight Fight
Xavier Martinez vs. Abraham Montoya, WBA Super Featherweight Fight
MAY 29 – SHOWTIME CHAMPIONSHIP BOXING

Nordine Oubaali vs. Nonito Donaire, WBC Bantamweight World Title Fight
Subriel Matias vs. Batyrzhan Jukembayev, IBF Super Lightweight Title Eliminator

JUNE 19 – SHOWTIME CHAMPIONSHIP BOXING 

Jermall Charlo vs. Juan Macias Montiel, WBC Middleweight World Title Fight

JUNE 26 – SHOWTIME PPV

Gervonta Davis vs. Mario Barrios, WBA Super Lightweight World Title Fight
Erickson Lubin vs. Jeison Rosario, WBC Junior Middleweight Title Eliminator
JULY 3 – SHOWTIME CHAMPIONSHIP BOXING
Chris Colbert vs. Yuriorkis Gamboa, WBA Super Featherweight Interim Title Fight

JULY 17 – SHOWTIME CHAMPIONSHIP BOXING 

Jermell Charlo vs. Brian Castaño, Undisputed IBF, WBA, WBC & WBO Junior Middleweight World Title Unification Fight

AUGUST 14 – SHOWTIME CHAMPIONSHIP BOXING
                  Guillermo Rigondeaux vs. John Riel Casimero, WBO Bantamweight World Title Fight
         AUGUST 28 – SHOWTIME CHAMPIONSHIP BOXING
David Benavidez vs. Jose Uzcategui, WBC Super Middleweight Title Eliminator

SEPTEMBER 11 – SHOWTIME CHAMPIONSHIP BOXING
Stephen Fulton, Jr. vs. winner of Nery-Figueroa, Super Bantamweight World Title Unification Fight
"High-impact, meaningful fights amongst many of the biggest names and brightest stars in combat sports. That is what SHOWTIME promises and that is what we are delivering," said Stephen Espinoza, President, SHOWTIME Sports. "With an opportunity to crown an undisputed world champion at 154 pounds, a highly anticipated super bantamweight title unification, a stacked pay-per-view showdown and more than a dozen fights between 118-168 pounds, SHOWTIME is presenting boxing's best young fighters, all daring to be great by putting their world titles and undefeated records on the line.
Editor's Note: This press release has been edited for brevity.
Check out more boxing news on video at the Boxing Channel
To comment on this story in the Fight Forum CLICK HERE
Boxing Odds and Ends: Regis Prograis, Paul vs. Askren, and Kahlil Poe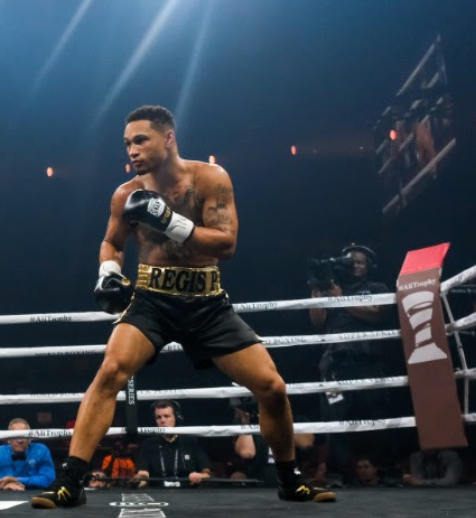 Regis Prograis returns to this ring this Saturday, April 17, at Mercedes-Benz Stadium in Atlanta, Georgia. In the opposite corner will be Ivan Redkach, an LA-based Ukrainian who brings a 23-5-1 (18) record.
There was a time when there was a raging debate as to whether Prograis belonged on the pound-for-pound list. That talk quieted when Prograis lost to Josh Taylor in a battle of unbeatens in London. But the bout was a humdinger and Prograis, a slight favorite, didn't lose by much. One of the judges ruled the fight a draw as did many watching at ringside and at home.
Prograis returned to the ring of October of last year, stopping the previously undefeated Juan Heraldez in the third round. That boosted his record to 25-1 (21 KOs).
Prograis vs. Redkach isn't a particularly compelling match-up, but Prograis is one of the most exciting fighters in the sport and one would have thought that the match would have attracted more buzz. But no, all the talk about Saturday's card has been about the main event between YouTube star Jake Paul and Ben Askren. It's all yours, folks, have at it: Paul vs. Askren, Prograis vs. Redkach, other supporting bouts, musical entertainment, and a vast array of commentators including Snoop Dogg, Mario Lopez, and supermodel Taylor Hill for $49.99 on FITE TV.
ESPN writer Cameron Wolfe predicts that Saturday's show will outsell every other PPV in 2021 outside of Tyson Fury vs. Anthony Joshua and Mike Tyson exhibitions.
"There is little doubt that boxing purists hate it," notes Wolfe.
Number me among the purists. Paul vs. Askren is an insult to all the boxers who toil for years in the gym to hone their craft and give an honest effort each time they fight. Award-winning Washington Times columnist Thom Loverro notes that Juan Francisco Estrada and Roman "Chocolatito" Gonzalez earned $600,000 between them for their recent 12-round barnburner, an instant classic. Jake Paul and Ben Askren will earn millions for their encounter, a cruiserweight bout slated for eight rounds.
Having said this, I confess that I find the bout intriguing. As much as I hate to admit it, Jake Paul does possess a modicum of boxing skill and in Ben Askren he is facing a fellow who hates to lose at anything, be it frisbee golf, at which he's very proficient, or a combat sport. The Hartland, Wisconsin native was 17-2 in MMA and 153-8 as a wrestler at the University of Missouri including an 87-0 mark in his last two seasons. A two-time NCAA champion and a 2008 Olympian, Askren is flat out one of the greatest college wrestlers of all time.
UFC honcho Dana White purportedly put down a $100,000 bet on Askren. (White has been known to win or lose that much at a blackjack table.)
The drawbacks to Askren from a handicapping standpoint are that he left MMA after undergoing a major hip surgery, he's 36 years old, 12 years older than Jake Paul, and as an MMA fighter he wasn't much of a striker. Also, there's a possibility that he will lose his cool in the heat of battle and revert to a wrestling move, getting himself disqualified.
In one of the supporting bouts on the show, Frank Mir, a former two-time UFC heavyweight champion, opposes Philadelphia's Steve Cunningham. A former two-time cruiserweight world title-holder, Cunningham gave Tyson Fury a heap of trouble before getting knocked out in the seventh round at Madison Square Garden in 2013.
Frank Mir turns 42 next month. Cunningham is 44 and has been out of the ring for 44 months. We won't dignify this bout, slated for eight rounds, by talking more about it.
Khalil Coe
The latest boxer to cast his lot with Eddie Hearn is New Jersey light heavyweight Khalil Coe who officially joined Hearn's Matchroom firm yesterday, April 12.
Coe scored one of the biggest upsets in U.S. amateur boxing history when he starched Cuba's Julio Cesar La Cruz in the opening round on June 23, 2018 at a tournament in Halle, Germany. A veteran of nearly 200 fights, La Cruz was a four-time world amateur champion and 2016 Olympic gold medalist. Coe was competing in his first overseas tournament.
Coe, who turns 25 in August, has a style that is well-suited to the pro ranks. But does he have the discipline to maximize his potential? He did not participate in the 2019 Olympic Trails (the 2020 edition was postponed by the pandemic) and according to BoxRec hasn't fought since February of 2019 when he advanced to the finals of a tournament in Sofia, Bulgaria, only to lose on a walkover.
Coe hails from Jersey City. The second most-populous city in the Garden State, Jersey City sits across the Hudson River from Manhattan.
Crime has long plagued the residents of Jersey City and Coe is no stranger to the court system. He was arrested in April of 2017 on a gun possession charge and arrested again in March of 2019 in Newark. Details are murky.
The buffer between Khalil Coe and promoter Hearn is Split-T Management whose co-founder David McWater was named the 2020 Manager of the Year by the Boxing Writers Association of America. Split-T's deep roster includes Teofimo Lopez, Charles Conwell and others including a bevy of intriguing young prospects. Coe is in good hands.
According to yesterday's press release, Coe will make his pro debut on May 29 at the Mandalay Bay Hotel and Casino in Las Vegas underneath Devin Haney vs. Jorge Linares. He is expected to drop down a weight class as his career progresses and chase his first title at 168 pounds.
Check out more boxing news on video at the Boxing Channel
To comment on this story in the Fight Forum CLICK HERE
Ramsey Clark and Muhammad Ali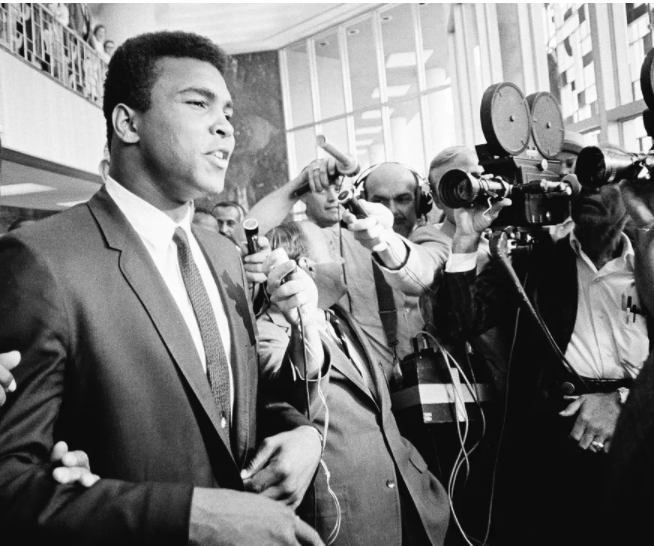 Ramsey Clark, who championed human rights throughout his life and served as Attorney General of the United States during the last 26 months of Lyndon Johnson's administration died on April 9 at age 93. In one of history's ironies, Clark (probably the most liberal attorney general in the history of the United States) was responsible for approving the 1967 criminal prosecution of Muhammad Ali for refusing induction into the United States Army.
Clark was born in Dallas in 1927. He served in the Marines during World War II, was an undergraduate at the University of Texas, and earned his law degree at the University of Chicago. As Attorney General, he filed lawsuits to combat discrimination in employment and housing and in support of school desegregation and voting rights. After leaving office, he moved considerably further to the left, making some former allies uncomfortable. In 2008, the United Nations General Assembly honored him with its Prize in the Field of Human Rights, an award given out at five-year intervals. Previous recipients included Eleanor Roosevelt, Martin Luther King Jr, and Nelson Mandela.
"A right is not what someone gives you," Clark once said. "It's what no one can take from you."
I met Clark in 1989 when I interviewed him while researching Muhammad Ali: His Life and Times. Several years later, I interviewed him again when Frank Macchiarola and I co-authored a book entitled Confronting America's Moral Crisis.
Speaking of Ali and Vietnam, Clark told me, "I opposed the war in Vietnam as early as I became aware of it which was sometime in the mid-1960s. I can remember the Gulf of Tonkin Resolution and thinking that Wayne Morse and Earnest Gruening [the two senators who voted against the resolution] were heroes. And I remember William Fulbright's limited opposition to the war and thinking it was good but not enough. Then, in September 1966, I was named acting attorney general and the appointment became final in February 1967."
"I can't say that I had a studied judgment on whether or not the war was legal," Clark continued. "But I had grave doubts about it. If we're going to be a constitutional government, before we get a half million men in a foreign country shooting and killing, we ought to know whether it's constitutional and permissible to do it. Maybe as attorney general, I should have been out there saying, 'This war is against the law.' But I didn't, and part of the reason was I had come into the government in 1961 in the midst of the civil rights struggle. By 1967, it might have looked like things were going well, but the truth is we were very badly embattled. There was quite a bit of conflict between those who wanted to keep expanding in the area of civil rights and those who did not, and we were barely able to hold on. Also, I was opposing the death penalty. We had stopped federal executions in 1963, and 1968 would be the first year in the history of the United States that we didn't have a single execution despite the fact that that was the year Martin Luther King and Bob Kennedy were assassinated. Those struggles were very real and very important to me. There were a lot of people who wanted me to abandon them by resigning over the war in Vietnam, which was clearly the overriding moral issue in our society at the time. But in terms of all the things I believed in and all the causes in which I was involved, that would have let a lot of people down."
Regarding Ali, Clark recalled, "Muhammad's conflict with the draft board was a great concern of mine, although I'd have to say, not as great as the concern I had for the poor young black kids from the ghettos or the rural poor from the South who never had a chance to question whether or not to go to Vietnam and who got brutalized and killed. My own personal view was that a person should have a right to conscientious objector status without professing a specific religious faith, and that one should be able to base it upon what you might call philosophical rather than religious grounds. But that of course was not the law then, nor is it now. I don't recall and doubt very much that I discussed the case with President Johnson. I had a strict policy not to discuss criminal cases with the president. I felt it would have been dangerous in appearance and potentially dangerous in fact to insert politics into a criminal matter, and the White House is a political office. Obviously, Muhammad's indictment involved some hard choices. But the good thing about it was, there was power on both sides to shape and test the issues. I wasn't particularly happy about it, but life is full of turbulence and conflict, and I never try to avoid either. In fact, I guess I seek them out because that's where the chance to make a difference is."
On June 20, 1967, Ali was convicted of unlawfully refusing induction into the United States Armed Forces. Four years later – on June 28, 1971 – the United States Supreme Court unanimously overturned his conviction.
"The government didn't need Ali to fight the war," Clark said afterward. "But they would have loved to put him in the service, get his picture in there, maybe give him a couple of stripes on his sleeve and take him all over the world. Think of the power that would have had in Africa, Asia, and South America. Here's this proud American serviceman, fighting symbolically for his country. They would have loved to do that."
Thereafter, Clark and Ali worked together on several projects. On one occasion, Ramsey and his wife joined Muhammad and Lonnie Ali as guests for dinner in my home. The mutual admiration between the two men was obvious.
"To me, Muhammad Ali is a totally spiritual person," Clark said later. "It doesn't have to do with the Christian faith in which he was raised, and it doesn't have to do with the Islamic faith to which he converted. It has to do with his love for life, his faith in the human spirit, and his belief in the equality of all people. I see Ali as a human being whose sense of purpose in life is to help others. He must lay awake at night, wondering what he can do to help people, because wherever people are in need, his priorities are there. He sees children who are right next to him, but children who are starving in Africa and threatened by bombing in Iraq are also within the scope of his imagination. He wants to help everyone and he travels at great personal burden and financial expense to be wherever he's needed. I say, God bless him. He makes an enormous difference."
And there were other thoughts that Clark shared with me over time:
*         "I don't like boxing. I oppose boxing because I think it's violent and damaging to the young men who participate in it. It symbolizes our glorification of violence and the rule of violence over compassion and the rule of law. I also don't believe in fame. I think fame, like power, is a profound misunderstanding and distortion of what is good and desirable. One of the most damaging beliefs people have is that only those who are famous or hold power can change things or make a difference. True social change has to come from the people. Each of us has to want to be involved and has to believe that we as individuals can make a difference and that our ability to make a difference doesn't depend upon our being elected to the House of Representatives or being the preacher of the biggest church in town or president of a corporation or heavyweight champion of the world. Those roles tend to be selfish and self-fulfilling and debilitating in terms of the pureness of one's commitment. You make so many compromises in pursuing those careers that it's an illusion to think that's how you make the changes you care about, if you care about justice and social change."
*         "Muhammad Ali made an enormous difference. There was a quality of pure goodwill about him. There always has been, and I believe, always will be. Here was a young black man from American poverty. He could very easily have been embittered, hateful, racist. But through all his trials and tribulations, he never manifested any of those qualities. And when he spoke, he said loving things. In his mind, wishes came true, and that's the way a good portion of his life has been. He meant different things to different strata of American society. But to the poor, he meant you can do what you will; anything is possible."
*         "Muhammad Ali gave people hope. He inspired and continues to inspire millions of people. And to everyone, he meant that you can be gentle and strong, that there's not a contradiction there; because for all his obvious physical strength, he always evoked gentleness and love. With Muhammad Ali, you saw grace; you saw joy. He meant charity in the truest sense of the word. He made people proud to be who they were."
*         "It's not an anomaly; it shows the way we are, really, that he came to the opportunity to do all that he did through fighting. But he's always had a vision that goes beyond the violence of boxing. His character causes him to want to help others. And character is destiny. That's the character we need. He hasn't been able to accomplish all that he wanted. Much of what he set out to do never materialized. But he's a person of unique good will and good works. He touched so many lives and brought out the better angels in millions of people."
*         "You know, the joy of life is that you have to persevere and do what you can to make this a better world. We're going to have a billion more people on earth before the end of this century. The great majority of them will have dark skin and live in terrible poverty. Hundreds of millions of them will have shortened lives and suffer from hunger, malnutrition, ignorance, and disease. But if the rest of us can come through in the manner of Muhammad Ali, we can solve the problems that lie ahead. The most important thing he communicates is his love and desire to do good. That was what he taught us all. And if you can really communicate that, that there are people who love; well, then maybe you'll change the world."
And there was a final grace note.
"I see him from time to time," Clark said of Ali. "And the last time I saw him, I told him – and I meant it – I said to him, 'You'll always be my champion.'"
Thomas Hauser's email address is thomashauserwriter@gmail.com. His most recent book – Staredown: Another Year Inside Boxing – was published by the University of Arkansas Press. In 2004, the Boxing Writers Association of America honored Hauser with the Nat Fleischer Award for career excellence in boxing journalism. In 2019, Hauser was selected for boxing's highest honor – induction into the International Boxing Hall of Fame.
Check out more boxing news on video at the Boxing Channel
To comment on this story in the Fight Forum CLICK HERE